You can track your Setmore contacts in WhatConverts by passing tracking information from your website onto the Setmore calendar site and tracking the form submissions in WhatConverts by doing the following:
Note: If you haven't added your WhatConverts tracking script to your website, add your tracking script. If you are using the WhatConverts WordPress Plugin, you will want to deactivate the plugin and place your WhatConverts Tracking Code between the Head Tags of your page.
1Publish your WhatConverts tracking code in a Google Tag Manager container. Publish the container and copy the GTM-XXXXXXX container ID.
For instructions on how to install your WhatConverts tracking code into Google Tag Manager see: Google Tag Manager
2Log into your Setmore account. On the left-side of the screen, select "Apps & Integrations". Under Business Integrations, select "Google Tag Manager". Paste the Google Tag Manager Container ID into the box where indicated.
3On your website, where you have linked to Setmore, update the Setmore link with an id of "setmore" as shown below:
<a href="https://YourSetmoreLink.setmore.com" id="setmore">
4Below (After) the Setmore link on your site, paste the following code:
<script type="text/javascript"> function wc_link_ypbib(e){var i=document.getElementById(e).href;if(i){var [c,source,medium,campaign,content,keyword,gclid,msclkid] = ['','','','','','','',''];if(c=oqhaqzwnbjgcpycneryg("wc_client")){var n=c.split("+..+");n[0]&&(source="utm_source="+n[0]),n[1]&&(medium="utm_medium="+n[1]),n[2]&&(campaign="utm_campaign="+n[2]),n[3]&&(content="utm_content="+n[3]),n[4]&&(keyword="utm_term="+n[4]),n[5]&&(gclid="gclid="+n[5]),n[8]&&(msclkid="msclkid="+n[8]),source&&(i.indexOf("?")>-1?i+="&":i+="?",i+=source),medium&&(i.indexOf("?")>-1?i+="&":i+="?",i+=medium),campaign&&(i.indexOf("?")>-1?i+="&":i+="?",i+=campaign),content&&(i.indexOf("?")>-1?i+="&":i+="?",i+=content),keyword&&(i.indexOf("?")>-1?i+="&":i+="?",i+=keyword),gclid&&(i.indexOf("?")>-1?i+="&":i+="?",i+=gclid),msclkid&&(i.indexOf("?")>-1?i+="&":i+="?",i+=msclkid)}document.getElementById(e).href=i}} wc_link_ypbib('setmore'); </script>
5Log into your WhatConverts account. Under Profile, select "Tracking" then "Web Forms". Click "+ Add Web Form" at the top of the page.
In the pop up, click "Advanced Integration".
Give your Form a name such as "Setmore Appointment Booking". Select "Class" as the Attribute Type and paste customer-login-form as the Attribute Type Value.
Under Alternate Submit Button, select "Class" as the Attribute Type and paste button as the Attribute Type Value.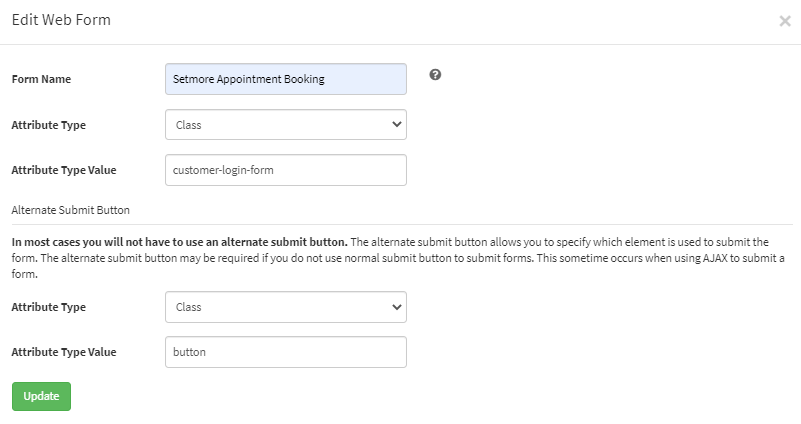 Click "Add".
5Open your website in an Incognito Window and test your appointment form. Refresh you WhatConverts dashboard to see the new form submission.