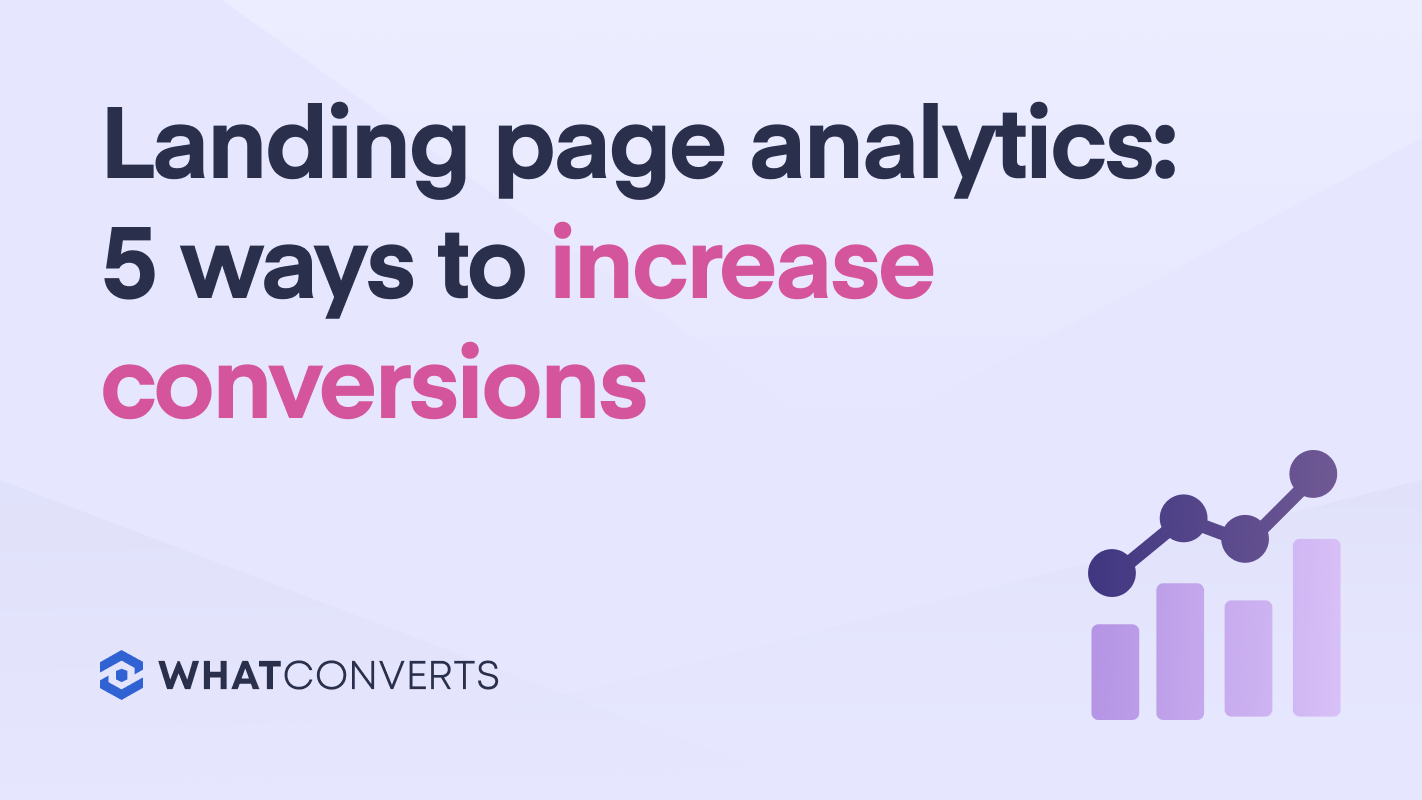 What's your landing page conversion rate? The average across all industries is about 4.2 percent. If you're not hitting that rate, you're likely missing a few key elements on your landing page.
Landing pages are one of the most important parts of your marketing strategy.  A landing page helps businesses collect contact information, segment leads into different audiences, and give marketing teams the ability to nurture those leads further down the marketing funnel through email marketing.
In the article below, we'll explore 5 key things you need on every landing page to produce conversions. However, your landing page analytics platform should really reveal more than just the conversion rate.
WhatConverts can help you boost your landing page conversion rate with landing page analytics that goes beyond simple conversion metrics. The WhatConverts Leads Dashboard can actually reveal which types of leads are converting on your page, as opposed to just the raw number of conversions that occurred. Insightful reports like the one below tell you which landing pages deliver qualified leads that turn into actual sales.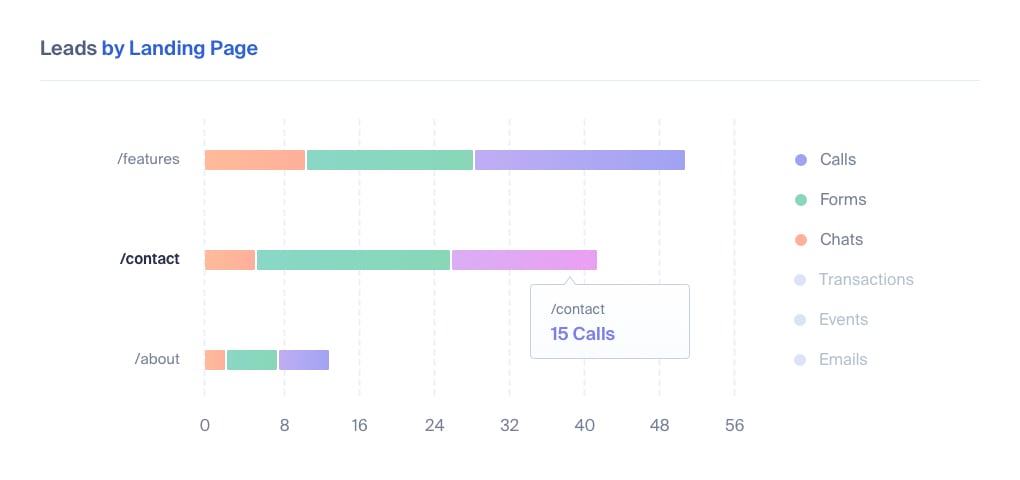 Dreaming of getting as many leads as you see in the report above? Here are the 5 elements you need for a high-converting landing page.
The 5 Elements of a Great Landing Page
Let's take a look at some of the elements you need in every landing page to have a shot at success.
A Header with a Hook
When you open a book, what keeps you reading past the page? Writers like to refer to it as a "hook". The same holds for landing pages. When a user lands on your page from a PPC ad or organic search, you want to make sure that your header grabs your visitor and keeps them around to learn more about what you have to offer.
Moz does a great job with this by having an attention-grabbing header on all of their landing pages. In this example, their landing page headline quickly gives the viewer a reason to want to try out Moz. That reason being that Moz helps them "take the guesswork out of content marketing". Another great call-out to note is the placement of the call-to-action button right under the header. We will get into the importance of a clear call to action a little later.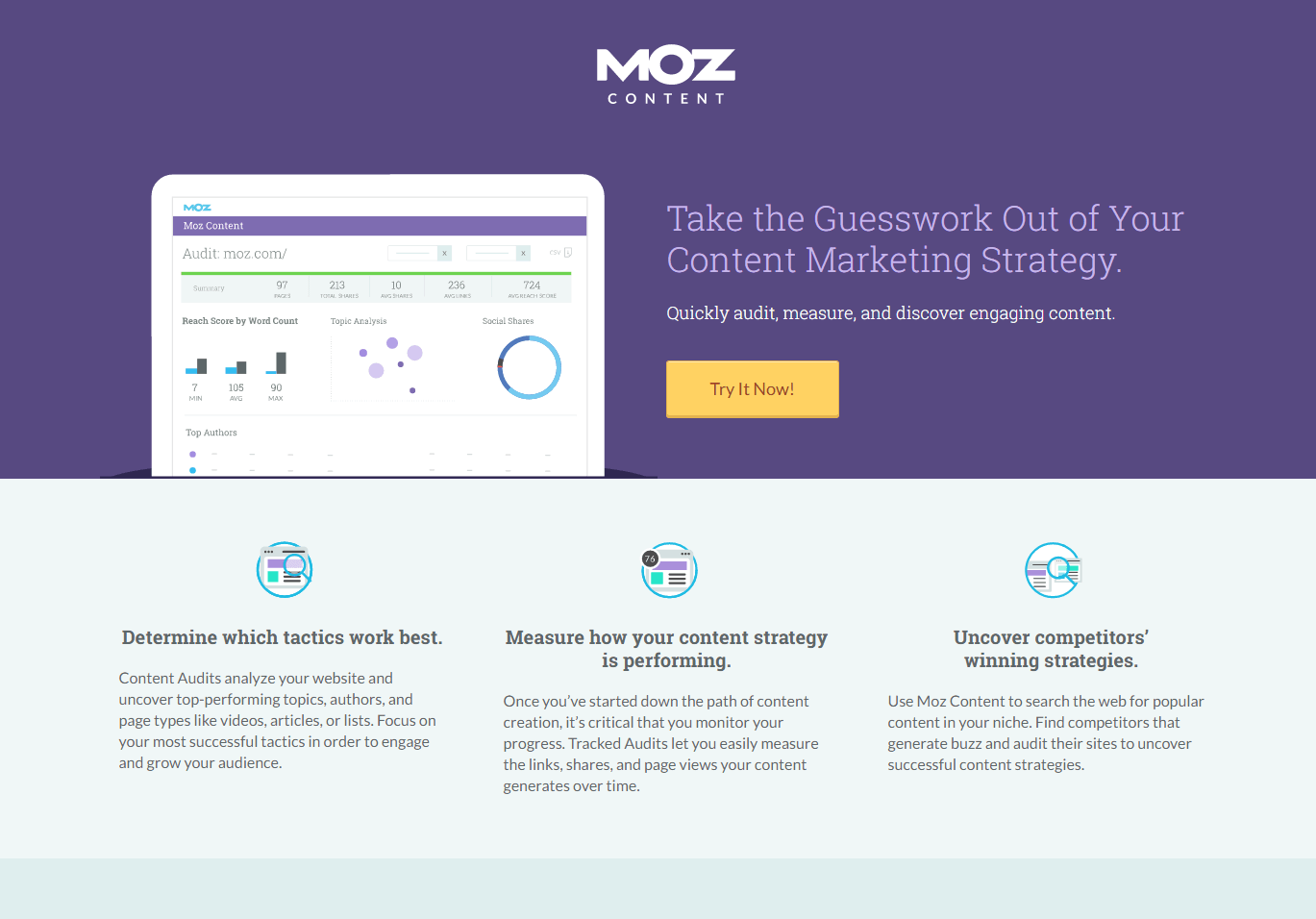 Landing Page Copy That Highlights the Benefits (Not Just the Features)
Next, you want to have a landing page copy that is focused on the benefits, not just the features.
Have you ever read an advertisement and wondered, "Okay. I see all of the features. But, what's in it for me? How do you help me?" You don't want to make your customers fill in the blanks on what your value proposition is. Features are great to include in a manual or on a technical product website page, but on a landing page, you only have a few seconds to show your company's value before the user clicks out of your page to go on with their day. In those few seconds, you want to concisely communicate the benefits of your products or services in a couple of sentences.
Testimonials from Past Customers
Testimonials (or social proof) are another great way to get more conversions on your landing page. Displaying the sentiments of past customers on your landing page will make your audience more likely to take action.
So why are testimonials effective? Well, who should your customers trust more; your business or other customers? As much as you would like to believe that they'd trust your business more, studies show that prospective customers are more likely to make a purchase based on the reviews of other customers.
Fun Fact: 72% of consumers say positive testimonials and reviews increase their trust in a business.
An Awesome Offer
Every landing page needs to have an awesome offer that's too good to pass up. Whether you are offering a free demo or eBook, make sure your offer is something that your ideal customer wants. Here are some offer ideas that will get your audience excited:
Free Demo
eBook or Guide
Free Trial
Quote Estimator
Cost Calculator
Case Study
Trulia uses a simple landing page design that sends visitors a personalized home estimate in exchange for their email address. As a real estate listing website, this offer is a great way to show individuals what they can sell their home for and what their next home might cost. When these visitors are ready to buy a new property, they will be more inclined to use Trulia for their home search.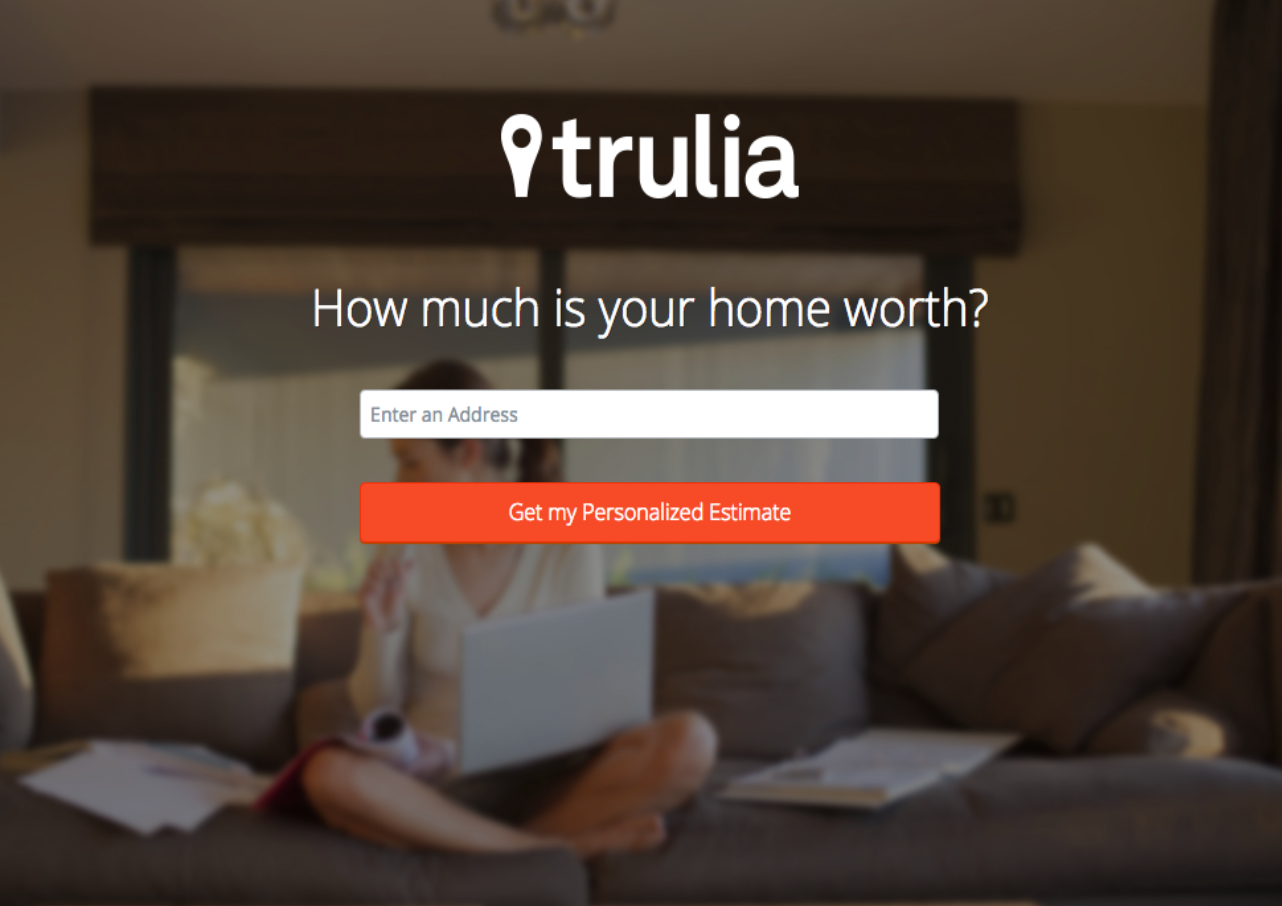 A Clear Call-to-Action
Did you know that 90% of visitors who read your headline will also read your call-to-action (CTA)? If you have a snappy headline, you better have a great (and relevant) CTA that matches up to the header to encourage more conversions.
If you have a header that reads "Testimonial Video: How We Helped this SaaS Businesses Skyrocket their Growth by 1100%," you would want to have a relevant CTA that says "Watch the Video."
Your CTA doesn't have to be long, but it does need to be clear on what your end-user will get. This will ensure that there is no miscommunication between you and the viewer. Check out this landing page from Geico to see how they use clear CTA messaging to collect more conversions.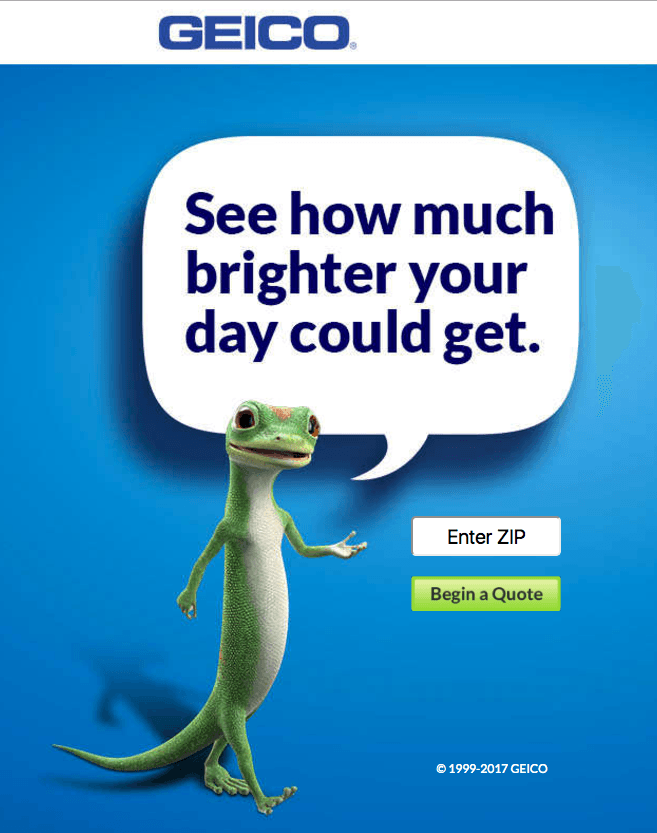 Skyrocket Your Growth with Landing Pages
If you're not happy with your website's conversion rate,  it may be time to rethink your landing page layout. Does it have an eye-catching headline? What about the offer? Is it something that your audience actually wants?
It's always a good idea to go back, look at the metrics, and reoptimize your landing page. If you aren't sure what's performing well and what isn't, try running an A/B test. Then, you will be able to make better data-driven decisions and make a landing page that is made with your end customer in mind.
This is a guest post from Ryan Gould, Vice President of Strategy and Marketing Services at Elevation Marketing. 
From legacy Fortune 100 institutions to inventive start-ups, Ryan brings extensive experience with a wide range of B2B clients. Ryan is known for taking complex marketing and business challenges and developing solutions that simplify processes while driving customer outcomes and business value.
LinkedIn: https://www.linkedin.com/in/rygould/