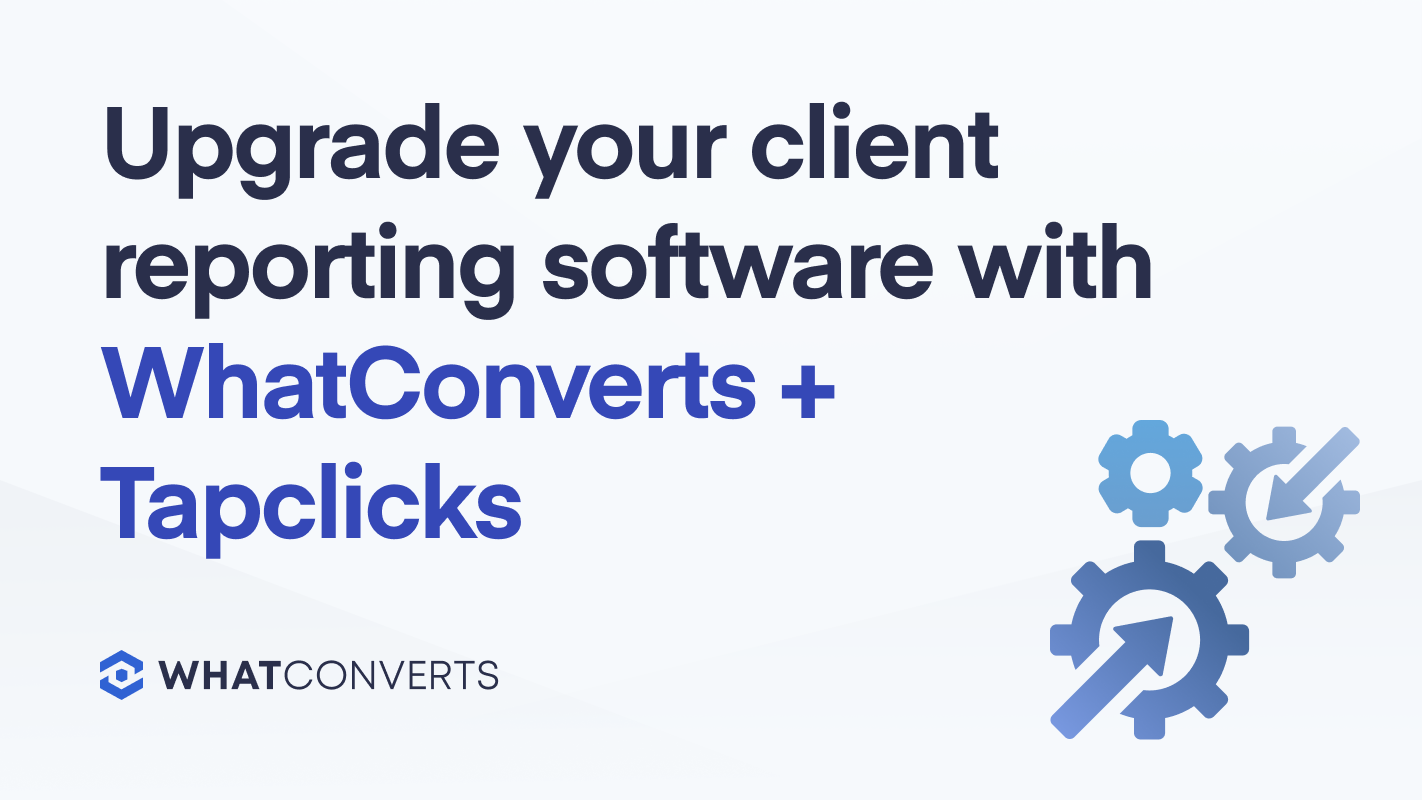 Think about the last time you scheduled a reporting meeting. You wanted to show a client or higher-up that your marketing efforts were working. That means you probably had to pull together data from multiple client reporting software platforms, create reports, then explain the data to everyone in the meeting.
It's hard to pull off a succinct reporting meeting. Not only do you have to spend time getting the right people together — you also have to find the right data to show how your marketing impacted business revenue. Now in reality, we know this is not just one meeting.  You have to do this multiple times a week for multiple clients.
That's why we're so excited about the TapClicks + WhatConverts integration. It's designed to make marketers' lives a little easier.
TapClicks provides one dashboard for all your marketing analytics. WhatConverts captures every lead and ties it to a marketing source. With the integration, you get one system to capture every lead, see the effectiveness of every marketing campaign, and produce insightful reports showing the relationship between marketing and sales.
This integration allows you to give key stakeholders access to a dashboard that shows exactly how marketing spend is contributing to the business' bottom line.
The importance of using a centralized platform
If you look at your browser window right now, how many different tabs do you have open? How many different marketing, sales and business analytics tools do you click through on a daily basis?
No matter how meticulous you are, data slips through the cracks when you use different client reporting software platforms. Some leads might not transfer over, or a marketing campaign might not get proper credit for delivering new customers.
As a marketer, you want to share data with clients, your CEO, or key stakeholders from different parts of your business. You depend on accuracy and accessibility when doing this; your job is easier when all lead and marketing data is in one place.
That's why the integration between WhatConverts and TapClicks is especially useful for agencies, multi-location businesses and franchise brands. Users can view leads captured by WhatConverts in TapClicks and easily produce customized reports.
Capturing data and creating reports
In the image below, you can see how it's possible to track incoming leads over time. On the left side of the image, you can see the top marketing sources that delivered your leads. This data, of course, can then be used in one of TapClicks powerful reports.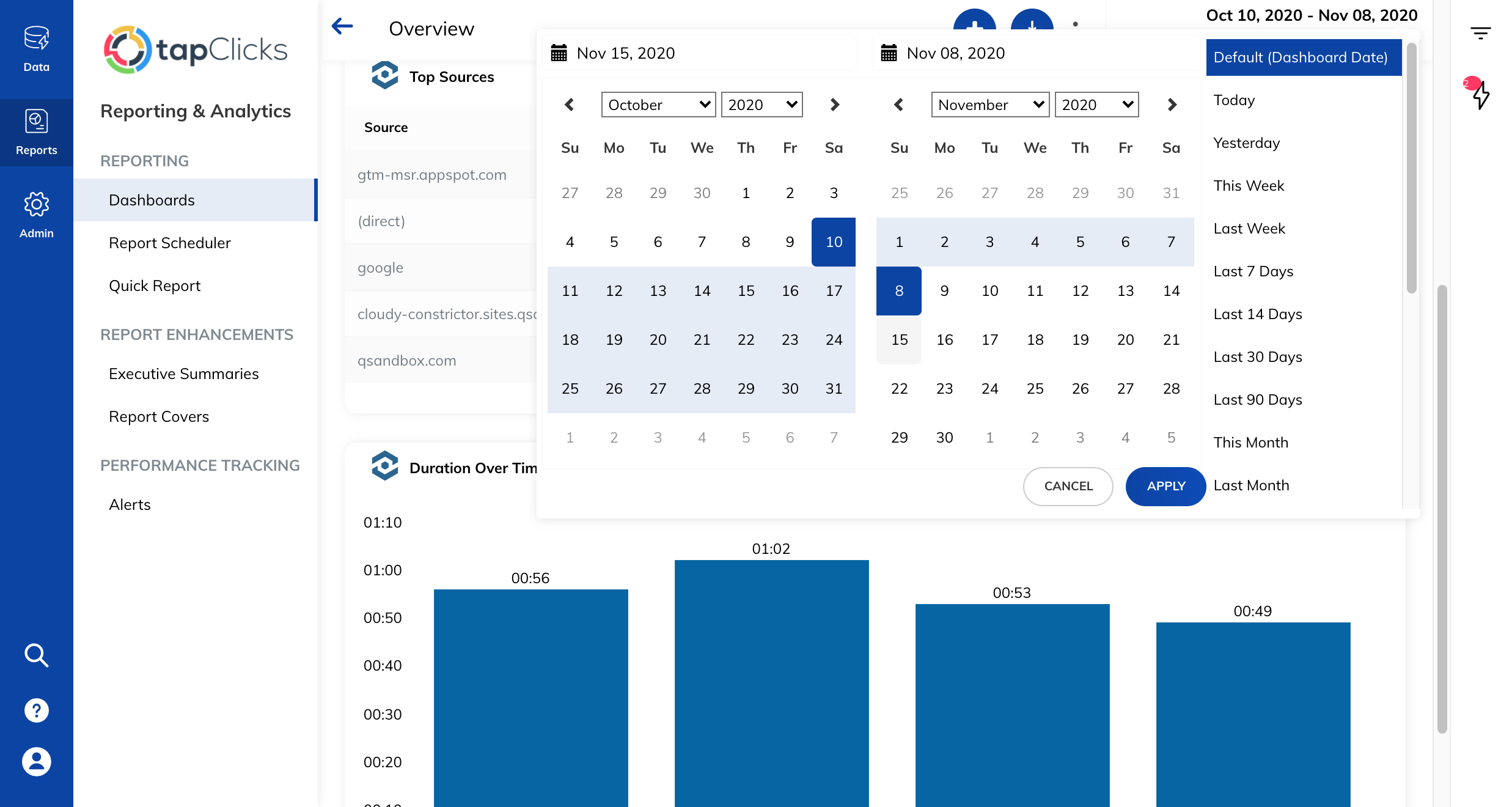 This next image shows the reporting dashboard in TapClicks that can incorporate WhatConverts data. Since WhatConverts captures all your leads and ties them to the marketing source, you can quickly see how your leads are coming in the marketing sources they're coming from.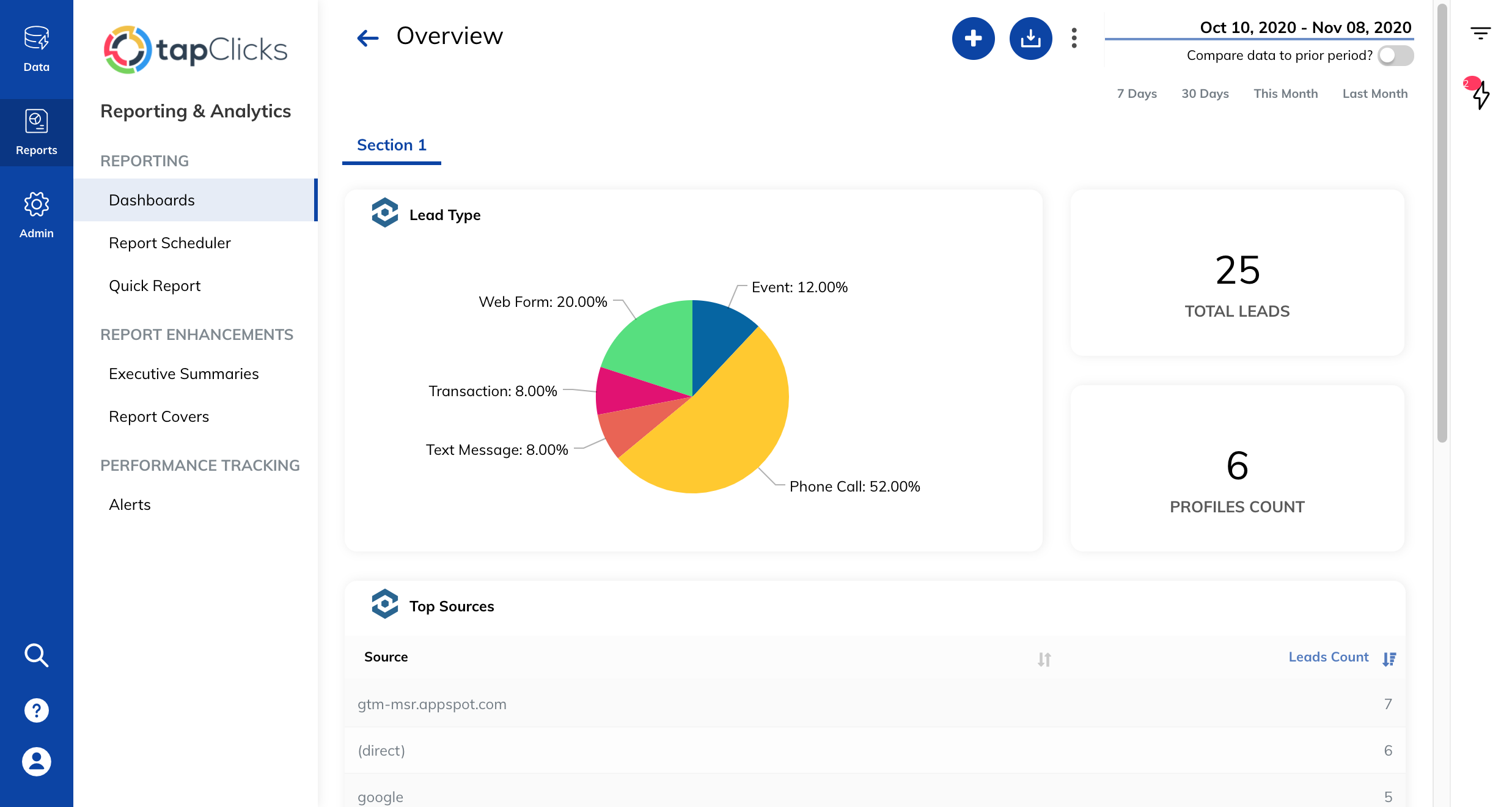 Client reporting software that shows layers of detailed lead data
It's easy to build trust with a client or business partner when you can prove the effectiveness of your work. For marketers, that means associating leads to campaigns. It means having reports that can withstand intense scrutiny.
The integration between WhatConverts and TapClicks reveals layers of data. It's not just about tracking how many conversions came from your PPC ads. It's about seeing the value of all the leads that come in from every marketing source, then using that data to make informed decisions about how you want to spend your marketing dollars next month or next quarter.
When your clients or other stakeholders ask marketing questions, you'll be able to answer them with detailed lead data and customized reporting from TapClicks and WhatConverts.