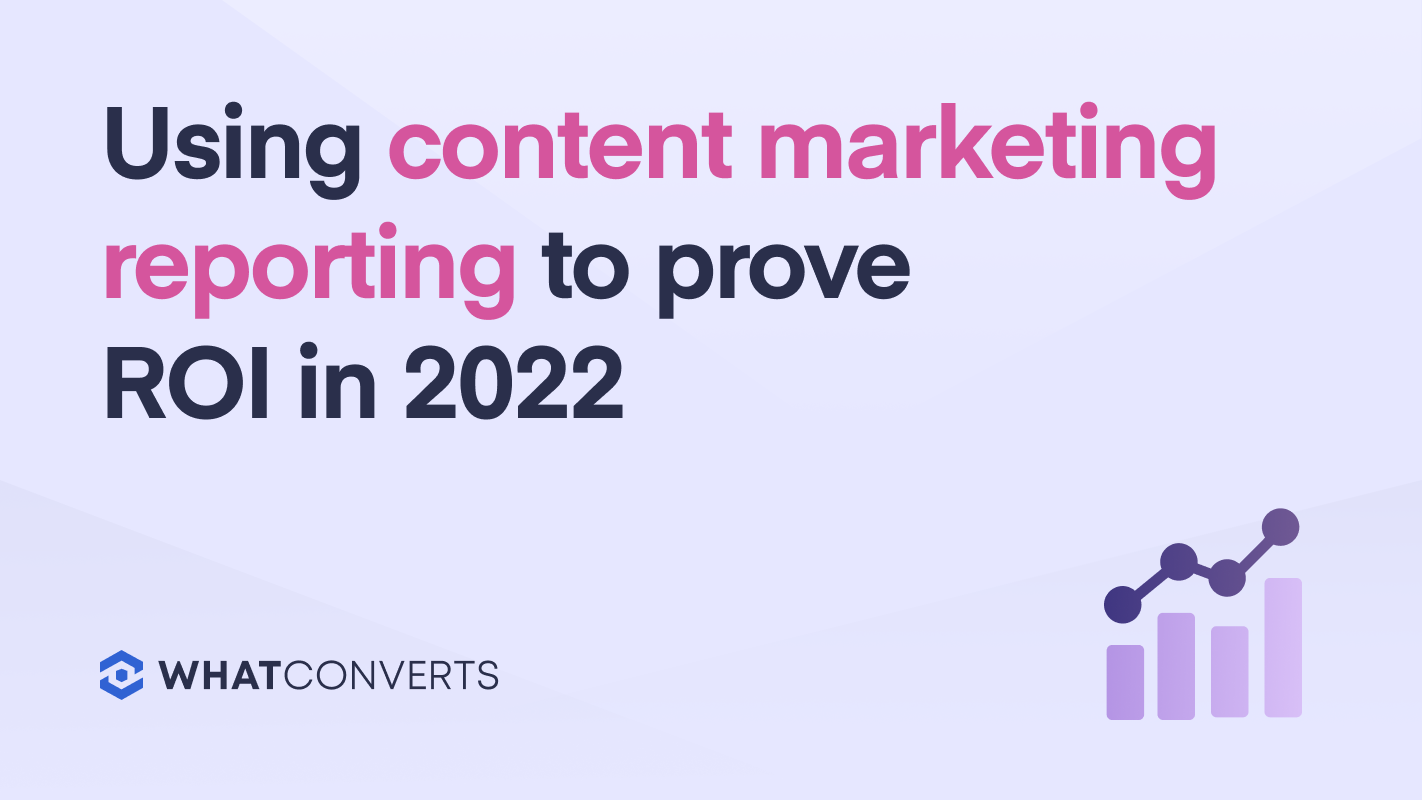 Does content marketing drive leads? Marketers spend a lot of time trying to answer this question and often turn to Google Analytics for help. But it's hard to track leads when your content marketing reporting measures 'web traffic' 'bounce rate' and 'conversions'?
None of these metrics are directly tied to revenue. Even if you track every conversion that comes from content, the raw conversion numbers alone don't tell you about lead quality or lead value. Without that information, your content marketing reporting won't show the true ROI of your efforts.
In this article, we'll explore a different approach to content marketing reporting:
How to track different metrics for different types of content
Why 'leads' is the most important metric
How to track lead quality and lead value
The dangers of using non-revenue metrics to measure success
This article will teach you how to prove the ROI of your content marketing. WhatConverts can play a big role in helping to track and achieve positive marketing results.
Sign up here for a free 14-day WhatConverts trial. You can also request a 30-minute live demo, where we'll answer your questions and show you the best ways to report on content marketing.
Different Content Marketing Reporting for Different Content
SEO blogs drive leads to your website, and these leads use the blog as their landing page. For organic leads, finding the blog on the search results page is their first interaction with your company. If this website visitor goes on to take a conversion action (call, form-fill, chat, etc.), marketing attribution tools credit the blog as being responsible for the lead.
Content also helps leads make a purchase decision. Even if a lead found your website via PPC ad, they may click around and find a piece of content that motivates them to take a conversion action. This is how content drives conversions even if the content wasn't responsible for bringing the lead to your website.
Top of Funnel vs. Bottom of Funnel Content Marketing Reporting
Content can attract leads to the top of the funnel, but it can also help move leads along the funnel. That's why you should measure success differently for different content pieces.
Measure top-of-funnel content by how many leads use the content as a landing page. Measure bottom-of-funnel content by how many leads use it as a lead page or as part of their customer journey. A lead page is the last page the visitor was on before they took a conversion action on your website.
All content should deliver conversions eventually, but top-of-funnel content should generally be the landing page for leads who convert later on. Bottom-of-funnel content should be the last page people see before converting. If top-of-funnel content isn't attracting leads to your site, you may have an SEO problem. If bottom-of-funnel content isn't converting, you may need to add more CTAs or tailor the content to be more conversion-focused.
Report on Leads By Landing Page
The Leads by Landing Page report shows how leads begin their customer journey. Content marketers can use it to measure the number of leads generated by each content piece.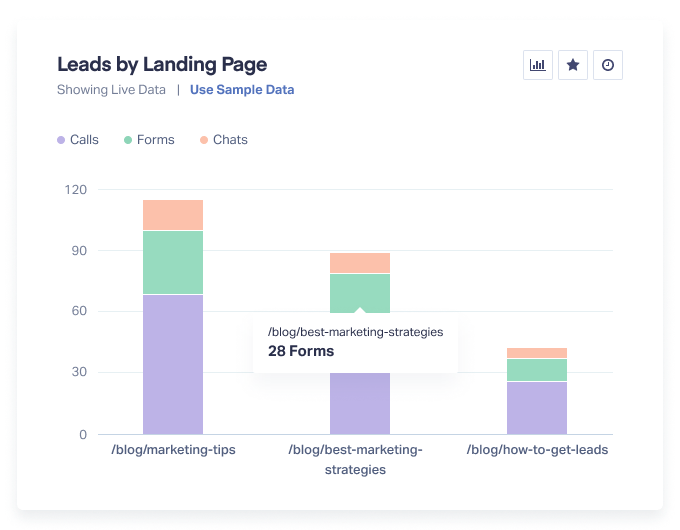 The beautify of this simple report is that it tracks more than just page views and conversions. Tracking actual leads is a far better way to measure the success of SEO content. This report is available in WhatConverts, and if you click on the report you can view the individual leads that make up the data. This unique feature allows you to prove that your content is driving leads, not just conversion actions.
You can also take this report a step further.
Report on Qualified Leads by Landing Page
Since WhatConverts captures detailed lead data including call and chat transcripts, it's easy to mark leads as qualified or non-qualified. Compared to a goal completion report from Google Analytics, this report reveals far more about which content is driving sales. With a qualified leads report, you don't have to worry about accidentally including spam or solicitation in your marketing reports.
Sign up here for a free 14-day WhatConverts trial. You can also request a 30-minute live demo, where we'll answer your questions and show you the best ways to report on content marketing.
Report on Leads by Lead Page
Do you have enough calls-to-action (CTAs) on your content pages? The sooner you start thinking of blogs as lead generation tools, the sooner you'll see ROI from your content marketing efforts.
The Leads by Lead Page report reveals which page the website visitor was on when they performed a conversion action. The lead page is the page the user was on when they filled out a form, started a chat or placed a phone call.
While the Leads by Landing Page report tells you which content helps you acquire leads on your website, the Leads by Lead Page report tells you which content pieces convert website visitors to leads.
What if you look at this report and don't see any of your content pages on the list lead pages? Some websites are designed so that people can only convert on a certain page such as a "pricing page" or a "contact us" page. If that's the case, you wouldn't expect your blog to appear on a Leads by Lead page report.
However, if people can contact your business from any page on your website, you should see some conversions on your content pages. These conversions will often come in the form of chats and phone calls. If your blogs aren't showing up on the leads by lead page, it may be time to think about optimizing your content strategy to drive conversions.
Report on Lead Value by Landing Page
Getting leads from your content is great, but how can you calculate the return-on-investment you're getting from content marketing? The Lead Value by Landing Page report can help. When you track your leads through WhatConverts, you can assign quote value or sales value to individual leads.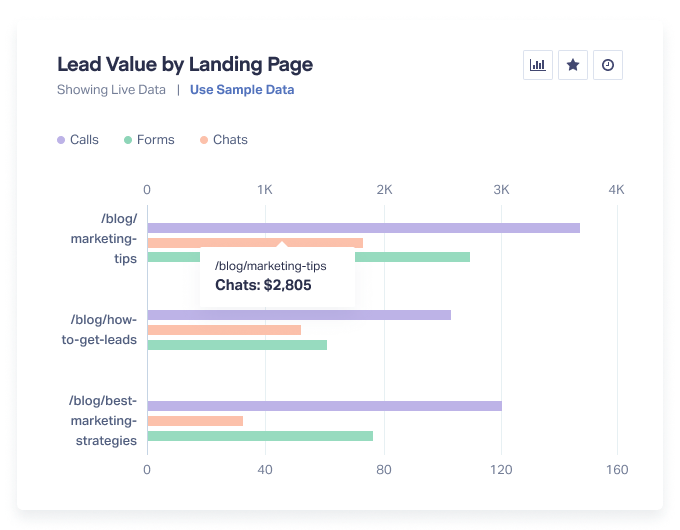 You can then produce reports like the one above, showing the quoted value of leads coming in from different content pieces sources. In this instance, we're tracking lead value by landing pages. You can see that one blog page has delivered $2,000 in lead value from chats alone. Reports like these are great for showing non-marketers how content marketing is impacting the company's bottom line.
Why Use Content Marketing Reporting Based on Leads?
Many content marketing gurus will tell you to track metrics like page traffic, pages per session and bounce rate to measure content success. The problem is, none of these metrics directly impact revenue. As a marketer focused on measuring success accurately, you must avoid data that only tells part of the story.
That's why you should measure content based on leads and lead value.
You know how much each lead is worth. You know how many leads you need to get to offset marketing spend. That's why you should be using your business data to measure success.
What about reporting on traffic?
We're not going to tell you that website traffic doesn't matter, but it's really hard to tie traffic to revenue. What good is a blog post that drives 1,000 visitors each month if none of them turn into leads or customers? A blog post like that may be worth 1000 visitors, but it's also worth exactly $0 in revenue.
Measuring traffic is only useful for top-of-funnel posts. Top-of-funnel posts are designed to just make people aware of your product. They may not make a purchase this time, but the hope is that they return when they're ready to buy.
If you can track leads from the moment they land on your page to the moment they convert via form-fill, chat or phone call, you can measure top-of-funnel posts based on the number of leads they deliver. A lead may use the blog as a landing page in August, then come back in October to convert to a paying customer. With the WhatConverts, you'll be able to see that this blog was, in fact, responsible for bringing this lead to your site even if they didn't convert on their first visit.
By capturing every lead, including phone calls, you can see which leads came from each marketing channel. Everyone can understand that leads directly fuel sales.
Sign up here for a free 14-day trial of WhatConverts. You can also request a 30-minute live demo, where we'll answer your questions and show you the best ways to use our platform.