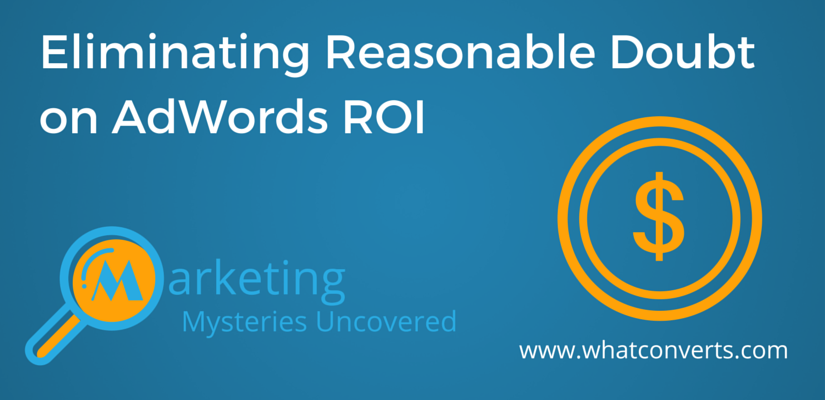 I love giving good news to clients! Time for lunch. I hopped in my Tesla and headed to my favorite lunch spot. My phone buzzed; it was Robin, my assistant, calling. I pushed the 'call answer' button (gotta' love Bluetooth).
"We got another case," Robin announced.
"Is it an interesting one?" I asked.
"Well, her name's Michelle, she stuck her neck out by strongly recommending an Adwords campaign to her client, and now she's struggling to prove to them that they're getting a good return on investment. Sounds like she could really use your help!"
"Let me grab some lunch and I'll swing by," I said. "Email me the directions. Thanks!"
An hour later I walked into the marketing agency. The place was alive with activity; graphic designers were pinning colorful photos onto a mood board in the back, and the IT department was having a lively discussion at their desks. I had to jump out of the way— a project manager came flying through the lobby.
Michelle came over and shook my hand. "Hi!" she said.
"Is it always like that here?" I asked, watching the hustle and bustle around us.
Michelle shook her head. "No," she said, "It's usually worse."
We went into a small office and Michelle explained her problem to me. She told me that she'd championed an Adwords campaign for one of their existing SEO clients. This particular client had been burned before by a badly run Adwords campaign and they weren't really keen on going along with it. In fact, the word 'Adwords' was practically banned from being used in the company. The mere mention of Adwords could turn the client red in the face.
"The veins on his neck would even bulge a little," Michelle said.
"Like the cartoon character "Stressed Eric?" I asked.
"Exactly!" Michelle said. "I promised them it would be a successful campaign," Michelle said. "But we're six weeks into it and so far the results are lagging. My job is on the line. I don't know what to do. So, will you take my case?"
I nodded.
Looks like another case of missing marketing data!
The case file:
We had 6 weeks to solve this mystery! Michelle got to work. First we installed WhatConverts; that would allow us to track leads by traffic source, see quotable leads, and know the quote value. It would also let us capture web form leads, and leads generated from phone calls. She used WhatConverts to monitor the leads, and asked her sales team to mark the leads quotable and add a simple quote value. After 30 days we had a complete marketing pie!
Here are the facts:
Michelle asked the client for 3 months and a small, targeted ad spend to prove that the Adwords strategy would work. The Adwords campaign would be compared with Leads Generated (requests for quotes).
Six weeks into the campaign, the leads from the Adwords search were below expectation.
Using Adwords tracking, she could see how many leads were from Organic and Paid search, and she was even tracking phone calls. But Adwords only allowed her to see lead numbers—she couldn't figure out the quality of the leads or which leads had turned into quotes. She also didn't know the quote value generated by traffic source.
Investigation:
This is real data from actual clients.
Total Leads

Looks like Michelle is in trouble, Organic generated 5.6 times more leads!
Search Organic generated 50 leads (19 calls, 31 forms) in the past 30 days.
Search Paid (AdWords) had generated 9 leads (3 call, 6 forms) in the past 30 days.
Quotable Leads:

After identifying the quotable leads we discovered that 7 out of the 9 leads from Adwords were quotable, while less than half of the Organic leads were quotable (19 out of 50).
Quote Value:

Here's what we were looking for. Paid search has a lot less leads, but when quote value is applied, Paid and Organic are actually delivering very similar ROI.
Case Results:
I got a table at Starbucks to meet with Michelle. (The Cappuccino isn't great there, but it would do for a quick meeting. The key to making a great Cappuccino, in my opinion, is a Barista with passion!)
"Hey, Michelle," I said. "I got a coffee for you."
"Thanks," Michelle said, pulling up a seat. "Today has been crazy! I hope you've got some good news for me – I need it."
"I do have good news for you! Your Adwords campaign is doing much better than you thought. When we applied value to the leads, we found out that even though your Adwords campaign has a lot less leads than Organic search, both search results have similar value. Organic brought in $46,106 in leads ($20,448 Calls, $25,658 Forms), and Paid has $45,606 ($11,094 Calls, $34,512 Forms)."
"Oh thank goodness!" said Michelle, taking a big gulp of her coffee. "No more 'Stressed Eric!'"
My phone buzzed; it was an incoming text message from one of my previous clients, Jeff. He was in trouble again! His client was happy for the first two years, but is now asking "what have you done for me lately?" Jeff is afraid his client is looking at other options. Check out the next case, The Dark Side of SEO. Sign up below to be notified when a new investigation starts.