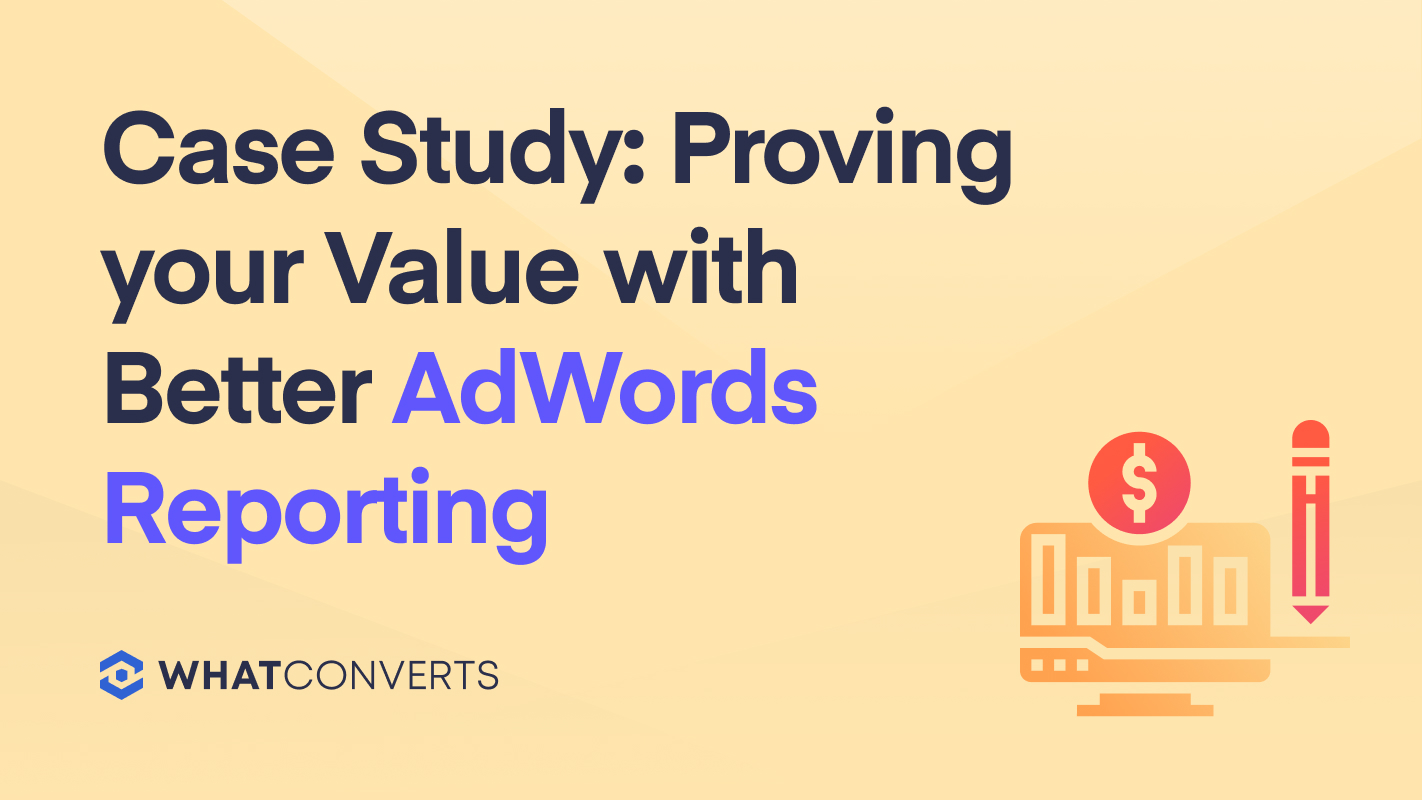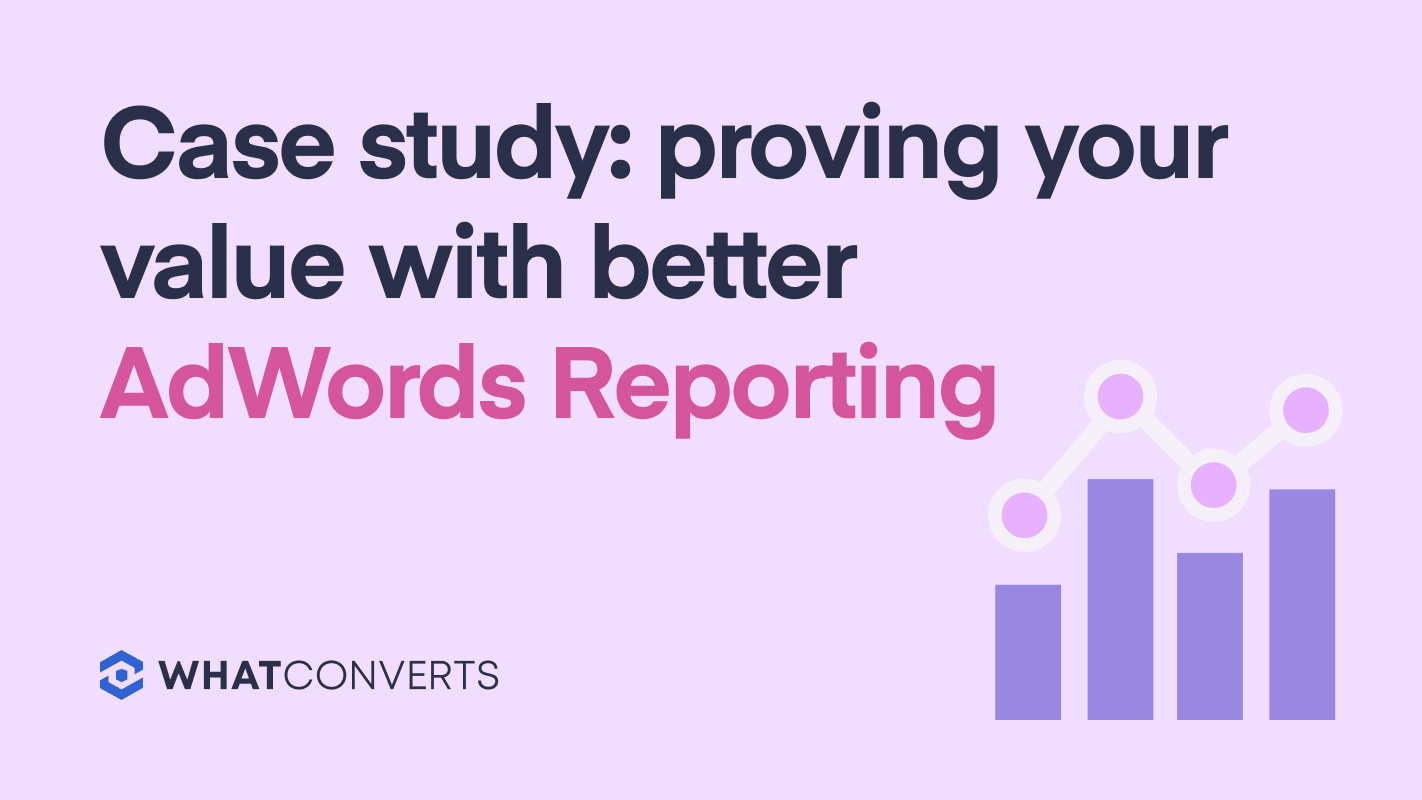 Sticking your neck out there is scary. Marketers stick their neck out all the time to advocate for certain campaigns or increased spending, but it doesn't always work out. When your ideas do work, however, you need to be able to prove that you were right. That's how agencies retain clients, and how marketing departments get bigger budgets. 
Here's an example of one marketer who needed to prove her ideas were working. We'll call her Michelle. 
Michelle stuck her neck out at her agency by strongly recommending an Adwords campaign to a client. Now, she's struggling to prove to the client that they're getting a good return on investment.
Michelle came to WhatConverts and explained her problem. She'd championed an Adwords campaign for one of their existing SEO clients. This particular client had been burned before by a badly run Adwords campaign and they weren't keen on going along with it.
"I promised them it would be a successful campaign," Michelle said. "But we're six weeks into it and so far the results are lagging. My job is on the line. I don't know what to do."
Looks like another case of missing marketing data.
The case file:
With only 6 weeks left until her next client reporting meeting. Michelle got to work. First she installed WhatConverts; that allowed her to track leads by traffic source, see quotable leads, and know the quote value of each lead. 
WhatConverts also let her capture web form leads and leads that came in via phone calls. She used WhatConverts to monitor the leads, and asked her team to mark the good leads as quotable and add a simple estimated quote value. After 30 days she had a complete overview of how the campaign was working. 
Here are the facts:
Michelle asked the client for 3 months and a small, targeted ad spend to prove that the Adwords strategy would work. The Adwords campaign would be judged on "Leads Generated" (requests for quotes).

Six weeks into the campaign, the leads from the Adwords campaign were below expectation.

Using Adwords tracking, Michelle could see how many leads were from Organic and Paid search, and she was even tracking phone calls. But Adwords analytics only allowed her to see lead numbers — she couldn't determine the quality of the leads or identify which leads had turned into quotes. Michelle also didn't know the quote value generated by each traffic source.
The investigation into AdWords Reporting:
This is real data from actual clients.
Total Leads

WhatConverts showed that Michelle is in trouble; Organic generated 5.6 times more leads than paid search.
Search Organic generated 50 leads (19 calls, 31 forms) in the past 30 days.

Search Paid (AdWords) had generated 9 leads (3 call, 6 forms) in the past 30 days.
Quotable Leads:

Lucky for Michelle, WhatConverts allowed her to identify the quotable leads, revealing that 7 out of the 9 leads from Adwords were quotable while less than half of the Organic leads were quotable (19 out of 50).
Quote Value:

This is the most important part. Paid search has fewer leads, but when quote value is applied, Paid and Organic are actually delivering very similar ROI.
Case Results:
Michelle entered her client meeting with confidence. 
She was able to tell her client, "Your Adwords campaign is doing much better than you thought. When we applied value to the leads, we found out that even though your Adwords campaign has a lot fewer leads than Organic search, both types of search results have similar value."
Michelle continued, "Organic brought in $46,106 in leads ($20,448 Calls, $25,658 Forms), and Paid brought in $45,606 ($11,094 Calls, $34,512 Forms)."
That's a lot of detail. When clients get that kind of insight and transparency, they tend to stick around.