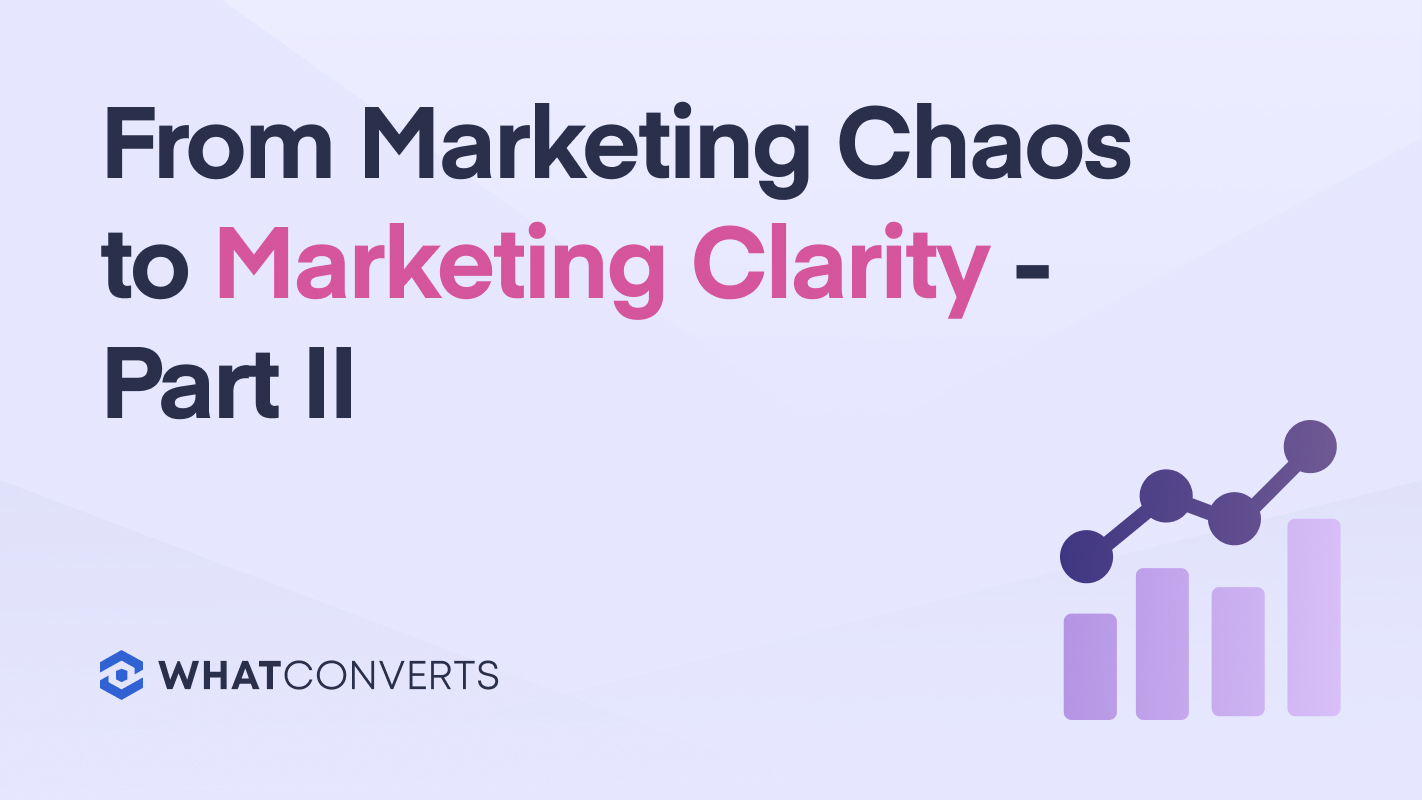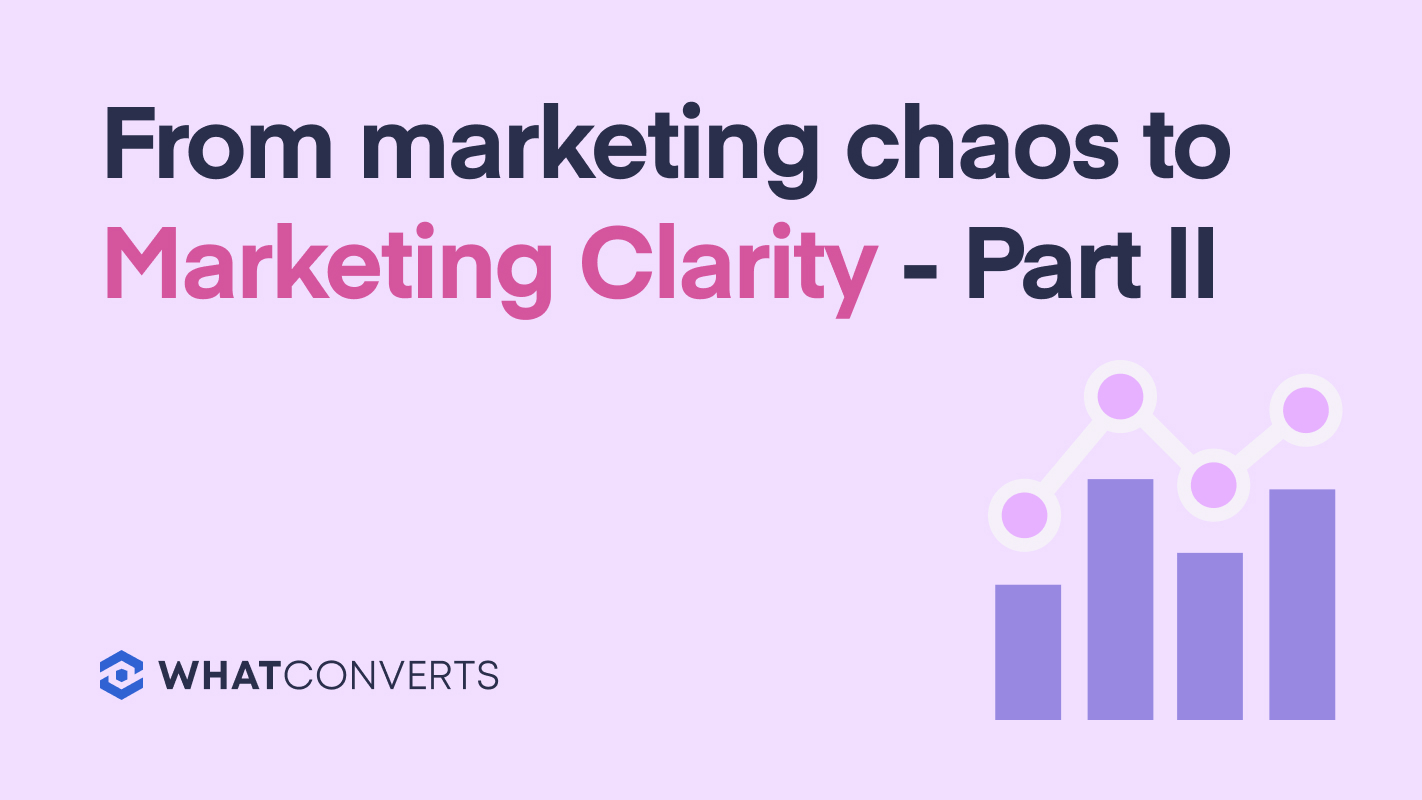 Welcome to Part II of our series on turning marketing chaos into marketing clarity. In Part I, we identified the problem; marketing is chaotic and businesses don't have the time, tools or experience to figure out what marketing works.
In Part II, we'll identify the solution; achieving marketing clarity.
Marketing clarity means knowing exactly how much return on spend (ROI) you get from each marketing campaign. It means knowing whether or not you're generating quality leads, and how much each lead is worth. It means knowing what marketing works.
Marketing clarity allows your business to answer questions like:
Does my marketing work?
If I spend more money, can I get more leads?
Which of my marketing channels are working?
Which channels deliver ROI? (driving more sales than marketing spend)
Am I overspending on marketing?
Wouldn't it be nice to have all those answers? According to a survey of Chief Marketing Officers, the two biggest benefits of data-driven marketing are speed and accuracy. Below, we'll explain how marketing clarity can help you achieve both.
[blog_newsletter_signup]
Step One of Marketing Clarity: Capture The Complete Lead
Capture more than just blind conversions
A lead is more than just a conversion. Complete lead information includes the who, where, how and what; who they are, where they came from, how they got in touch and what they want. Details matter in decision-making, and details matter in marketing. Painting a complete picture is important; 54 percent of CMOs say their main challenge to successful data-driven marketing is a lack of data quality and completeness.
This is a complete lead: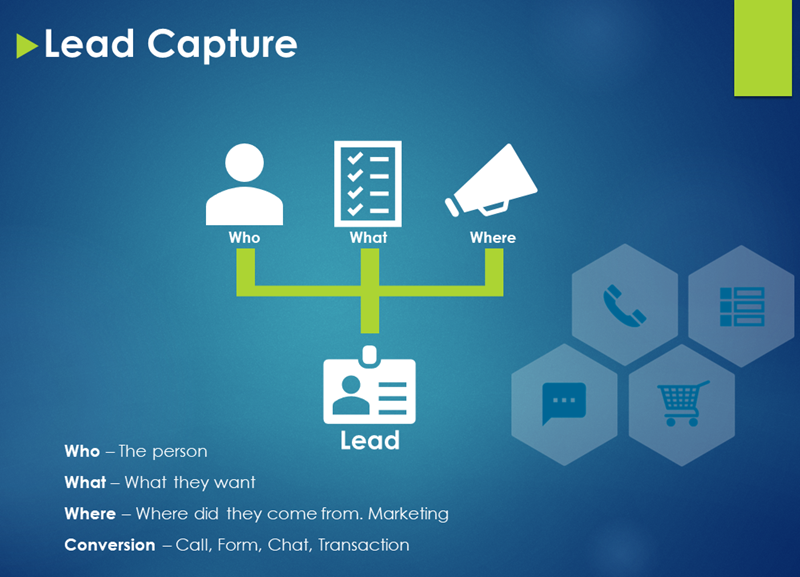 Google Analytics (GA) can show you that a conversion occurred, and which marketing source was responsible for the lead. To achieve marketing clarity, however, businesses must go a step further than basic Google Analytics data.
This doesn't mean you should stop using GA, but you should enhance Google's lead data with more powerful lead capture and lead reporting tools. As a standalone product, GA simply tracks blind conversions back to the marketing source. Achieving marketing clarity means capturing the complete lead.
Step one, in a nutshell, is to take a more all-encompassing approach to your lead capture. If you have detailed information about every lead, you can organize, qualify, value and uncover trends in the leads. The more information you capture up front, the more insights you'll get in the end.
Step Two: Automatically Organize Every Lead
Do something with all that lead data
Business owners need access to all the lead data that marketing campaigns generate. That includes the marketing source responsible for the lead, the type of conversion that occured, the quality of the lead, the value of the lead, and the final sales value when the lead turns into a customer.
When a business owner has access to all that data, they're empowered to organize leads; identify which leads are good, which are bad, and which are worth the most money to the company. WhatConverts is part of this solution.
Think of WhatConverts as an invisible CRM. WhatConverts automatically gathers lead data and ties marketing information to lead contact information. The leads can then be filtered by marketing source, by value, by landing page, and more. The more lead data you have, the easier it is to disqualify certain leads and assign value to others.
No matter how much marketing data you capture, the data is only useful if you can filter it to understand what you're seeing.
Reports are better with more data. Finding out which marketing channels work is easier with more data. Business insights come easier with more data.
Step Three: Uncover Insights
Clearly see which marketing channels work
Capturing detailed information about every lead is step one of achieving marketing clarity. Step two is organizing, qualifying and sorting those leads. The final step is finding insights.
The third and final step of the solution requires a tool that can extract detailed insights, allowing businesses to optimize marketing spend accordingly. When you know exactly which marketing channels work, you can calculate the exact ROI of past campaigns and accurately forecast the ROI of future campaigns.
Standard marketing reports — like the ones that Google Analytics produces — provide clues about which marketing campaigns work, When you have marketing clarity, you get reports that allow you to know for certain which marketing campaigns work.
Having marketing clarity opens up new possibilities for your business. It allows you to look back a few months and see how many live chat leads turned into customers. It allows you to track the amount of revenue that came from people who clicked on a Google Ad and then called a number on a specific landing page. Ultimately, it allows you to see exactly how your marketing affects your bottom line.
WhatConverts plays an important role in achieving marketing clarity. The platform ties all your leads and marketing data together — eliminating the need for disparate platforms and spreadsheets.
Once you've solved the problem of not knowing what marketing works, you can save all the time wasted on launching ineffective marketing campaigns and chasing down bad leads.