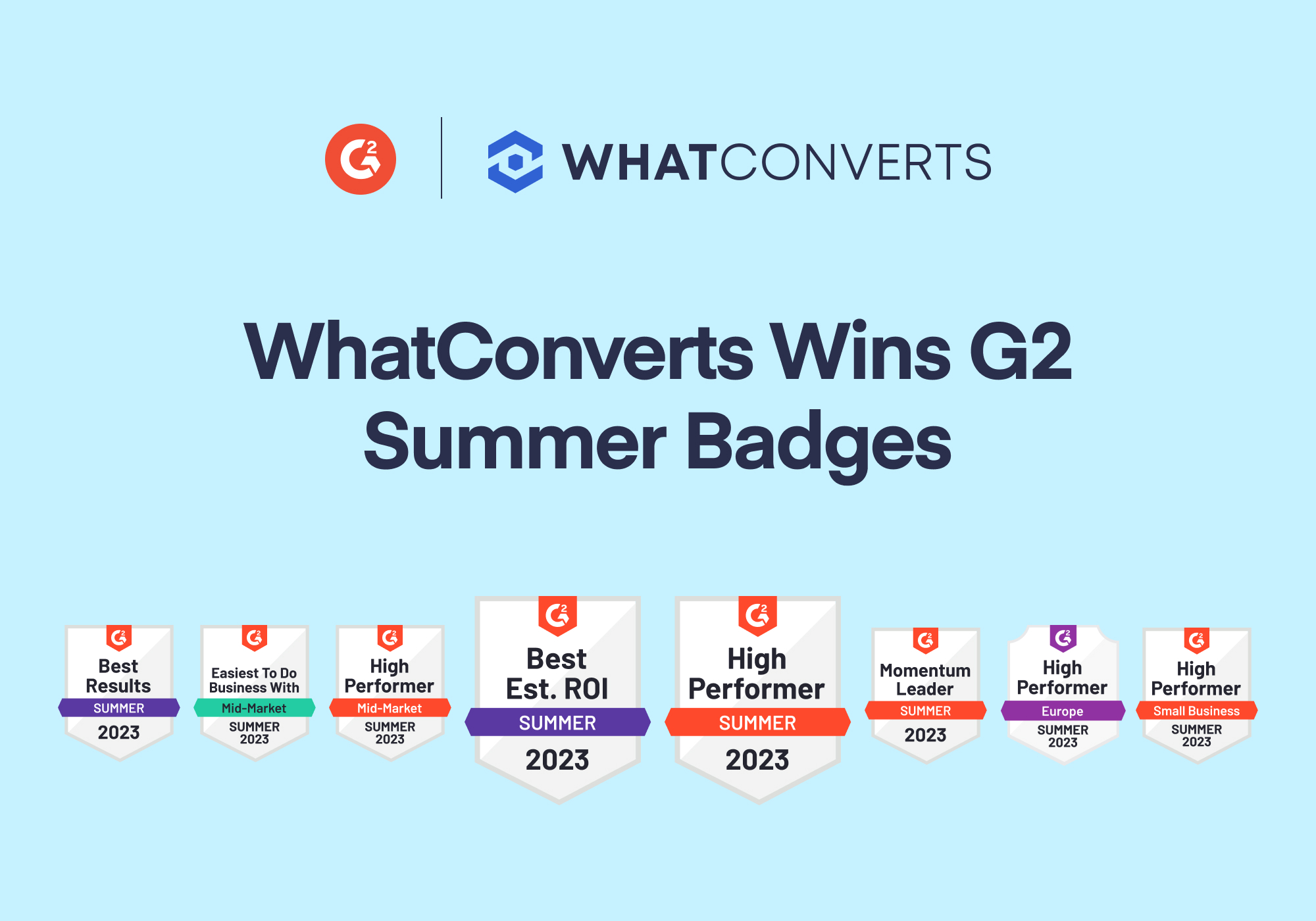 Every quarter, G2 releases updated reports on review numbers for the world's most popular tech and software.
And based on the reports, WhatConverts is looking better than ever.
It's amazing what the team's dedication and hard work has delivered. And we're so proud to find ourselves as the leading company in the call tracking space according to the G2 Summer Reports.
Though we're honored to be so highly rated within the call tracking category, WhatConverts goes way beyond call tracking alone. Our complete platform is built to prove and grow marketing ROI. And that includes:
Comprehensive Lead Tracking (including forms, email, chat—all in one place)
Intuitive Lead Management
Time-saving Lead Intelligence
Robust Lead Reporting
It's an all-in-one platform like nothing else in the industry. And it's why our customers love working with us.
Today, we're sharing proof of that with a few of the most standout stats from this quarter's G2 reports.
Where The Numbers Come From
All of the review data you see below comes directly from G2—the largest and most trusted software marketplace.
At G2, users can score more than 145,000 different products across a wide range of features, usability indexes, and general product experiences.
Reviews are also evaluated by G2 staff for:
Relevance
Authenticity
Originality
Lack of Bias
If a review does not meet G2's standards, it is rejected.
And they are strict with their standards. In fact, G2 rejects 17% of all reviews submitted.
As such, all the data in this article is from verified WhatConverts customers—real people that've used our software.
For more on how G2 calculates customer satisfaction, have a look at the resources below:
WhatConverts Summer 2023 Review Scores vs. Similar Companies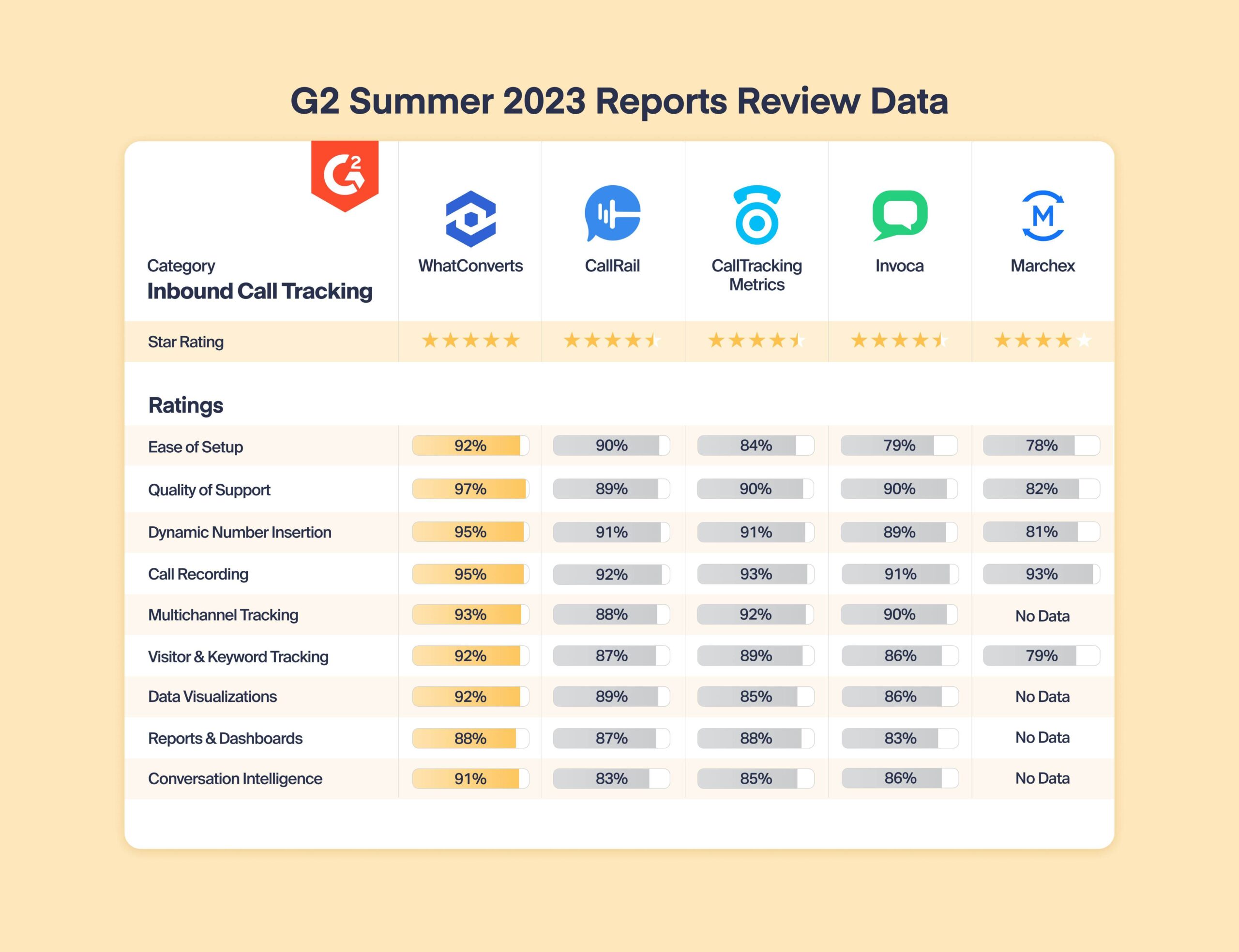 As you can see, WhatConverts earned some incredible reviews from customers this quarter, putting us ahead of similar inbound call tracking companies in nearly every rating.
This includes:
Ease of Setup (91%)
Quality of Support (97%)
Dynamic Number Insertion (95%)
Call Recording (95%)
Multichannel Tracking (93%)
Visitor & Keyword Tracking (92%)
Data Visualizations (92%)
Reports & Dashboards (88%)
Conversation Intelligence (91%)
A few other standout WhatConverts review metrics that aren't shown here but are worth mentioning include:
Has the product been a good partner in doing business? (96%)
Likelihood to Recommend (97%)
Meets Requirements (95%)
Ease of Use (92%)
In total, 91% of our reviewers gave us 5 out of 5 stars, and 9% gave us 4 stars.
Side-By-Side Comparisons
If you'd like to see a more detailed breakdown on how WhatConverts stacks up against each of these competitors individually, use the links below to access side-by-side comparisons from G2.
Wrapping Up
At WhatConverts, we take customer feedback seriously.
It's why we're continually updating our product with new features, adding quality-of-life improvements, and making it easier for marketers like you to prove and grow your marketing ROI.
And we think this quarter's review data from G2 reflects that dedication.
So if you are a WhatConverts user, we'd love for you to leave us a review on G2 and let us know how we've done.
And if you aren't, be sure to give us a try today.
Ready to see why we have a nearly perfect review score on G2? Start your 14-day free trial of WhatConverts now!