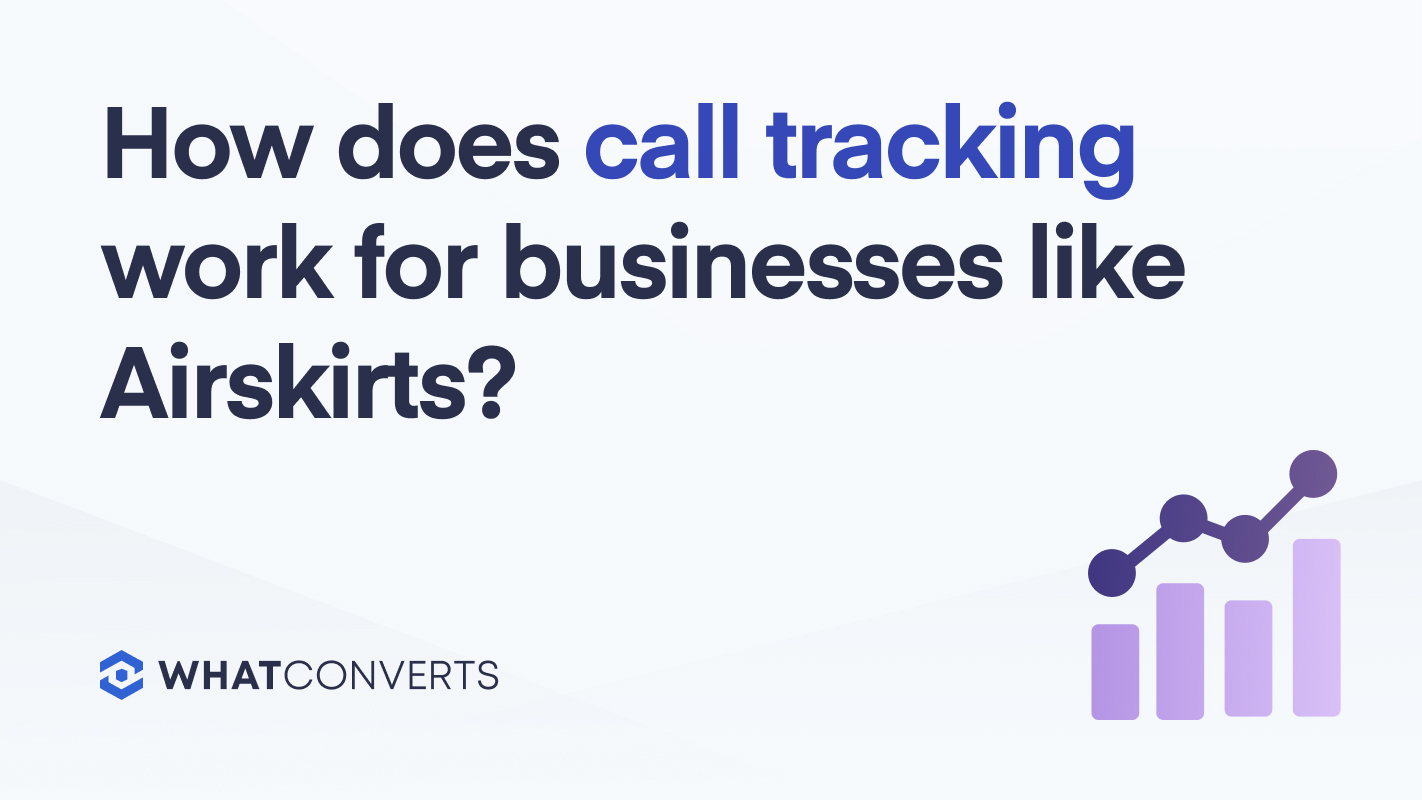 How much money are you spending on Google Ads each month? Whatever the number, you're hoping to offset those costs with the amount of revenue delivered by each ad. Google Ads has an average return-on-investment of $2 for every $1 you spend. Some Google Ad campaigns deliver a lower ROI, and some deliver a higher ROI. That's how it averages out to 2:1.
What if you could get rid of ads that deliver a lower ROI and double down on ads that deliver a higher ROI? Suddenly your average Google Ads campaign might deliver $3 or $4 for every $1 you spend.
To improve your Google Ads ROI, you must understand which ads deliver high-value leads. That was the goal for Airskirts, an RV accessory company that spends a big chunk of its marketing budget on Google Ads each month.
Jim Phelan, the Founder of Airskirts, knew the ads were working because his company was making sales. He didn't know which ads worked and he worried he might be wasting money on ineffective ads.
Jim decided to use WhatConverts to make his marketing spend more efficient. WhatConverts impressed him so much that he decided to share his story:
What Was the Business Problem for Airskirts?
When I started AirSkirts in early 2020 I had an idea for a business that would help RV owners protect and live in their RVs in cold weather. Our customers include full-time RVers, medical workers quarantining during COVID, wildfire refugees, ski bums, and people waiting on home construction. I had my product, brand, website, an insanely high bill from Google Ads each month, and orders were coming in.
Thanks to my background in software, I had a decent idea of how to market software and mobile apps. I wasn't prepared, however, for marketing a physical product. Airskirts was spending a tremendous amount on advertising and SEO but had little to no idea of what was working and what wasn't.
How Does Call Tracking Work for Airskirts?
My marketing company introduced me to dynamic number insertion (DNI), a concept that immediately resonated with me. I knew I needed it to track phone calls back to the marketing source, and DNI allowed me to do that. Our customer base includes a lot of retirees and people in remote areas, often with poor Internet service and low confidence in placing e-commerce orders.
Given that, and the price point of our product, customers like to speak with us and frequently place their orders over the phone. Without call tracking, most of our web-based analytics efforts were futile. We knew leads were coming in, but we didn't know where they were coming from.
At first blush, DNI seemed like a commodity item to me. I picked the cheapest vendor and implemented the code. Quickly, I learned how wrong I was and what I was missing in other solutions. Airskirts needed exceptional customer service and a rich set of APIs to allow me to fine-tune the product to fit my exact needs.
How does WhatConverts provide a better solution?
I searched for a call tracking solution that allowed me to do more customization and get better insights on my phone calls and marketing channels. When I first spoke with WhatConverts I was immediately impressed with how seriously they took my fledgling business. WhatConverts allows me to see simple reports that show which keywords are driving phone calls to my business.

During our first call, I had the company's founder on the line with me. To me, this instilled a lot of confidence. I knew their team would be there to support us, and that's been the case since we implemented the product.
As a software engineer by trade, I love how WhatConverts works without much effort – I was up and running in 30 minutes. I also love the depth of their support for Zapier, a tool that makes it easy to integrate various systems into my marketing analytics.
Has Airskirts seen tangible benefits from using WhatConverts?
Out of the box, WhatConverts gave us far more visibility into which marketing channels and Google Ads were driving orders. Now, I have laser-focused marketing attribution accuracy and workflow support for our salespeople. WhatConverts allows me to see which marketing channels drive my leads with simple reports

I think WhatConverts is a no brainer for anyone even without any customization. With WhatConverts' excellent set of APIs (advanced programming interface), however, I was able to accomplish even cooler things:
When we receive an inbound call, our Slack channel is notified with links to our CRM (Hubspot) and ordering system.
WhatConverts immediately creates or updates contacts in our CRM where we can log all future communications.
I can see the user's complete web activity and tie it to their CRM record. Immediately upon picking up the phone, we can see how the user came to us ad the pages they've viewed. I can also see any other activity (such as emails or chats) they've sent us, as well as any previous sales.
WhatConverts creates a special phone order link so when we place the order, it's tied back to the user's original web session
WhatConverts ties all this data back to Google Analytics and ads, revealing precise information on the Ads, campaigns, social, and organic paths leading to conversions
I'm happy to provide a little more detail about how we accomplished the more technical elements of our integrations with anyone who's interested. Just use our contact form to reach out and I'll be happy to provide some pointers.
All of this is super cool, but I think the real value in WhatConverts is the same as what makes our business a success – the people.
WhatConverts answers the phone, responds to emails and seems to genuinely care about our business.
I couldn't have been more wrong about DNI being a commodity – with WhatConverts we've found a partner in our business' success.