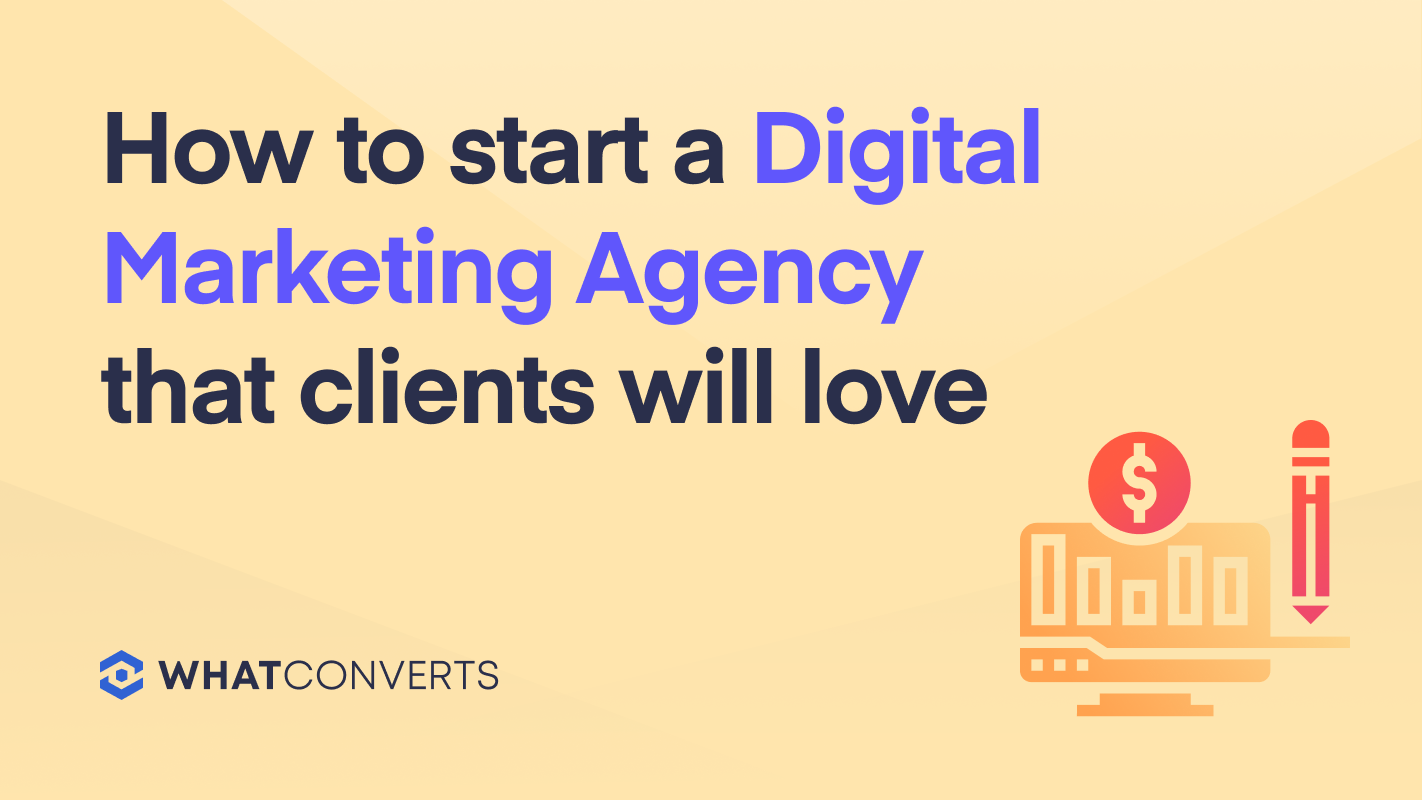 For anyone wondering how to start a digital marketing agency that will find success, one of the most difficult tasks is actually selling the marketing services.
Most companies are aware they should be doing marketing, they may not fully buy into it if they're not experts in the field themselves. For instance, clients commonly raise the issue of ROI, which agencies find difficult to prove. It's actually a misconception that it's difficult for marketers to prove ROI.
It doesn't have to be difficult. You simply have to be able to tie every lead and every conversion back to the marketing source responsible. If you can track leads, you can track ROI.
In this guide, we'll discuss how to sell marketing services, prove ROI, and touch on everything from audience and USP to the discovery process and pricing packages.
1. Define Your Ideal Customer Profile
Before you do anything else, it's crucial to define your Ideal Customer Profile (ICP).
There's absolutely no point in moving forward with sales and marketing campaigns unless you know who you're targeting. After all, nothing else matters in business if you fail to define your target market.
And with so much data available these days, it's foolish not to capitalize on it.
So what is an ICP?
First off, an ICP is not a persona, although it can be used in conjunction with your persona profiles. Generally, it's a lot more simple.
An ICP uses demographic information to outline your target market. This information can include:
Location
Company size
Technical maturity level
Job title
This is an easy way to ensure you're targeting the best prospects for your business. When you're considering this demographic information, keep this question in the back of your mind:
"Who really needs our service?"
This will help you ensure that you're targeting the right demographics.
After all, if you're working with an incorrect or misaligned ICP, your sales and marketing efforts will be ineffective – no matter how perfect they are for the ICP you've (incorrectly) defined.
2. Communicate Your Unique Selling Proposition (USP)
Why do your clients choose you over your rivals? How does your business stand out from the crowd?
A Unique Selling Proposition (USP) is at the center of every successful business. Perhaps you're producing higher ROI than your competitors, or you specialize in a super niche industry that no one else does.
Maybe you offer a faster turnaround than the majority of the competition or deliver a personal touch unique to your industry.
Knowing your USP and understanding how to communicate it is key to sales. Remember – your USP is designed to attract the right types of clients for you.
Say your USP is keeping costs as low as possible. In this case, you don't want to attract clients who demand a high level of service.
When you're considering how to start a digital marketing agency, you have to clearly explain who you are and what you're about. Otherwise, clients unfamiliar with the marketing industry may end up with you by chance, despite needing a high level of service and being willing to pay more for it.
This could lead to bad reviews, complaints on social media, and negative press.
Conversely, you're likely also missing out on clients who would be perfect for your USP but are currently stuck in an unhappy contract with one of your rivals.
This is why you must be absolutely clear as to what you can accomplish for a client, and develop a strategy for communicating your USP in the most effective way possible.
3. Ask Your Clients Relevant Questions
When it comes to selling big ticket items such as marketing services, the consultative sell is the way to go. Establishing an in-depth discovery process is a huge part of getting your lead to sign on the dotted line.
Start by having an actual conversation. In sales, we have a tendency to focus on the sell itself, and constantly push towards that moment.
But it's important to go into your discovery process with the right mindset: you want to actually find out about the client. You're interested, you're an expert, and you want to help.
Firstly, find out what your client's goals are, both in terms of their overall business goals and their marketing efforts. Ask about the parts of their job they hate, or that take up too much time, with a focus on marketing tasks.
Where are their pain points? Perhaps they're driving plenty of traffic to their website but they're not converting. Maybe they're struggling to get social engagement or click-throughs in their email marketing.
Use to help your lead open up and tell you the information you need.
Listen to their answers and take notes, and then consider what you can actually do to address these pain points and solve their problems. This is a chance to show off what your team can do.
4.  Offer a Unique Pricing Package
In order to stand out from the crowd, package your services in a different way than your competitors – and make them easy to understand.
For instance, many content marketing agencies offer bespoke pricing. Others will price their services – such as blogs, infographics, and videos – separately, allowing clients to build their own tailored service.
A content marketing agency, therefore, would be able to stand out from the crowd by offering marketing packages specifically designed to hit different goals.
For example:
The SEO package - $2,000 per month
4 hours of consultation with SEO team
10 blog posts
20 backlinks
SEO report
4 landing pages
The B2B Thought Leadership package - $5,000 per month
1 ebook
4 interviews
10 blog posts
1 video
4 podcasts
1 webinar
20 LinkedIn posts
LinkedIn community management
4 email newsletters
The Outreach package - $6,000 per month 
hours of creative consultation
1 press release
5 guest posts
20 backlinks
Instagram influencer campaign
4 email newsletters
16 social posts
Community management
This way, you're offering clients your expertise simply through the structure of your services. You know what will work to hit their goals, and you're making it simple.
5. Showcase Your Accomplishments
Testimonials and case studies truly are a sales rep's best friend.
If you're consistently delivering brilliant campaigns, and getting top notch feedback from your clients, this is how you can prove to leads that you're as good as you claim.
It's also worth compiling your organization's stats surrounding ROI – a common pain point for CEOs looking to invest in marketing services. Below is an example of a WhatConverts report that can clearly show how much revenue you're driving for clients.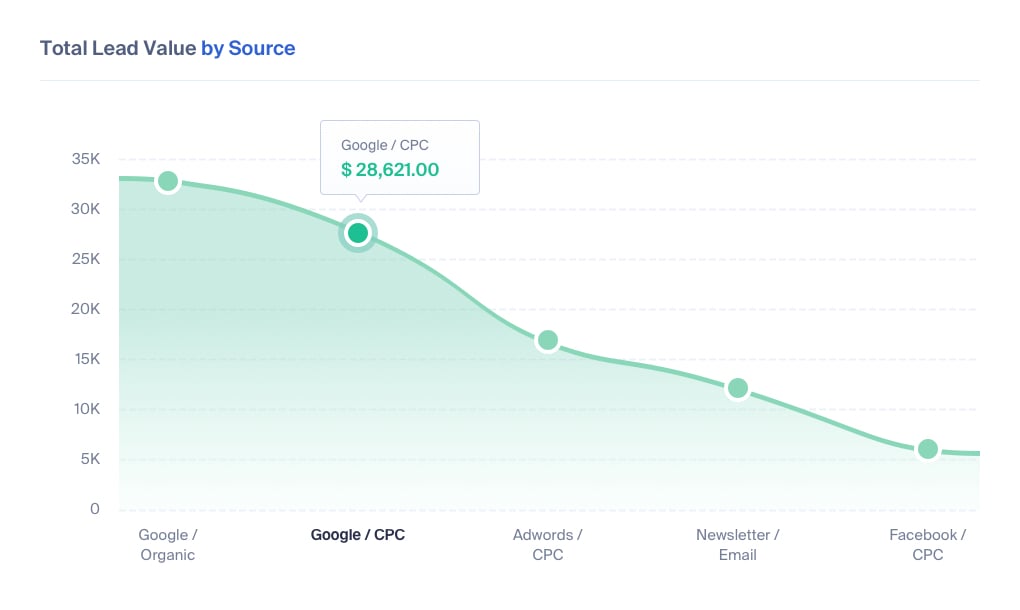 David Campbell, Marketing Strategist at Right Inbox recommends applying for various awards. If your campaign wins, use the recognition to market yourself!
Conclusion
Selling marketing services can be challenging, but with more and more companies turning to marketing agencies to bring in traffic, the trend is in your favor.
The most important thing to remember is that marketing services are a big ticket item. We know that in order for marketing to be effective, you need a comprehensive strategy, not just a few one-off blog posts.
This means that sales reps need to be true marketing experts in order to allow them to perform consultative selling and add value to their clients.