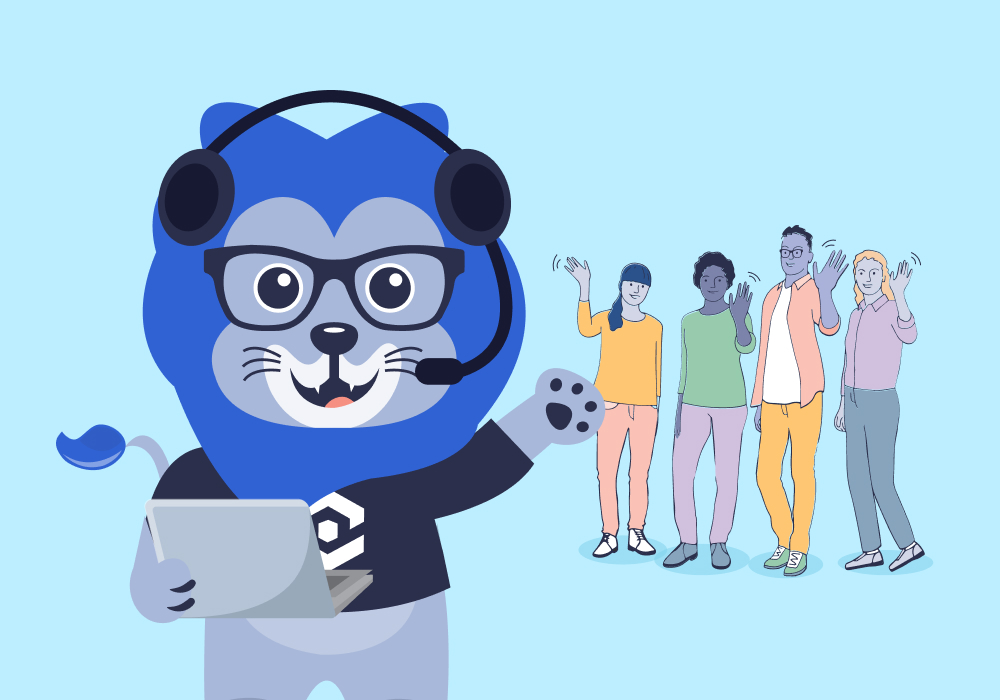 Over the past eight years, our platform has helped thousands of marketing teams demonstrate the real, tangible value of their marketing efforts.
Because at WhatConverts, our mission is to prove and grow the business value of your marketing.
And today, we're proud to introduce what we think is the perfect embodiment of that mission—a guide that represents the same core values and capabilities we strive to represent every day.
So without further ado, say hello to Wyatt the Lion.
Not your typical King of the Jungle, Wyatt hunts for leads and tracks your marketing so you don't have to—just like WhatConverts. And his roar? It's ROI.
We're excited to have Wyatt as a part of the team. And we'd like to tell you a bit more about how this (admittedly cute) master of marketing reflects what WhatConverts can do for you.
The Process: Creating Wyatt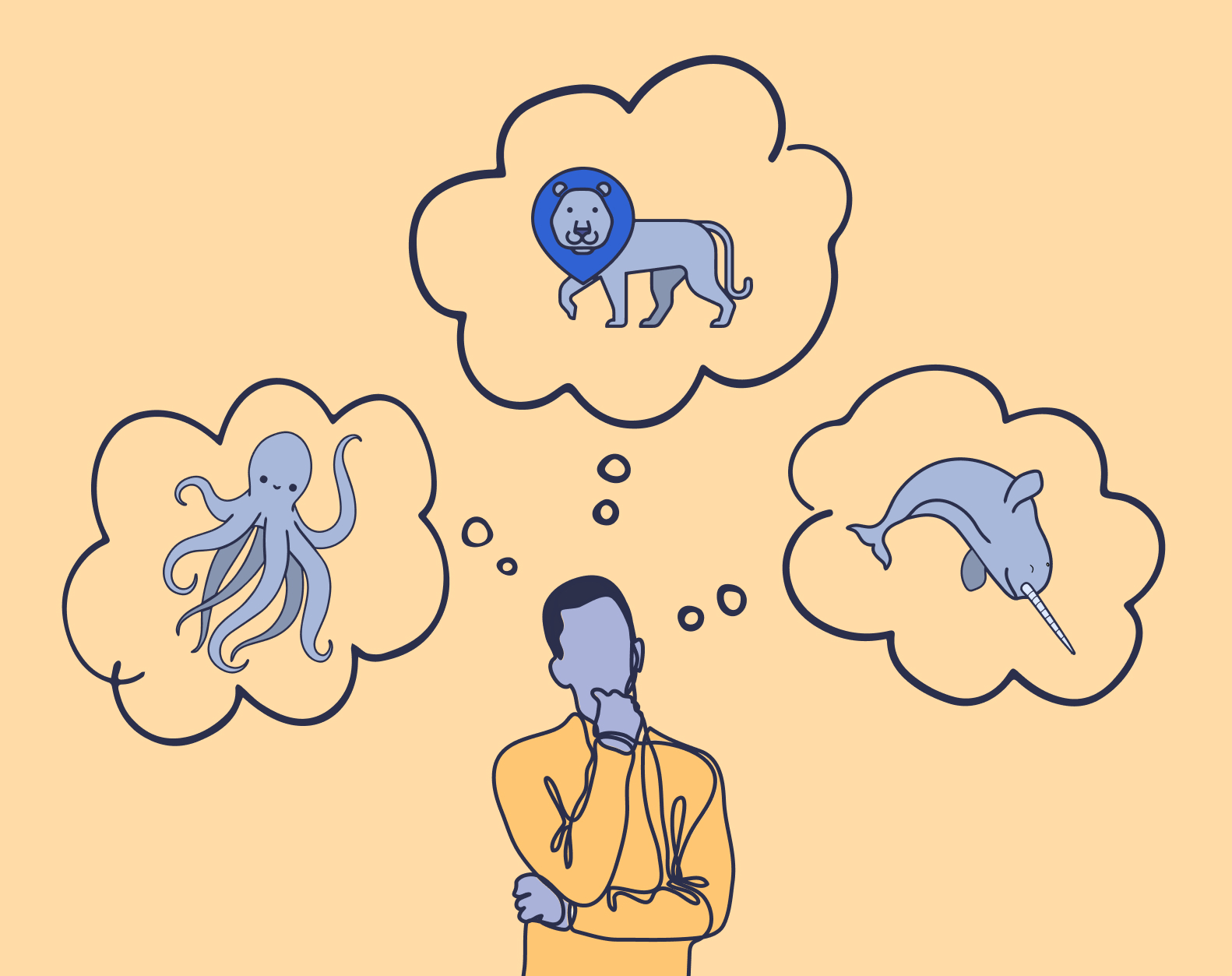 As it turns out, distilling an entire platform into a single, real-world character is no easy feat.
We started by conducting research on different animals who possess characteristics and attributes that are synonymous with those of our platform.
Some top contenders were:
The Narwhal – Nicknamed the "unicorns of the sea," these unusual creatures (like WhatConverts) are experts at collecting data from hard-to-reach depths—in their case the Arctic Ocean!
The Octopus – True adaptation artists, the octopus can manipulate its own colors and textures to perfectly match its environment. And with our customizable range of tools and capabilities, you can just as easily adapt and filter your lead data to get the information you need.
In the end, we turned to the people who know WhatConverts best to make the final decision—our collective team.
In democratic fashion, we tallied up the votes, and Wyatt the Lion came out on top. Ultimately, he showed the strongest connection with the type of culture that WhatConverts values most: collaborative, innovative, and where creative solutions are used to target intelligent marketing.
Wyatt & WhatConverts: The Similarities Are Striking
Choosing Wyatt as the symbol of what our platform represents was no accident. And there's a lot more in common between this friendly lion and WhatConverts than meets the eye.
Here's how the two relate:
An Expert Hunter & Tracker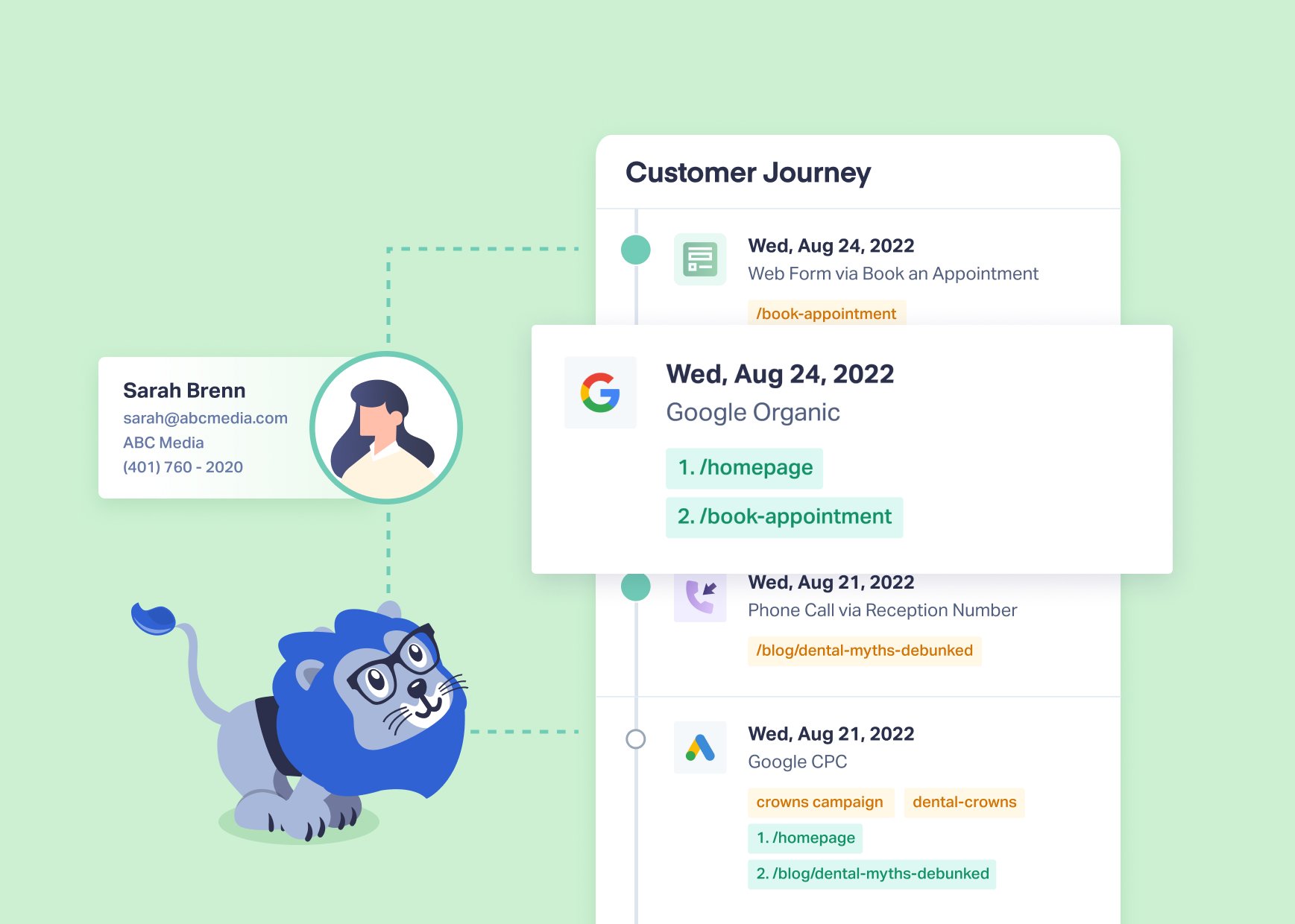 Lions are well-known as skilled hunters. And though Wyatt wouldn't hurt a fly, he's still a consummate professional at tracking down targets if the situation calls for it. And when it comes to tracking quality leads, WhatConverts is just as capable.
Finding not just leads, but quality leads, is a huge issue for marketers. In fact, 44% of sales reps complain about the quality of leads sent their way by marketing.
With WhatConverts, you can not only track the full customer journey of each qualified lead you generate. But you can get a clear overview of the value of individual leads, campaigns, channels, and virtually any of your marketing efforts in just a few clicks.
44%

of sales reps complain about the quality of leads sent their way.
Proudly Part of a Pride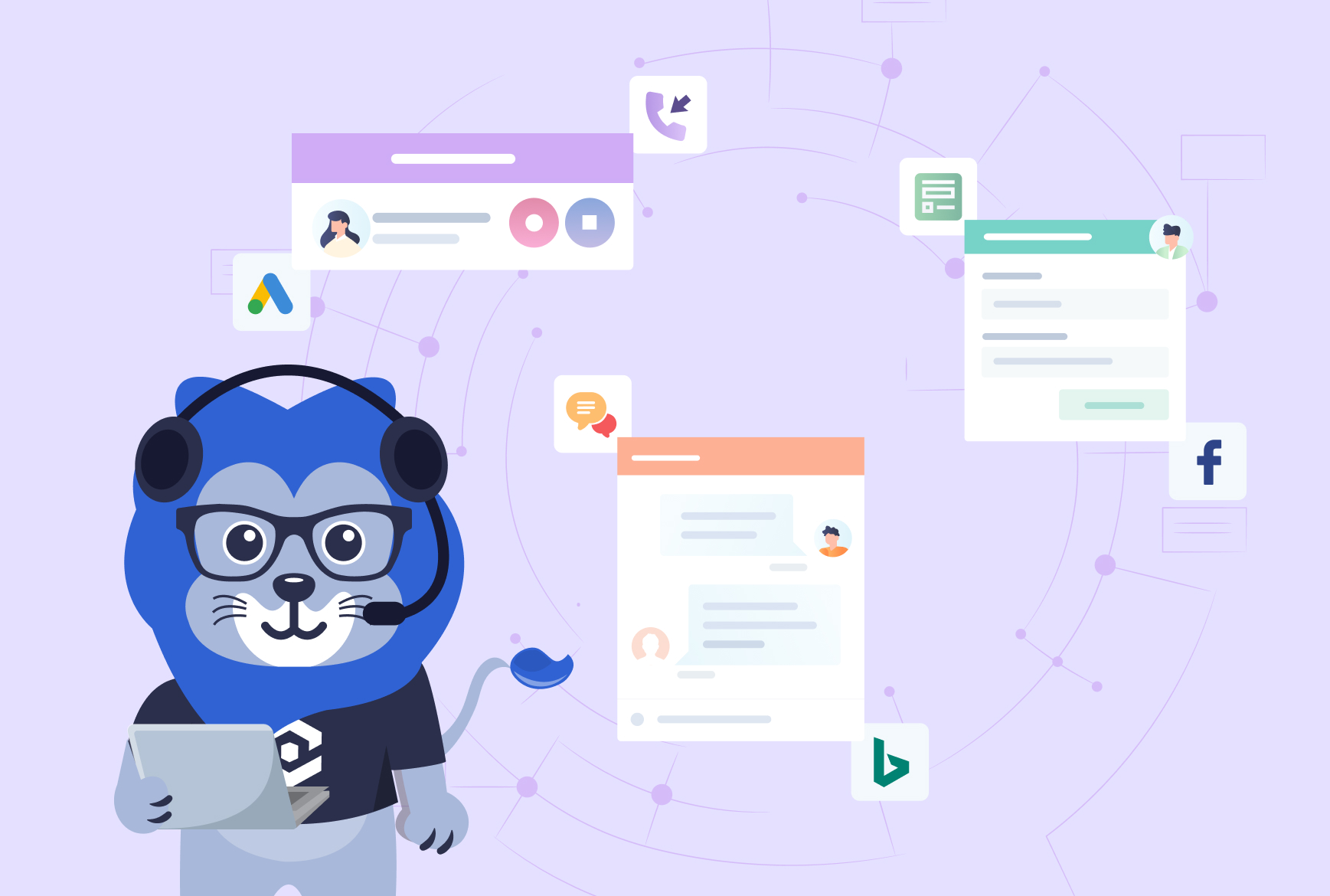 Proud to be King of the Jungle, Wyatt's also still part of a cohesive pride. And that means he's a master collaborator.
When it comes to marketing, data is clearly king. The more (and better) data you have, the better able you'll be to see the big picture, to make strategic decisions that actually pay off.
But many marketers struggle with capturing the data they need to get that big-picture view. And more importantly, they have to spend hours upon hours every week integrating data sets from all their recording tools (6+ on average for most marketers.)
Collaboration among marketing tools and channels isn't easy in this industry.
WhatConverts, on the other hand, makes it simple to see every lead generated by each of your marketing channels—from PPC and organic to email, phone calls, chat, and more—all on one dashboard. That way, you can easily see which channels are delivering the best leads.
Plus, WhatConverts has over 1,000+ different integrations with other tools.
It's pure marketing data collaboration at its best.
Adaptability Is Key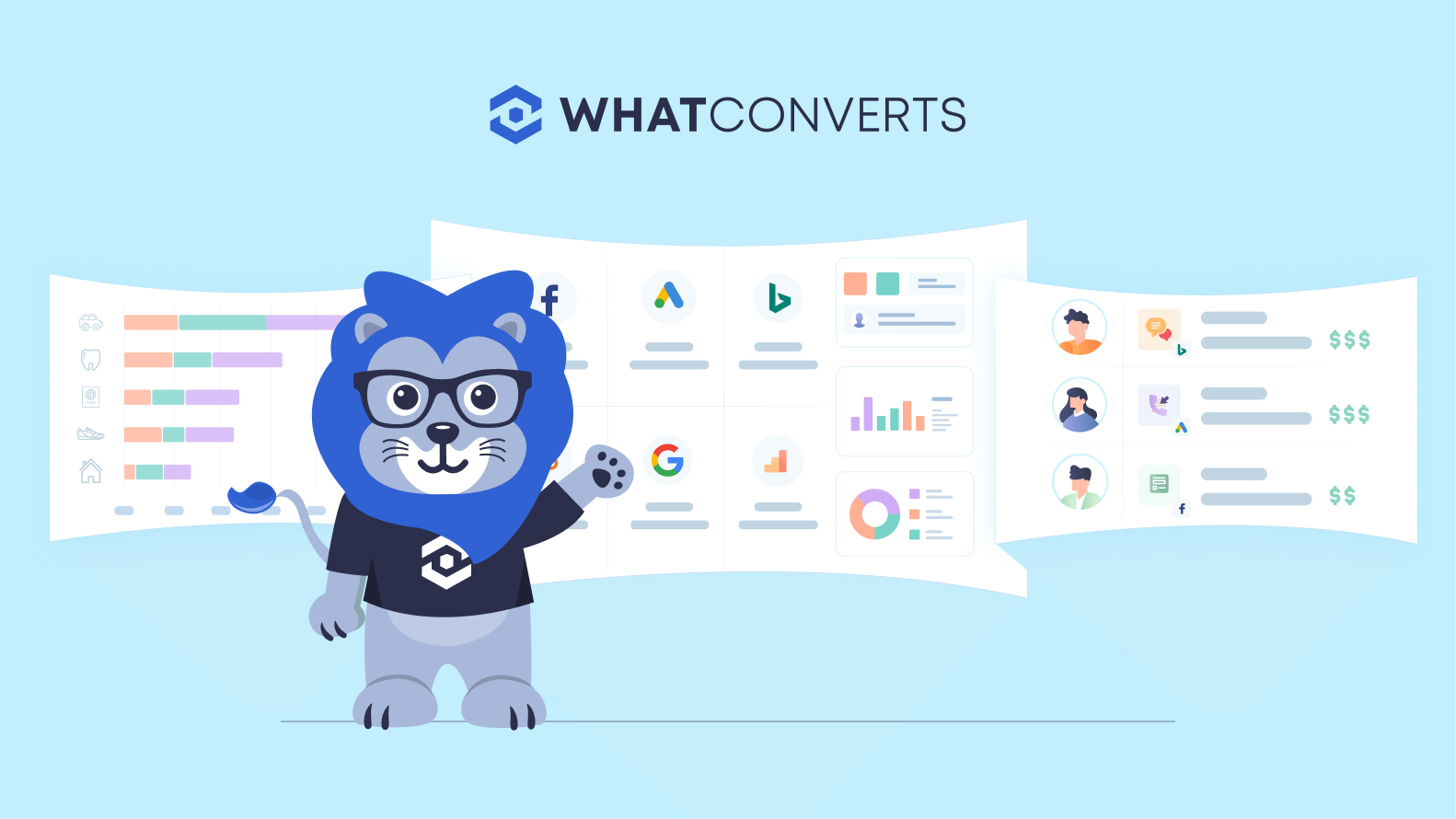 Lions are surprisingly adaptable. They can thrive in environments as lush and vibrant as grassy savannahs or as bone dry and barren as thorn forests and desert plains.
How does that relate to marketers? Well, to truly understand the value of your efforts, you can't just have a lot of data. You also need to adapt, to filter that data so you can get the insights you need to make strategic decisions.
As it turns out, 57% of marketers are incorrectly crunching their data, resulting in misleading marketing insights and downright bad decisions.That's why WhatConverts made it easy to adapt and filter your data across 70+ different data points.
Want to:
See the quotable value of all your leads driven by a single PPC campaign?
Display every qualified lead generated from just chat and email?
Exclude unqualified leads, duplicate accounts, or existing customers?
Simple. All it takes is a few clicks.
And for you, that means getting the lead generation metrics you need to quickly show the value of any marketing effort, no matter how specific.
57%

of marketers are incorrectly crunching their data.
Strategic & Willing to Put Up a Fight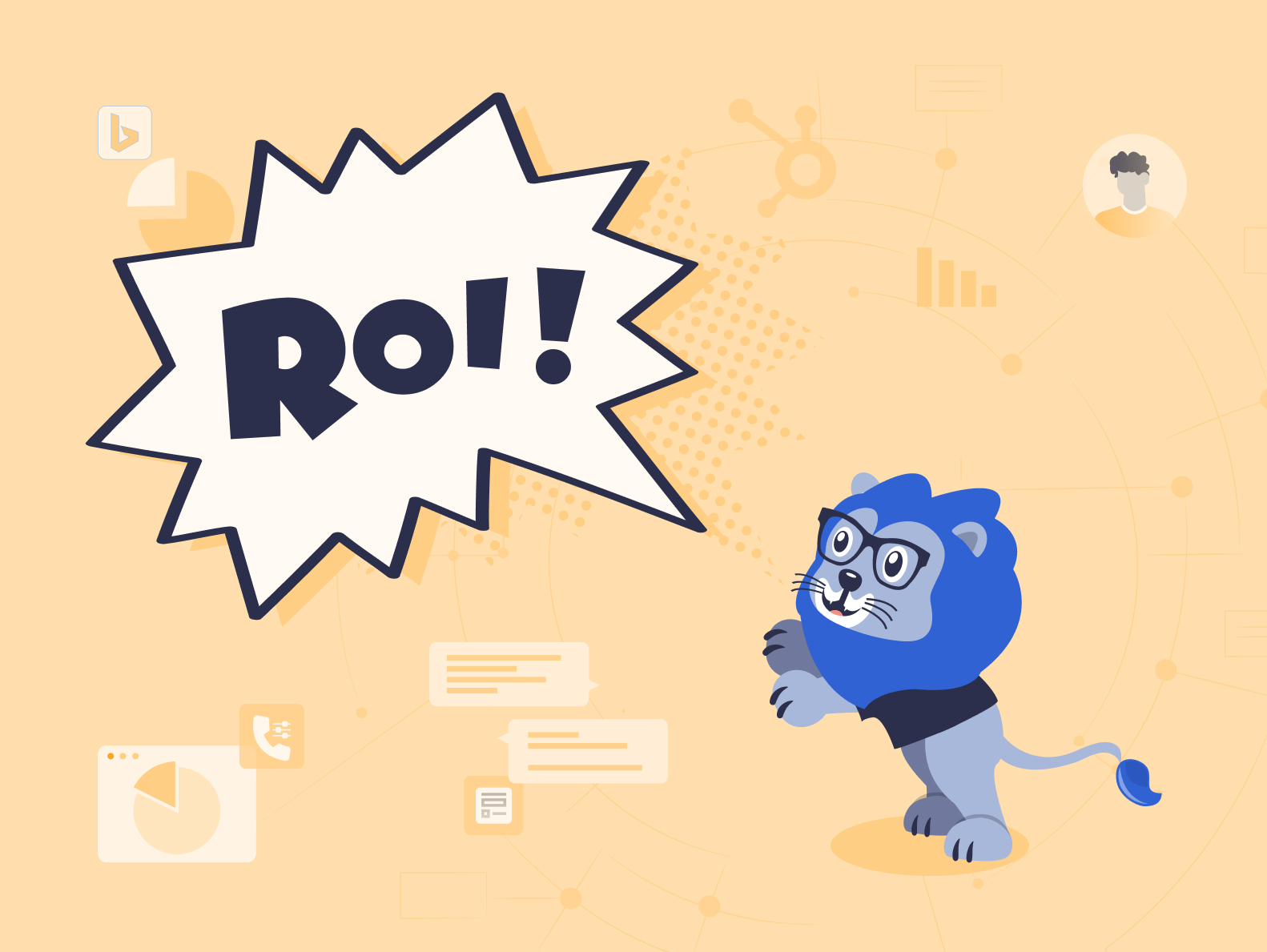 Tracking down prey and surviving in the harshest of climates means being strategic about which opportunities are worth chasing and which aren't. It also means being willing to put up a fight to defend what you believe in.
Making it as a marketer is no different.
You need to be able to not only be strategic about where you're spending your clients' budgets. But you also have to defend that spending by showing clear, indisputable marketing ROI. In fact, 84% of marketers are under pressure to do so.
But what's surprising is 61% don't use ROI simply because they aren't confident in their data.
Beyond that, marketing analytics are only influencing 53% of decisions—the rest are made based on what's worked in the past or downright bias.
But WhatConverts removes the fog of bad/incomplete data. Our advanced lead tracking lets you more accurately measure and report on your marketing effectiveness, no matter the channel.
And that means you can be strategic about your marketing spend, double down on what's working, and (most importantly) prove and defend your value.
61%

of marketers don't use ROI because they aren't confident in their data.
See What Wyatt (& WhatConverts) Can Do For You
We're proud to have Wyatt as part of our team. And we know he'll be a skilled steward of the same values we at WhatConverts so strongly believe.
Values like:
Quality Over Quantity – We make it easy to hunt and track quality leads.
Collaboration – See all your marketing leads in one, easy-to-navigate dashboard.
Adaptability – Segment and filter your leads across 70+ different data points.
Strategic – Make better decisions and clearly show the value of your efforts to clients.
And like us, Wyatt is eager to help prove and grow the business value of your marketing.
Get a 14-day free trial of WhatConverts today to see what lead-tracking software for marketing (and Wyatt) can do for you!