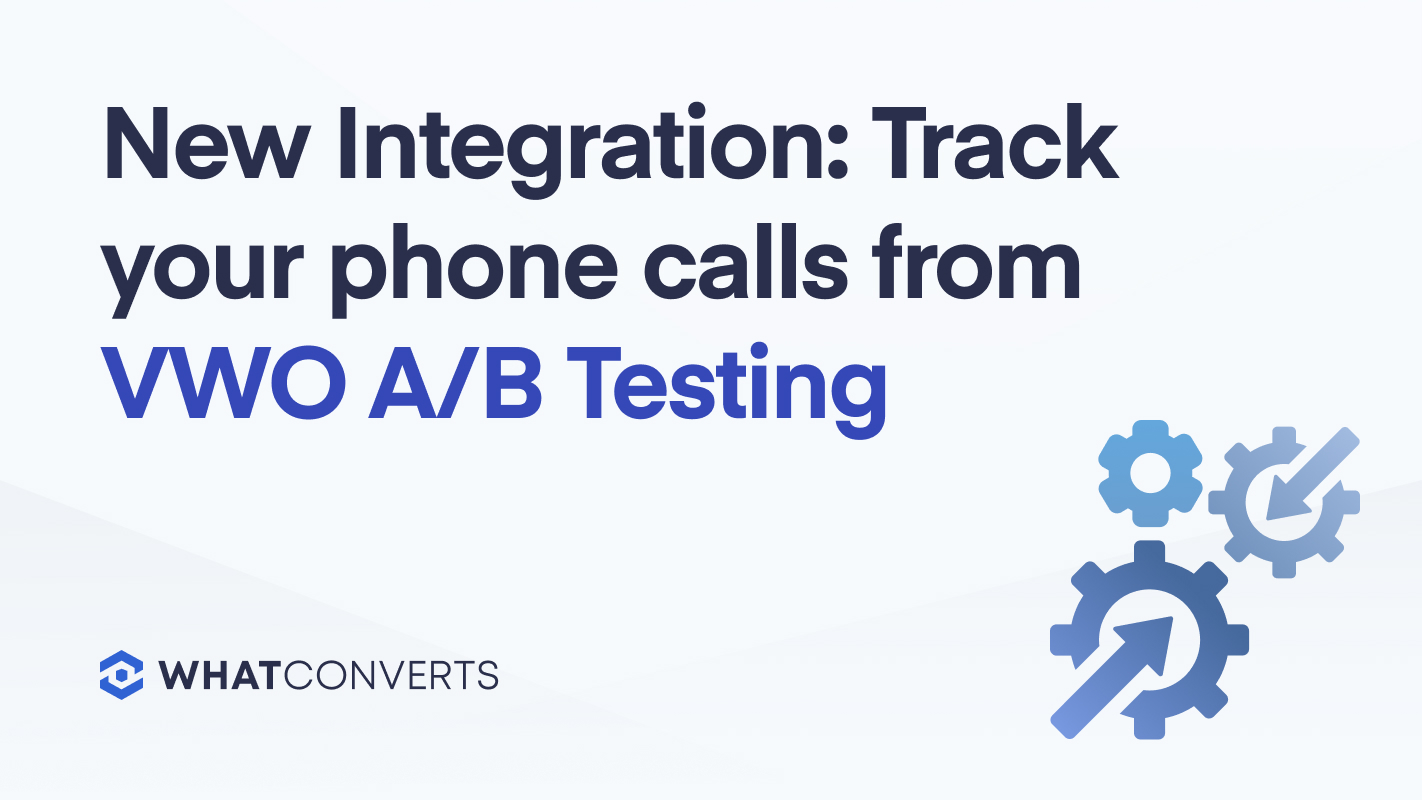 We're thrilled to announce that VWO A/B testing now has a direct integrestion with WhatConverts. VWO is one of the most popular A/B testing tools in the world, and the new WhatConverts integration makes it even more powerful, accurate and useful for marketers.
The WhatConverts direct integration allows VWO users to:
Capture phone call conversions (in addition to form, chat, and transactions)
See more details about every lead/conversion
Users love VWO because it's easy to test new ideas on existing websites. VWO makes it possible to A/B test any part of your existing website without creating brand new landing pages. The platform lets you A/B test different parts of the website you already have.
Let's say you want to try a different headline on your homepage. You can simply add the VWO code to your site, which will allow you to edit the headline directly and instantly create two versions of the site. Right click on the headline you want to change, type the new text, and VWO will create a different version to A/B test.
The only difference will be the headline. You can then set it up so some users see one version of your site, and some see another.
One simple piece of VWO code allows you to A/B test messaging, images and any other variable on your site. With VWO code on your site, you don't have to create any new pages; you can use your existing site to test variables.
Track every lead. See which page actually works best
Usually, VWO users just track form-fills and button clicks when A/B testing different pages.
With WhatConverts, VWO users to track phone calls and chat conversations. Phone calls are one of the strongest conversion methods and must be tracked. A lead that calls your business is very interested in your product, and it's imperative that you find out which landing page is driving your hottest leads.
Set up your VWO + WhatConverts integration today
To set up the VWO integration, simply go into your WhatConverts dashboard under Integrations, and add new goals for each conversion action (call, form, chat, event, chat).
Then, select the trigger for the goal. For most, it will be, "new lead received." You can also add triggers for sales value and quotable leads. This extra lead detail is one of the huge advantages of using WhatConverts to track your VWO leads.
You can see if your VWO leads are quotable, and what their sales value might be. That will give you a more accurate idea of which A/B test landing pages are really working.
Inside VWO, go to your testing environment and set goals in there with the same names as the goals you set up in WhatConverts.
Then, change your variables on your website and start the test!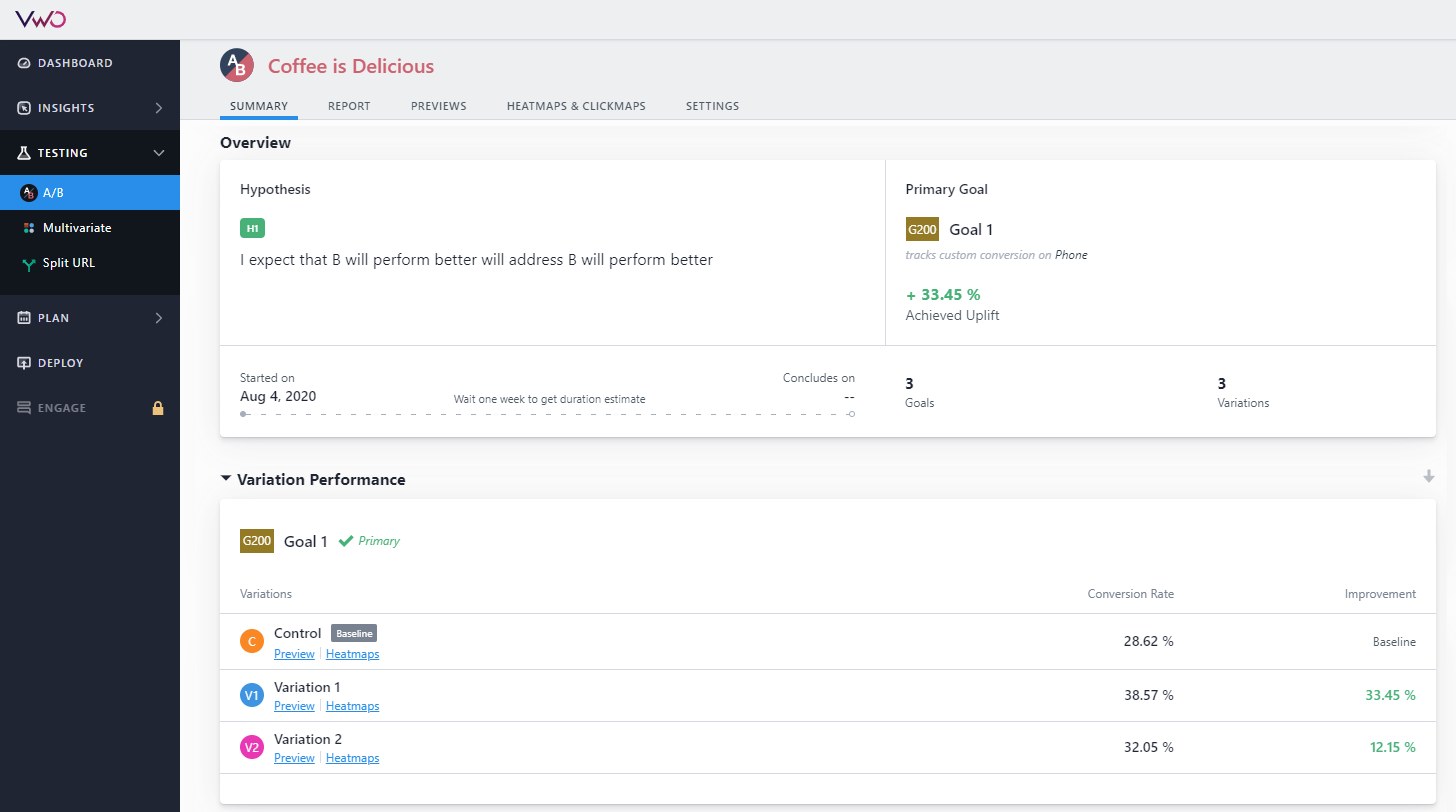 When someone completes a conversion action (fills out a form, makes a phone call or starts a chat) your WhatConverts dashboard will show all the information about that lead.
This lead detail information includes
The variant of your site the lead came from
Contact information
Location
Conversion action
Marketing source
Keyword (for PPC ads)
Lead Value (when applicable)
Quotable/Not Quotable (when applicable)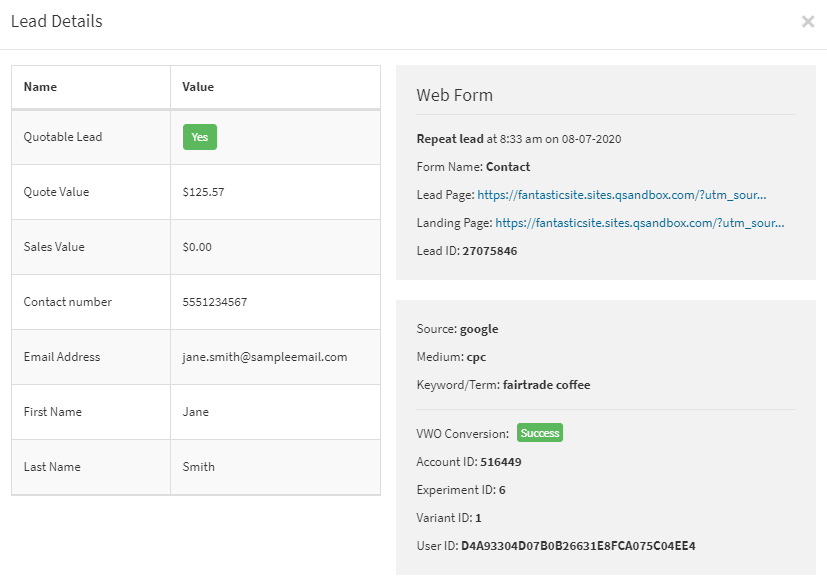 The WhatConverts integration is about more than just capturing phone call leads. The VWO/WhatConverts integration adds more information to every lead you capture through your VWO A/B testing. WhatConverts captures the details of the lead -- who they are, where they came from, which conversion action they took, and which A/B test page worked.
You can now see if one version of the site had more quotable conversions than another. You can also see which version of your attracts the most valuable leads. With more lead detail, you can have a better understanding of which versions of your site actually attract the leads that have the biggest impact on your business' bottom line.