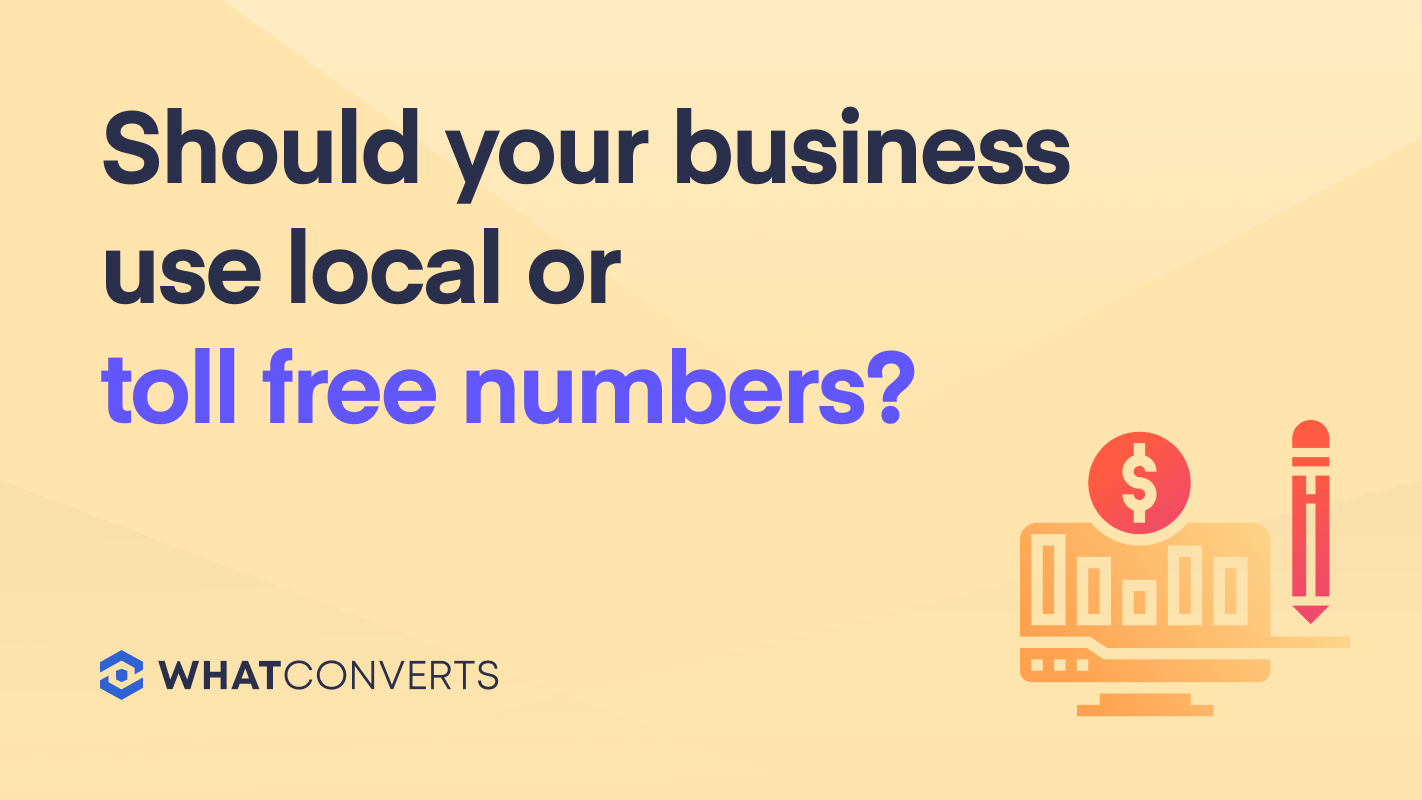 You came here asking whether to use toll-free numbers or local numbers, but you should really be asking what your customers value. This number will be your tracking number; a customer-facing disguise for your real business phone number. So the question you have to ask yourself is, what kind of phone number does your target audience want to see?
A local number is a phone number with a specific area code. Local numbers cost less than toll-free numbers, and they work best for businesses that are trying to:
target customers living in a specific city or neighborhood
make the business seem local even when it's not
Toll-free numbers don't have familiar city/state area codes. Instead, they start with three digits such a (888) or (800). They cost more than local numbers, but they come with the added bonus of being free for customers to use. Toll-free numbers are a great investment for businesses hoping to:
make the company seem larger and more professional
make it easier for international customers to call
Before deciding between local and toll free numbers, you've got to ask yourself a few questions:
Are you targeting a specific area code?
If your target audience is in a specific city or state, you can use a local number (with a local area code) to make your business appear local even if you don't have a brick-and-mortar location in the area.
According to this survey, 86% of consumers are willing to pay more for the benefit of doing business locally. There are advantages to making your phone number appear local, but having a local number can also make your business seem smaller than it would if you had a toll free number.
Do your customers want a local business or a national/international business?
When your business has a toll-free number, it gives customers the impression that your business has national or international reach. Research studies have shown that ads with toll-free numbers see a 30% better response-rate than ads without. That same research showed that 86% of US consumers associate toll-free numbers with a quality business.
Having a toll-free number can give consumers the impression that your business receives so many calls that you require a centralized call center. Of course, you don't need a call center if you have call tracking software with call forwarding; a feature that forwards calls to the right department. According to this survey from Accenture, 90% of consumers have been frustrated by a company putting them on hold for a long time. This is where an automatic call forwarding tool can help. Thanks to new virtual local numbers, call forwarding is available through both local numbers and toll-free numbers.
Ask yourself if your customers want to see a large business with thousands of customers or a smaller business that can cater to their needs quickly.
Are you trying to expand into a new city/state/country?
When expanding your business into a new market, you have to compete with existing businesses that have earned the customers' trust. If you don't have a local number, you're putting yourself at a second disadvantage; customers are likely to choose the local number over your toll-free number.
As we mentioned, toll-free numbers have the benefit of being free for customers to use. However, most people have unlimited call minutes nowadays so that benefit isn't as impactful as it once was. While cost likely isn't an issue for customers calling you from the same city or country, it can still be a concern if you're attracting customers from different countries. If you're expanding into a new country, toll-free numbers are the way to go. If you're simply expanding into another state or nearby area code, a local number can help you get your foot in the door with that community.
So, which number should you use?
Still having trouble deciding between a local number and a toll-free number? Once you've identified your business needs, visit the WhatConverts number pricing page to see how much each type of number will cost. Once you've taken a look at the options and identified the number that fits the needs of your business and your customers, get in touch and we'll get you set up.