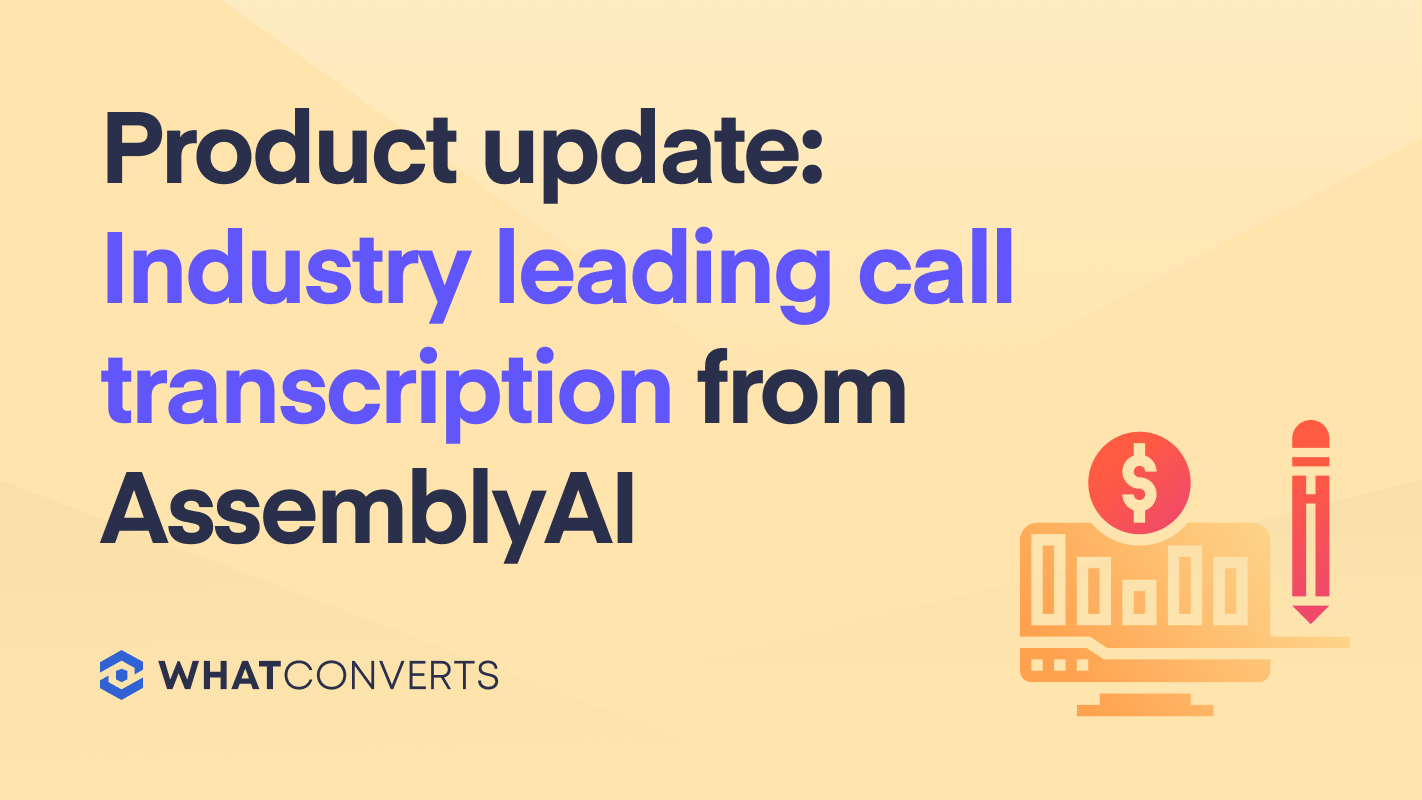 Call transcription never lies, or at least it shouldn't.
Accurate transcripts reveal what new leads want. Reading conversations with new leads tells you everything you need to know. Now, we're giving users even more powerful speech-to-text software by partnering with industry leader AssemblyAI .
People are already loving the improvements. AssemblyAI gives users more accurate transcriptions and bonus features, making it even easier to identify your best phone call leads.
Why enable call transcription on your WhatConverts account? First, it gives you the ability to qualify phone call leads. A quick glance at the transcript can tell you if the lead is quotable and should be passed on to sales, or if it's junk. That's a huge piece of information that you need to know right away whenever a new lead comes in. You'll save salespeople from having to deal with junk leads, and you'll discover the marketing campaigns that actually deliver qualified leads.
Call transcripts can also be used to assign value to new leads, review best practices and provide guidance for customer service and salespeople.
AssemblyAI: The most accurate call transcription software on the market
Together with AssemblyAI, WhatConverts breaks call transcripts down into message bubbles from Caller and Recipient. Users can see the interaction between the two parties as it happened and pinpoint moments in the audio based on the transcription text.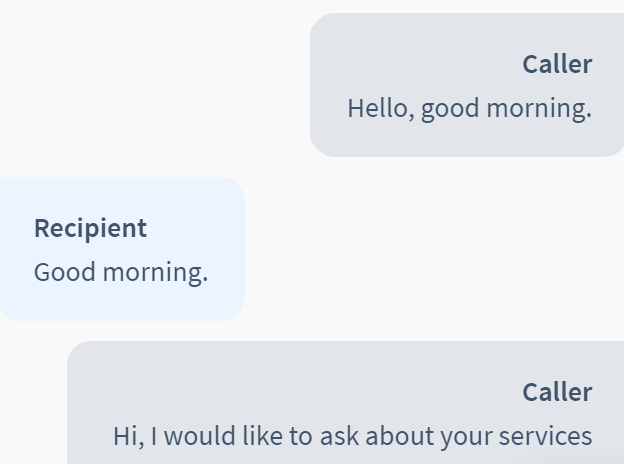 We're really excited about the new audio waveform feature. Users can skim through calls and listen to exact moments in the audio. When you want to listen to a specific moment in the transcript, click the text and you'll be taken to that point in the audio waveform.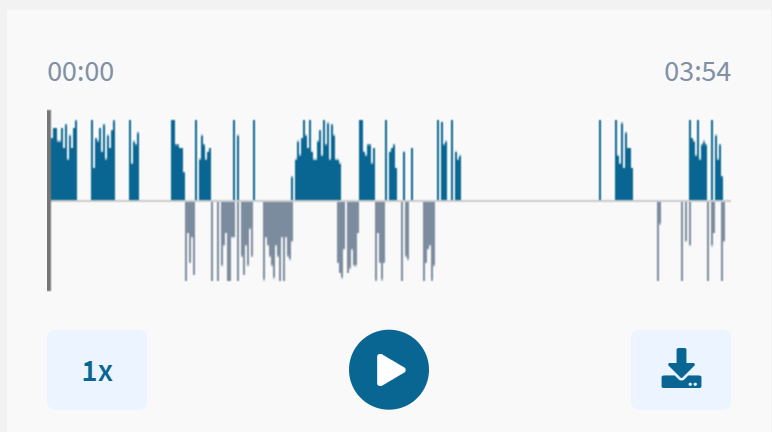 AssemblyAI provides WhatConverts users with other new features like adjustable playback speeds and automatically redacting PCI: email addresses, phone numbers and payment information.
WER: Word-Error-Rate and the speech-to-text industry
When were meticulous in our search for new call transcription software.
AssemblyAI emerged as the winner in a series of tests to determine the most accurate automated speech-to-text software. After testing transcription software from some of the largest companies in the world, we found AssemblyAI to be the most accurate call transcription software on the market today.
AssemblyAI measures accuracy through a metric known as WER. That stands for Word Error Rate, and it's a standard metric used in the automated speech-to-text industry. Below is a table showing how much more accurate AssemblyAI is compared to our previous speech-to-text software provider.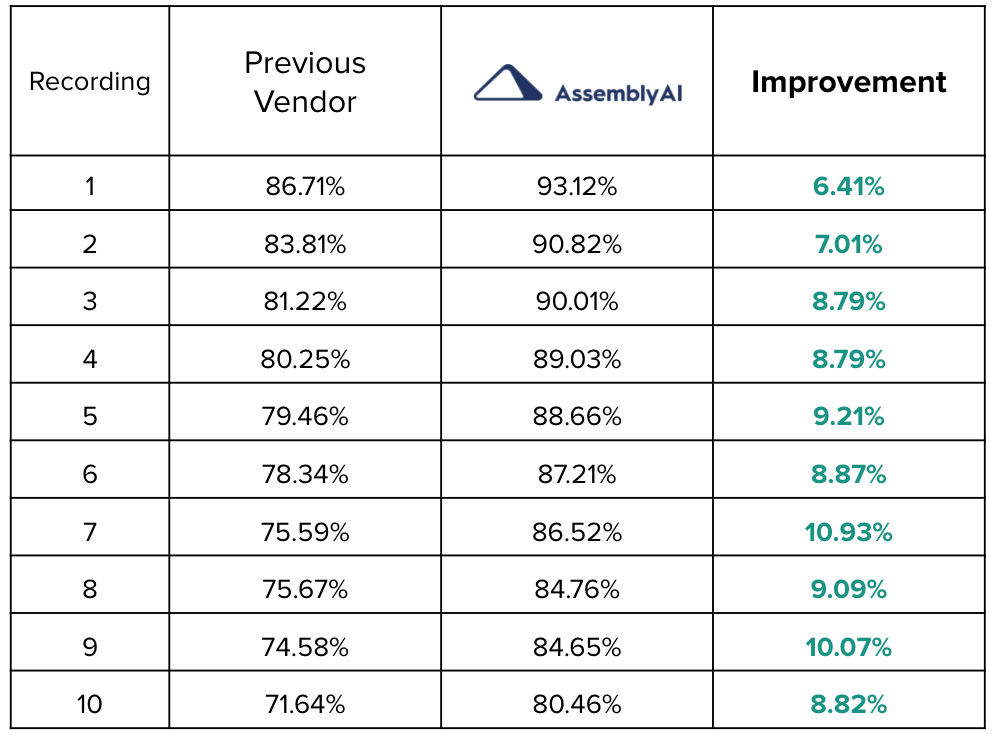 In an examination of ten different speech-to-text files, AssemblyAI simply outperformed every other big name speech-to-text tool.
One thing matters above all else in a speech-to-text tool; accuracy. Below, you can see the key areas of the text where AssemblyAI got the transcription correct and the other speech-to-text vendor made errors.
The commitment to accuracy makes WhatConverts and AssemblyAI a perfect match.  We're hyper-focused on giving businesses  accurate marketing data so users can make the accurate marketing decisions. These hyper-accurate call transcripts are part of our commitment to our users. Now, salespeople and marketers can easily see if leads are qualified, quotable, and ready for follow-up.
To learn more about WhatConverts call transcription and identifying your best leads, click below.