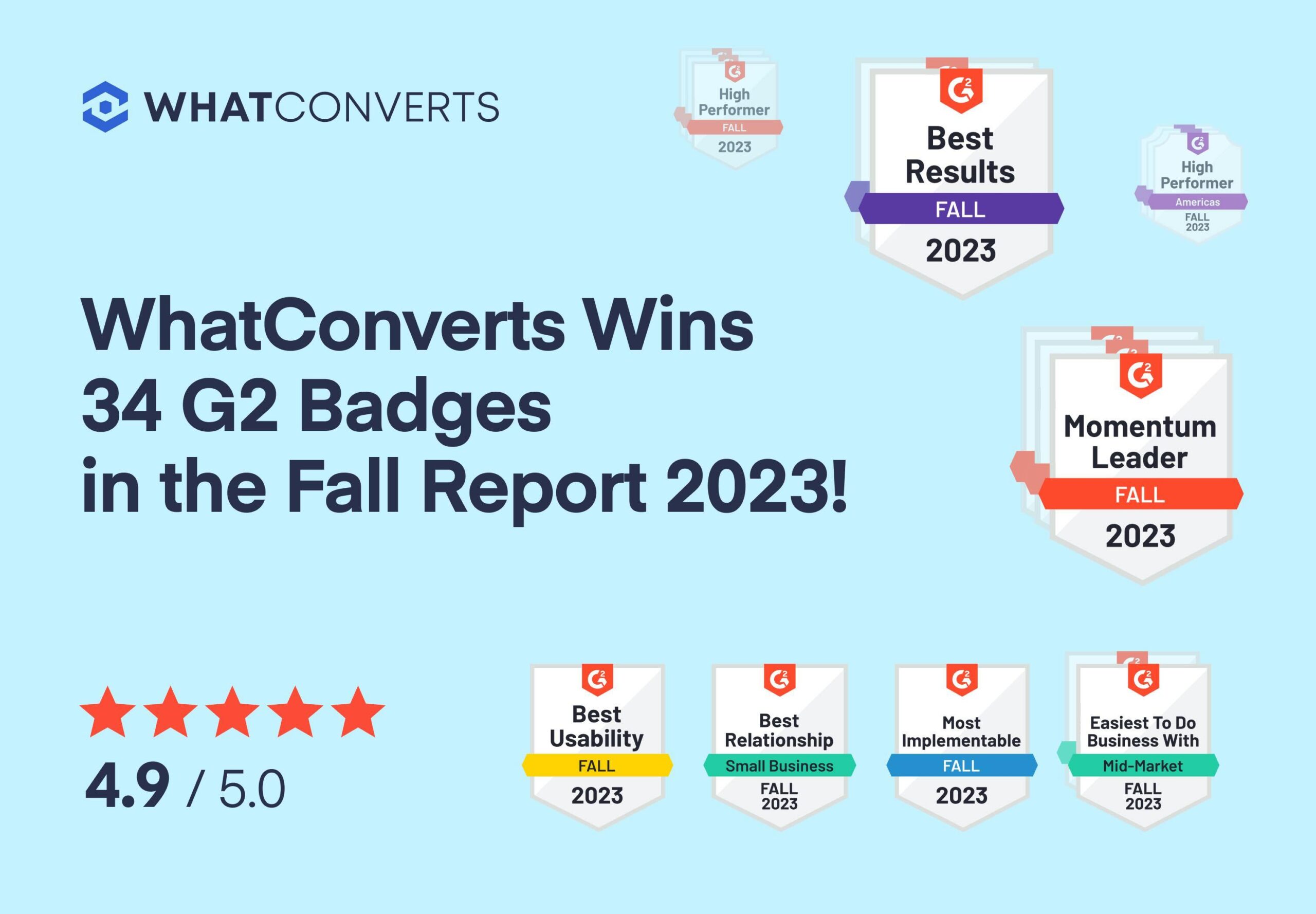 As it does every quarter, G2 has just released new reports ranking 145,000+ different software across various industries.
And as it did last quarter, WhatConverts has continued to climb the rankings this Fall.
Here's a quick breakdown of the highlights from the G2 Fall Reports for 2023.
Where The Numbers Come From
G2 is the largest and most trusted software marketplace. Users can evaluate product features, compare competitors, read reviews, and more.
Reviews are also highly vetted by G2 staff for:
Relevance
Authenticity
Originality
Lack of Bias
It's why more than 80 million people use G2 every year to make smarter software decisions.
And it's why all the data in this article comes from verified WhatConverts users.
For more on how G2 calculates customer satisfaction, have a look at the resources below:
WhatConverts: Ranked #1 in 7 Categories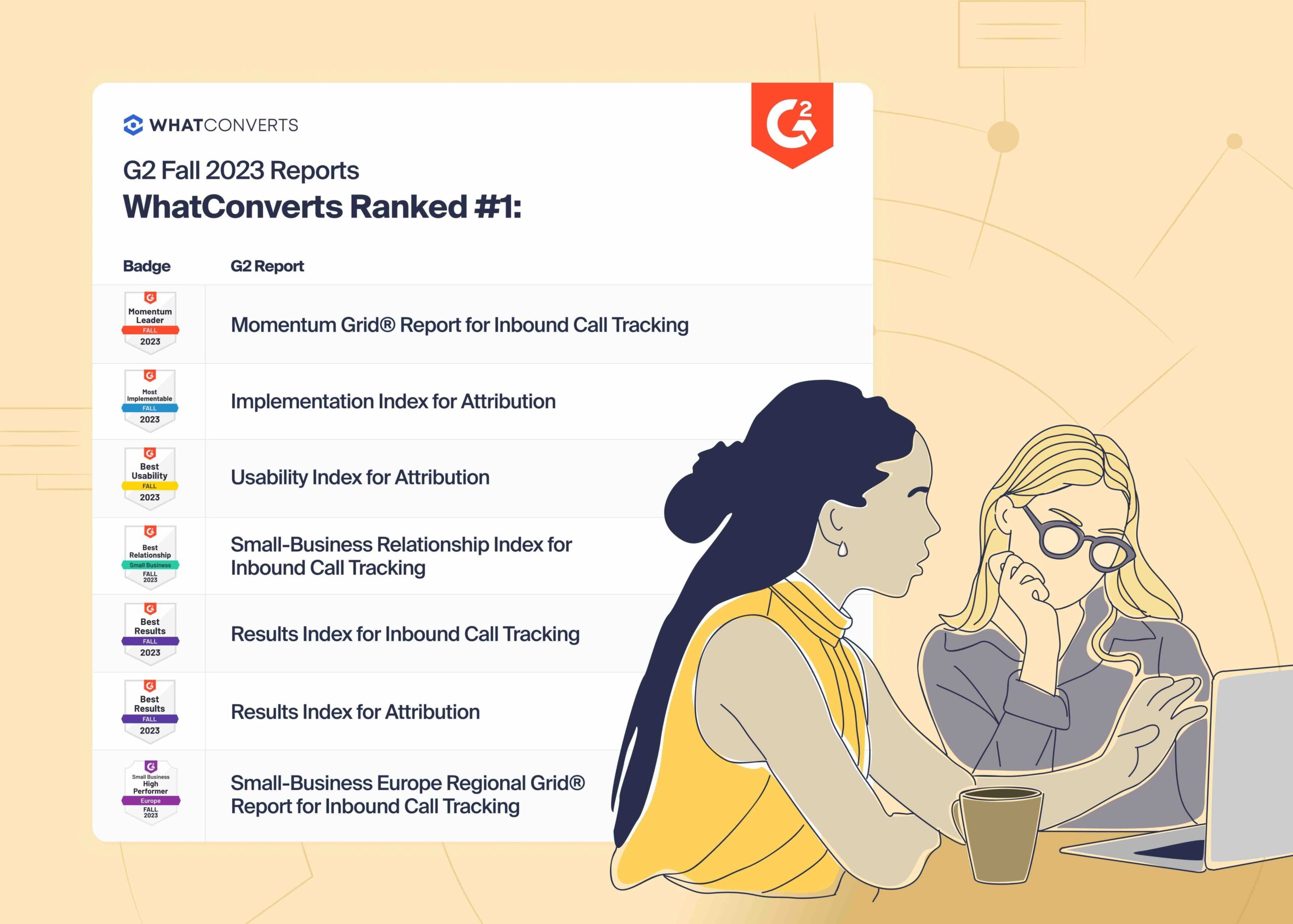 We're proud to say WhatConverts has continued to grow in popularity and user satisfaction this quarter. And we're grateful that the G2 reviews reflect that trend.
WhatConverts is now the highest-scoring software in seven categories:
Results Index for Inbound Call Tracking | Fall 2023
Results Index for Attribution | Fall 2023
Momentum Grid® Report for Inbound Call Tracking | Fall 2023
Implementation Index for Attribution | Fall 2023
Usability Index for Attribution | Fall 2023
Small-Business Relationship Index for Inbound Call Tracking | Fall 2023
Small-Business Europe Regional Grid® Report for Inbound Call Tracking | Fall 2023
Plus, WhatConverts ranked in the top three positions in 25 categories, including Marketing Analytics, Usability for Inbound Call Tracking, and Implementation for Attribution.
Compared to rankings for last quarter (#1 in two categories and top three in 17 categories), this shows a huge momentum shift—more and more people love using WhatConverts.
Why the Change?
Wider user adoption of game-changing features is the most likely reason for this rankings jump.
The more our customers use WhatConverts, the more they discover features that dramatically improve the way they make marketing decisions.
Features like Lead Intelligence, which lets you save hundreds of hours per year by automatically qualifying, valuing, and actioning leads for you.
Or our powerful Google Ads Integration, which lets you send only select conversions (e.g., qualified, high-value leads) to Google. And when combined with Lead Intelligence, you can automatically train the algorithm to only target the best leads, perfect for automated bidding strategies.
Read More: How to Optimize Google Ads Automated Bidding for Better Results
WhatConverts Fall 2023 Review Scores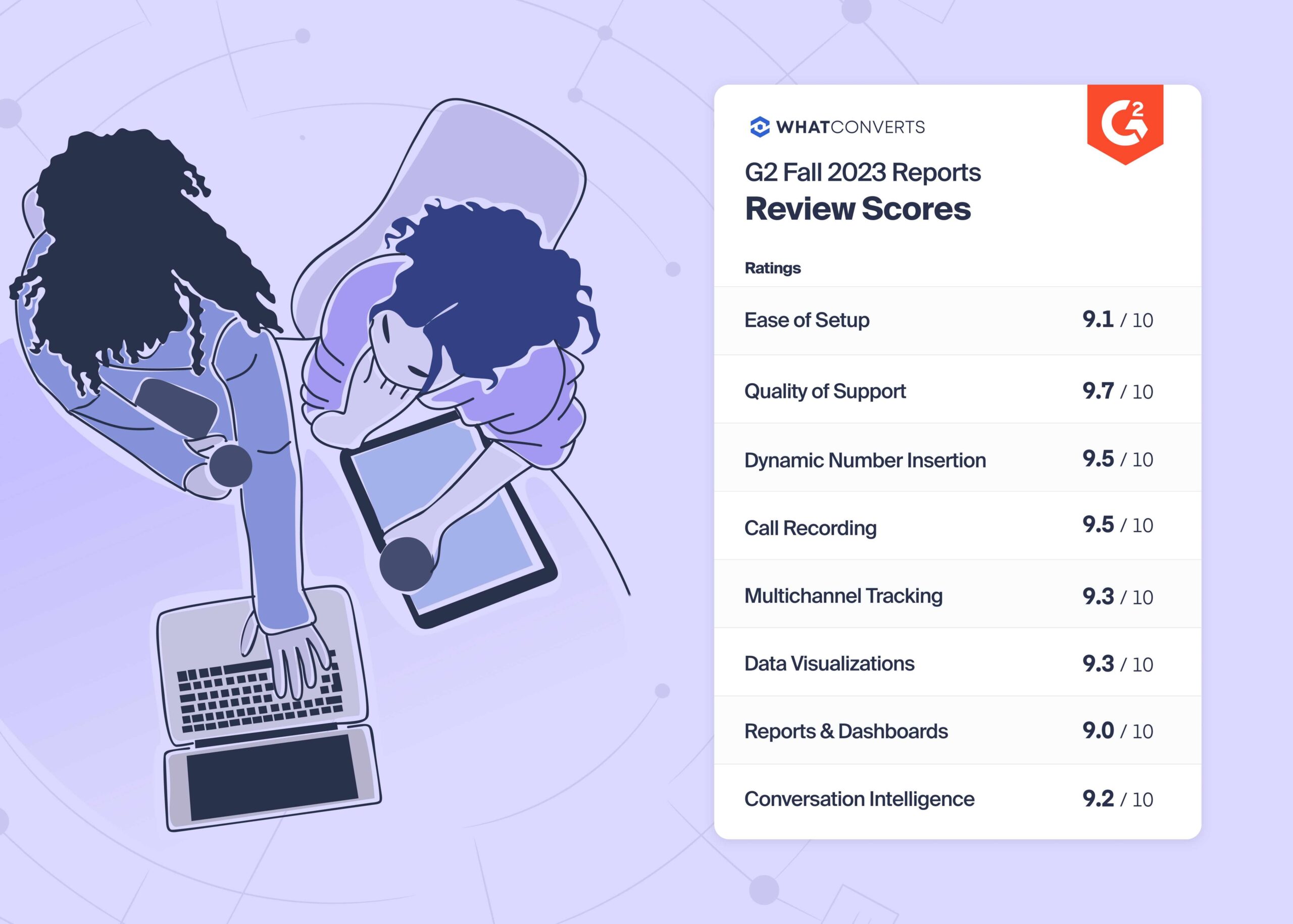 When it comes to the more granular scores, WhatConverts achieved ratings of 90% or higher in nine core categories (while improving in three):
Ease of Setup (9.1/10)
Quality of Support (9.7/10)
Dynamic Number Insertion (9.5/10)
Call Recording (9.5/10)
Multichannel Tracking (9.3/10)
Visitor & Keyword Tracking (9.2/10)
Data Visualizations (9.3/10 up from 9.2/10)
Reports & Dashboards (9.0/10 up from 8.8/10)
Conversation Intelligence (9.2/10 up from 9.1/10)
A few other scores worth mentioning include Product Direction (96% positive), Performance and Reliability (9.5/10), and "Has the product been a good partner in doing business?" (9.7/10).
WhatConverts also brought in more positive reviews than ever, with our Fall reviews receiving an average score of 9.8/10.
The review totals are now:
5/5 Stars: 93% (compared to 91% last quarter)
4/5 Stars: 6% (compared to 9% last quarter)
3/5 Stars: 0%
2/5 Stars: 0%
1/5 Stars: 0%
We're also committed to continually improving, adding valuable features, and offering the best support in the industry. So we expect to bring in even more 5/5 reviews next quarter.
Wrapping Up
At WhatConverts, we are always looking for ways to improve. And customer feedback is an integral part of that process.
So if you're a WhatConverts user, please take a minute to leave us a review on G2 and let us know how we've done.
Thank you to everyone who reviewed WhatConverts this past quarter, and we're looking forward to earning even better rankings this Winter!
Want to see why 35,000+ marketers love WhatConverts? Start your 14-day free trial today.