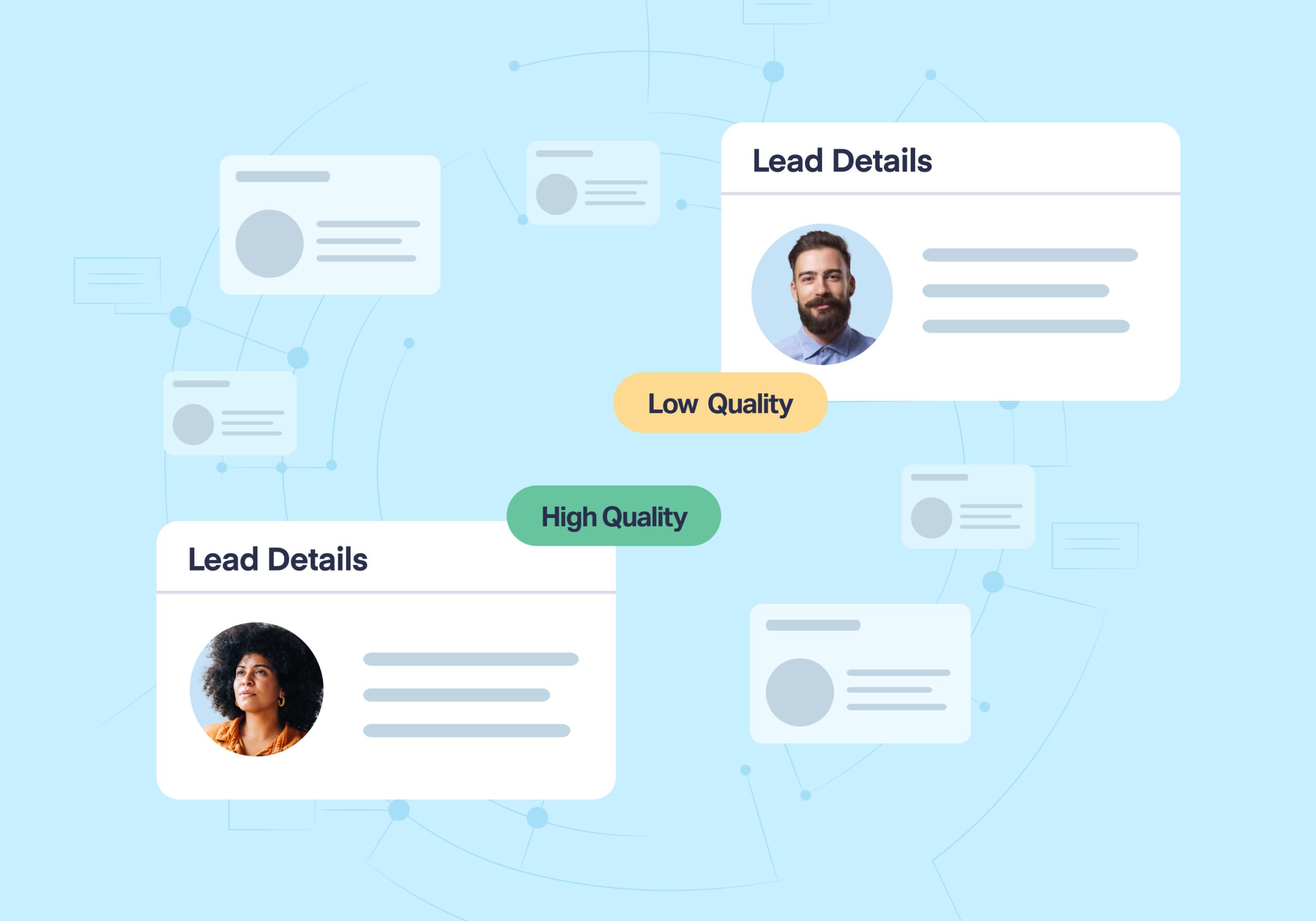 Lead qualification has always been a thorn in the side of marketers.
It's time consuming, clients are reluctant to do it, and it requires having the right data to do it well. WhatConverts helps with the first problem, and it outright solves the third (we collect 70+ data points on individual leads).
And today, we're introducing a feature that solves all the challenges of lead qualification—Lead Intelligence.
Lead Intelligence automatically scores, qualifies, and attaches value to your leads according to rules you set. And whether you're a marketing agency, PPC advertiser, or franchisor, it's a tool that can literally save you and your team hours per day.
In this article, we're going to show you why this newly released feature is such a game changer.
We'll be covering:
What is Lead Intelligence?
Why should you care?
And a few examples to flesh out its real-world application
Ready? Let's get into it.
Lead Intelligence: What Is It?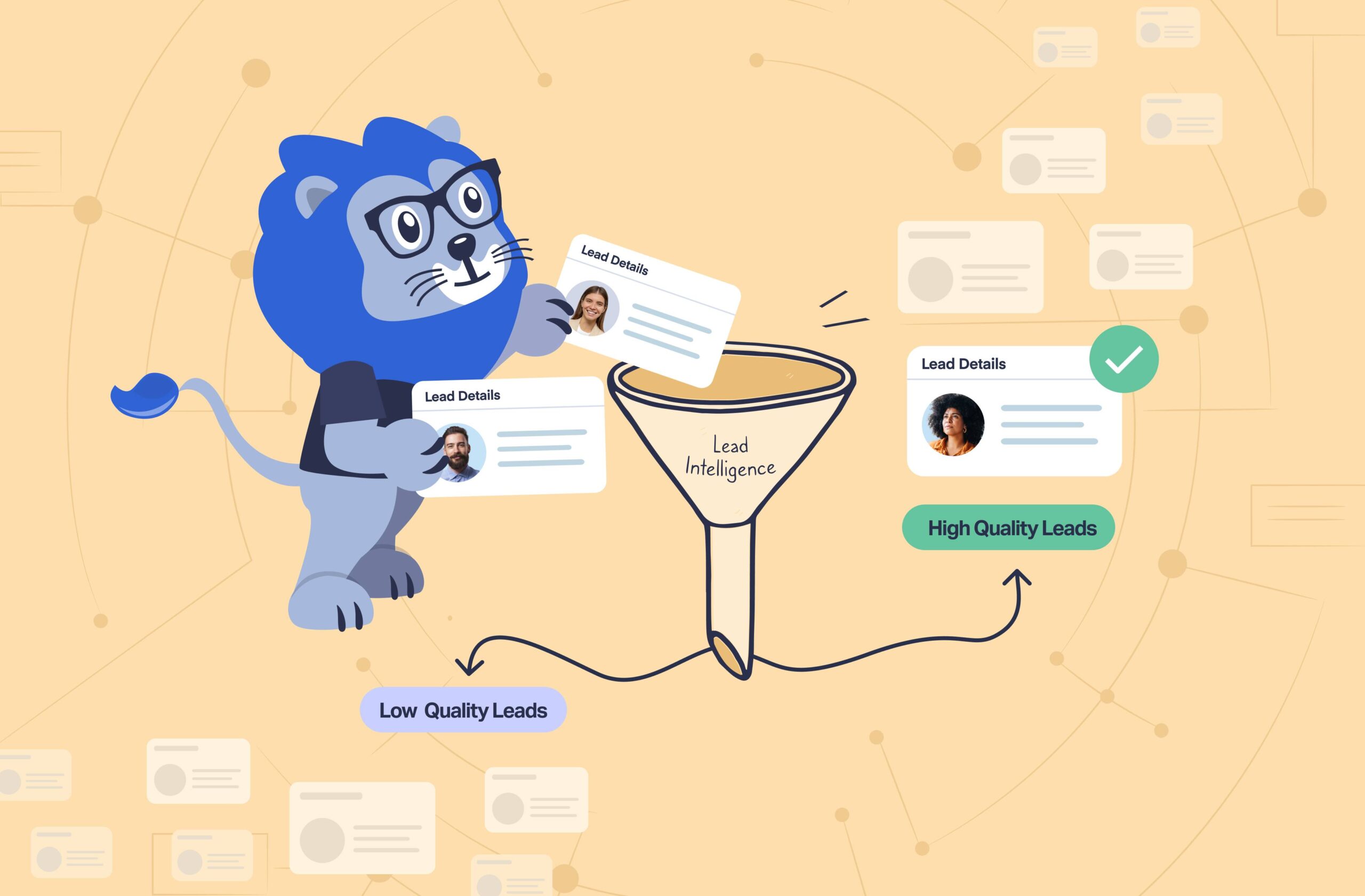 Now, Lead Intelligence brings two major changes to WhatConverts.
Let's take a closer look at both.
1. Automatic Lead Qualification
With Lead Intelligence, you can now automatically qualify your leads in minutes (not hours), all according to criteria you set and you control.
All it takes is setting up a few IF/THEN automation rules within WhatConverts. Once activated, these rules then:
Search through your leads (new or existing)
Look for templated or custom criteria
Carry out a templated or custom action
Plus, you can apply these rules to past leads, leads within a custom timeframe, and future leads collected.
Core Differentiator: Fully Customizable Rules
Unlike automation rules on other platforms, Lead Intelligence lets you create rules based on any of the 70+ data points we capture (not just keyword spotting from call transcription).
For instance, if you wanted to…
Set a lead to "Quotable" (a.k.a qualified) if they:

1.) Came from a specific ad set
2.) Had a call that lasted more than 90s
Increase a lead's "Quote Value" to a specified amount if they:

1.) Mentioned a specific keyword in their call transcript
2.) Selected a certain option in a field of their form submission
3.) Came from a landing page with a URL that contains a specific phrase
Add a Note to an individual lead if they:

1.) Are inside a set of specific zip codes
2.) Have visited multiple landing pages of yours
3.) Are Duplicate or Spam leads
…It's all possible with Lead Intelligence. The only limit to the type of rule you can build is your own imagination.
Also worth noting is you can create action automation rules that are triggered by certain criteria.
Rules like:
Send lead data to your client's CRM once they are "Quotable"
Send a conversion action to a Google Ads campaign once they are "Quotable" with a Quotable Value of more than $2,500
Populate custom lead data fields based on where leads originated (e.g., qualified leads coming from a landing page for "sewer repair" can show that they're specifically interested in sewer repair)
As a result, you can automate not just the lead qualification process. But also other aspects of your workflow like data exports and campaign optimizations.
Starting to see the potential?
2. Data-Empowered Lead Scoring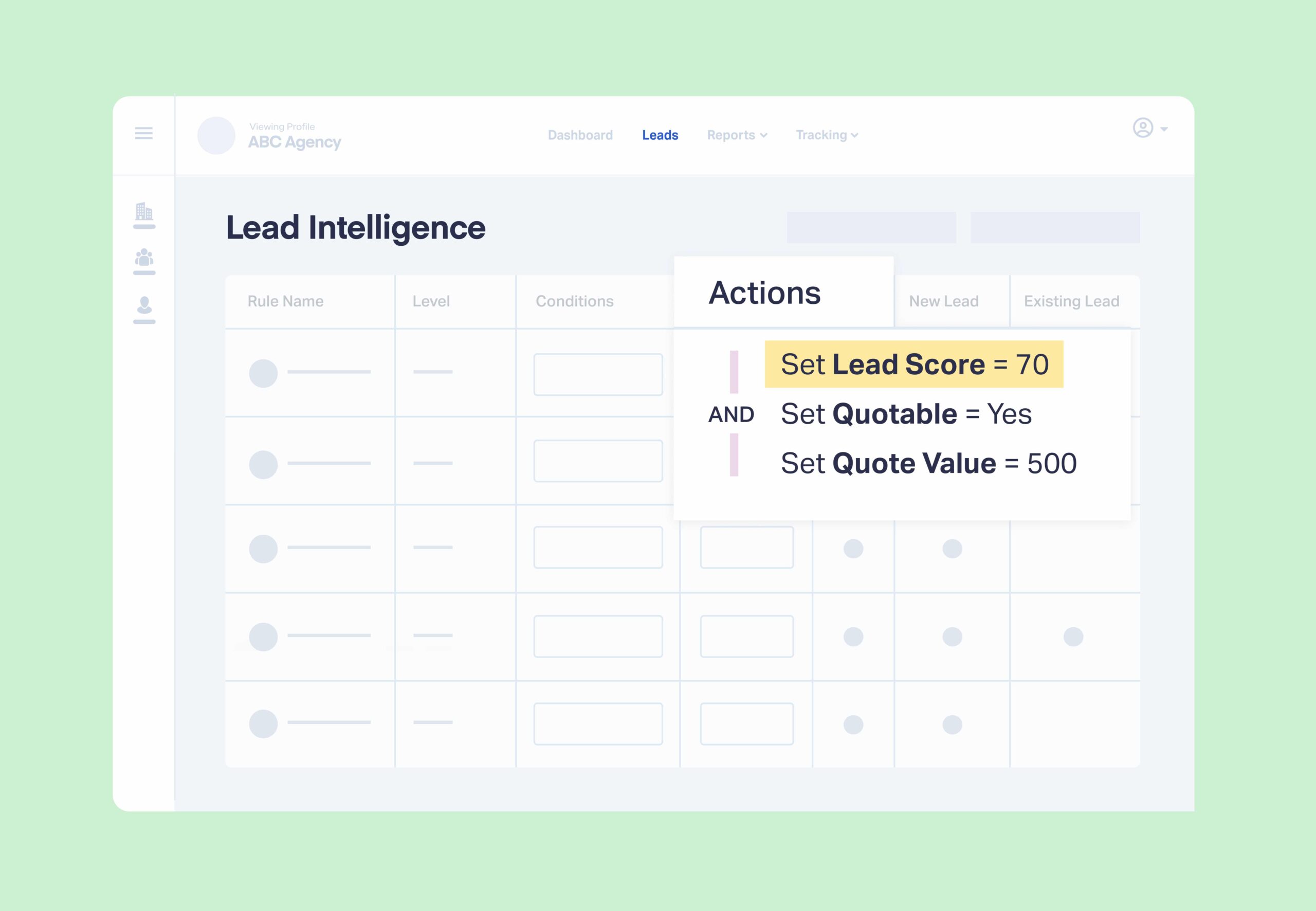 While the automation rules are extremely powerful on their own, they become even more helpful with the addition of lead scoring, the second big change with Lead Intelligence.
Lead scoring is a way for marketers to put a number on how qualified a lead may be based on certain criteria.
That number is a quick way to help marketers:
Judge the quality of the lead
Decide when to take certain actions (e.g., send a lead to sales)
Make marketing decisions like allocating budget to campaigns that produce better leads
With Lead Intelligence, you can set a lead score manually or combine it with automation to speed up your qualification process.
Best of all, since WhatConverts collects so much data on individual leads, you can get incredibly nuanced with your scoring criteria.
Core Differentiator: Scoring & Automation Synergy
Lead scoring is a huge time saver when combined with automation rules.
For instance, you can create rules that automatically increase lead scores by a set amount.
Rules like:
Increase Lead Score by 30 if they came from ads with keywords "emergency" and "plumbing"
Decrease Lead Score by 15 if their call lasted less than 45 seconds
Set Lead Score to 125 if they used the keywords "appointment", "emergency", or "new patients"
You can also create automation rules based on lead score.
Rules like:
If Lead Score is above 75 and interacted with a specific ad set, set "Quotable Value" to $1,500
If Lead Score is below -50, mark lead as "Spam"
If Lead Score is above 500, set lead to "Quotable", send lead to CRM, and send conversion to a specified Google Ads campaign
As you can see, combining automation with lead scoring can be a huge time saver.
Why Should I Care?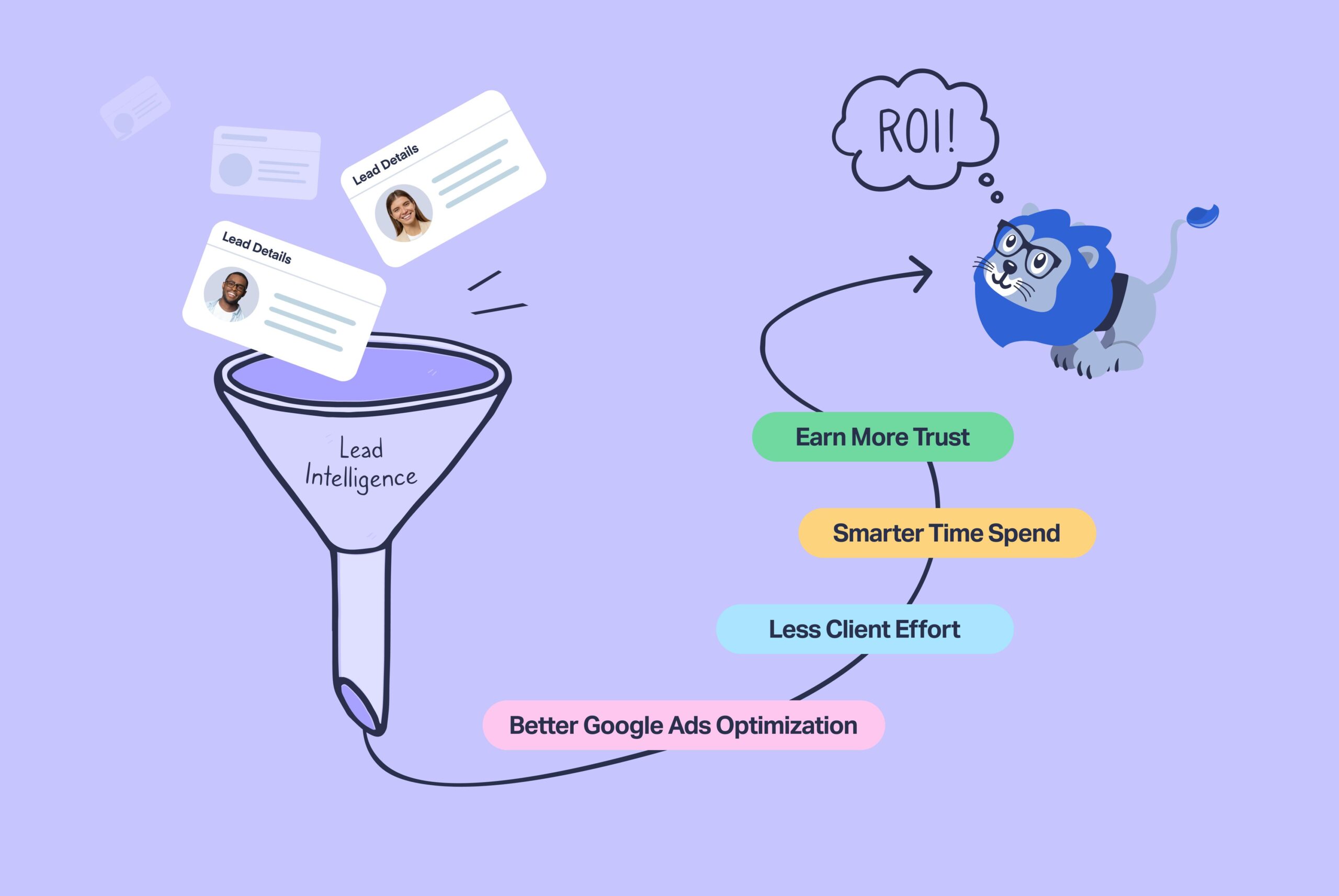 So, why should you care about all this?
What's the real potential behind using Lead Intelligence?
Smarter Time Spend – As you know, lead qualification is a massive time vampire. Think double-digit hour time commitments every month. Lead Intelligence lets you create rules that score, qualify, and value your leads in minutes (not hours). And that means you can spend more time fine-tuning your campaigns and generating more and better leads.
Less Client Effort – One challenge we continually hear from our WhatConverts users is that they have a tough time convincing clients to qualify and value leads on their end. And without that effort buy-in from clients, our users are less able to see which leads are ultimately turning into high-value customers. With Lead Intelligence, your clients don't have to spend the extra time to qualify and value leads—it's done automatically.
Better Google Ads Optimization – One exciting aspect of Lead Intelligence is you can set up rules to automatically send only specific leads to be recorded in your Google Ad campaigns as a conversion. So if you want to fine-tune Google Ads' Automated Bidding to only target especially high-value leads and maximize ROAS, you can create a rule for that.
Earn More Trust – Earning trust from your clients takes time. And the more data you have to earn that trust, the better. The lead scoring system within Lead Intelligence gives your clients a numerical data point that makes it easier to understand lead quality. For instance, you aren't just generating leads that are qualified. You're generating leads that are on average 95 points qualified on a 100-point scale.
And with all these benefits combined, that makes it even easier for you to show the value of your efforts and prove and grow your marketing ROI.
Lead Intelligence in Action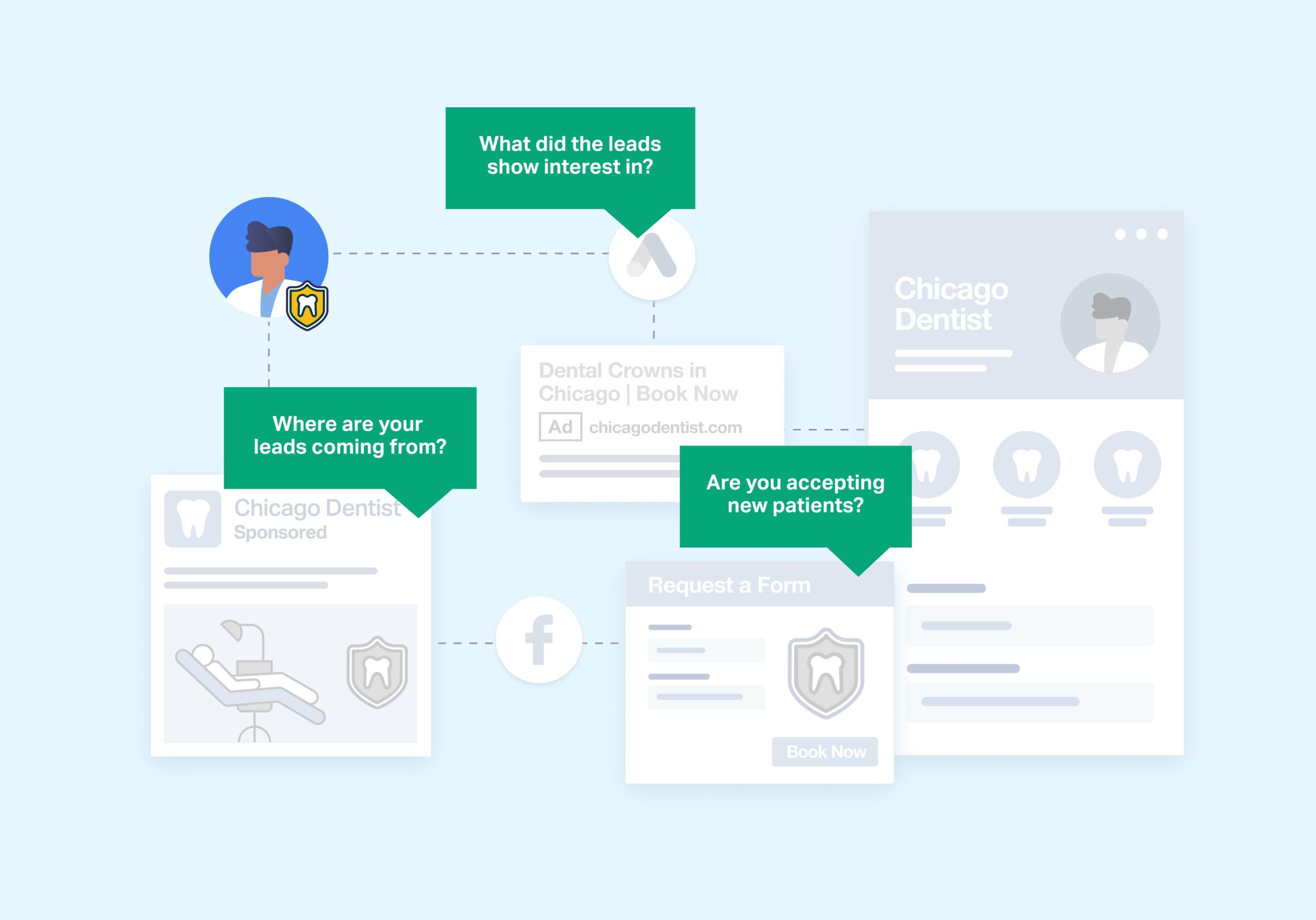 Let's look at an example scenario of how to use Lead Intelligence.
Imagine you're a marketer for a dental practice that's qualifying 100+ weekly leads by looking at the following data from WhatConverts:
Where leads were coming from (ad sets, landing pages, keywords)
What they showed interest in (root canals, crowns, veneers, etc.)
Urgency they communicated with your team ("Are you accepting new patients?")
With that info, you qualify leads and attach a value based on the service they were interested in (e.g., $2,500 Quotable Value).
This month, you're specifically targeting high-urgency leads who are looking to book an appointment for a tooth crown—a high-value procedure.
Changing the Game with Lead Intelligence
Typically, this lead qualification takes you several hours to perform every week (double-digit hours per month).
But with Lead Intelligence, you cut that entire process down to minutes.
First, you plan out your target—high-urgency leads interested in a crown.
That means looking for leads that:
Interacted with the "crown" keyword
Visited landing pages containing "crown"
Mentioned "crown" on a call
Mentioned "appointment" on a call
These are all great indicators of a high-quality lead. However, they likely won't all happen together. And they don't guarantee a qualified lead. They just make it a bit more likely that they are.
Plus, you also want to be able to see that these leads are interested in crowns specifically.
So, you go into Lead Intelligence and create a rule that takes all that information into account.
First, you start with the conditions…
IF these conditions are met:
Call Transcription contains appointment

(AND)
Landing Page contains crown
Call Transcription (Only Caller) contains crown
Keyword contains crown
After that, you determine the actions…
THEN execute these actions:
Set value of Quotable field to Pending
Increase value of Lead Score by 50
Add "Crown" after Spotted Keywords ("Append text to Spotted Keywords of crown")
Once you run this rule, you find all leads that meet any of the above conditions are now:
Set to pending so you can personally review them
Have an increased lead score
Now have "crown" in their spotted keywords column
Pretty cool, right?
Instead of parsing through hundreds of contacts looking for crown-interested leads yourself (which could take hours), you've now accomplished the same thing in minutes.
But there's still more you can do…
Building On Your Rules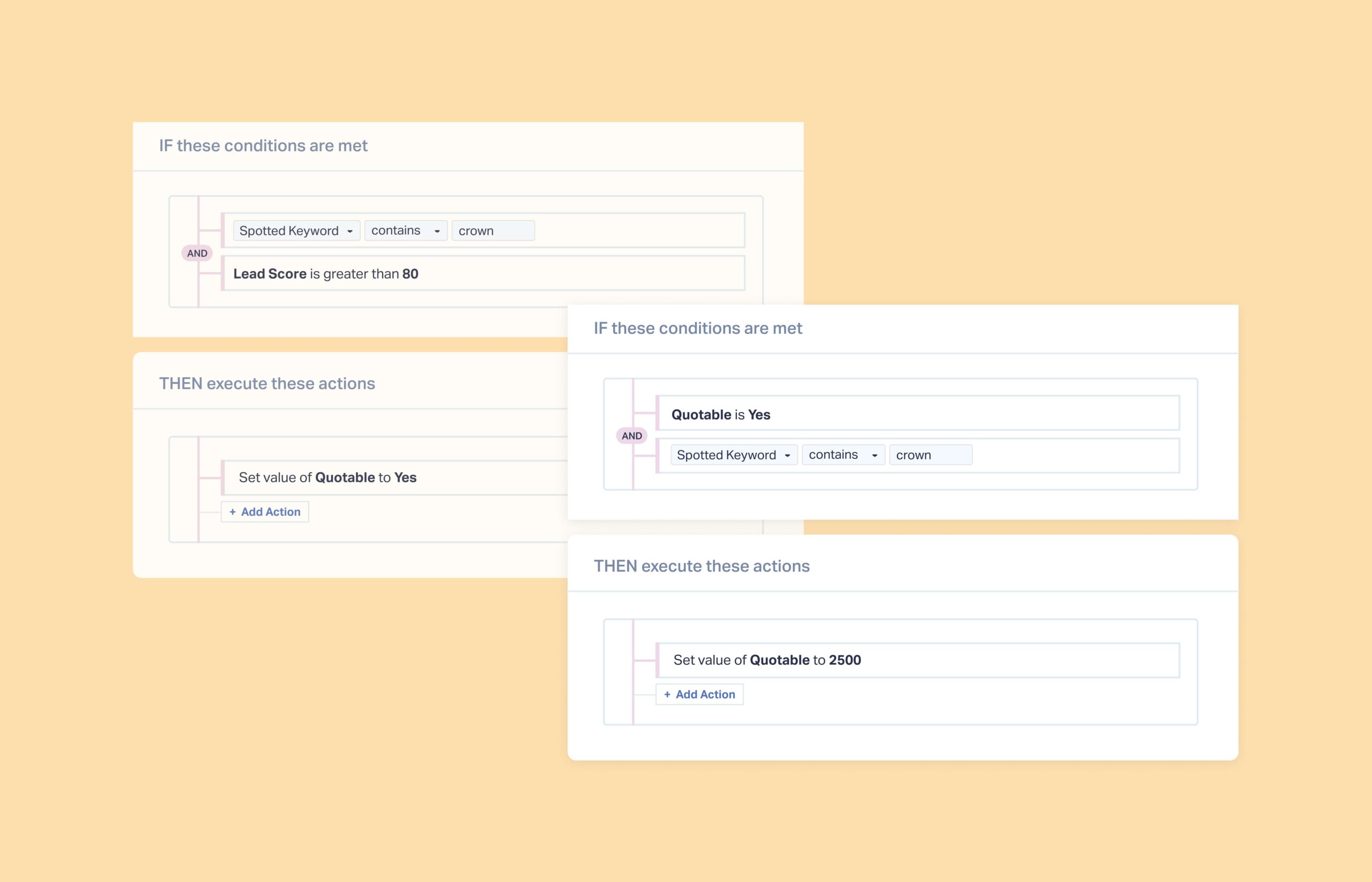 You can also create multiple rules that build on each other within Lead Intelligence.
For instance, say you want to immediately qualify leads interested in crowns, but only if they have a lead score of more than 80.
Easy.
Just add the following rule after your original:
IF these conditions are met:
Spotted Keywords contains crown
Lead Score is greater than 80
THEN execute these actions:
Set value of Quotable to Yes
And say you want to add a Quotable Value of $2,500 to every qualified lead interested in crowns. How do you do that?
Simple again.
Just add another rule:
IF these conditions are met:
Quotable is Yes
Spotted Keyword contains crown
THEN execute these actions:
Set value of Quotable Value to 2500
See how you can use Lead Intelligence rules to play off of one another?
Now with these three rules in place, you can easily pick out leads that are:
Interested in crowns
Highly interested in booking an appointment
Worth a quotable value of at least $2,500
With that information, you can scrape through hundreds (even thousands) of leads, find the highest quality candidates, and send those quality leads to sales—all in minutes.
And that is why we think Lead Intelligence is such a game changer.
Because it lets you do what you already do (but 100X faster).
Market Smarter with Lead Intelligence
With Lead Intelligence, you have the potential to save hundreds of hours each quarter.
And what's so great about this tool is there's no magic involved, no black box. Instead, it takes what you are already doing. And it gives you the power to speed it up dramatically.
This lets you not only understand what's going on behind the scenes and tailor the rules to meet your unique needs. But it's also only limited by your own creativity. And that means if you're a skilled, insightful marketer, you're only going to get more out of this amazing new feature.
So, are you ready to market smarter?
If you want to tap into the potential of Lead Intelligence, it's now unlocked for all Elite and above plans.
And if you aren't already using WhatConverts, start your 14-day free trial now.