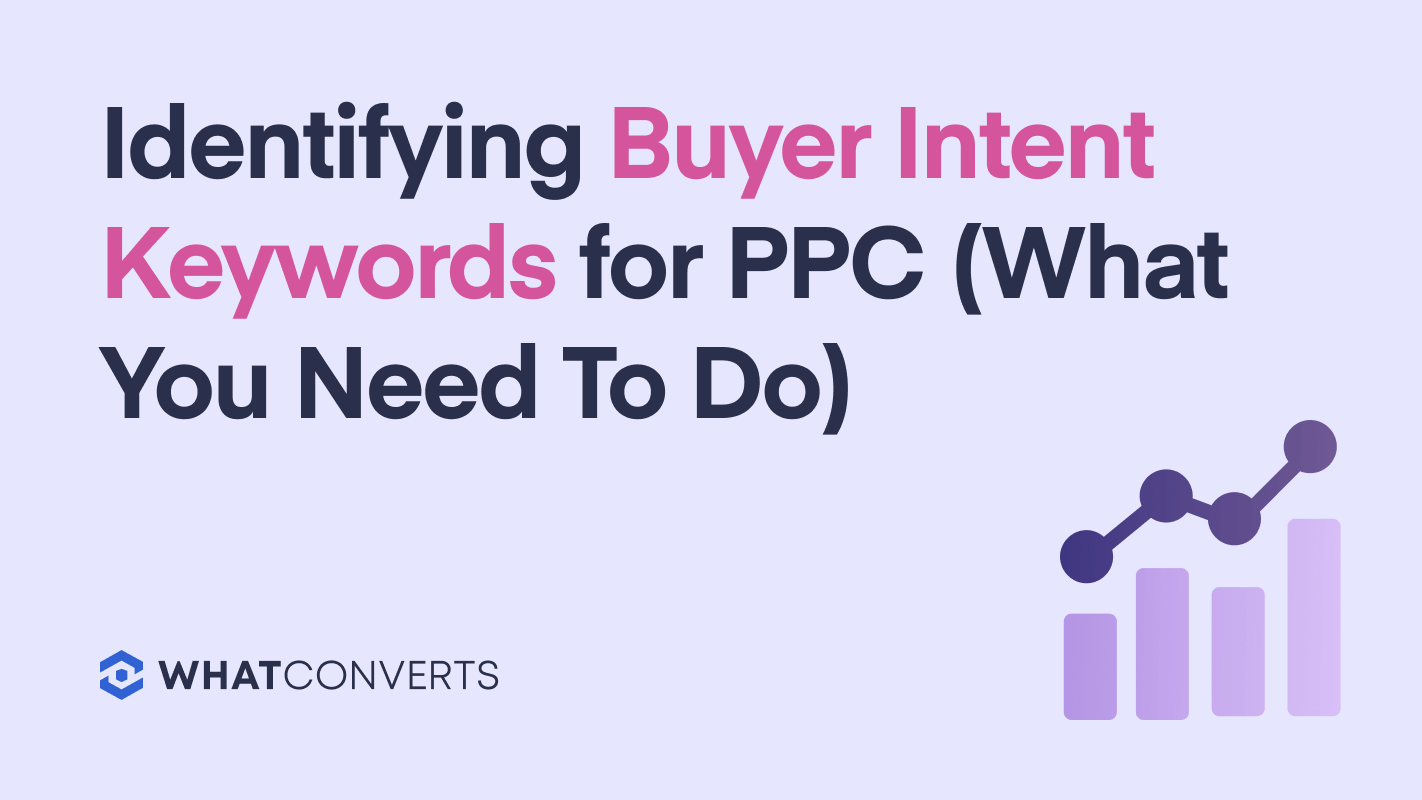 Buyer intent keywords come down to knowing what marketing converts into leads and sales for your client. And when you apply these high-value high-intent keywords when planning your PPC strategy, you'll make your clients happier.
WhatConverts has methods to help marketers find new keywords to target and analyze existing keywords that convert. In this article, you'll discover strategies with examples to uncover buyer intent keywords to increase conversions.
Can't wait? Book a demo to discover how WhatConverts can help you get the most out of your PPC campaign. Or test it out yourself with a free 14-day trial.
What is Buyer Intent and How to Increase Conversions?
Buying intent is a consumer's likelihood to buy a product or service. As marketers, we use metrics to evaluate whether potential customers are about to convert.
The keyword people search for often indicates where they are in their buying intent. Marketers recognize the different buckets when looking at search queries —non-buyer vs. buyer intent.
Let's take a look. Going over to Google, we search, "What is an alloy rim"?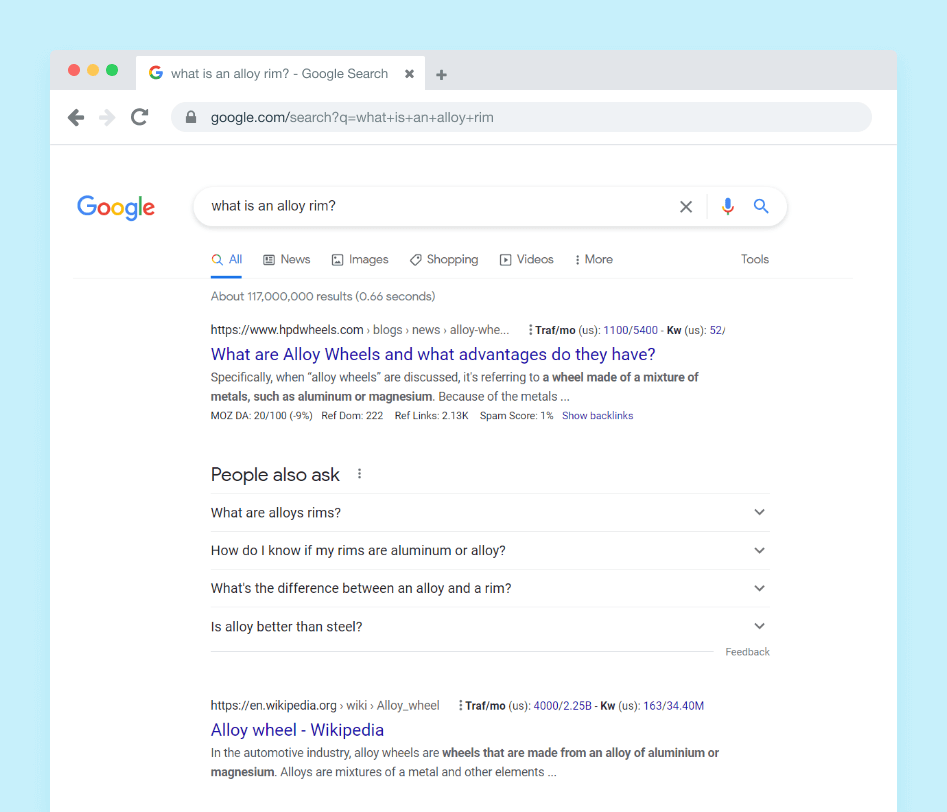 The search results are clear that the intent is to learn and find information about alloy wheels/rims—definition, advantages, differences, etc. (non-buyer intent). The results are meant for content consumption rather than conversion.
Heading back over to Google, we searched "20-inch alloy wheels".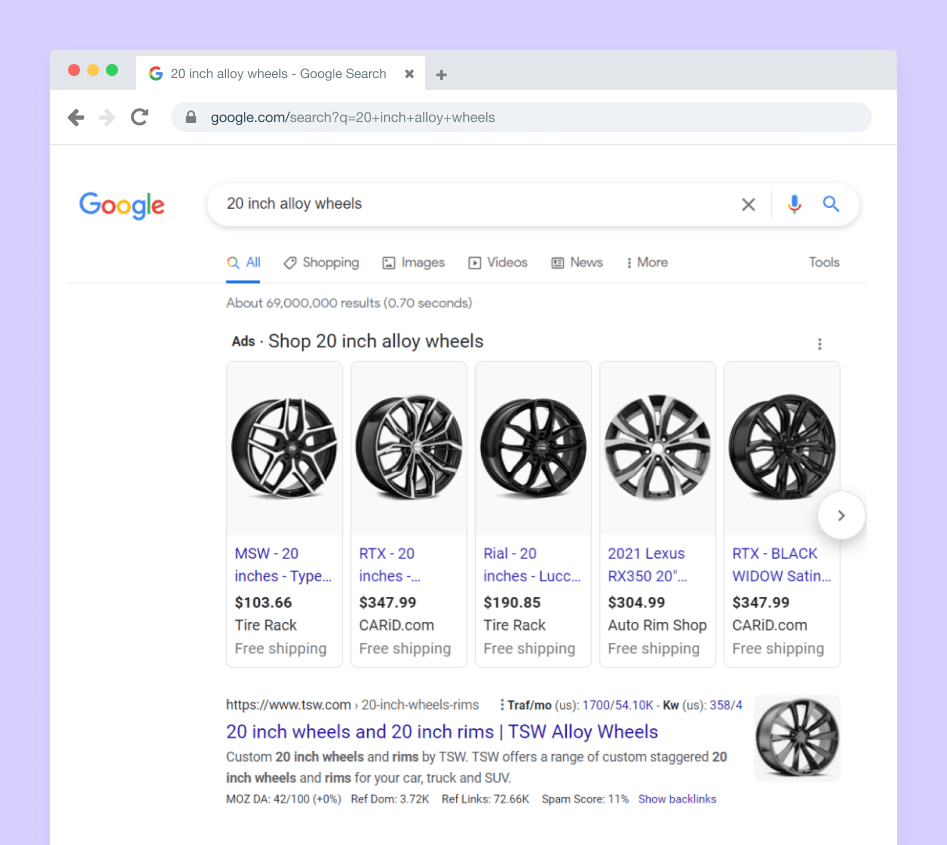 The results are quite different. The search query shows ads, prices, and where to make a purchase (buyer-intent).
Finding keywords is easy. You can use Google search (generally, buyer keywords with high intent will show ads on the SERP), People also ask, keyword research tools, customer surveys, and a variety of other resources.
However, finding keywords that drive conversions is more arduous.
Because choosing the right buyer intent keywords matters to a campaign's failure or success (profitable or not), we share exactly how to find them. We'll look at new keywords to target and existing keywords that convert.
4 Strategies to Uncover Buyer Intent Keywords for PPC
1. Listen to your client's phone calls (new opportunities)
2. Look for clues on form submissions (new opportunities)
3. Gather insights from data to determine lead qualification (analyze existing keywords)
4. Discover the keyword that generated the most sales value (analyze existing keywords)
Listening to calls lets you hear firsthand what keywords customers use to describe their problems.
In keeping with our example of alloy wheels/rim . . .
Imagine you're a business that repairs alloy wheels for cars, and you want to discover additional keywords or terms. You listen in on calls and start hearing the conversation surrounding—"welding cracked rim," "bent rim repair," and "rim scratches repair."
And it's not only one call; you start hearing patterns consistently with many calls.
With this knowledge, you can research and see if these keywords are terms to go after. Using a tool like Ahrefs, you can drop the keyword in their explorer and see the search volume, keyword difficulty, and the cost per click. Here you see the cost-per-click is slightly over $1.00.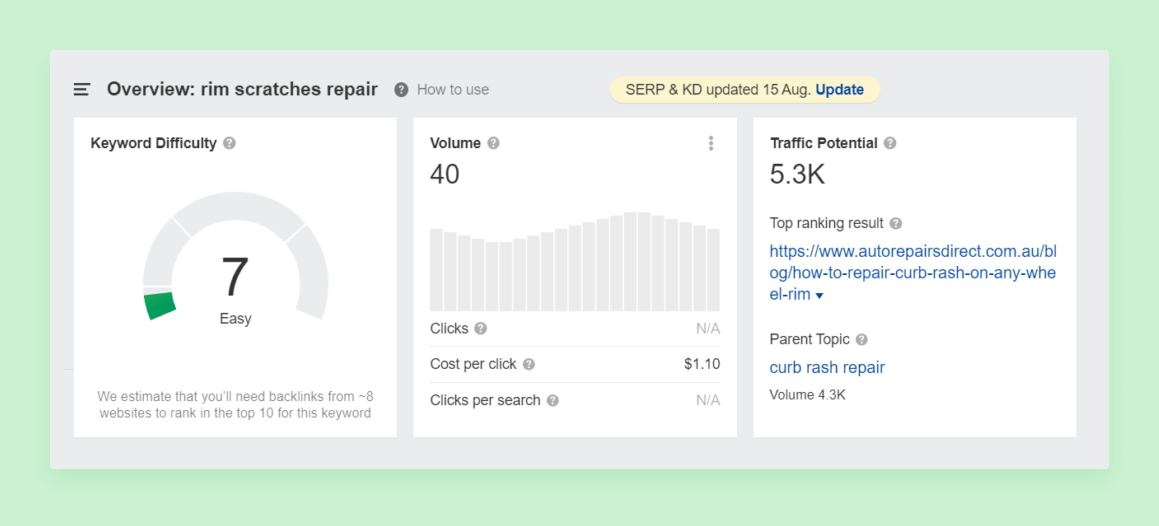 Using the voice of your customer, you can target your ad group with words straight from their mouth. With WhatConverts, you can listen to call recordings on the Lead Details Page or review the call transcriptions for quick buyer intent keyword wins.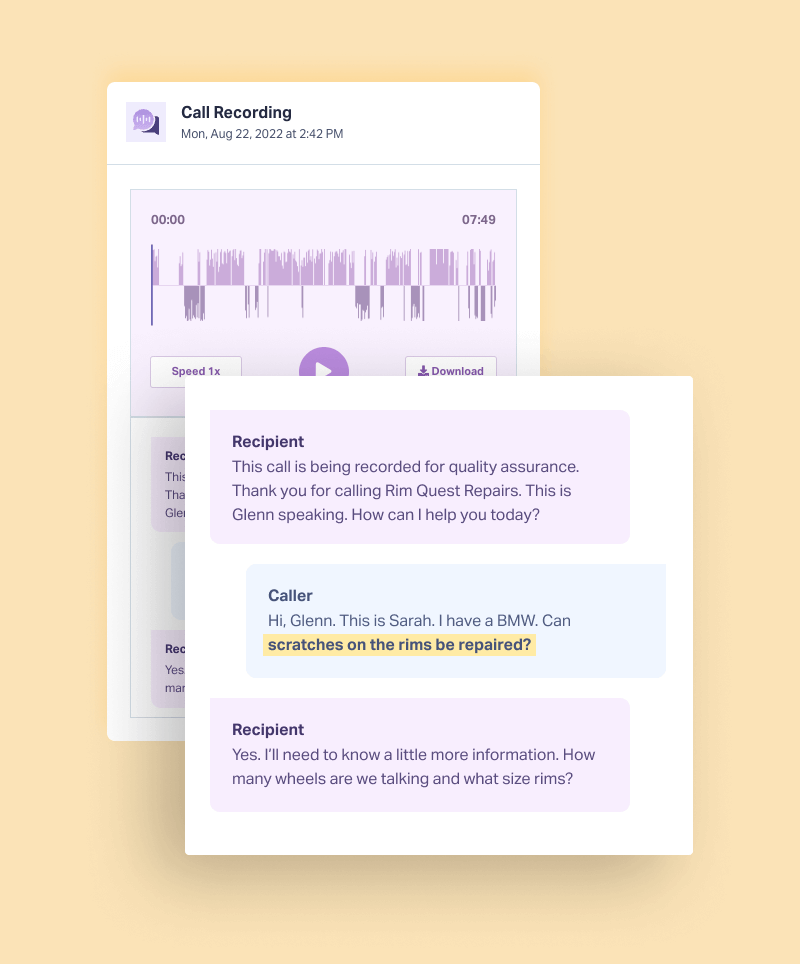 Similar to calls, you can use the same process to look for keywords on forms.
Finding new opportunities on forms is as easy as reading your customer's message.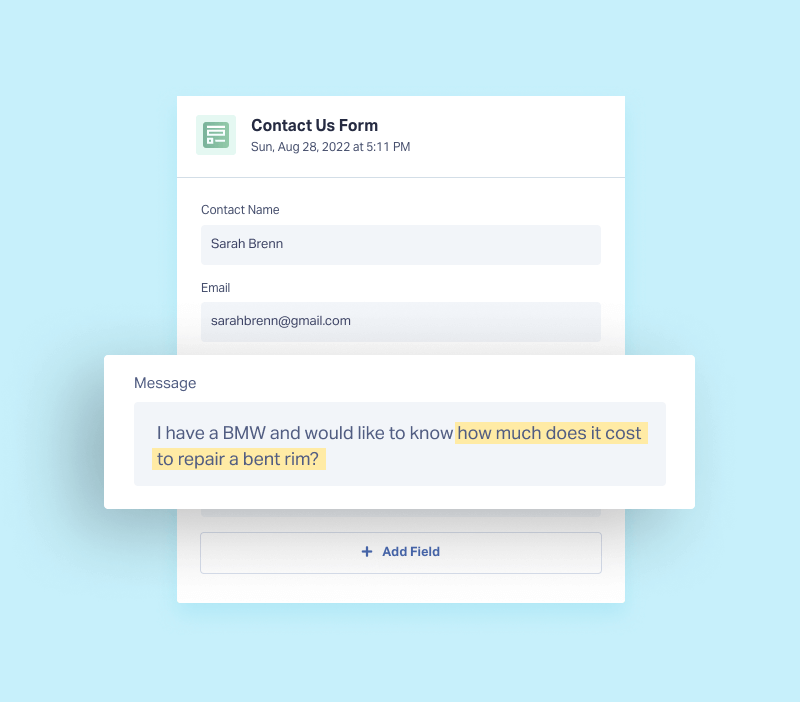 When you start seeing trends that "bent rim repair" shows up on multiple forms, you can again head to Ahrefs to begin your diligence.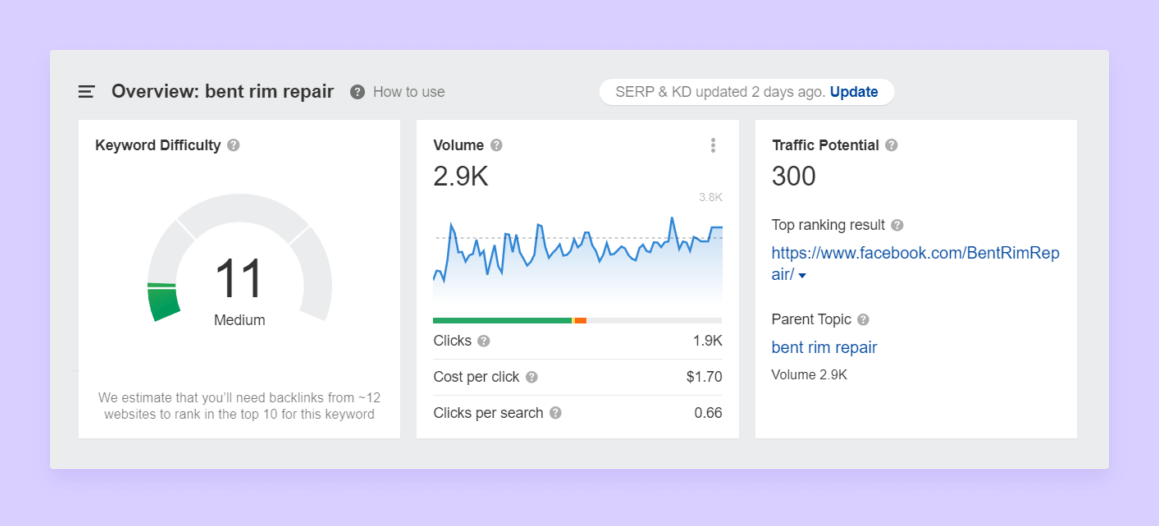 What your customer actually types into a form can potentially be your next top-performing buyer intent keyword.
Using the same process as calls, you can uncover keywords and use them to your advantage.
Key takeaway: Listening to your client's calls and reviewing the forms they submitted has the potential to create new opportunities that may have gone unnoticed. Discovering customer keywords and verifying them with an SEO tool is an advantage over your competitor. The two strategies alone help to find higher-intent keywords with the possibility of lower cost-per-clicks.
The following tips analyze which existing keywords built from data over time will help you expose the keywords driving the most significant conversions.
You need to know if your leads are qualified in order to find buyer intent keywords. If they're quotable that means they have buyer intent.
By evaluating lead data and keyword information, you can show which are worth bidding on and eliminate keywords that don't drive actual leads (and eliminate spam/solicitation leads).
As marketers, you want to uncover the best, highest-value buyer intent keyword.
But here's the challenge, you need to know if the leads are qualified by looking at each lead individually. You can't tell if a lead is good or bad without detail.
Google Analytics tells you which conversions took place (actually that an action took place) which is a good indicator of what is happening. For example, you can see you have 52 form submissions from Google/CPC but how do you know if they're any good?

Your clients will be much happier if you can provide them with more detail on who they are, what they want, and where they came from.
You need a system that gathers all lead data and keyword information. If you want to find the best buyer intent keywords, it means looking at the keywords delivering the most qualified leads.
An easy way to get your answers is by creating a quick report in WhatConverts by source, medium, keyword, and qualification.
Once you have that information, you can increase your bid with the best keywords.
"A focused list of keywords allows you to be more targeted and competitive where it counts." —Michael, co-founder WhatConverts
Using data built over time, you can look at your existing keywords driving conversions and make more informed decisions regarding your campaigns.
The last tip is placing a sales value—the value generated by the keyword.
We uncovered keywords through the lead qualification process. Going the extra step and showing clients their highest value leads is a differentiator, but adding a sales value is more helpful and aligns marketing and sales.
We can now give the lead and keyword a quote or sales value. When your client can see by keyword and tag as qualified and add a quote value, it helps build trust and makes smarter business decisions.
Most marketing reports don't answer the one question clients want to know,
"How much revenue did this marketing bring in?"
All leads are not the same. Some are worth more than others. You need to separate the more valuable to determine which marketing delivers the greatest value.
Your clients can assign a sales value in two ways.
The final sales value—you enter the actual dollar amount that the lead brought in.
The potential sales value based on the product or service the lead is interested in.
Let's consider our alloy wheel company.
They discover buyer intent keywords through research (using our four strategy method) that "20-inch alloy wheels," "welding cracked rim," "bent rim repair," "rim scratches repair," and "diamond cut" are keywords that stand out from their marketing.
They realize diamond-cut ranks the highest for their quotable leads.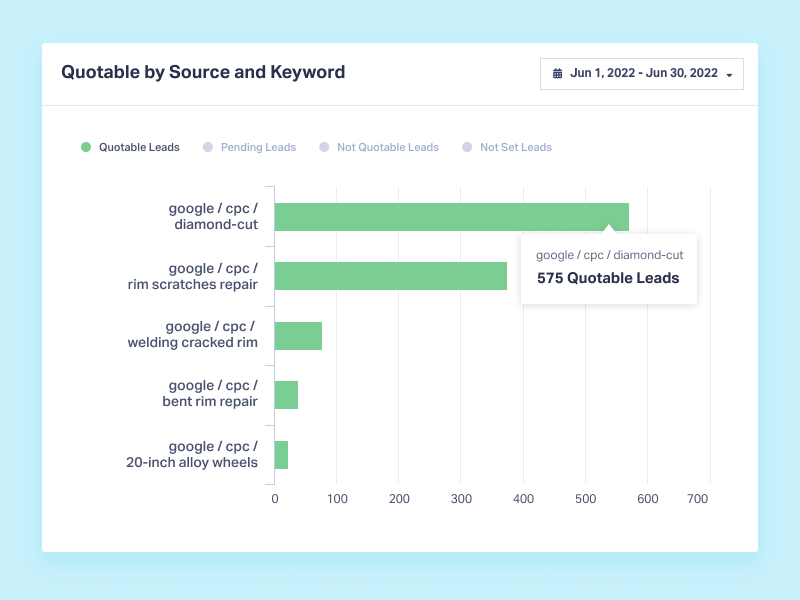 But to truly grasp the value of the keyword, we need to assign a value. By assigning a sales value directly through the WhatConverts interface or a CRM, you'll tie the keyword to revenue and develop a better higher-end strategy.
Knowing the keyword that generates the most value, you can aggressively go after it. If your keyword resulted in $2,000 in sales, you're probably willing to take a portion of that revenue to spend on your marketing campaign.
For example, four diamond-cut alloy wheels at $500 a piece will yield higher revenue than repairing/welding a cracked rim for $100.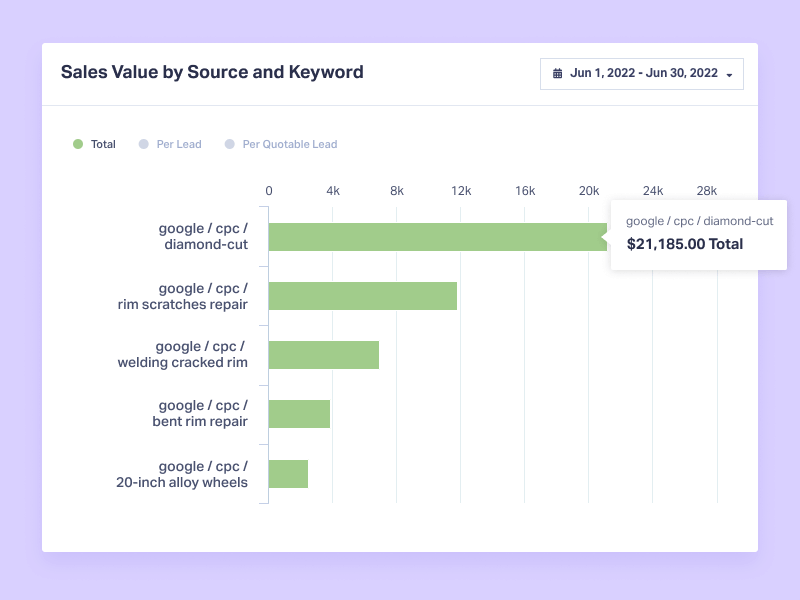 In the example, you'll see you're better off spending more money on 'diamond-cut' versus 'welding.' Welding is a one-time repair and does not generate as much revenue as four new diamond-cut alloys.
Going through all the processes will ensure you don't make the mistake of continuing to spend on the wrong keywords and double down on those that work.
Final thoughts
PPC agencies, Marketers, and SEO professionals can uncover buyer intent keywords to increase conversions.
To summarize:
You can discover new keywords from customer requests by listening to call recordings, reading call transcripts, and reviewing form messages.
You can double down on the keywords that drive your qualified leads.
And you can spend aggressively on the keywords that deliver the most sales value.
Bottomline, keywords are the livelihood of a PPC campaign. When you select the right buyer intent keywords, you'll get the best chance of maximizing your ROI and generating sales.
With the right tools and strategies (start with our four), you can advance your keyword effectiveness, customize landing pages for better performance, and leverage data to increase conversions.
Want to see the reports in action and connect revenue to your marketing?

Book a demo to find out how WhatConverts can help or test it out yourself with a free 14-day trial.