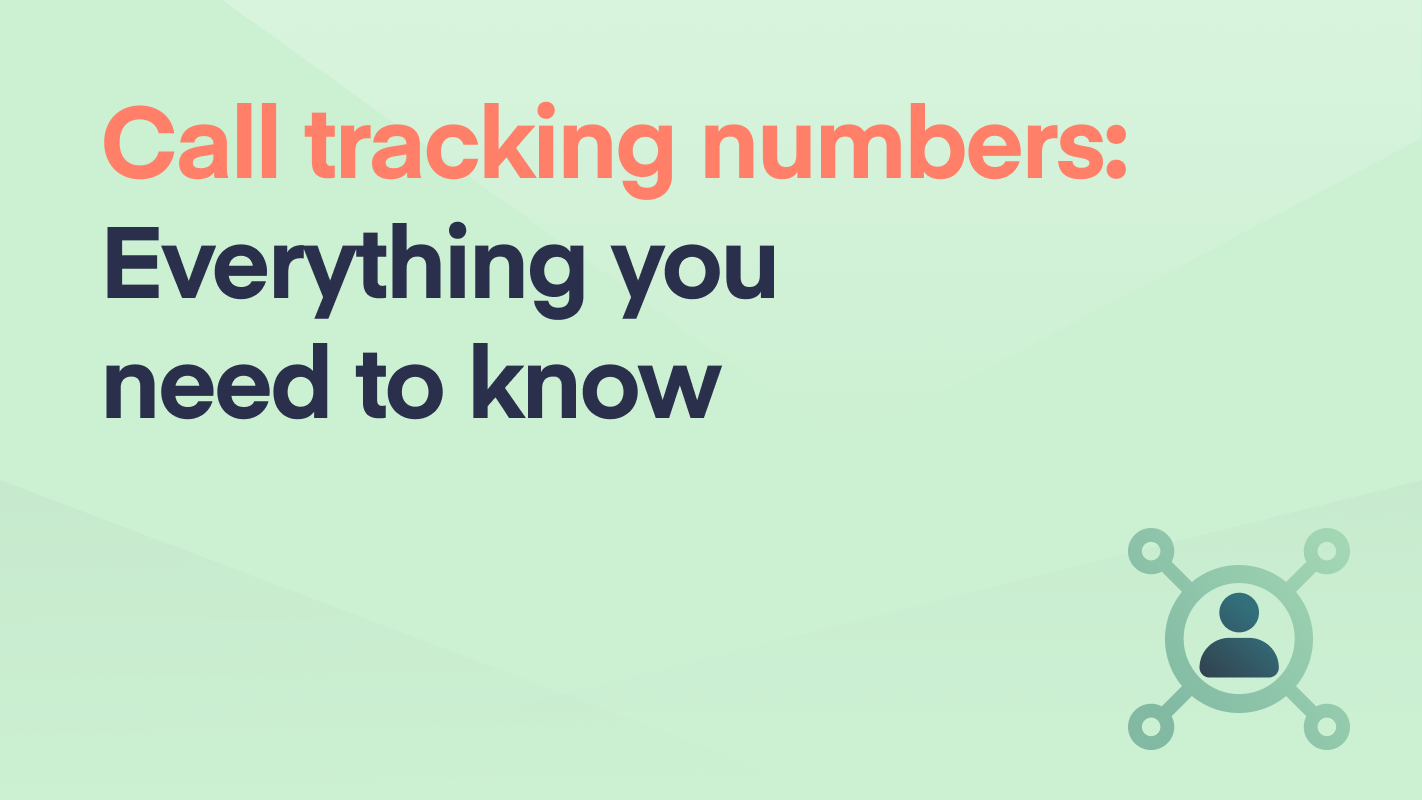 Over the years, we've helped thousands of agencies prove the value of their marketing to clients by accurately attributing phone call leads to their corresponding:
Marketing channels (i.e. 50 calls originated from Google Ads, 20 calls originated from Facebook Ads, and so on).
Keywords (i.e. 10 calls originated from the keyword "Dental Implants Chicago", 5 calls originated from the keyword "Teeth Whitening Chicago", and so on).
Landing pages (i.e. 10 calls originated from the landing page xyz.com/dental-implants-chicago, 5 calls originated from the landing page xyz.com/teeth-whitening-chicago, and so on).
Tracking this information all starts with purchasing call tracking number(s), and many folks have questions about this, including:
What do call tracking numbers enable and how do they work?
What are the types of call tracking numbers you can purchase? (i.e. Local Numbers, Toll Free Numbers, International Numbers).
How do you set up call tracking numbers?
In this post, we'll answer these questions, and discuss how WhatConverts (our call tracking software) can help you identify the marketing activities that are delivering the most phone calls.
Note: Sign up for a free trial of WhatConverts or request a live 1-on-1 demo where we'll learn about your specific needs and show you how to best leverage our platform.
What Do Call Tracking Numbers Enable and How Do They Work?
Again, one of the first steps of getting set up with a call tracking software is purchasing call tracking number(s) that forward to your main business phone number.
Once that's properly configured, WhatConverts can track marketing data associated with your call leads, such as which channel, keywords, campaigns, and landing pages generated the most calls.
This information is available via easily digestible reports that update in real time, including but not limited to: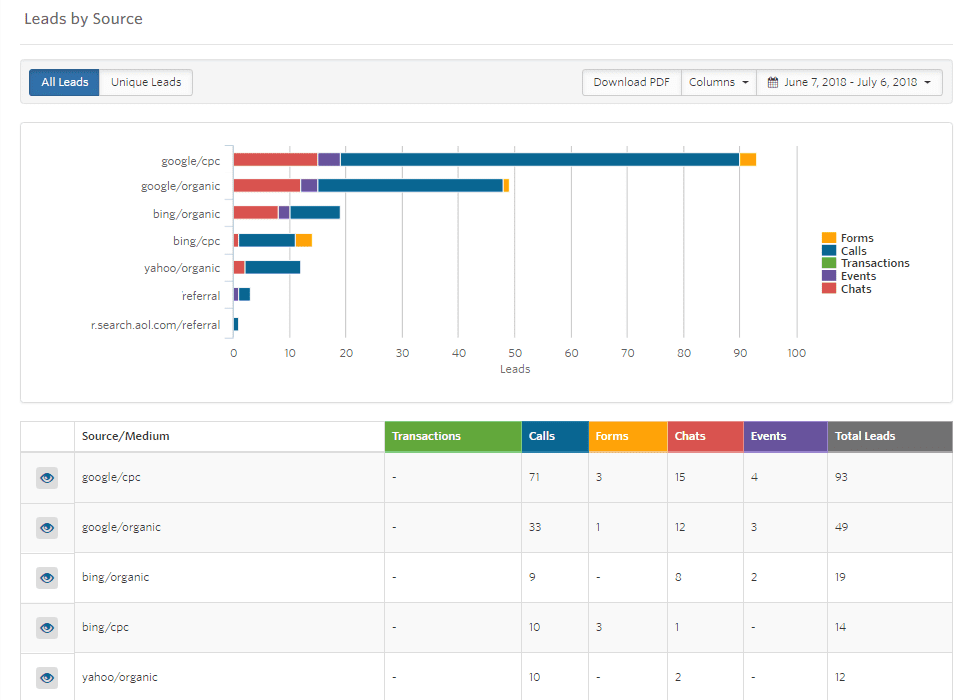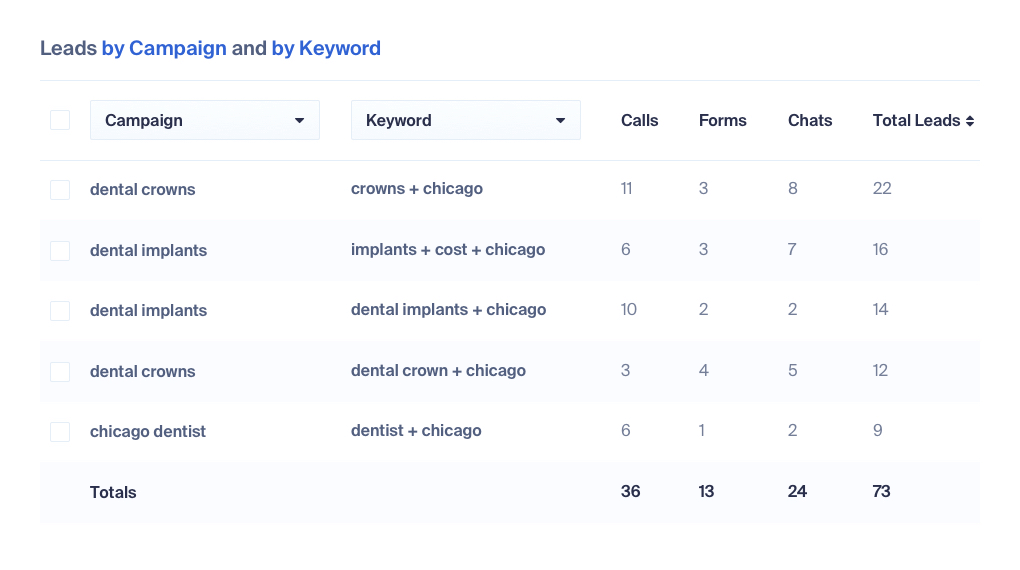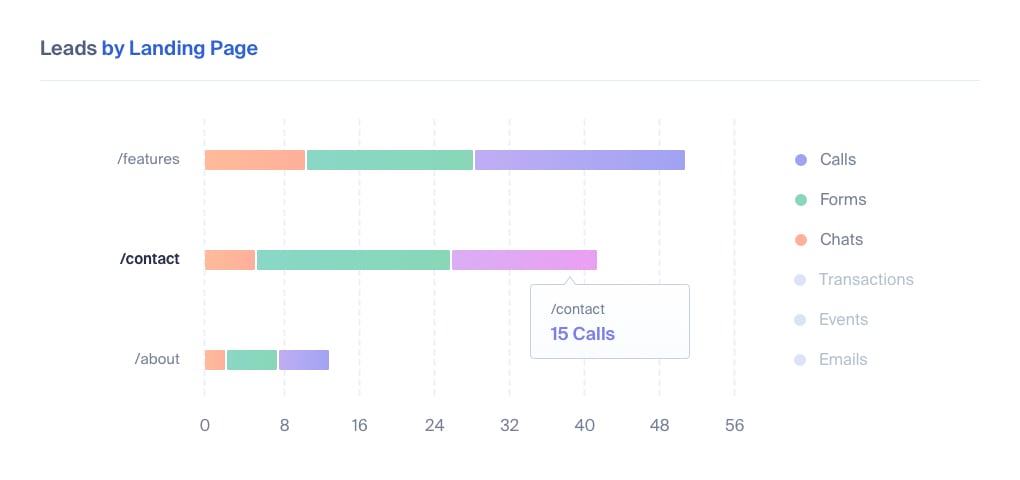 Note that these are just a few of the more commonly used reports at WhatConverts — for a more comprehensive list, click here.
You may also be wondering how call tracking software works and, specifically, what happens when someone makes a phone call to the call tracking number.
For example, how can it be tied to the marketing activity that led to it?
The answer is DNI technology (Dynamic Number Insertion), which is the best call tracking method available today, and the one we recommend customers use.
While you can read a more detailed explanation of how DNI technology works here, below is a brief overview:
Purchase call tracking number(s) from WhatConverts and tell our software what the destination number is (i.e. the main business phone number where the calls should be forwarded to).
Install a tracking code from WhatConverts on your website, which will automatically scan your website to find the destination number, and then swap it out (on a display level) with the call tracking number(s).
On the backend, the tracking code you installed allows us to see which marketing activities led to the phone call, including the caller's source, medium, campaign, keyword, landing page, and more.
Note that as we discuss later in this article, one of our team members can optionally complete the entire setup process for you and/or your clients — free of charge via an onboarding call!
What Are the Types of Call Tracking Numbers You Can Purchase
At WhatConverts, while there are three types of call tracking numbers that you can purchase (local numbers, toll free 1-800 numbers, and international numbers), we've found that the overwhelming majority of customers purchase local call tracking numbers (i.e. 310 area code for a business targeting Los Angeles).
There are two reasons for that:
Agencies or marketers that work with local businesses comprise the majority of our customer base.
Local numbers are also useful to national businesses who serve various locations, as it creates a more personalized appearance than a toll free number.
The problem that you might run into with local numbers in highly populated cities like New York, Paris, and London, is that the area codes are exhausted.
For example, you may not be able to get a 212 (New York) area code anymore. In that case, you can purchase a toll free 1-800 call tracking number.
We'll Help You Set Up Call Tracking Numbers via a Free Onboarding Call
One of the biggest concerns associated with call tracking is the setup process, which can be long and tedious. We know this from firsthand experience, having run a marketing agency prior to WhatConverts (where we set up call tracking not just our site, but for all our clients' sites).
To account for this and remove the time and hassle of doing it yourself, we can help you (and your clients) quickly get set up and running with tracking calls during a 1-on-1 onboarding call.
With that being said, if you do prefer to set things up yourself, we published a detailed guide to setting up call tracking numbers that you can follow step-by-step. And you're more than welcome to contact us through email, chat, or phone if you get stuck along the way.
How Does WhatConverts Compare to Other Call Tracking Solutions?
There are other call tracking services out there, such as CallRail and CallTrackingMetrics, so what makes us different?
This is an important question that we answered in an in-depth comparison post here. Specifically, we discuss certain features unique to WhatConverts and how reporting in CallRail and CallTrackingMetrics differs from our solution.
Try WhatConverts Today
Sign up for a free trial of WhatConverts or request a live 1-on-1 demo where we'll learn about your specific needs, and show you how to best leverage our platform.