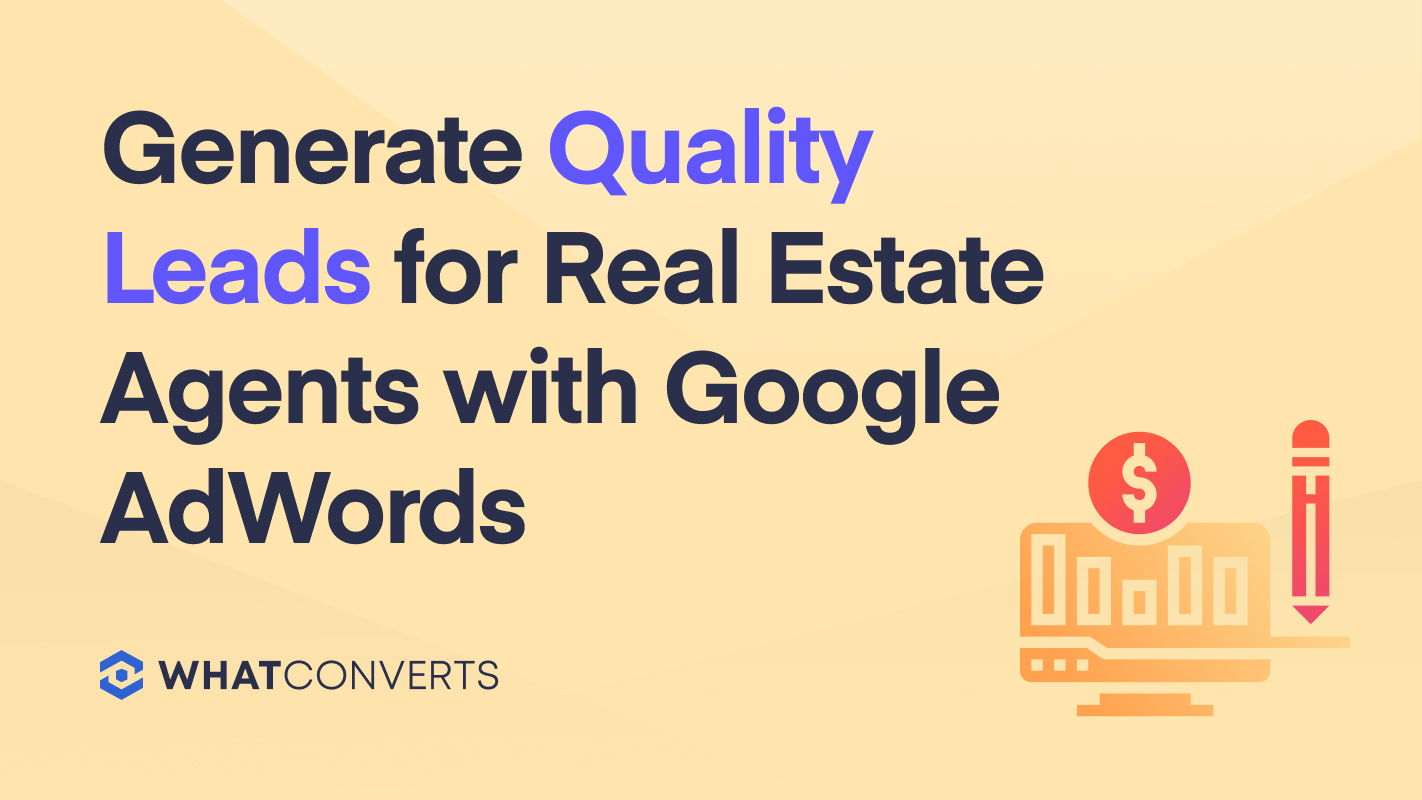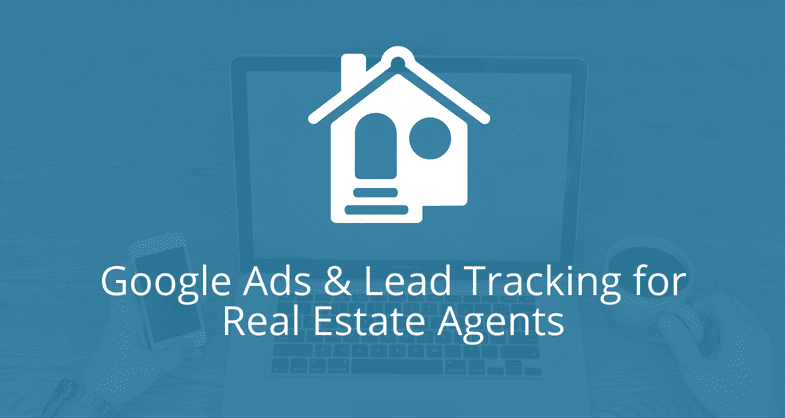 Is it possible to use Google AdWords to generate quality leads for real estate agents? Let's be honest, generating leads for real estate agents is challenging and super competitive. It's intimidating going up against huge conglomerates like Zillow, Trulia, LendingTree and the National Realtors & brokerages. Large companies have massive marketing budgets allowing them to dominate and outspend most local realtors.
Let me show you how you can beat the odds and receive lucrative leads for buyers and sellers in your local area. Just as importantly, I will show you how to begin lead tracking as a real estate agent. Tracking your leads will show you exactly what marketing converts best.  You have to know which marketing is bringing you the right leads in order to stay profitable because you are in a marketplace where competition is always increasing.
Big companies make up most of the high competition and drive the cost per lead on AdWords ever higher. They usually target broad keywords, target a lot of keywords, and geographically target Nationally. They are generally much more interested in broad terms with high volume and expansive reach.
Here are three strategies that can get you going along with ideas you can tailor to your unique situation. If you can find angles to play a different game in your market, it's very possible for you to start generating high-quality local leads. Besides that, you'll also spend less money and convert more leads into deals.
Strategy #1:

Use geo-targeting along with your in-depth knowledge of your market and personal business. Go after the buyers who aren't local but are looking to move into the areas that you service.
Most agents have a percentage of their business coming from relocation buyers. If you live in an area with military posts, corporations with huge hiring rates or many retirees, these are examples of locations which can be a prime candidate to exclude local traffic and geo-target States or Provinces outside of your own. This strategy will reach leads who aren't located geographically close. People in this situation often require a more hands-on approach from their real estate agent. This strategy can lead to fewer "looky-loo" searchers and more serious, ready to move prospects.
Example: Geo-targeting is set to exclude your State or Province and to include only States or Provinces where you know relocation buyers commonly relocate from.


Strategy #2:
Use niche combinations of keywords that are small and specific.
Example:
well known brand + area name = "Keller Williams" + "Nashville" or "RE/MAX + Greenville", "Zillow + Toronto" or "Trulia + Denver".
There shouldn't be any copyright violation for using brand names if you only use the keywords to bid on. Remember not to use brand names unassociated with your business in your ad copy or on your landing pages.
You should also set up ads for your name, your teams' name and your brand.  Why? Because many of the big conglomerates eating up market share and driving up the cost per click are doing SEO for your names. You have to play the game in order to win the game. If you don't, prospective leads who might be looking for you will get pulled into another system. Therefore, leads generated in your name can then potentially be sold to other agents.
Example: your team name + area name = "The Results Team" + "Cochrane" or "Kiss Realty Experts" + "Lansing"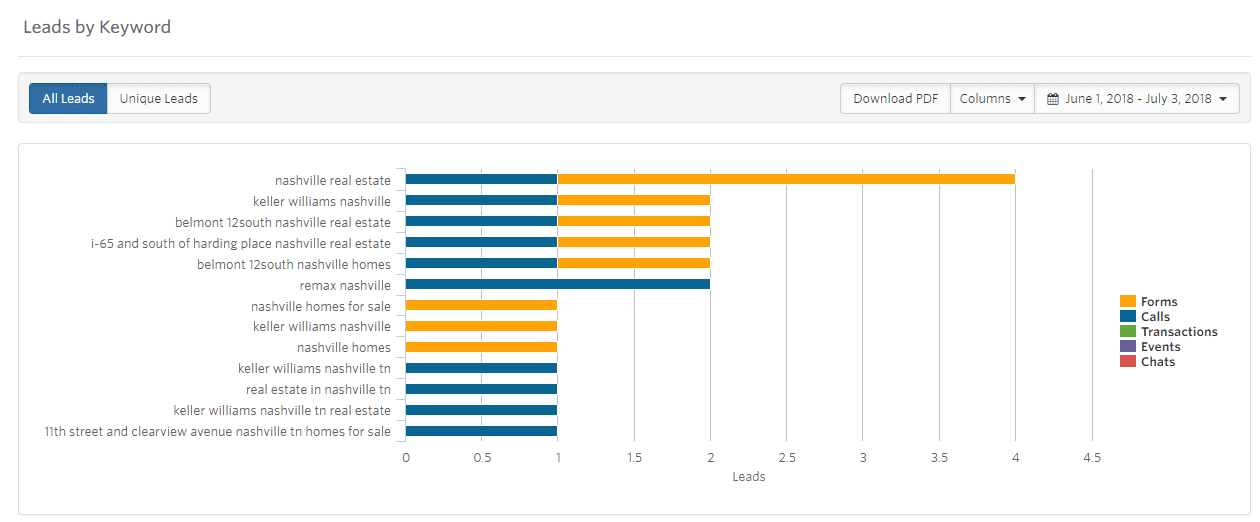 Strategy #3

Instead of targeting the largest and most obvious area names like "Denver", target smaller and more specific areas.
Some great niches to work within are towns, neighborhoods, communities, subdivisions, street intersections or even school districts. Why do this? Your unique market and the many small areas that fall within it are likely too small for the big guys to be thinking about or looking too closely at.
Examples:
street intersection + smaller area name = "Young and Eglinton" + "Toronto" or "Downtown Edmonds" + "Main St", "48th and 236th" + "Mountlake Terrace"
school district + area name + homes or real estate keywords = "Mount Forest School District" + "Charlotte" + "homes for sale" or "Peel District Schools" + "Mississauga" + "real estate"
All of these strategies require brainstorming, research, trial and error, A/B testing, iteration and refinement. What insight and knowledge do you have that the large companies wouldn't be thinking of or spending time on? 10 leads generated from a niche market to you is like gold. 10 leads to a large company doesn't compare to the thousands they can generate with a broad and wide approach.
Once you have implemented a niche marketing plan, this is when you need to begin tracking results immediately! You can use WhatConverts as a valuable tool showing you exactly which campaigns and keywords are generating your best leads. Manage your leads in your client Dashboard to determine which leads are quotable, the sales values of each workable lead and view your ROI over time. You will very easily see which campaigns and keywords are bringing you the prospects who are going to drive your revenue ever higher.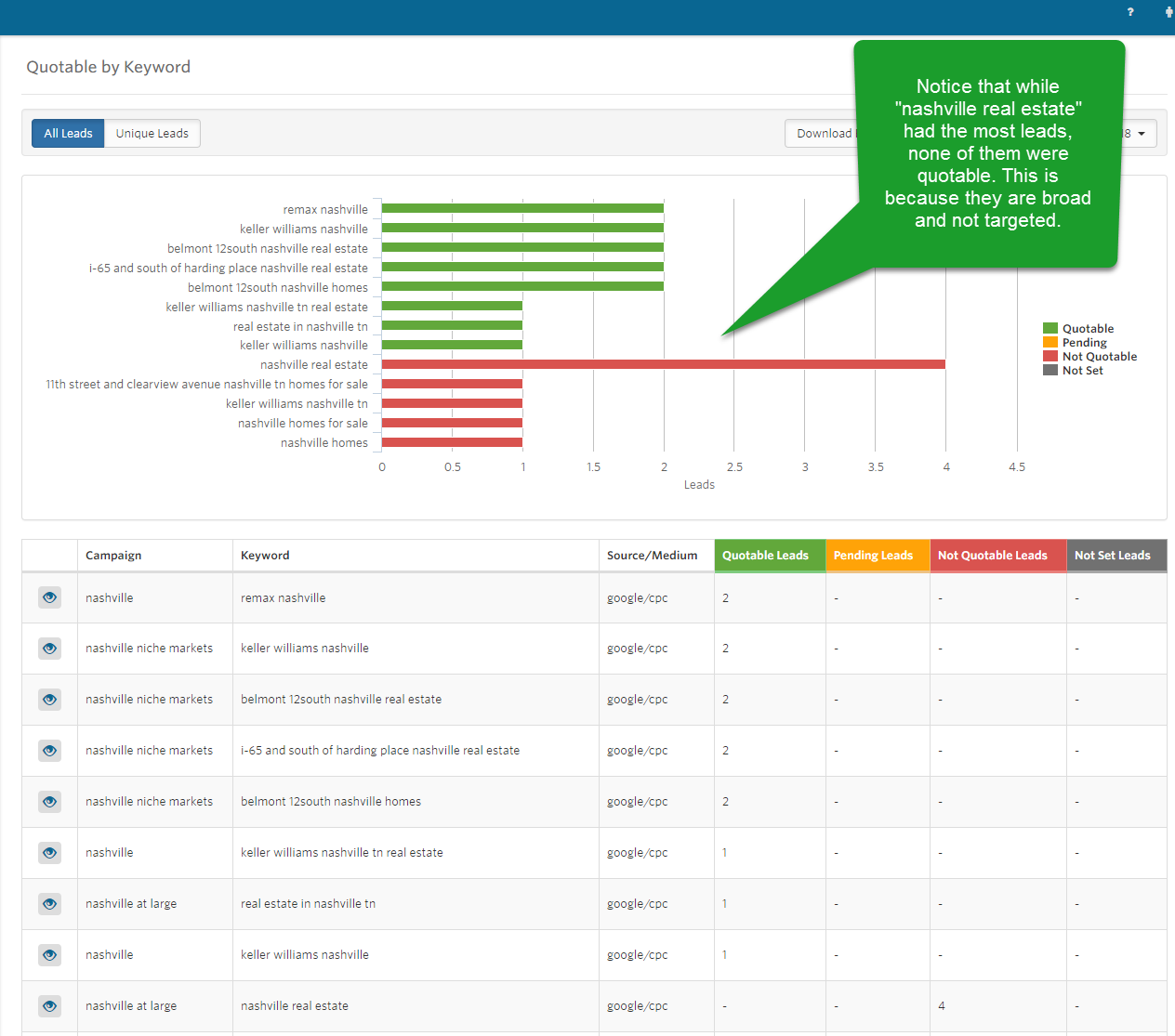 In Conclusion
Eliminate the poor performing campaigns and keywords. Move that money to the campaigns driving the quality, workable leads. Knowing what marketing converts allows you to be successful in a competitive marketplace. There are always trends unfolding online that you could be capitalizing on. Unless you have lead tracking software on your side you will never have data that you can count on to evaluate your best marketing strategies. Lead tracking software will allow you to act with accurate data to improve your marketing efforts and empower more earned revenue month after month, year after year.
When you're ready to get started tracking your leads you can schedule a demo, contact our support team for advice or go right ahead and sign up for a free trial.