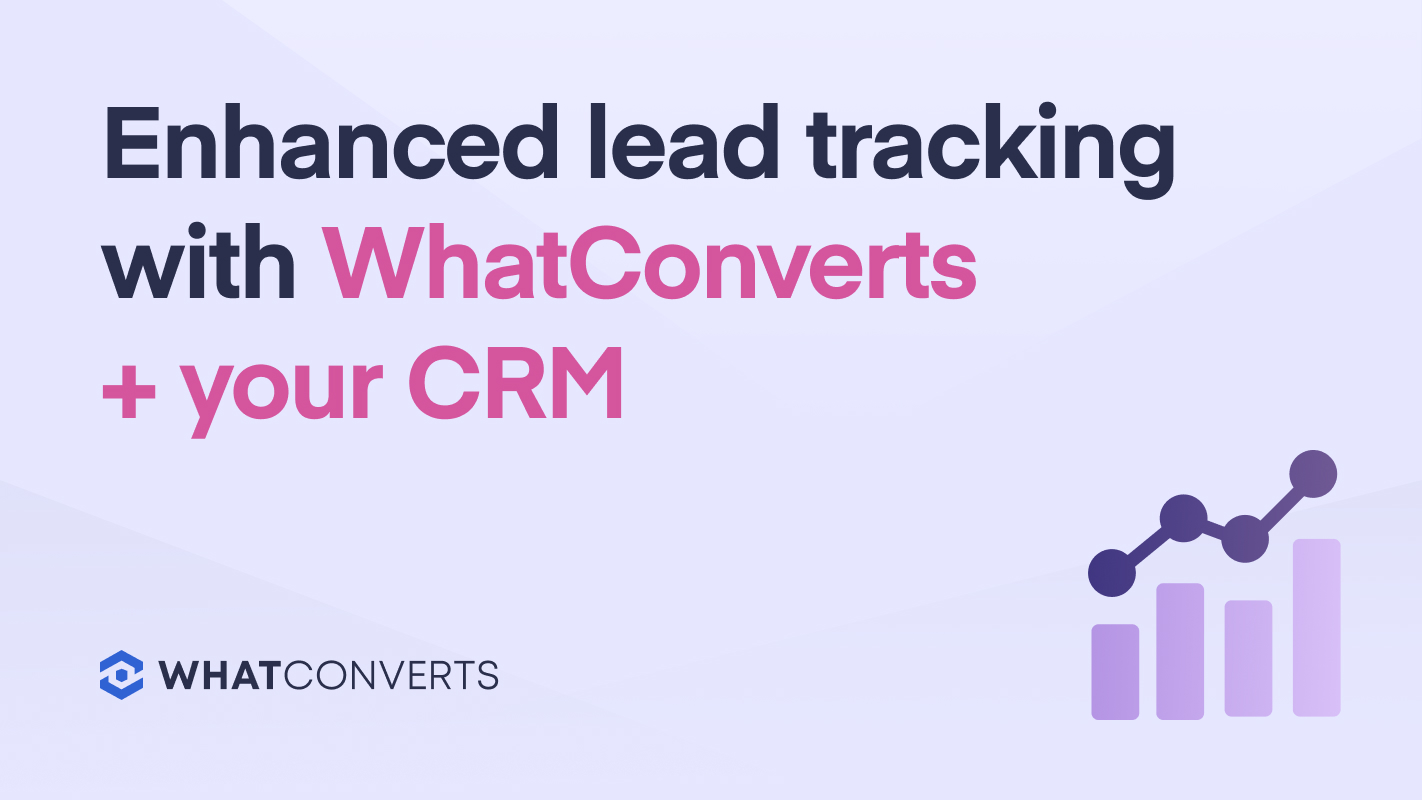 Leads are the lifeblood of companies and managing those leads and the marketing that delivers can increase sales and growth. WhatConverts enables you to easily capture the leads from phone calls, forms, chats and online transactions. but, what happens to those captured leads? Are you maximizing the sales derived from these valuable leads?
Let's look at how to enhance your lead tracking by integrating WhatConverts with your CRM.
Website visitors who submit a form, give you a call or start a chat have chosen your company as part of their buying process! Having a good Customer Relations Management (CRM) tool is helpful when the leads don't become a sale at first. It's often necessary to follow up on the lead before earning their sale. To do this effectively, a CRM is necessary for managing incoming and outgoing leads and contacts.
However, having a great CRM alone doesn't tell you where your leads came from or what marketing led them to convert. Having great inbound lead tracking fixes this gap in information and gives you the details for incoming leads (the who, what, when and how) and your takes inbound lead tracking and organization to the next level. Using incoming lead tracking in addition to your CRM provides customer insights (such as what initially brought them to call, submit a form or begin a chat) to give you a better picture of how to interact with your customer and have a more clear idea of where they are in the buying process.
Benefits of Integrating your CRM with Lead Tracking
Inbound Automation
When you have your forms, chats and phone calls all integrating seamlessly into your CRM, you don't have to manually enter the contact details from each inbound source. When setting up your lead tracking software to integrate into your CRM, you can auto-assign, customize and automatically populate actions into your CRM so your sales team can manage their sales funnels effortlessly.
Less time spent on lead management means more time for selling.
Marketing Data Attached to All Inbound Leads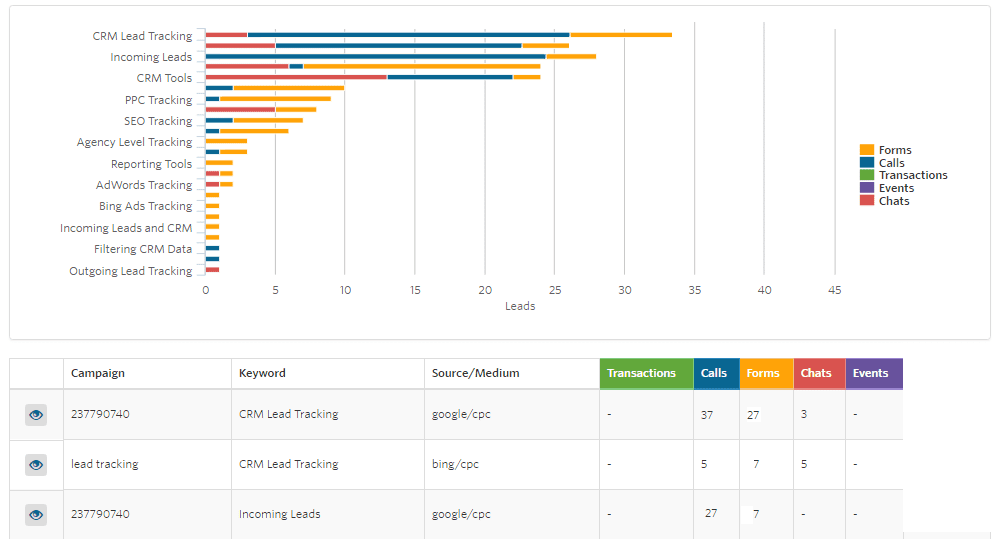 WhatConverts provides great marketing data for incoming leads. You always know what marketing led to your lead converting (such as keyword, campaign and source/medium), what type of lead it was (phone call, form submission, chat or transaction) and provides reporting for these leads. All of this data can be sent directly into your CRM for following up on these leads.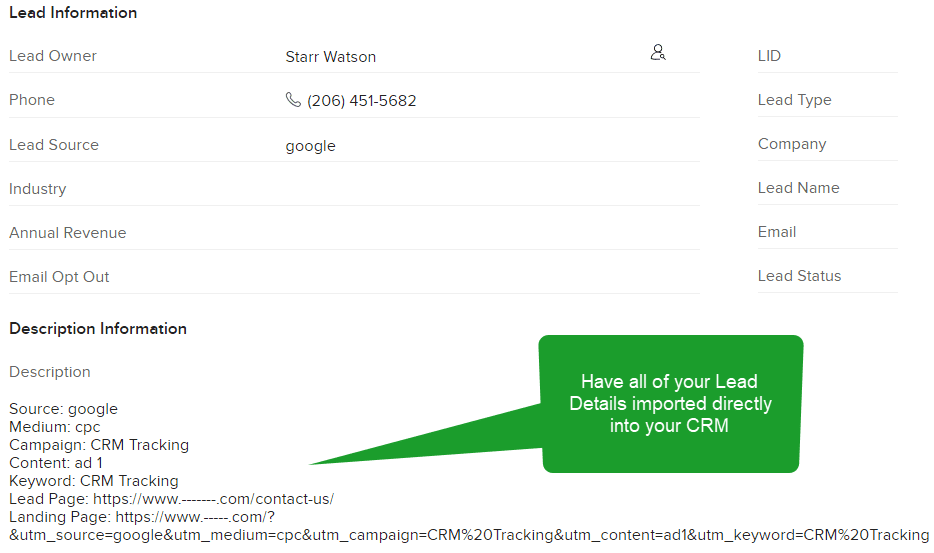 "Ring ring!" Great news! Your business is getting calls left and right, forms are being submitted and users are wanting to do business with you! How do you maximize the interaction from your lead? Having the marketing information (such as the source and medium of the lead) is just the start. Inbound lead tracking will tell you what campaign, content and keyword inspired the person on the other end of the phone (or computer) to get in touch with you. When you know that a person was searching for a specific product, you come into a call with more information and ready to land your sale.
Adding Sales Values for Optimization
Once your sales team is in the groove of using a CRM and enjoying the benefits of adding lead tracking to the mix, your CRM is able to send updated sales values back into your lead tracking platform. While you may ask yourself, "Why this is important?" remember, when a lead comes in from a PPC source (such as Google AdWords), your lead tracking software has that lead information tied to the user's first click. When your sales team enters a sales value into your CRM and it's sent back into your lead tracking software; the software can then send the dollar amount back into AdWords - giving your marketing team accurate information to optimize your AdWords accounts. You'll know exactly which keywords, campaigns and content is generating revenue.
Conclusion
These are just three of the main benefits of incorporating lead tracking software with your CRM. Each business has unique goals, need and know how to achieve them. The main value added of having lead tracking alongside your CRM saves you time and money and helps your team become more efficient.
No matter what CRM is your favorite, WhatConverts offers inbound lead tracking for and integrates with many CRMs (and adding new ones to the list all the time!) such as:
If your favorite CRM isn't on the list, send us an email to [email protected] and let us know!