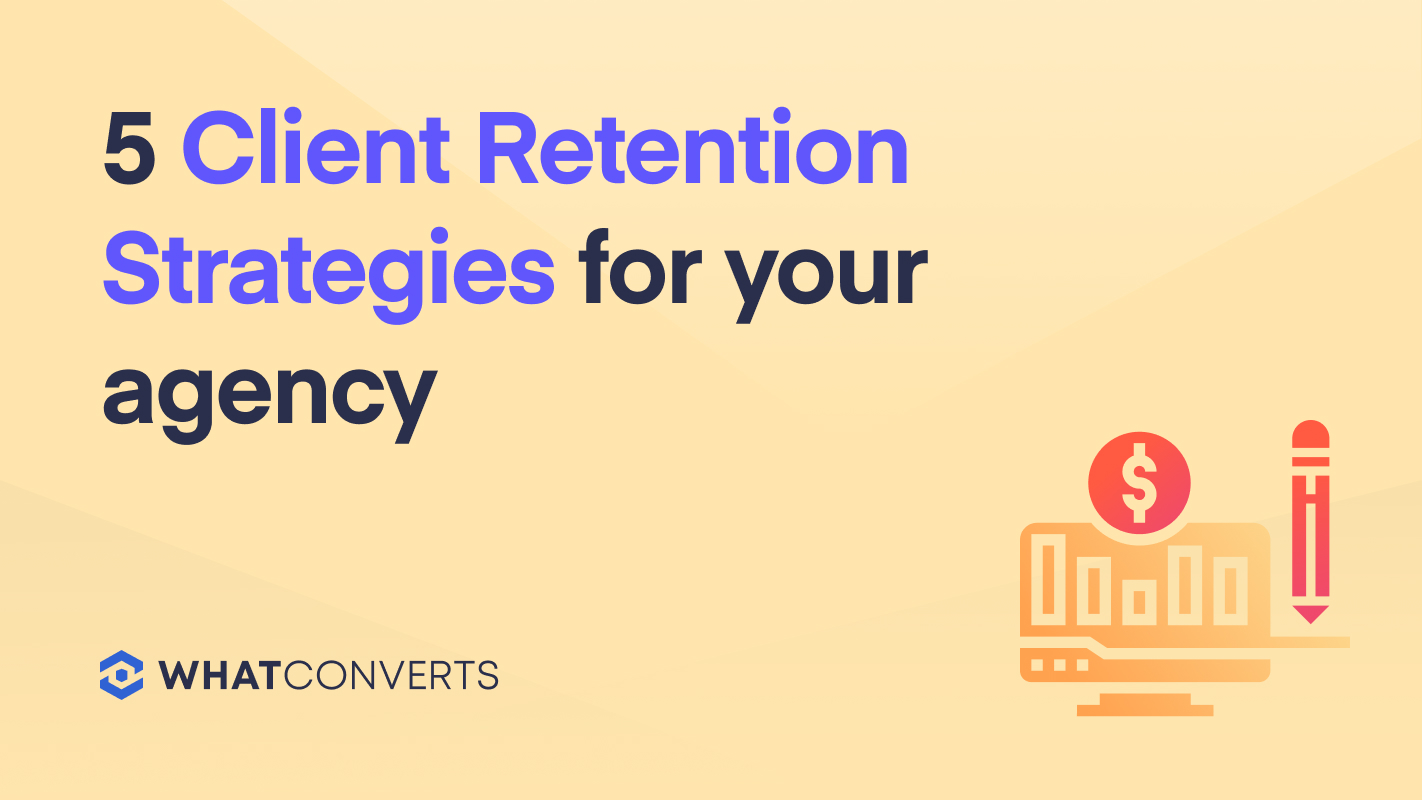 Every marketing agency should pay extra attention to one type of client; long-term clients who are happy with their results. These are your most valuable clients, and you've got to have a strategy for creating these types of relationships. Client retention strategies matter; according to industry reports, on-boarding a new client costs 4x as much as retaining existing clients.
In our partnerships with agencies, we've uncovered five keys to client retention:
Establish client/agency fit
Set expectations
Provide easy-to-understand marketing reports
Track leads
Let clients manage leads
Let's go over each step in more detail:
1. Establish client/agency fit
Every business needs marketing, but your agency's specific services, processes and technologies work best for certain industries and situations. Before you sign a new client, make sure they're a fit for the services your agency offers.
Think about these four things:
Functional Fit: Does your agency offer the services, expertise, tools or functions the client needs to achieve their goals?
Let's say a potential client wants PPC ads but doesn't yet have a website. If your agency doesn't build websites from scratch, this client isn't a fit.
Technical Fit: Does the client understand the basics of marketing technology enough to see the value of your agency's services?
When on-boarding new clients, show off the tools and technology you'll use to achieve results. Explain how lead tracking software shows clients where leads come from, and explain how clients can search a lead management system to find leads from PPC ads.
Resources Fit: Does the client have the workforce available to benefit from your services properly?
Make sure clients has a large enough team to handle the incoming leads you'll deliver. Many small businesses hire a marketing agency so they can grow quickly only to find they can't handle the influx of new customers.
Cultural Fit: Does the client share your core values?
Many marketing agencies overlook the importance of a cultural fit with clients. The cultural fit dictates whether or not agency and client can communicate effectively.
Don't be afraid to let a potential client know that they aren't a fit for your agency if they don't meet these criteria. Both agency and the client will be better off that way.
2. Clarify client goals and set clear expectations
Client retention is easier if you can understand client problems, define their long-term goals and identify key performance indicators (KPIs). If you can, you'll be able to deliver a marketing strategy with specific expectations and timelines.
Pay close attention to one KPI in particular: Customer Lifetime Value (CLV)
CLV is an important metric to bring up during goal-setting discussions with clients. It shows the total revenue a company can expect from a customer during the entire business relationship. The longer a customer stays with a company, the higher their CLV. If you can create marketing campaigns that deliver high CLV customers, you'll lock in a client for life.
3. Create easy-to-understand reports.
The only way to prove you're delivering on client KPIs is with cold, hard numbers.
Give clients an easy-to-understand report structured around the metrics that matter; leads and the marketing channels that you used to deliver them.
Reporting is how you, as an agency, claim credit for the leads and revenue that you generate for clients. Your reports should show when leads come in, which marketing source they came from, what they wanted and whether they were quotable.
Imagine for a moment that you're in a reporting meeting. You're struggling to explain complex reports to clients, and you need them to understand the value of your work. Does the client understand how your marketing campaigns are generating revenue for them?
If you have the ability to create custom, easy-to-understand reports, clients can quickly see how marketing campaigns are performing. Clear reports show clients the value of your agency.
The image below shows how lead-based reports can clear things up for your clients. Lead-based reports show exactly how indispensable your services are for the growth of your clients' business.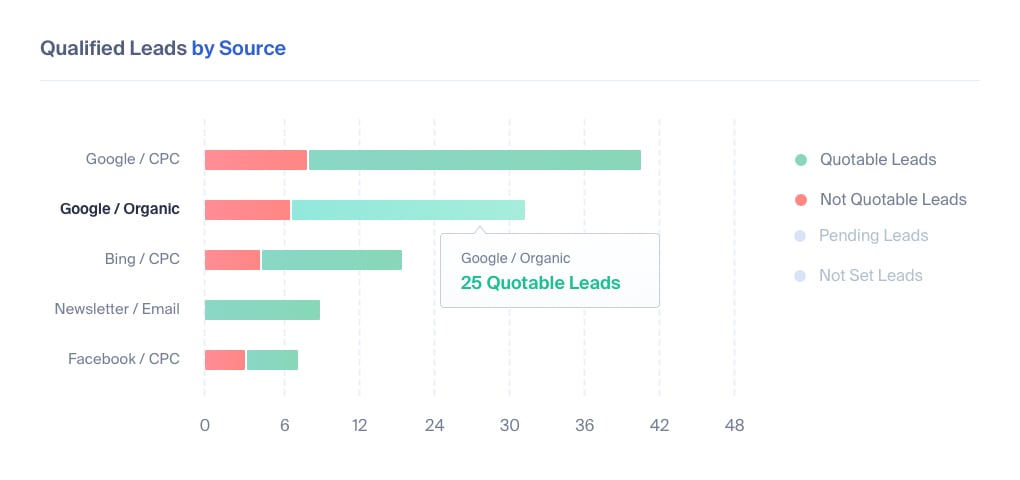 4. Implement call, form and chat tracking
Call tracking allows you track calls back to the marketing source, just as you can with web forms and other digital conversions. Many industries consider phone calls their best source of qualified leads, yet businesses often can't track calls back to the marketing source.
The ability to track calls sets your agency apart from competitors. If a client chooses to go to another agency, call tracking might not be offered.
Have you ever been in this situation? You know that a client's recent surge in leads is a direct result of the marketing your agency has been doing. The client, however, thinks it's a result of their own efforts.
Every agency experiences this as some point. Call tracking will prove exactly how many calls the client received because of your agency.
Clients who rely on phone call leads must figure out which marketing channels drive calls. Google Analytics is helpful for tracking clicks, but it can't track phone call leads on it's own.
With a call tracking tool, you can capture every phone call lead, show clients where the leads came from, record call transcripts and calculate the average cost-per-lead for each call.
5. Offer a lead management system
Clients hire agencies to do one thing; deliver more customers. That's why agencies must give clients ownership over their leads. A lead management system allows clients to filter leads by sales value, marketing channel. conversion type, and any other parameter they can imagine.
A good lead management tool also reveals if leads turn into sales, and traces the sale back to the marketing source. Lead management systems are invaluable tools for clients, and are excellent services to offer if client longevity is one of your agency's goals.
The bottom line on client retention strategies
Clients don't want to switch from one agency to another. If you give clients unique services and prove your value, you'll have no trouble retaining clients long-term. Reliable long-term relationships are the backbone of successful agencies.
WhatConverts helps agencies with all five of the aforementioned client retention strategies. By tracking the lifetime value of your client's customers, creating concise reports that prove your agency's worth and tracking every single lead, WhatConverts can help you keep clients.
Request a free demo of WhatConverts and get on the path to client retention.