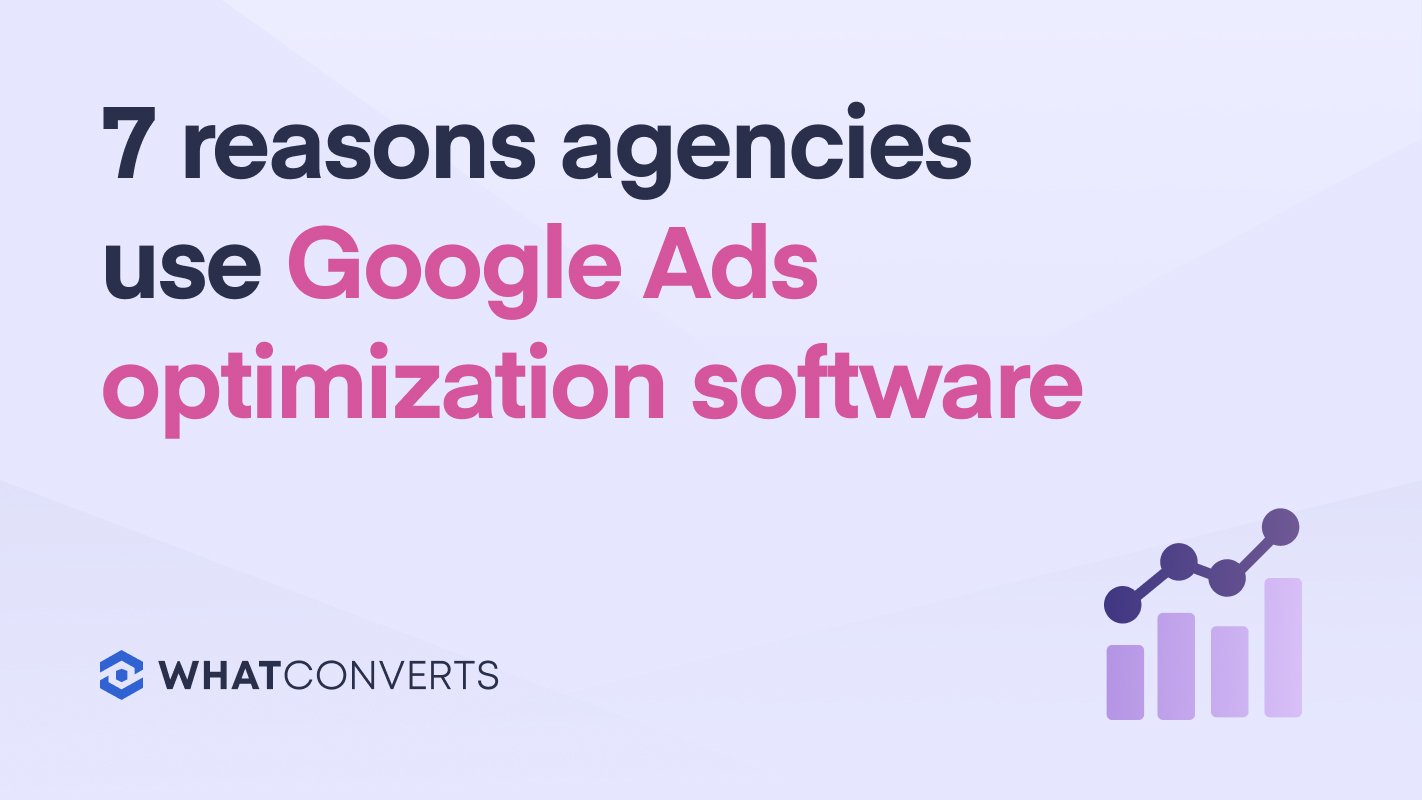 Does your agency show clients the exact revenue they're getting from your campaigns?
Atomic Marketing does. This agency uses WhatConverts Google Ads optimization software, tracking the ROI of their client's ads and using WhatConverts data to leverage Google Smart bidding.
WhatConverts helps Atomic Marketing run better ad campaigns. The agency feeds quality data into Google, which allows them to take full advantage of Google Smart Bidding strategies.
We spoke with Dale Powell, Co-Founder of Atomic Marketing, to find out why his clients love using WhatConverts for their Google Ads campaigns.
Watch the video below to learn more.
See how WhatConverts can help your agency. Schedule a 30-minute live demo so we can show you how to use WhatConverts to capture the value of your marketing.
1. Show how Google ads optimization software helps clients
Dale's client came to WhatCon after having a bad experience with another agency. The previous agency didn't track the revenue-related metrics such as:
Phone call leads
Form-fill leads
Lead value
Sales value
The client didn't want metrics like clicks and impressions; they wanted to know how many leads they were getting.
Atomic Marketing pitched the client on a new approach. Using WhatConverts, Atomic Marketing would track and report on leads from Google Ads campaigns. More importantly, they would separate good leads from bad leads and ensure the ad campaigns targeted keywords that drive quality leads.
2. Assign value to every lead to identify profitable keywords
WhatConverts shows clients the potential value of every lead and the actual sales value of the leads that turn into customers.
Atomic Marketing can see quote value and sales value for lead from Google Ads. These numbers allow the agency to identify the client's sales process issues. If the total quoted value is high, but the total sales value is low, there's probably an issue with the client's lead-to-sale process.
3. Reveal any faults in the client's sales process
Since using WhatConverts, Dale and his team at Atomic Marketing have found that many clients have trouble turning leads into sales. Without WhatConverts, clients might complain to Atomic Marketing about low sales numbers. They would blame the issue on a lack of quality leads.
Now, clients can see that Atomic Marketing is delivering quality leads with a high quote value and any lack of sales comes down to the client's lead-to-sale process.
High quote value + high sales value = good sales process
High quote value + low sales value = problem with the sales process
Low quote value + low sales value = problem with the marketing
4. Calculate the potential revenue and the actual revenue
Let's get back to the client mentioned in the video.
This client spends $7,500 per month on Google Ads. They're getting $110,000 in lead quote value but only seeing $31,000 in actual sales value.
Atomic Marketing can tell the client that they're getting a good ROI from Google Ads, but they could be doing better. The agency is delivering enough leads to provide an even better ROI; all the client has to do is close more sales.
See how WhatConverts can help your agency. Schedule a 30-minute live demo so we can show you how to use WhatConverts to capture the value of your marketing.
5. Use the dashboard to understand the client's customers
WhatConverts captures all the lead information and stores it in a dashboard. Both the agency and the client can access this agency dashboard.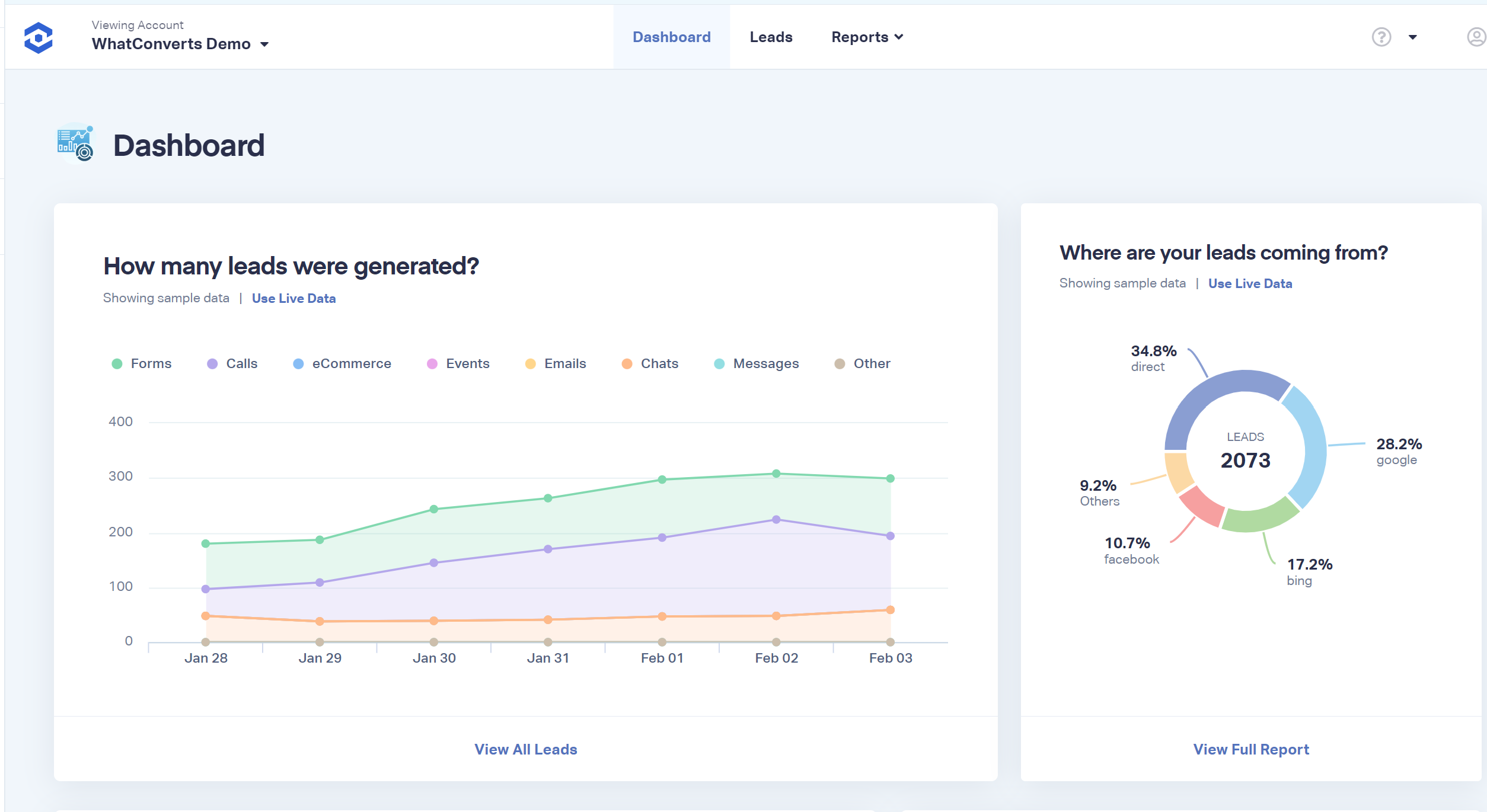 When a new lead comes in, the client gets a notification in their email, pulls up the WhatConverts agency dashboard and provides lead feedback. This feedback includes:
Marking the lead as quotable or non-quotable
Assigning a quote value to the lead
Assigning a sales value once a sale is made
In WhatConverts, clients can look at form-fill information, phone call recordings and call transcripts to determine if leads are quotable. Atomic Marketing uses this information to refine the Google Ads bidding process to focus on keywords that attract quotable leads.
6. Leverage Google AI for Google Ads optimization
Atomic Marketing uses WhatConverts data to improve the Google Ads Smart Bidding process.
The agency's 5-step process for leveraging Google Smart Bidding
Atomic Marketing starts Google Ads campaigns with manual bidding to maximize clicks.
They'll do this for 4-12 weeks, and the client marks leads as quotable or not quotable in WhatConverts.
WhatConverts passes all new leads back to Google as conversions during this time.
After 4-12 weeks, the agency tells WhatConverts to only send quotable leads to Google as conversions.
They then use Google's Automated Bidding and set the bidding strategy to maximize conversions.
The "quotable lead" feature of WhatConverts allows Atomic Marketing to leverage Google's AI Smart Bidding strategies to their full potential. Google is still using smart bidding strategies to maximize conversions, but it's now only looking for conversions that result in quotable leads.
In Dale's words, "we're putting good data in to get good data out."
WhatConverts ensures Google's AI Smart Bidding strategy seeks to optimize ads to deliver high-quality leads.
See how WhatConverts can help your agency. Schedule a 30-minute live demo so we can show you how to use WhatConverts to capture the value of your marketing.
Google Ads optimization software answers your clients' questions
Atomic Marketing occasionally uses WhatConverts reports to gain more advanced insights for their clients.
For instance, this client recently noticed a lot of leads coming from a nearby city. He asked if he should put more budget into targeting leads from that city. Atomic Marketing pulled a WhatConverts report showing that while the client was getting a lot of leads from that city, hardly any of the leads were converting to sales.
So, while the client could spend more and get more leads from this area, the leads weren't likely to turn into actual sales. WhatConverts showed that spending more on leads from this area would likely be a waste of money.
7. Keep the agency and the client on the same page
Ultimately, WhatConverts holds both agencies and their clients accountable. Dale has been doing Google Ads for years, and he can recall countless times hearing the same complaints from clients.
"January looked like a good month, we had 14 leads, oh but none of them turned into sales."
The agency gets blamed for not delivering good leads, and the agency blames the client for failing to turn leads into sales. The problem is neither side knows how many of those leads were quotable.
WhatConverts eliminates that conversation.
The ability to mark leads as quotable makes everybody's lives easier. The agency doesn't have to worry about giving the client bad leads, and the client can't complain about poor sales numbers when they know that the agency is delivering high-quality leads.
WhatConverts ensures the agency is responsible for giving the client high-quality leads.
The agency is not responsible for turning those leads into sales.
That's the client's job, and WhatConverts makes that easier for everyone to understand.
Atomic Marketing's clients also use the comments feature in the new WhatConverts Agency Dashboard. If a lead isn't quotable, the client makes a note to show why the lead wasn't quotable. These notes give Atomic Marketing information to feed into the Google Ads campaign, ensuring they're only targeting quotable leads.
Let's say the client notes that the lead was out of the serviceable area. In that case, Atomic Marketing may tweak the Google Ads campaign target location.
So, how do clients feel about the WhatConverts agency dashboard?
Dale says his clients can't get enough of the WhatConverts dashboard.
"The clients absolutely love it. It's like some sort of obsession. We can't get them out of it."
Plenty of marketing software tools do reporting, but they don't provide the types of reports that clients understand. Most software — including Google Ads — reports on clicks, impressions, search impression share, etc.
Clients don't understand these metrics, nor do they care about these metrics. Clients want to know how much money they made from an ad campaign; they want to know the potential return on ad spend, the actual return on ad spend, and the quality of the leads.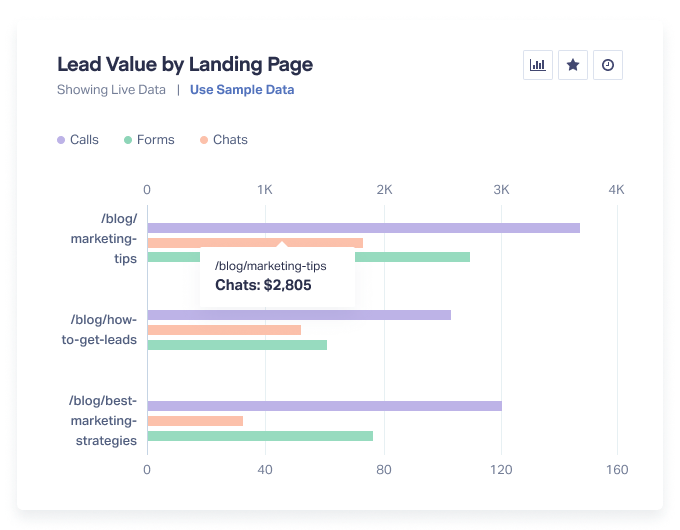 Why do agencies choose WhatConverts?
Atomic Marketing initially moved to WhatConverts because of the offline conversion tracking but realized that the dashboard helps keep clients satisfied.
A. Offline conversion tracking allows for Google Ads optimization
With WhatConverts, offline conversion tracking is built-in to the dashboard. No other software platform offered the ability to only send quotable conversions to Google Ads.
Google Smart Bidding strategies are the future of paid search. Dale believes that manual bidding will disappear entirely in the coming years. With this in mind, the agency needed a way to feed quality data back to Google and leverage Google Smart Bidding Strategies to target quotable leads.
B. The agency dashboard keeps clients happy
The WhatConverts agency dashboard is a critical factor in Atomic Marketing's approach to client retention. The dashboard eliminates the need for client reporting. Clients can log in to WhatConverts, adjust their date range, and see their leads in real-time. The clients love it, and so does the agency.
See how WhatConverts can help your agency. Schedule a 30-minute live demo so we can show you how to use WhatConverts to capture the value of your marketing.