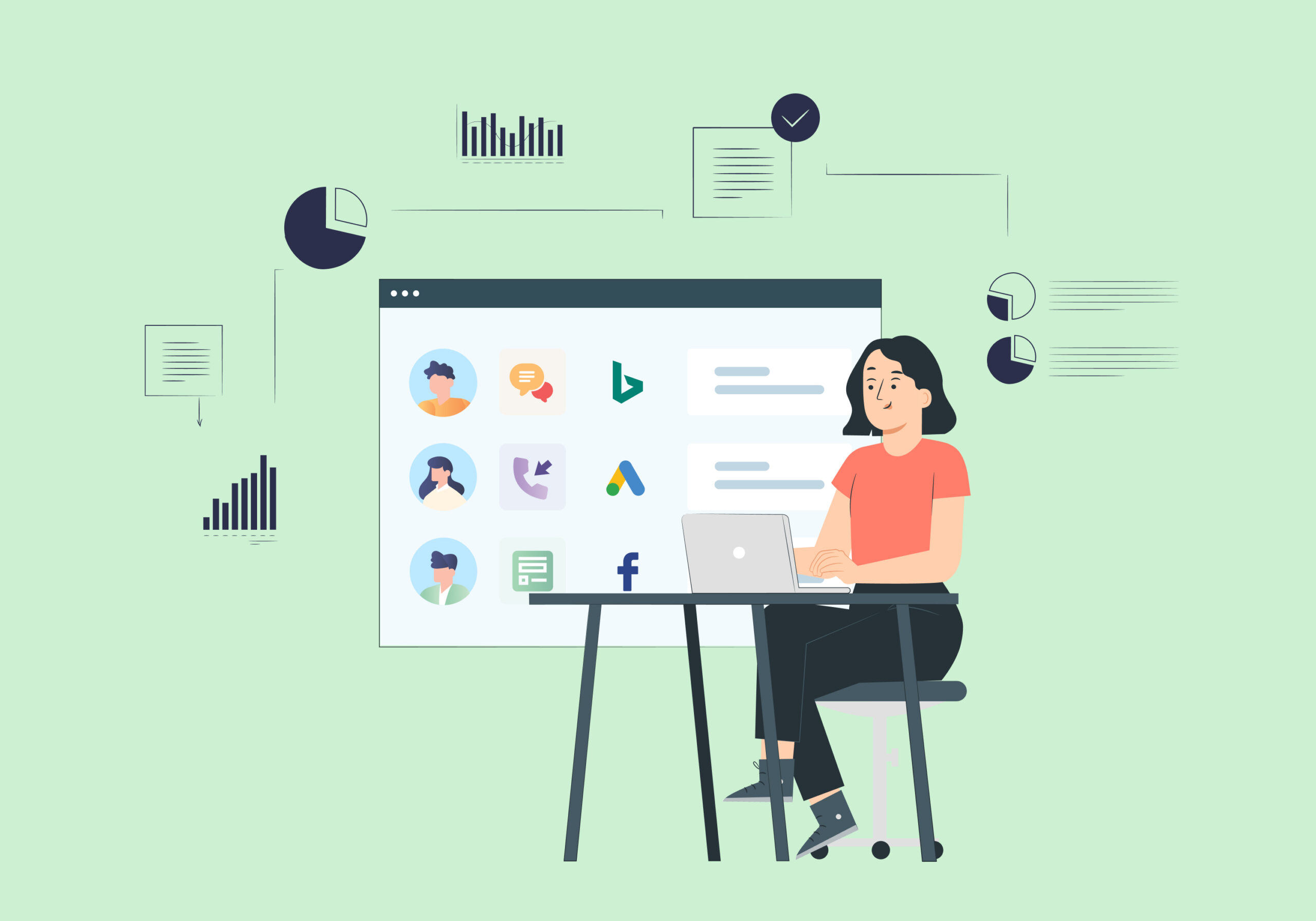 A lead tracking strategy is essential for any business, but not all lead tracking software is created equal. When I ask companies about their lead tracking processes, many say they use their CRM. But there's a difference between the lead tracking capabilities of a CRM like HubSpot or Zoho and a lead tracking software built for marketing (like WhatConverts). Even HubSpot has its own called Marketing Hub, which is different from its primary CRM platform. So, what is the difference between the two?
On average

13.6%

of sales revenue is allocated to a marketing budget.
In this article, we will break down the differences between lead tracking software for marketing and lead tracking software for sales to help you determine which is best for your business (or if you should use both!).
Why is lead tracking software important?
Lead tracking software is an invaluable tool for marketers, helping them to improve the ROI of marketing efforts. According to HubSpot, businesses spend an average of 13.6% of their entire budget on marketing. With that big of an investment, you can't rely on guesswork. If you're running campaigns that aren't performing, you are not only throwing money down the drain but also missing opportunities for potential customers and increased revenue. By tracking interactions with leads, businesses can gain a better understanding of their customer's journey. It allows businesses to determine the first point of contact for leads and monitor where they are at in their buyers' journey. Although you may be able to convert an untracked lead, you won't have access to valuable customer data that will help you optimize your marketing and conversion efforts.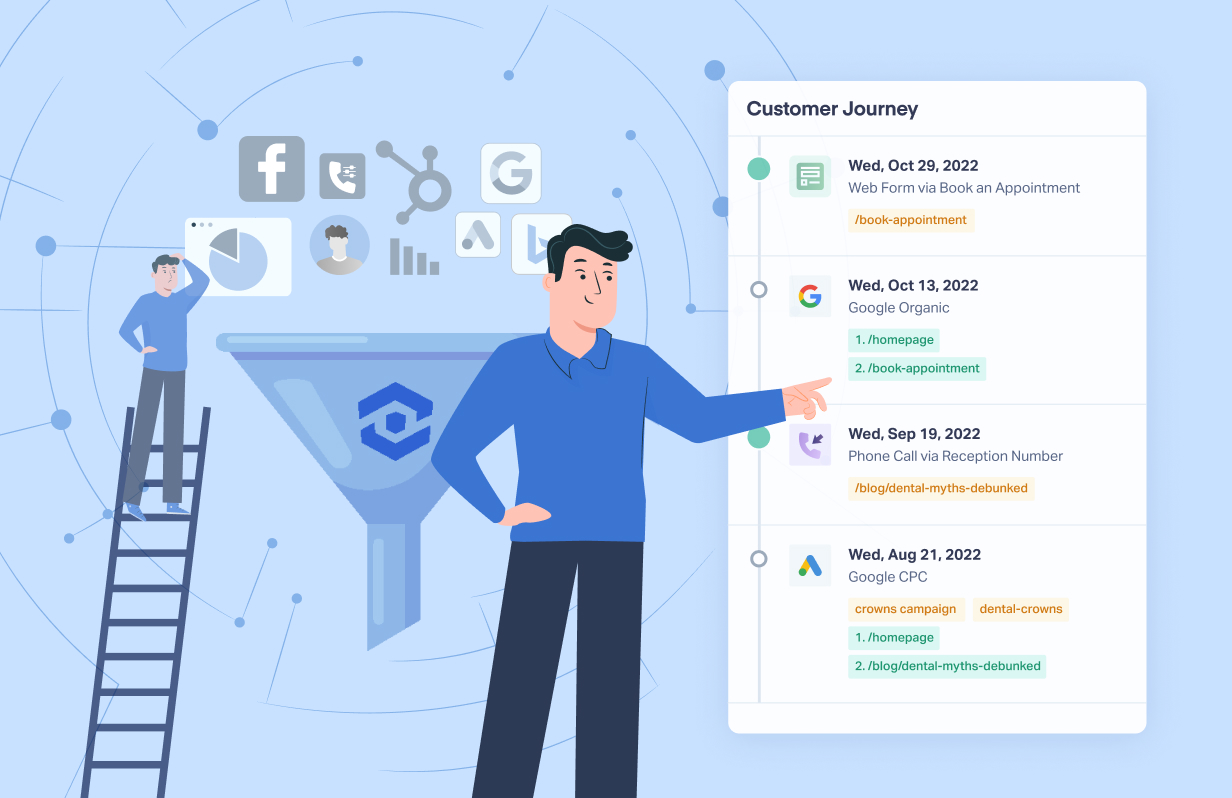 A dedicated lead tracking solution also helps businesses stay organized and ensure they don't miss out on opportunities. You can use the software data to generate insightful reports on your customer behavior to identify trends over time. This makes it easier to measure the effectiveness of various marketing campaigns and strategies. By tracking relevant data points, businesses can evaluate the campaigns and tactics resulting in the most leads and conversions. This information can then be used to make well-informed decisions about future campaigns and optimize strategies for the best results.
What is the difference between lead tracking software for marketing and lead tracking software for sales?
To best explain the difference between the two forms of lead tracking software, let's first examine the customer journey. There are five main steps: Stranger > Visitor > Lead > Opportunity > Customer.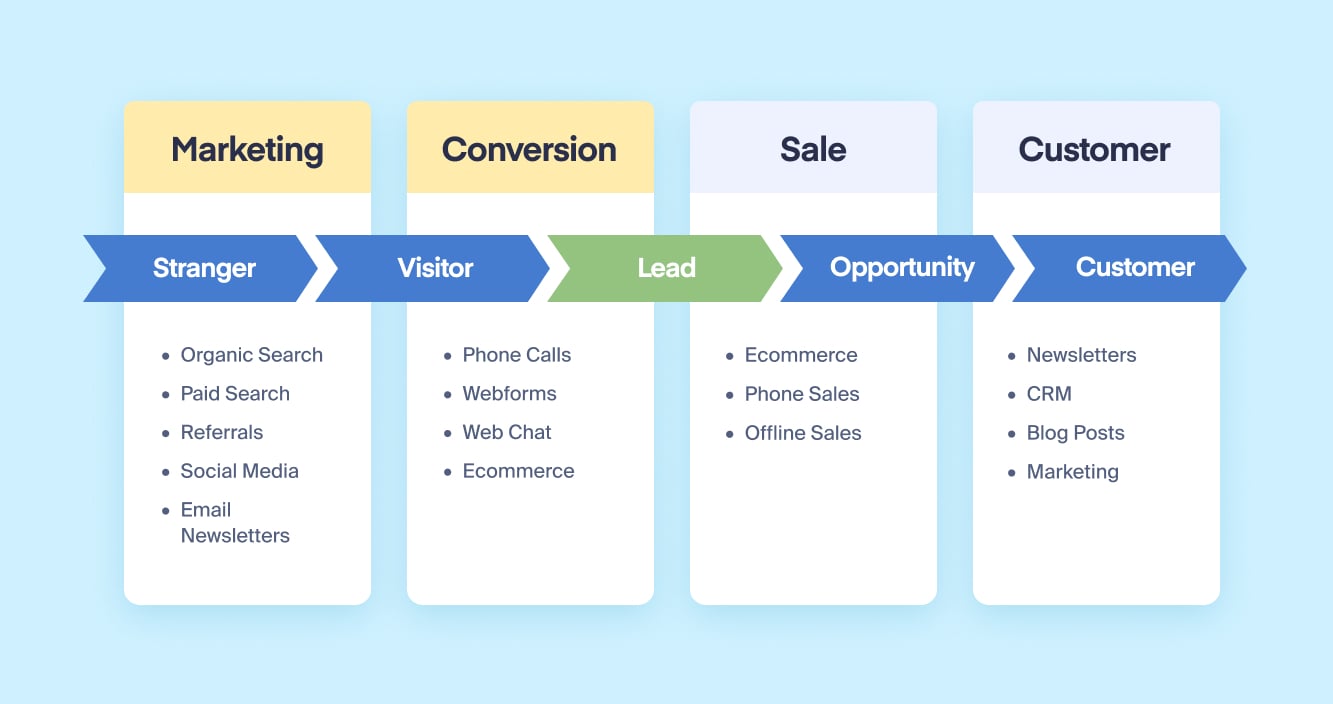 The primary goal of lead tracking software for marketing is to determine what bridges the gap between a stranger and a lead. Which marketing channels are most effective and why? It's to find what is bringing these potential buyers to your channels and what makes them stay, so you can effectively adapt marketing efforts accordingly. For example, maybe you're a dentist's office that has been investing a lot of money in paid search ads for teeth whitening, but you're actually getting a higher volume of inquiries for Invisalign. You can then adjust your marketing spend accordingly and put more into paid search for Invisalign.
Lead tracking software for marketing provides detailed data about the leads, including information about their online behavior and interactions with your website. But it also captures data about how they interact with your team. This data can be used to more accurately score leads and determine their buyer journey stage. While platforms like Google Analytics can capture information about what brought a stranger to your website, it can't capture vital information about their next steps. If a visitor decides to call you, fill out a web form or submit an inquiry via webchat, Google Analytics can't track their query.
The goal of lead tracking software for sales is to take leads and turn them into customers. The software rarely tracks where the lead came from or what prompted them to engage with your business initially. Instead, the focus is on converting them through a sales process . The sales team receives the leads from marketing in the CRM, and can them begin moving them through the sales pipeline until they become customers.
What does lead tracking software for marketing do?
According to a report from Uptempo, 61% of marketing leaders refrain from using ROI when making marketing strategy decisions because they aren't confident in their own data. Aka. they don't have lead tracking software that provides enough data to feel confident making big decisions on marketing spend. But with 84% feeling the pressure to provide this ROI data to justify marketing campaign spend, an investment in lead tracking software for marketing is essential.
61%

of marketing leaders refrain from using ROI when making marketing strategy decisions.
Lead tracking software for marketing like WhatConverts captures and organizes valuable data on the success of a business's marketing strategies. This data includes information about how specific marketing campaigns and tactics contributed to conversions, what buyer intent keywords were most effective, and what landing pages customers spent the most time on. It also captures data on the actual lead, such as who they are, where they came from (what marketing channel), and what they wanted. These valuable metrics allow users to determine which channels, keywords, and messages inspired strangers to become visitors.
Here are the features you can expect from lead tracking software for marketing:
1.
Data Capture
Lead tracking software for marketing captures valuable lead data that can be used to optimize marketing spend and strategy. The software captures information about who the lead is, their name, location, and other demographic information. It will also capture data about which channel they came from. Did they come from paid search, organic search, a phone call, or a contact form? And lastly, the software will capture what they wanted. By listening back to the phone call or reading the contact form, you can determine the qualification and lead value. And based on what they wanted, you can determine the sale value of that lead.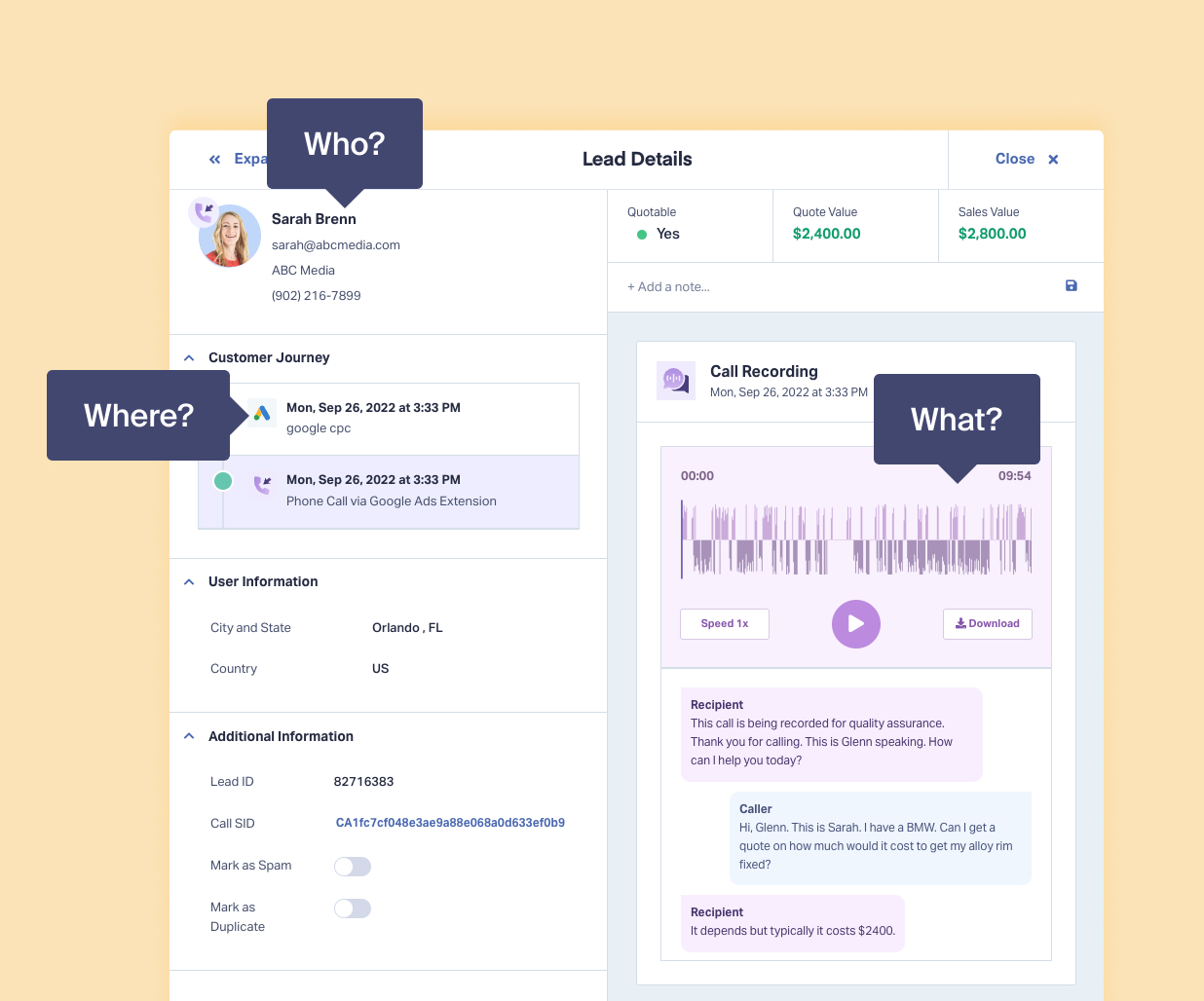 2.
Organized Data
A lead generation software for marketing will compile and organize all leads and marketing data in one place. It can compile phone calls, contact forms, and even customer support chats in a format that is easy to navigate. This organized data will include the source of the lead, what keyword they use to get to your website, what landing page they landed on, and how long they stayed on that landing page. It can also include quote data, if there was any. This information can help you accurately score the lead for marketing purposes. Having all this information in one place is game-changing for both efficiency and delivering the highest quality customer experience.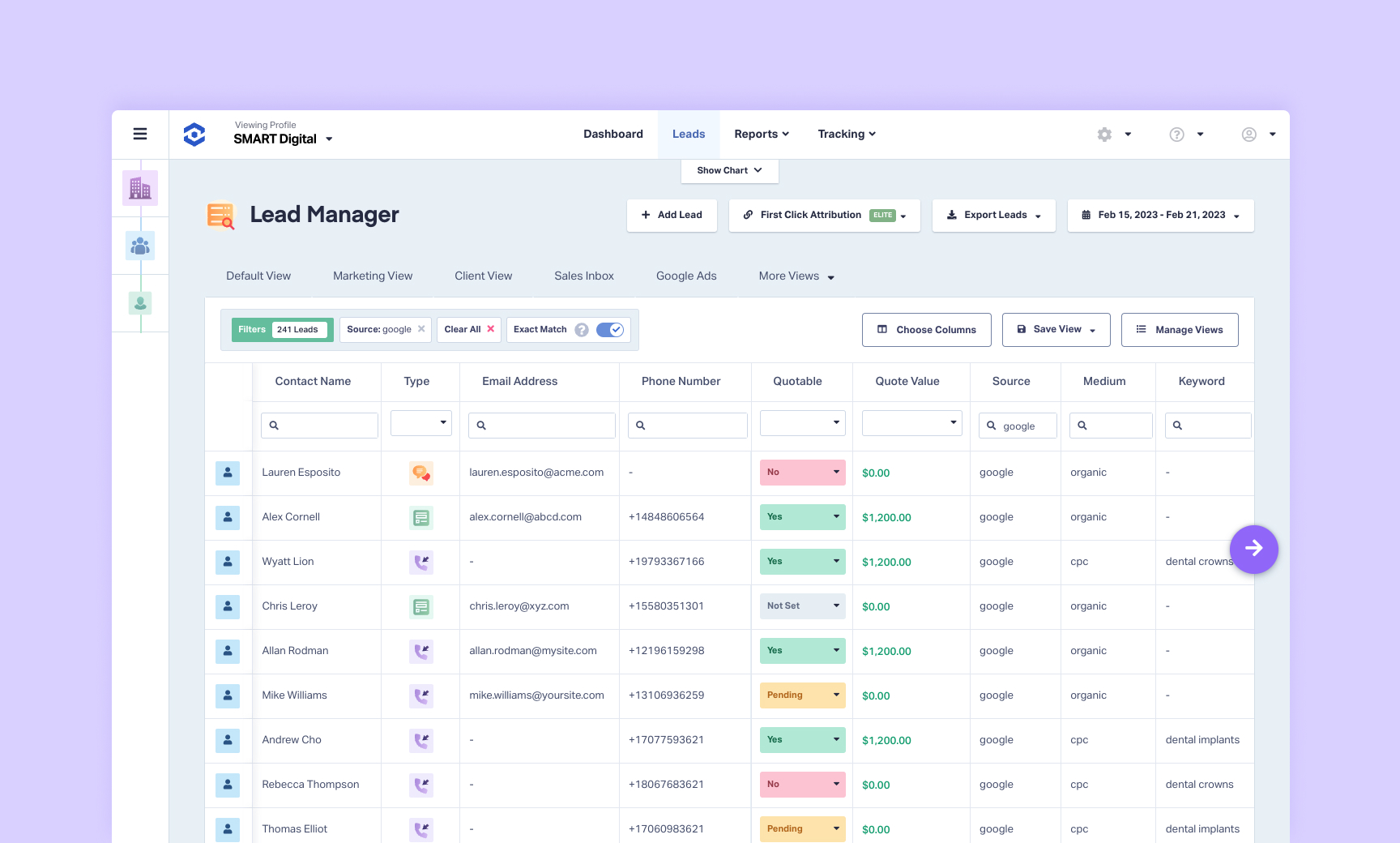 3.
Data Insights
The most valuable feature of lead tracking software for marketing is the data insights and reporting capabilities. The point of capturing all this valuable marketing data is to use it to optimize marketing strategies. And to do that, you need a good reporting tool. If a software has live reporting, that is even better so you can provide up-to-date insights when presenting information to business decision-makers. These data insights will show you things like which keywords are generating the most click-throughs, so you can implement them into your content marketing and SEO strategies. It will also show you the most common questions customers are asking in the live chat or popular terms appearing in contact forms, so you can start focusing your marketing strategies on those terms.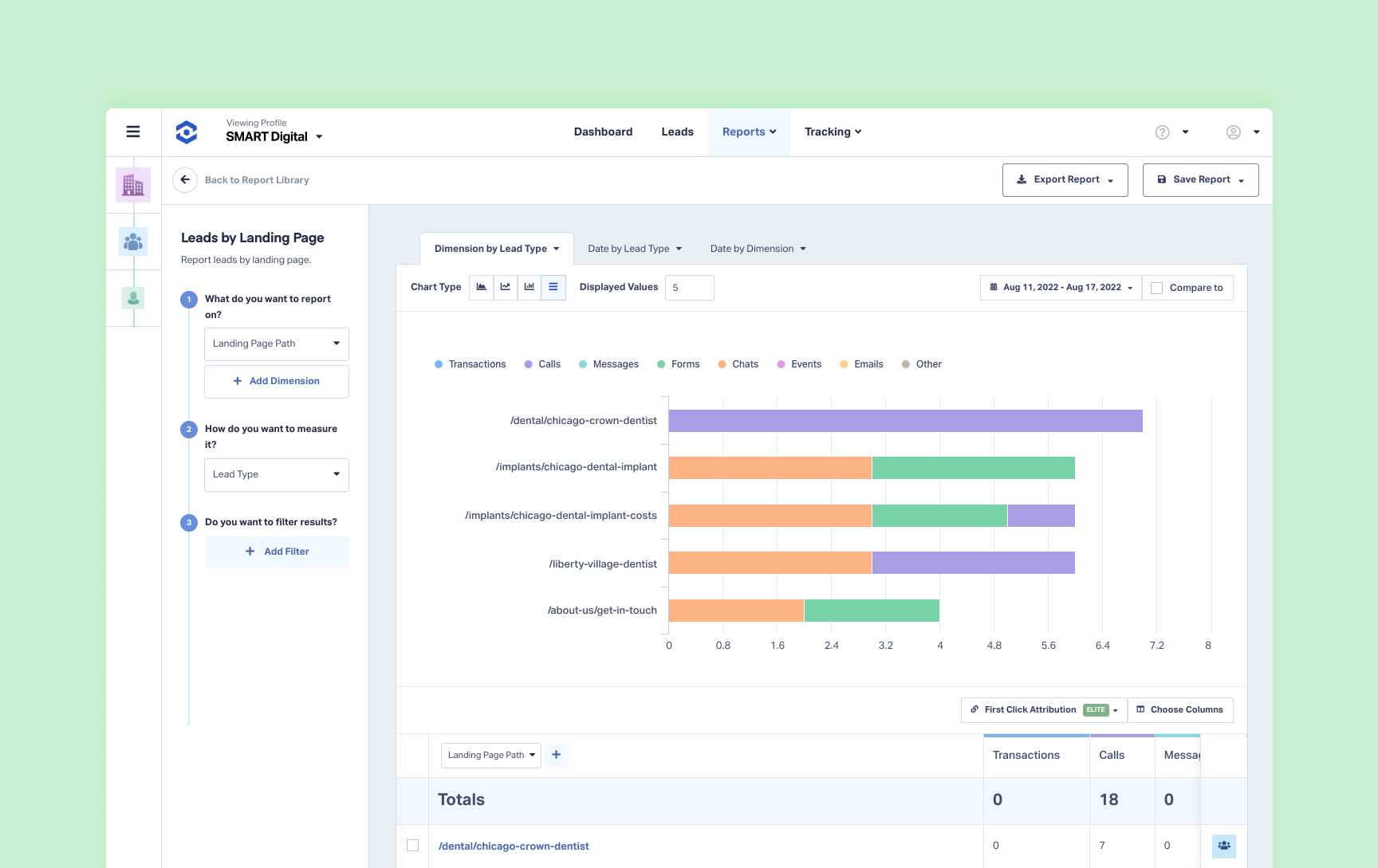 What does lead tracking software for sales do?
Many businesses use their CRM as a lead tracking tool for sales. CRMs are effective for managing the sales process, and taking a lead, turning them into an opportunity, and finally into a customer. CRMS will allow the sales team to see where a lead is at in the sales pipeline so they can continue to follow up with that lead until they ideally convert.
The features you can expect from a lead tracking software for sales, or CRM include:
Contact database with customer segmentation
Lead scoring for the sales process based on customized criteria to help you identify leads that are closest to converting
Sales reporting and analytics to help improve sales forecasting
CRMs may have added features like social media integrations, customer support, invoicing, and team collaboration features. But they aren't built for marketing. That's why popular CRMs have separate marketing hubs, just like SalesForce has Pardot, and HubSpot has Marketing Hub.
Who should use lead tracking software for marketing?
Realistically, any business that markets its product or service in any capacity can benefit from lead tracking software for marketing. Understanding what is initially driving leads to your business in the first place will help you effectively target them through strategic marketing. This is especially effective for businesses with leads who are actively looking to purchase and have a short buyer's journey. Physical businesses like dentists, car mechanics, plumbers, lawyers, and manufacturing companies frequently receive leads that have a high purchase intent. These qualified leads are looking for the product or service NOW. If someone has a burst pipe in their bathroom and needs a plumber, they won't need a long lead nurturing process, if any. But it's still incredibly valuable to know how the person found your number or website.
Any businesses that generate leads from phone calls, emails, or contact forms from people actively looking to make a purchase (hot leads,) or businesses using paid search, search marketing, and organic search can benefit from using lead tracking software for marketing. These tools are also incredibly valuable for digital marketing agencies, especially if they serve clients with quick buyer turnaround.
Who should use lead tracking software for sales?
Lead tracking software for sales are most beneficial to businesses that have a sales cycle, and require follow-ups to close those sales. If your businesses frequently get warm leads, which are people who are interested in your product or services but not necessarily ready to purchase, then a CRM is beneficial to ensure you're effectively following up with them. The CRM will organize opportunities based on where they are at in the sale process, allowing the sales team to follow up via email or telephone until they become a customer.
That said, if your business generally receives hot leads, who are interested and ready to buy from you soon, you likely won't need lead tracking software for sales.
Choosing the best lead tracking software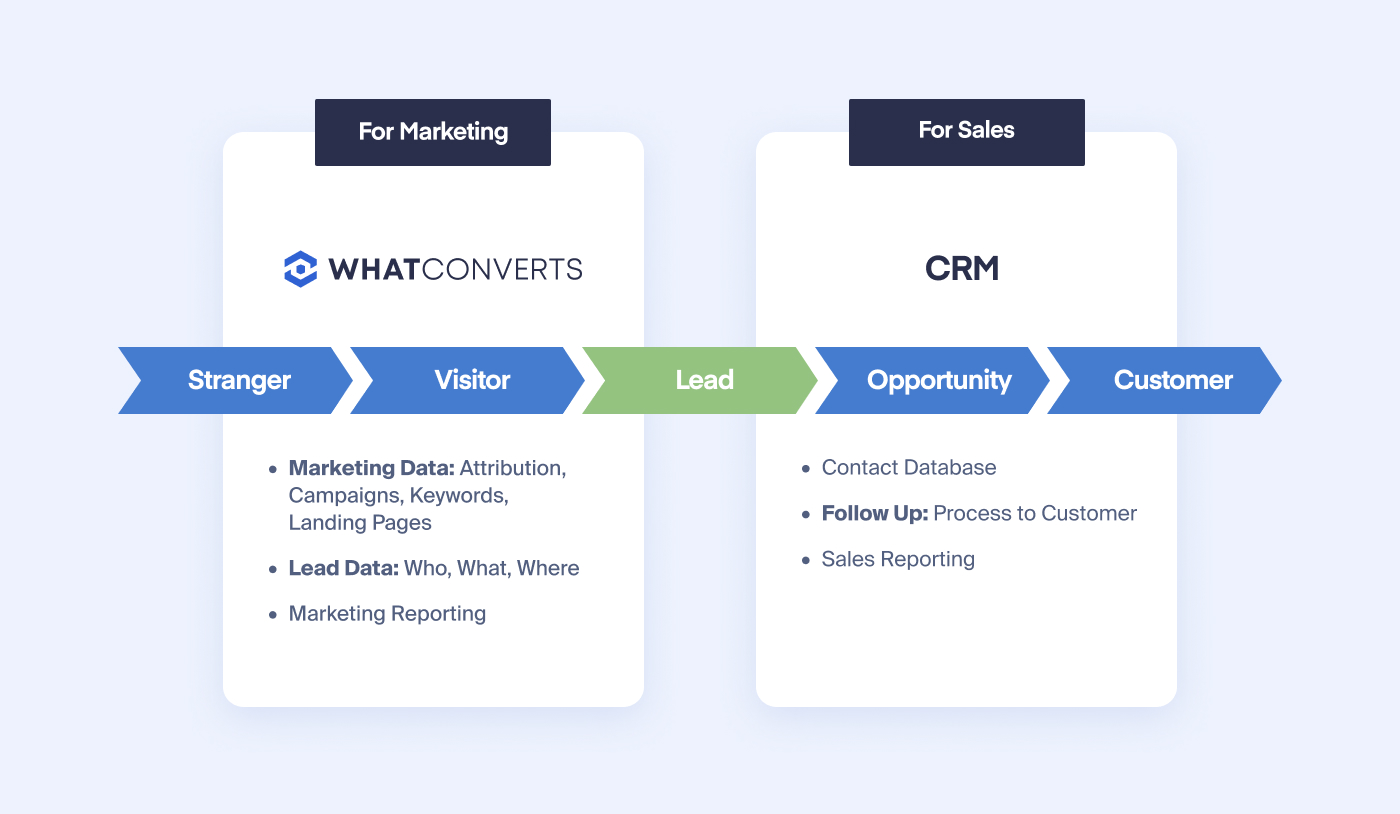 Trying to choose the best lead tracking software for your business will depend on your unique business needs and goals. If your business spends any money on marketing, then a lead tracking software for marketing will always be beneficial. This is especially true for businesses with sales-qualified leads and customers with a short buyer journey. Since your leads are already ready to buy, you don't need to invest time in nurturing the leads, and your money is best spent on optimizing your marketing strategies to reach a higher volume of leads. That said, you may still want some form of CRM to allow you to stay in touch with customers. For businesses that use sales pipelines to nurture their leads, both a lead tracking software for marketing and one for sales will be beneficial. 54% of companies that track and use marketing analytics end up with above-average profits, showing that all businesses can benefit from tracking the leads of their marketing efforts. And with thousands of integrations available from software like WhatConverts, you can link your CRM with your lead tracking software seamlessly.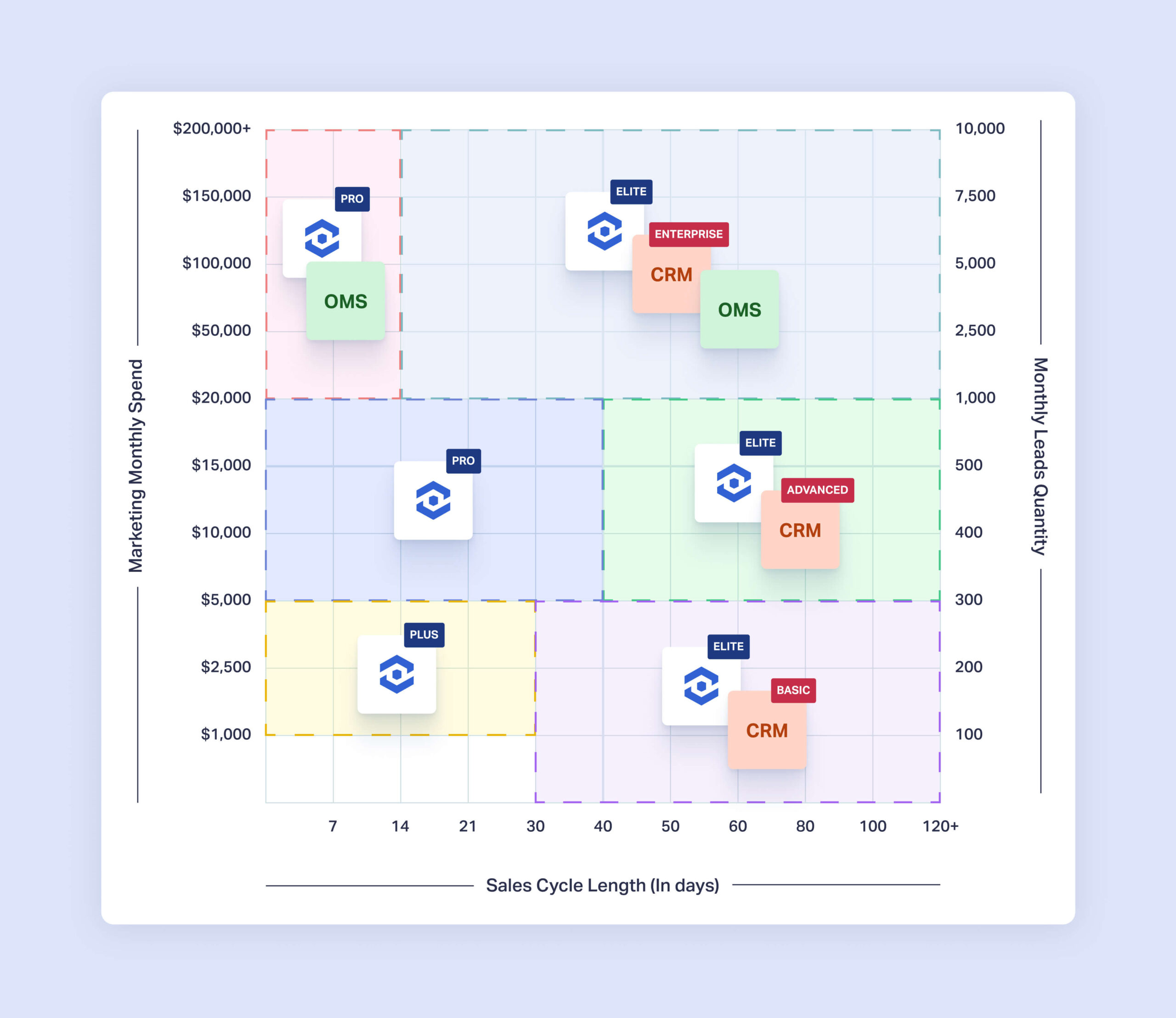 Get a 14-day free trial of WhatConverts to see what lead tracking software for marketing can do for you!