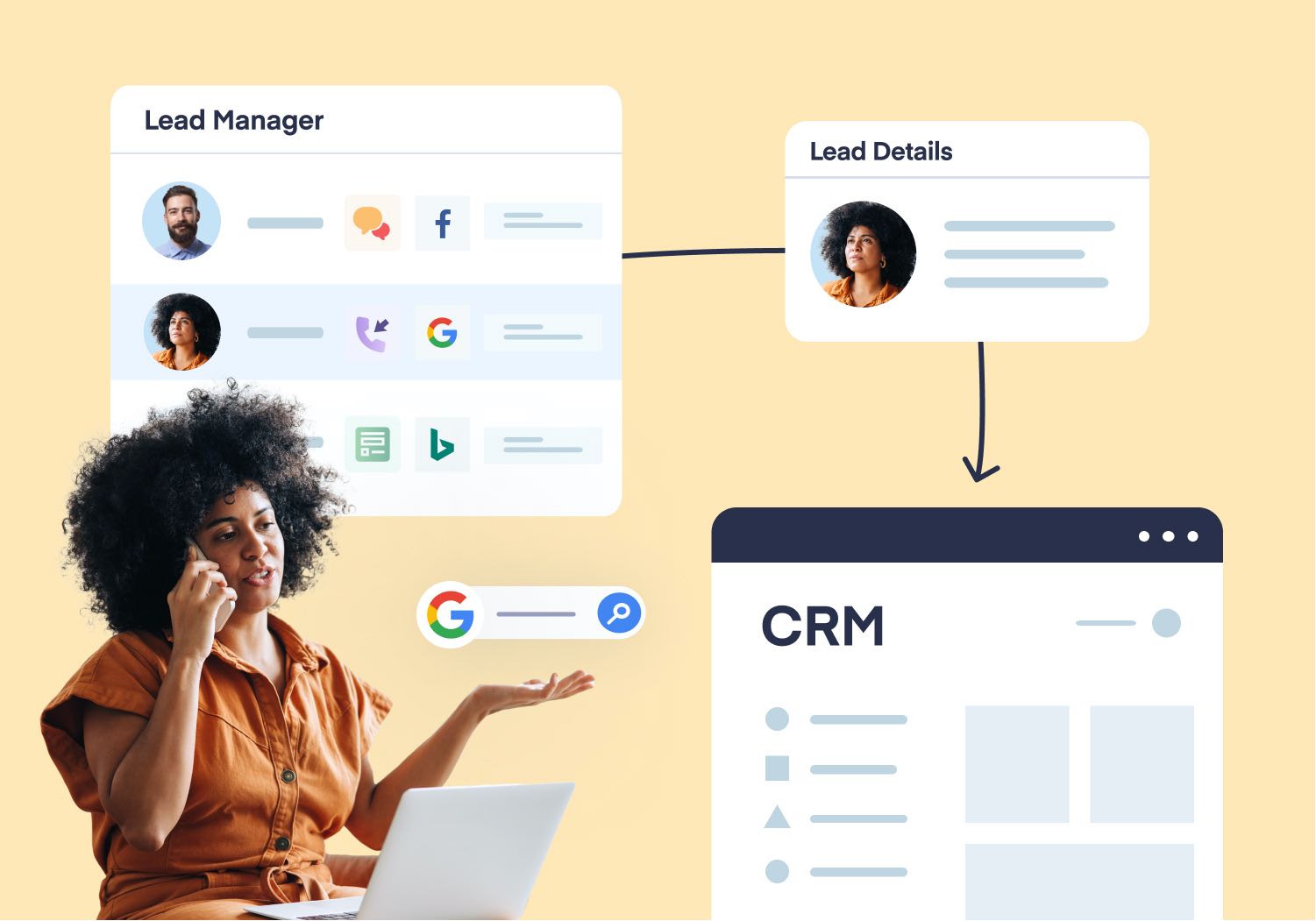 If there's one thing that's true about marketing today, it's that there's never a lack of tools to choose from.
Tools that help with:
PPC analytics
Display advertising
Social media advertising
Email marketing
SEO
Marketing automation
The list goes on (and on and on…). It's no wonder the average small business uses as many as 13 martech tools to bring in leads—27 for mid-size businesses and 52 for enterprise companies.
But with this glut of marketing tools out there, there's also a lot of misconception too. About their capabilities, their limitations, and even who these tools are meant for.
Perhaps the biggest of these misunderstandings is that CRMs (while great for some things) just aren't meant for marketers. They're meant for sales. What's worse, using a CRM in place of a tool like WhatConverts—built for marketers—is going to leave a lot of your most important marketing questions unanswered.
Today we're taking you through why CRMs and marketing just aren't a fit.
We'll be covering:
The sales vs. marketing process
Specific tools built for each process
Key marketing questions to be answered (and why a CRM can't help)
Why lead tracking (built for marketers) can answer all those questions
How a 15.7X marketing ROI isn't out of reach with the right tools (real client example)
Sound good? Then let's jump in.
The Sales Process vs. Marketing Process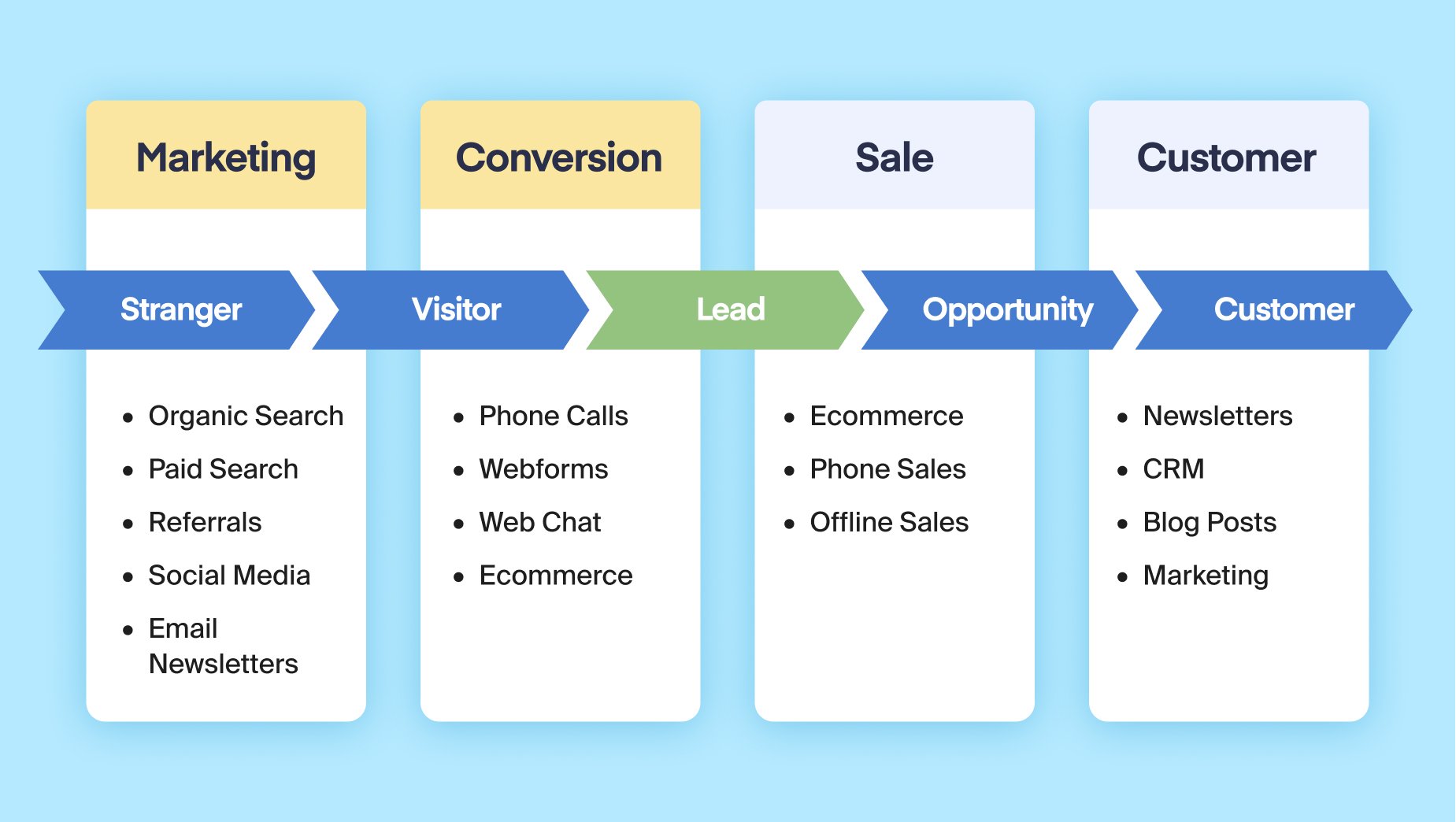 The purpose of a business, to put it bluntly, is to offer a product or service and make money. And all its departments—HR, management, accounting, operations—they all work towards those same common goals.
From a zoomed-out view, then, both sales and marketing are aimed at creating revenue. And both ultimately want to turn strangers into customers. But they each contribute to that goal in different ways.
Here's how:
Marketing – Turns a stranger into a lead.
Sales – Turns a lead into a customer.
Let's take a closer look at the process of each.
The Marketing Process
The goal of the marketing process is to turn a stranger into a lead.
Here's an idea of what that process could look like.
A person has low awareness of your business and is looking for a service you offer.
They search for that product on Google and an ad that you placed appears.
They click the ad, read through the landing page, and decide to sign up for a demo, fill out a contact form, or make a phone call to your business.
They become a lead and are transferred to sales.
If you're a marketer, it's your job to help facilitate this transition from stranger to lead using methods like PPC, social advertising, and SEO. And the better your tools are at answering key questions you have about this process, the better you'll be at accomplishing that job.
The Sales Process
Now, once a stranger has been converted into a lead, it's time for sales to take over.
Here's what that process could look like.
The lead is transferred to sales and is verified by the rep.
They're taken through the sales process.
They receive an opportunity or deal that entices them to buy.
They become a customer and are followed up with for upselling.
The goal of sales, then, is to take leads and turn them into customers. And to do that well, you need to know who each lead is, how they've interacted with your business, and what you can do to move them more efficiently through the sales pipeline.
CRMs vs. Marketing Lead Trackers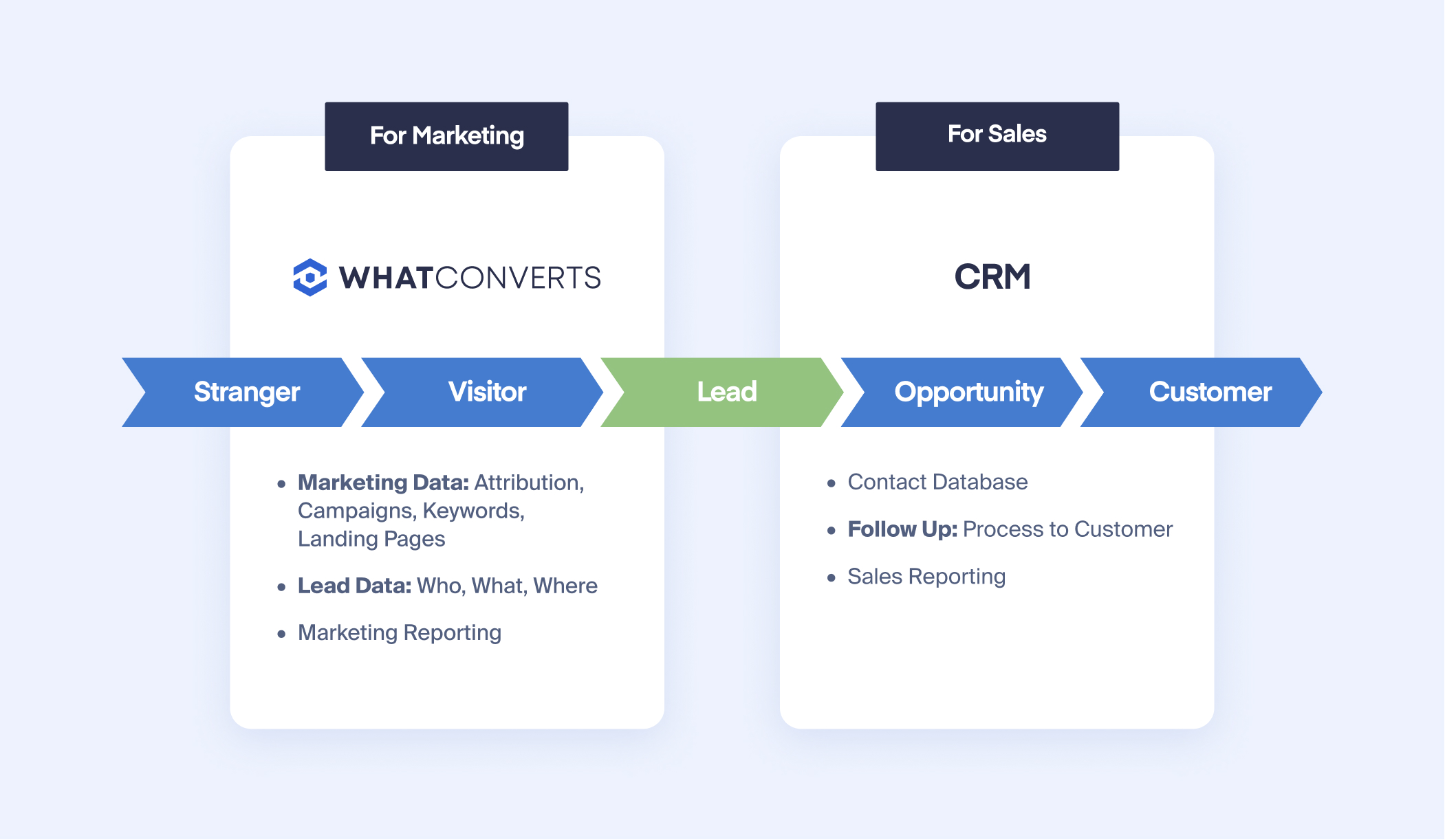 There are plenty of tools out there to make the lives of both sales reps and marketers much easier.
But what a lot of these tools don't tell you is that many of them are designed for one process, not the other.
Customer relationship management tools (CRMs), for instance, are meant for sales. Lead trackers like WhatConverts on the other hand are meant for marketers.
To get a better feel for why this disparity exists, let's take a closer look at each of these tools.
CRMs: Built for Sales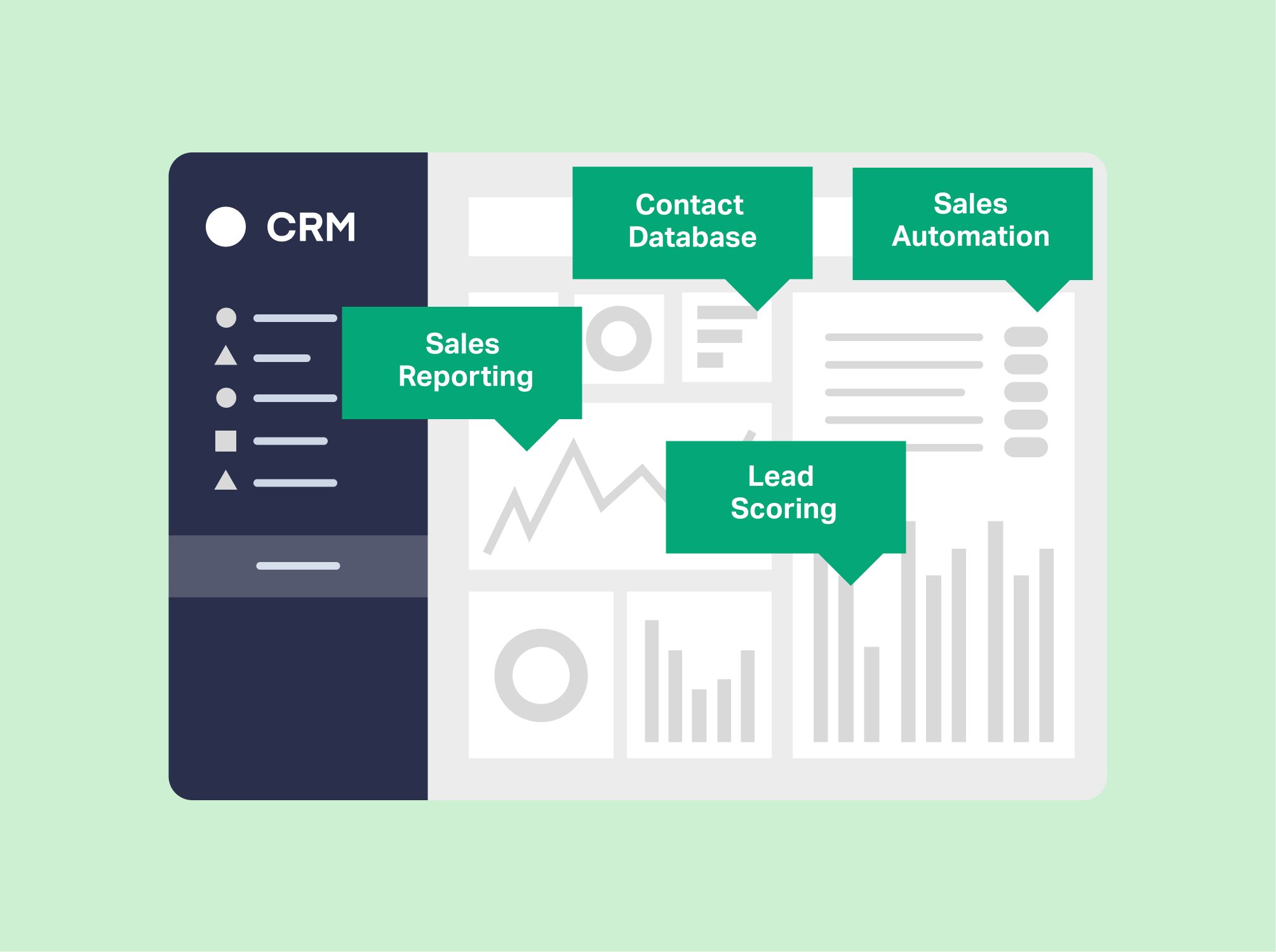 When it comes to sales roles, CRMs can be a lifesaver. These tools are designed to make a rep's job as easy and guess-free as possible.
Generally, CRMs come with a couple of functions built right into the tool.
Some of the most common CRM functions include:
Contact Database – Houses all of your lead contact information in one place, making it easy for sales to reach out.
Sales Automation – Automatically follows up with leads, adds more contact touchpoints, and provides materials to move them through the sales pipeline.
Lead Scoring – Gives sales an idea of how close a lead is to converting into a sale. This helps dictate when a rep should reach out to close.
Sales Reporting – Shows the efficacy of the sales department, reports on conversion rates for individual reps, and provides data for sales forecasting.
Without a CRM, a sales rep alone would be responsible for handling all the grunt work of managing contact information, sending lead nurturing materials, scoring leads, and recording all those nitpicky metrics.
But with a CRM, reps can easily answer questions like which leads are ready for a sales call? Who do I need to follow up with today? Or what is the likely value of a sale with this lead?
This information can be invaluable for sales reps. And it isn't any wonder CRMs can reportedly boost sales effectiveness by up to 41%.
But it's important to realize that CRMs are built for sales, not marketing.
Marketing Lead Trackers: Built for Marketing
While sales has CRMs (which follow leads as they turn into customers), lead tracking tools help marketers track strangers on their path to becoming leads.
These tools let marketers better understand which marketing channels are bringing in the greatest value by collecting data (and this is important) at an earlier stage than CRMs.
The best trackers collect a wide range of data on your leads, including:
Contact info
Keyword data
New vs. existing lead
Lead type (call, form fill, chat, e-commerce, etc.)
Lead source (Google, Bing, etc.)
Medium (CPC, organic, etc.)
In fact, WhatConverts automatically collects lead information across 70+ different data points, including those above.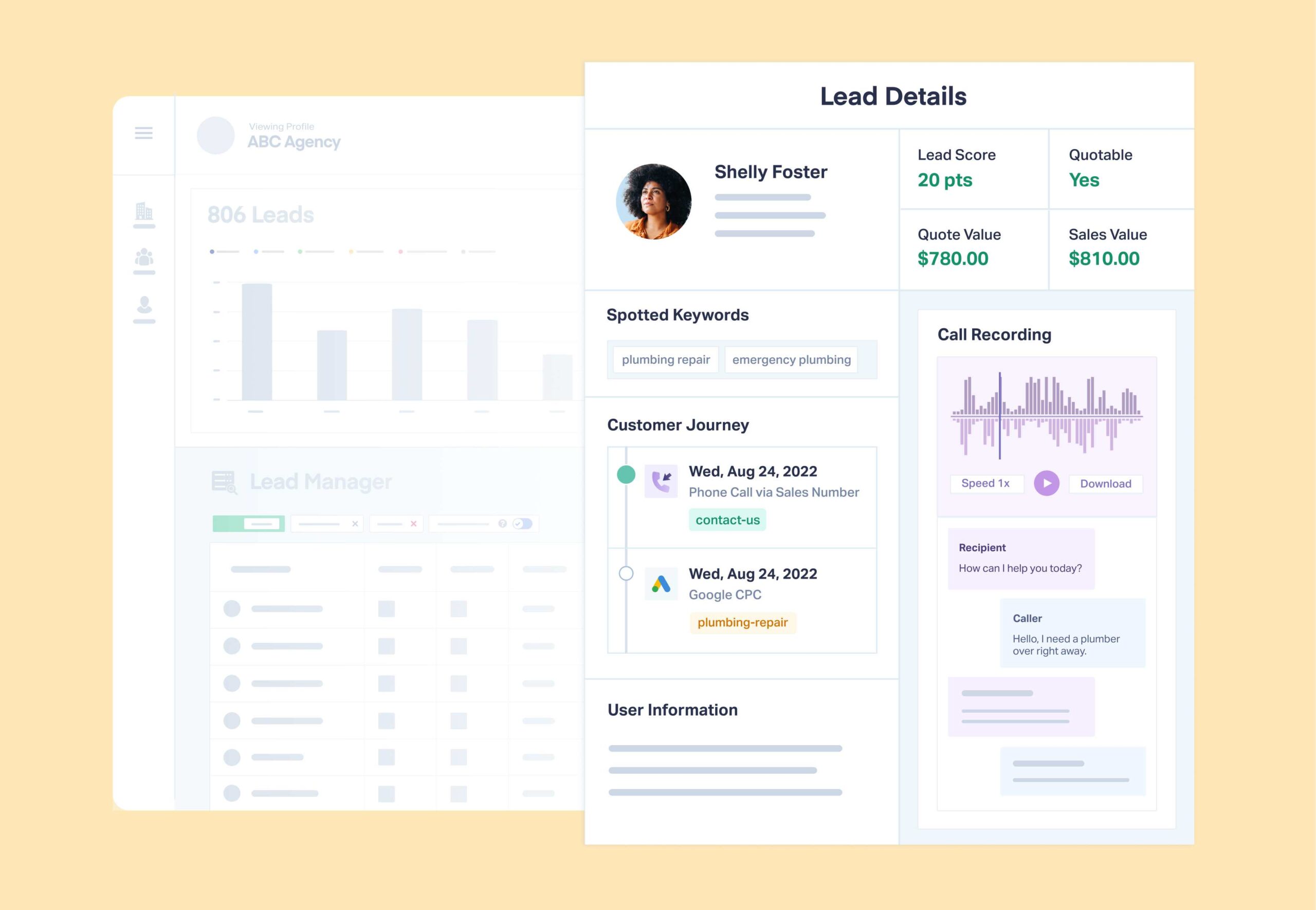 You can also zoom in on a single lead, letting you see valuable data like:
Where leads have interacted with your marketing before (i.e., complete customer journey)
Call recording and transcription
Individual contact information
Form fill entries and chat transcription
Multi-channel marketing attribution
Customer journey from marketing sources and pages viewed
But the best lead trackers don't just collect data. They also help you organize it, making it easier to spot valuable marketing insights.
WhatConverts makes that simple too. Within the Lead Manager, just click a data point (or multiple data points) and you can easily filter all your leads in an instant. Plus, filtering leads updates the main data display, showing you the sales and quote value of all those leads.
There's also advanced Lead Reporting for a birds-eye view.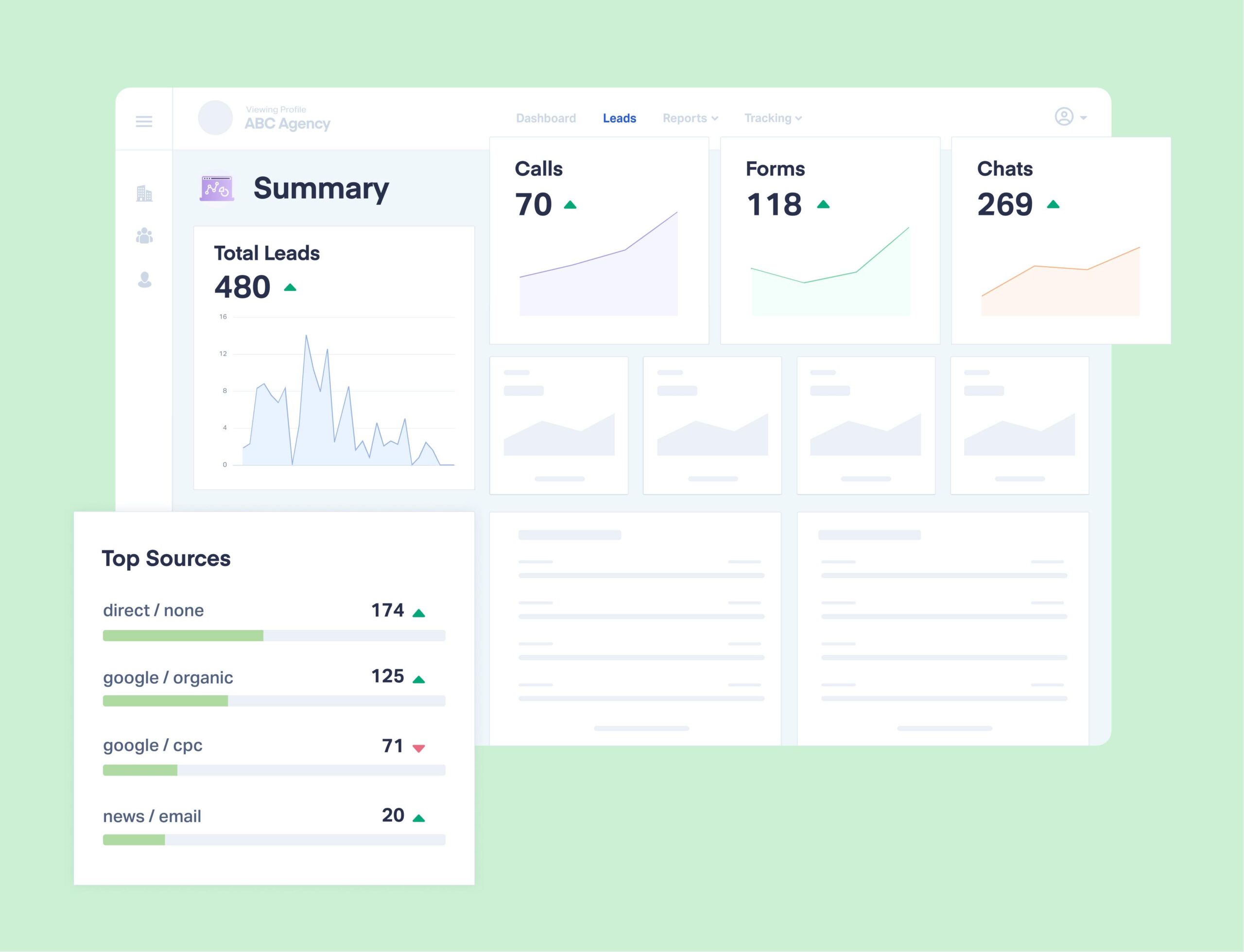 The quick organization of both the Lead Manager and Lead Reporting let you see:
If leads from a specific ad set have a higher sales value than other ads.
If certain keywords aren't generating enough value to justify targeting them.
If there are bottlenecks in the customer journey that are keeping leads from turning into customers.
Lead tracking software gives marketers like you a wealth of data to play with. And that makes it a snap to make more informed marketing decisions.
A Marketing Campaign Example
To give you an idea of why you need a marketing lead tracker (not a CRM), let's take a look at an example.
Say you land a new client that's a plumbing company.
They're established and successful already with a fleet of 10 technician trucks. But they also want to grow, expanding 50% over the next 3 years. Digital marketing and PPC advertising, they believe, is the way to reach those growth goals.
Given your experience with similar clients and a strong track record, they've come to you for help.
Now, you know the industry already. But as with any campaign, you need to first cast a wide net. And based on what's worked in the past (and your $50,000 Google Ads budget), your plan is to start with the following:
100 different keywords targeted
20 different ad variations used
50 different landing pages
And as the campaign progresses and you find out what's working, you can further optimize to make sure your client is getting the best return on ad spend (ROAS).
The Challenge
When you get down to it, the challenge you're trying to overcome here is straightforward:
Can you prove your marketing works?
Can you prove your marketing is worth the investment?
Ultimately, that means keeping their trucks busy with enough new appointments to stay profitable (about two per day, per truck) and targeting the highest value leads (e.g., $30,000 appointments >$200 appointments) to boost growth.
Now, with a CRM and some standard tools (like Google Analytics), you could use conversions and the number of leads as your measure of whether your marketing works. So maybe at the end of your campaign, you could say, "We tripled your leads compared to last month."
But just because you earned a lead, it doesn't mean they're a good lead.
How many of those leads who called in for services were duplicates?
How many were spam?
How many leads produced were already existing customers and how many were new ones that your marketing brought in?
Then there's the problem of value.
Did the leads you generated actually result in any quotable or sales value?
Were they worth $50 or $5,000?
What was the marketing ROI of your campaign as a whole?
These are all questions CRMs cannot answer.
What's more, you also need to know how to maximize (ROAS) by understanding:
Which keywords delivered the highest value leads (e.g., $300 appointments vs. $30,000 appointments)?
Which ad variation resulted in the most leads generated?
Which landing pages performed the best?
Were we targeting leads that eventually turned into high-value customers?
And yep, you guessed it—CRMs don't give you the data you need to answer those questions either.
But with the right lead tracker for marketing (like WhatConverts), you can.
Strategic Uses of Lead Tracking
CRMs clearly don't have the data or tools you need to answer important marketing questions.
So, how can you use lead tracking software like WhatConverts to deliver a strong ROI for your plumbing company?
1. Strategic Keyword Targeting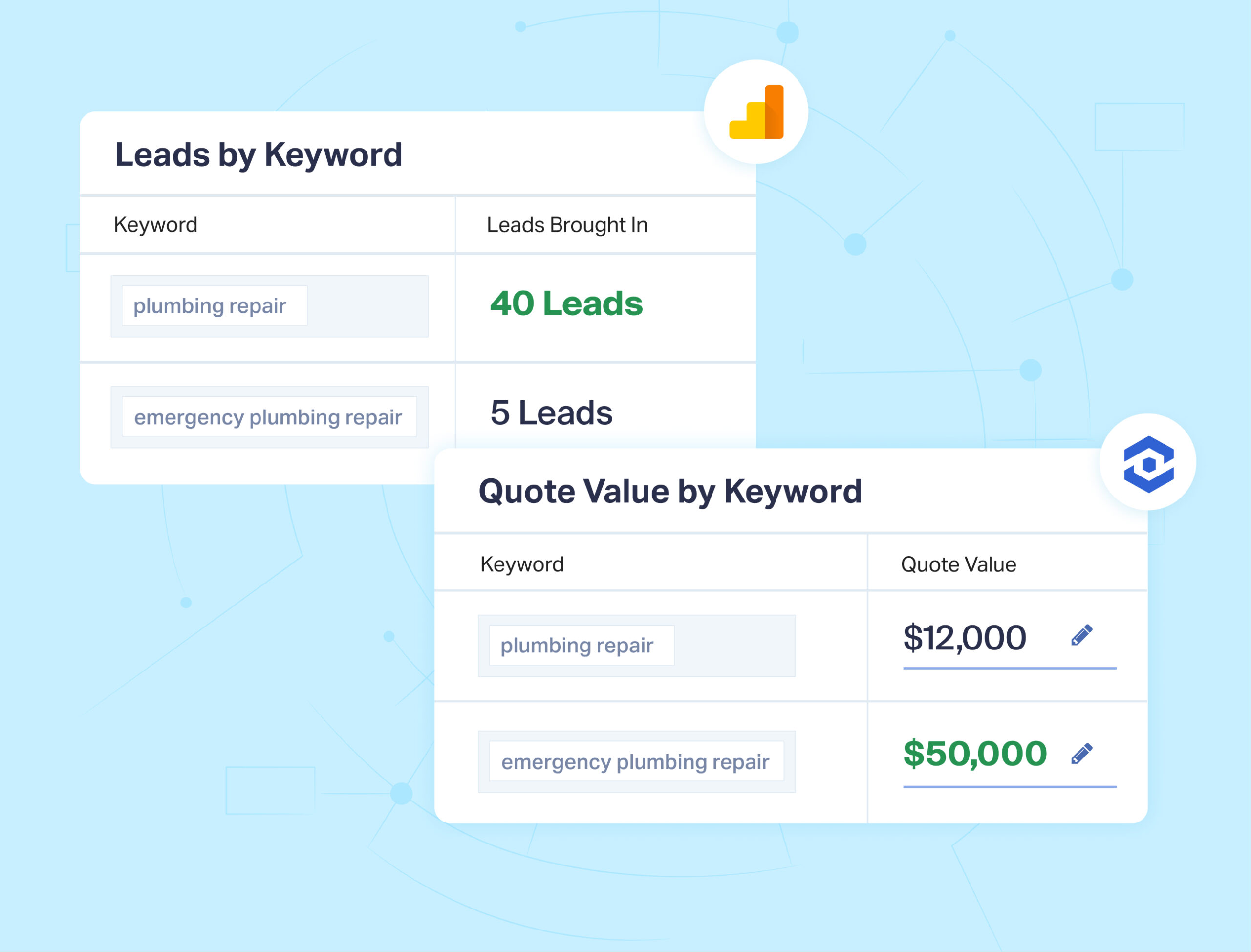 With lead tracking software, you can easily see which keywords are bringing in not just the most leads, but also the highest-value leads.
For example, say you're trying to find out which of those 100 keywords are bringing in leads with high quotable value. All it takes is heading into the Lead Manager and filtering your leads by keyword. From there you can see the exact quotable value generated by a single keyword or even a keyword group.
With that information, you could start allocating greater budget to the higher-value keywords (e.g., keywords that attract more $10,000 projects). And of course, you could cut down your spending on the lower value keywords (e.g., keywords that attract more $300 projects).
And in the end, you can start focusing on a fraction of those 100 keywords to drive even more value.
So say you're comparing all leads brought in by the keywords "plumbing repair" and "emergency plumbing repair." With tools like Google Analytics, you can see how many leads each brought in:
"plumbing repair" – 40 leads
"emergency plumbing repair" – 5 leads
Sounds like "plumbing repair" is the keyword you should be targeting, right?
Well with WhatConverts, you can trace every lead to a quotable value. And here's what that extra information adds to the story:
"plumbing repair" – 40 leads at $300/lead = $12,000 quotable value
"emergency plumbing repair" – 5 leads at $10,000/lead = $50,0000 quotable value
That's a $38,000 difference!
With that extra context, you can 1) focus on the metrics that matter and 2) double down spending on the high-value keywords that work.
2. Landing Page & Ad Optimization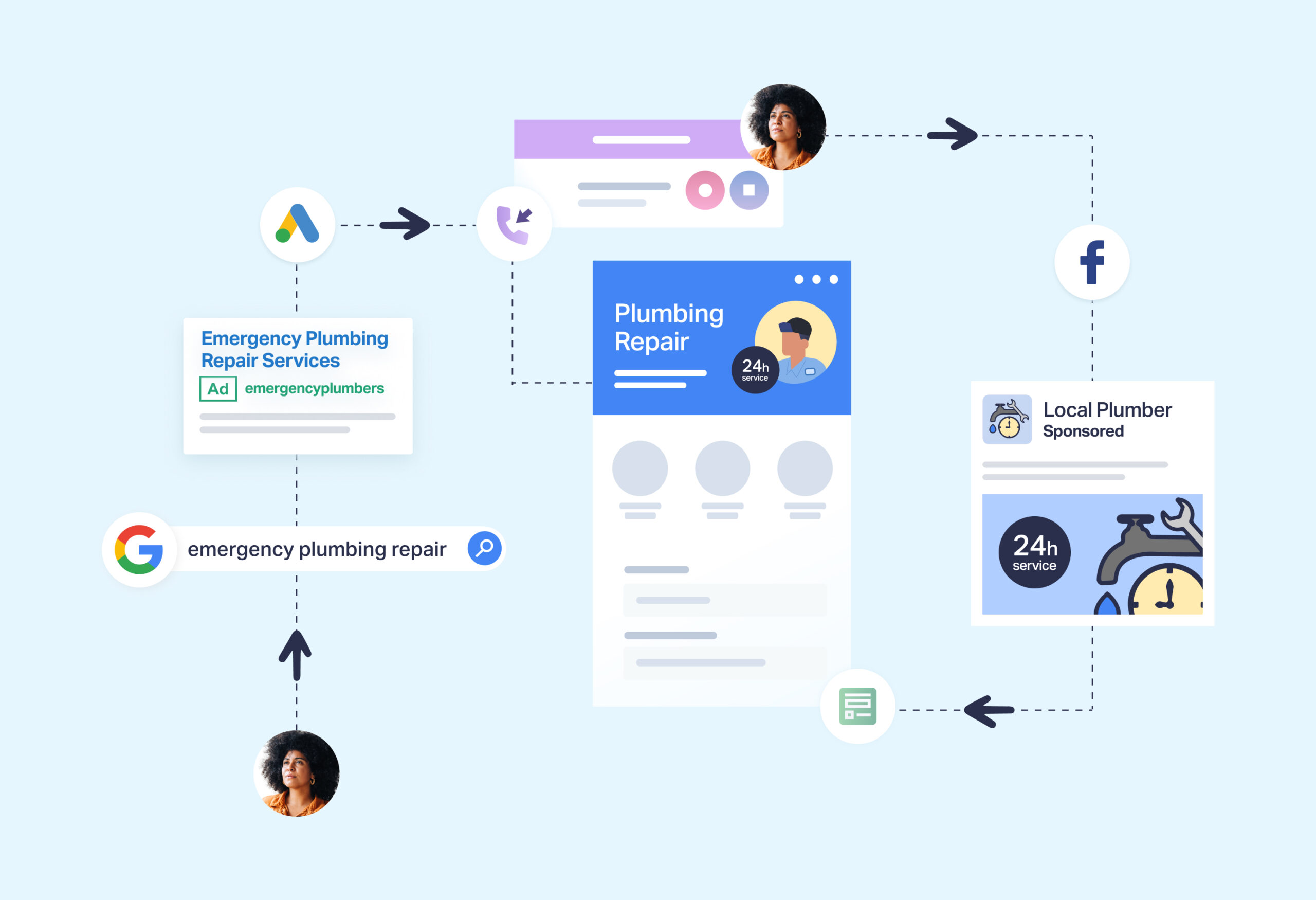 Lead tracking software lets you see the best performers of your landing pages and ads.
What's important to remember is that you need to look at other metrics besides just conversion rate. You also need to consider real, tangible values like sales value and quotable value. Otherwise, junk leads (like SPAM, existing customers, and duplicates) are going to overinflate your numbers.
Since WhatConverts ties all your leads back to those real, hard numbers, you can see which landing pages are actually driving revenue (not just bumping up your numbers).
And with that information in hand, you can do a couple of valuable strategic things.
You could:
Make note of individual landing page aspects that lead to more high-value conversions (e.g., specific words or phrases used, visual elements, placement of offer on page, etc.).
Apply that knowledge to your other landing pages to boost conversion rates, especially on high-performing pages.
Use those insights to further refine your ads (e.g., high-value leads tend to respond to "emergency" and "high urgency" language, etc.).
3. Clearly Demonstrate ROI & Grow Ad Spend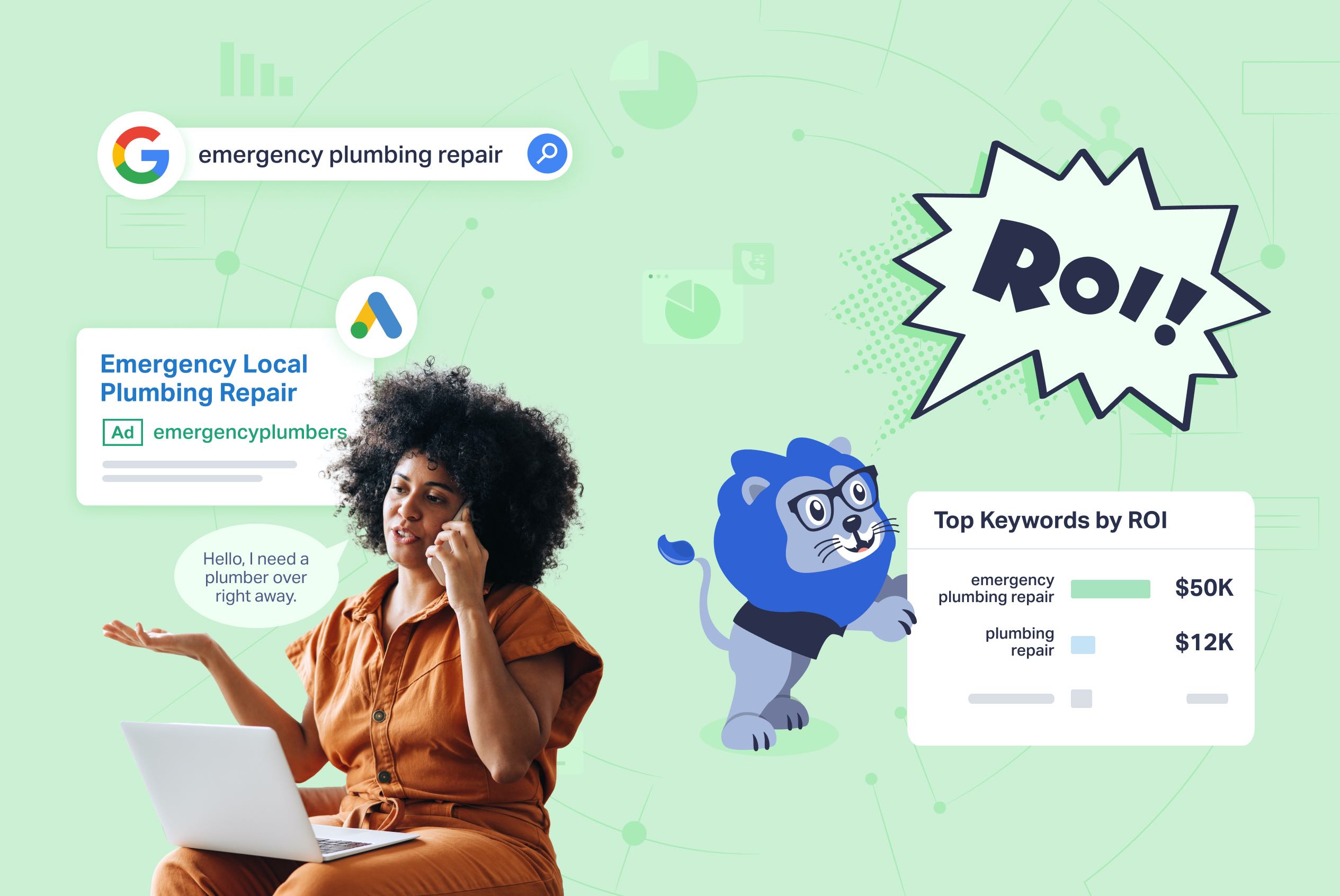 Last but certainly not least, lead tracking tools like WhatConverts let you clearly and indisputably demonstrate the return on investment for your marketing efforts.
Again, all it takes is a few clicks to filter your leads by source (like PPC) and voilà!
You've got the value of every lead you generated, aggregated right there in real time.
And with the reporting, you can quickly and easily see what marketing is working, and what marketing needs work.
So say you wanted to show your plumbing client the value of your Google Ads. All you have to do is filter by:
Source (Google)
Medium (CPC)
Campaign (your campaign name)
And the full sales and quotable value of all your leads are populated in front and center in the main data display.
Simple.
And if your ROI is positive, you now have a business case for increasing the client's ad spend and generating even greater revenue.
Double simple.
Why You Should Care
Okay, so you may be thinking…
"This is all pretty cool, and I can see it helping my agency out a little bit more."
But it's worth mentioning that these changes can all add up to some serious boosts to your marketing ROI.
Case in point, CAMP Digital.
CAMP Digital used the insights they took from using WhatConverts and were able to achieve a massive 15.7X marketing ROI for their client—that's a 1,570% increase!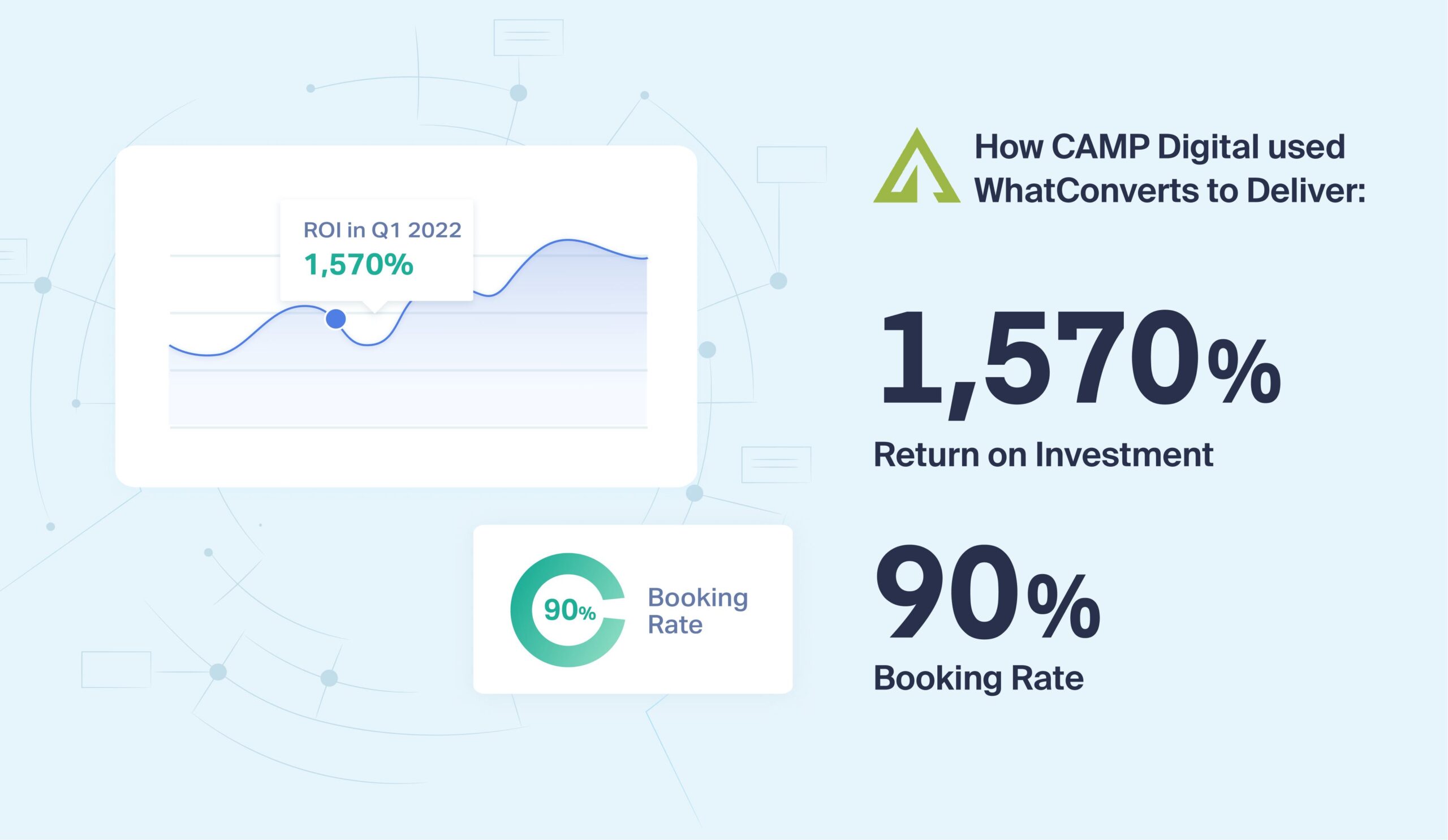 Then there are stories like those of Atomic Marketing (40% increase in conversions) and Airskirts (10X more leads).
There are plenty of ways agencies just like yours can get tons of value from the insights WhatConverts provides.
The only thing stopping you is, well… getting started!
Wrapping Up
When it comes to converting leads to customers, CRMs are a great tool to have on hand. They keep your contacts organized, offer sales automation features, allow for lead scoring, and give some good data for sales reporting.
But when it comes to marketing, CRMs just can't answer some very critical questions. Questions like "is my marketing delivering real value?"
Lead tracking software like WhatConverts, on the other hand, is designed to do just that. With it, you can see where your leads are coming from, which channels are delivering high-value leads, and what the true ROI of your marketing efforts are.
So marketers, if you've been frustrated with a lack of marketing insights from your client's CRM, you're not alone. You were using a sales tool to measure marketing.
And as we've seen, a CRM just isn't the right tool for the job.
So marketers, remember—you don't need a CRM. You need WhatConverts.
Try a 14-day free trial of WhatConverts and see how it answers all your marketing questions!