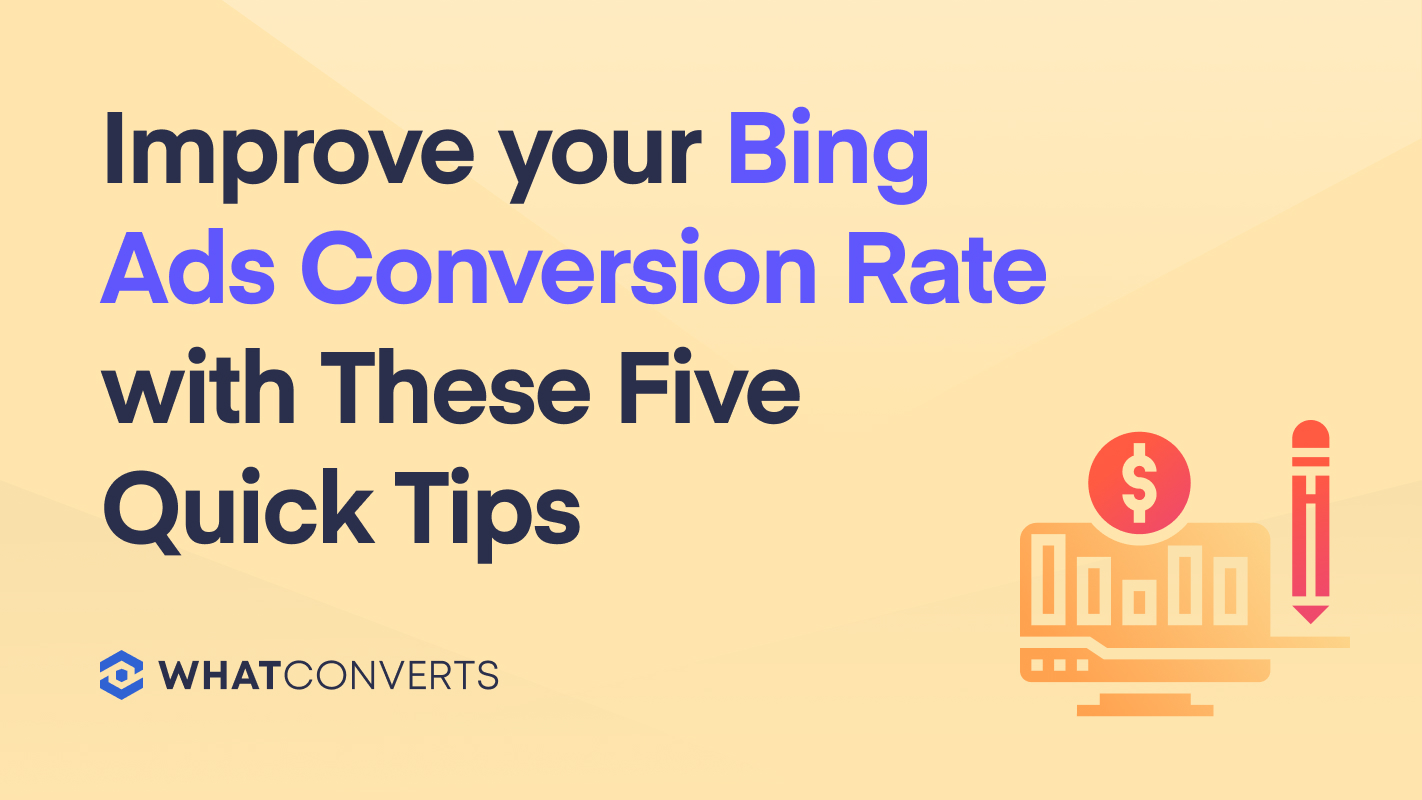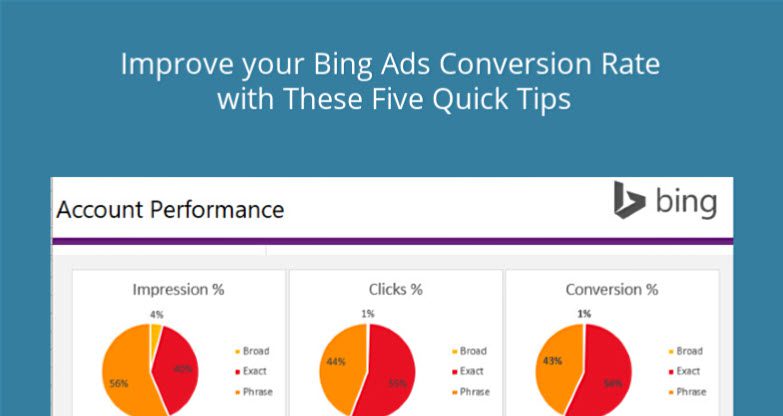 Bing Ads doesn't have to be on the list of PPC "no-nos" for your business. The truth is, search volume is there and potential customers are using Bing. With the right insight and a little know-how, you can get the most out of your Bing Ads account and be well on your way to increasing your Bing Ads Conversion rate.
After spending time working with advertisers, it became obvious that many users often would import their advertising accounts directly from Google AdWords (Bing Ads even offers a feature to directly import in from AdWords to make this process easy). Users often would "set it and forget it" when it came to the import. Bids, placements, demographics, keywords, match types and other settings remained the same while not changing much else.
This is simple when you don't have the time to devote to implementing and optimizing a new Bing Ads account but you can improve your Bing Ads performance by making changes to just a few things to make the Bing Ads network work for you!
Separate the Networks in Ad Distribution within the Search Network.
Google AdWords lets you to set your ad networks to include All Search (Including search partners) or Google Network only. Bing Ads lets you to separate Bing owned and operated and the Bing syndicated search partner network. To take advantage of this difference, simply duplicate the ad groups within a campaign; in advanced campaign settings, change one of the ad groups to Owned and Operated and set the other to Syndicated Partners Only.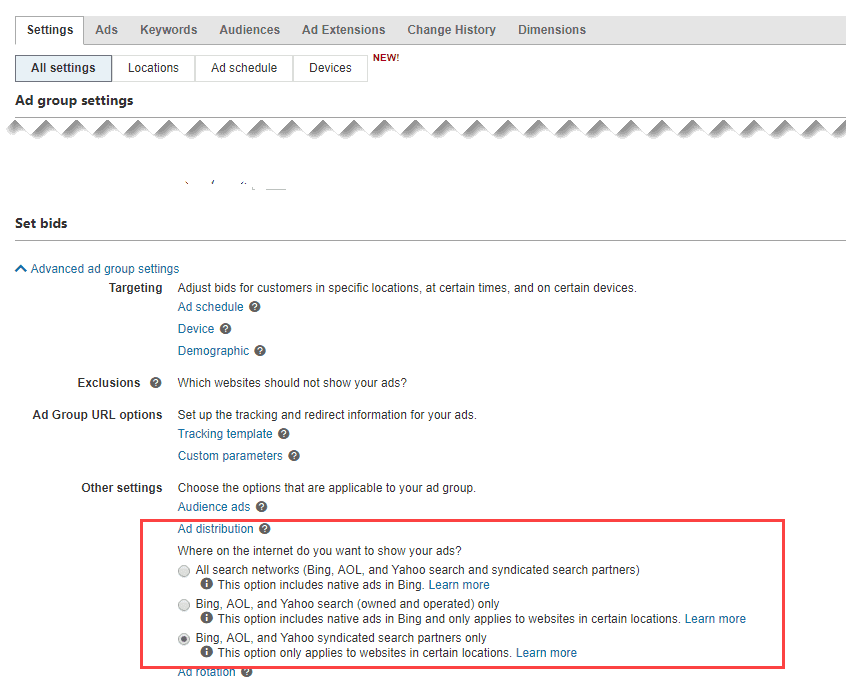 The main benefit of doing this allows you to bid accordingly. The traffic from the syndicated network is usually not as valuable, but clicks can cost considerably less. In contrast, the owned and operated network has a higher conversion rate with more expensive cost per clicks. An additional benefit comes from the improvement in quality score of your owned and operated campaign. Your quality score will improve with the improved click-through rate. This leads to better ad placement, lower overall costs and a better Bing Ads Conversion rate.
Use Match Types Without Close Variants

Google changed exact match type bidding to match with "closely related" terms. However, with Bing Ads, you can change those match types back to phrase and exact matches exclusively. Choosing the correct match type for your product or service is crucial for your budget. Choosing the wrong match type or allowing close variants could be costing you money, lowering your click-through rate and decreasing your quality score.
Utilizing exact match without closely related variants allows greater precision and control over the queries that trigger your ads. It's been shown that having this precision generates a higher ROI and a better Bing Ads Conversion rate.
Lead Tracking Integration for CPA Optimization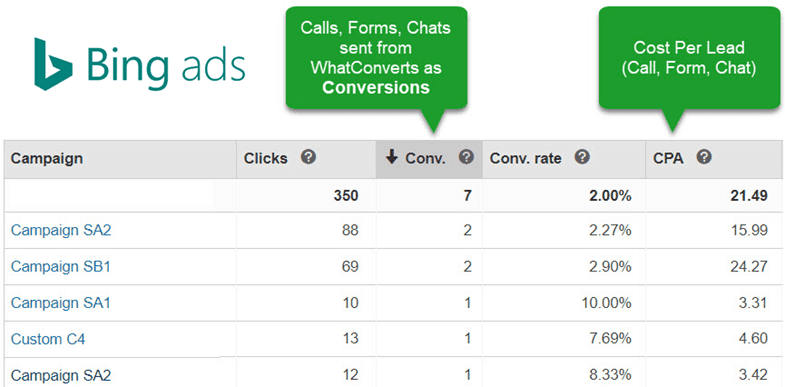 Having and integrating lead tracking software is crucial to optimizing your ad accounts, Bing or Google. With lead tracking software, such as WhatConverts, you can tie your calls, form submissions, web chats and ecommerce transactions directly into your Bing Ads account. This gives you a complete picture of how your Bing Ads account is performing. You can use the conversion data to get the full picture of which keywords, ad groups and campaigns are driving your incoming leads. Armed with this data, you can hone in your Bing Ads to the best, most targeted advertising and spend to drive quality traffic to your business.
Image and Video Extensions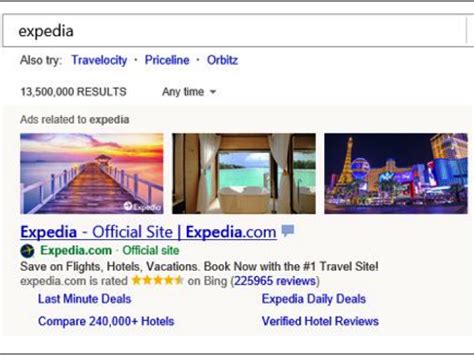 Marketers know that ad extensions add visibility to your ad and give users a chance to get to the landing page that is most relevant to what they're looking for. Bing Ads gives you the opportunity to utilize image extensions to make your ad truly stand out. Your ad can feature up to six images that help your ad stand out in a crowd and attract users' eyes to your products and services.
Ad Group Level Setting Changes
When you're building campaigns in AdWords, you have the ability to manage targeted settings at the campaign level. If an ad group becomes an anomaly, you break it out and make it into its own campaign. However, with Bing Ads you don't have to go through that additional hassle.
In Bing Ads, when you import your campaigns, you can change individual ad group settings. If you want to make geo modifiers, ad rotation settings, day parting or distribution changes, you don't have to create a new campaign, just change those ad group settings. This can lead to a better Bing Ads conversion rate by drilling down to the best time of day and distribution at your Ad Group level.
Above all, it's always best to not put your all your marketing efforts into one platform. It is important to also know how to use the differences in AdWords and Bing Ads to your advantage. With Bing Ads, just remember that you are going to get greater detail and precision in your targeting. You are more in control of the way that your ads are served and the users who see them. Most importantly, remember to take into account the difference in search volume. With just a few changes, you could be a Bing Ads Conversion Master in no time!