Did you know that for every $1 spent on Google Ads, businesses earn an average of $2 in revenue? This data comes from Google, and it explains why so many businesses rely on the unmatched ROI of Google Ads. It also explains why the tech space is filling up with PPC management software for agencies.
With almost every business using Google Ads, the market has responded with tools to help businesses manage budgets and campaigns. These tools are especially relevant for PPC agencies managing hundreds of campaigns.
PPC agencies have a gargantuan task; they have to manage multiple Google Ads budgets for dozens of clients without overspending or underspending. They also have to optimize the ads, tracking which ads deliver high-quality leads and which ads waste money. Budget management and ad optimization are two major pain points for agencies, but both can be solved with third-party PPC management software for agencies.
In this article, we'll examine some of the issues with the current methods of budget management and ads optimization. We'll then explore the different tools that can help businesses streamline budget management and ad optimization.
PPC Agencies and the Spreadsheet Problem
If your agency isn't using third-party tools for budget management and optimization, your Account Managers have a tall order. These account managers are responsible for doing the pacing checks on ad budgets every day. They have to pull data from Google into a spreadsheet or review data inside Google Ads, then compare the data against the client budget to see if each campaign is on target with spend.
Account Managers and reporting specialists are also responsible for generating reports that reveal which ads are working. Your agency then have to share these reports with clients, identify the best performing campaigns, and adjust ad spend accordingly.
This is a long, tedious process to ensure the client's budget is spent efficiently and on schedule. It's also an important process.
Any overspending comes out of the agency's management fees. Underspending draws questions from the client about why their money isn't being put to use and could cost you a client. In terms of optimization, ads that don't deliver good leads are a waste of money, and ads delivering valuable leads are an opportunity to get more leads with more spending.
Using third-party tools can lead to better PPC performance.
A survey from Search Engine Land showed that advertisers using third-party budget and optimization tools had 58% higher click-through rates.
Below, we'll explain how different software services— including Google's tools — work with regard to Google Ads optimization and budget management.
PPC Management: Google's Tools
Google has two main tools for monitoring Google Ads and Google Ads spend. The tools are Google Ads and Search Ads 360. While Google Google Ads provides free analytics and budget management systems for users running Google Ads, Search Ads 360 is quite expensive.
Google Ads
Google Ads does allow you to set a daily cap for your campaigns, but Google will only stick with that cap for up to a month at a time. Google Ads can also spend up to 200% of your daily budget each day. It won't prevent you from overspending; just prevent you from overspending any more than 200%. There are better tools for budget management, as we'll explain later on.
Google Ads also has some issues with optimization. To do optimization correctly, you have to know which keywords and campaigns deliver your best leads. The problem with Google Ads is that it doesn't tell you who your leads are. This blind approach to lead tracking means you can't tell which leads are actually worthwhile.
The optimization process starts with tracking every lead back to the Google Ads campaign and keyword. Leads come in from phone calls, form-fills, webchats, and eCommerce; four conversion methods that Google can track with their built-in tools. However, Google treats all conversions as equal, which is of course not the case. Not all conversions are qualified leads.
Search Ads 360
Google's Search Ads 360 platform presents another option for budget management, but there are high costs associated with this tool. The one thing that Search Ads 360 does not do well is stopping overspend. This makes sense because it is not in Google's business interests to stop spending on Google Ads campaigns.
Search Ads 360 also presents issues for agencies using custom budgets. While Search Ads 360 only looks at budgets monthly, weekly or quarterly budgets are common at large PPC agencies.
Third-Party PPC Management Software For Agencies
While Google does provide some tools for budget management and optimization, third-party tools can fill in the gaps where Google falls short. Third-party tools do a great job of providing a holistic view of how your ads are performing and applying rules to your budget to ensure on-target spend.
WhatConverts: Identify Google Ads Leads
Before we get into budget management, there's another important aspect of Google Ads that has nothing to do with overspend or underspend. It's Google Ads optimization; boosting spend on effective ads while lowering spend on ineffective ads.
Google's built-in solution lets you track leads from phone numbers on ads, form-fills on the landing page, webchats on your site, and more. However, it has shortcomings. The first issue is that you can't see who called, filled out a form, or started a chat. If you can't see the specific person, you can't know if it's a good lead or not. This issue applies to any type of conversion action.
The other issue is specific to Google's call tracking functionality; Google's biggest miss with regards to tracking leads from Google Ads is that it doesn't provide unique numbers to each business. Google does give a different tracking number to each account, but these numbers may have been used by previous accounts that are no longer assigned these numbers. This means that the number you use on Google Ads could be receiving calls that are meant for another business that was previously using the number. These calls would appear as conversion in your Google Ads, thereby skewing your data.
WhatConverts solves these issues by capturing every lead from every conversion action and including the lead details. The platform ties every lead back to the Google Ads' keyword and campaign, so you can see which ads deliver your most valuable leads.
Using WhatConverts to optimize Google Ads
Optimization is much easier when you're using detailed lead tracking as opposed to Google's anonymous lead tracking. When you can see the leads, qualify them and assign a quote value, it's easy to identify your best-performing ads.
Below is an image of a Google Ads phone call lead in WhatConverts. You can see the caller's identity (removed for privacy purposes), the campaign and keyword (removed), and assign quotable lead status and quote value.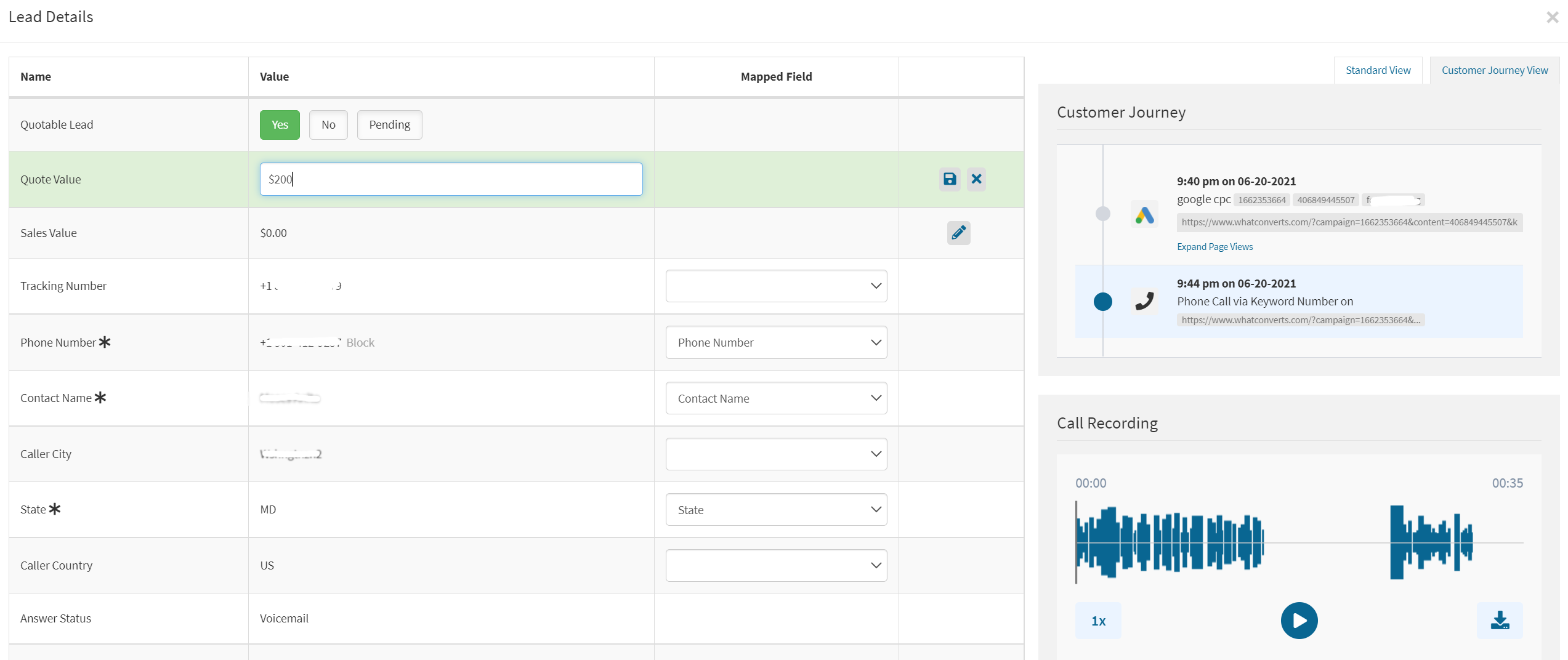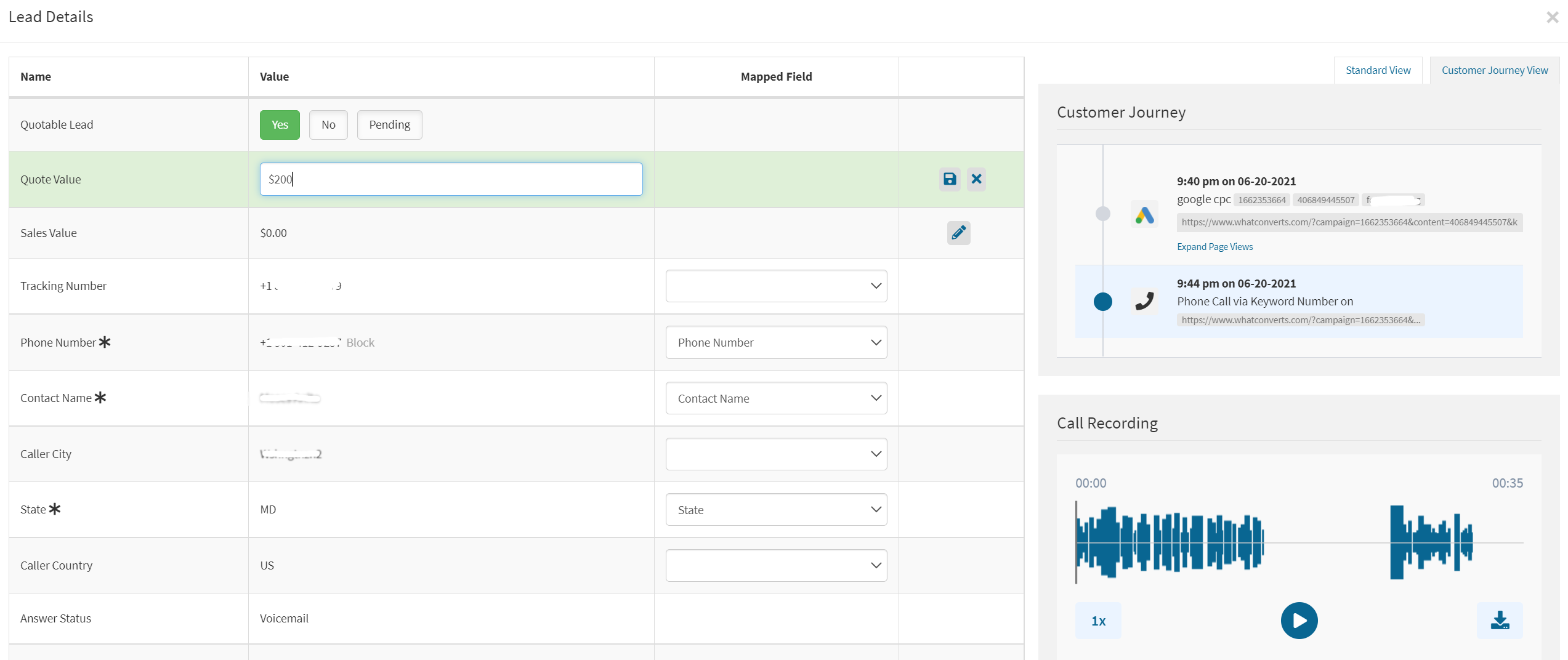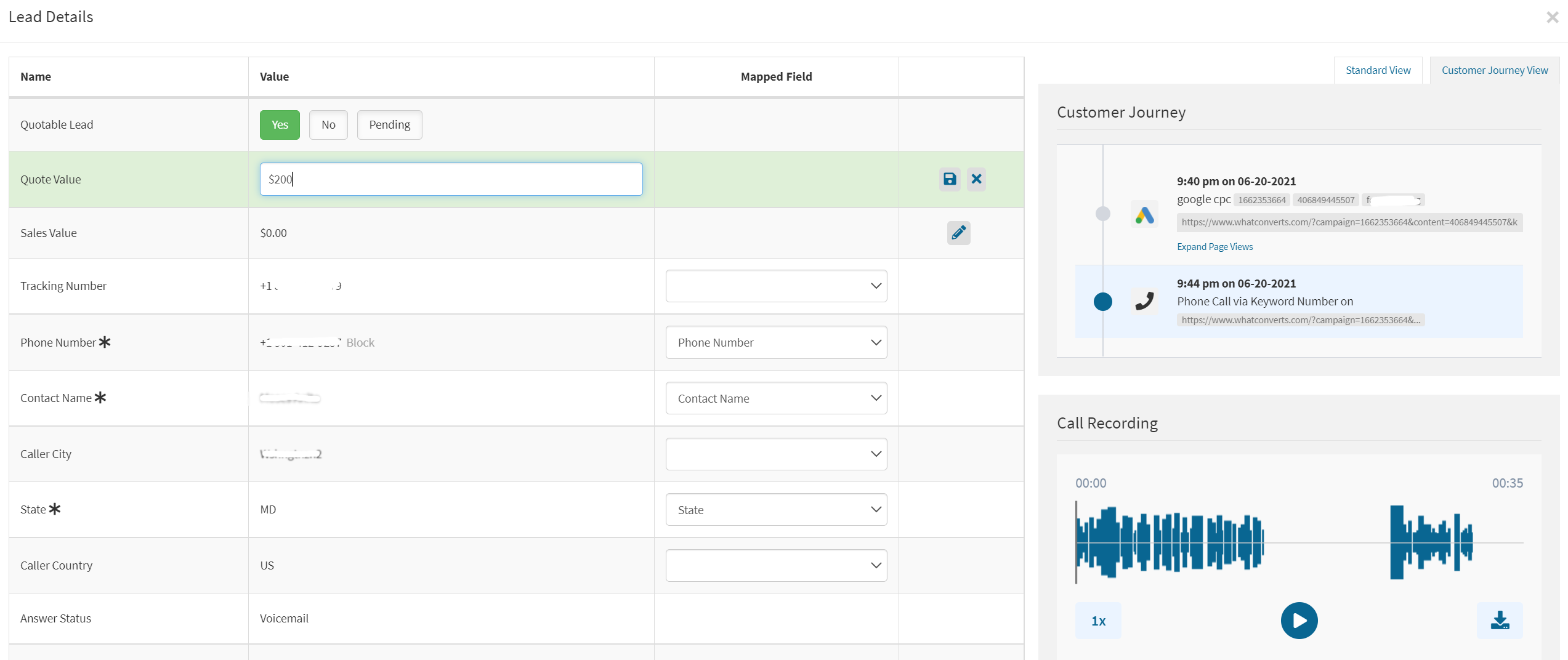 Say one of your agency's clients is targeting a certain industrial manufacturing keyword. They spend $5,000 in a month on Google Ads and get 200 conversions for a $25 cost-per-conversion.
Great results, right? But what if most of the conversions were salespeople calling the phone number on Google Ads as a way to sell their products to the client's company? Google Ads would track all these calls as conversions.
If 150 of these calls were sales solicitation calls, that's 150 fewer leads than previously thought. All of a sudden the client spent $5000 for only 50 leads, with a $100 cost-per-conversion.
Below is a report from WhatConverts showing the difference between keywords that deliver quotable leads vs keywords that deliver non-quotable leads. Without WhatConverts for Google Ads optimization, you might make the mistake of continuing to spend on the keyword, "nashville real estate" because it delivered the most leads. However, WhatConverts shows that none of the leads are quotable.
Using WhatConverts for A/B Testing Google Ads
You can also use WhatConverts lead data to improve your A/B testing in Google Ads. WhatConverts captures the campaign, keyword, and content (Ad ID) for every Google Ads lead. When you're reviewing your lead data in WhatConverts and you know your Ad IDs, you can see which Ad in a Campaign is generating the most quality leads.
If you go back into Google Ads and see which Ad IDs correlate to each A/B test content, you can see which variations of ads are actually delivering the most qualified leads. Without WhatConverts, you would only be able to see which ad variations deliver the most conversions. When you're trying to figure out which ads work, qualified leads are far more important than raw conversion numbers.
The Google Ads and WhatConverts integration show you which campaigns and keywords deserve increased spend and which ads should be canceled. The improved accuracy will also help you provide more precise cost-per-lead estimates.
EDEE: Budget Management
Having all your Google Ads campaign budgets in one place helps manage multiple budgets. Google doesn't make it easy to avoid overspending or underspending, but EDEE does.
EDEE is a Google Ads budget management software that gathers all your ad budgets in one place. With EDEE, you can pause campaigns automatically if you hit your budget too early, or reduce daily spend to make sure you don't go over.
The software also helps you manage rollover spend. Some agencies get paid for the media spend as well as management fees, so then they roll over budgets. EDEE automatically tracks budgets and shows if there's any rollover that happens.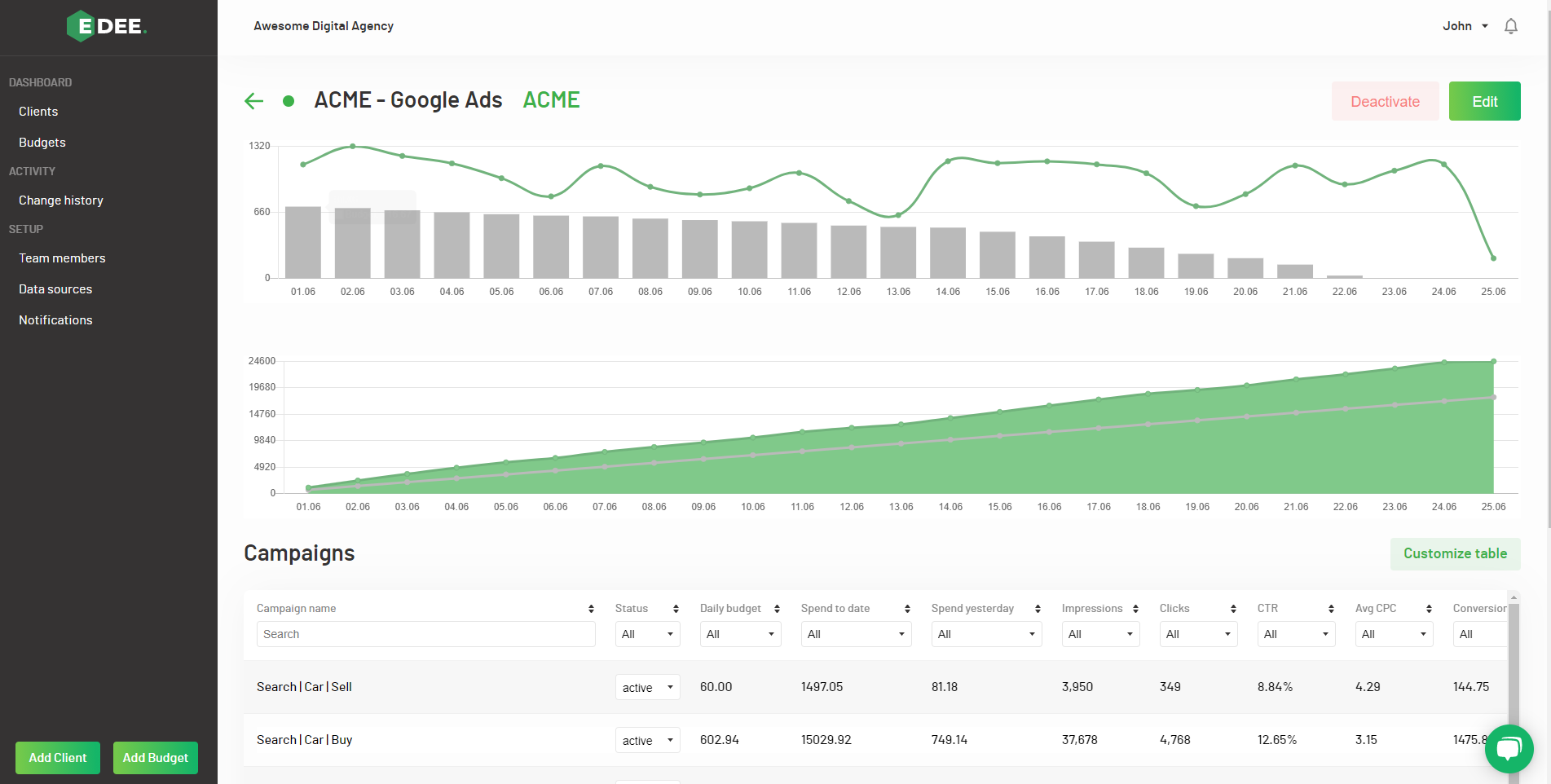 An automated Ads budget tool like EDEE can pull all your info and show all the data in one dashboard, with no spreadsheets required. The software also tracks key performance indicators like cost per click and return-on-ad-spend. You can even provide clients with read-only access so they can see how their campaigns are performing in real-time.
Another benefit of EDEE is the ability to add budgets from both Google and Bing. Instead of having to log in to different dashboards, you can see all your PPC campaigns in one place.
Right now, WhatConverts users can get 20% off EDEE with the code WC20EDEE 
Benefits of EDEE include:
Specialized in budget management
Ability to create different budgets for sets of campaigns within an account
Create and track cross-platform budgets
Pause overspending campaigns
Optmyzr: Bid Management Automation
This next tool offers another option for Google Ads management, but with slightly less flexibility. Optmyzr can help you avoid overspending, but is less of a specialized budget management tool than EDEE. Optmyzr does, however, provide a robust set of recommendations for how to optimize ads. You can also use data from Optmyzr with data from a Google spreadsheet to program and automate your own bid rules. Again, however, this does require those pesky spreadsheets.
Benefits of Optmyzr include:
Reports and Monitoring
Bid Management
Optimization Suggestions
Budget Pacing Estimates
Adalysis: Automated Ad Testing
Adalysis is one of the only fully automated ad testing platforms. It offers comprehensive free audit reports and free reporting templates based on Data Studio.
The platform allows you to set up ad tests across multiple ad groups and campaigns. Plus, the Adalysis health checks can keep you updated on issues like negative keyword conflicts, ad groups without ads, or landing pages with errors.
Adalysis is most useful for PPC managers running hundreds or thousands of ad groups. The testing system allows you to easily set up and edit tests across all your campaigns and ad groups, and the platform has comprehensive data and performance analysis tools. Lastly, Adalysis is one of the more affordable PPC management tools on the market today.
Opteo: PPC Alerts and Insights
The third software on our list of the best PPC management software for agencies is Opteo. This tool does allow you to track budgets for an entire account but has limitations if you're trying to track separate budgets at the campaign level. Opteo is known for providing good recommendations on how to optimize ads, which can save account managers a lot of time.
Instead of sifting through ads trying to identify patterns, they can use Opteo to get suggestions. One issue with both Opteo and Optmyzr, however, is that they don't track Bing ads along with Google Ads.
Benefits of Opteo include:
Good recommendations for optimization
Low cost
Easy-to-use UI
Timely alerts and notifications
The Bottom Line on PPC Management Software for Agencies
If the information in this article has shown anything, it's that effective Google Ads management requires third-party software. While these third-party software platforms are added costs for the agency implementing the software, they're also major time-savers. Your agency will be able to free up account managers to focus on client deliverables and client satisfaction, thereby boosting your agency's ability to retain clients long-term.