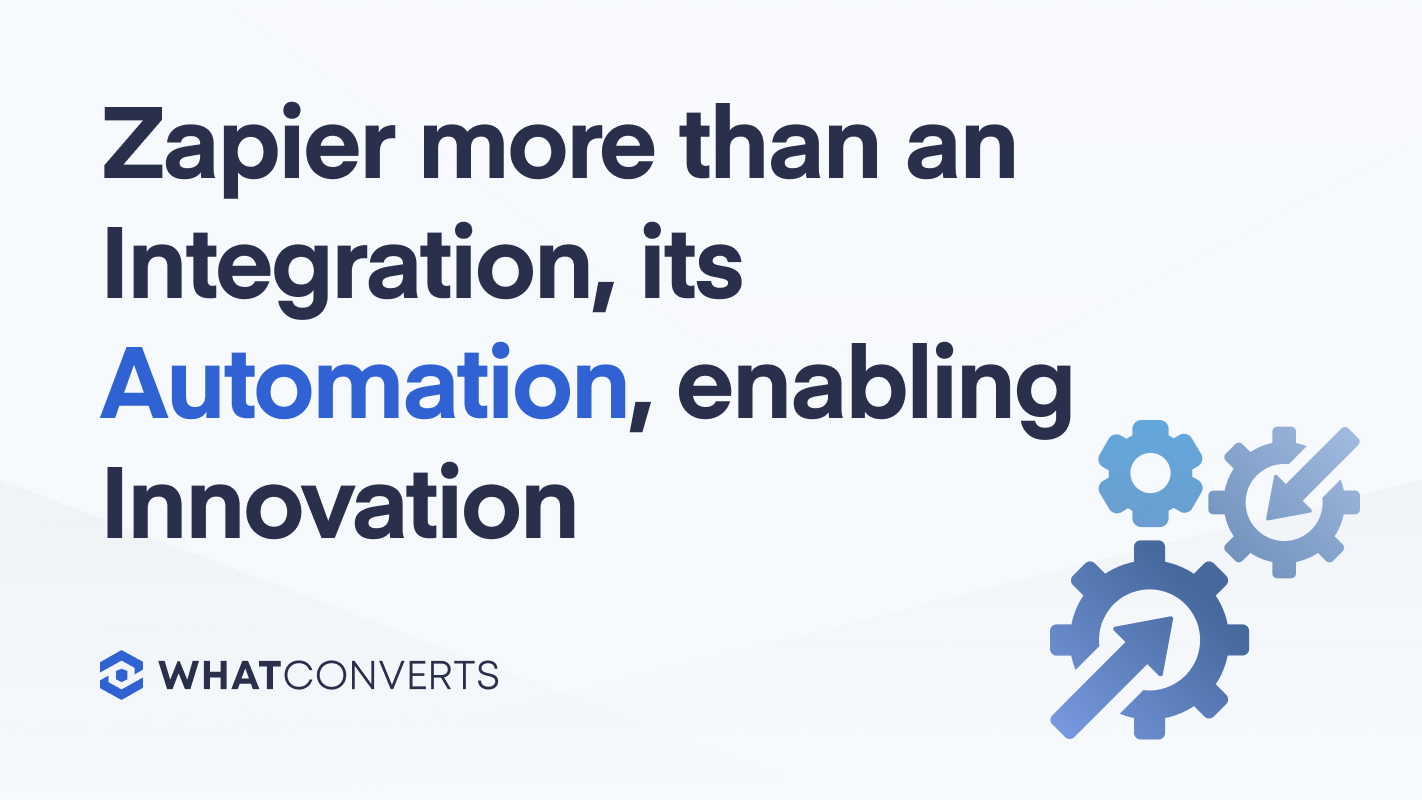 I love the way technology has moved. I didn't say is moving, it has already moved.
Most of us remember the days when sharing data between different software apps was not possible. Then it became possible, but it needed a programmer and required planning and development. Now, with Zapier not only can anyone connect software without a single line of code, you can do it with over 750 different applications.
Why does using Zapier feel like a revelation each time I setup a new Zap? The revelation is the ease at which I can integrate my chosen software and then automate the mundane and enhance my team's productivity without bothering the development team.
How does Zapier help WhatConverts customers? Let me start with saying that you are only limited by your imagination. There are so many apps integrated with Zapier, so let's look at a few examples looking through our lens of how we can help you see What Marketing Converts.
Custom Marketing Reports
WhatConverts captures all your leads (phone calls, web forms, web chats and more) and ties them to the marketing responsible. We also provide reporting on leads by marketing source. Sometimes you need a custom report or spreadsheet to track or evaluate a campaign, landing page or lead actions.
Create Custom Charts with WhatConverts Data
WhatConverts gathers the data and pushes it to Zapier.
Zapier filters the data and creates a spreadsheet.
Your reporting software creates and displays a chat using the spreadsheet data.
The process is automated so you can generate and send email notifications to the updated report in real-time.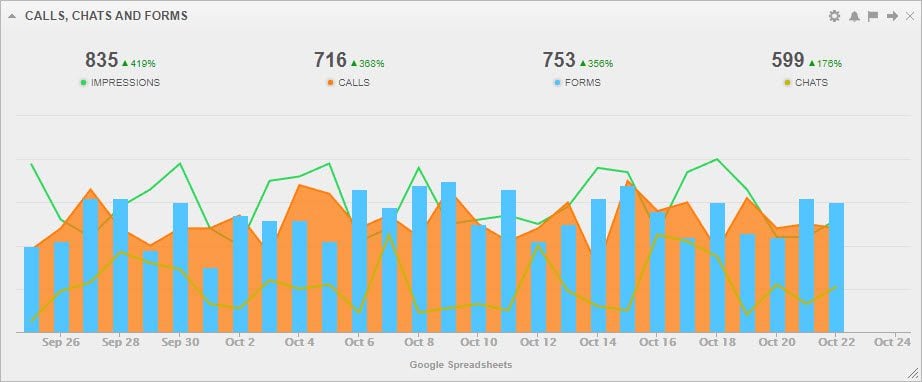 WhatConverts also includes all the marketing data available in Zapier. You can easily customize your spreadsheet by adding valuable marketing data for each lead. Impress colleagues with enlightened knowledge of marketing campaigns including campaign, content, keyword and actual sales generated through these campaigns.

Integrating Marketing and CRMs is a 2 Way Street
Salespeople don't do data entry, and CRMs don't do marketing reports. Sharing data between WhatConverts and your CRM eliminates data entry and enhances your marketing reports. Each point below starts with auto, this is the important part. By combining two apps together, when an action is done in one, it will automatically update the data in the other. This eliminates duplicate tasks, and improves data integrity.
1 Auto add leads. Any lead received by WhatConverts is sent to your favorite CRM through Zapier as a 'New Lead', 'New Contact' or 'Updates an Existing Contact'. Using filters, triggers and actions in Zapier you can customize what leads/contacts are added to your CRM. Now the salesperson only needs to work the lead, and you can track their progress.
2 Auto Enhance Marketing Reports. As a lead/contact makes its way through the sales process in your CRM, you can set triggers or workflows to send updates to WhatConverts. If a deal/quote/opportunity is added to a contact this triggers an update to WhatConverts that the lead is a quotable or a qualified lead. We can then report quotable leads by marketing source/campaign/keyword.
3 Auto Tie Marketing to Quote and Sales. Now when an opportunity is quoted or a sale is made, this triggers an update. It lets WhatConverts know what leads resulted in quotes or sales, with the corresponding values added to each lead. WhatConverts displays a report on actual quotes and sales and the marketing responsible for generating the lead.
Now when someone asks you "What Marketing Converts?" you can open WhatConverts and show leads, quotes and sales sorted by your marketing sources. Eliminate the bad, enhance the okay and grow the good.
How to integrate WhatConverts with Zapier.
To get started with Zapier take a look at Connecting to Zapier or use a pre-made Zap below.

Let's recap, some of the unique features the Zapier integration offers are:
Enhance and automate custom lead and marketing reports.
Eliminate data entry for sales people they'll love you for it!
Tie marketing campaigns to actual sales or tie marketing spend to sales earned.
As always, WhatConverts has a simple goal, we want to show you What Marketing Converts. With Zapier we can expand integration and automation to your favorite applications.
Please email [email protected] if you have any questions or if you've used Zapier and WhatConverts in a way that helped you, we would love to hear about it.