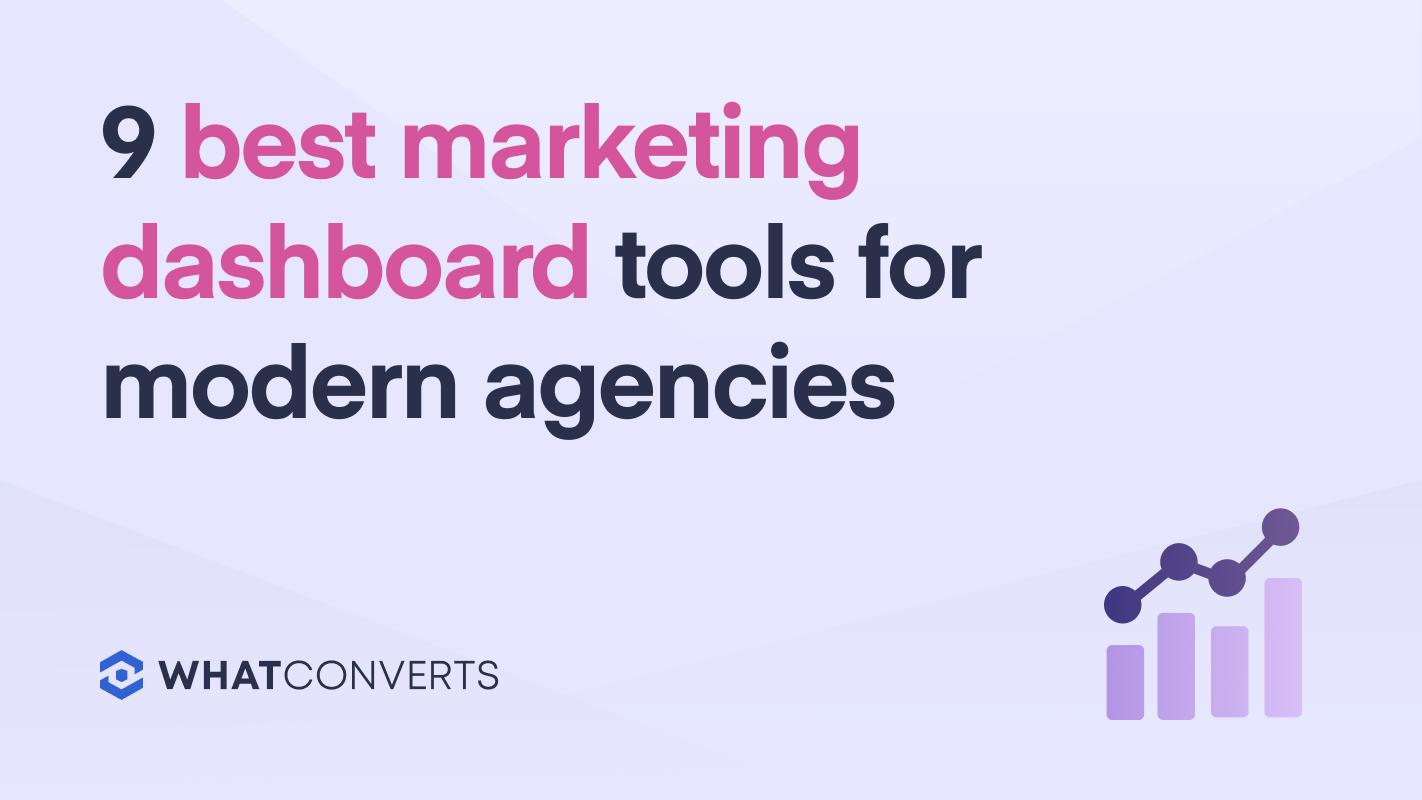 What's the one trick your agency uses to retain clients? Finding the best marketing dashboard might be your answer if you're drawing a blank. Marketing dashboards can help your agency prove the value of your work while eliminating those time-consuming reporting meetings.
Once you've decided that your agency can benefit from a marketing dashboard, you'll have to find the right software to use. Some dashboards allow you to pull in data from other sources and create visualizations. Different dashboards gather their own data and display it in charts and graphs. This article will provide an overview of nine of the best marketing dashboards today.
First, let's answer some questions about what your agency's marketing dashboard should include.
Marketing Dashboard FAQs
Answering these questions will help you find a dashboard that delivers on your agency's needs.
What should be included in a marketing dashboard?
Most marketing dashboards don't gather their data. There are a lot of tools on the market that display data imported from other sources. The dashboards act more like data visualization tools than actual one-stop-shop marketing dashboards.
A proper marketing dashboard collects first-party data and stores it in a dashboard where it's shown in the form of insightful charts and tables.
What is a marketing agency dashboard?
There are two main differences between an agency marketing dashboard and one for in-house marketers:
Ability to white label the dashboard
User roles and permission settings that allow client access
Agency dashboards should help both the agency and the client; the agency can use the dashboard to identify new marketing opportunities and eliminate wasteful campaigns. Clients can use the dashboard to track your agency's efforts and report to their internal stakeholders.
WhatConverts captures incoming leads, marketing attribution data, and website behavior data as a first-party data tracker. The platform is different from the dashboards you might see in Google Analytics or Google Ads. WhatConverts focuses on tracking leads. Every marketing KPI on the dashboard relates to lead-based metrics:
When you first open WhatConverts, you'll see the following KPIs displayed in charts and graphs:
Leads by Conversion Action
Total Leads
Leads by Source/Medium
Unique vs. Repeat Leads
Quotable vs. Non-Quotable Leads
Leads by Lead Page
All Lead Details
Quote Value by Source
Sales Value by Source
You won't find these metrics in other marketing dashboards because most marketing dashboards rely on traditional marketing analytics tools for their data.
(Click here for a full rundown of the brand new WhatConverts dashboard)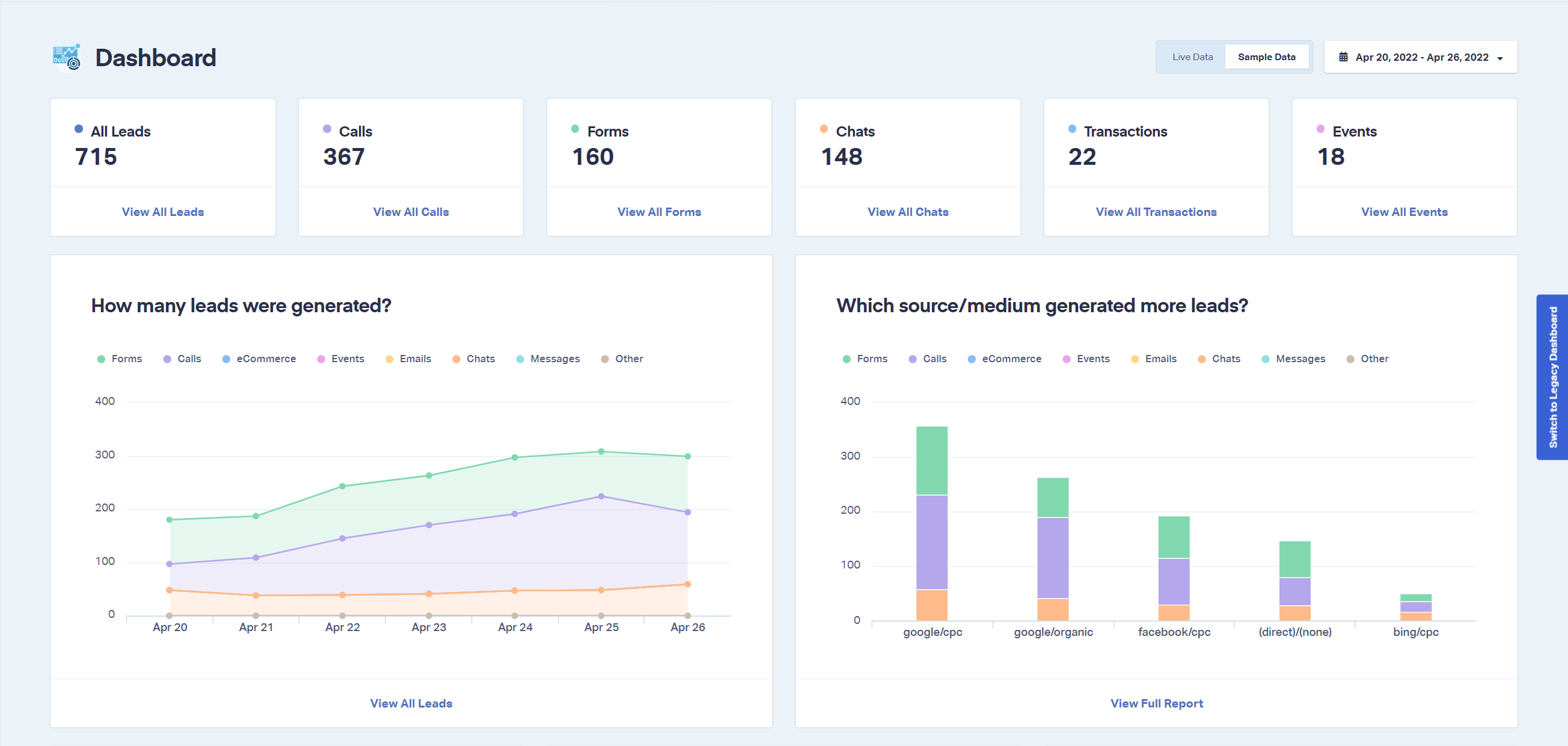 Finding the best marketing dashboard for capturing and visualizing data
Tools like Klipfolio, Domo, and AgencyAnalytics pull data from other sources. WhatConverts captures data and supplements it with data from Google Ads, Facebook, and other marketing or advertising tools.
If your dashboard doesn't capture its data, your dashboard is only as good as the data it's pulling in from other sources. The lack of data capture is a problem because most other marketing sources capture anonymous conversion data, anonymous clicks, and page view data; they don't capture the lead behind the conversion action.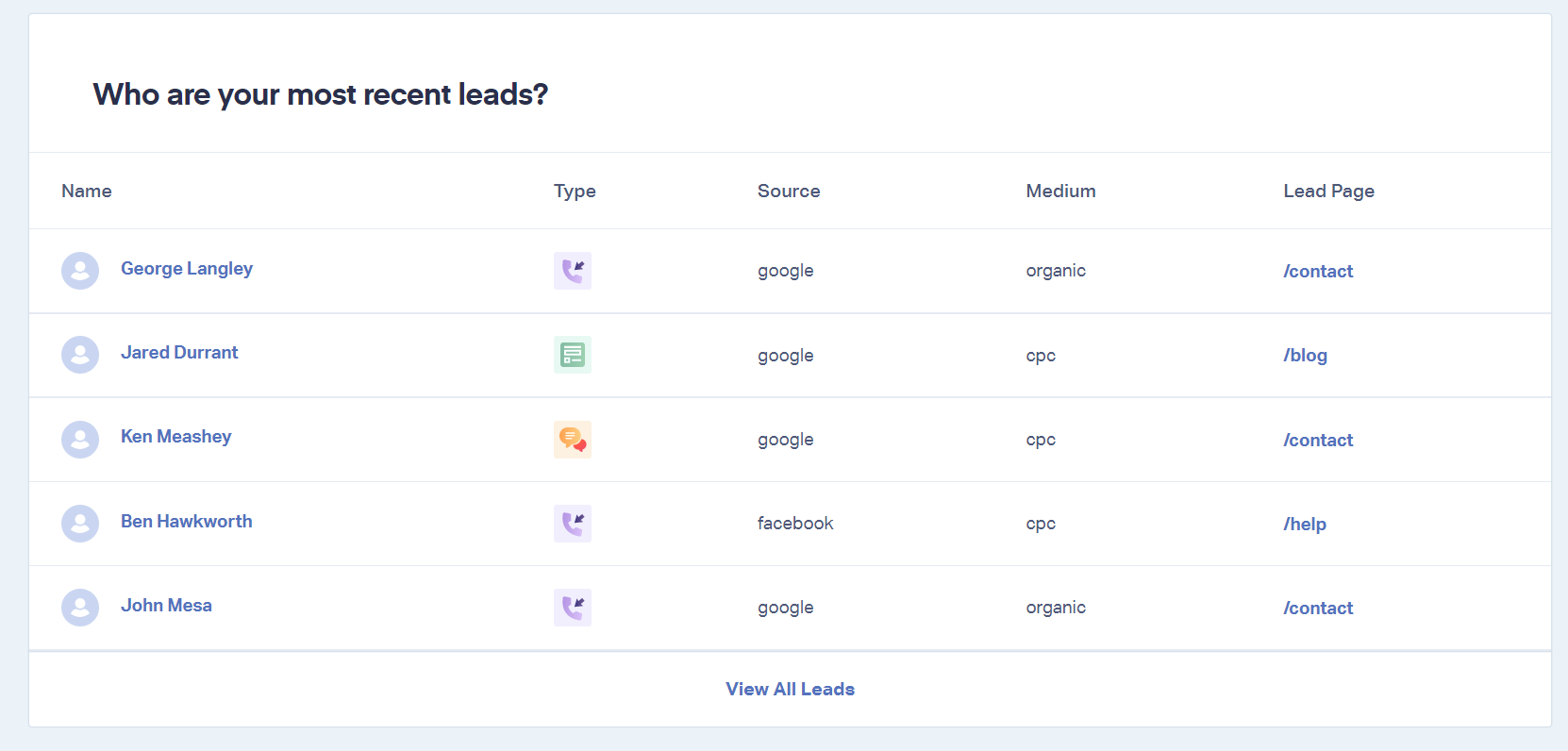 Your clients will appreciate having access to the individual leads behind every conversion.
Give clients access to their data
One agency account can create different accounts with different dashboards in WhatConverts. Your agency can then give clients access at the account level. Clients will be able to log in to WhatConverts and see all their lead data and marketing data in one place.
Client-level access has enormous benefits for agencies:
It eliminates the need for reporting meetings
Provides clients with data that updates in real-time
Allow clients to see the individual leads underneath the marketing data
The WhatConverts dashboard provides an overview of marketing success, but clients can also click into pre-built reports to view data for individual marketing channels. Clients can click the "View Lead Details" (see below) under every report on the dashboard to see individual lead data.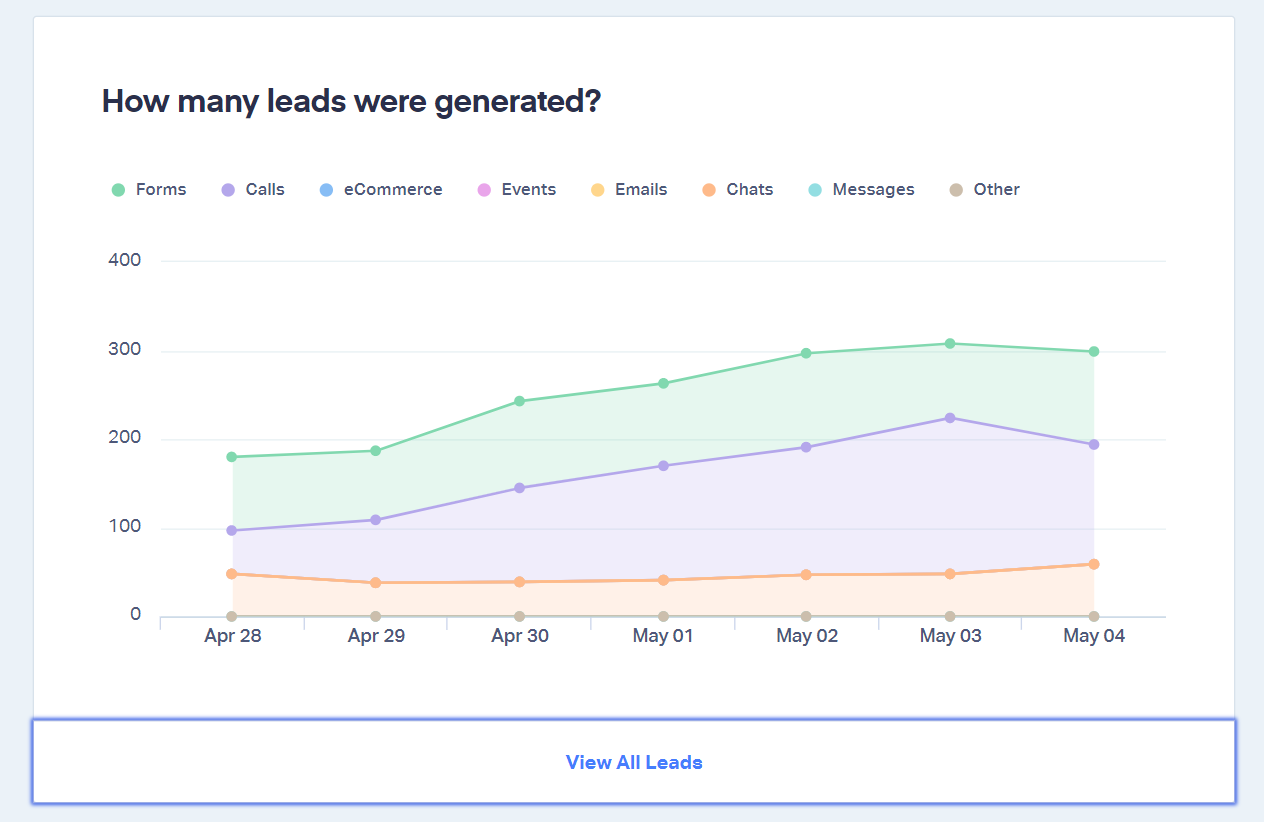 Clicking the "view leads" button will open up the Leads View, which shows the individuals who've called, filled out a form, or started a webchat.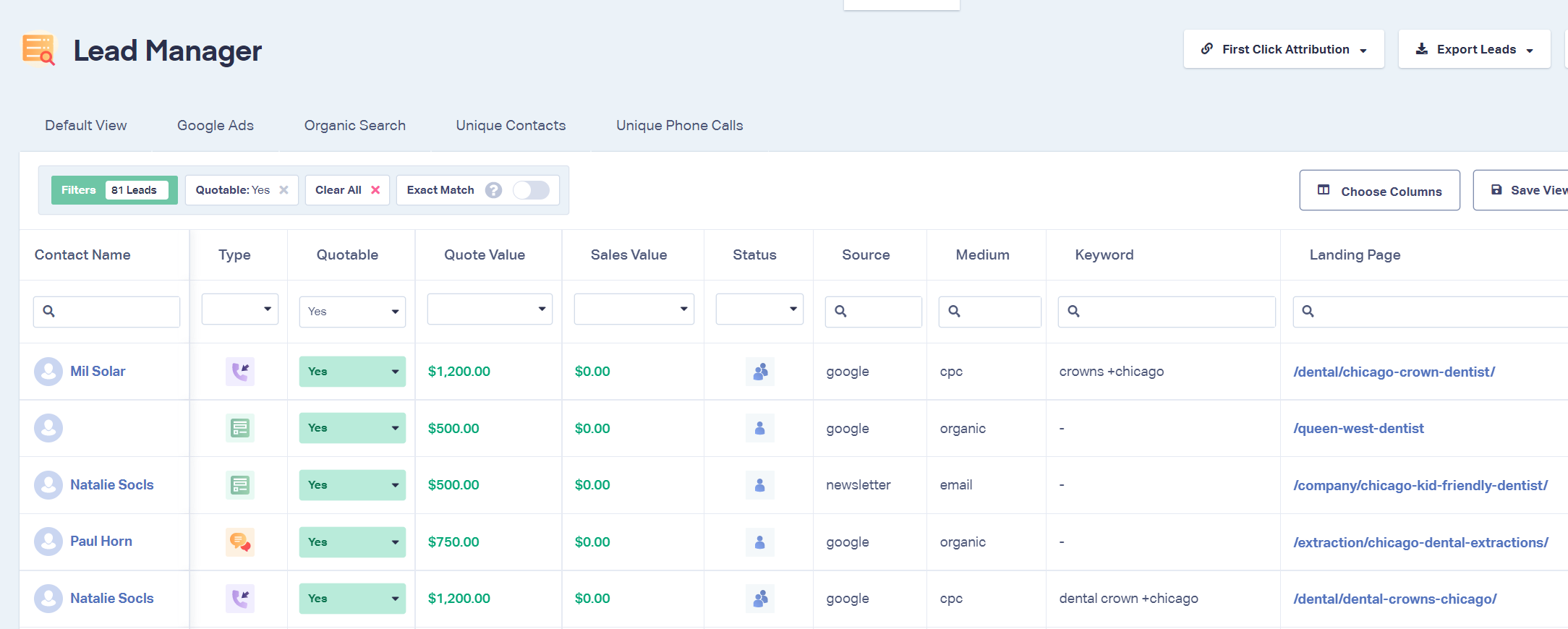 White labelling the best marketing dashboard
The WhatConverts dashboard offers full white-labeling for agencies and their clients. These white-label features include:
Custom domain name for each specific client
A custom logo for clients to see when they login to the dashboard
Custom logos on every lead notification email for clients
White labeling WhatConverts allows you to show your clients a customized marketing dashboard that shows how much revenue they're getting from your agency.
Want to learn more about WhatConverts?
Visit our site and create a free trial account or see WhatConverts in action via a live demo. Our support team will answer guide you through how to use our tool to create simple, clear marketing dashboards that your clients appreciate.
User roles and permissions are a big deal for marketing dashboards. Most marketing agencies want to be able to show clients the dashboard without letting them edit the dashboard.
You're also going to want to be able to assign roles to different employees at your agency to designate who can edit the dashboard. Some Klipfolio users report being confused by the user roles and permission setup.
Klipfolio allows you to connect marketing data sources like Google Analytics, social media platforms, and Google Ads. You'll be able to track all your marketing channels in one place. However, you will not be able to use Klipfolio to collect your data. If you don't have a tool to track marketing data, leads, and conversions, you'll have to set that tool up before you can start using Klipfolio for data visualization.
Datapine is unique in that it can auto-generate dashboards if you connect specific data sources such as Twitter or Google Analytics. You can then tweak these auto-generated dashboards to show the data you want. Datapine is not a marketing data source, but it can collect data from your marketing data sources and help you visualize the data.
Datapine makes it easy to share your reports. You can assign different viewers to different dashboards. You will need to use other platforms to collect the marketing data, but Datapoint can help you present the data to clients or other stakeholders.
ClicData can gather CRM, marketing, and sales data in one place. The platform doesn't provide very many pre-built reports, so you have to be willing to create your custom reports. Marketers who want a custom dashboard may appreciate this, but those looking for an out-of-the-box dashboard tool may want to look elsewhere.
Another issue with ClicData is that it doesn't have Zapier connectors, commonly used by marketers and sales teams. The main benefit of ClicData is that it allows you to pull data from different sources and display it any way you want to. It's perfect for small business owners who want to see marketing and sales data in one place.
You can integrate a marketing tool like Marketo with Grow using the platform's API. The integration will allow you to visualize your Marketo data in a dashboard within Grow. The platform helps show data from different marketing teams in one dashboard. For example, you can view PPC data and email marketing KPIs in the same dashboard.
Without a tool like Grow, you would have to log in to Google Ads and your email marketing tool separately. You might even have to create unreadable Excel spreadsheets. Grow consolidates data in one place, even though it doesn't generate or capture data.
Some marketers use Grow to visualize Hubspot data when they don't like the Hubspot reporting dashboard. If you're not satisfied with the reports offered by your marketing data capture tools, a platform like Grow can help you present the data in a way that makes more sense.
Domo requires a lengthy initial setup phase like other products in this list. During this phase, you have to find all the data sources you want to connect. Only once these data sources are connected can you build your dashboard.
Domo receives a lot of praise for its user roles. You can assign different user roles to restrict or grant access to various data sources. The platform has intriguing automation features that allow you to pull data in real-time. However, Domo requires data connectors or Excel spreadsheets that update automatically. Domo won't gather marketing data for you.
The most significant advantage of Google Data Studio is that it works seamlessly with Google products. Marketers often need to pull data from Google Analytics, Google Ads, and Google Search Console. Google Data Studio works seamlessly with those tools. Small marketing teams love Google Data Studio because most features are free.
Google Data Studio does not provide marketing attribution, lead tracking, or website analytics. It can, however, show the data that you want to show in an easy-to-read dashboard. If you're willing to take the time to import data, set up data sources, and choose different graphs and tables, Google Data Studio can be a powerful tool.
Looker is a web-based data visualization tool, meaning you don't have to download any clunky applications to your computer. Like some of the other tools mentioned on this list, Looker pulls in data from other sources.
Looker does not track or update any marketing data on its own. The platform does provide a lot of customization capabilities. It's a great tool for agencies with troves of data in an Excel spreadsheet. One issue is that because Looker is a web-based tool, it tends to be a little slower than other tools that live on desktop applications.
If you need to turn large amounts of data into beautiful tables and graphs, Tableau can help. The platform can pull data from spreadsheets and automatically transform it into visual reports. Tableau is a data visualization tool that you can use to build your marketing dashboard. You'll have to use another tool to gather the data.
Tableau is helpful for marketers with a lot of data sitting in spreadsheets. It won't capture any data or provide live updates to your marketing data. The tool can help you visualize data already in a spreadsheet, but it won't gather the marketing data for you.