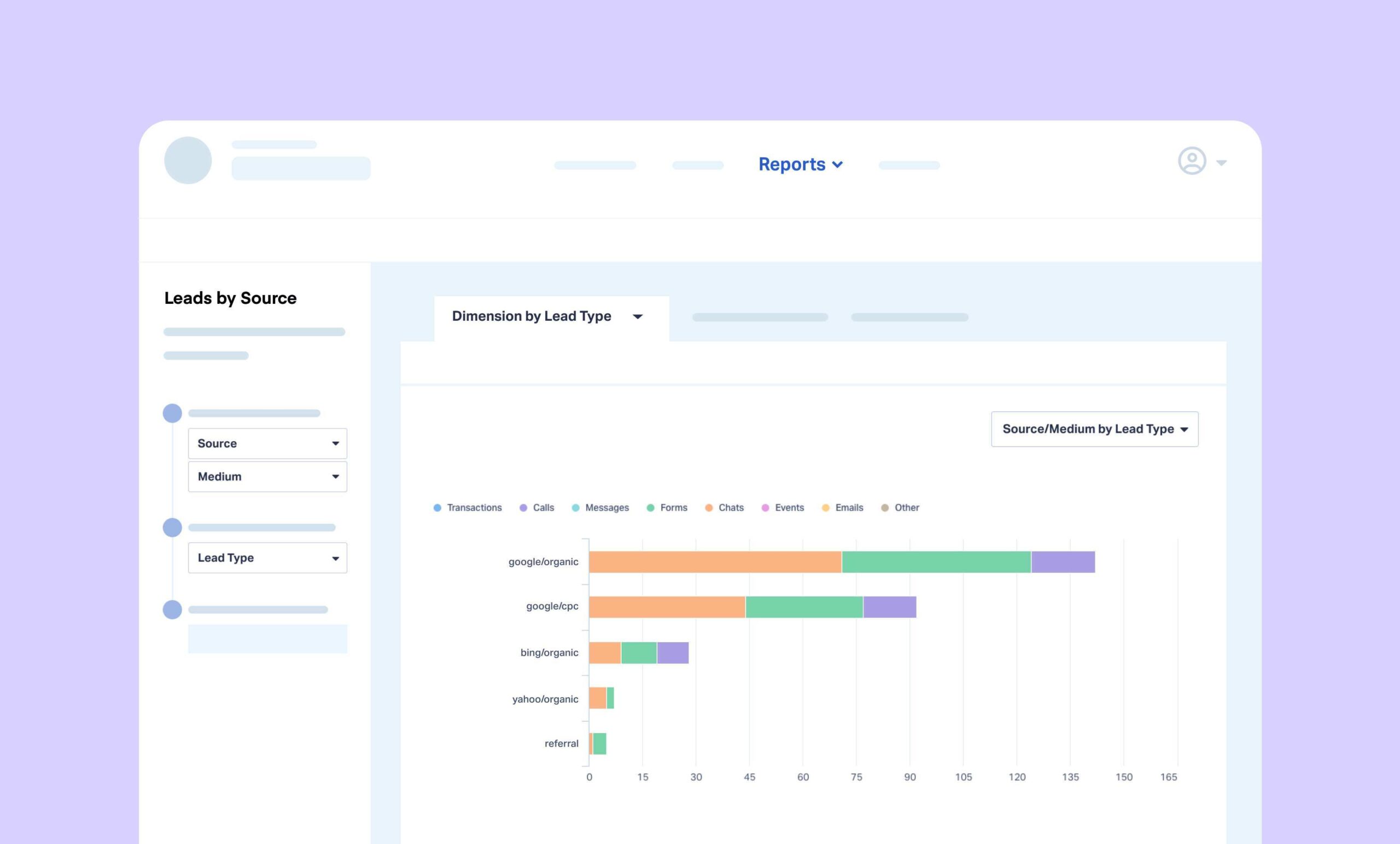 Tired of wasting time building and sending out custom reports to each of your clients every day, week, and month?
No problem—win your time back with Scheduled Reports.
Scheduled Reports in WhatConverts lets you automatically send out beautiful and insightful reports at the frequency you and your clients want.
Plus, you can schedule both templated and custom reports, so your clients only get the metrics they actually care about.
What You Can Do With Scheduled Reports
Let's say you're running PPC campaigns for 20 different clients.
Of these 20 clients, many have different reporting needs based on:
Frequency – Some prefer monthly reports, while others like to see weekly or even daily updates.
Granularity – Some clients just want the basic info (leads generated, top keywords, top landing pages, etc.). Others want more granular details (leads by keyword, quotable leads by source, sales value by keyword, etc.).
Customization – Some clients want to see information very specific to their business like which services/procedures are the most popular, what time of day produces the highest value calls, which ad variation generated the most spam leads, etc.
With WhatConverts, you can build all of these report variations. However, doing it manually for each client can eat up hours and hours of your team's time.
But with Scheduled Reporting, you can automate this entire process (even when it comes to custom reports).
So say you had clients who wanted to see:
Monthly cost per lead reports broken down by source
Daily call reports showing quotable leads organized by call duration
Weekly reports on unique leads generated by keyword with spam calls filtered out
You could create and schedule these exact reports so they hit your client's inboxes automatically. And for you, that means more time to tackle strategy and grow your agency.
Setting Up Scheduled Reporting
Scheduled Reporting is only available on the Pro Plan and above. For lower-tier plans, please upgrade your account to unlock this feature.
To set up Scheduled Reporting in WhatConverts:
Log in to your account, then select "Scheduled Reports" from the "Reports" in the upper navigation.

Click "Add Scheduled Report".
Choose the type of report you'd like to schedule and click "Next Step". You can choose from both default templates and custom reports you have already created and saved.

Note: If you'd like to send a custom report but haven't yet built one, follow this guide to create a custom report and save it.
You can also schedule Lead Lists to be sent from this screen. See this guide for more information on Leads Lists.

Choose your frequency, date range, time to be sent, recipients, and whether or not the report should be sent right away. Then click "Next Step".

Fill in the verbiage you'd like included in the notification email's subject line, content header, and content body. You can use the dynamic variables here to auto-populate values while still sticking to your agency's voice. Then click "Finish".

Your report is now scheduled! You'll be redirected back to the Scheduled Reporting summary screen where you can view other scheduled reports. From this screen, you can also view, edit, and send each report.

That's it!
Remember, you can only send Scheduled Reports if you're on the Pro Plan or above. So if you'd like to unlock this massive time-saver of a feature, be sure to upgrade your plan today.
Need Help?
Our support team is happy to help you set up your Scheduled Reports.