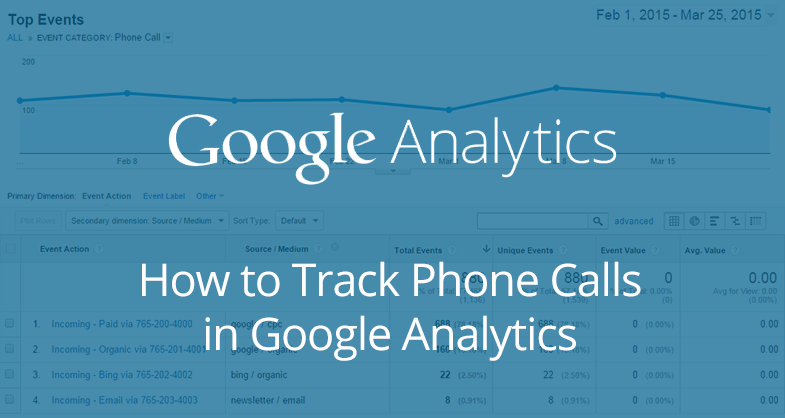 Google Analytics is the most popular analytics software in use today, it makes sense that agencies and website owners want to track all your marketing actions in Google Analytics.
At WhatConverts our mission is show you what marketing sources/channels convert into leads, quotes and sales. Our tracking and reporting is focused on easily showing what marketing channels are delivering the best leads, with lead management to dig into specific leads and simple reporting to analyze leads and marketing channels.
For people that want to dig deeper into their web data we integrate our call, form and chat tracking with Google Analytics. Now you can get much richer Google Analytics reporting where we can display events and goal completions right in your Google Analytics reports.
Below I'll show you how to integrate your WhatConverts account with Google Analytics, discuss events and goals and then show you a few of our favorite reports.
Integrate WhatConverts with Google Analytics
Login to your WhatConverts account.
Select the "Integration > Google Analytics" menu item.
Add your Google Analytics Tracking ID. and we will send events based on leads tracked in WhatConverts to your Google Analytics account.To retrieve your Google Analytics UID, sign in to your Google Analytics account. Click on the "Admin" tab at the top and make sure the correct "Account" and "Property" are select. Then click on the "Tracking Info" and select "Tracking Code". You should see your "Tracking ID", copy and paste that value below.
Choose what Leads to send to Google Analytics under "Lead Types to Track".
See Lead Events in Google Analytics
Login to Google Analytics.
Select the "Behavior > Events > Overview" menu item. See sample image below.
Notice "Total" and "Unique" Events. Note: At times there is a discrepancy in the number of unique events when comparing WhatConverts and Google Analytics data. This is due to our data range philosophies. WhatConverts looks at unique visitors all time, but Google Analytics looks at a selected date range or 30 days by default.
Event Categories. We use the event category "Phone Call" for calls received and "Form Submission" for web form submissions.
Viewing events does provide some insights. Events can also be used to create advanced segments in your Google Analytics reporting. Next, I will show you my preference on how to use events to trigger goal completions to provide richer reporting in the standard Google Analytics reporting.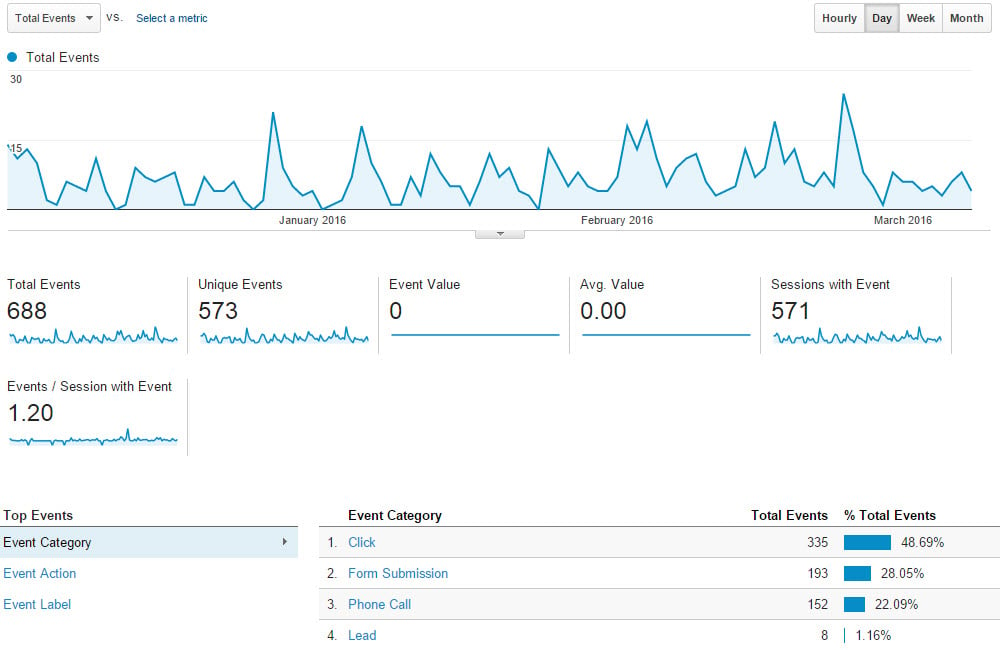 Sample Reports with Goal Completions triggered by Events
Goal completions or conversions have been built into many standard reports within Google Analytics. Below I've included screenshots of some of my favorite reports. From these reports we can view phone call goals by traffic source, campaign or keywords.
Acquisition > All Traffic > Source/Medium

Acquisition > AdWords > Campaigns

Acquisition > Adwords > Keywords

Conversions > Goals > Overview
Setup Goal Completions triggered by Events.
Using events to trigger goal completions is a simple 3 step process to create a new goal.
Start by selecting the top "Admin" menu item in your Google Analytics account.
Select "Goals" from the "View" column (right hand column)
Click the "+ New Goal" button

Goal setup - Choose the "Customer" item just above the continue button. Click continue.
Goal Description - Give your goal a name like "Phone Call" and then select the "Event" radio button. Click continue.
Goal Details - Set the "Category" to the event category. For Phone calls from WhatConverts use Category Equals to "Phone Call". Click save and you are done.
Now each time a call is tracked through WhatConverts we'll send an event to your Google Analytics account. This event will then trigger a goal completion that will make your Google Analytics reporting much richer.
These goal completions can also be used as AdWords conversions. This means you can track phone calls made back to a specific campaign and record them as conversions.