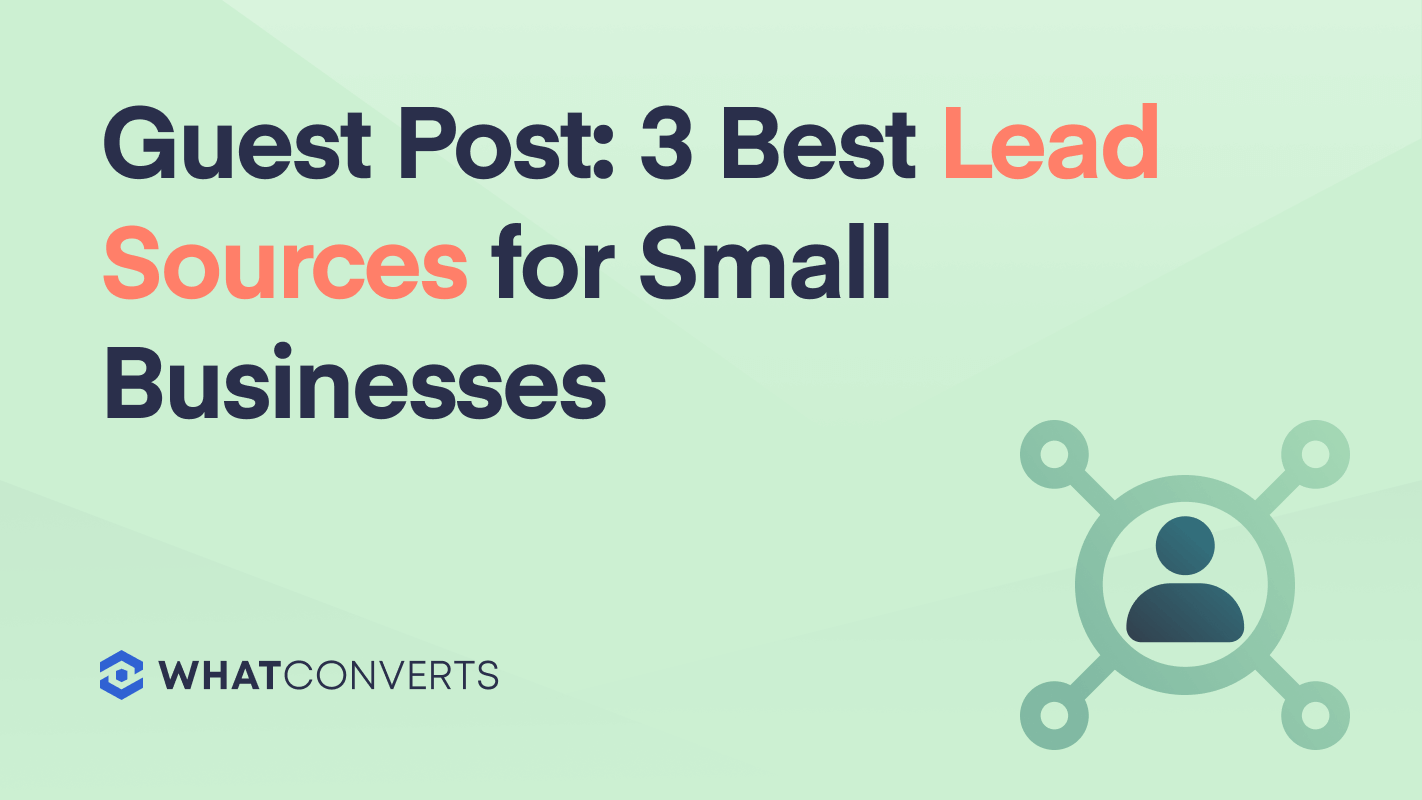 This is a guest post from Anastasia Chechkova, Growth Analyst at OnePageCRM.
Marketers and salespeople often talk about buyer personas, the importance of knowing your target audience, and paying close attention to where your leads come from.
There is a long list of things that you can learn about your existing and potential customers: their age, job title, hobbies, online behavior, etc. All this information can help you find them.
And if you know who your best leads are and where they learn about your business, you can meet them halfway, increase conversion rates and grow your sales faster.
In this blog post, we discuss what lead sources are, why they are important, which of them work best for small businesses, and how you can manage leads more efficiently.
What is a lead source?
A lead source is a channel by which potential customers find your business.
Below are just a few examples of the most common lead sources:
Search engines
Social media platforms
Offline ads
Online advertisements
Industry-specific conferences
Referrals
Webinars
Cold calls
Direct messages
etc.
As you can see, the list is quite long. That's why marketers and salespeople spend a lot of time trying to track their leads.
Why lead sources matter?
By looking into your lead sources, you can find answers to several questions:
How do potential customers find your business?
What are they looking for?
What problems do they try to solve?
What type of communication do they prefer?
And so on.
Knowing answers to these questions will help you better understand your potential customers, create targeted campaigns, and, as a result, increase sales.
By analyzing your lead sources, you can also find out which sources bring high-quality leads and prioritize some channels over others in your lead generation activities.
For example, suppose you know that most potential customers discover your business on LinkedIn. In that case, you will probably want to focus your marketing and advertising efforts on LinkedIn rather than Facebook or any other social media platform.
Top three lead sources for small businesses
According to the Sales Insights Report Survey 2021 compiled by OnePageCRM, there are three main lead sources for small businesses:
Referrals
Networking
Digital marketing
Below we will look in more detail into each of these lead sources.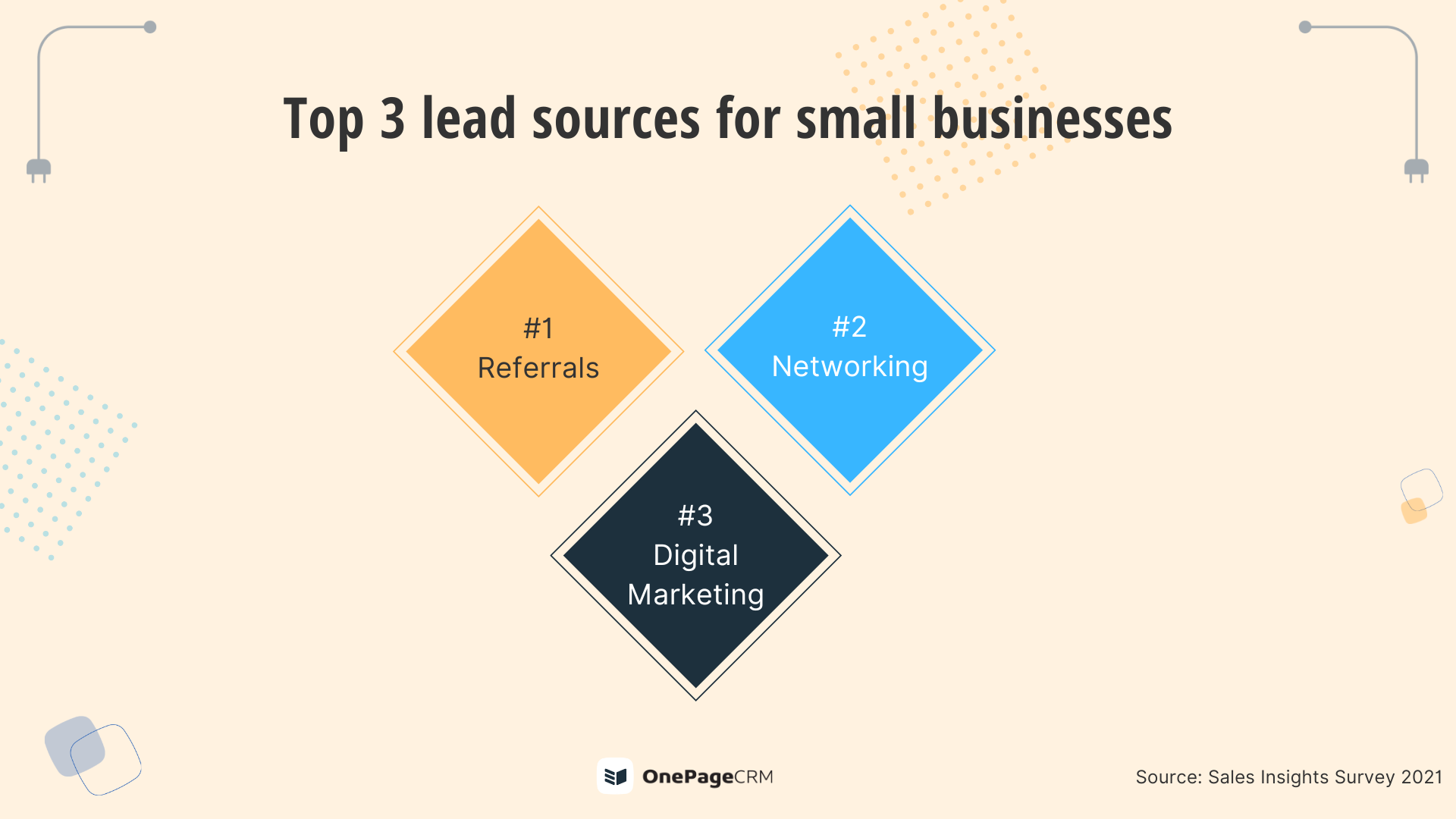 #1 Referral marketing
76% of the respondents say that their best leads come from referrals (or the so-called word-of-mouth marketing).
Although this is quite a high number, businesses don't have complete control over this channel. Even though your happiest customers are usually ready to provide referrals, as studies show, they rarely do.
That's why many businesses use different incentives to motivate their existing customers to spread the word about their products or services. Usually, referral programs offer discounts or extended trials for every new referral.
Depending on your business model and your customer's online behavior, you can also consider introducing an affiliate program.
#2 Networking
Since the majority of best leads in small businesses come from word-of-mouth marketing, it's no surprise that 53% of the Sales Insights Survey respondents note that networking also brings high-quality leads.
Networking comes in different forms and shapes. For example, you can visit industry-specific conferences or trade shows where there is a high chance of meeting your potential customers. There are also networking events for small business owners where you can talk to your peers directly and see if there are any opportunities for partnerships and collaborations.
#3 Digital marketing
With digital marketing, you can reach your leads via different channels: for example, online chats, web forms, social media messages, etc. And if you are using WhatConverts or a similar tool, you can quickly sort all new leads by medium or channel to see how they found your business.
According to the Sales Insights Survey 2021, several digital marketing channels bring high-quality leads to small businesses:
49% of respondents think that their websites are generating the best leads
30% of small businesses find their best leads on social media
25% consider email and content marketing the best way to reach their leads
Advertising in small business
Only 7% of survey respondents use traditional advertising, while 22% use online advertising. 12% of small businesses also mentioned PR or media coverage.
Unlike small companies, large enterprises have big budgets and spend much more on advertising and PR activities. But this doesn't mean that your small business cannot use ads to reach a wider audience.
For example, you can do keyword research, launch Google Ads for specific keywords and then use Google Ads Attribution to understand your lead's journey better and optimize conversion rates.
Lead management best practices
Lead management, which also includes lead source tracking, can be tricky. Small businesses often cite it as one of the most challenging parts of their operations.
Below are three simple steps to help you make the most value from your lead sources tracking.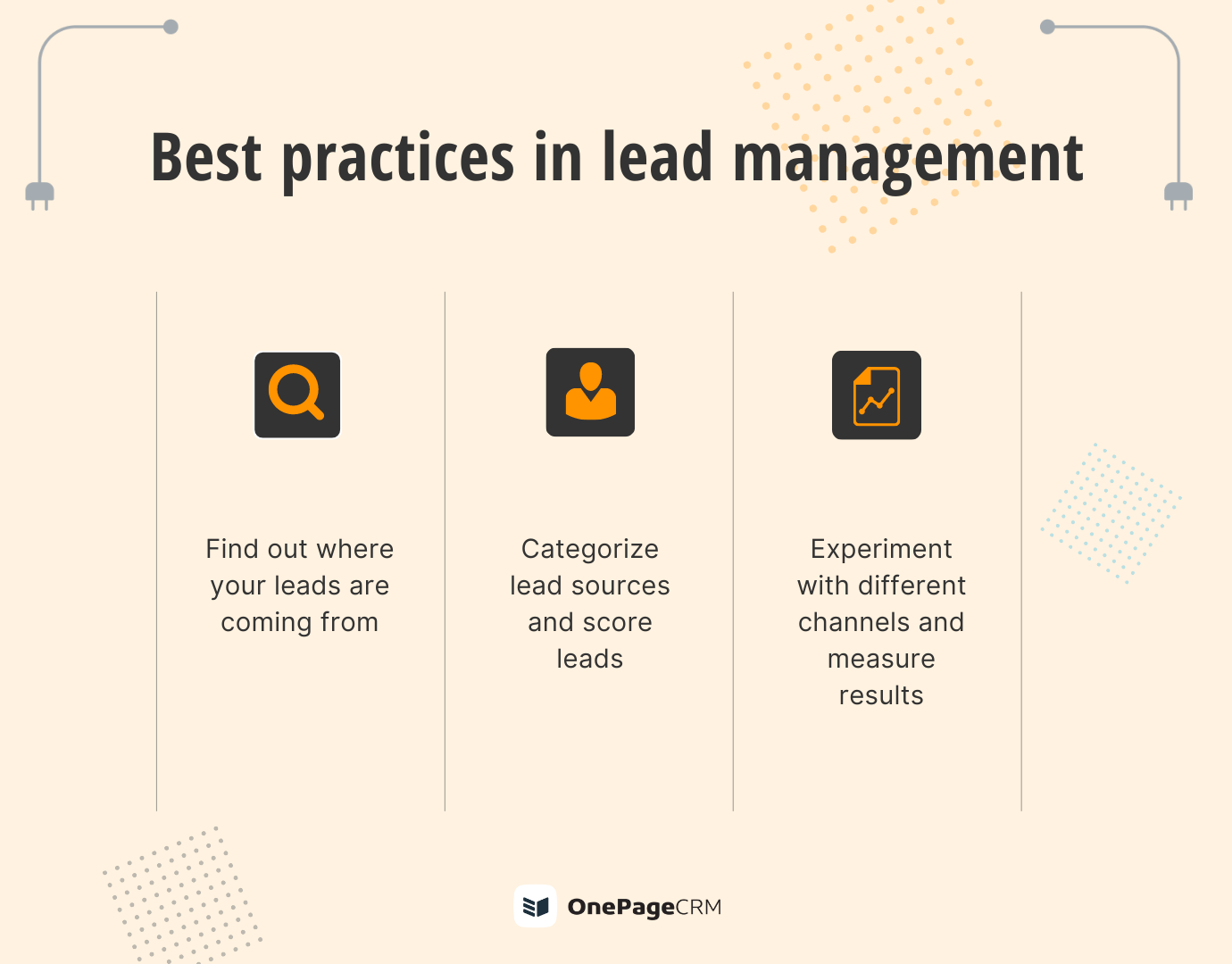 Find out where your leads are coming from
You need to track your lead's journey to better understand their behavior and the reasons they came to your website.
There are different lead tracking tools available for small businesses. It can be a CRM or a lead tracking platform, like WhatConverts. But if you want to dig deeper into lead analysis and tracking, pairing these two tools together is better.
For example, by connecting WhatConverts to OnePageCRM, you can keep your leads nicely organized in your CRM and make sure that you follow up with every generated lead. While WhatConverts helps you record all important information about your lead sources, OnePageCRM transforms a contact database into an actionable to-do list with tasks and reminders next to every lead.
Categorize lead sources
Once you have a list of leads, you need to keep them all in one place and filter them according to different criteria.
This is where lead scoring comes into play. This method is used by sales and marketing teams to determine how valuable each lead is. If you are new to lead scoring, you can start with a simple structure in your CRM: for example, introduce custom filters or tags to cluster together different types of leads.
But it's one thing to determine the main lead source. Sales and marketing teams also need to understand which sources convert better. For example, maybe most of your high-quality leads come from organic search, but most paying customers come from referrals.
Knowing what lead sources are best for your business, you can focus on them and scale your marketing and sales activities.
Experiment
Good lead management requires an omnichannel approach.
Once you've shortlisted your best lead sources, it's time to start experimenting and see if there's an area for improvement. Maybe you'll find opportunities to refine your marketing efforts, re-write your sales pitch, or create high-converting content.
There's also a chance that some channels that didn't work in the past generate more high-quality leads now than they used to. That's why every lead generation activity should be measured to reflect your marketing ROI.
Make the most of your lead tracking
Lead source analysis and tracking are important for small businesses. They can help your marketing and sales team work more effectively and focus on the most promising leads that have a high chance of converting into paying customers.
With a proper lead tracking process, you'll be able to increase conversions, create better-targeted campaigns and provide a seamless experience for your leads and customers.