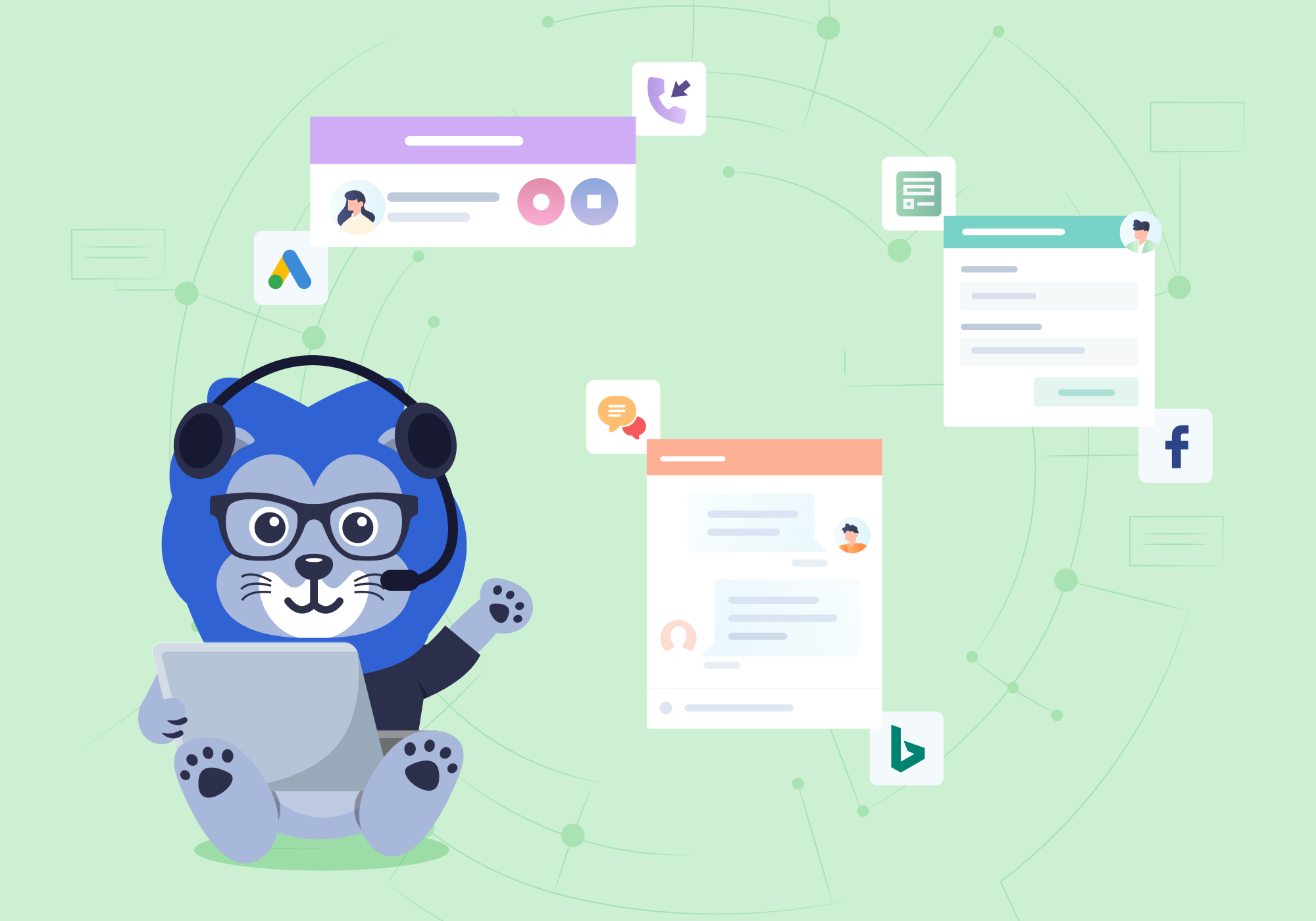 Marketers spend way too much time trying to answer one question; What marketing converts? 
That simple question is actually an aggregate of more detailed questions such as:
Are my PPC ads driving leads?
Which landing pages convince people to get in touch?
Where is my site showing up in search results, and how many organic search leads am I getting?
To know what marketing works, you have to first know what marketing converts. That requires tracking every conversion (including phone calls) back to the marketing channel.
According to an eMarketer study, only 10 percent of marketers say that they're capable of tracking all conversion events back to the marketing channel. That means 90% of marketers don't know what marketing works!
Wouldn't it be nice to gain a competitive advantage over 90 percent of businesses? Tracking every lead is the first towards understanding how well your marketing works, and call tracking is the first step towards tracking every lead.
Here are six more reasons to start using call tracking.
1. Phone Calls Convert Better
You won't know which marketing channels drive conversions until you're tracking every conversion. Form fills count as conversions. Chats count too. The most important conversions, however, are phone calls.
Calls represent the most valuable type of conversion; the kind that's likely to result in a qualified lead. Calls end up converting 10x more often than web conversions like forms and chats.
According to this study, phone call leads convert 30 percent faster and spend 28 percent more than people who contacted the companies through other means.
Calls are more likely to result in qualified leads because calls require more effort on the part of the consumer. However, many businesses fail to track this type of conversion because it isn't automatically tracked with traditional analytics platforms like Google Analytics
Here's data from Google's click-to-call research report that reveals just how often calls are made with purchase intent.
2. The mobile movement is driving more phone calls
Despite the fact that live chat is available on most business websites,  old-school calls remain popular. 40% of customers prefer phone calls as a method of contacting businesses.
People are using their smartphones to perform more searches. Last year, mobile web traffic accounted for half of all global web traffic. Consumers are also using those smartphones to get in touch with businesses. When they do, they're often likely to become customers; according to Google, mobile searchers are 40 percent more likely to call a business than desktop searchers, and 51 percent more likely to actually make a purchase.
3. Call tracking can reveal Customer Journey data
Data from Google shows that the best marketers have a clear view of the customer journey. The top marketers are 1.5x more likely than their peers to track the full customer journey.
WhatConverts Customer Journey View  — available in the WhatConverts Elite package — tracks leads at every touchpoint from stranger to customer. For a new phone call lead, you'll be able to see the full customer journey including:
The marketing source
The phone call recording and transcript
Any form-fills or chats
All the web pages they viewed
Here is an example of the customer journey view for a phone call lead. As you can see, this lead also filled out a form and performed multiple Google searches for our business. We've been able to use Customer Journey data like this to find where we were losing customers along their journey.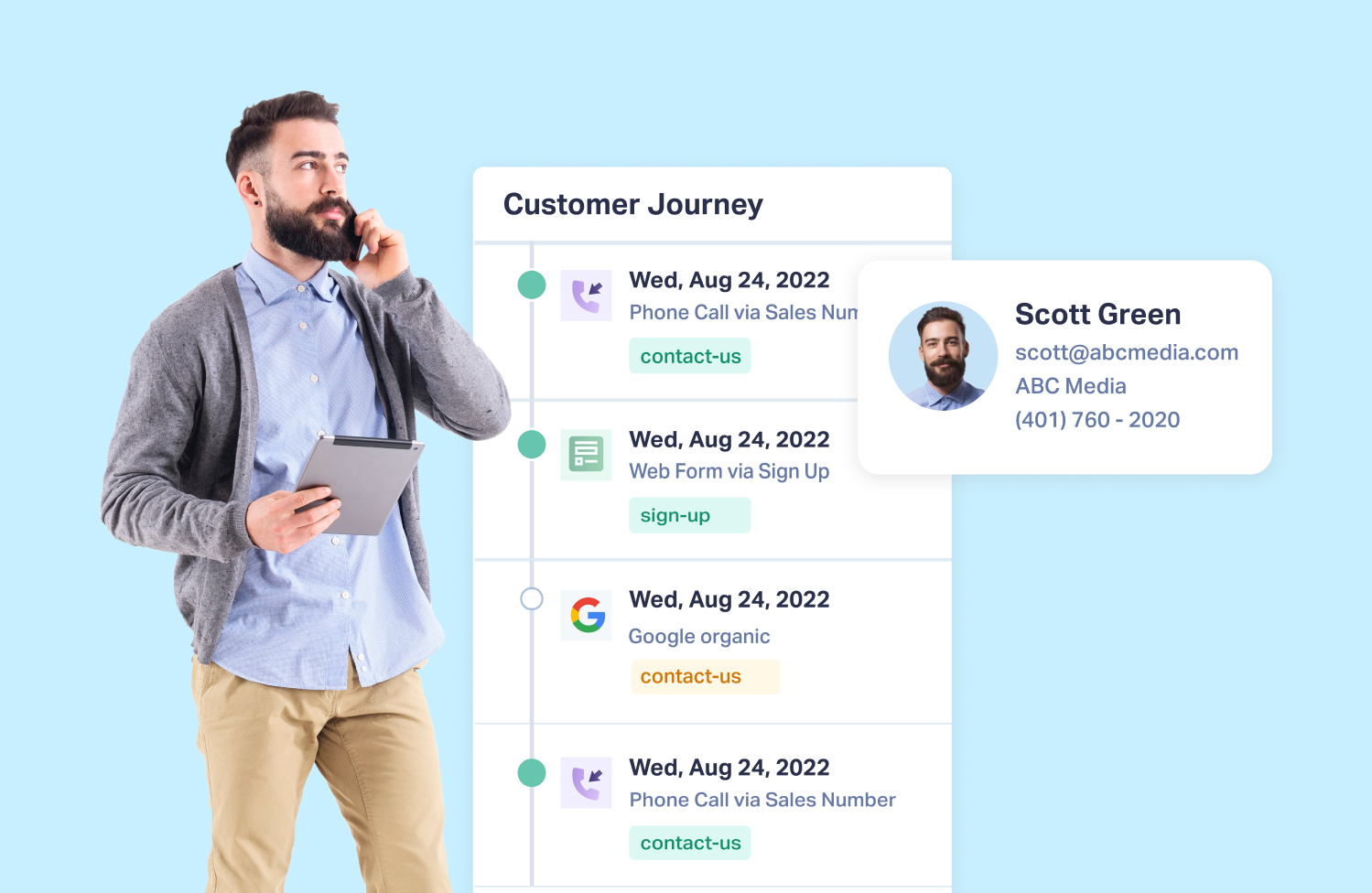 After making changes based on this data, we've seen a boost in new conversions and have improved lead outreach resulting in a higher conversion rate overall.
4. Phone call conversions are essential in certain industries
Some industries rely on calls for a massive portion of their conversions. In the auto dealership industry, for example, calls are the second most popular contact method behind walk-ins.
WhatConverts data reveals more industries that use call tracking metrics to log the high percentage of conversions that occur via phone calls. The top industries on WhatConverts include legal, assisted living, personal care, and local home care services.
As Google shifts to a more localized approach to search results, call tracking becomes more important for local businesses. In fact, more than 60% of consumers still prefer to contact small businesses via phone call. Consumers search for the businesses around them, then use Google's click-to-call feature to make calls and convert.
Here's another chart from Google's research report that reveals call-dependent industries.
Call tracking is often the primary method of contact in these industries.  If these marketers aren't tracking every conversion as it relates to your digital marketing efforts, they're hardly tracking anything at all.
5. Call tracking leads to enhanced marketing reporting
Call tracking software should give you the full marketing picture for each of your incoming calls, including the data points like:
Source
Medium
Campaign
Content
Keyword
Lead Page
Landing Page
User-Based Data (IP Address, Browser, Operating System and Device)
Using this information, you can build detailed reports that reveal not just the number of conversions, but the lead capture data behind each individual conversion. While most phone calls come from mobile searches, they actually come from every marketing channel. That's why it's vital to track calls from every marketing channel.
When measuring the ROI of specific marketing channels and campaigns, it helps to see the individual lead tracking details to see how many leads were qualified. Call tracking gives you the ability to produce reports that show where the leads came from, how long each call lasted, and even the keywords that led to the phone call conversion.
6. Call tracking helps build a more complete marketing picture
Call tracking — when added to form fill tracking, chats, and other conversions — gives you a complete picture of how your marketing channels are performing.
Consider Google Ads. Once you've integrated your call tracking metrics with AdWords in Google Analytics, you'll be able to use the conversion data to get the full picture of which keywords, ad groups, and campaigns are driving incoming leads. This data can be used to optimize your ads to drive quality traffic to your business.
Ready to start tracking calls and see a more complete picture when it comes to your marketing efforts? In that case, it's time to explore the various call tracking platforms.
At WhatConverts, we believe a call tracking platform should do four things:
Capture calls (and maintain great call quality.)
Capture marketing data. Only quality, reliable marketing data will reveal if your marketing efforts are paying off.
Provide marketing/client reporting. An often overlooked fact about call data is that it's not very useful unless it comes with deeper insights.
Make it simple. It just needs to work, without additional steps.
Implementing call tracking software is just the first step on the journey towards finding clarity in your marketing mix. The sooner you can achieve that clarity, the sooner you'll be able to make adjustments that make your marketing that much more effective.
See a free demo on WhatConverts call tracking and how it reveals your full customer journey!