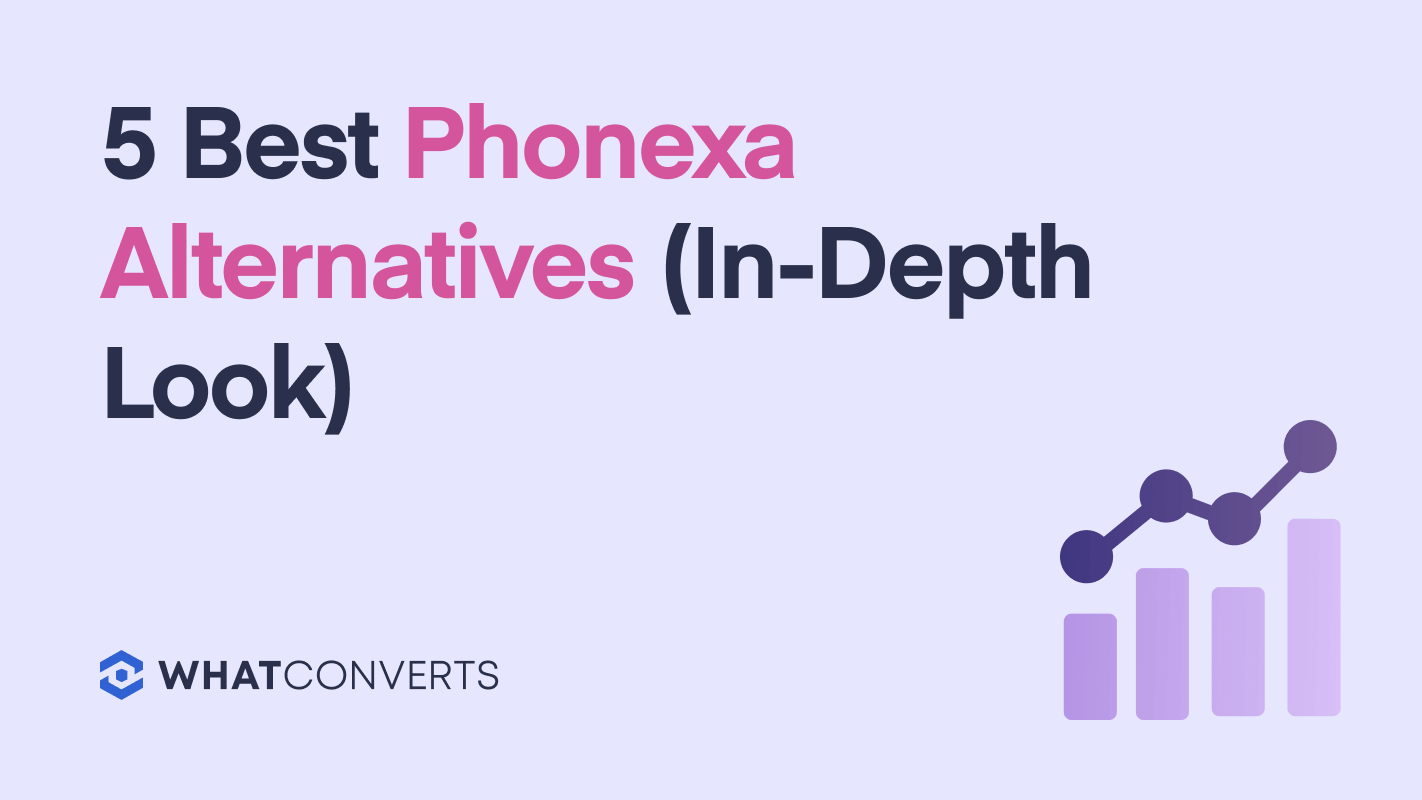 "What's the difference in the call tracking providers?" is the most common question we get at WhatConverts about competitors in the industry.
Phonexa (considered one of them) is a call and lead tracking distribution platform. The operative word 'distribution.' If you are in the business of generating leads to sell to multiple buyers, their software could be appealing.
However, if you are driving marketing decisions and need concise dashboards and reporting for clients, we have alternatives to Phonexa. We compare five call tracking solutions with their similarities and how WhatConverts (our software) is uniquely different from its main competitors.
Here are the comparisons you're looking for . . .
Phonexa Alternatives
WhatConverts
CallTrackingMetrics
CallRail
Invoca
DialogTech * (acquired by Invoca)
If you'd like to learn more about the inside workings of WhatConverts, create a free 14-day trial account or see WhatConverts in action via a live demo.
Key insights: A SaaS solution is easy to use and set up if non-technical people can learn it intuitively. But if you need support, make sure the provider offers excellent support. When tracking inbound calls, you'll need to attribute calls to multiple sources and keywords. And your software should be able to uncover customer insights with advanced reporting.
1. WhatConverts
WhatConverts is a complete lead tracking (phone calls plus chats, forms, and transactions), lead capture, and advanced reporting platform giving our users the power to see what marketing converts. It is a "single source of truth" in one central dashboard.
Our original goal was to answer three simple marketing questions . . .
Which source/medium drives the most calls? For example, source=Google and medium=CPC
Which campaigns/keywords (for Google Ads) drive the most calls?
Which landing pages drive the most calls?
It is common for most call tracking providers to capture phone call leads and tie them back to a marketing source.
But we knew there was more to measure, more insights needed to make intelligent marketing decisions. WhatConverts was built to track all inbound leads with full marketing attribution.
We focused on the complete picture of which channels were driving the most leads. Seeing only calls and not including forms or chats gives a misguided view of the most effective channels.
So we focused on all leads in one place and then built the tool and reports to reveal the insights.
As an illustration, our dashboard shows how many leads were generated (you pick the timeframe), what type of leads you're getting (calls, forms, chats, and more), and the ability to click on each channel and view the individual lead.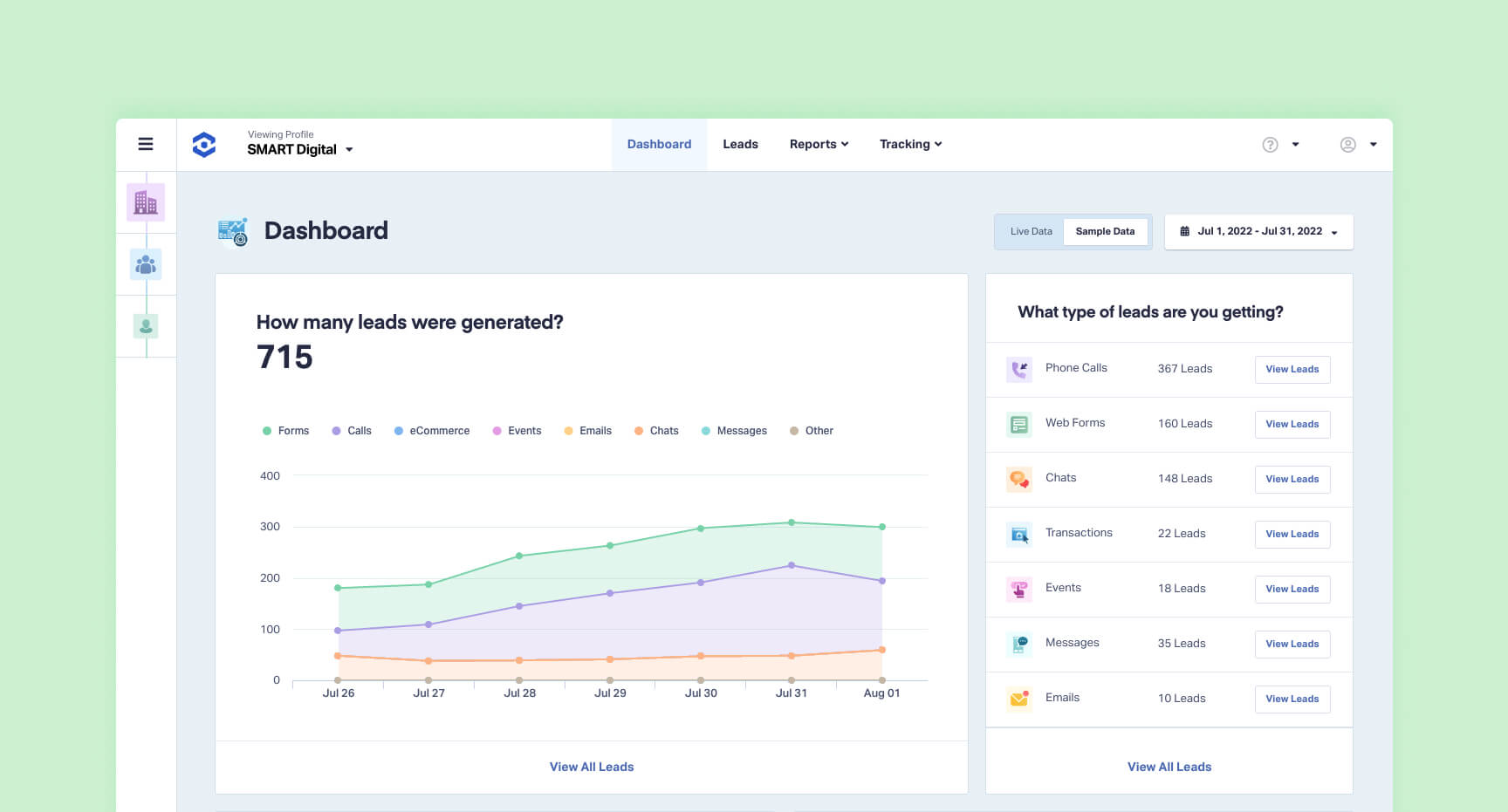 Why does that matter?
Based on our experience, we found our customers needed more details and more insights. They needed answers to more advanced questions—all leads tracked and sales value.
They started asking:
Are the leads any good? Which marketing activities generated the most qualified leads?
Which marketing activities generated the most significant sales value?
What is our best keyword and landing page that caused the most actions that converted to sales?
And the list goes on.
For example, using Google Analytics, PPC agencies can understand how many calls came from Google/CPC:

However, a better insight would be identifying how many of those were quotable/qualified and new opportunities.
Your clients will be much happier if you can provide them with the detail of who they are, what they want, and where they came from.
The intelligence of our software is that you get the answers without shuffling to another platform or using another tool. For instance, with a few filters, you can narrow your lead data to the:
Source=Google
Medium=CPC
Whether the lead is quotable = yes, no, pending, not set
Status of lead=unique lead versus repeat
And view each individual lead by clicking on the lead icon.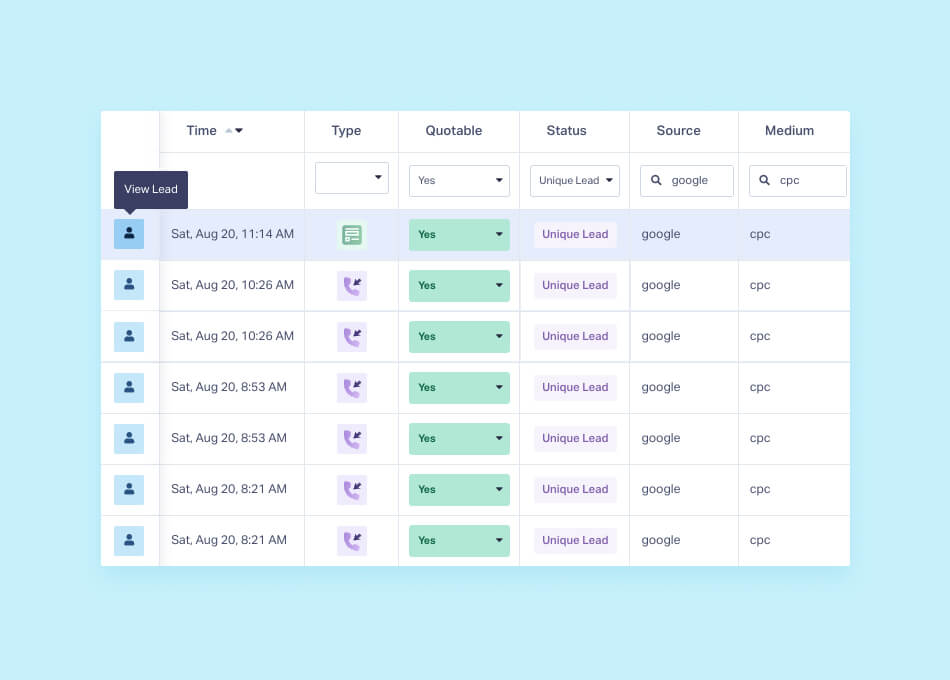 You can adjust the filters to include as many data sets as you see fit. Sales value, campaign, keyword, drill down lead type—calls, forms, chats, and more. There are actually over 70 data points to choose from. The lead table is flexible and customizable for any insights you need.
So digging deeper, you can get answers to:
How many call leads from a source/medium are qualified?
How many chat leads from a source/medium are qualified?
How many form leads from a source/medium are qualified?
You get the complete picture to draw insights and make better marketing and business decisions.
But wait, there's more.
Let's say you or your client is in the manufacturing industry. And you're starting with PPC ads as your marketing strategy.
You can take an analytic approach with your keywords and stop going after high-search volume terms that probably won't convert. And go after high-value, high-intent keywords—the clear-cut keywords your customers are searching.
For example, instead of 'electric motor,' which is a broad term and can be considered in a research phase, use a more buying intent keyword such as '32 kW siemens motor.'
And through our reporting, you can see the top keywords and top landing pages . . .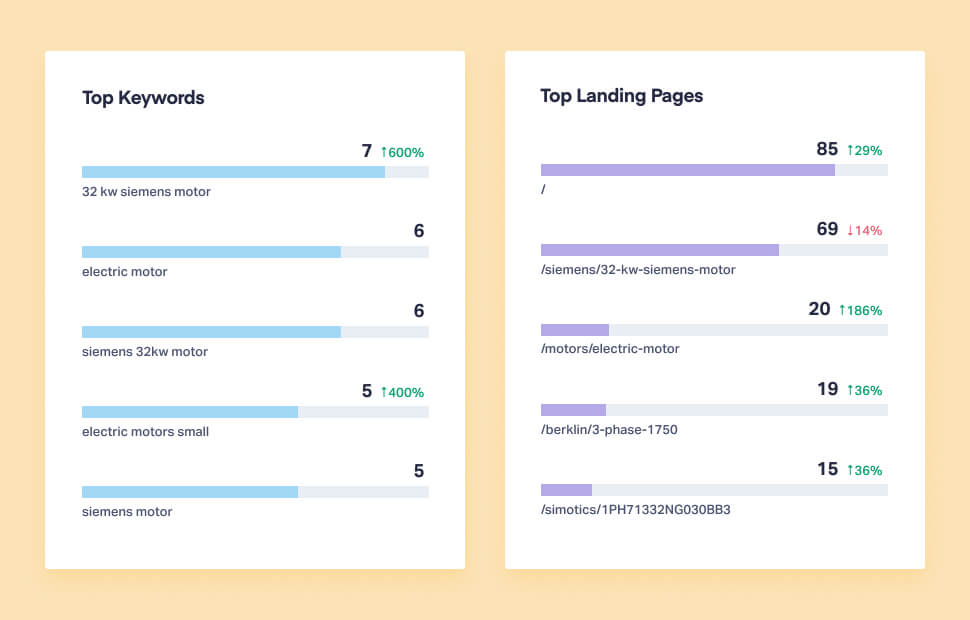 But how valuable would it be to you if you could add a sales value by keyword?
You can assign a sales value in two ways: #1. The final sales value—you enter the actual dollar amount that the lead brought in. Or #2, the potential sales value based on the product or service the lead is interested in.
The image below shows the keyword '3p motor' generated $82k+ through Google/CPC. And the top high-intent buying keyword '32kw siemens motor' generated over three times as much revenue.
Being able to double down on the best keywords that generate the highest sales value is significant.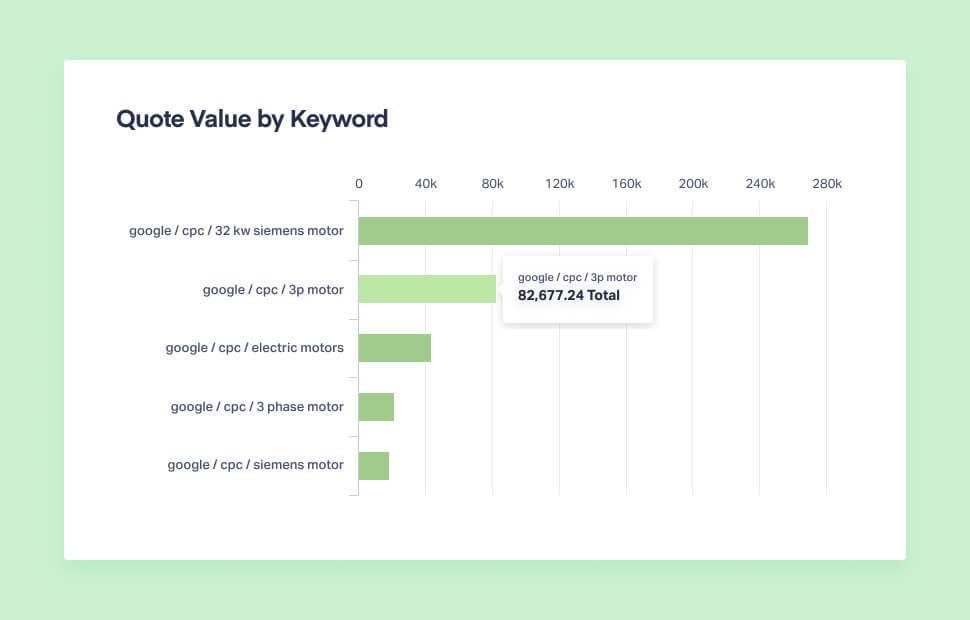 Key takeaway: WhatConverts is unique from other call tracking platforms. We concentrate on tracking all leads (calls, forms, and chats) so you have a robust lead analysis; simply put, we track more than calls. You don't need to export leads into Excel to get advanced reporting or use 3rd party tools to generate reports, and you get your complete marketing overview (with a sales value attached to track ROI).
If you want more information jump on a quick demo and get your questions answered, grab a free 14-day trial, click around our website or read a few of our top related articles.
Related content:
7 Best Call Tracking Software Apps in 2022 (How they differ)
7 Best Marketing Agency Reporting Software in 2022 (In-Depth Look)
CallTrackingMetrics was founded in 2012. It is a conversation platform tracking that allows you to see which campaigns are driving calls, texts, form fills, and chats and gives you a solid omnichannel presence.
Their subscription includes:
Call Tracking -  Discover which campaigns drive results.
Call Automation -  Route and manage calls.
Analytics -  Pinpoint growth opportunities and reporting.
Unified Communications - Track all your channels on the platform.
CallRail offers a suite of analytics and tracking applications. Users receive:
Call Tracking  Identifies the marketing campaign that elicits phone calls and intelligently routes inbound calls.
Form Tracking  Identifies the ad, campaign, or keyword that inspires a form submission.
Conversation Intelligence  Automatically transcribes all inbound and outbound calls, then uses AI to analyze them. Benefits: improve service and train staff.
It has a Lead center that helps businesses connect with customers with a unified inbox and integrated communication tools. Centralizes calls, texts, and live chat messages into a team-focused inbox with insights into how each customer found your business.
Invoca provides call tracking and conversational analytics. They are a great fit for enterprise companies.  Its solutions include:
Attribution. 1:1 attribution for campaigns that drive conversions.
Media Optimization. First-party customer data for campaign optimization.
Multi-location and Franchise. Automated conversation intelligence solutions.
Automated Quality Assurance. Spots issues so users can focus on solutions.
Agent Coaching and Collaboration. Turns every agent into your best agent.
Lost Sales Recovery. Re-engage unanswered sales calls.
DialogTech was acquired by Invoca in 2021 and offered features including but not limited to AI-driven conversation analytics, call routing, integrations, accurate call attribution technology, enterprise-class security, and compliance.
Closing thoughts . . .
Typical characteristics for call tracking software can include:
Ease of use
Intuitive dashboard
CRM integration
Call recording and transcription
Dynamic number insertion
Call greeting
Keyword level tracking
Call flows
And standard report templates (by marketing channel, campaign, keyword, and landing page.)
Going the extra step and showing clients their highest value leads is a differentiator, but adding a sales value is more helpful and aligns marketing and sales.
By assigning a sales value directly through the WhatConverts interface or a CRM, you'll tie the keyword to revenue and develop a better higher-end strategy.
Choosing the right call tracking software depends on your needs.
Not sure which is the better choice for your needs?
If you'd like to learn more about the inside workings of WhatConverts, create a free 14-day trial account or see WhatConverts in action via a live demo.