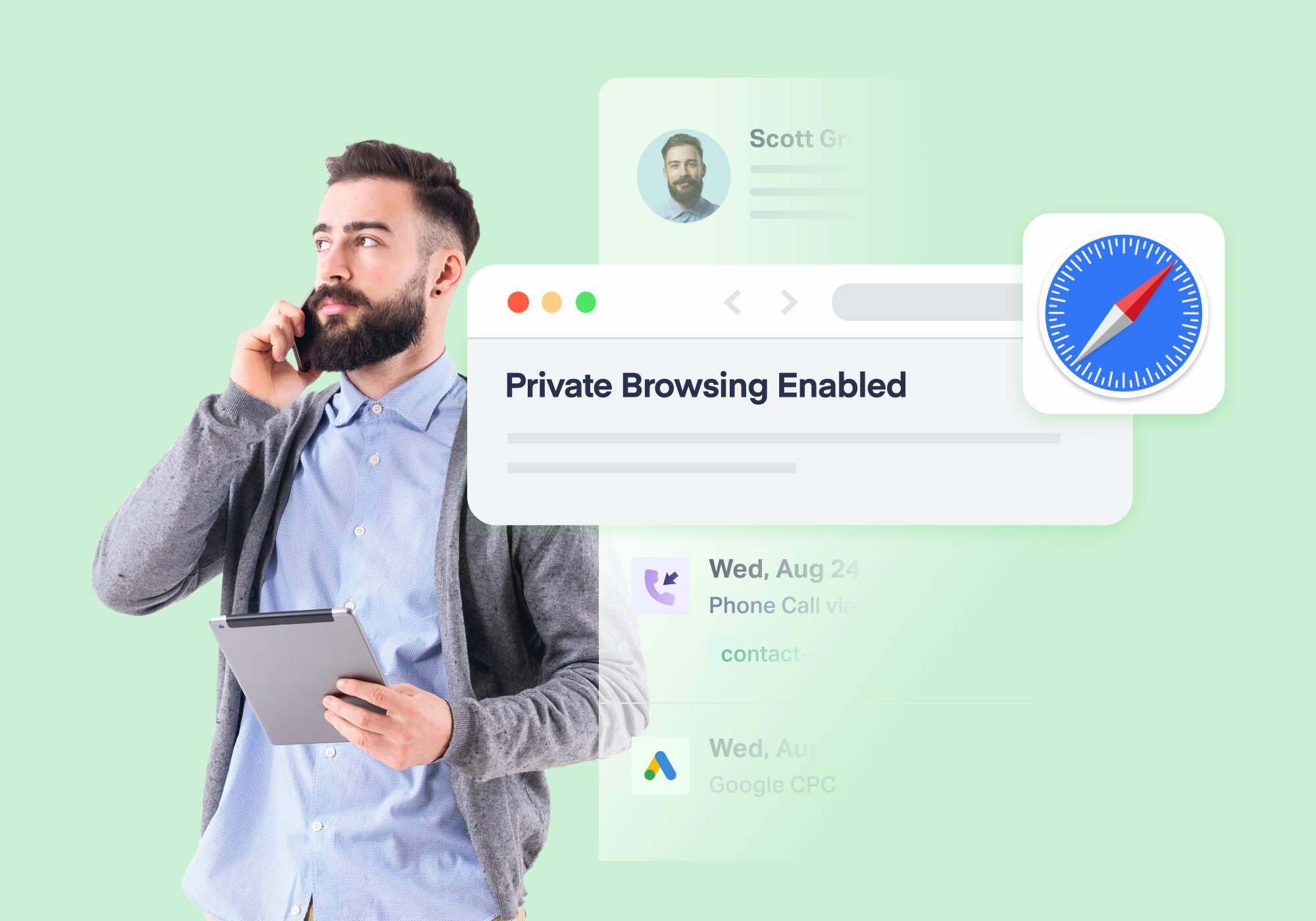 First, it was the third-party cookies. Now, your campaign tracking parameters.
In line with their push towards greater online privacy, Apple recently announced their new operating systems would automatically remove tracking parameters from URLs in private browsing mode.
This change won't affect WhatConverts users. And we're always keeping an eye on the issue so we can adjust accordingly.
But the news still has some marketers concerned.
So, what's actually affected by the change? And what are the implications for your day-to-day work, your future, and the industry as a whole?
Today we're looking at:
How Apple is changing tracking URLs
Scenarios the feature applies to
How this stands to affect marketing as you know it
And most importantly, why this news shouldn't have you worried
Now let's dive in.
A Quick Note from WhatConverts
As a marketer, you probably have questions.
Will this be on par with when Apple limited tracking from apps like Facebook?
Will it spread to desktop in default browsing modes?
How will it impact Google Ads optimization?
At WhatConverts, we know the future of marketing is always changing. And truth be told, this shift isn't something new (we'll get into that).
But it's why we've built WhatConverts on a foundation of both security and user privacy.
At the end of the day, large platforms like Google and Facebook collect a lot of data about internet users. Especially since many control 1.) individual information they collect, 2.) what advertising you're served, and 3.) what non-paid content you see.
It's a system that puts a lot of power in the hands of one platform. And it's why regulators are putting pressure on big platforms to limit tracking, especially cross-site tracking (which we don't do).
That said, we do believe there's a middle ground between not invading visitors privacy and knowing if the money you're spending on your marketing is working.
And that's right where we fit.
Alright, on to the changes.
Tracking URLs & Apple: What's Changing?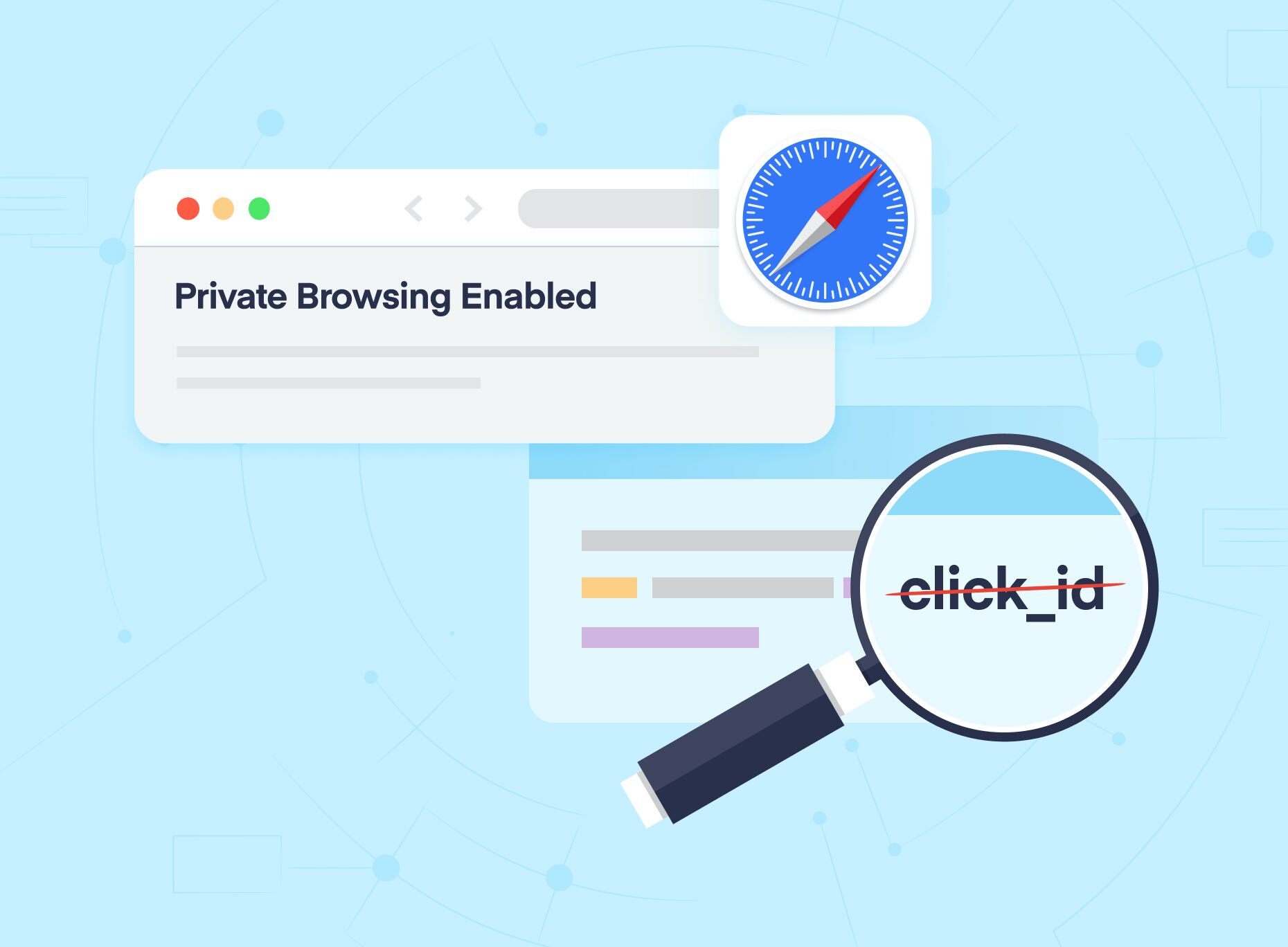 During their annual Worldwide Developers Conference, Apple announced—Link Tracking Protection—a new feature to cut down on cross-website tracking for their users.
It's just one more Apple feature in a long history of privacy protection measures the company has released.
Essentially, this feature automatically scrubs tracking parameters from URLs accessed by and shared by its users.
Apple shared a video for developers that outlined the feature in more detail.
In it, they gave an example of a URL with tracking parameters:
https://example.com/ad_engagement?

click_id

=

YmVhODI1MmZmNGU4

&c

ampaign_id

=

23
And then an example of what that same URL would look like with Link Tracking Protection activated.
https://example.com/ad_engagement?

campaign_id

=

23
As you can see, Apple will remove only the user-identifiable components.
Examples of identifiable components include:
Email address
click_id
customer_id
user_id
However, it leaves nonidentifiable components intact.
Examples of nonidentifiable components include:
campaign_id
referrer
utm_source
We can't be 100% sure of which tracking parameters will be removed until the update is released in September—Apple is known for keeping their cards close to their chest. But it seems from the presentation that a lot of useful tracking information will still be available, even after scrubbing.
When Does Apple Remove Tracking Parameters?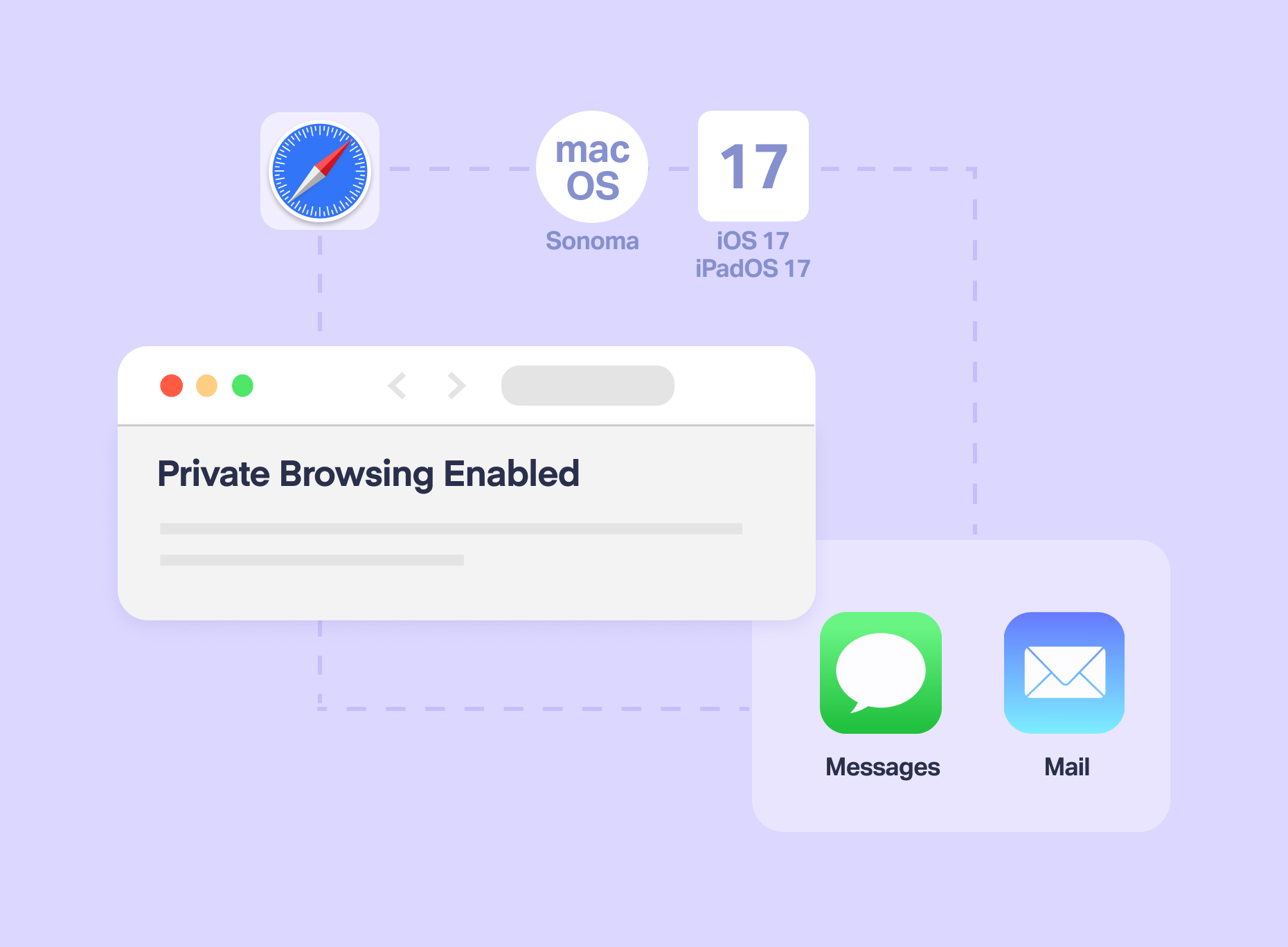 Here are the scenarios in which Apple will automatically remove tracking parameters:
On devices running iOS 17, iPadOS 17, and macOS Sonoma
Within Safari while in Private Browsing Mode
On links shared within Messages and Mail apps
Users can also enable the feature for regular Safari browsing, but it will not be activated in regular browsing by default.
Users can also turn off the feature if they prefer not to use it at all.
So to be clear, Advanced Tracking and Fingerprinting Protection does not apply to:
Other browsers without a similar feature used on Apple devices
Non-private mode browsing on Safari (unless activated)
Devices that aren't running iOS 17, iPadOS 17, or macOS Sonoma
And as we'll see, that leaves plenty of room for (marketing) business as usual.
How Many People Will This Change Affect?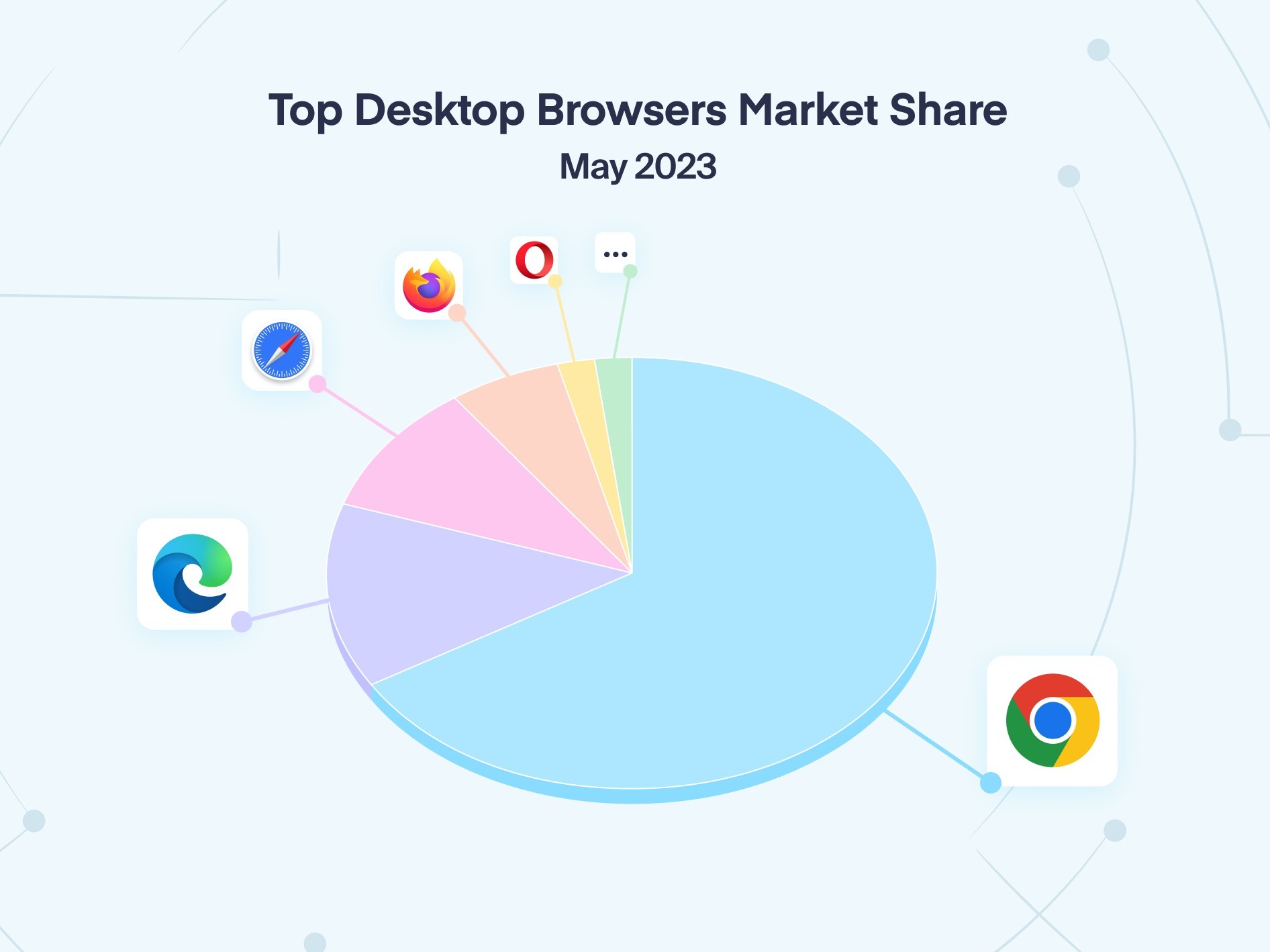 As it turns out, not as many people will be affected by this change as you might think.
And that has to do with browser usage.
According to Similarweb, usage of Safari on desktop is pretty rare. In fact, a user is nearly 7X more likely to use Chrome than Safari.
Here's the desktop browser share breakdown as of May 2023:
Chrome: 66.58%
Edge: 13.54%
Safari: 9.78%
Firefox: 6.13%
Opera: 2.39%
Other: 1.58%
Mobile on the other hand is a different story.
Given that Safari is the default browser for iPhones (the most popular phone in the US with 57.22% of the market share), it isn't any surprise that more mobile users browse on it.
But even still, it gets just over half the usage of Chrome according to the stats.
Chrome: 60.66%
Safari: 33.21%
Samsung Internet: 3.61%
Opera: 1.28%
YaBrowser: 0.49%
Other: 0.76%
Don't forget, this doesn't show how many people are using Private Browsing Mode. The numbers there are fuzzy. And one study found that under 15% of teens were permanently in incognito mode. But it's safe to assume that even if half of users only browsed privately, it still wouldn't be a doomsday scenario because marketers would still receive sufficient actionable data.
Other Browsers Are Already Removing Tracking Parameters
Also worth mentioning is the fact that removing tracking parameters isn't new. And other browsers have already been doing this for years.
Firefox is the most notable.
Since Summer of 2022, Firefox has offered a similar feature called Query Parameters Stripping. It too will automatically remove portions of tracking URLs to protect against cross-site tracking. And though it wasn't turned on by default, the feature made it easy to keep out tracking parameters without being in incognito mode.
But two years before Firefox, the browser Brave implemented a similar feature that removed tracking from Google, Facebook, and Microsoft.
It turns out Apple wasn't first to the privacy party.
Should You Be Worried About These Changes to Tracking URLs?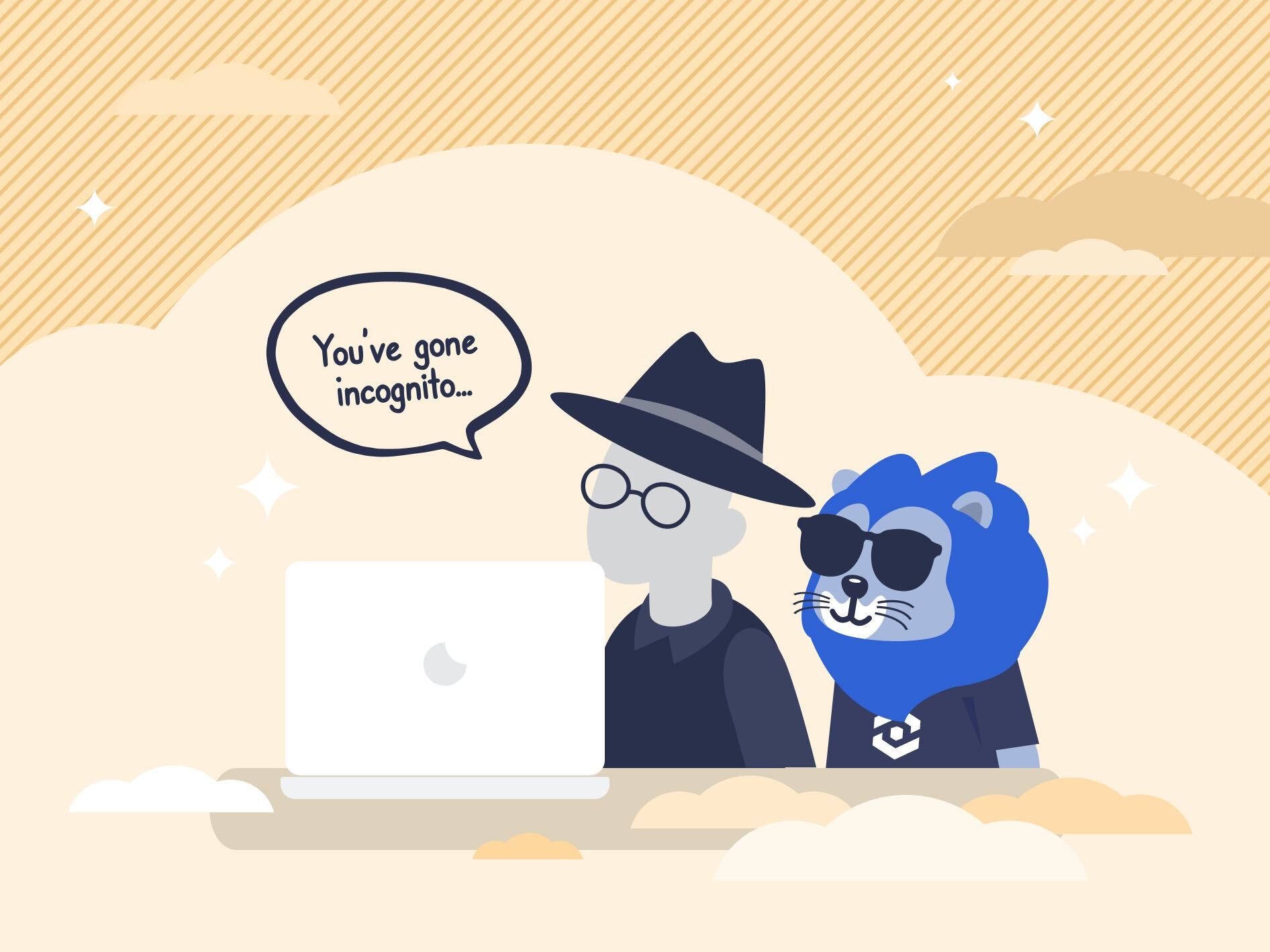 Now for the million-dollar question—should you as a marketer be worried about this?
And the short answer here is no. Not right now.
Apple's new feature is a step towards an untrackable online world. But it's a tiny step.
And it's one that isn't actually going to change the game for marketers like you.
Safari has a very small portion of the market share when it comes to browsers. And this feature is only active during Private Browsing Mode, which most people aren't using constantly.
But there are a few more reasons why marketing as you know it isn't going to change forever.
1. Not All Data Is Lost
It's worth remembering that not all tracking parameters are removed from URLs here.
Instead, it's only user-identifiable components.
Once the update rolls out, you'll still be able to measure the effectiveness of your campaigns based on conversion tracking. And if you have lead tracking software that's staying ahead of the curve (more on that in a second), you'll still be able to get the information you need to optimize your marketing.
2. Not All Browsers Are Set To Follow
Tracking (to some degree) is essential for marketing as a whole.
Without it, we wouldn't be able to:
See which campaigns are working
Understand if our marketing is worth the investment
Know if we're speaking to the right audience or just shouting out into the ether
But marketers are also essential for browsers.
A big part of a browser's yearly earnings come from royalties paid by their own advertisers. Those advertisers pay to appear on search engines, banner ads, and other ads hosted on the platform.
If a browser like Chrome were to completely remove all ability to track their users, then their income would dry up just as fast as any marketer's.
It's unlikely, then, that more browsers are planning on doing the same thing as Safari.
3. Not All Lead Tracking Comes from URL Parameters
Finally, there are other ways to track leads besides URL parameters.
And the best lead tracking tools are the ones that use them.
For instance, WhatConverts uses first-party data to help marketers better understand their leads. Not to be confused with third-party cookies, this cookie type is completely unaffected by recent cookie policies from companies like Apple, Mozilla, and Google.
Only working with first-party data enables us to put data privacy first, offer more user security, and still provide the most comprehensive lead tracking in the industry.
And yes, even with URL parameters gone in Safari, we can still give you the insights you need to prove and grow your marketing ROI.
Wrapping Up
Apple scrubbing out tracking URLs is not going to lead to a major shift in marketing.
It's a change, yes. But it's a minor one.
It also stands to affect a very slim number of users—and an even slimmer number of marketers.
So as long as you have the right tools, you can keep getting the insights you need to stay ahead of the curve.
Ready for better lead tracking? Start your free 14-day trial of WhatConverts today!