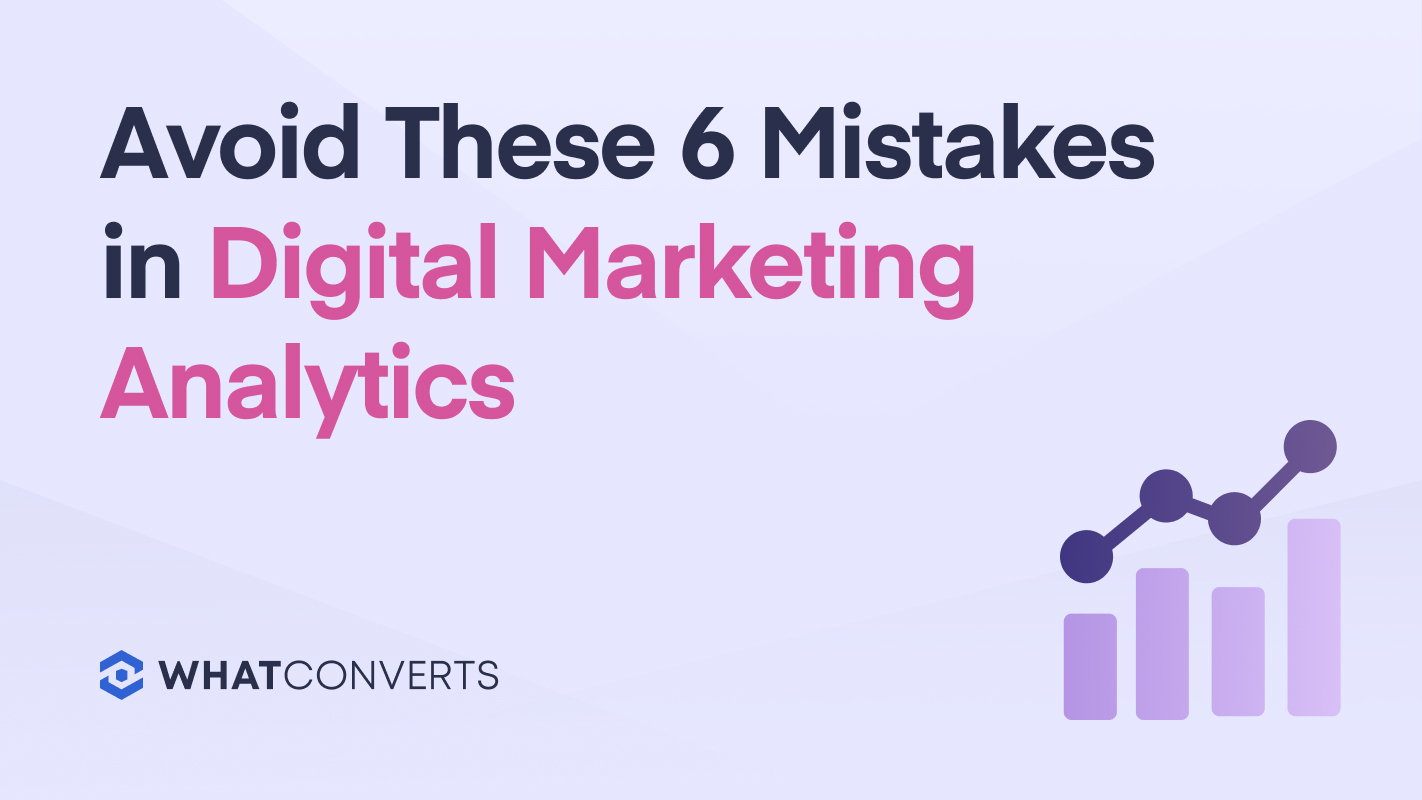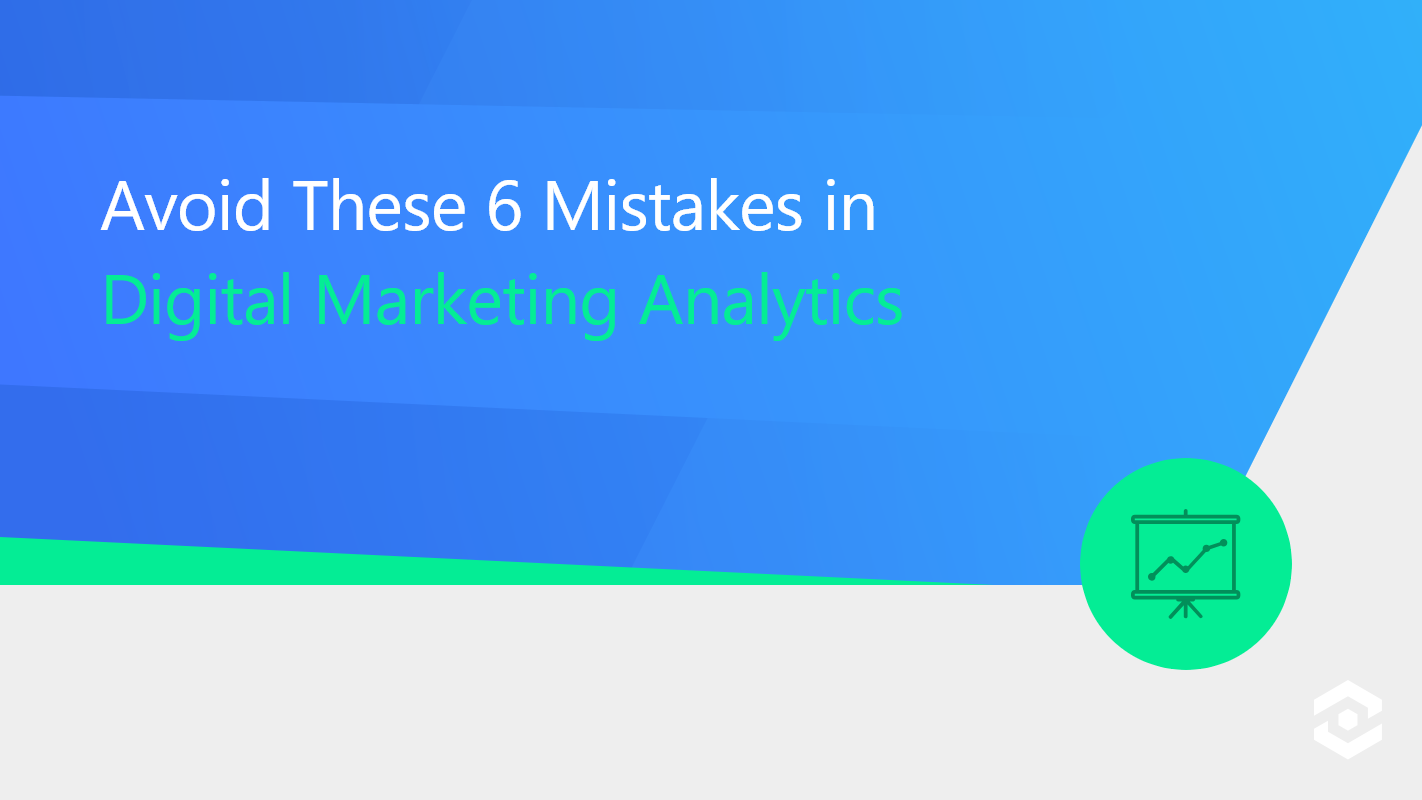 You spend a lot of time on marketing efforts. How do you prove that your efforts are working?
A digital marketing analytics help marketers prove success, but if you're using the analytics wrong, you might not be able to show much success at all. The sooner you improve your analytics habits, the sooner you'll be able to prove your marketing ROI and make accurate assessments.
According to the Harvard Business Review, marketers spend about 10 percent of their budget on marketing analytics. The only way get ROI on that investment is make sure those analytics show the full impact of your marketing efforts.
Ready to show exactly how much your marketing efforts affect the company's bottom line? Make sure you're not making these six common marketing mistakes.
1

Using Marketing Language Instead of Sales Language

One common mistake is to examine analytics in the language you're familiar with; the language of marketers. Marketers tend to judge success through the lens of marketing metrics, while board members, clients and CEOs judge success through the lens of sales, leads and monetary value.

When examining analytics, marketers must look at marketing metrics like,
Website visits
CTR
Session duration
Impressions
Bounce rate
Pages Per Visit
And translate them into sales metrics like:
Leads
Lead Value
Lead Quality
If you can connect traditional marketing analytics with sales metrics, you'll have no problem proving the business value of your work.
2

Failing to Realize that Not All Leads Are Created Equal

A marketer's primary concern isn't driving the most leads; it's identifying the marketing sources that drive quality leads. The point of marketing analytics is to use the insights to allocate marketing spend to channels that attract customers who are likely to convert.

When tracking leads and analyzing lead quality, always follow the data back to see where those leads came from. Which marketing sources are driving useless leads, and which sources are driving high-quality, high value leads? Make sure your analytics software gives you the ability to mark leads as "qualified" or "quotable."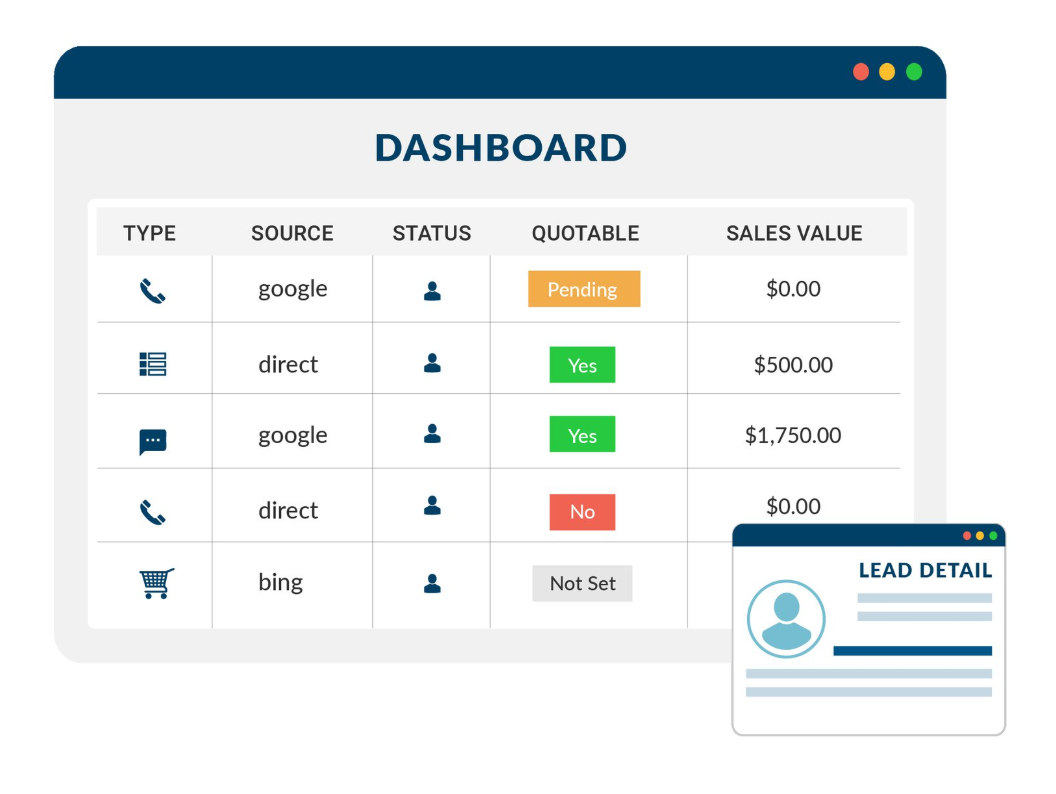 Once you know which marketing sources drive quality leads, you can confidently funnel marketing dollars back into those sources, completing the loop on successfully measuring marketing campaigns and setting a profitable plan for the future.
3

Letting Sales Have All the Fun With the CRM

Think of your company's CRM; it's a lead management system that salespeople use to turn leads into revenue for the company. Now think about your role as a marketer. Like salespeople, marketers are often judged on revenue — how often have you been asked, "what's the ROI on this marketing channel?"

Unlike salespeople, however, many marketers don't take advantage of tools that track, manage and report on leads. In fact, just 44 percent of CMOs report being able to measure marketing ROI.

Marketers are judged on how they can connect their marketing effectiveness to actual revenue, and should use a CRM-like tool to connect marketing to leads and sales. Marketers can demonstrate value by proving which marketing channels drive the best leads, assigning a value to those leads, and using that feedback loop to reinvest in the most effective marketing channels.
4

Not Including Data in the Decision Making Process

Data tells you which marketing channels work, but just 22 percent of marketers report using data-driven marketing successfully.

When your marketing data is integrated with your CRM, you can filter sales by marketing channel, by lead quality, sales value, and conversion type. That's a lot of information connected to a customer, and it will help you market to more, similar customers who are likely to buy your product.

Having access to sales and customer data allows you to identify insights that can motivate more aggressive marketing spend and increase growth. Even if you don't have direct access to sales data, you should at least examine marketing results in terms of lead data — thereby accomplishing the same goal of connecting marketing objectives to sales objectives.
5

Using Standard Reporting Over Customized Marketing Reporting

Every business has unique problems, but most standard reports — such as those from Google Analytics — only provide a general overview of marketing success. Reports like this aren't interrogation-proof; that is to say, the data doesn't hold up under intense scrutiny. Standard reports can't answer questions such as:
Which marketing source brought in this specific customer?
Which of my landing pages are driving the highest quality of leads?
Which keywords are bringing in leads that end up making purchases over $1,000?
If you're getting asked specific questions about your marketing, you need customized reports to provide customized answers.
6

Forgetting to Close the Loop

If you're tracking every lead, conversion and customer, you should be following a trail of breadcrumbs all the way back to the original marketing source that brought you a customer. That allows you to identify the marketing sources that reaching the kind of person that buys your product; not just the kind of person that completes a conversion action but doesn't end up making a purchase.

Once you've got lead tracking setup and can track all this information, it's easy to budget out your marketing plan for the future and be confident that you're investing in the right channels. By repeating this cycle of identifying profitable marketing channels and reinvesting in them, you can help amplify marketing ROI exponentially.

No matter how powerful your marketing reporting tools, all marketing analysis should start with a solid foundation of lead capture data. The more data you have about your leads, the easier it is to replicate the process that brought those quality leads in the first place.