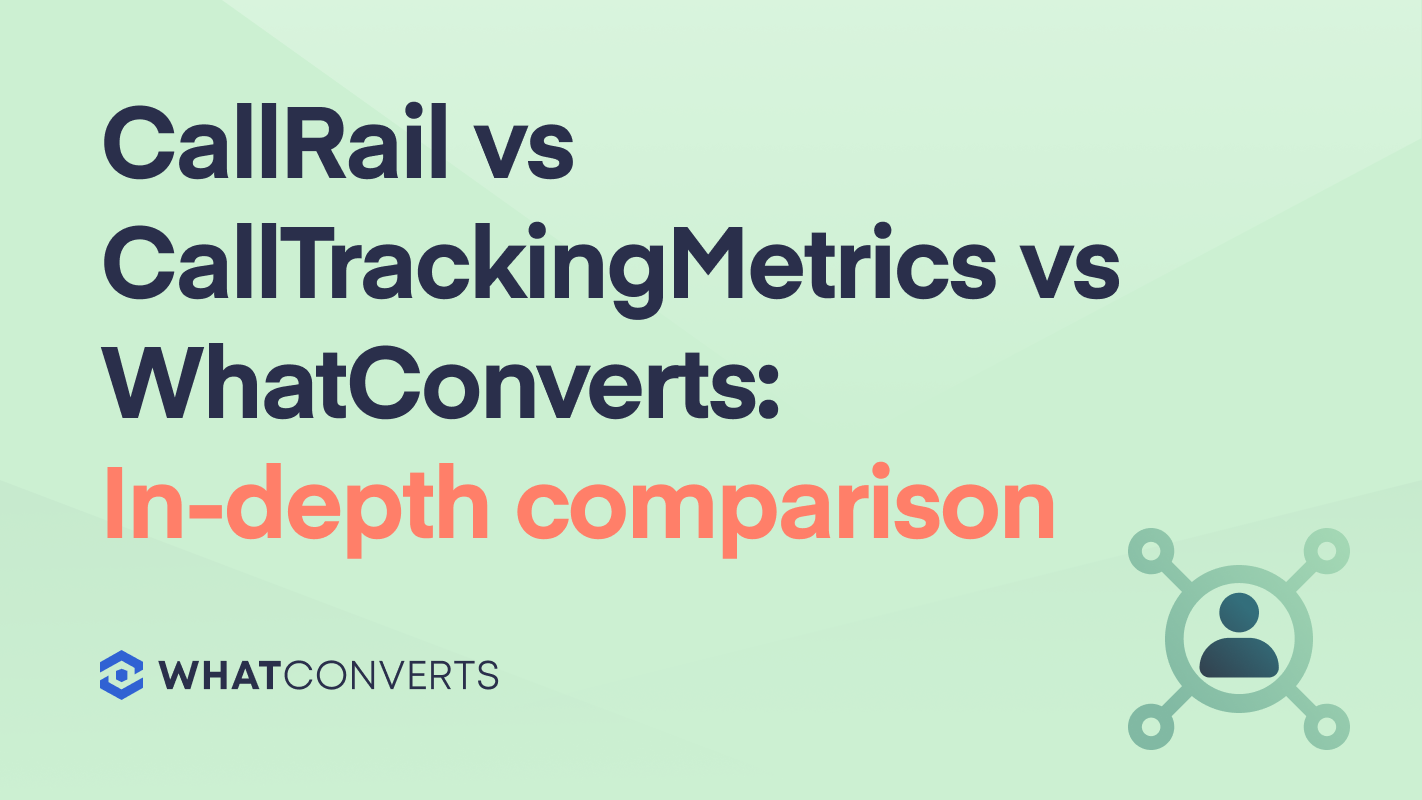 When quickly looking at the websites of CallRail, CallTrackingMetrics, and WhatConverts (our call tracking software), it can look as though all call tracking solutions are all pretty similar.
But there are significant differences between these three call tracking solutions, such as:
How easy is it to understand what marketing is driving the most calls?
Do you have to export data to a spreadsheet to do analysis or can you answer questions about call tracking quickly in the software?
How easy is it to generate call and lead reports for clients or management without 3rd party reporting tools?
In this post, we dive into these differences from the lens of our call tracking solution, WhatConverts, and how it differs from CallRail and CallTrackingMetrics.
We hope that by the end, you can better understand which solution is right for you.
If you decide that WhatConverts is the best solution for your business, you can sign up for a free trial or request a demo here.
Differentiator #1: With WhatConverts, you don't need to export your leads into Excel to get advanced insights about which marketing activities are driving calls.
In all three call tracking softwares, including our own, you can access standard reports that let you answer simple questions about the marketing activities that are driving the most calls.
For example:
Which source/medium drove the most calls? (i.e. 12 calls from Google Ads, 5 calls from Facebook Ads, 2 calls from Google/Organic, etc.) 
Which campaigns, keywords, and ads drove the most calls for paid search?
Which landing pages drove the most calls? (i.e. For an agency working with a dentist, 8 calls originated from the URL example.com/dental-implants, and 3 calls originated from the URL example.com/teeth-whitening.)
Here's a Calls by Source/Medium report that you can quickly pull up with WhatConverts: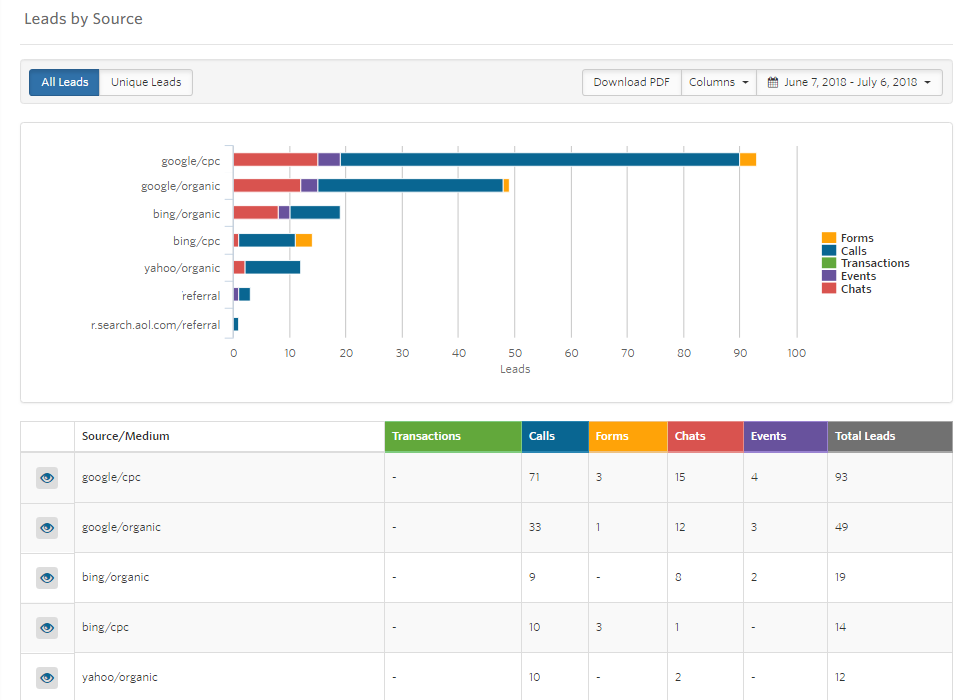 And here's a Campaign & Keyword report (to see the campaigns and keywords that generated the most calls for paid search):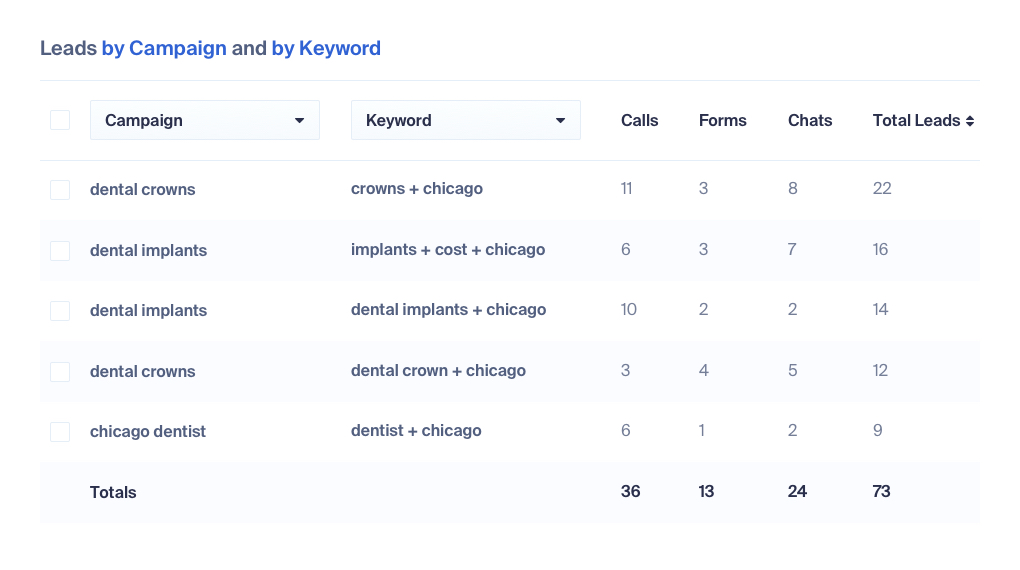 But after working with over 10,000 companies and agencies doing call tracking, we've noticed that almost everyone who starts answering these simple questions about call tracking eventually wants to answer more advanced questions.
This is where WhatConverts shines and stands out from competitors.
Simple vs. Advanced Call Tracking Questions
For example, a simple question would be, "How many calls came from Google Ads?" 
An advanced question would be:
"How many quotable (aka qualified) calls came from Google Ads, and how many of those were new customers (versus existing customers calling for service?"
This is a totally valid question that clients or management can (and should) ask to more accurately measure ROI and determine which marketing activities are generating not just the most leads (which is a misleading number) but the highest quality leads.
With WhatConverts, per the below screenshot, you'd just select the relevant filters, for example:
"Source" → Google
"Medium" → CPC
"Quotable" → Yes
"Status" → Unique
From there, call leads that match that criteria will show up.
It's as easy as that.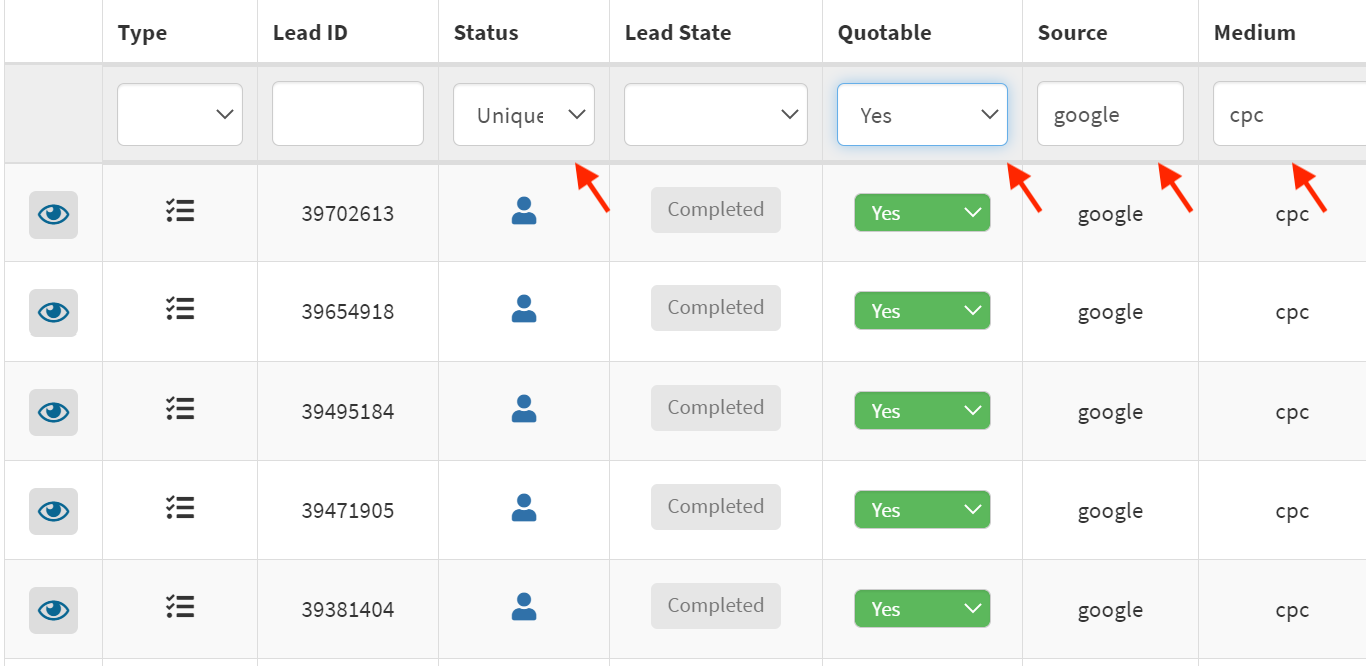 Other advanced call tracking insights that you can get inside WhatConverts (without needing to export leads into a 3rd party tool like Excel) include:
The campaigns, keywords, and ads that generated the highest sales value (for Google Ads).
The products or services that generated the most call leads (i.e. For a car dealership: What make, model and year of car received the most leads).
Which keyword/ad/landing page combination delivered the most valuable call leads.
Note that any set of filters you apply can be saved for easier future reference.
Also, in just a couple clicks, you can turn any of the analysis tables above into a saved report that can be sent to clients or management on a recurring schedule, saving a lot of analysis time. This takes us to the second differentiator of WhatConverts.
Differentiator #2: With WhatConverts, you don't need 3rd party tools to generate reports.
(You can create any report inside our platform and save, schedule, or edit it easily.)
Since a lot of call tracking is done by marketing agencies on behalf of clients, reporting is an essential feature of a good call tracking solution.
Specifically, you should look for the ability to generate any kind of report you want with ease, and without having to export data to Excel or a third party reporting tool like Google Data Studio or Agency Analytics.
Here, WhatConverts stands out in much the same way as the first differentiator: beyond built in reports for simple analysis (i.e. calls by source/medium), WhatConverts lets you create custom reports to answer any question or do essential analysis on your calls and leads in a few clicks, with no exporting of data required.
For example, it's easy to create a report showing calls by landing page in any call tracking tool, but what if you or your clients were curious about calls by landing page from only Google/Organic — to see how SEO investment is paying off.
Most call tracking software can't modify existing reports to answer a question like this.
Users have to export the data to a spreadsheet or some other tool, sort by source and medium, then manually remove the calls from paid channels, direct, referrals, etc. leaving behind only Google Organic calls.
You'd then have to graph this, and manually copy and paste it into a PowerPoint presentation.
Agencies often have entire days or weeks every month dedicated to staff doing this kind of manual analysis.
But in WhatConverts, generating a report that sheds light on an advanced question  such as:
"What are the landing pages from Google/Organic that drove the most calls?"
It only takes just a couple of clicks: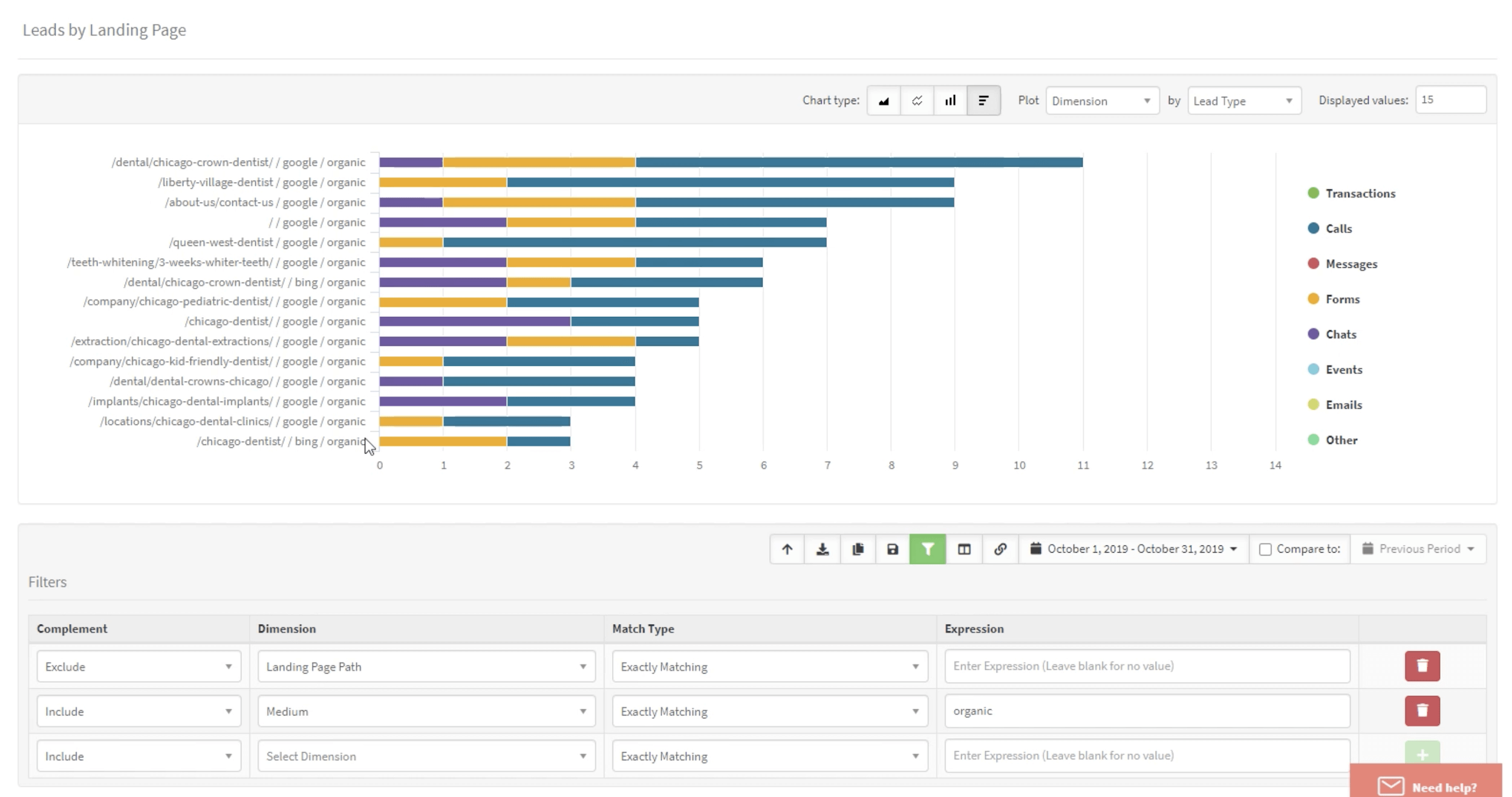 Note: This is just one example of an advanced, custom report. There are others.
Say you ran Google Ads for that dentist and wanted to generate a report that answered:
"What is the combination of Keyword + Ad + Landing Page that drove the most calls?"
You could do that as well: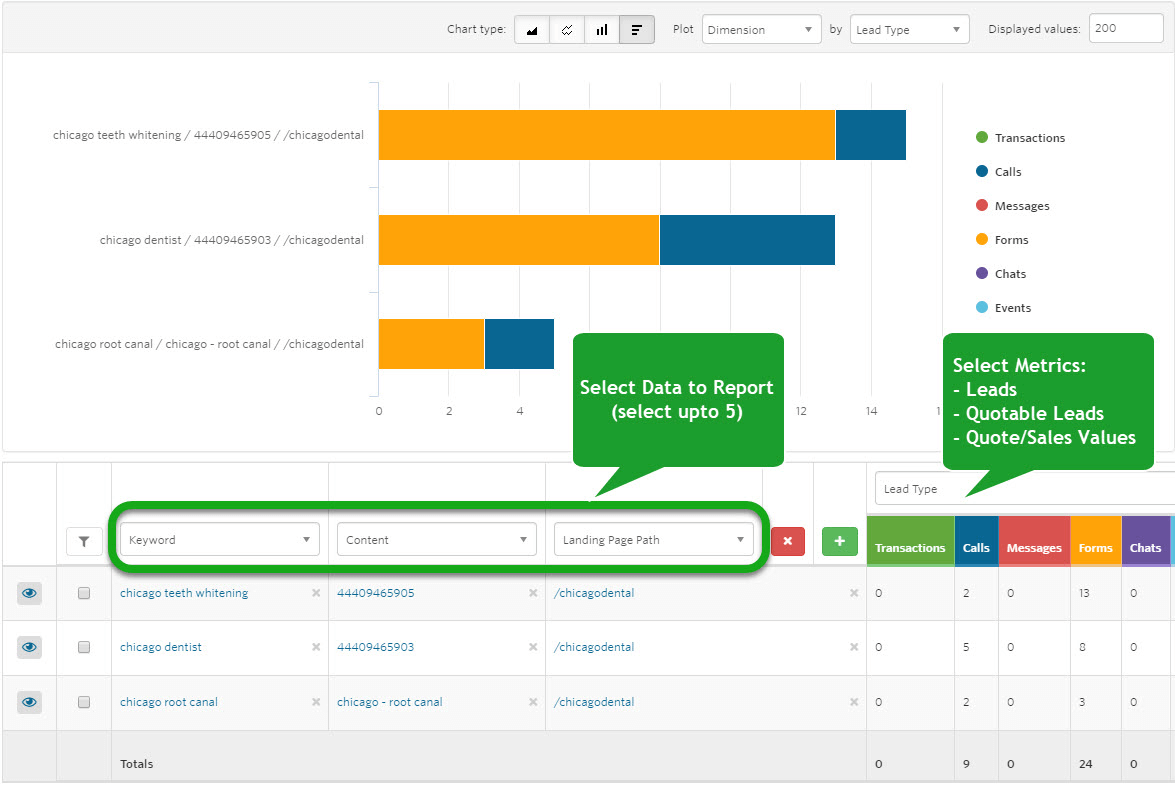 Or, say that dentist offers a variety of treatments (i.e. Dental Crowns, Dental Implants, Teeth Whitening, and so on). You could generate a "Calls by Appointment Type" report.
In the example below, 24 callers inquired about "Dental Crowns", 11 callers inquired about "Dental Implants", "Teeth Whitening" brought in 10 calls, and so on.
This type of report speaks the dentist's language — it's more impressive than a simple "Here's the number of calls" report, and it will differentiate you as an agency.
You'll close more deals, and keep existing clients happy.

In essence, any advanced question that a client or management has about where calls are coming from can be answered, and turned into a report — all inside WhatConverts, without adding external tools to the mix.
In addition, any custom report can be saved and scheduled to be sent on a recurring basis to relevant parties: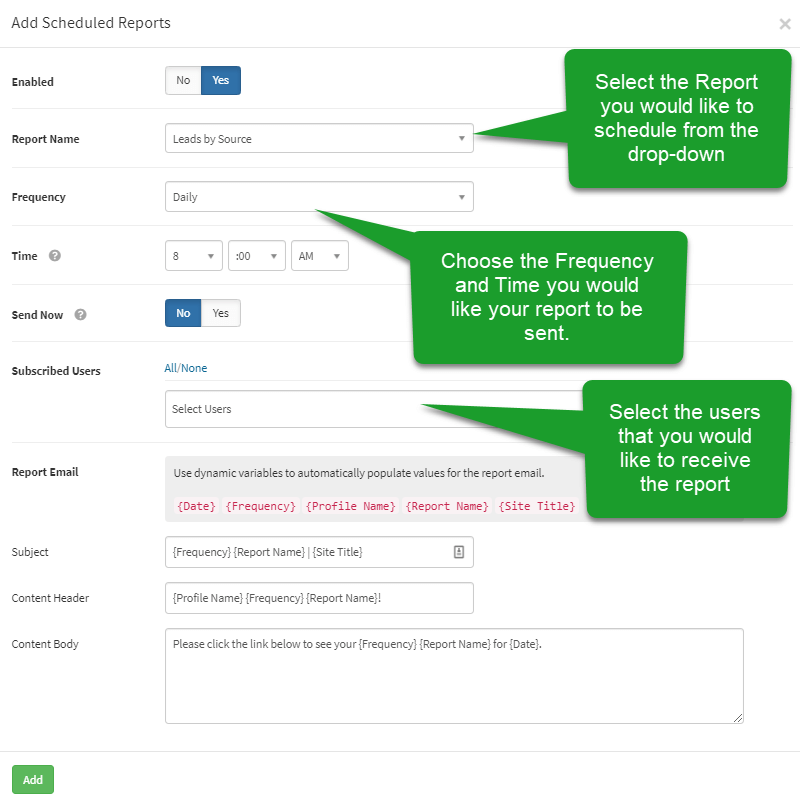 Differentiator #3: WhatConverts Lets You Track Call, Form, and Chat Leads in One Place, Giving You a Holistic Analysis of Marketing
(Versus Having Call Tracking Siloed)
Most marketers track their form conversions in one place (i.e. Google Ads dashboard, Google Analytics, etc.), chat conversions in another (i.e. Intercom), and phone conversions in a call tracking provider.
This can be problematic for two reasons:
You'll waste several hours creating reports. Having run an agency prior to building WhatConverts, come reporting time, we used to open up Excel and constantly cross reference it with Google Ads, Google Analytics, Intercom, and our call tracking software (at that time it was CallRail). We would then feed this information into a 3rd party reporting tool. It was an extremely tedious and time-consuming process.
Different tools show different conversion numbers. For example, Google Analytics may show different conversion numbers than what Google Ads or Facebook Ads report. There isn't one, accurate central picture of what was going on.
But what if you could gain insights and report on all lead types, including calls/forms/chats in one place?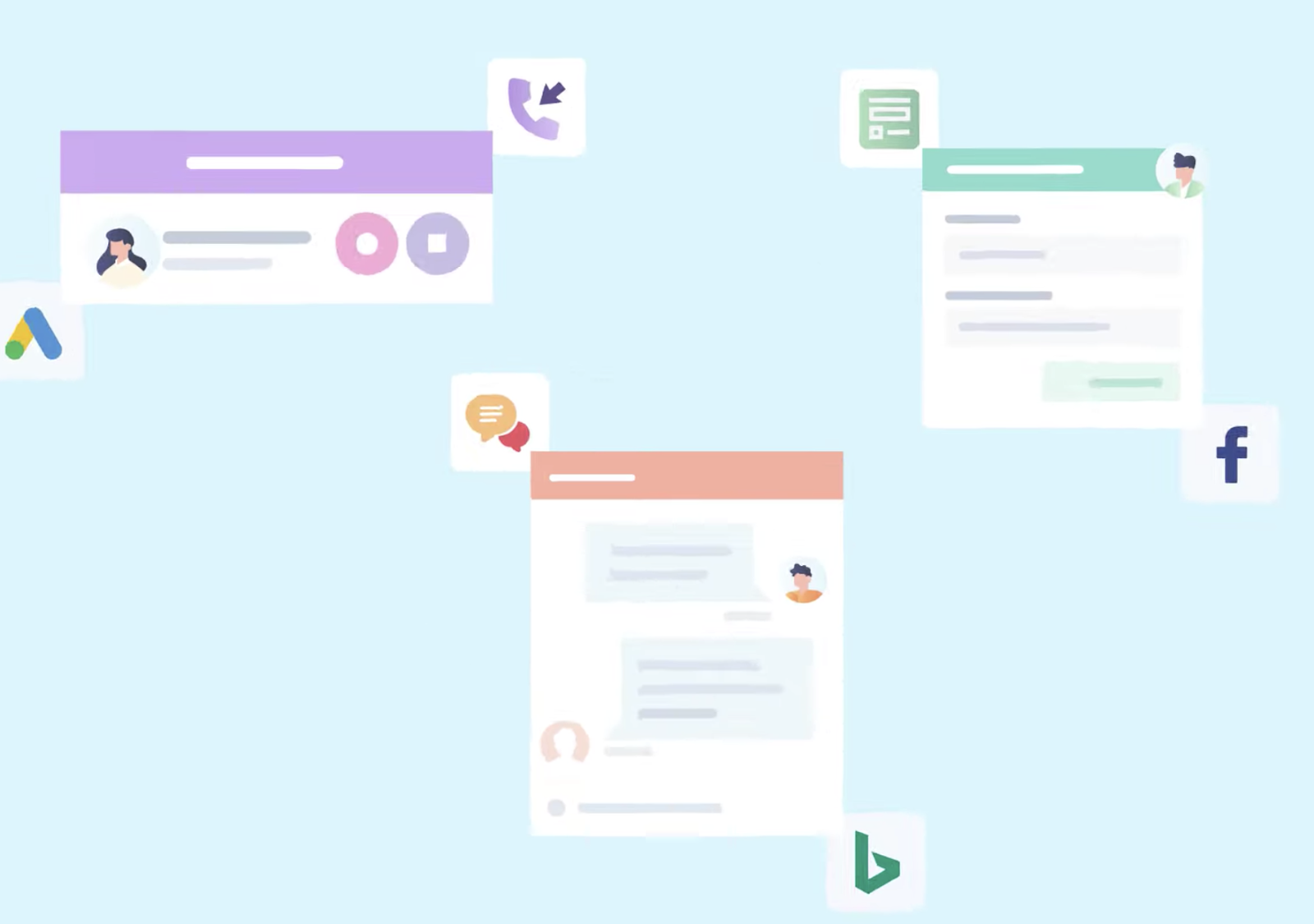 WhatConverts makes this extremely easy, and just like with call leads, you can identify the marketing activities that are driving the most form and chat conversions.
For example, want to know how many Google Ads conversions originated from forms? Per the below screenshot, all it takes is selecting the appropriate filters:
"Type" → Web Form (or Call or Chat)
"Source" → Google
"Medium" → CPC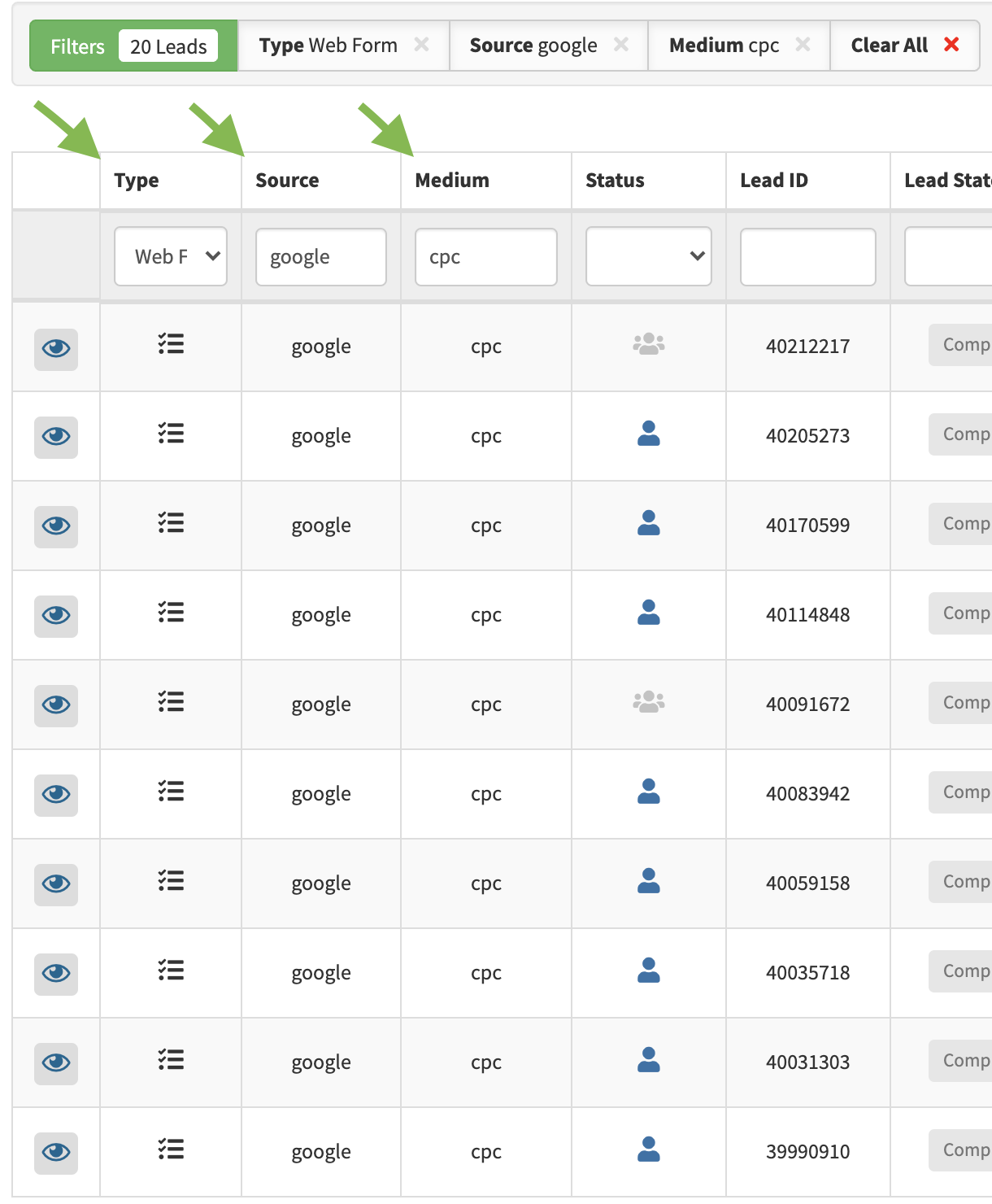 If you don't select a specific filter (Call or Web Form or Chat) for the "Type" column, then the table will show you all the leads you generated in a certain time period, regardless of the conversion type.
Note: Interested in trying out WhatConverts? Sign up for a free trial or request a demo here.
Related Articles