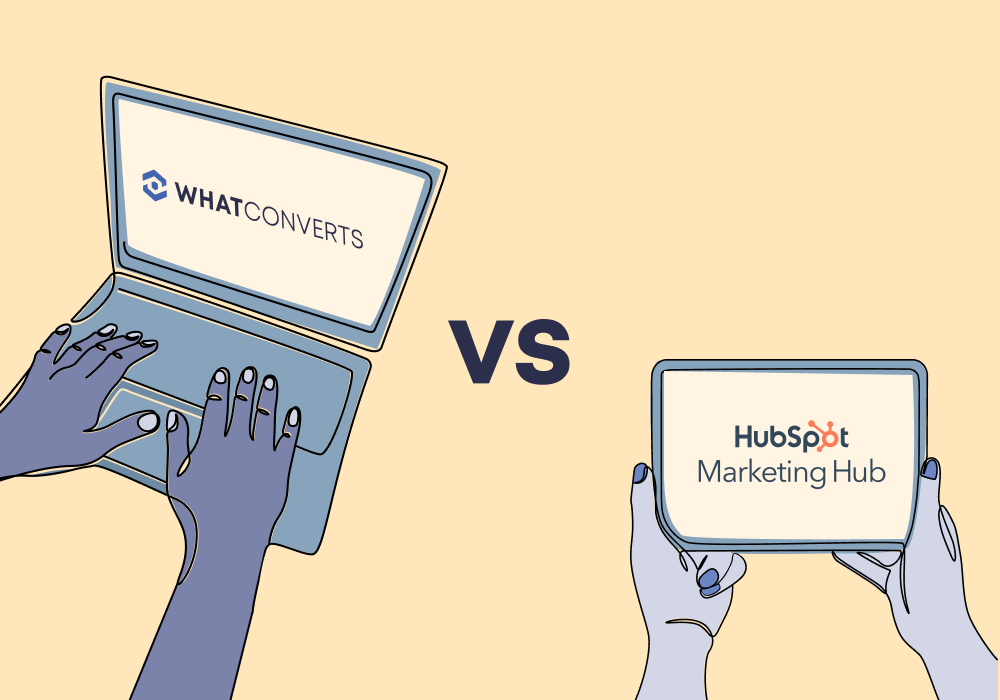 HubSpot Marketing Hub and WhatConverts are two valuable marketing tools businesses can use to track their leads and analyze their marketing efforts. But although they are both beneficial for marketing optimization, their functionalities are very different. Both collect leads and marketing attribution data and have reporting and features, so it seems they do the same thing on the surface. But the types of leads they capture are varied. So, the platform that's best for your business will depend on your specific category of leads.
Understanding the differences in how each tool operates and the features available is crucial in helping your business achieve its marketing goals. In this article, we'll provide you with a detailed comparison of HubSpot Marketing Hub and WhatConverts, including their features, main differences, and pricing plans to help you choose the best software for your business needs.
The primary differences between HubSpot Marketing Hub vs. WhatConverts
Quick Answer:

If you need 'call tracking for marketing' - WhatConverts is the best choice
The primary difference between HubSpot Marketing Hub vs. WhatConverts is the type of leads they are tailored to. Marketing Hub aims to convert a contact into a sales opportunity through marketing automation. It helps businesses to optimize their lead nurturing through automated engagement campaigns. On the other hand, WhatConverts captures data from those who are already ready to buy, so you can use that data to tailor your marketing strategies to attract more leads with strong purchase intent. That way, you can optimize your campaigns and marketing budget based on what your target market is actually looking for so that you invest in marketing strategies that are more effective.
WhatConverts top features
WhatConverts is a tailored lead-tracking software for marketing that is designed to help businesses track and analyze lead communications to improve and optimize marketing campaigns. What really sets WhatConverts apart from other lead management tools is the wide range of lead engagement tracking features that provide a deeper insight into lead behavior. The most notable features of WhatConverts include:
Multichannel Lead Tracking
You can track your leads all the way back to the PPC campaign and keyword that brought them to your business in the first place and capture data on pages visited and marketing attribution points. These features enable you to build highly in-depth customer journey profiles for your leads, giving you a huge range of touchpoint data to use in your marketing campaign creation. Once captured, you can take advantage of WhatConverts lead management features, which include the ability to qualify, value, and filter leads, and export them to your CRM if required.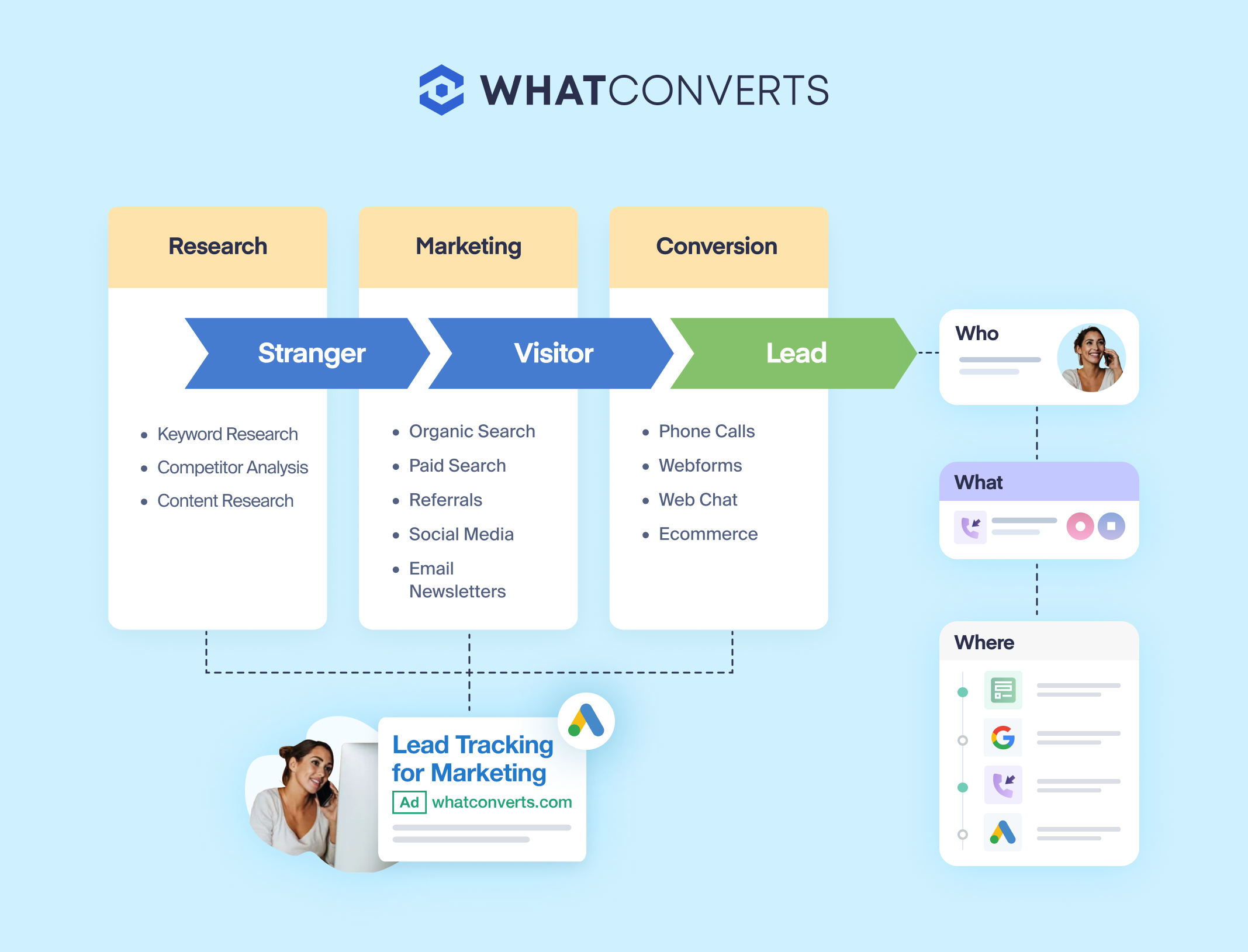 HubSpot Marketing Hub's top features
HubSpot Marketing Hub's top functionalities are geared towards inbound marketing automation. This includes various tools for creating, managing, and measuring marketing campaigns. Some of the features of HubSpot Marketing Hub include:
Content management system
Email marketing
Social media management
SEO tools
Landing pages
Lead management.
HubSpot Marketing Hub also offers a variety of analytics capabilities, allowing businesses to track the performance of their content campaigns and make data-driven decisions. Keep in mind that to access the full range of features available from Marketing Hub, you will need to invest in their higher tier packages, which we will touch on down below.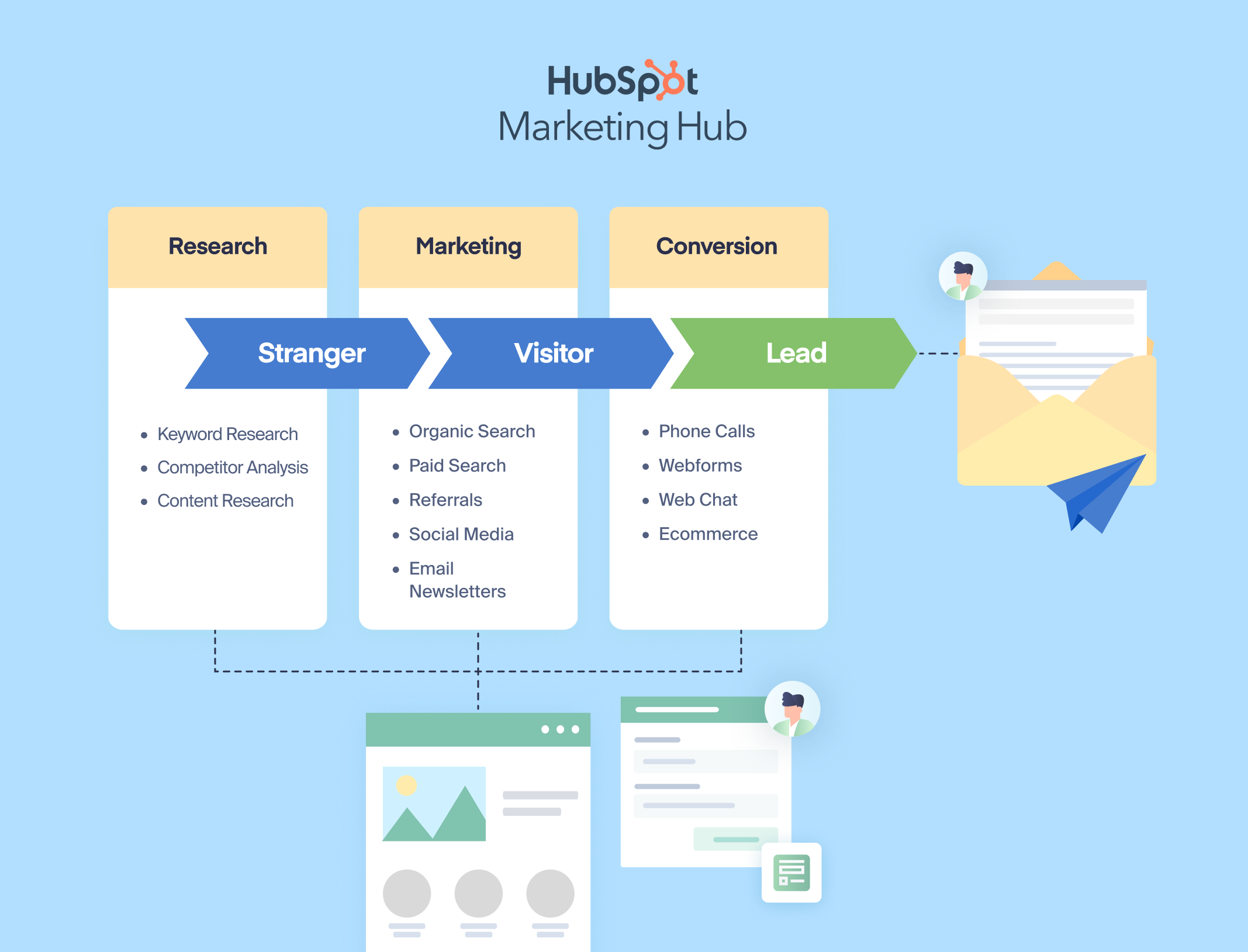 What type of leads does your business receive?
The type of leads you typically receive in your business will dictate which of the two software tools will benefit you the most. HubSpot Marketing Hub focuses on capturing leads for lead nurturing purposes, while WhatConverts captures leads with direct purchase intent so you can tailor marketing strategies accordingly.
Marketing Hub is tailored towards those leads who have shown interest in the business but still require further nurturing through sales pipelines and automated email funnels in order to convert. WhatConverts sees the lead as the last step before purchase. It's best suited to businesses whose leads have direct purchase intent, and by the time their data is captured, they are already ready to purchase and don't require long-term nurturing to convert. Instead, they are directly input into the sales process.
Stages of the marketing funnel
The standard marketing funnel illustrates the process of how a lead becomes a customer. At the top of the funnel, you have the awareness stage, which is when a lead becomes aware of the existence of your business. At the bottom, we have the purchase stage, which is the end goal for all marketing campaigns. When we look at Marketing Hub and WhatConvets, each software captures leads at different stages of the marketing funnel.
HubSpot Marketing Hub focuses on capturing and nurturing leads in the top half of the marketing funnel. Through content and landing pages, it helps businesses generate awareness. Then helps them capture the lead's interest via a lead magnet (like an ebook, report, pdf, or webinar). And finally, it helps move the lead to the consideration stage via a lead nurturing campaign.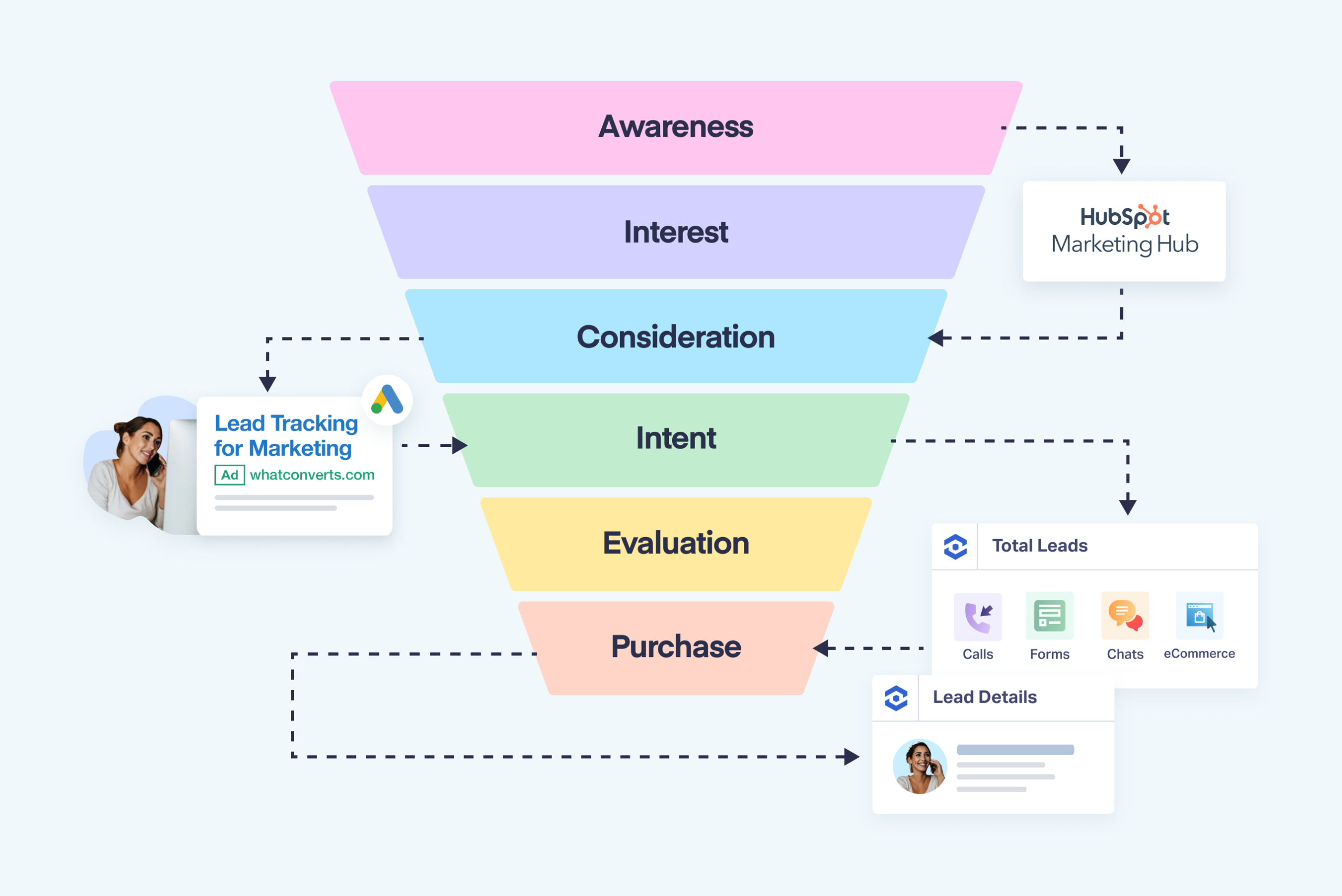 WhatConverts captures sales-qualified leads when they are already at the consideration stage. The platform looks at the customer journey from Google Ads and onto the website when the lead already has purchase intent. The focus of WhatConverts is on the bottom half of the funnel, starting from the intent stage, then evaluating that lead, and finally capturing purchase data.
Data capturing capabilities
How WhatConverts and HubSpot capture data is varied, as are the types of data collected.
WhatConverts captures data through four main touchpoints - calls, chats, eCommerce, and forms. WhatConverts can capture data from ANY forms on any website and can track that data within 5 minutes of installing the WhatConverts code. This makes it very easy to integrate the software, regardless of which CRM you're using or what form plugin. The data captured is highly personalized, going deeper than just checkboxes or dropdowns, and actually captures the specific queries from the leads.
HubSpot Marketing Hub is form-focused, using its own built-in forms to capture data. While you can choose to use other third-party forms instead, you'll lose a lot of functionality and tracking capabilities. When a lead completes a form, it triggers follow-up emails based on the data from the form. You can customize the fields in the form and create dropdowns that the lead can choose so that they are entered into the relevant automated email sequence and added to your HubSpot CRM contact database. But no matter how many fields you include in the forms, the data won't be as personalized or specific as what is captured by WhatConverts. Additionally, HubSpot needs to use a 3rd party call-tracking company to capture call data. That data goes straight into the primary HubSpot CRM, not into Marketing Hub, so you won't have access to this data in reports and analytics.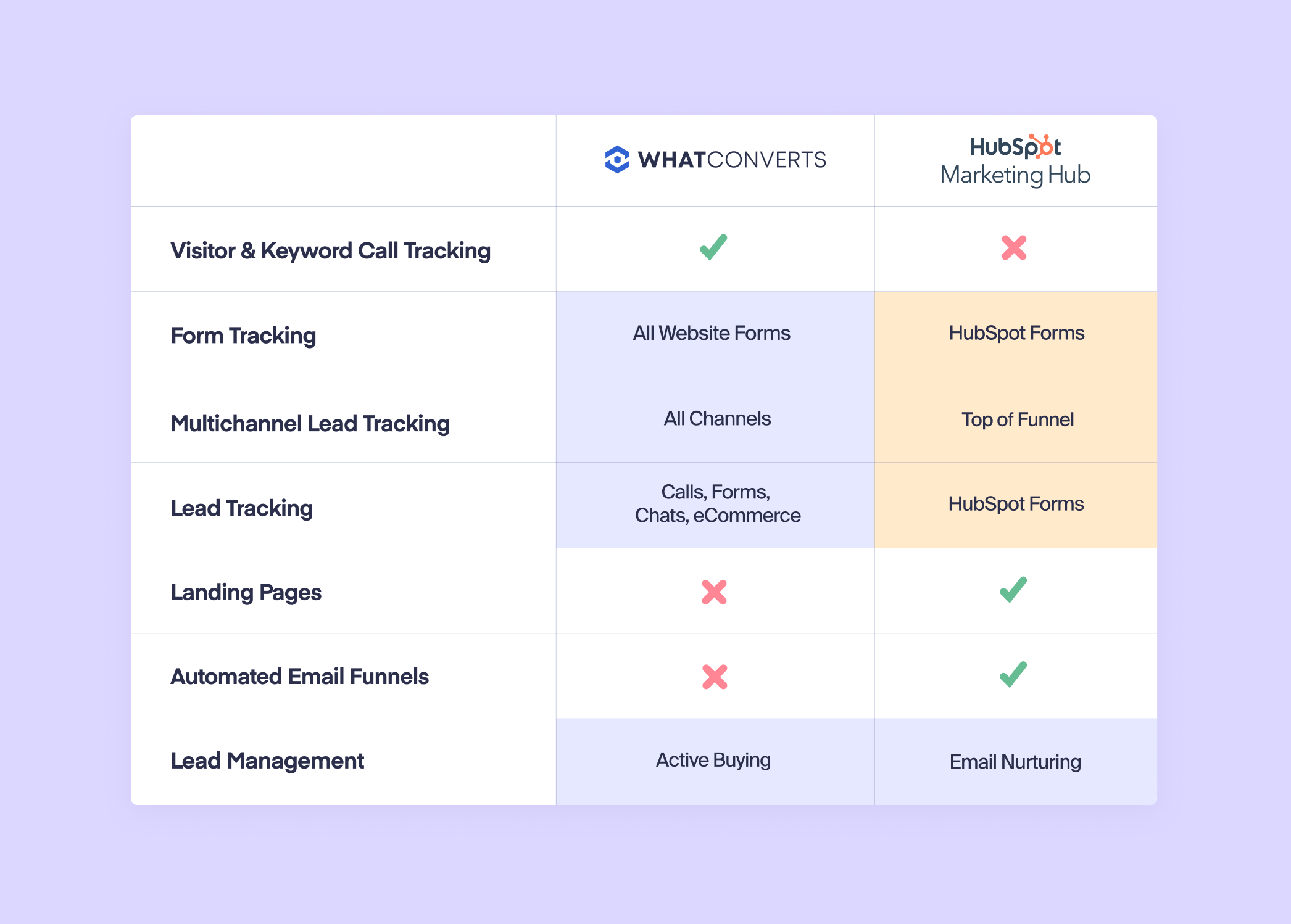 Reporting
There is a considerable difference between the reporting capabilities of HubSpot Marketing Hub and WhatConverts, and who will benefit from each.
The reporting features of Marketing Hub will vary depending on which plan you have. You can pull many different reports from the platform, including reports on email deliverability and conversion rate to purchase intent leads. Since Marketing Hub is focused on long-term lead nurturing and engagement. Many of the reporting features include information on the performance results of lead nurturing campaigns like on-site blogs, social media content performance, and email statistics. That said, unless you're willing to invest in the costly top-tier plans, you won't be able to access reports on A/B testing, web traffic analytics, and adaptive testing. Customized reports are also only available with the professional and enterprise plan.
On the flip side, WhatConverts reporting features focus on proving and growing the business value of marketing, with real-time reporting allowing businesses to seamlessly share lead data with salespeople. Since WhatConverts is tailored to businesses with high-purchase intent leads, getting collected data over to the sales team fast is essential. The scope of customized reports available from WhatConverts is vast, delivering a huge volume of valuable insights. You can pull reports on leads by:
Campaign and keyword
Source and medium
Ad and content
Landing page
Lead page
Day
Week
Access to these specific reports can help you zero in on your most effective marketing strategies. But for a more comprehensive view, the monthly summary report is an easy-to-read report that breaks down the top lead sources by conversion method, marketing sources, campaigns, and landing pages, including total leads for the month. You can access the report in one click for a quick overview, but there's also the option to view a more detailed version.
Pricing structure
There is a substantial difference between the pricing structure of the two platforms. HubSpot Marketing Hub offers a range of pricing plans that get more expensive depending on what features you want access to. They have a free starter plan for $45, tailored to individuals or small teams, with very basic features like contact forms and email marketing. The comprehensive Enterprise plan starts at $3,600 monthly and offers more advanced features like SEO, adaptive testing, predictive lead scoring, and more user roles. While some of the higher-tier plans offer a substantial range of features, it's unlikely that you will need all of them. But you'll end up paying a high price tag for them anyways since they don't have the option to customize your package.
WhatConverts offers a simpler pricing model, with four main pricing plans starting from $30 per month. Each plan offers specific features, so you only pay for what you actually need. And if the packages don't suit your needs, you can customize a package tailored to the features you require. The base plan includes call tracking and recording, with dynamic number insertion and location data. While the Elite plan, which is still only $160 per month, includes multi-click marketing attribution, report builders, campaign and keyword reporting, Bing, Google Ads & Analytics integration, customer journey features with marketing attribution, and more!
HubSpot Marketing Hub vs. WhatConverts
Ultimately, the choice between using HubSpot Marketing Hub and WhatConverts will depend on the specific needs and goals of the business. If a business primarily gets warm leads that require a long, drawn-out lead-nurturing process, then HubSpot Marketing Hub offers a wide range of marketing automation tools to optimize the process. However, if a business primarily receives hot leads, and requires lead tracking and management to help optimize marketing campaigns, then WhatConverts is a much more suitable (and affordable) option. By considering the platforms' features, pricing, and overall scope, businesses can make an informed decision and choose the platform that best meets their needs.
Get a 14-day free trial of WhatConverts to see what lead tracking software for marketing can do for you!