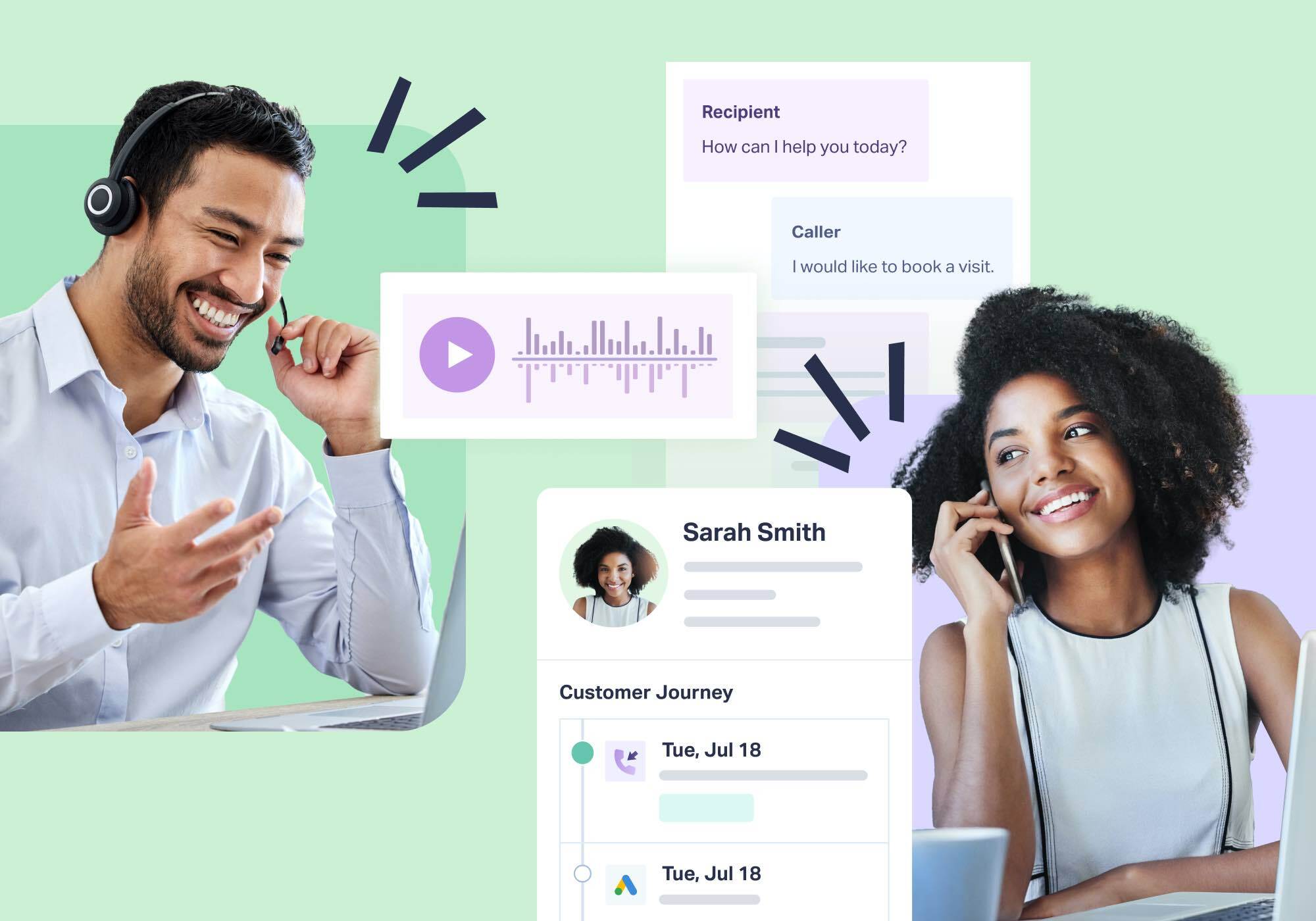 This post was updated on August 7th, 2023. 
Call tracking software lets you see what marketing converts to phone calls.
If you've been using call tracking software for a while, you've seen it grow into a much more powerful marketing tool. This is great for marketers of course. But it also makes choosing the right software more challenging.
Let's consider an example where you're running a Google Ads campaign with a $50K monthly budget generating 500 to 1,000 valuable phone calls. Now, counting those calls is important. But at this level, you need more information than a tally if you want to evaluate real marketing ROI.
So, which tools go beyond the basic (just counting calls by marketing) and which actually help you determine ROI?
That's what we're looking at in this guide. We're digging into the most popular call tracking software and identifying their strengths and weaknesses based on your marketing needs.
Note: Interested in learning more about WhatConverts? Visit our site, sign up for a free 14-day trial, or request a live demo with our team.
Table of Contents
Standards for Evaluating Each Call Tracking Software
Before jumping into the software, let's go over how these tools are evaluated.
All scores in this guide are based on reviews from G2—an unbiased, third-party software review company trusted by 80 million people annually.
To ensure a comprehensive analysis of the tools, each of the best call tracking software in this guide receives two types of scores—an overall score based on the general G2 reviews (out of five) and a category score (out of ten).
Category scores are calculated by averaging the G2 reviews of multiple features which fall under that category. For instance, the Standard Features score comes from the total average score of the following features within G2:
Visitor & Keyword Tracking
Dynamic Number Insertion
Call Data
Call Recording
Local Phone Numbers
Toll-Free Numbers
Port Existing Numbers
The six categories each call tracking tool is scored on are:
Standard Features
Advanced Features
Campaign & Reporting Insights
Integrations
Automation Intelligence
Support & Onboarding
Let's take a minute to look at what each category involves.
1. Standard Features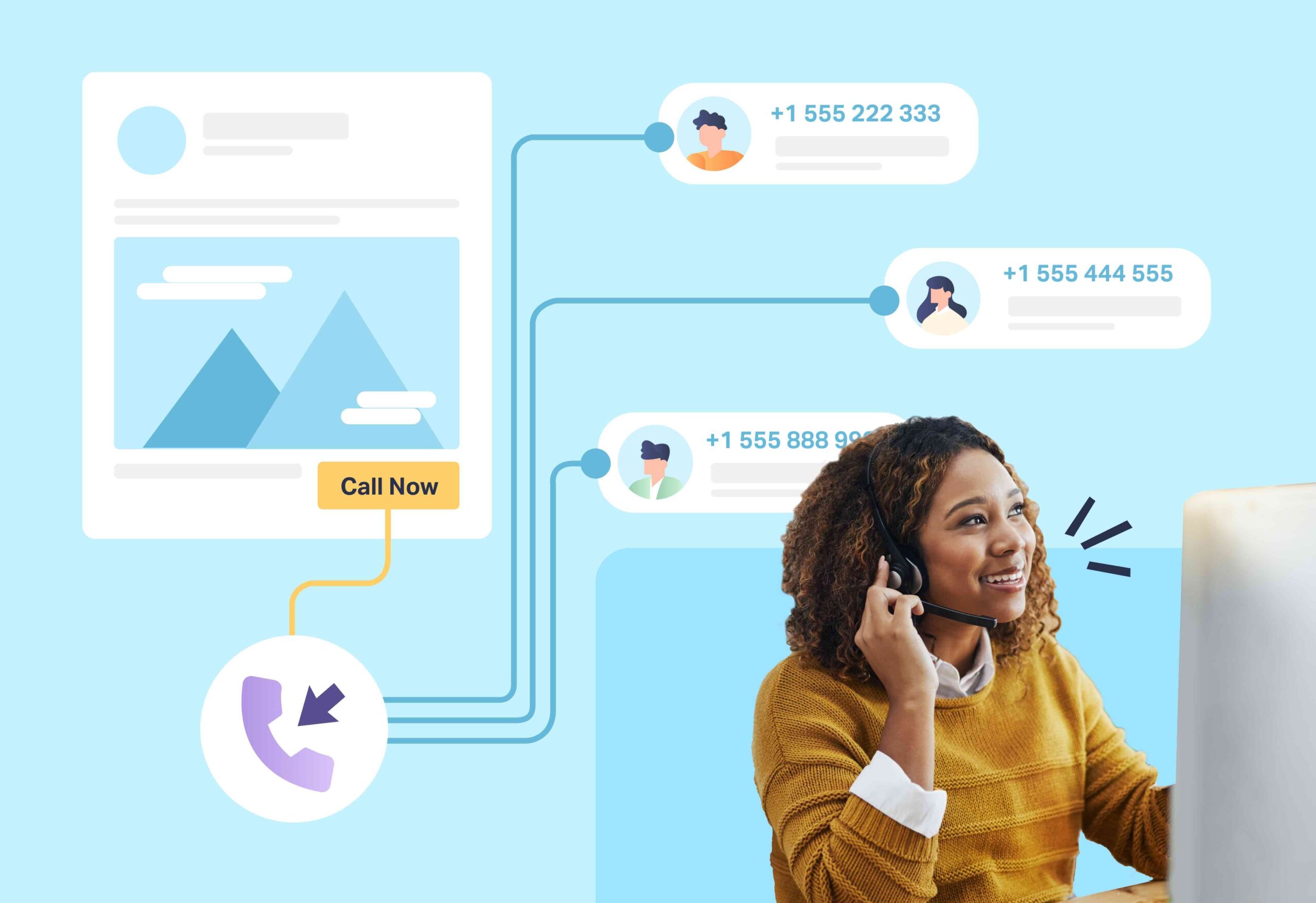 Some standard features in call tracking software include:
Call Recording: Record, monitor, and download incoming calls.
Call Transcription: Get the details you need from your calls without having to listen to the whole recording.
Keyword Level Call Tracking: Know exactly which PPC keywords are driving calls.
Dynamic Number Insertion (DNI): Allows you to automatically swap a telephone number(s) on your website so that you can track the marketing source. (You don't need to buy a unique tracking number and put it on the landing page of each campaign — with DNI, you can do so automatically).
Call Greeting: When someone calls in, you can create an automated greeting to be played (e.g., "This call may be recorded and monitored for quality purposes").
Call Whisper: Right before you get connected with a caller, you'll get an automated message that tells you how the lead was generated (e.g., "Incoming call from Google Ads").
What Is Inbound Call Tracking vs. Outbound?

Inbound call tracking lets businesses track and record calls coming into their lines from prospects. So a home plumbing company, for example, would benefit most from inbound call tracking since their customers typically call them.

Outbound call tracking is the opposite—this software tracks calls going out of the business and to prospects. Businesses with sales teams that make cold calls, for instance, are top users of outbound call tracking software.

Both quality outbound and inbound call tracking software will have the standard features listed above.
2. Advanced Features
Call tracking features and options have grown exponentially over the past 10 years. What started out as something to show which campaigns and keywords made the phone ring has grown into much more capable and nuanced call tracking and marketing attribution tools.
And for professional marketers, knowing a phone call's first click attribution no longer provides sufficient insight. You also need more advanced features.
That's why the best call tracking software will include advanced features like:
Advanced DNI Options: Advanced DNI options like DNI Triggers let you choose which leads to track based on where the user is coming from (e.g., search via Google, web referrals, specific sources/mediums, specific campaigns and landing pages, etc.).
Customer Journey: Customer journey tracking lets you see each time a lead interacted with your marketing all the way from the very first touch, helping you better understand how customers move from Stranger to Customer. WhatConverts, for example, includes every marketing attribution and pages viewed along the customer journey.
Multiple Attribution Models: Being able to sort your leads by different attribution models (first click, last click, last contact, last non-direct, last paid) lets you quickly see which marketing is bringing leads in, which is converting, and more.
Call Flows: Also known as "IVR," Call Flows ensure the call is properly directed to the right place by giving callers a menu of options. (e.g., "Dial 1 for Sales, Dial 2 for Support"). Tools like WhatConverts simplify the complicated process of IVR setup with a drag and drop call flow interface.
Compliance: If you're serving clients that are larger, in certain industries (medical, legal, etc.), or in certain locations (Europe), your call tracking software will likely need to follow several compliance standards like SOC2, HIPAA, or GDPR.
Keyword Spotting: Achieved by "intelligence" features like Conversation Intelligence and Lead Intelligence (more on those later), keyword spotting picks out specific words and phrases from conversations to give insights on leads.
3. Campaign & Reporting Insights
Most call tracking solutions offer standard report templates that show which marketing channels, campaigns, keywords, and landing pages drove the most calls.
Watch out for companies that claim they offer advanced or custom reporting when what they really have is nothing but standard. For instance, filtering by marketing source and hiding/showing a data point is not considered advanced reporting.
Instead, look for tools that offer actually advanced reporting features. With WhatConverts lead reporting, you get a full suite of sophisticated reporting tools. The Report Builder for example lets you build a report from any of the lead data collected, including any custom fields.
Why is this important? If you're running a car retailer marketing campaign for instance, you may ask, "What campaign generated the most leads? And I want to see this data grouped by custom information like Make, Model, and Color car." WhatConverts can produce this report in minutes. Other call tracking software companies can't.
Plus, WhatConverts offers other advanced reporting features like marketing spend, dimension grouping, report scheduling functionality, and more.
On top of that, WhatConverts reporting sits on actual individual lead data, meaning it can be interrogated and questioned at the boardroom level with just a few clicks.
When it comes to comparing the reporting capabilities to other call tracking companies, you'll find that WhatConverts is in the pro leagues. Others are just playing whiffle ball.
Here are a few reports from WhatConverts, which we would describe as "simple" (but powerful) reports. Advanced reporting gets more detailed and specific: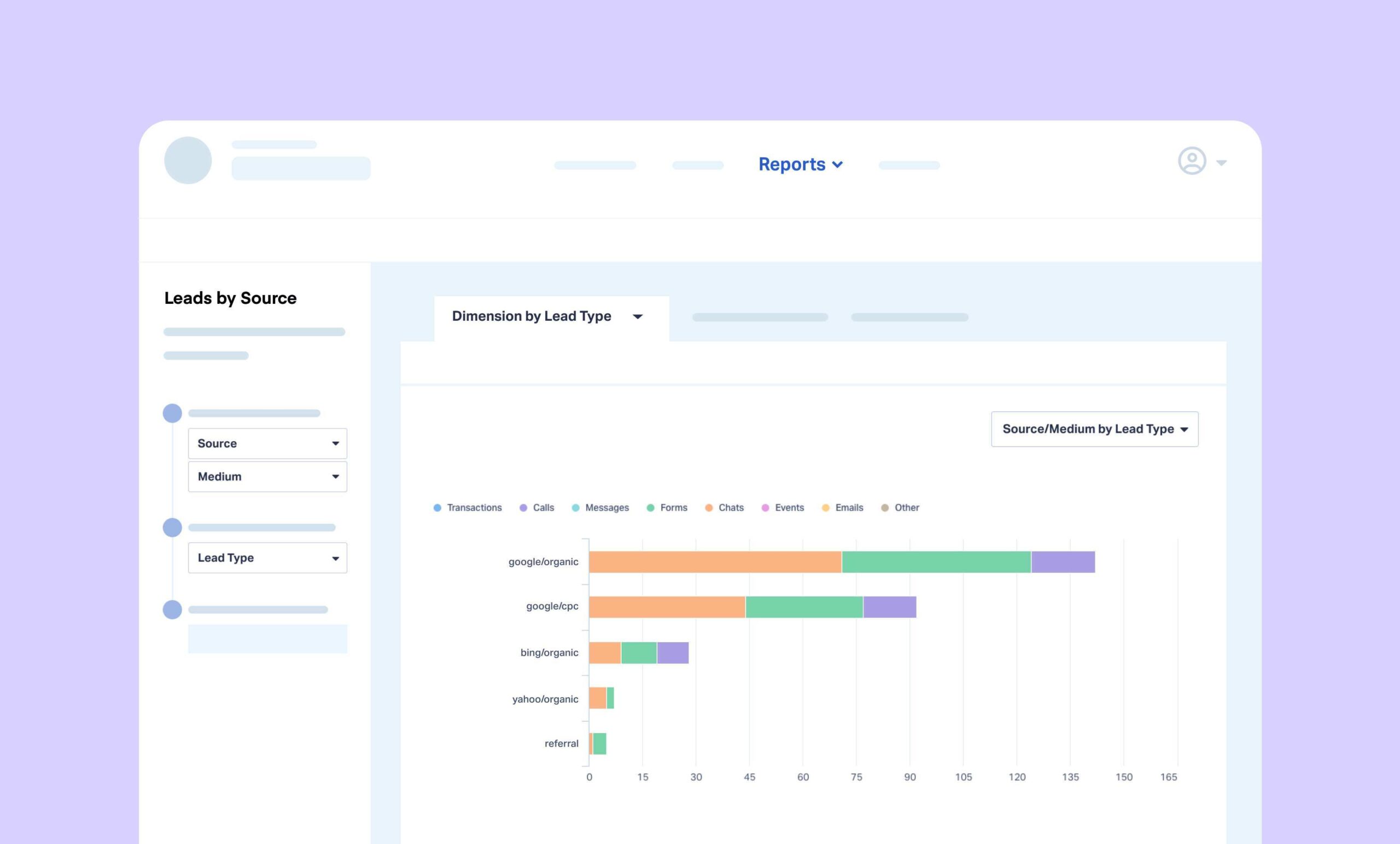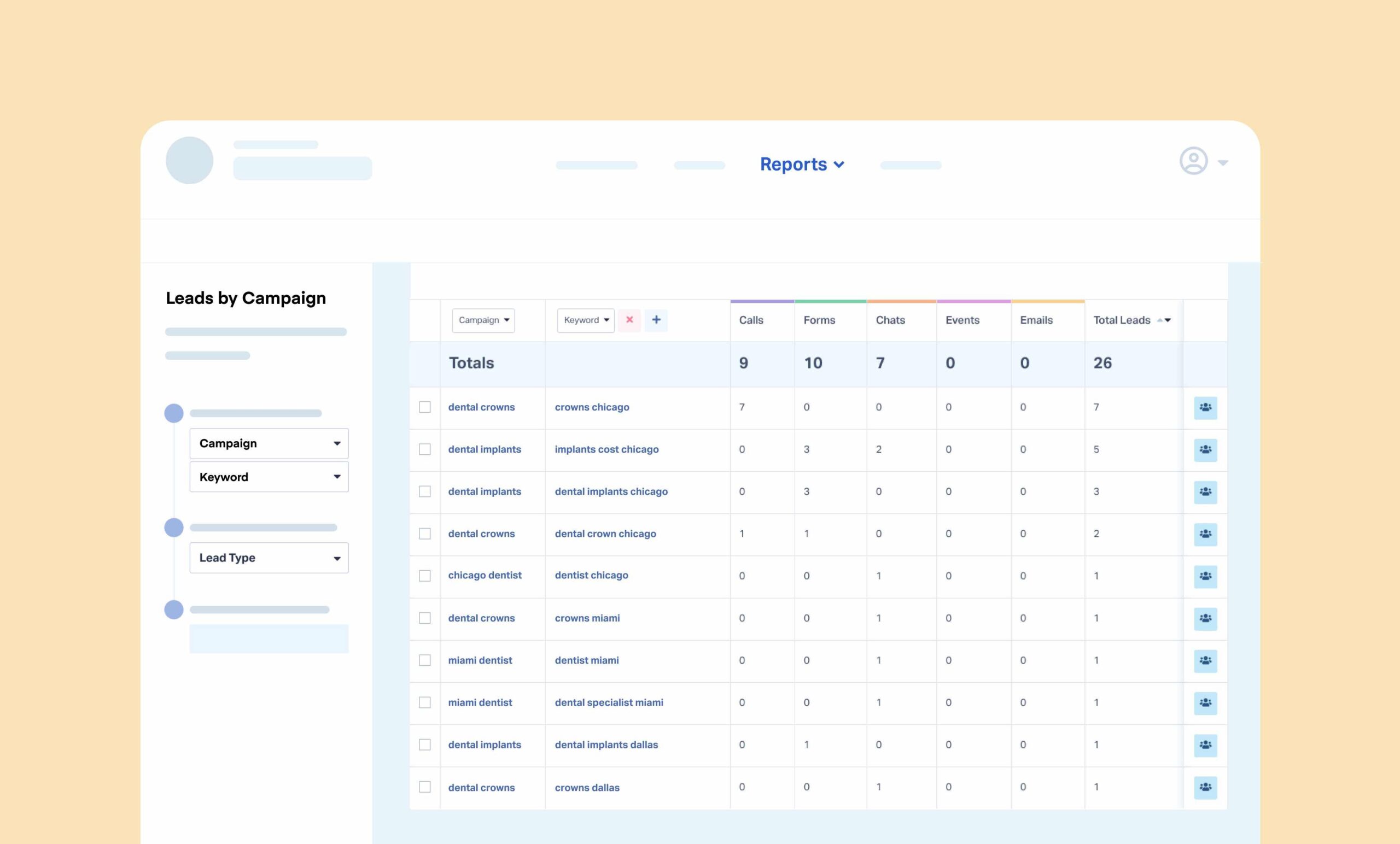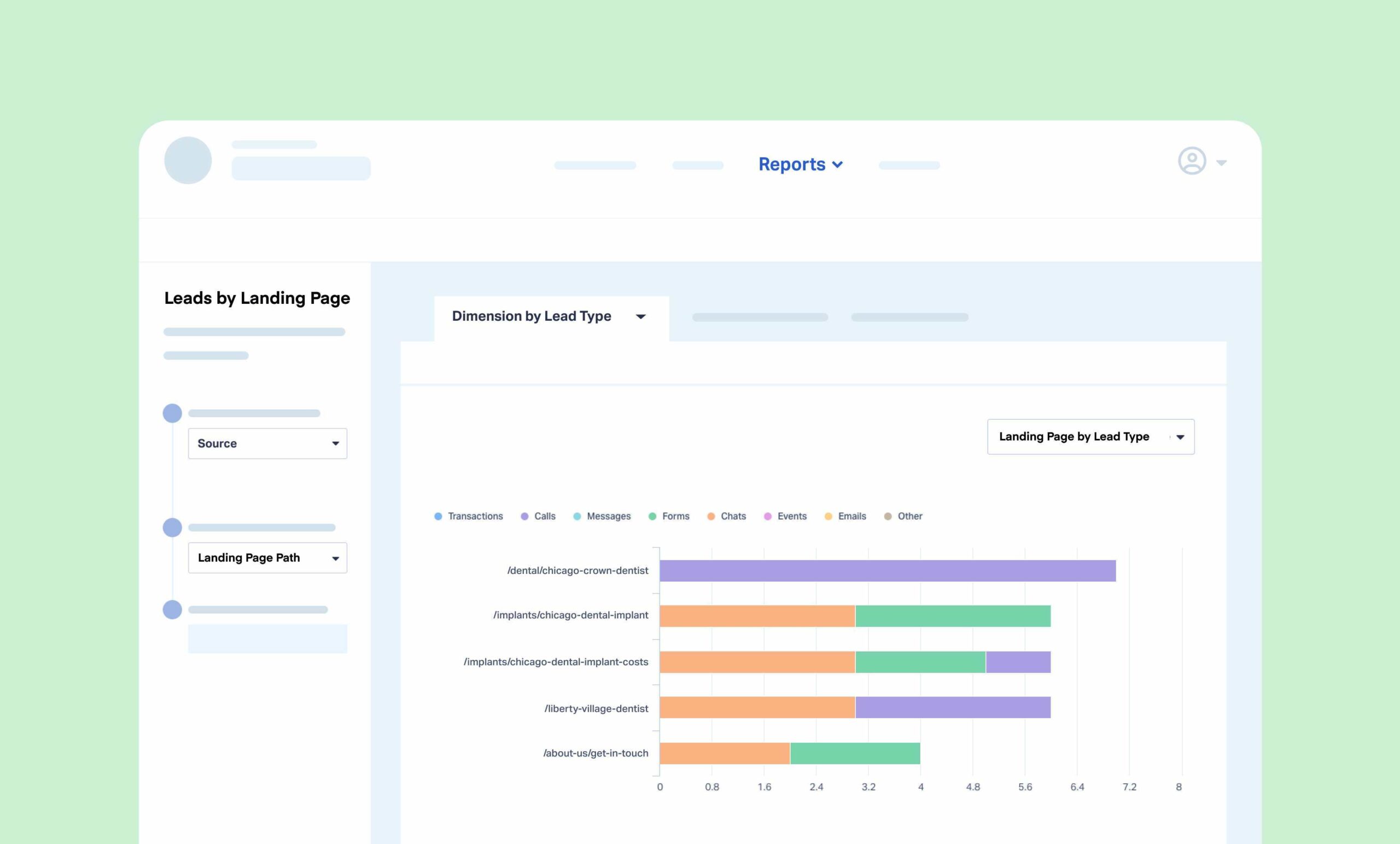 However, the best call tracking software will also provide even deeper campaign and reporting insights through features like:
Lead Manager: Better understand lead quality and manage all your leads in one place.
Report Builder: Customize reports to show the metrics that matter most to you.
Dimension Grouping: Combine dimensions (campaigns, keywords, etc.) to put your reporting into terms your clients will understand.
Scheduled Reporting: Automatically send out reports on a daily, weekly, monthly, or quarterly basis.
4. Integration (Ad Platforms, CRM's, etc.)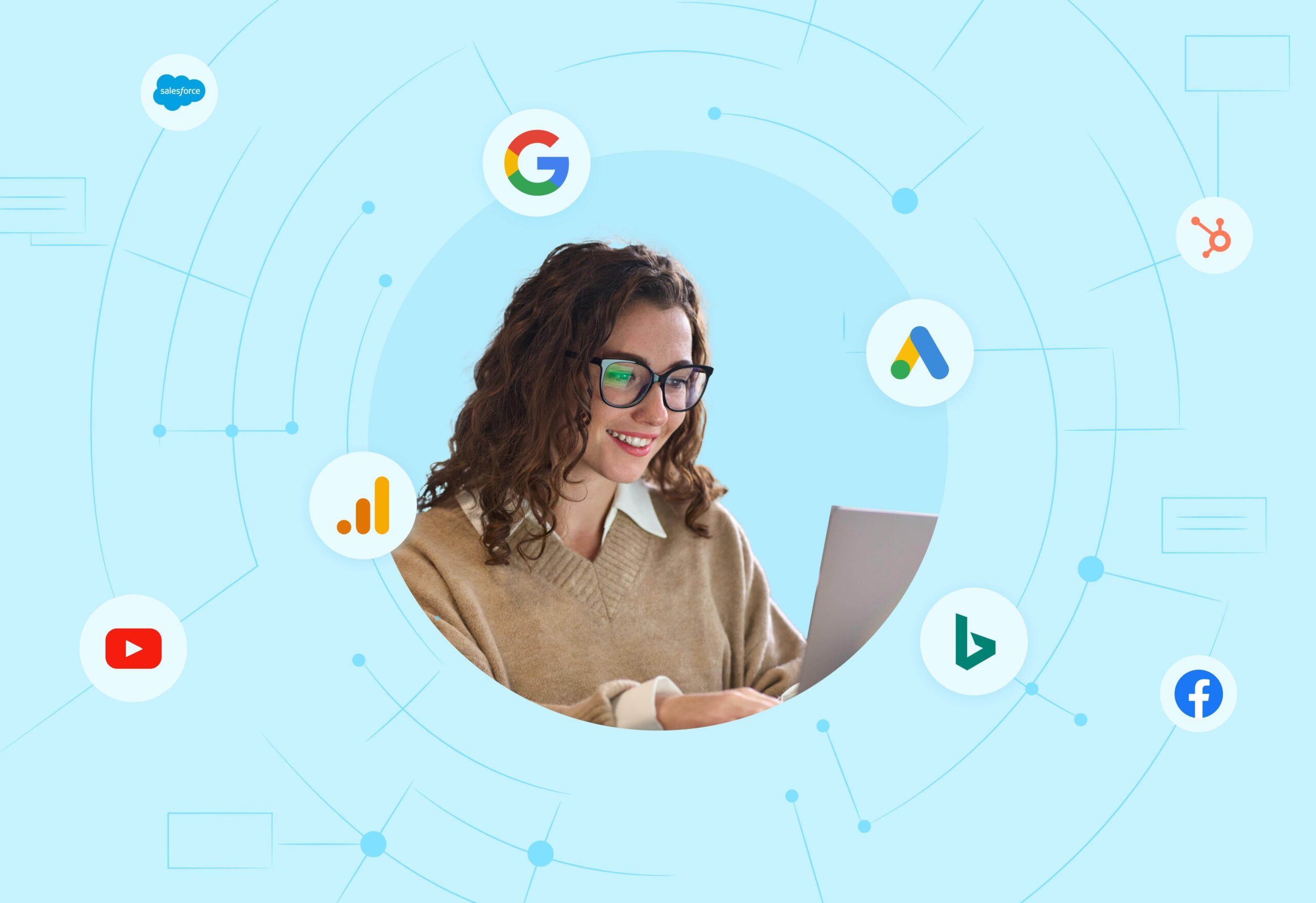 Marketers are notorious for using a lot of tools on a daily basis (nearly 1 in 3 said they used 11-20 different tools). And when those tools can't communicate with each other, it can quickly multiply your workload.
That's why it's important for call tracking software to be able to integrate with a wide variety of tools and platforms, such as:
Ad platforms like Google Ads and Bing Ads
Google Analytics (GA4)
CRMs
Legacy Ad Buying Platforms
Social Media Platforms
Offsite Platforms
The three most important integrations to look for are:
Google Ads & Bing Ads: WhatConverts offers the best Google Ads Integration with huge control over what data is sent to Google Ads and when. We've seen impressive ROI increases from automated campaign optimization sending quotable leads and sales value to Google Ads.
Google Analytics (GA4): Understanding website traffic and user activity is important to optimizing campaigns. When this data is combined with lead conversions, it can provide even more powerful insights.
CRMs: If your clients have a sales team who receives leads from marketing, integrating your lead tracking software with your CRM improves the sales process, eliminates lost leads, and decreases sales cycle times. WhatConverts offers three powerful integration options with CRMs—API, webhooks, and Zapier for a no-code option.
5. Automated Intelligence
With call tracking software, the most common type of automated intelligence is Conversation Intelligence. These machine learning algorithms pick out keywords and phrases (a.k.a. "keyword spotting) from call transcripts to assess lead quality, readiness to buy, and more.
Some Conversation Intelligence is powered by large language models (LLMs), giving it a boost in accuracy and capability. However, it's worth noting that though this type of Conversation Intelligence is more powerful, it's still making assessments based on a single data point—a call transcript.
While Conversation Intelligence uses just one data point, Lead Intelligence from WhatConverts uses a wide variety of data points (70+) to qualify and value leads, not just call transcripts. As a result, Lead Intelligence provides a far more accurate measure of lead quality and lead value than Conversation Intelligence.
Not Sure Which Intelligence You Need? 

Use the following test to see which automation intelligence is right for you.

Take a sample of 10 leads and read the transcripts for each. Are you able to qualify these leads yourself based on the transcript alone? If the answer is "Yes," Conversation Intelligence alone may be right for you.
If you weren't sure if they were qualified and couldn't determine the lead value, then Lead Intelligence is more your speed (takes into account the transcript AND keywords, campaign, landing page, call flow, and more).
For more on Lead Intelligence vs. Conversation Intelligence, have a look at the guide below:
6. Support & Onboarding
The quality of a call tracking software's support and onboarding can make or break user experience, no matter how user-friendly a product is.
And while automated support can help point users to online guides, nothing beats a support and onboarding team that knows the product inside and out.
The best call tracking software will have a high-quality support team that's:
Knowledgeable: Call tracking experts with knowledge of how digital marketing works.
Quick to Respond: When you have a problem, you don't want to wait 24 hours for a response.
Solution Providers: Understand the root problem and provide an effective solution.
At WhatConverts, the support team's mission statement is:
"Provide a technically competent solution within 15 minutes or less"
That's easy to say but really challenging to deliver, especially when supporting thousands of customers. The WhatConverts support team not only needs to be Call Tracking Experts. They must also understand how Google Ads, Google Analytics, and CRMs work together with call tracking software. It's a lot to handle.
That's why the co-founders continue to be actively involved on a daily basis with the support team, making sure each call works towards making that mission statement a reality.
Take a moment to see what G2 reviews say about WhatConverts customer support below.
Top 4 Call Tracking Software
With the judging criteria now established, let's get into the top four call tracking software on the market today.
WhatConverts is the top choice for inbound call tracking software. It provides comprehensive lead tracking, intuitive lead management, insightful reporting, and powerful intelligence in a single tool.
Who It's Best For: PPC Marketers, Agencies, & Google Ads Power Users
Benefits

Built for Marketers to Prove and Grow Marketing ROI
Easy Setup & Start Tracking in Minutes
Plenty of Advanced Features
Track ALL Lead Types (Not Just Calls)
Powerful Lead Analysis & Management Capabilities
Robust & Customizable Reporting
Industry-Leading Automation Intelligence
Exceptional Support

Drawbacks:

No outbound calling and power dialer for sales teams
Bit of a learning curve for advanced reporting and Lead Intelligence
No softphone and live call listening

Pricing:

Starts at $30/mo
Free trial (w/credit card)
For in-depth reviews from a trusted third party, be sure to check out the G2 WhatConverts Reviews.
At the time of writing, WhatConverts has a total of 50 reviews and 4.9/5 stars on Capterra.
WhatConverts Standard Features (9.29/10)
Some standard features in WhatConverts include:
WhatConverts Advanced Features (9.07/10)
WhatConverts advanced call tracking software features include:
Feature Highlight: WhatConverts Tracks All Lead Types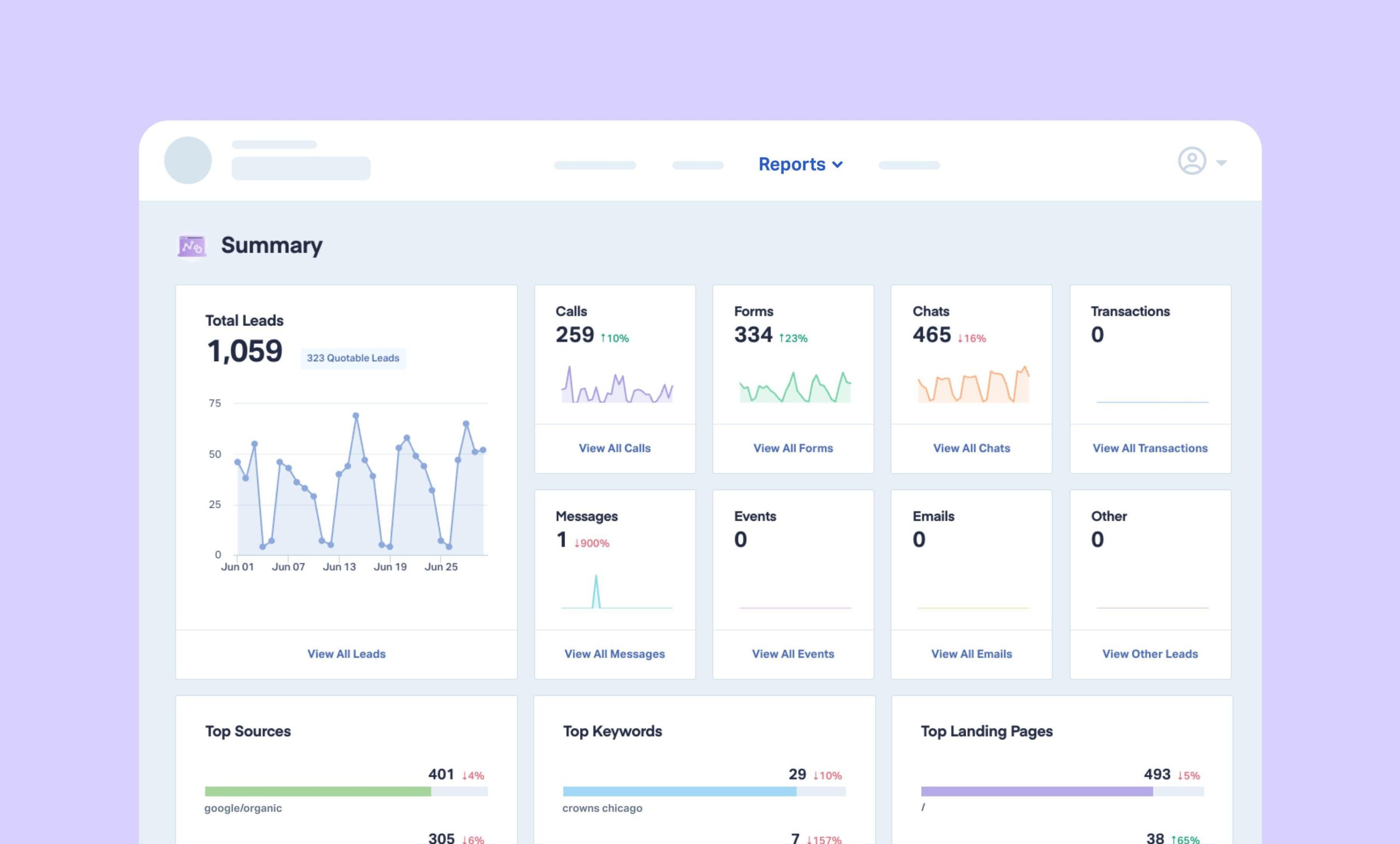 WhatConverts tracks more than just calls. It also tracks forms, chat, email, eCommerce transactions, custom events, and more.
In addition to the advanced features above, WhatConverts is also unique in that it tracks all lead types, not just calls.
Most companies start with our inbound call tracking, allowing you to see what marketing makes your phone ring.
But what if only a fraction of your leads (e.g., 40%) are phone calls?
We make it easy to track all of your leads back to your marketing, including:
Forms
Chats
eCommerce transactions
Emails
Downloads
You name it — if there's any element on your page that you're looking to track, WhatConverts has you covered
And it's all in one central dashboard (see below) which you can sort and filter through to get a complete picture of which marketing works best.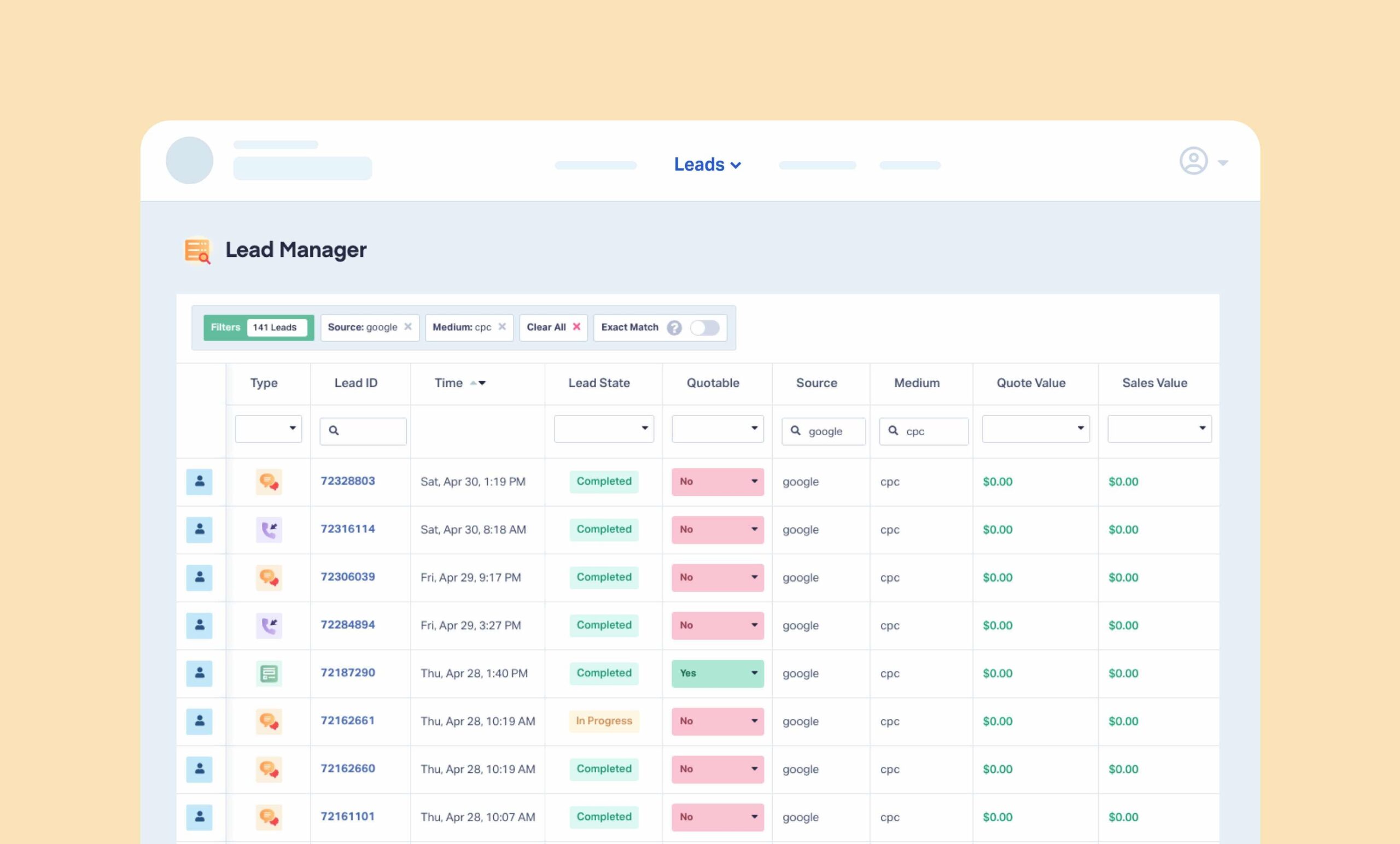 Why Is This Complete Picture (Calls + Other Lead Sources) Important?
There are two reasons:
First, it gives you the information you need much faster. Our users tell us they used to spend hours on joining their tracking data from different sources (e.g., calls and forms).
With WhatConverts, it takes just a few clicks. And that means users can check and use this info more often to make more informed decisions.
Second, it gives you better information on which channels are working. Say you noticed your Facebook Ads weren't driving calls but your Google Ads were. You may be inclined to stop Facebook ad spend and focus only on Google.
But if all lead data (calls, forms, chat, etc.) is presented together in one platform like WhatConverts, you may notice that while Facebook ads aren't driving calls, they are driving content downloads and those same leads are calling when they see Google ads later on.
This information would totally change your view of the effectiveness of Facebook Ads. Without it, you may be inclined to turn off Facebook Ads even though it's actually driving business.
WhatConverts Campaign & Reporting Insights (8.93/10)
WhatConverts includes:
Here's how these features work to offer our users powerful campaign and reporting insights.
Feature Highlight: Instant, Powerful Lead Analysis
WhatConverts makes it easy to filter and sort through the details behind each lead to know which marketing channels are driving the most calls.
Behind each phone lead is a rich array of data points that describes where that lead came from, what they saw on your site, when they made a call, and more. For example:
Where did they come from?

Lead Type: Either a call, form, chat, or email
Marketing Source (e.g., Google)
Medium (e.g., CPC)
Campaign: Which marketing campaign brought them in?
Keyword: Which keyword brought them in?
Landing Page: Which page did they first interact with your marketing?
Lead Page: Which page did they convert on (make a call from)?

How valuable are they?

Quotable: Is this a qualified lead? (based on the phone call transcript and/or an integration with your CRM)
Quote Value: How much was the quote value for this lead?
Sales Value: How much revenue has this lead brought to your company?

Who are they?

Contact Name
Contact Email
Phone Number

And more

There are over 70 different data points collected by WhatConverts
Those data points can all be captured, but most inbound call tracking software either don't include those details — they just report on the total number of leads (think of it as a tally). Or, they do so only in a few rigid formats, and customizing it to see the details that matter to your business is hard or impossible.
With the WhatConverts Lead Manager, you can understand, group, and measure your lead generation as a function of any of the metrics listed above, letting you easily measure the effectiveness of different marketing channels.
Digging Deeper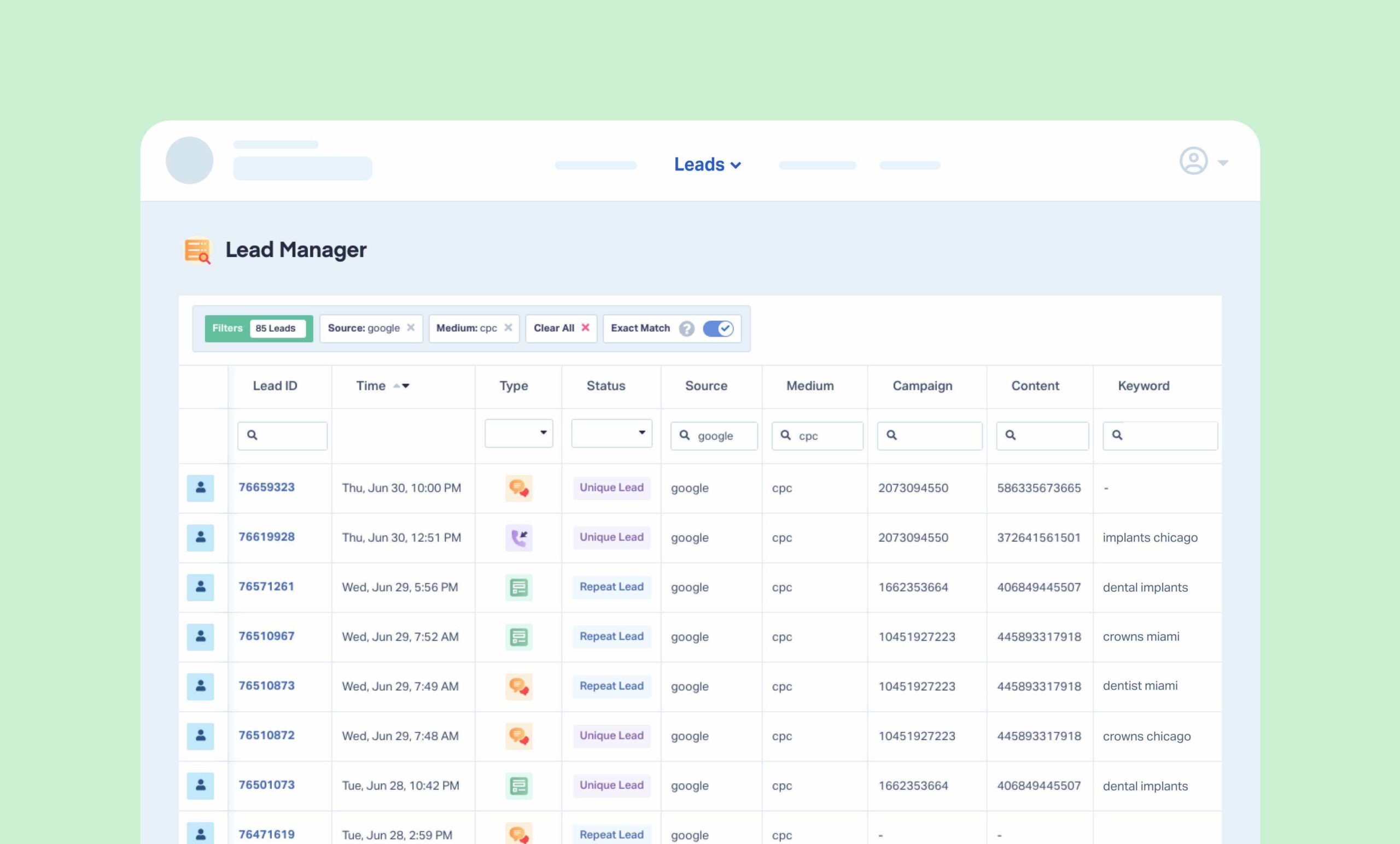 Here's an example table of leads in WhatConverts:
You can see different data points associated with each lead (e.g., source, medium, name, email, whether or not they are quotable—our terminology for qualified) as columns that you can sort and filter through to get insights on what marketing works best.
For example, say you wanted to only see:
Leads that came from Google and were quotable
Leads that came in from a particular PPC campaign and were interested in a dental crown procedure for a dentist
In WhatConverts, you can filter down to just those leads in a table similar to the one above in just a few clicks.
From what many customers who have switched to WhatConverts have told us, most call tracking solutions do not make it this easy to analyze the details behind leads or sort and filter leads by criteria like where they came from, what they're interested in, whether they closed, or what landing page they made a call from.
In other software, this has to be done manually (which is tedious), typically by exporting all this info to Excel and running complicated formulas to get the same information. 
The ability to do more than count calls, and instead let marketers and business owners easily and quickly understand where the calls are coming from and what is working best to drive them, is a fundamental difference between WhatConverts and most other call tracking solutions discussed below.
Feature Highlight: Quickly Create Reports Without Any External Tools
Create beautiful, insightful reports (both customized and via templates) right within WhatConverts—no other tools required. 
Another great feature of WhatConverts is its powerful reporting platform. With it, you can easily see, list, and graph this data, sliced and diced however you want in a matter of minutes — and all without leaving WhatConverts.
In addition to standard reports (leads by landing page, keyword, campaign, etc.), you can also build your own custom report using Report Builder, save it, and schedule it to send weekly, monthly, or at any frequency.
In short, you don't need external reporting, and you can build any report you want right from within our platform. 
For example, say you want to see everyone who:
Clicked on a Google ad on a particular keyword
Made it to a specific landing page
Then converted (called)
With other platforms, you'd have to collect and integrate information from multiple sources (Google Ads, your inbound call tracking software), likely in a spreadsheet or other reporting software.
This is time-consuming, cumbersome, and a huge waste of resources.
Instead, with WhatConverts, this just takes a few clicks.
One of the best things about reporting in WhatConverts is the endless customizability. Reports can easily be fine-tuned however you want — to answer any question you or your client asks.
For example:
Which landing pages are generating the most calls/leads from Google organic?
Which Google ads are generating the most revenue from calls?
Which pages on our site are producing the most quotable value from calls coming from paid vs. organic?
And so on.
Any of these reports, or any other question you want to answer about leads and calls, can be created in WhatConverts in a matter of minutes, without exporting data, without working in your own spreadsheets, without hooking up to Google Ads or Facebook APIs — all within WhatConverts itself.
An Example
To illustrate the massive time savings you can achieve with WhatConverts, here is a simple Landing Pages Report showing leads of different types by landing page for a hypothetical dental office: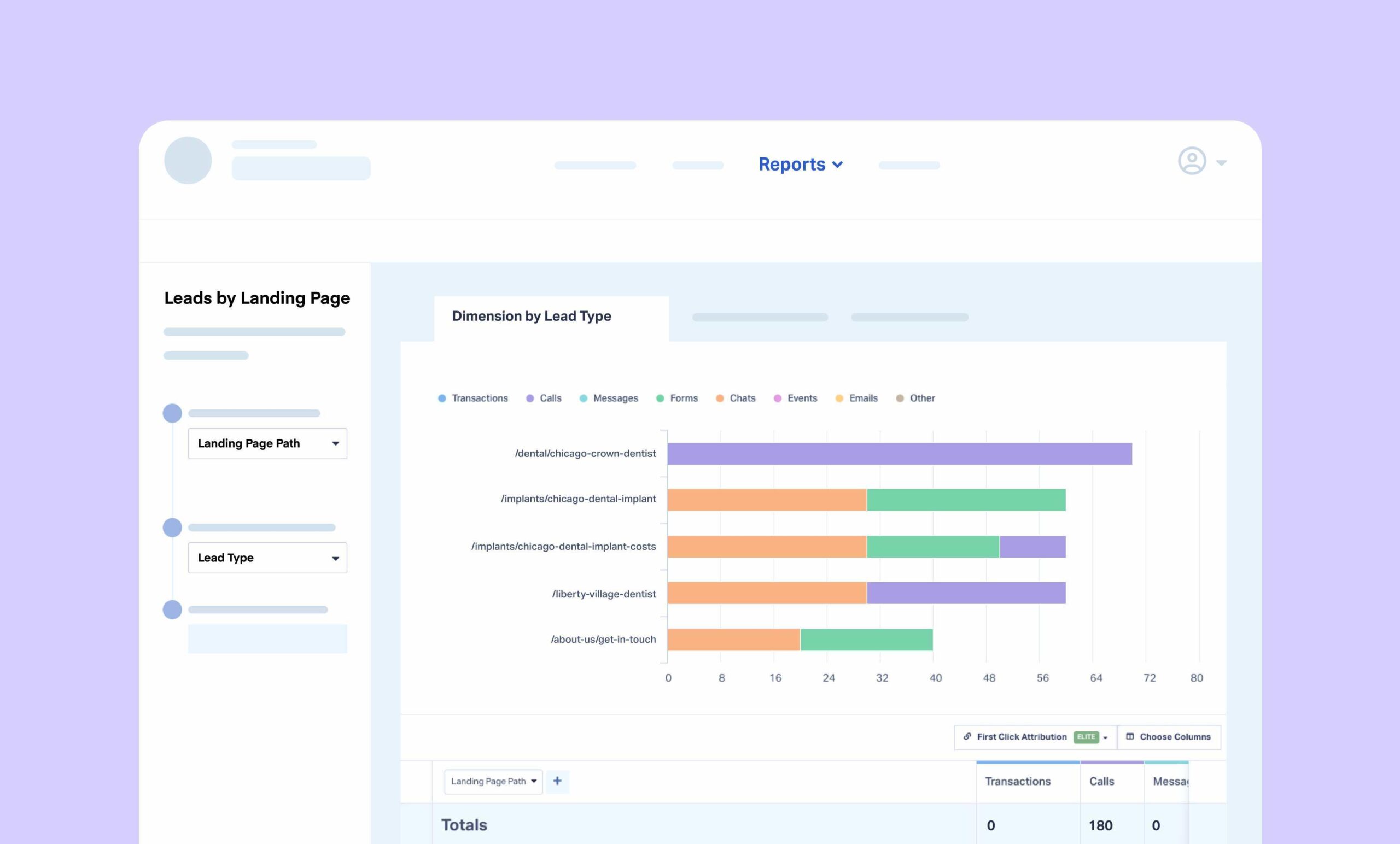 You can see different landing pages in the graph at the top with the number of leads they generated, color-coded by the type of lead.
Now, say you wanted to see not just the top-performing landing pages, but those landing pages by acquisition channel (a.k.a. source and medium). You can do that in just a few clicks: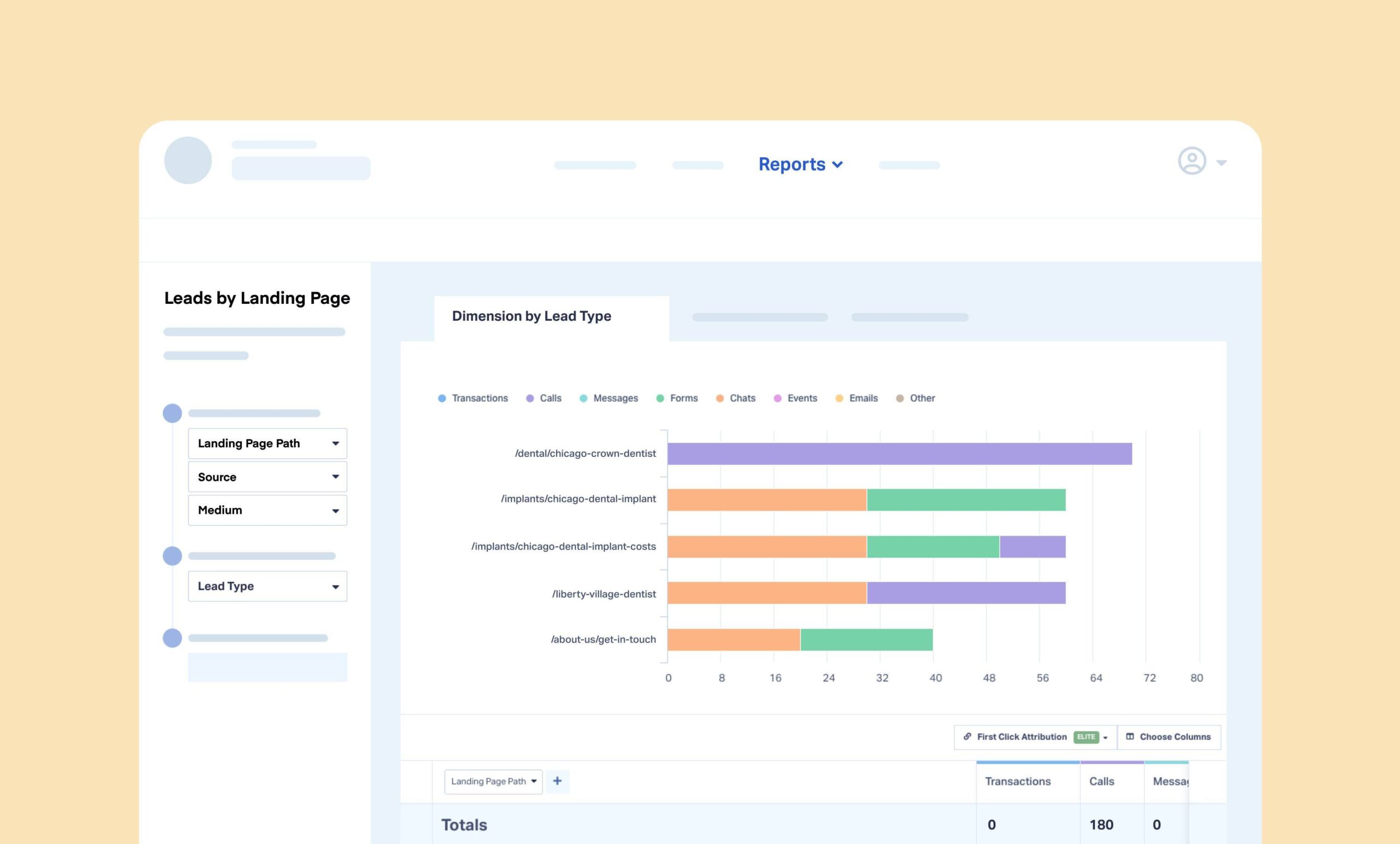 Notice how the list of landing page URLs changed in the graph above to landing page and source/medium.
If, then, you decided that you didn't want Google Ads and Google organic in the same report, and just wanted to see the top-performing organic traffic landing pages, you can easily do that in just one more click: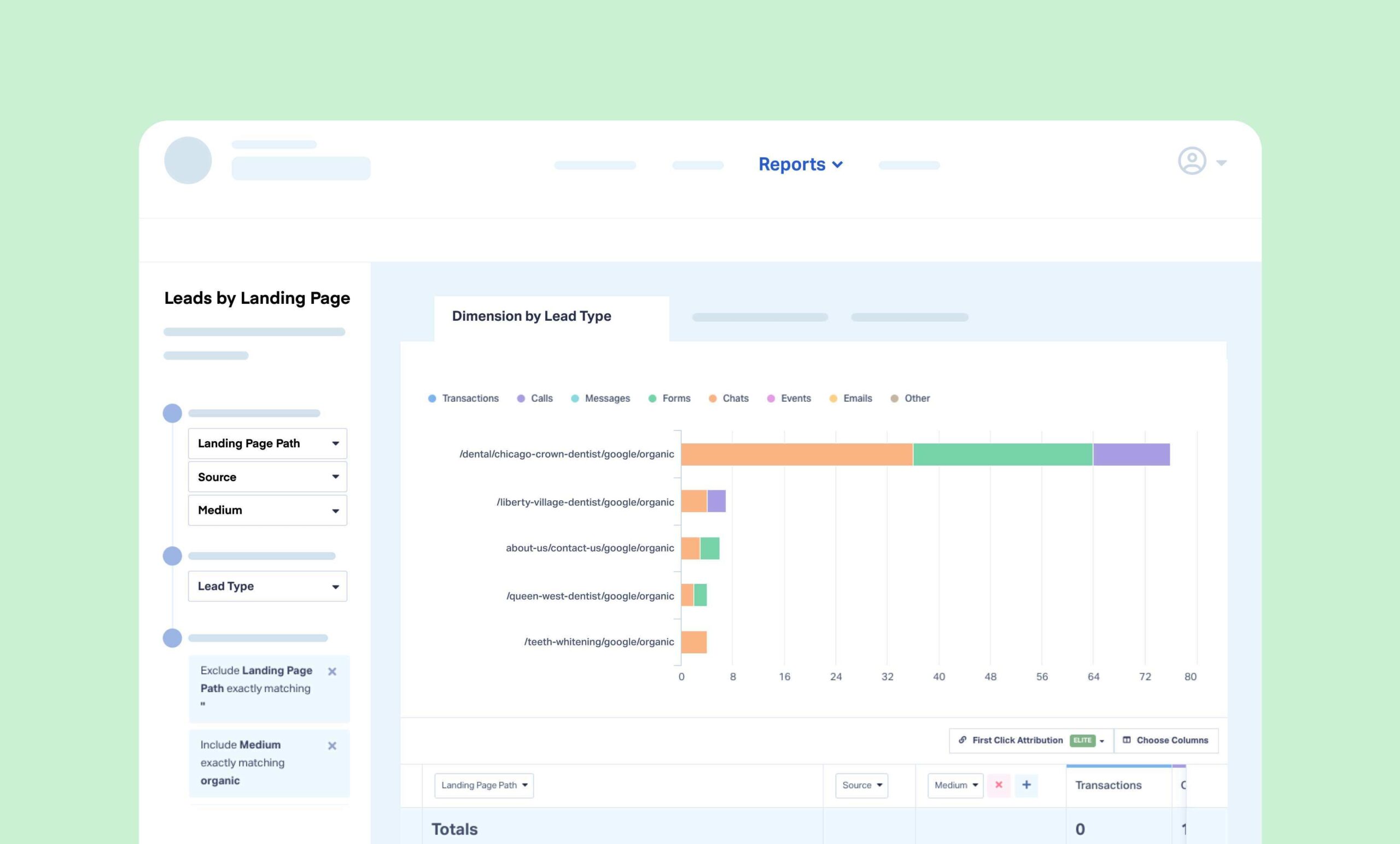 Above you see the source/medium next to the landing page URLs are now all Google organic.
This is just a small example of what's possible with WhatConverts reporting. 
Our reports are built to be flexible and customizable instead of just a handful of fixed reports, which is the standard with other tools. 
As mentioned earlier, any of these reports can be saved, named, and scheduled to be sent to your team (or clients). Any question you want to answer about leads and calls can be created inside our platform in a matter of minutes, and you don't need to add any external reporting tools to the mix.
WhatConverts Integrations (8.75/10)
WhatConverts has a long list of seamless integrations, including:
Major ad platforms like Google Ads, Bing Ads, and Facebook Ads
It's worth noting that WhatConverts is particularly great at integrating with Google Ads and Google Analytics 4 (GA4).
Google Ads Integration: WhatConverts is built for Google Ads power users. With it, you can not only uncover campaign insights other lead tracking doesn't show. But you can also send lead data back to Google Ads, letting you optimize your campaigns in ways using Google Ads alone doesn't allow. This native integration lets you:
GA4 Integration: GA4 has been a big change for marketers. WhatConverts worked with our customers to integrate with GA4 so that core lead tracking metrics (source, medium, etc.) are now accurately reported on in Google Analytics. And when used alone, WhatConverts provides additional data integrity above and beyond GA4 metrics.
These added capabilities make WhatConverts the best lead tracking software for marketers who not only use Google Ads, but also want to maximize the return on advertising on Google.
WhatConverts Automated Intelligence (9.2/10)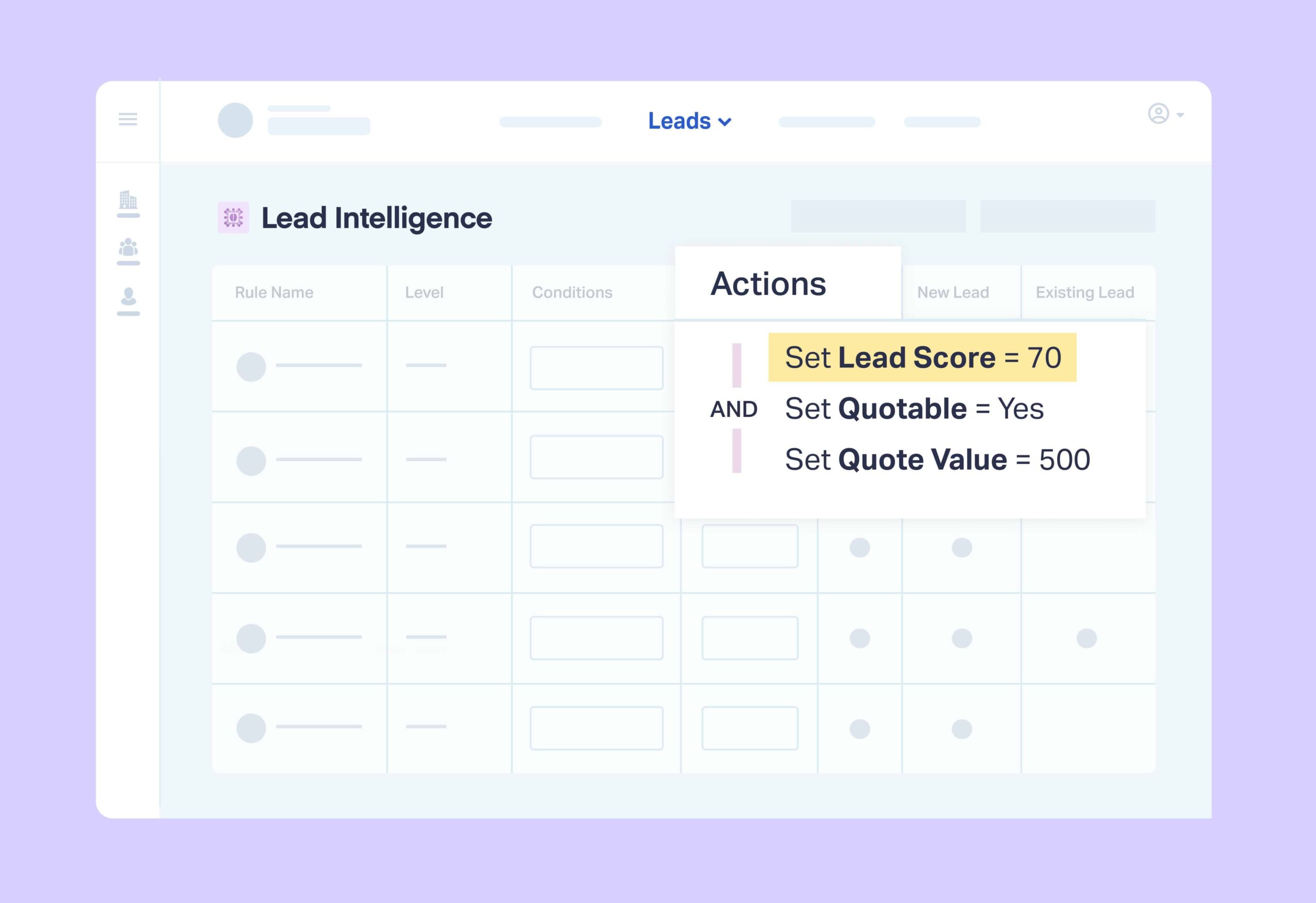 Lead Intelligence from WhatConverts lets you score, qualify, and action leads automatically according to rules you set.  
Conversation Intelligence is the new hot feature with call tracking companies. A lot of the tools out there offer some version of it. And others offer Conversation Intelligence powered by LLMs (Large Language Models), marketed as Premium Conversation Intelligence. However, it's still based on one data point—the call recording transcript.
But WhatConverts knows marketers need more data to qualify leads than just the call recording transcriptions. That's why WhatConverts created Lead Intelligence, which allows you to auto- qualify and value leads based on 70 data points, with the call transcript being just 1 of the 70.
Plus, Lead Intelligence is able to action leads in almost any way you can, but automatically.
Increase or decrease lead score (e.g., +50pts for making a phone call, -25pts for coming from Facebook)
Send lead data to CRMs like Salesforce or Hubspot using our seamless integrations
Send only specific leads to Google Ads as conversions (letting you ultra fine-tune your campaigns)
Attach a value to a lead that meets certain criteria (e.g., $20,000 for leads interested in emergency roof repair, $1500 for leads interested in a tooth crown).
The only reason Lead Intelligence didn't get a perfect score is because there's a bit of a learning curve before being able to utilize it to its full potential.
To learn more about Lead Intelligence, be sure to check out the guide below.
It's also one of four WhatConverts elements that together make up MVI—Marketing Value Intelligence.
Built for marketers focused on lead generation and sales, our software simplifies your marketing data and increases ROI, offering insights for campaign optimization, prioritizing quality leads, and driving sales growth. We call it Marketing Value Intelligence (MVI).
WhatConverts Support & Onboarding (9.4/10)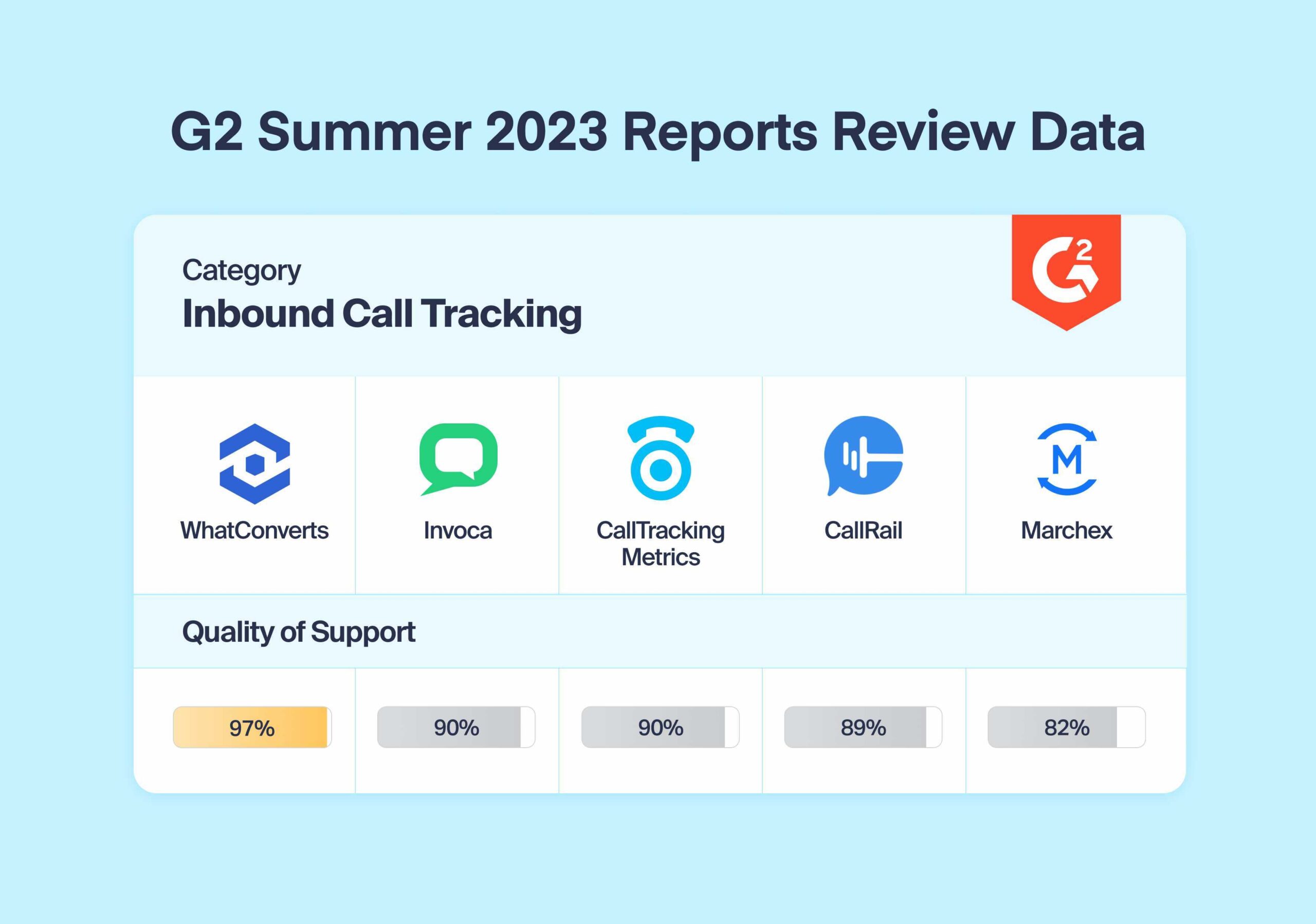 WhatConverts invests heavily into customer success to ensure the you get the most out of your call tracking software.
As such, WhatConverts is a clear standout for support and onboarding quality.
Here's why:
Support staff is available to answer any questions from 6AM to 8PM EST Monday through Friday
The Support Team is run by people who designed the software (so you know you're in good hands)
The Help Center contains 150+ detailed support documents
Dedicated onboarding team to ensure you get the most out of the product
Here are some user reviews from G2 that speak to the quality of the WhatConverts support and onboarding team.
"Whatconverts is not only a great platform with sophisticated capabilities for call (and text) tracking, but the support team is phenomenal. Whenever our team has a question or issue, we receive a thorough reply within minutes, often including videos and detailed explanation on what we're seeing. I find their support to be as valuable as the tool itself!"
"[What do you like best about WhatConverts?] The outstanding support and level of technical expertise in answering support questions. Platform is very stable and reliable and very feature packed."
– Sok V. 
For more on support-related user reviews, be sure to check out the G2 reviews below:
Interested in Learning More About WhatConverts?
You can visit our site and sign up for a free 14-day trial.
In addition, you can request a 30-minute live demo with our team. We'll show you how the product works in more detail and answer any questions you may have.
CallTrackingMetrics is the second product we're most often compared to. And as with CallRail, we also created a detailed guide on how it compares to WhatConverts and other tools (see here).
Who It's Best For: Call Centers That Prioritize Sales-Focused Features
Benefits:

Some plans include sales-based features like softphones and real-time conversation monitoring
Good customization options
Solid Google Ads integration

Drawbacks:

Sales-focused features take away from marketing tracking
Complex user interface
Limited support at lower plans

Pricing:

Starts at $36/mo
Free trial
For an in-depth comparison from a trusted third party, be sure to check out the G2 CallTrackingMetrics vs. WhatConverts reviews.
At the time of writing, CallTrackingMetrics has a total of 103 reviews and 4.6/5 stars on Capterra.
CallTrackingMetrics Standard Features (9.07/10)
Some standard features in CallTrackingMetrics' software include:
Keyword Level Call Tracking
Call Greeting
CallTrackingMetrics Advanced Features (7.28/10)
CallTrackingMetrics advanced call tracking features include:
Customer Journey
Multiple Attribution Models
They also offer lots of features for call centers, like:
Softphone
Auto Dialer
Activity Tracking
Live Listening
CallTrackingMetrics Campaign & Reporting Insights (8.82/10)
CallTrackingMetrics offers lots of functionality for sales reps and call centers, making it a great choice for outbound call tracking. Its lead management dashboard (Activities) displays:
Name and number
Tracking number
Lead score
Recorded audio
Whether a call was inbound or outbound
Answering agent
Duration and answer time
Various follow-up actions (email, tag, flag, etc.)
You're also able to filter leads on this dashboard by a variety of metrics like agent answered, date, and tracking number. However, the filtering and organization options are very limited compared to lead management in WhatConverts—especially when it comes to marketing attribution.
You can filter by 27 different data points (WhatConverts lets you filter by 70+).
You can also view form and text leads within CallTrackingMetrics, though on another page (not together with call leads).
CallTrackingMetrics has an extensive list of standardized reports. However, customization options are very limited.
And from what we've heard from customers, it is not nearly as flexible or powerful as the WhatConverts reporting engine/platform.
CallTrackingMetrics Integrations (8.95/10)
Basic plans integrate with the following:
AMP
Google Ads Direct Connect
Google Analytics
Kissmetrics
Looker Studio
Microsoft Advertising
Optimizely
Wix
WordPress
Zapier
However, integrations with any other tools or platforms (including CRMs) require upgrading to either a Growth or Connect plan.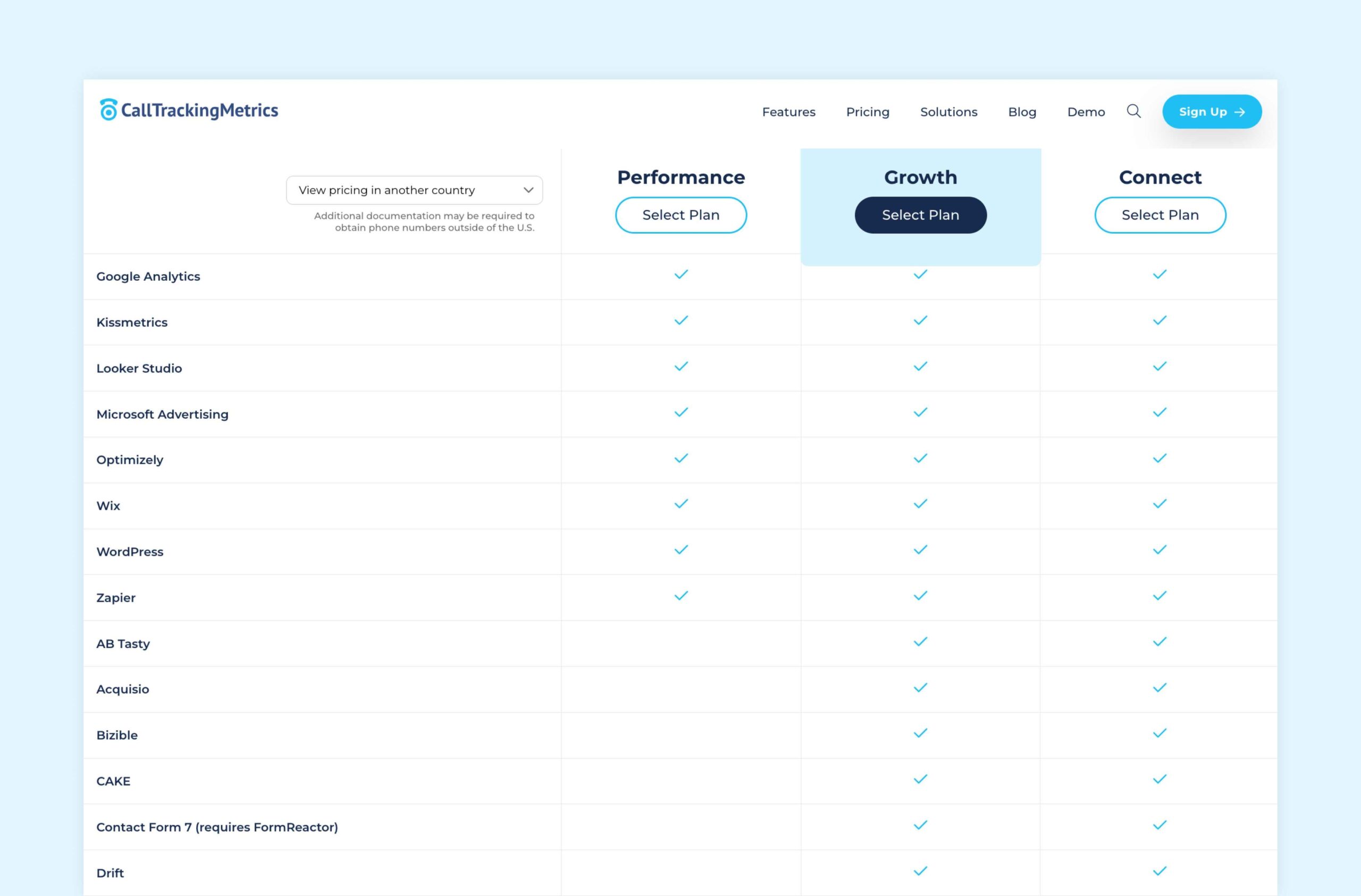 There are plenty of integrations to choose from though.
It's worth mentioning that CallTrackingMetrics has a pretty powerful Google Ads integration, similar to that of WhatConverts. Users can choose which leads to send to Google Ads as conversions. And there are even some automation options available too.
CallTrackingMetrics Automated Intelligence (8.5/10)
Like CallRail, CallTrackingMetrics offers Conversation Intelligence. It uses phrase and keyword spotting to analyze call quality. With it, users can get a general idea of the lead quality, caller sentiment, and other information automatically.
However, this assessment is based again on a single data point—just the call transcription. Marketers who want to automatically evaluate lead quality using more than a transcript will need Lead Intelligence.
And in line with the sales side of CallTrackingMetrics, there are sales-focused automation options too. For instance, you can use automation to help you identify coaching opportunities, create dynamic scripts for reps, and serve up sentiment analysis to help with scoring calls.
CallTrackingMetrics Support & Onboarding (8.7/10)
Live phone and live chat support require an upgraded plan, and the same goes for standard onboarding. They also offer "Premier Help Desk" and customized onboarding for an additional fee with certain plans.
Support is not 24/7.
However, they do have an "academy" where you can learn more about the product.
Reviews of support are generally favorable.
"When you need help with technical things, they are the best support out there."
– Glen P. 
"Has a friendly and responsive customer support team as well."
To read more user reviews on CallTrackingMetrics customer support, have a look at the G2 link below:
CallRail is a great product and we view them as our main competitor. For that reason, we created an article (see here) that discusses the main features that differentiate our product.
Who It's Best For: Good for General Call Tracking for Most Small Businesses
Benefits:

Track a fair amount of call data down to the keyword
Some good automation features (lead tagging and scoring)
Expansive Help Center

Drawbacks:

Clunky and hard-to-navigate interface
Siloed lead data (form and call data are on separate pages of the lead manager, not integrated)
Limited reporting for campaign optimization
Mixed support reviews
Integration paywalls

Pricing:

Starts at $40/mo
Free trial
For an in-depth comparison from a trusted third party, be sure to check out the G2 CallRail vs. WhatConverts reviews.
At the time of writing, CallRail has a total of 162 reviews and 4.5/5 stars on Capterra.
CallRail Standard Features (8.94/10)
Some standard features in CallRail's software include:
CallRail Advanced Features (8.69/10)
CallRail advanced call tracking features include:
CallRail Campaign & Reporting Insights (8.71/10)
CallRail reporting is easy to use. You have ready access to both templated and saved reports right from the side navigation.
However, customization options are a bit limited.
Users can see reports on which marketing assets (keywords, campaigns, etc.) generated calls. But this information does not take into account lead quality, sales value, whether leads are qualified, and other important metrics.
So while you can see which marketing is making the phone ring, you can't see how much those calls are actually worth.
CallRail does have a lead management system (Activity within the app). But the individual lead data shown here is limited to:
Phone number called
Start time
Duration
Contact information (name and phone number)
Location
Tags
Qualified status
You can also see the call recording, transcript, and customer journey (if your plan allows for it).
Plus, lead types (calls, forms, texts) are displayed on different pages, not together.
Finally, some users have also mentioned that the reporting and activity interfaces are difficult to navigate.
CallRail Integrations (8.5/10)
CallRail integrations are a bit limited for two reasons.
First, their integration with Google Ads does not let you choose which leads should be counted as conversions. Instead, CallRail reports all calls, even spam, as a conversion to Google Ads (though you can separate "first-time" and "repeat" callers).
This is a big problem with automated bidding, which is usually configured to target maximum conversions. So if you see an influx of spam calls, the CallRail integration may inadvertently be training the Ads algorithm to target more spam leads.
On top of that, integrations at CallRail are limited by the plan you choose.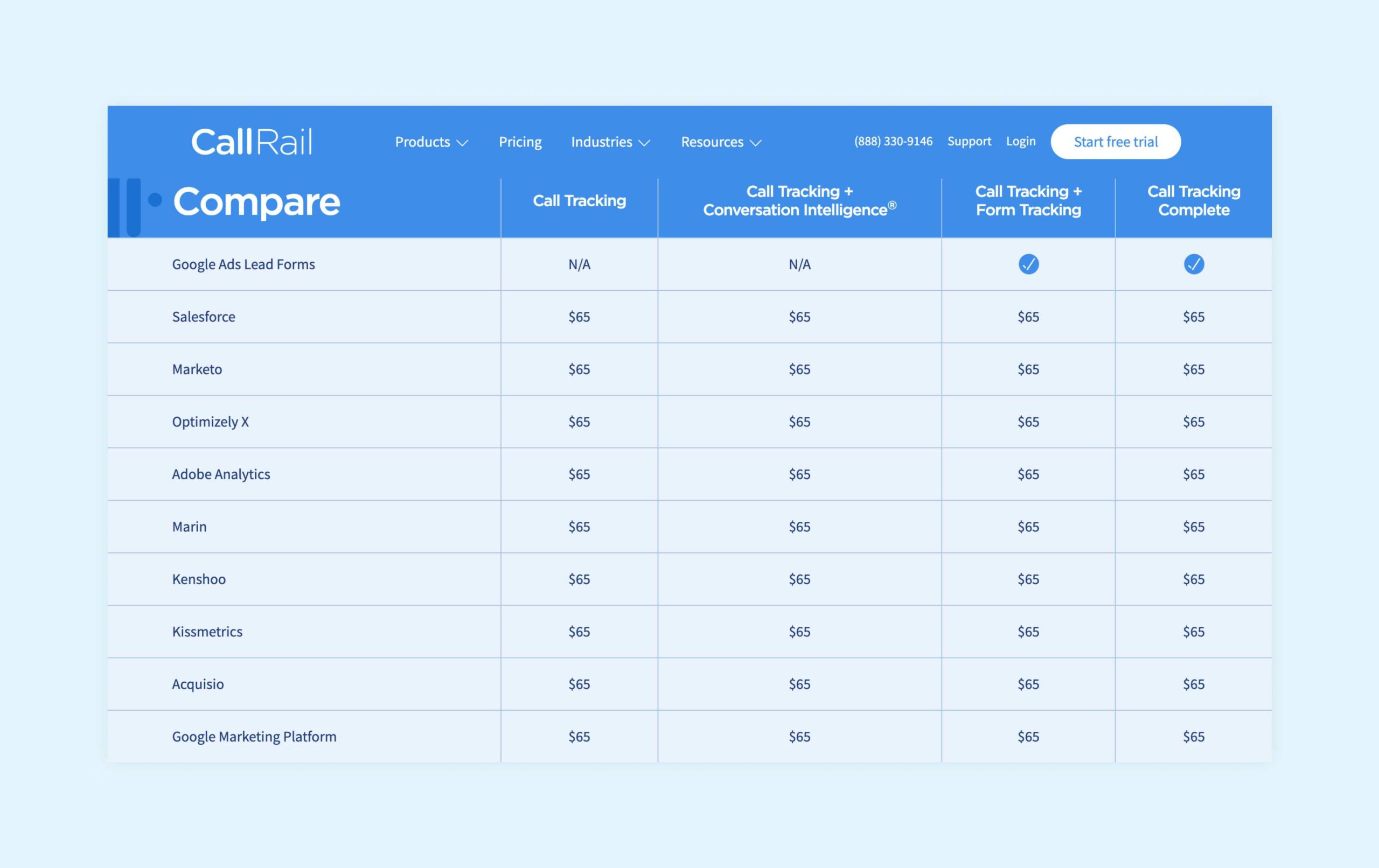 For instance, integrations that are supported on any plan include:
Google Analytics
Google Ads
Bing Ads
Facebook
HubSpot
ActiveCampaign
However, you need to pay an extra $65 per month to integrate with platforms like:
Salesforce
Marketo
Kissmetrics
Google Marketing Platform
Adobe Analytics
There are nine integrations that must be purchased separately (see here). So if you're using these, you should factor that into your pricing decisions.
CallRail Automated Intelligence (8.3/10)
CallRail offers Conversation Intelligence at an additional cost.
Like other Conversation Intelligence, it uses AI to pick out specific keywords and phrases. Then based on those keywords and phrases, it can assign tags, scores, and qualify leads.
It's important to remember though that this information comes from a single data point—just the call transcript. Whereas Lead Intelligence takes Conversation Intelligence a step further and takes into account many data points, including call transcripts.
CallRail Support & Onboarding (8.95/10)
Reviews of CallRail's support team are mixed. However, it's worth noting they do have a lot of help articles to guide users.
"Strong communication with troubleshooting and technical support."
– Dasar A.
"CallRail has some of the best most responsive support I have encountered... The product seems to be geared more toward small-medium businesses." 
– Matt. L
To read more user reviews on CallRail customer support, have a look at the G2 link below:
Invoca is the fourth tool worth recommending, though only for a specific type of user. Its also a solid choice for outbound call tracking. For a deeper look at how Invoca compares to WhatConverts and other tools, be sure to check out our detailed guide (see here).
Who It's Best For: Enterprise-Level Call Centers & Media Buyers
Benefits:

Customize which data is tracked
Many cost-saving features
Various pay-per-call integrations make it a clear choice for media buyers

Drawbacks:

Enterprise and call center-focused features may not be right for marketing agencies
High price
Lack of customization

Pricing:

Not available (must speak with sales)
Free trial
For an in-depth comparison from a trusted third party, be sure to check out the G2 Invoca vs. WhatConverts reviews.
At the time of writing, Invoca has a total of 18 reviews and 4.8/5 stars on Capterra.
Invoca Standard Features (8.86/10)
Some standard features in Invoca's software include:
Call Greeting
Call Whisper
Invoca Advanced Features (5.72/10)
Invoca advanced call tracking features include:
Advanced DNI Options
Customer Journey
Multiple Attribution Models
Invoca Campaign & Reporting Insights (8.53/10)
Invoca does not measure any other lead types besides callers. As such, their campaign and reporting insights are limited to calls only.
Additionally, some users have found their standard dashboard lacks customizability. As one user put it, Invoca's dashboard "doesn't offer the flexibility to pull deep-dive insights."
However, many have found the dashboard to be quite easy to use and intuitive.
Reporting is another area that users say doesn't offer enough customization.
One user said the following:
"I wish reporting was a bit more intuitive. To get more specific results, the filters don't always play well together or yield exactly what we need. More customization would help improve the product!"
Invoca Integrations (8.35/10)
Invoca has 44 listed integrations. However, users have reported that the integrations are lacking, specifically in terms of data integrity between integrations.
That being said, Invoca does integrate with most of the big marketing tools on its basic plan. Tools like:
Google Analytics
Google Ads
Bing Ads
Facebook
Basic plans also integrate with HubSpot and Slack.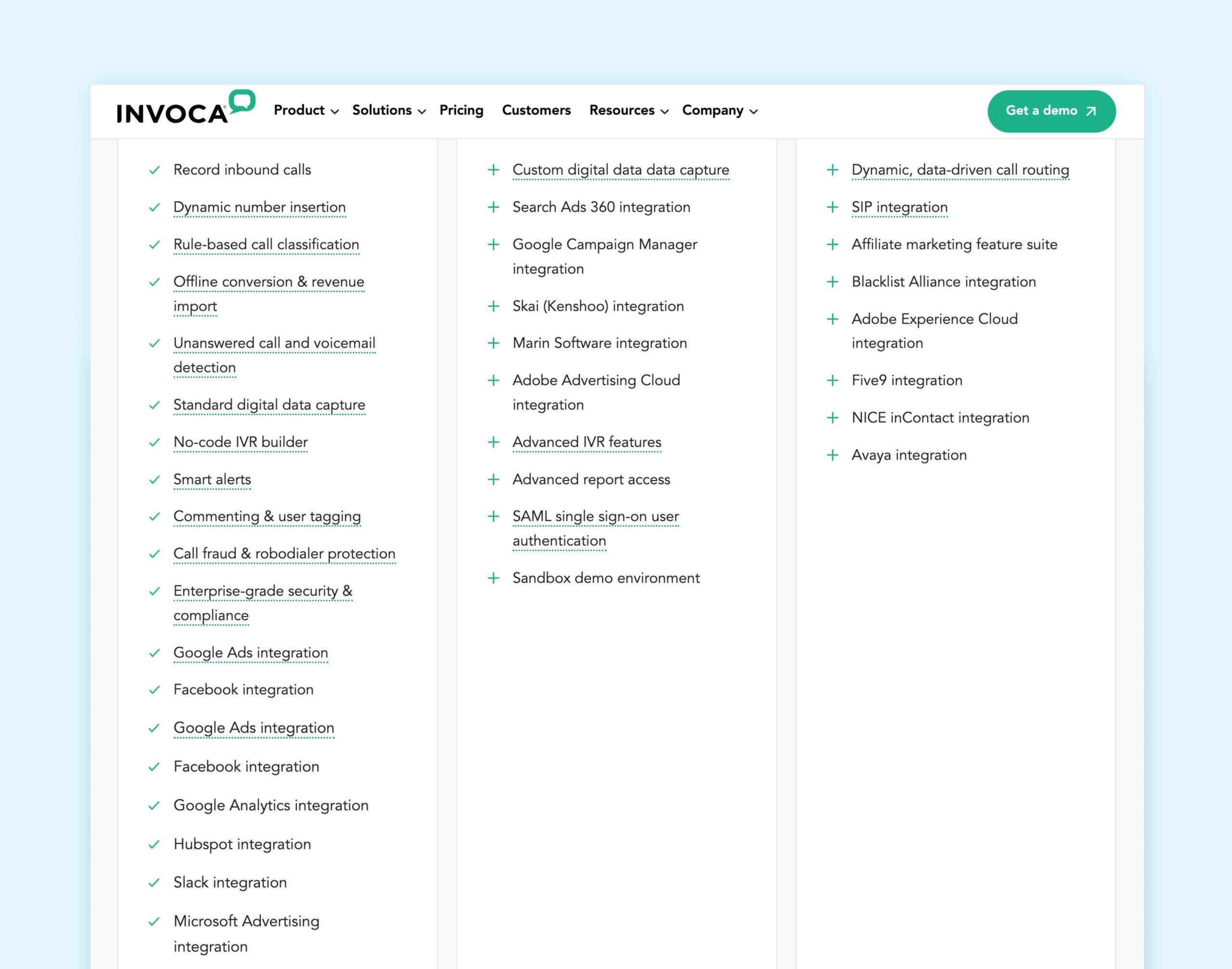 One thing that Invoca does well that other call tracking software do not is integrating with performance marketing networks and pay-per-call networks. Media buyers use these networks to place their ads in front of potential callers in very specific places at very specific times.
Invoca integrates with 13 different performance marketing networks, making it a winner for enterprise-level media buyers.
Invoca Automated Intelligence (8.6/10)
There are lots of Invoca automation tools.
Conversation Intelligence is one, which picks out keywords and phrases from transcripts to assess lead quality, sentiment, and more. You can track specific insights tailored to your business (called "Signals" in the software). But accounts are limited to the number of Signals based on their plan.
You can do the same thing using Lead Intelligence in WhatConverts, but without the limit.
Invoca's AI tools also help spot sales rep coaching opportunities, automatically score rep performance, and even uncover emerging conversation trends.
But again, unlike Lead Intelligence, Invoca's Conversation Intelligence uses just one data point—a call transcript.
Invoca Support & Onboarding (8.45/10)
Standard plans at Invoca offer:
White glove onboarding
24/7 support portal access
Access to website and email support
Invoca's support team also regularly receives high marks.
"The dedicated account manager and customer success support are excellent. You are always fully supported by people knowledgeable in the product and capable of addressing questions."
"The Invoca team has provided excellent support and training along the way and are real allies to our business."
To read more user reviews on Invoca customer support, have a look at the G2 link below:
5 Other Notable Call Tracking Software Apps
The four options above are the best call tracking tools in the industry, each with its own pros and cons.
That being said, here are five other options worth mentioning.
These options lack the capabilities of the top four tools above. But they may still be worth looking into depending on your needs.
Phonexa offers call tracking that's uniquely suited to businesses that handle lead distribution.
Take a look at our detailed guide on how Phonexa compares to WhatConverts and other tools for more information (see here).
They offer features including but not limited to:
For an in-depth comparison from a trusted third party, be sure to check out the G2 Phonexa vs. WhatConverts reviews.
At the time of writing, Phonexa has a total of 43 reviews and 5/5 stars on Capterra.
If you want to learn more about how Marchex compares to WhatConverts and other tools, be sure to check out our detailed guide (see here).
They offer features including but not limited to:
For an in-depth comparison from a trusted third party, be sure to check out the G2 Marchex vs. WhatConverts reviews.
At the time of writing, Marchex has a total of 32 reviews and 4.4/5 stars on Capterra.
Acquired by Invoca in 2021, DialogTech offers features including but not limited to::
At the time of writing, DialogTech has a total of 14 reviews and 3.4/5 stars on Capterra.
Primarily a sales enablement platform, Revenue.io also contains features like call tracking and analytics. However, its focus on sales enablement means it lacks many of the capabilities of other lead tracking tools discussed above.
They offer features including but not limited to:
For an in-depth comparison from a trusted third party, be sure to check out the G2 Revenue.io vs. WhatConverts reviews.
At the time of writing, Revenue.io has a total of 17 reviews and 4.4/5 stars on Capterra.
Specifically for call tracking, Infinity Call Tracking is a UK-based software that focuses on conversation insights.
They offer features including but not limited to:
For an in-depth comparison from a trusted third party, be sure to check out the G2 Infinity Call Tracking vs. WhatConverts reviews.
At the time of writing, Infinity Call Tracking has a total of 17 reviews and 4.7/5 stars on Capterra.
Wrapping Up
So to recap:
Just remember, there's plenty of call tracking software out there to choose from.
What matters most is that you find the right tool for your needs.
Try the powerful call tracking and lead tracking of WhatConverts by starting your free 14-day trial today!