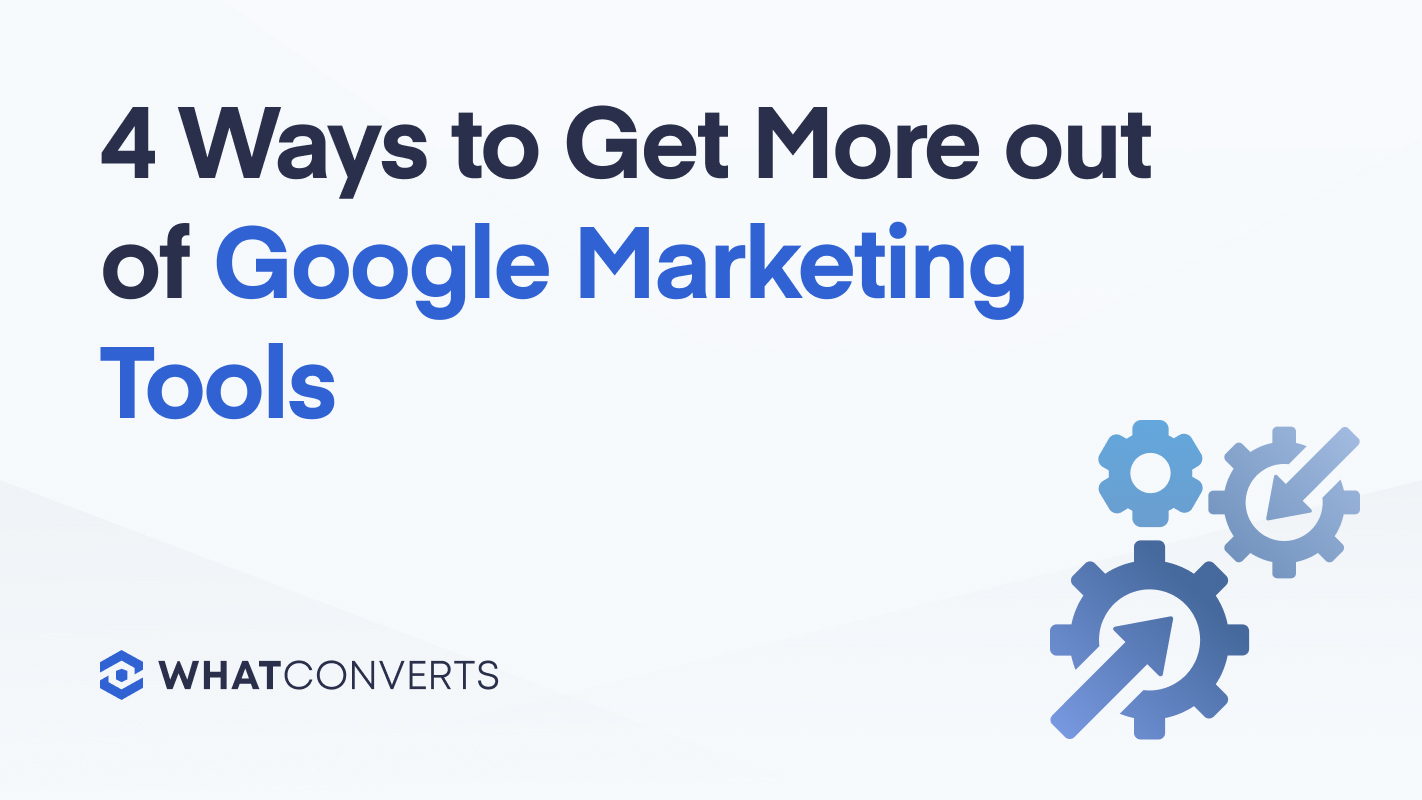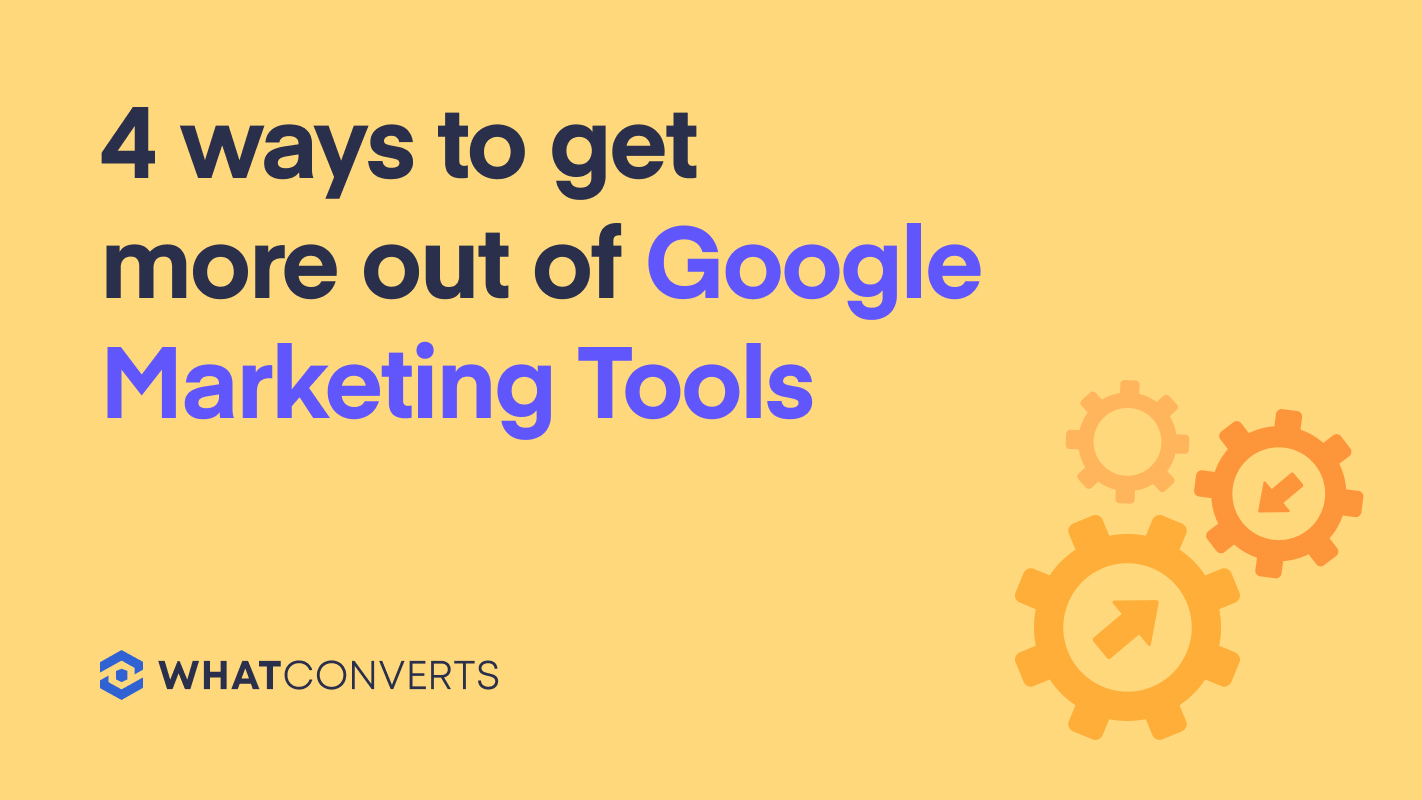 What would you do without Google marketing tools? Everyone uses Google for marketing, but it's the integrations that make these tools really powerful. Without integrations, you might be letting leads slip through the cracks.
In this post we'll explain how to seal those cracks and get accurate data for better marketing decisions. Here's how to use WhatConverts to improve Google's four most popular marketing tools.
Search Ads 360
People use Search Ads 360 to manage search marketing campaigns. People use WhatConverts to track leads from marketing campaigns, including search marketing.
If you combine the two tools, you can add Lead Data to Search Ads 360 data.
Here's how it works:
Search Ads 360 tracks conversions; someone clicks on your ad, visits your site, and performs a conversion action (call, click or fill out a form).
Adding Lead Data from WhatConverts tells you if those conversions are qualified, valuable leads. You can then see which search ads — and website pages— generate the best leads. You'll know what kind of marketing works.
The WhatConverts/Search Ads 360 integration also allows you to add sales value to leads. Therefore, you can calculate ROI for every campaign. With all that Lead Data, you can measure the real value of Search 360 conversions. You can see which campaigns drive different types of leads:
Qualified leads
Leads with high sales value
Local leads
The more detailed your lead data, the more accurately you can judge the success of your search campaigns.
Google My Business
Did you know that 5% of people who view a Google My Business listing end up calling or clicking?
You can capture those calls and clicks to get more accurate data about how Google My Business drives leads. If you don't track leads from Google My Business (GMB), you'll have an incomplete marketing picture. It's like having a leak — you can't let leads slip through the cracks.
There are two ways to track all these calls and clicks:
Tracking numbers (for calls)
UTM parameters (for clicks)
Track Calls:
Here's how tracking numbers work: WhatConverts lets you buy Tracking Numbers to use on your GMB listing. When someone calls a Tracking Number, they'll be connected with your real business number, and whether a user taps the number on mobile or calls manually WhatConverts will capture and store that lead.
To track GMB calls, all you have to do is add a Tracking Number to your GMB listing.
Track Clicks:
You control which URL appears on your business GMB listing. Keep in mind, people seem to trust the links that appear on GMB listing; clicks from GMB >grew by 29%.from 2017 to 2018.
To track these clicks, just add UTM parameters to your URL on the listing. When a user clicks on this URL, WhatConverts will capture any form-fills, chats, and calls they make while on your website.
If you can track all that lead data, you can account for every lead that you get from Google My Business.
Google Ads
WhatConverts can track conversions from Google Ads then send Lead Data back to Google. What's Lead Data? It's different from Conversion Data, which is normally used in Google marketing tools.
Conversion Data includes unqualified leads; Spammers and salespeople can be counted as conversions.
Lead Data only includes qualified leads, and can also the lead's potential sales value.
The distinction is important when measuring the success of your marketing, and it's especially important if you're using automated bidding strategies for PPC ads. You don't want to bid more just because you got a large number of junk leads that made your campaigns look more successful than they were.
WhatConverts not only tracks lead data, but also tracks the campaign, landing page and keyword for your Google Ads. With that information attached to every lead, you'll have no problem optimizing ads to maximize ROI.
Google Analytics
Google Analytics can't track phone call conversions on it's own. That's where WhatConverts comes in.
It's a simple process. WhatConverts tracks conversions as events and sends them back to Google Analytics. Google Analytics recognizes event conversions, and displays them alongside all other conversions like clicks and form-fills. That's how you judge the success of your website — by capturing all conversions.
Adding call conversions to your Google Analytics data does wonders for your marketing reports. With all this extra information about new leads, you can create reports that show exactly how well your website is driving quality leads.
You can then create customized reports, such as one that shows how much call conversions are worth compared to form-fill conversions. The more data you have, the more types of reports you can create.
Here's how to integrate WhatConverts and Google Analytics
Those are four of our most popular integrations with Google marketing tools. Each one adds value to tools that marketers use every day. The more you can measure, the more accurately you can plan for the future and assess past performance. Doing both of those things well makes you a better marketer.