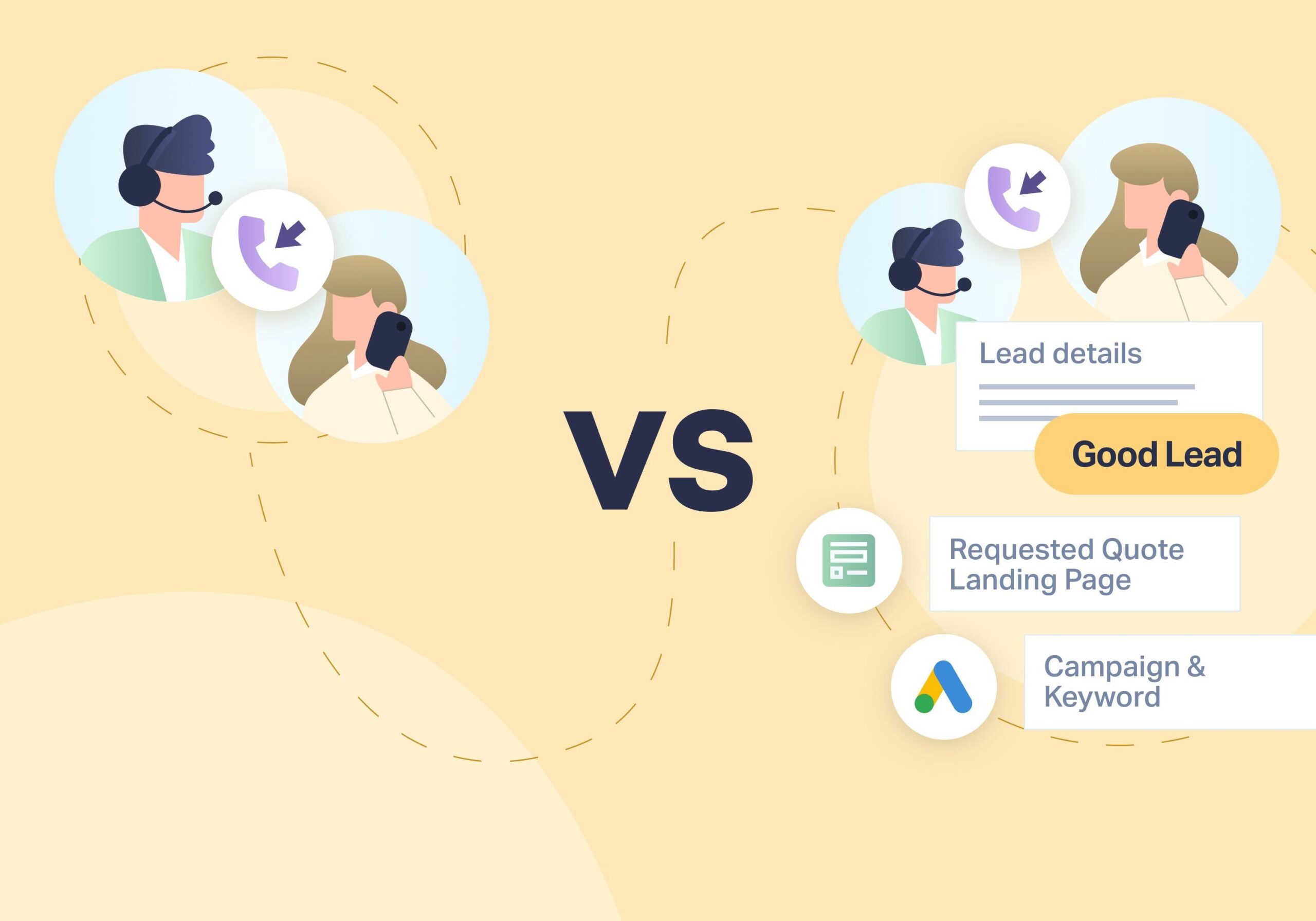 There are a lot of "intelligence" features being introduced these days. And Conversation Intelligence in particular is popping up in a wide range of marketing tools.
But what is Conversation Intelligence? And how does it compare to Lead Intelligence?
That's what we're talking about today.
We'll also look at:
How Conversation Intelligence and Lead Intelligence work
Different data each intelligence type uses
And whether Conversation Intelligence or Lead Intelligence is right for you
So let's start by first defining the two.
What Is Conversation Intelligence?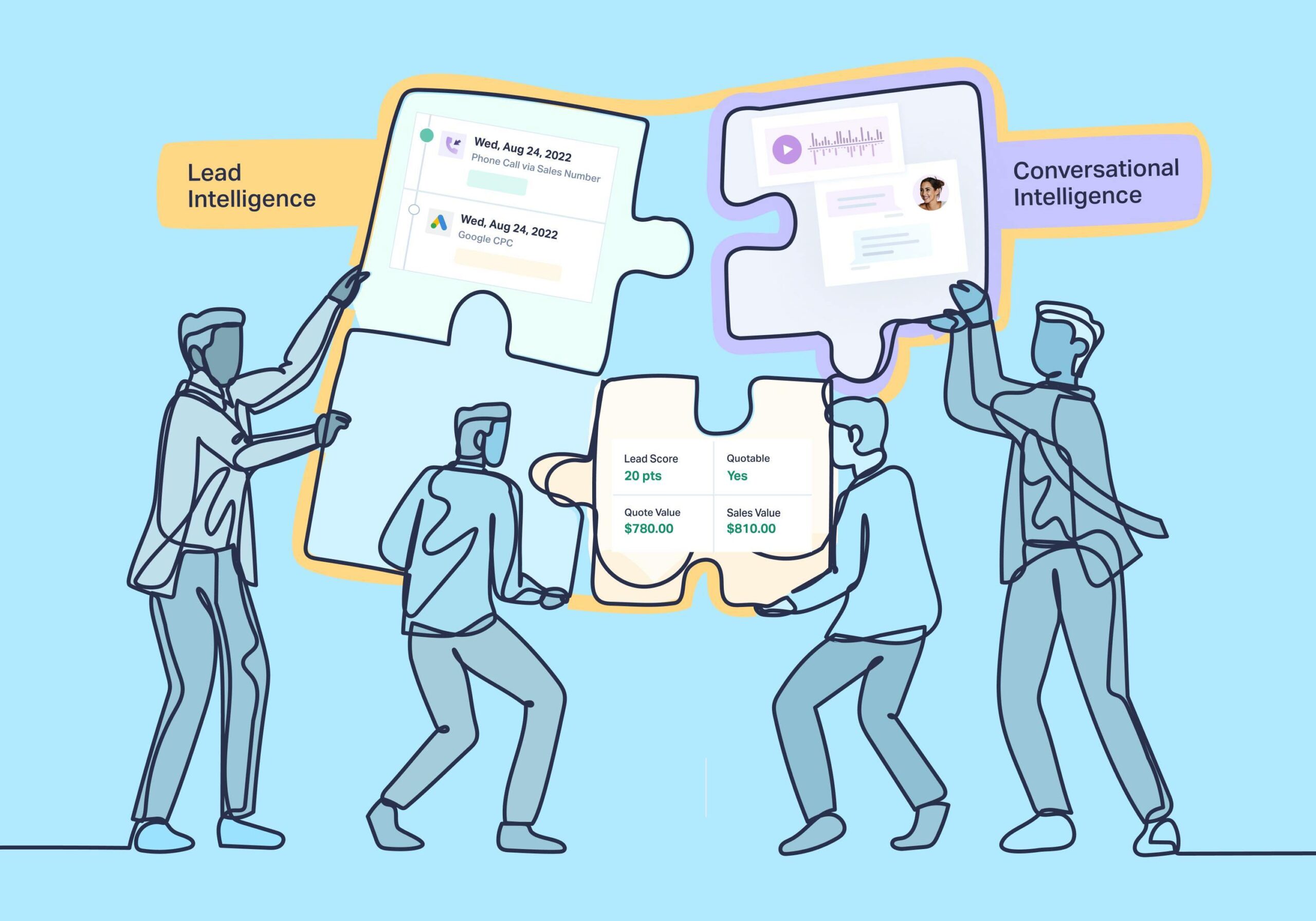 Conversation Intelligence uses AI and machine learning to glean insights from your customer-facing phone calls.
It does so by analyzing call transcriptions and picking out specific keywords and phrases.
As it's marketed, Conversational Intelligence generates insights that can be used for:
Evaluating the effectiveness of calls with potential customers
Estimating buyer intent of leads
Approximating the quality of those leads
What Is Lead Intelligence
Lead Intelligence is a tool that lets marketers automatically qualify, value, and action the leads they've generated.
It includes all the features and capabilities of Conversation Intelligence. And in fact, Conversation Intelligence is one part of Lead Intelligence as a whole. But it also expands on Conversation Intelligence by using data from a variety of sources, not just call transcriptions.
With Lead Intelligence, you can create rules that automatically qualify, value, or action leads that meet criteria you set.
For example, you could create a rule that identifies all new leads that:
Clicked on a specific ad
Filled out a form
Mentioned a keyword for a specific product (like Conversational Intelligence)
Showed interest in your business by visiting a certain page during their buyer journey
Then, Lead Intelligence can automatically action those leads for you by qualifying them, assigning a value, sending them to Google Ads as conversions, and more.
Essentially, the goal of Lead Intelligence is twofold:
To replicate what marketers are already doing.
And to do that automatically in seconds (rather than the hours or days it'd take to do so manually).
Conversation Intelligence vs. Lead Intelligence: A Side-by-Side Comparison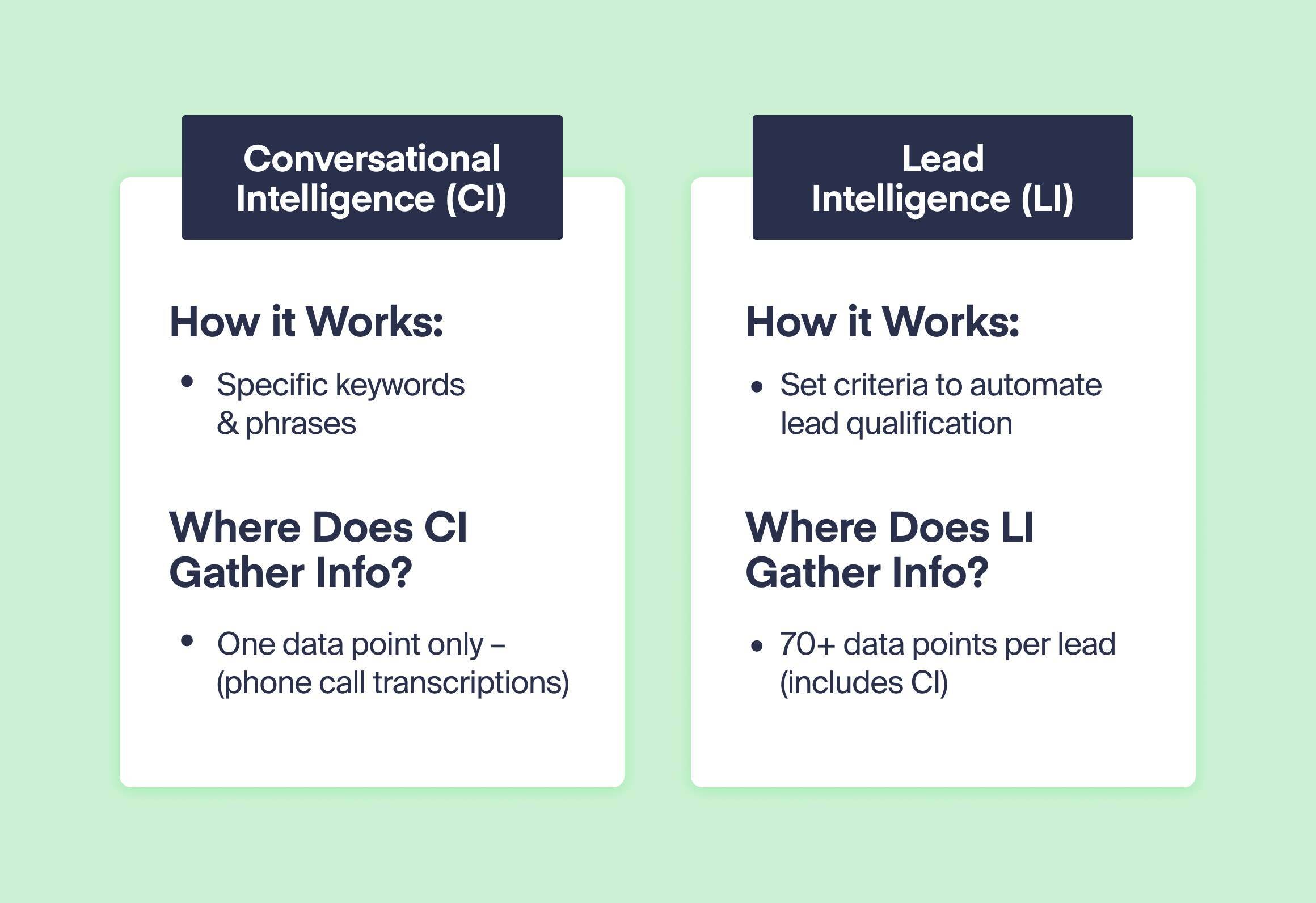 Let's look at a side-by-side comparison of Conversational Intelligence and Lead Intelligence across two different categories:
How they work
Where they get their info
Conversation Intelligence: How Does It Work?
Conversation Intelligence generates insights by plugging call transcriptions into an AI or large language model (LLM).
The AI then searches through the transcript for specific keywords and phrases and assesses the call for qualities like sentiment and intent.
So for instance, a call transcript may read like this:
"I would like to set up an appointment this week to get a quote on a new roof for my home."
Conversation Intelligence may pick out keywords and phrases like "appointment," "this week," "quote," and "new roof."
Then, it may categorize that potential customer as:
Interested in a new roof
Requesting a quote service
Having strong buyer intent
As a marketer, you could then qualify the lead and send it to sales based on that information.
Where Does Conversation Intelligence Get Its Information?
Conversation Intelligence only uses a single data source: phone call transcriptions.
There are a few problems here.
First, transcriptions aren't always spot-on.
Tone of voice, volume, background noise—they can all easily impact the accuracy of a transcription. And if the words transcribed are off, an AI interpretation can't offer insights that match the true intent of the call.
There's also slang, colloquialisms, and implications to consider—factors that AI can't always parse through.
And finally, a transcription is just one data point. Marketers usually need more than a short snippet of info to be able to judge a lead's true quality level.
Lead Intelligence: How Does It Work?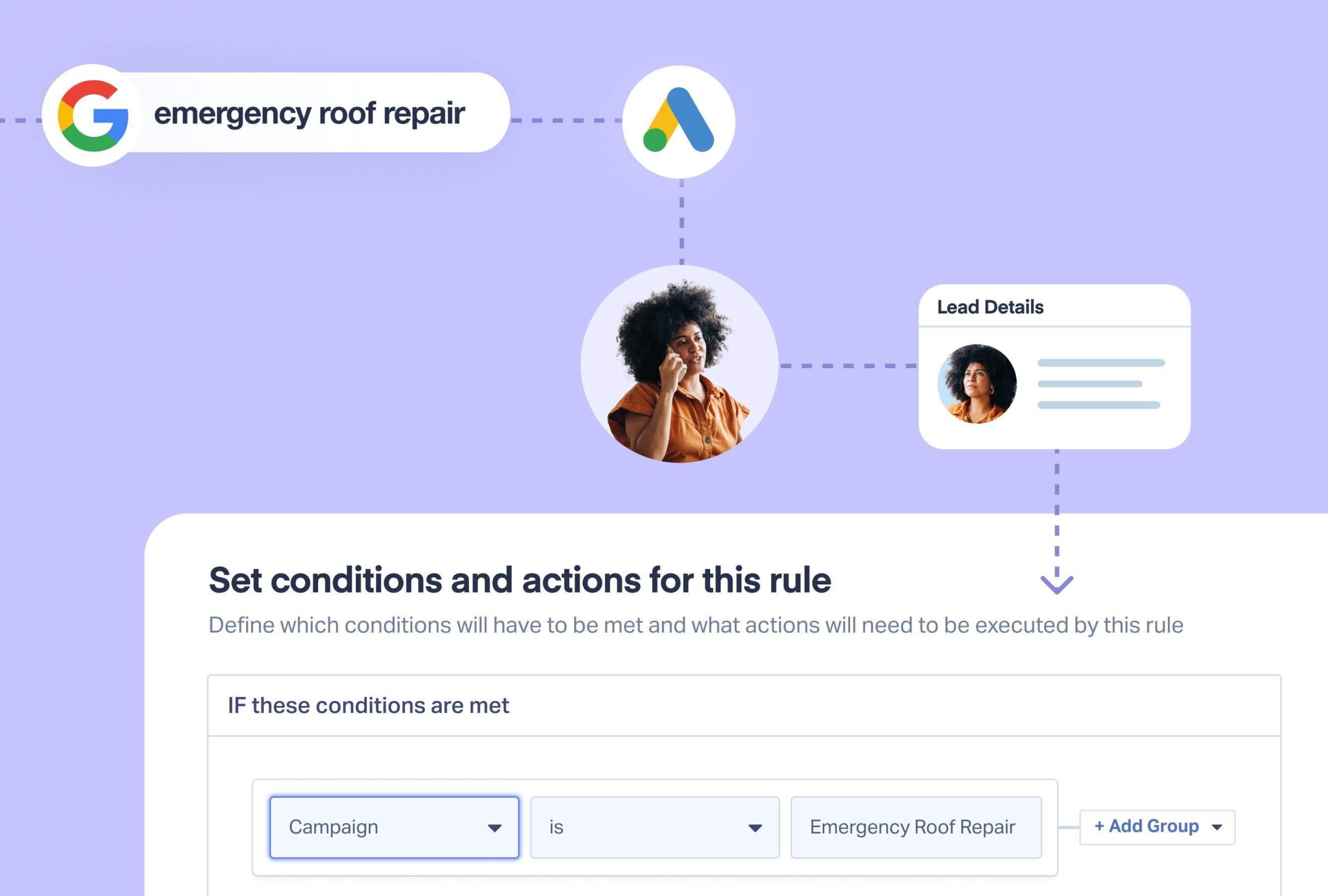 To let Lead Intelligence qualify or value your leads for you, all you have to do is enter your criteria for how you're already qualifying and valuing your leads right now.
Think, "How do I qualify leads already as a human marketer?"
This can be anything from clicking a certain ad to mentioning a specific keyword (remember: Conversational Intelligence is a part of Lead Intelligence).
Then, just add those rules and decide what action you want Lead Intelligence to take on leads that meet your criteria.
So if you wanted to set up a rule to qualify and send to sales any leads that:
Clicked on an ad for emergency roof repair
Made a call to your business requesting an appointment
Were new customers
You can create a rule like this:
IF these conditions are met:

Campaign is Emergency Roof Repair
Type is Phone Call
Spotted Keyword is "Appointment" or "Quote"
Duplicate is No
THEN execute these actions:
It's important to note that these are all things you're doing as a marketer already. But Lead Intelligence lets you do so automatically, quickly, and as soon as leads come in (even during off hours).
Plus, Lead Intelligence lets you action leads in a number of ways.
You can:
Where Does Lead Intelligence Get Its Information?
Lead Intelligence incorporates multiple data points, not just one.
Since Conversation Intelligence is a part of Lead Intelligence, a rule can evaluate the quality of a lead based on spotted keywords in a call transcript.
But Lead Intelligence also can take into account data points from the entire lead profile, including:
How the lead began interacting with your business (cpc, organic)
Where they came from (Google, Bing)
Actions they've taken on your site (made a call, filled out a form)
Specific ads they clicked on
Call length (30 sec, 1 minute, 5 minutes)
Call flows (new patient, existing patient)
Lead score
Quote or sales value
The only limits for setting up rules are the robustness of your lead tracking (WhatConverts collects 70+ data points on each lead) and your own creativity.
With this full lead profile, you can get a better understanding of a lead's true quality.
Which Is Right For Marketers?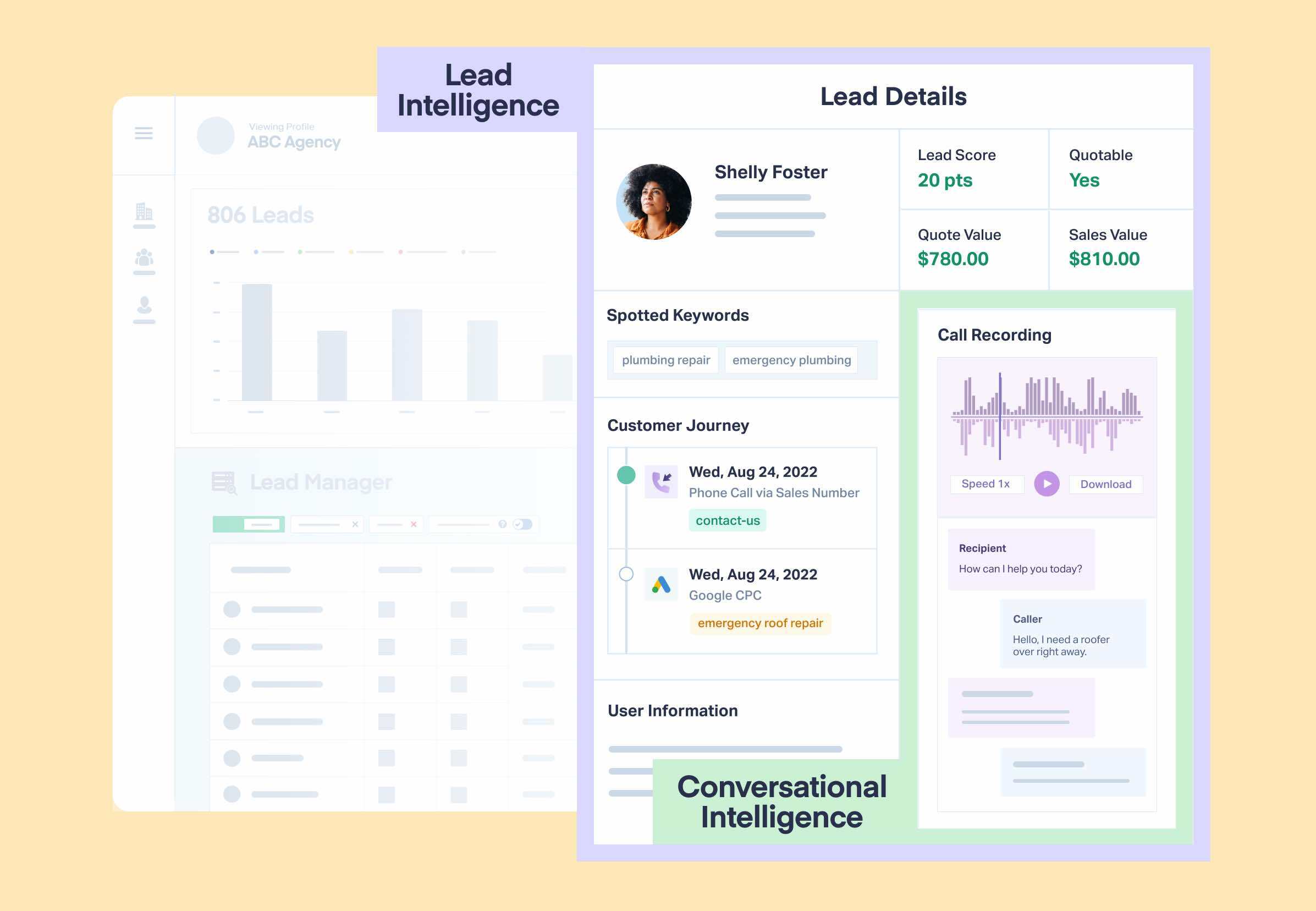 Now that you understand the difference between Conversation Intelligence and Lead Intelligence, the question is…
Which is right for you?
Here's a quick breakdown of criteria you can use to determine which tool will work for your business.
Conversation Intelligence is right for you if:
You need a basic overview of a call
Having data from a single call is all you need to determine lead quality
Your transcription service is 99% error-free
You're confident in AI's ability to evaluate intent
You'd rather action leads yourself
Lead Intelligence is right for you if:
You want to know the context behind a call, form, email, or chat lead
You use multiple sources of data to determine the quality of a lead
You want to automate the qualification process based on your own rules, not the black-box rules of AI
You want to automate actioning leads, even during off-hours
You want to continually optimize your Google Ad campaigns by sending only quality leads as conversions
Wrapping Up
While Conversation Intelligence leverages the power of AI, Lead Intelligence is a more flexible, focused, and powerful way to qualify, value, and action your leads automatically.
For marketers, it offers many advantages over Conversation Intelligence.
And most of all, it gives you a more accurate picture of who your leads are and if they're right for your business.
Want to try out Lead Intelligence for your business? Start your free 14-day trial of WhatConverts today!