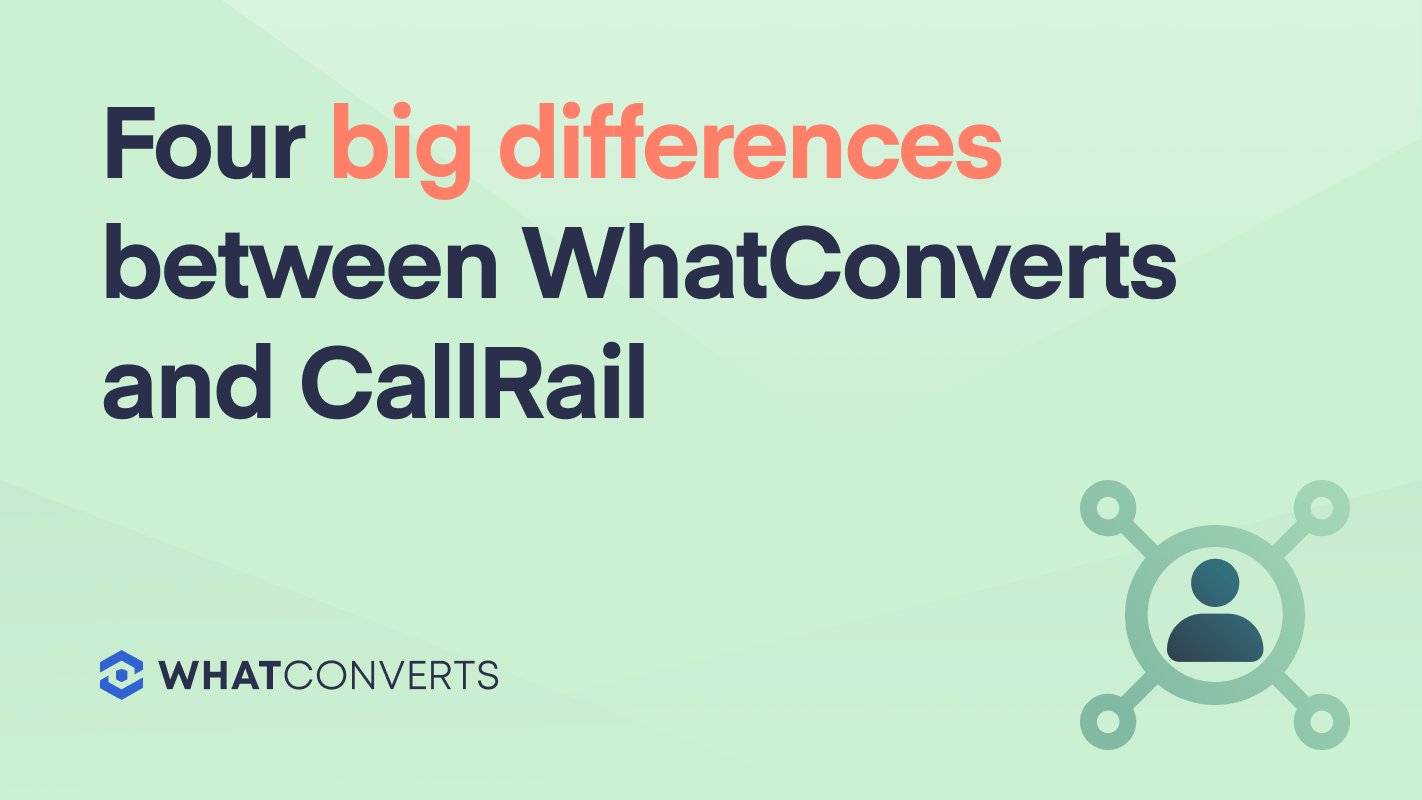 Thinking about switching from CallRail to WhatConverts? There are notable differences between the two platforms, especially regarding the leads dashboard and reporting capabilities.
Because we get asked about these differences so often, we decided to put our thoughts into an in-depth post that details the features which differentiate WhatConverts from CallRail.
Read on to learn the facts and make a more informed decision.
4 Differences Between WhatConverts and CallRail
1. You can quickly sort and filter leads in one dashboard
2. It's easy to create custom reports inside WhatConverts
3. WhatConverts tracks calls, forms, chats and eCommerce in one place
4. WhatConverts offers call tracking and reporting for less
You can filter leads right in WhatConverts; there is no need to export the data to Excel manually.
Sign up here for a free 14-day trial. You can also request a 30-minute live demo, where we'll answer your questions and show you the best ways to use our platform.
WhatConverts captures dozens of data points about every lead that calls your business, including:
Where the lead originated from:
Source
Medium
Campaign
Keyword
Landing Page
Lead Type (WhatConverts also tracks form, chat, and eCommerce transaction leads).
How valuable the lead is:

Quotable Status
Quote Value
Sales Value

The "who" behind the lead:

Name
Email
Phone Number
Location
If you need more data points, WhatConverts allows you to add custom fields unique to your business.

The above screenshot from WhatConverts shows how easy it is to sort and filter leads in a table with columns based on various data points.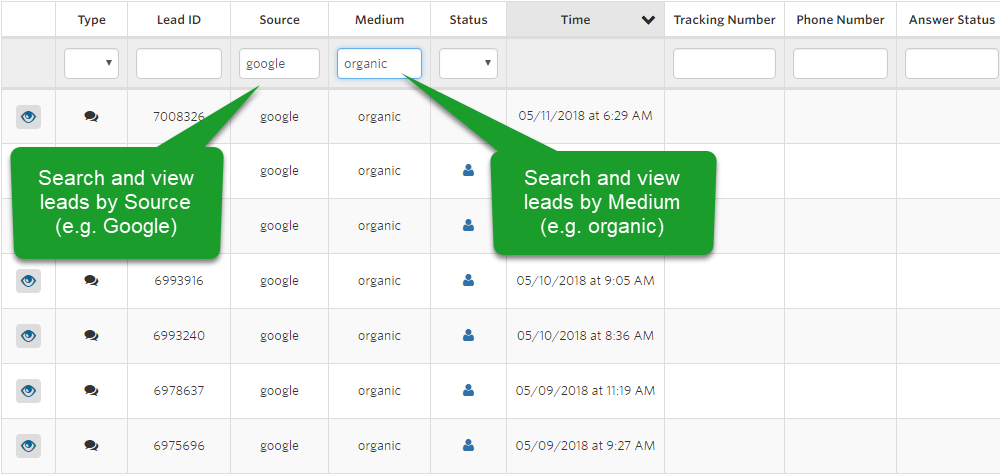 The lead table view functions similarly to an Excel spreadsheet in terms of sorting/filtering columns, except you never have to leave the WhatConverts dashboard.
Why Is This Important? 
Marketers and business owners want to know which campaigns drive leads. WhatConverts lets you sort and filter all your leads to see which landing pages, keywords, content, and ads drive leads.
When you can sort leads, you can answer questions like:
Which of my marketing activities is driving the leads?
Which campaigns are working the best overall?
Which marketing campaigns or channels are driving leads to which product or service?
Are these leads quotable?
How many touchpoints do leads have before they convert?
Example of Using a Combination of Data Points to Identify Successful Marketing Activities
Say you handle marketing for a plumbing company. Each time a customer calls, they go through a call flow that asks them to "press 1" if they're a new client or "press 2" if they're an existing client.
If they're a new client, they then go through a second call flow that asks them about the service they're interested in getting (i.e. Press 1 if you're like to inquire about our HVAC plumbing services, or press 2 if you'd like to inquire about our electrical plumbing services).
After the call is over, your salesperson uses WhatConverts to mark the lead as "Quotable" (or not quotable)
You now have three data points:
New Customer vs Existing Customer
Service request ("HVAC Plumbing" or "Electrical Plumbing")
Quotable or Non-Quotable
With WhatConverts, you can filter the table to only show leads who are: (1) New Customer, (2) inquired about HVAC Plumbing, and (3) were Quotable. In addition, every lead in your table will have the marketing data attached, so you can see where the lead came from.
This all happens inside WhatConverts. With other call tracking software companies, you'd have to manually export and work with the data in Excel. 
Many customers have told us they save a lot of time dissecting their leads and sources in just a few clicks in WhatConverts vs downloading and manually doing spreadsheet analysis in other software.
There's no need to waste time and money on third-party reporting tools.
We mentioned the ability to sort and filter leads in WhatConverts. But what if you wanted to turn that table view into a report that clients or CEOs can easily digest?
The WhatConverts Report Builder makes this possible.
In the example below, a company running Google Ads put the following filters in the leads dashboard.
Keyword
Ad
Landing Page
Quote Value (optionally assign a quote/sales value to leads using our post-call qualification features).
Using the WhatConverts report builder, the company can generate a chart. This chart shows which Keyword/Ad/Landing Page combination contributed to the highest quote value.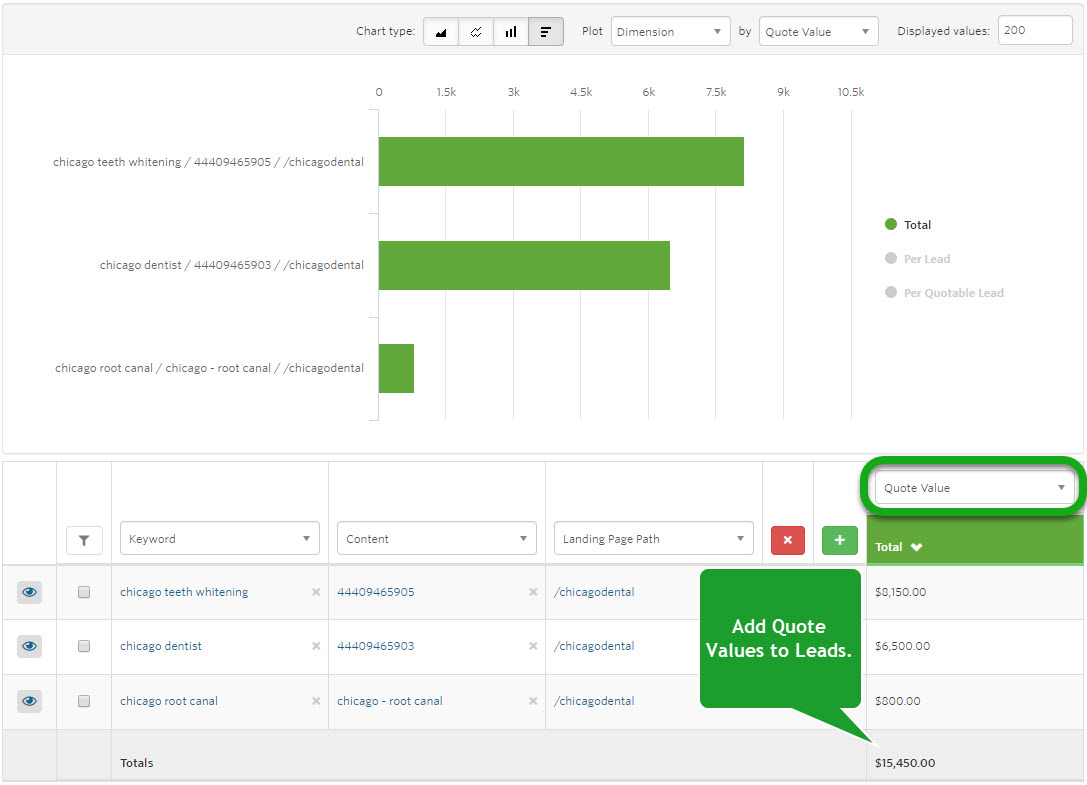 This is just one example. You can use any combination of data points (based on what's relevant to your business) to create custom reports. You can also schedule out reports to be emailed daily, weekly or monthly.
How Does This Compare to Other Call Tracking Solutions?
When we founded WhatConverts, we emphasized building a flexible and robust database structure. We want our customers to be able to do everything inside the WhatConverts platform. 
With most other call tracking solutions, you'd have to export the lead data into a spreadsheet then add third-party tools such as AgencyAnalytics to create the report.
Some customers who have switched over from competitors reported that it took them an entire day to export and set up reporting with other providers and third-party tools.
Marketing agencies who use WhatConverts often tell us they appreciate how our reporting flexibility saves them time. We've heard similar things from in-house marketers who need to generate monthly or quarterly reports for management.
In WhatConverts, you can track every lead in one place, no matter what conversion action they use. Thus, each lead type turns into a data point that you can filter when creating reports.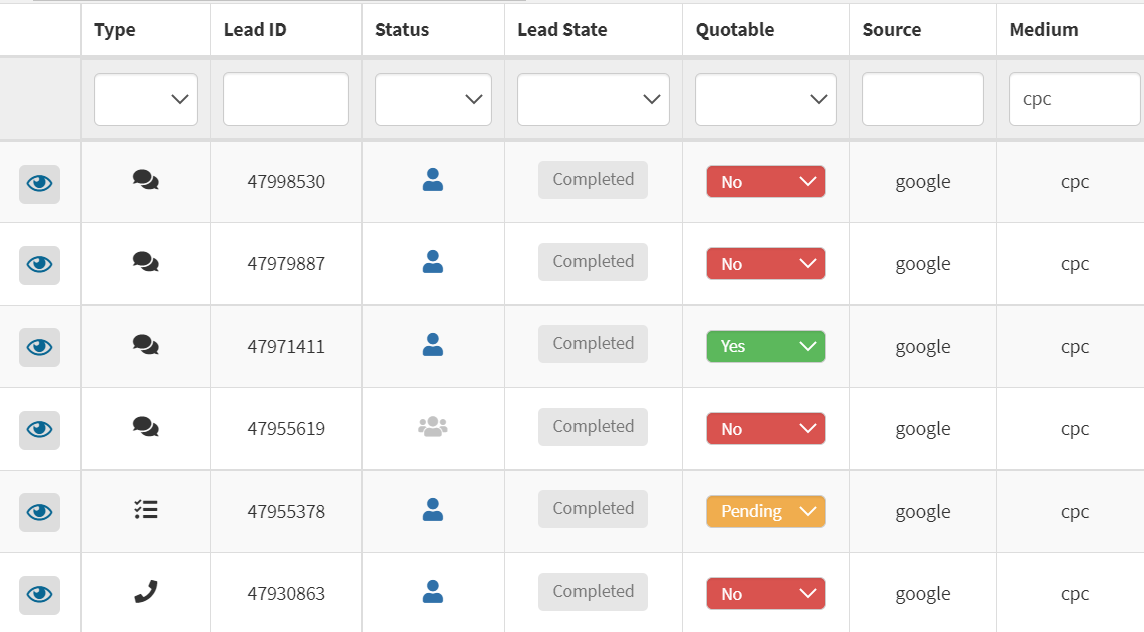 If you're running Facebook Ads that drive conversions from (1) calls, (2) forms, (3) and chats, and you want to view each of these results separately, you can filter by:
Source: Facebook
Medium: CPC
Type: Either call or form or chat (depending on which results you want to view).
Most call tracking solutions let you track leads from calls and forms, but not chats and eCommerce transactions. Tracking every lead ensures each marketing channel gets credit for every lead it generates.
Additionally, other software platforms store call and form leads in two separate/siloed parts of the platform. WhatConverts stores every lead in one dashboard where you can gain insights by filtering through call, form, chat tracking and eCommerce data.
The next differentiator is straightforward. Whether you're looking for call tracking or a full suite of lead tracking and reporting, we offer it at a lower cost than competitors.
Would You Like to Test Out WhatConverts?
Sign up here for a free 14-day trial. You can also request a 30-minute live demo, where we'll answer your questions and show you the best ways to use our platform.