Your own custom reporting tool
Each company has their own unique reporting needs. Previously, we had to either apologize or go crazy with Excel. Now, we say go ahead, create and save any report you need.
The new Report Builder allows you to create just about any report you may need based on the data in your WhatConverts account. Report Builder is only available in WhatConverts Pro and Agency Plans.
If you want to see a lead report on the best combination of Keyword + Ad + Landing Page, all you have to do is select those dimensions from the drop down you'll instantly get a report displaying all leads for the above combination.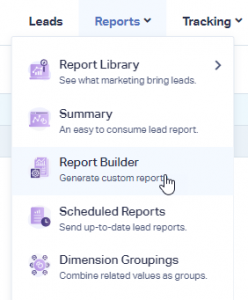 From here you can filter, sort or add even more dimensions like Source + Campaign to further narrow down your best marketing channels.
Select what metrics to report:
Lead Types - shows number of total leads by conversion type.
Quotable - shows number of quotable leads.
Quote Value - sums up quote value added to leads. (see example below)
Sales Value - sums up sales value added to leads.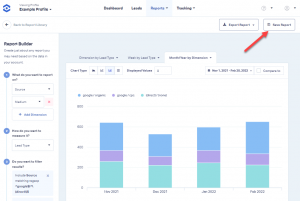 The fun doesn't stop there, you can think of any combination and WhatConverts will turn it into a  beutiful report, chart or tables.
Here are detailed instructions for creating and saving custom reports.
Save time, prove your value and gain insights.
Your phone calls, form submissions, web chats and ecommerce transactions can all be seen in one place. You get that information directly in your WhatConverts dashboard. See what marketing brought leads to you and dive into additional lead data such as lead page, landing page, form details, call details, chat transcripts and call recordings.
WhatConverts answers your conversion questions including:
What marketing inspired a customer to reach out?
Are the leads coming into my business leading to sales?
When a customer fills out a form or calls, is that a "good" lead?
Get the tools you need to see what marketing converts, whether people call, chat or fill out a form.
WhatConverts can track every touch-point back to the marketing responsible, giving you the complete marketing picture.
Don't miss a beat with your lead tracking. Schedulea  live demo of WhatConverts today.