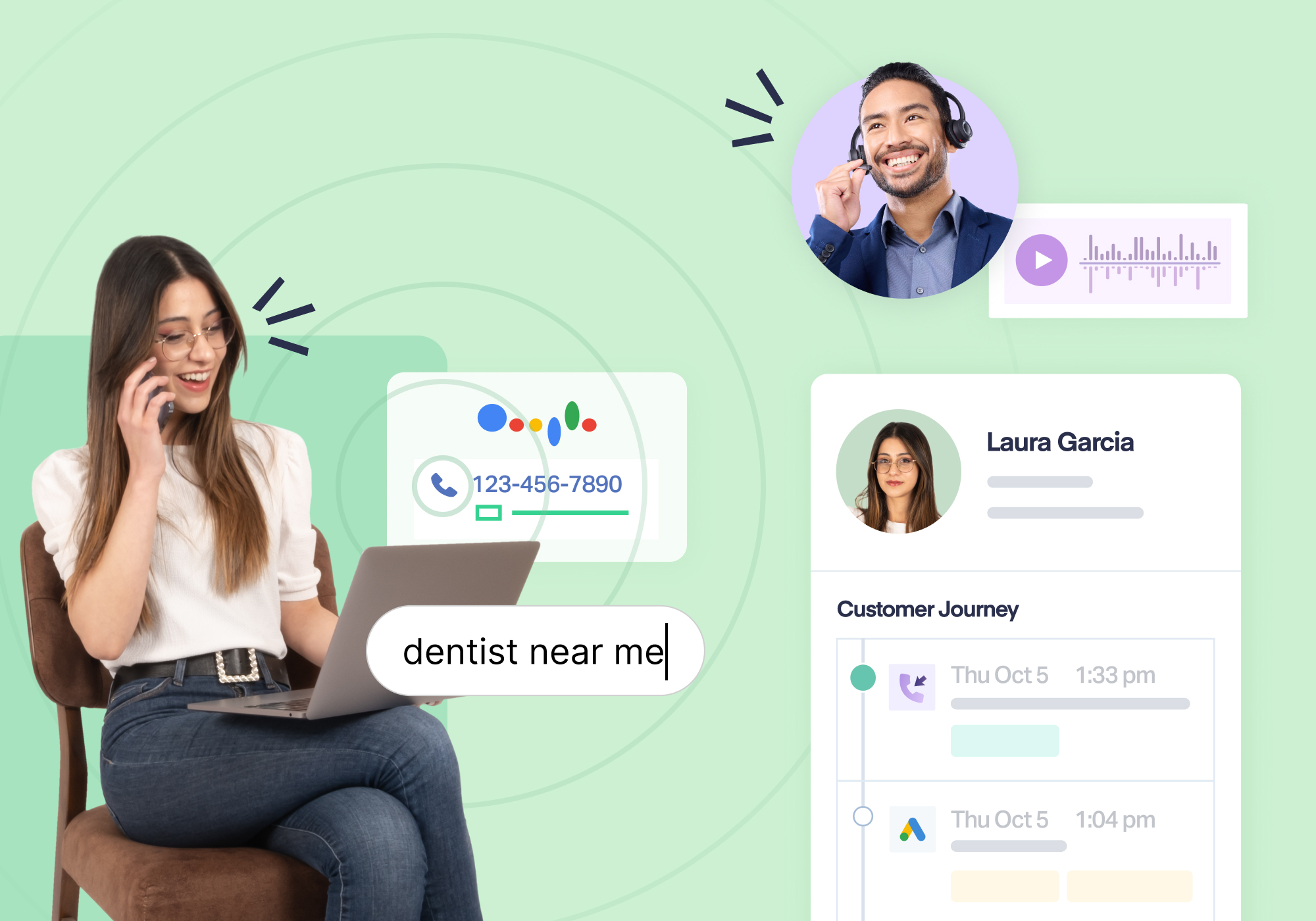 One of the great things about digital marketing is the traceability.
Where your leads have been, which ads they clicked, landing pages they visited—all of it (when properly tracked) lets you trace a purchase back to the marketing that caused it.
But what if those online leads convert offline, say over the phone?
That digital footprint—and the attribution it carries—stops entirely. The trail goes cold.
Call tracking solves that problem. It lets marketers determine call attribution and gives them the data they need to make smarter optimization decisions.
Above all, it's the best way to know which marketing makes your client's phones ring.
What Is Call Tracking?
Call tracking bridges the gap between online marketing (keywords, ads, campaigns) and offline calls.
With it, you can see which of your marketing is causing leads to pick up the phone.
Say a new customer saw your client's ad on Google and called up the business to place an order.
Without call tracking, you can't know which ad generated that call. There's nothing linking their online browsing (clicked an ad) to their offline behavior (made a call).
As a result, it's impossible to tell which ads are performing well and which are the duds.
But a business with call tracking would know:
Which keyword, ad, campaign, etc. caused each call
Contact information for that caller (location, name, number, etc.)
Call information like duration, unique vs. repeat caller, call recording/transcription
For marketers, having this data opens up a wealth of opportunities.
What Can You Do with Call Tracking?
Call tracking lets marketers prove their return on investment (ROI) for clients who do business over the phone.
Home services, health and wellness providers, dentists, law firms—these industries all rely on call leads for the bulk of their business. And many generate those leads through online marketing.
When you can tie offline leads (phone calls) back to the online marketing that generated them (SEO, PPC ads, etc.), you can calculate the hard-number value of your marketing efforts—your marketing ROI.
Call tracking software also gives marketers optimization insights on their campaigns.
For instance, marketers can use call tracking to gather campaign-specific data like:
Conversion rate
Average revenue per lead
Average cost per lead
Return on ad spend (ROAS)
With that data in mind, marketers can then double down on the campaigns with the highest return, cut those with the lowest, and maximize their ROI.
See below for how one of our clients did exactly that to increase their ROI by 1,570%.
Read More: CAMP Digital Delivers 1,570% Marketing ROI with WhatConverts
How Does Call Tracking Work?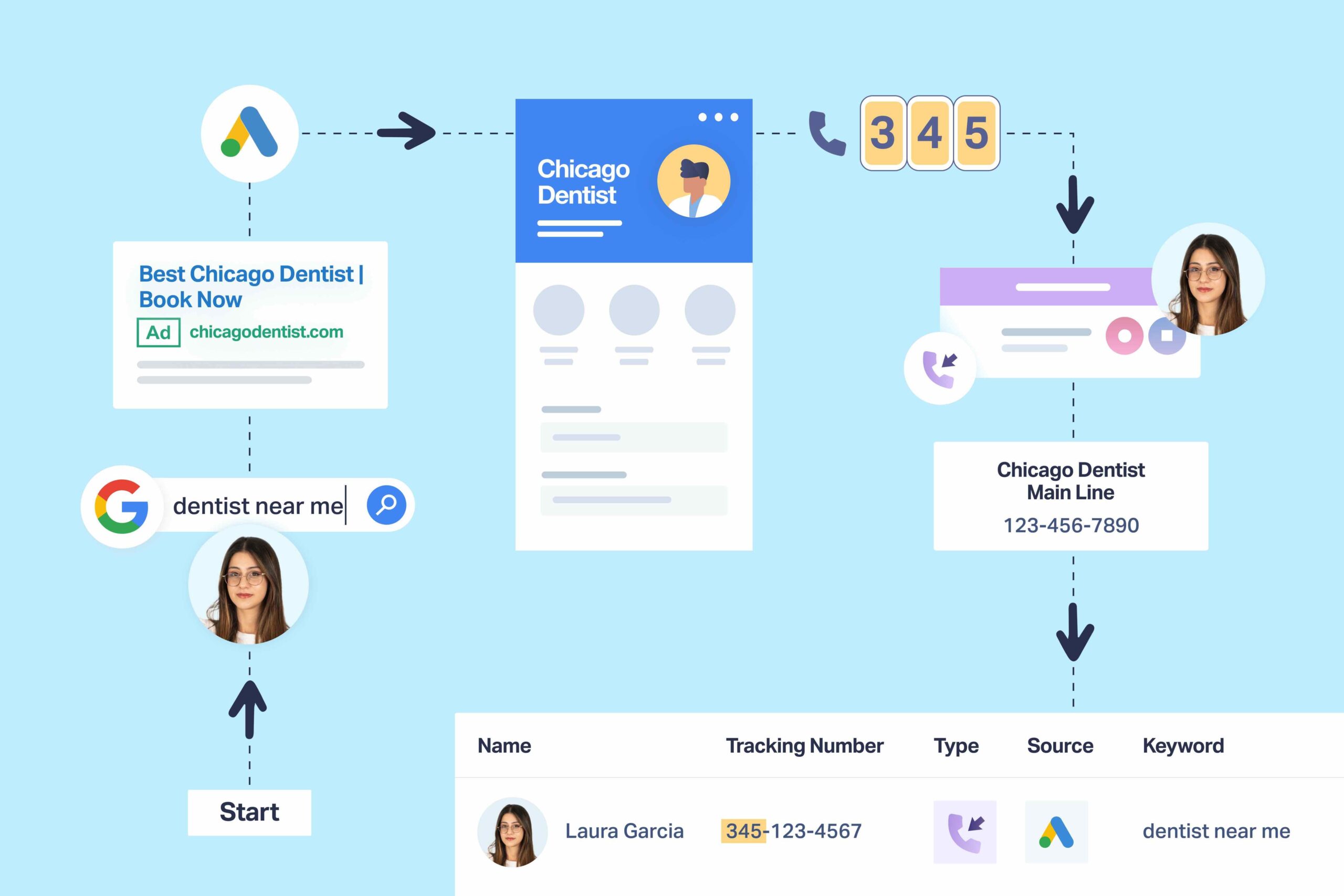 Call tracking for marketers is possible thanks to dynamic number insertion (DNI).
DNI swaps out static numbers on your pages for dynamic ones that switch based on who's viewing it. So rather than your ad's landing page showing the phone number for your client, it'll show a call tracking number that's different for each visitor instead.
Call tracking software can then use cookies to tie marketing data (UTM source, medium, keyword, etc.) to that visitor's call tracking number.
Why Do Marketers Need Call Tracking?
Marketers need call tracking because:
Phone calls are the main source of leads for many businesses
Phone call leads are exceptionally valuable
To put a number on things, more than 2 out of 5 (43%) of search-related conversions happen over the phone. On top of that, 65% of businesses say their most valuable leads come from phone calls.
Since many organizations do business over the phone and leverage digital advertising, marketers need call tracking to show clients their marketing dollars are paying off.
Some marketing call tracking tools also include "smart" features, either conversation intelligence or Lead Intelligence. These features use machine intelligence to automatically gather lead insights from your calls and other marketing data.
For instance, conversation intelligence can give you an idea of the purchase intent of a lead based on keywords they used on a call.
Lead Intelligence can go a step further by marking a lead as "qualified" based on:
The same call keywords
Previous pages the lead visited
Which ads the lead clicked
Whether the lead is unique or repeat
And more
Think of it as conversation intelligence plus.
With these intelligence tools, marketers can spend less time on tedious tasks (qualifying and valuing leads) and more time on strategy.
Read More: Do PPC Marketers Need Conversation Intelligence or Lead Intelligence?
Benefits of Call Tracking
Get credit for every call coming from your marketing
Optimize campaign performance (e.g., double down on high-performers)
Trim the fat on campaign budget (e.g., eliminate spending on low-performers)
Gain a better understanding of the customer journey
Finding the Best Call Tracking Software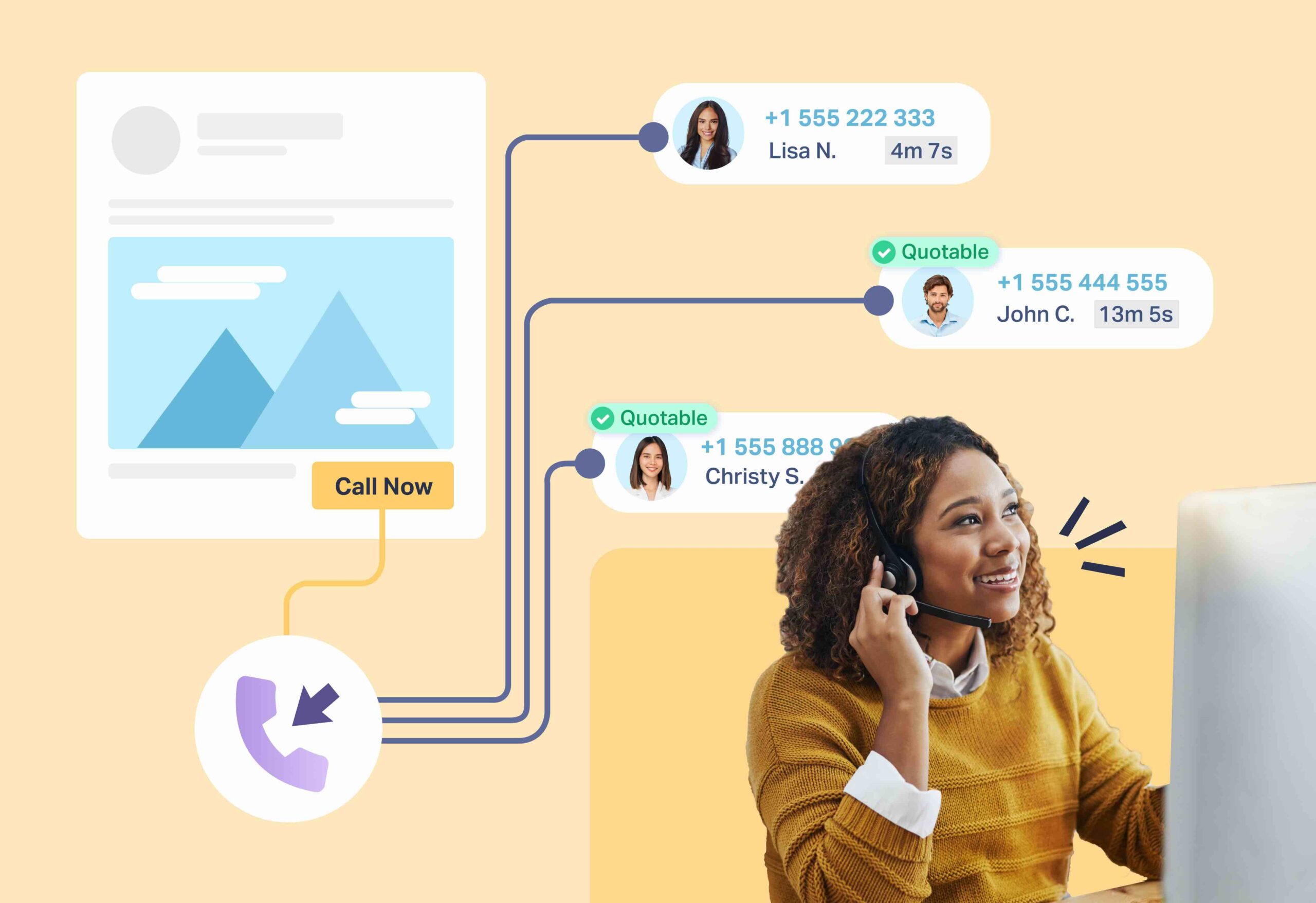 Marketing call tracking tools all handle standard call tracking pretty well.
As a result, most will offer call tracking necessities like:
DNI
Keyword level attribution
Call recording and transcription
Contact information
Time and duration of calls
But only the best call tracking software will offer differentiators like:
Lead quality analysis and reporting (for proving ROI)
Lead qualification automation (for minimizing time spend)
Customizable reporting (for focusing on the metrics you and clients care about)
Advanced call tracking features (customer journey, multiple attribution models, call flows)
In the end, what matters most is you find call tracking for marketing that meets your needs. So be sure to do your research on each tool's capabilities before making a decision.
Read More: 9 Best Call Tracking Software of 2023 [Ranked & Scored]
Wrapping Up
Call tracking is vital for proving ROI to clients that do business over the phone.
If you want to learn more, be sure to check out this guide on how call tracking numbers work.
And if you're using PPC and are ready to get set up today, read about how to start tracking calls with Google Ads.