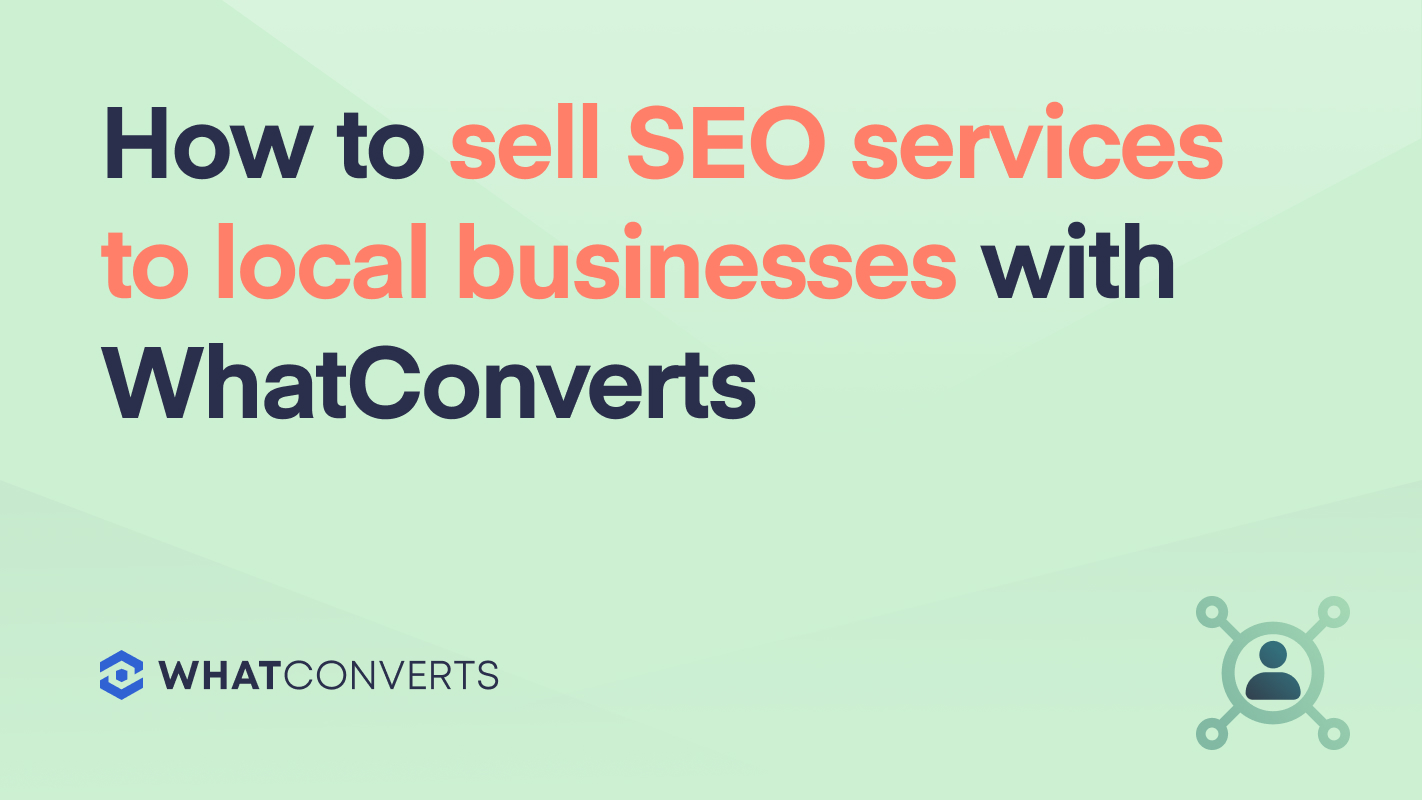 When businesses decide to invest in SEO, they're looking for two things in an SEO provider; effectiveness and affordability. Many marketers struggle with how to prove the value of SEO marketing services because they struggle to tie SEO to sales revenue.
What is affordability in SEO? It means the SEO delivers more leads and revenue than the client spends on the service. An affordable SEO marketing service delivers a positive return-on-investment for clients.
What is effectiveness in SEO? Effective SEO consistently delivers qualified leads, and can show the client that these leads are a direct result of local SEO.
Whether you do SEO in-house or you're wondering how to sell SEO services to local businesses, you can benefit from call tracking; a software service that allows you to tie phone call leads to organic SEO. Without call tracking, you could be missing out on credit for the leads you deliver.
WhatConverts offers call tracking as part of our comprehensive lead tracking platform; one dashboard to capture, organize and report on every lead from every source.
Capture every lead
SEO marketers need total lead tracking, managing and reporting because call tracking is just part of the attribution equation. Phone calls might account for 30-40% of all the leads that happen on your client's website. Don't you want to capture all the other leads that come in?
The other 60-70% of leads are just as important, which is why WhatConverts also captures form-fills, chats and transactions.
WhatConverts can help you prove the value of your local SEO services. After all, you need to be able to tell your clients three things every time they ask.
How many leads came in?
How many of these leads were viable?
How many of these leads actually ended up making a purchase?
WhatConverts gives you the answers and the data to back them up.
Schedule a demo today and let us show you how to prove the value of your SEO services. 
WhatConverts lets you prove the value of your SEO efforts.
Your clients pay good money for your SEO services. In return, they're looking for leads that generate more revenue than they're paying for the SEO. Many companies spend upwards of $2,000/month on SEO, which means they need to see at least $2,000/month in sales revenue as a direct result of SEO.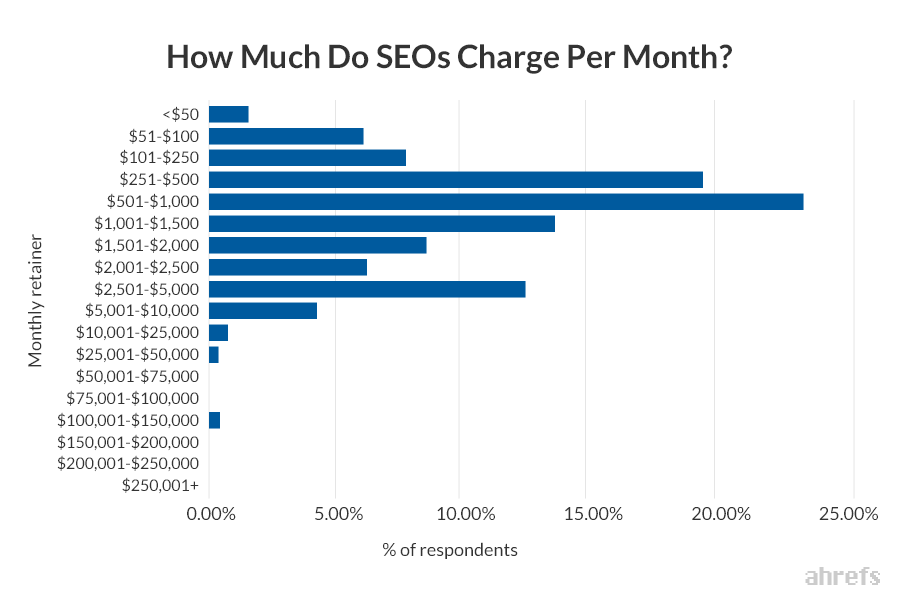 WhatConverts allows you to not only capture the organic leads you're responsible for, but also assign sales value to your organic leads. You can then show your local SEO clients a dashboard that reveals how much potential revenue they're getting from organic leads.

When clients see the value of every lead they're getting from organic search, they understand exactly how much ROI they're getting from your local SEO services.
Track organic leads by landing page
Local SEO marketers often struggle with capturing the organic keywords leads use to find their clients business. You can't see organic keyword queries in Google Analytics; Google hides the specific keyword searches that users type. However, you can make strong assumptions about keyword searches with the WhatConverts Organic Leads by Landing Page report.
The report shows which pages each of your leads 'land' on after clicking an organic search result.
The landing page is different from a lead page, which is the page a website visitor is on when they perform a conversion action; ie, become a lead. WhatConverts tracks leads from first click to final conversion, so you can see how an individual moved from an organic search to a final purchase.
With WhatConverts, you can generate a landing page report like the one below that will reveal to you how many organic leads found your business by first landing on each specific page. If you know which keywords you're targeting on each of your website pages, you make inferences about which organic keywords each individual lead used to find your business.
Here's an example of a WhatConverts landing page report for a real estate company that shows how many leads landed on each page. This would allow you to see what kind of leads are searching for "apartments in [city name]" vs "condos in [city name]"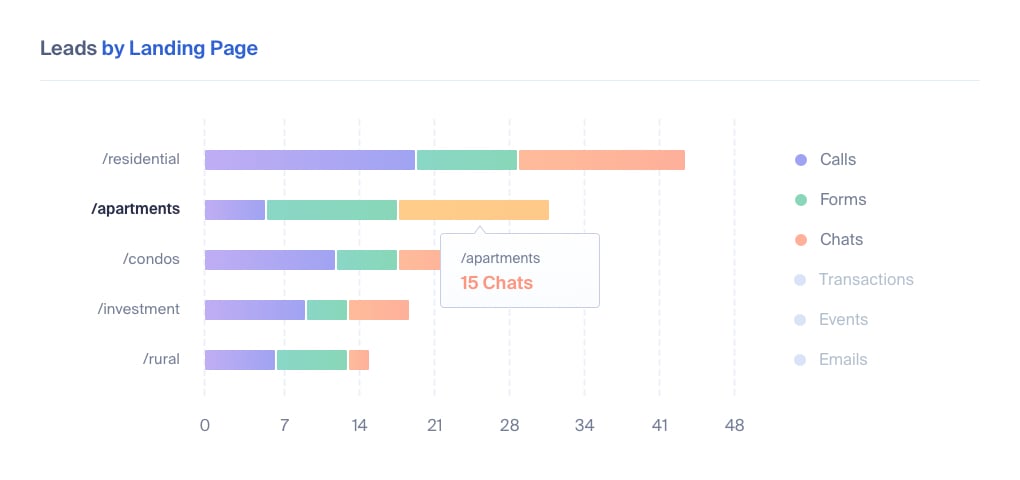 You can also use this report to analyze the success of blog posts. If you're using blog posts that drive a lot of traffic to the website, you can see which of these blogs bring you qualified, valuable leads as well as which blogs aren't converting well.
Tracking SEO leads in WhatConverts vs Google Analytics
Google Analytics can't track leads; only raw conversion numbers. Google's reports show conversion actions, but don't tie these conversion actions to specific users. There is no bank of leads in Google Analytics — only raw conversion numbers. You don't know if these conversions are qualified or have a potential sales value. Google Analytics also can't track phone call conversions — which many businesses rely on for their best leads.
Tracking SEO leads from Google My Business
WhatConverts integrates with Google Analytics and Google Ads so that you can capture every lead from both organic and paid SEO. WhatConverts call tracking also allows you to capture every phone call lead that comes from Google My Business. We provide you with a standalone number for your client's Google My Business listing, so that any time someone calls that number WhatConverts can count that as a phone call lead from Google My Business.
WatConverts also uses dynamic number insertion to capture website visitors who call your client after visiting their website. Tracking these offline conversions back to a digital marketing source is a huge pain point for local SEO marketers, but that pain can be relieved with WhatConverts call tracking.
WhatConverts vs. CallRail 
We're often asked about comparing WhatConverts vs CallRail, but the truth is we operate in different spaces. CallRail focuses just on call tracking and form tracking.
WhatConverts provides total lead tracking, lead management and lead reporting. No matter how a lead comes in — be it from a phone call, form-fill, chat or eCommerce transaction — WhatConverts ties the lead to the marketing source and stores all leads in one dashboard.
From the dashboard, leads can be used in detailed reports to show your local SEO client exactly how many leads they're getting in return for their investment in your services.
If you're wondering how prove the value of your SEO, WhatConverts can be your big breakthrough.
Schedule a demo for more info on how prove the value of SEO using WhatConverts