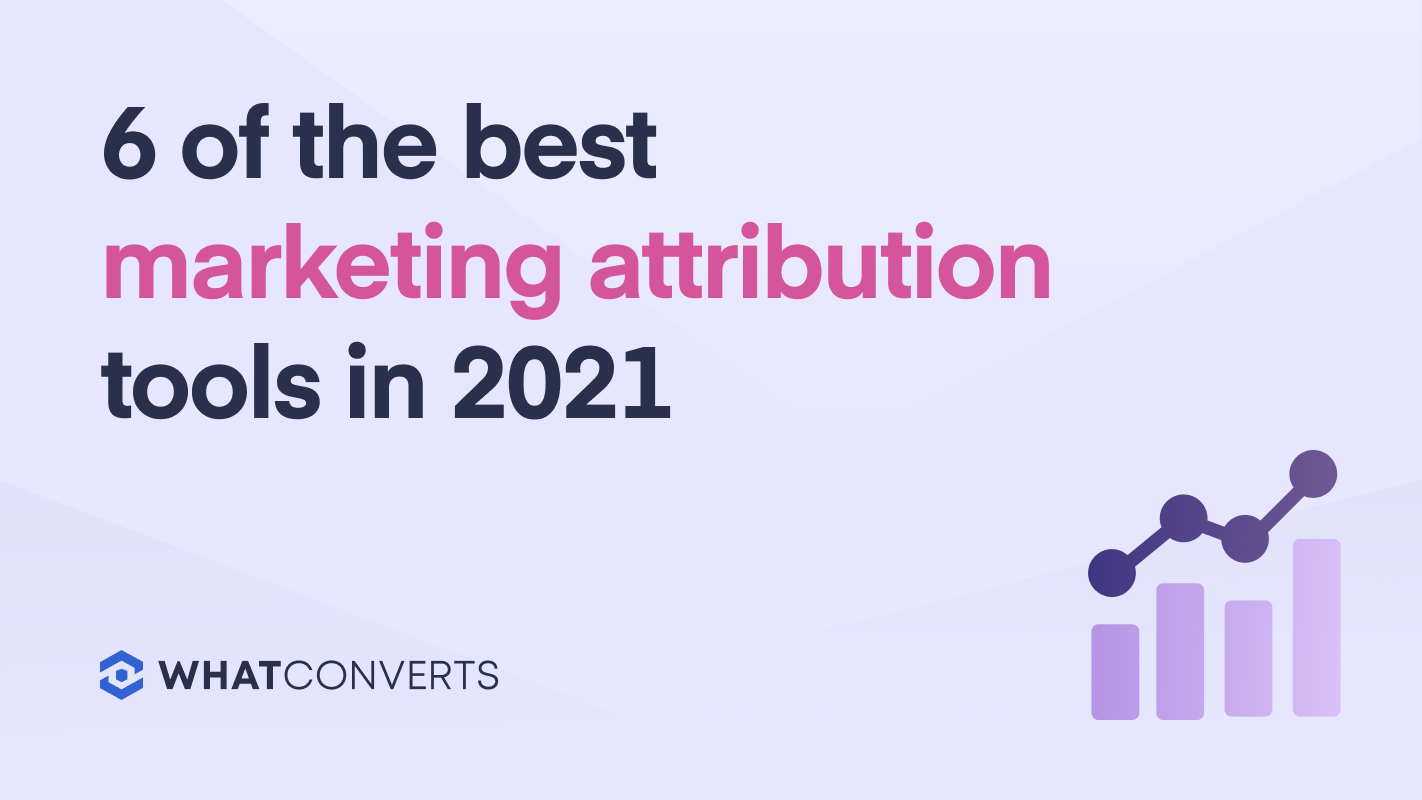 Here's a question that directly impacts your company's bottom line: which marketing channels work?
There are thousands of articles on this subject, but none of them tell you what kind of marketing works for your company. For those answers, you must look at your data using marketing attribution tools.
Marketing attribution data tells you which channels are delivering your most valuable leads or which combination of channels helps drive leads through the sales funnel. The problem is, most businesses struggle mightily with marketing attribution.
76% of marketers want to do more cross-channel attribution. There's a real need for actionable data in this industry. Marketers have plenty of data, but 42% of marketers still use spreadsheets to track attribution data. Nothing slows down a marketing team quite like a spreadsheet.
Spreadsheets aren't just slow; they can also be inaccurate. Human error causes all sorts of issues, which might be why 37% of businesses waste marketing spend because of bad marketing data.
Marketing attribution tools provide reliable data that you can use as the basis for your marketing decisions. In the article below, you'll find a list of the most popular marketing attribution tools on the market today.
1. WhatConverts
WhatConverts provides complete customer journey tracking for every lead. The platform tracks every marketing touchpoint and provides custom reports showing which marketing channels are driving leads.
Marketers need to track leads for every marketing channel. From paid advertising to content marketing and SEO, it's vital to know which channels drive revenue.
Sign up here for a free 14-day trial. You can also request a 30-minute live demo, where we'll answer your questions and show you the best ways to use our platform.
WhatConverts is different from other marketing attribution platforms in that it doesn't just track the total number of leads from each channel; it tracks the individual leads too.
Individual leads appear in WhatConverts where you can mark them as quotable and assign sales value. This technology is applicable across all your marketing channels and allows you to see which channels deliver your best leads.
Marketing Attribution for Google Ads
Every dollar you spend on ineffective Google Ads is a dollar that could have been spent on effective Google Ads. Marketing attribution allows you to identify your effective ads and shift spend accordingly.
When you pay for ads, you're expecting a return on your investment (ROI). Calculating marketing ROI requires tracking the marketing source for leads and sales.
WhatConverts can track every Google Ads lead back to the campaign, keyword and ad content — if Google Ads wasn't the first click. Someone may find your site in organic search, leave, then come back later from a Google Ad. WhatConverts will still pass this along as a conversion in your Google Ads dashboard. Here is what that looks like in the lead's Customer Journey View in WhatConverts.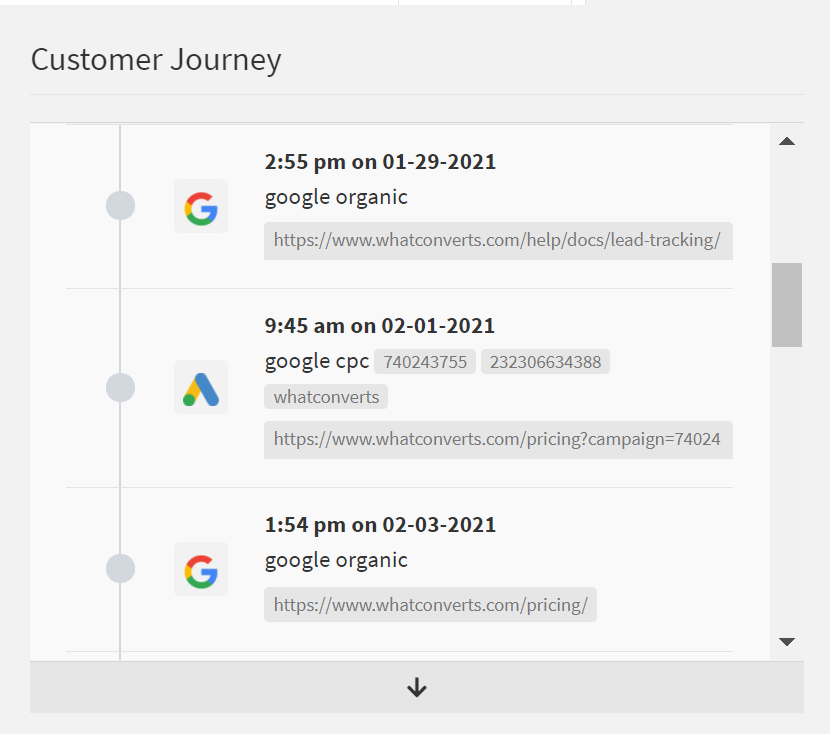 This is also a big deal for anyone analyzing ad success in the Google Ads dashboard. WhatConverts can pass along conversion to Google Ads even if the click wasn't the first or last click.
This is how WhatConverts ensures Google Ads gets credit for any lead that used Google Ads as part of their customer journey.
Lead tracking is just the start. WhatConverts also provides detailed reports showing which ads, campaigns and keywords drive the most qualified leads and the most valuable leads. It's easy to see which keywords to target in Google Ads to get the best ROI.
Here is an example of the Quote Value by Keyword report in WhatConverts.

You can then click on the report to see the individual leads that make up the data.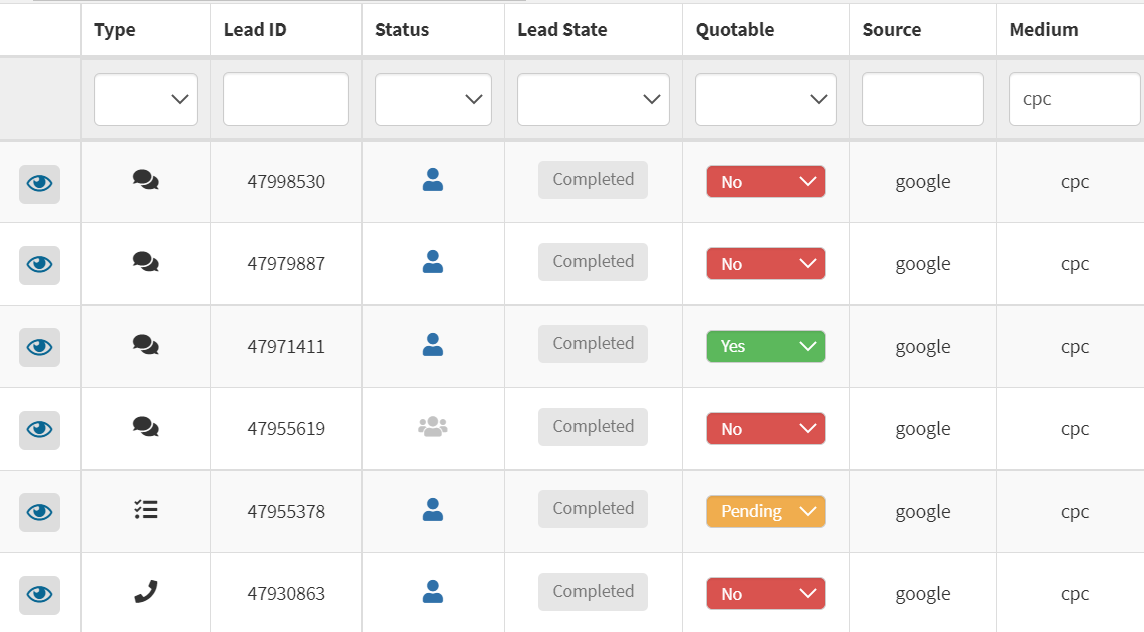 Clicking the "eye" icon on individual leads allows you to go even deeper into the data to see chat transcripts, call transcripts and Customer Journey maps for each lead.

You can click here to learn more about enabling WhatConverts marketing attribution with Google Ads.
Marketing attribution helps you calculate ROI for paid advertising, but it also helps measure the success of unpaid marketing channels such as SEO and content marketing.
Marketing Attribution for Content Marketing and SEO
SEO marketers often struggle to measure the success of content in terms of leads or sales. It's easy to track search rankings, but you should also be able to track the business impact of SEO and content marketing.
Marketing attribution isn't just for paid advertising; it can attribute leads to website pages, blog articles, and emails. You just need software that can track any conversion action including phone calls, forms, and chats.
The WhatConverts Leads by Landing Page report reveals which pages are attracting your most valuable customers. If you know which keywords you're targeting on each of these pages, you can make informed estimates about which keywords are attracting valuable leads.
WhatConverts also shows which page users were on when they started a chat or placed a phone call to your business. This shows you not just which pages convert well, but which pages convert your most valuable customers.

Marketing attribution can tell you if a blog article was part of the customer journey, and allow you to measure SEO success in terms of leads and sales; not just search engine ranking. The WhatConverts Customer Journey View can reveal when leads use the blog as part of their path to conversion.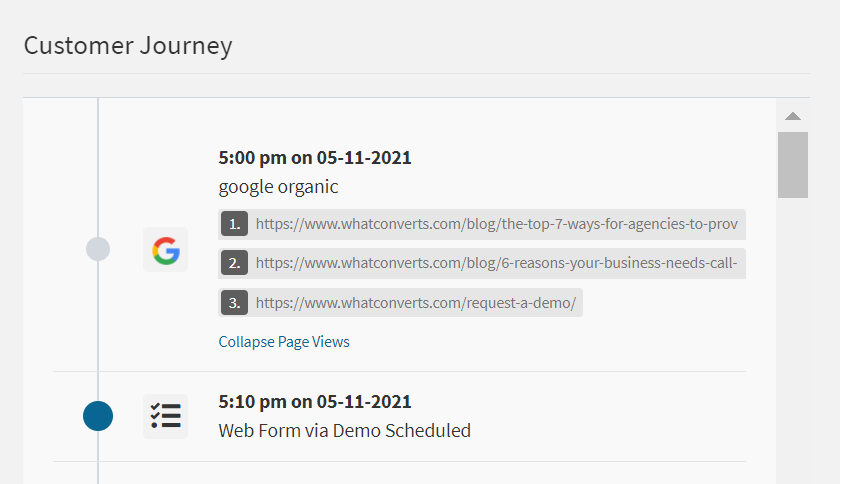 WhatConverts marketing attribution works for every channel and every lead.
To learn more about getting better data on your marketing channels, schedule a demo with WhatConverts today.
2. Branch
If your business has a mobile application, Branch is a useful tool. It's designed to provide marketing attribution for app download conversions. Branch can also track different conversions that occur within your app and attribute them to a marketing source.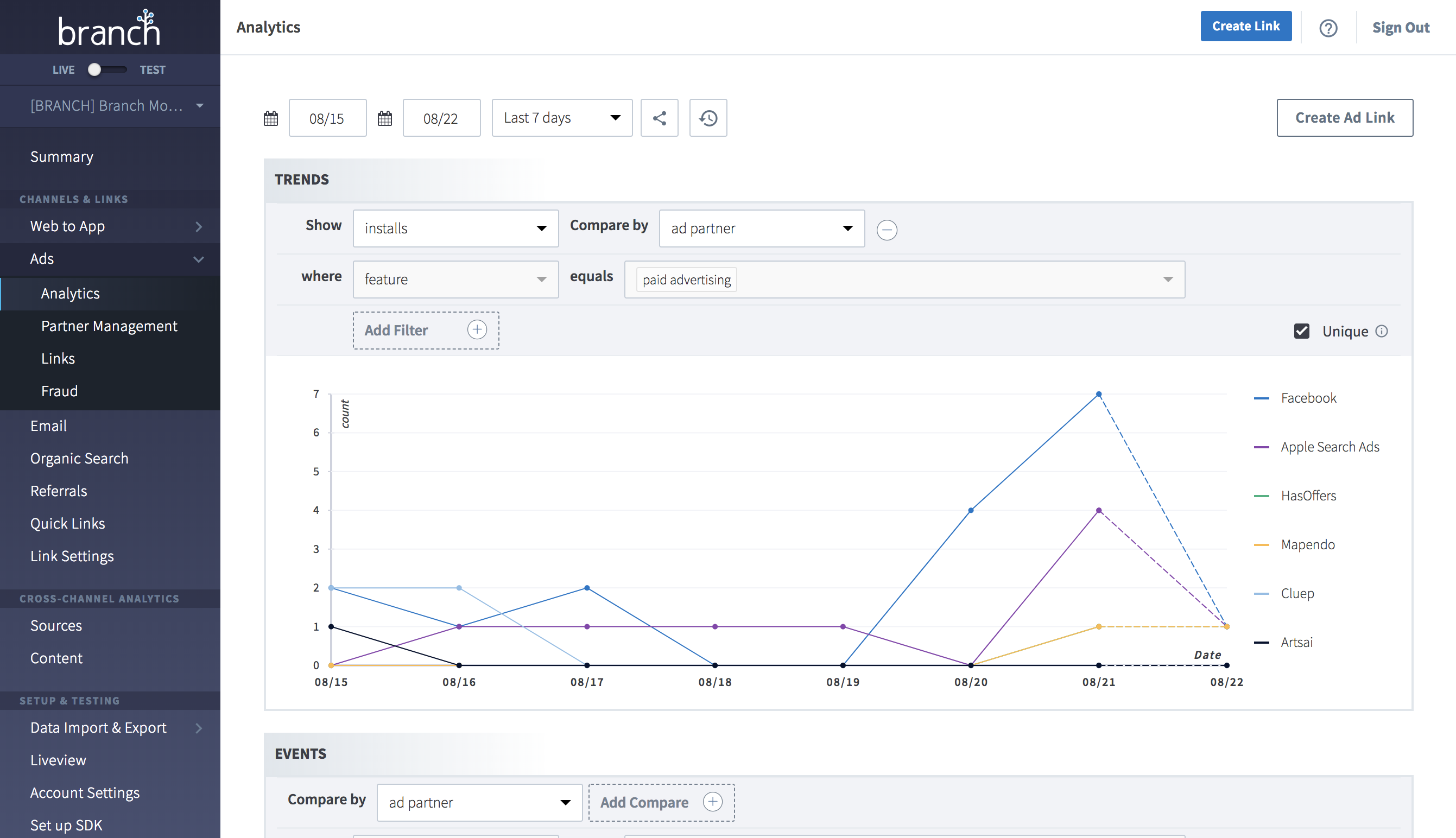 Branch was designed with mobile conversions in mind, which is why it tracks cross-platform attribution. That means you can see when a web user decides to download your app and continue tracking them.
To track users, Branch does require users to op into Apple's ad tracking system.
3. Windsor.ai
Like many attribution platforms, Windsor.ai brings together different marketing tracking tools in one place. You can connect Winsor.ai to your Google Analytics and Google Ads accounts, for example, to see the conversions in the Windsor.ai attribution modeling platform. Multi-touch attribution is a must in today's omnichannel environment, and Windsor.ai does provide this type of attribution.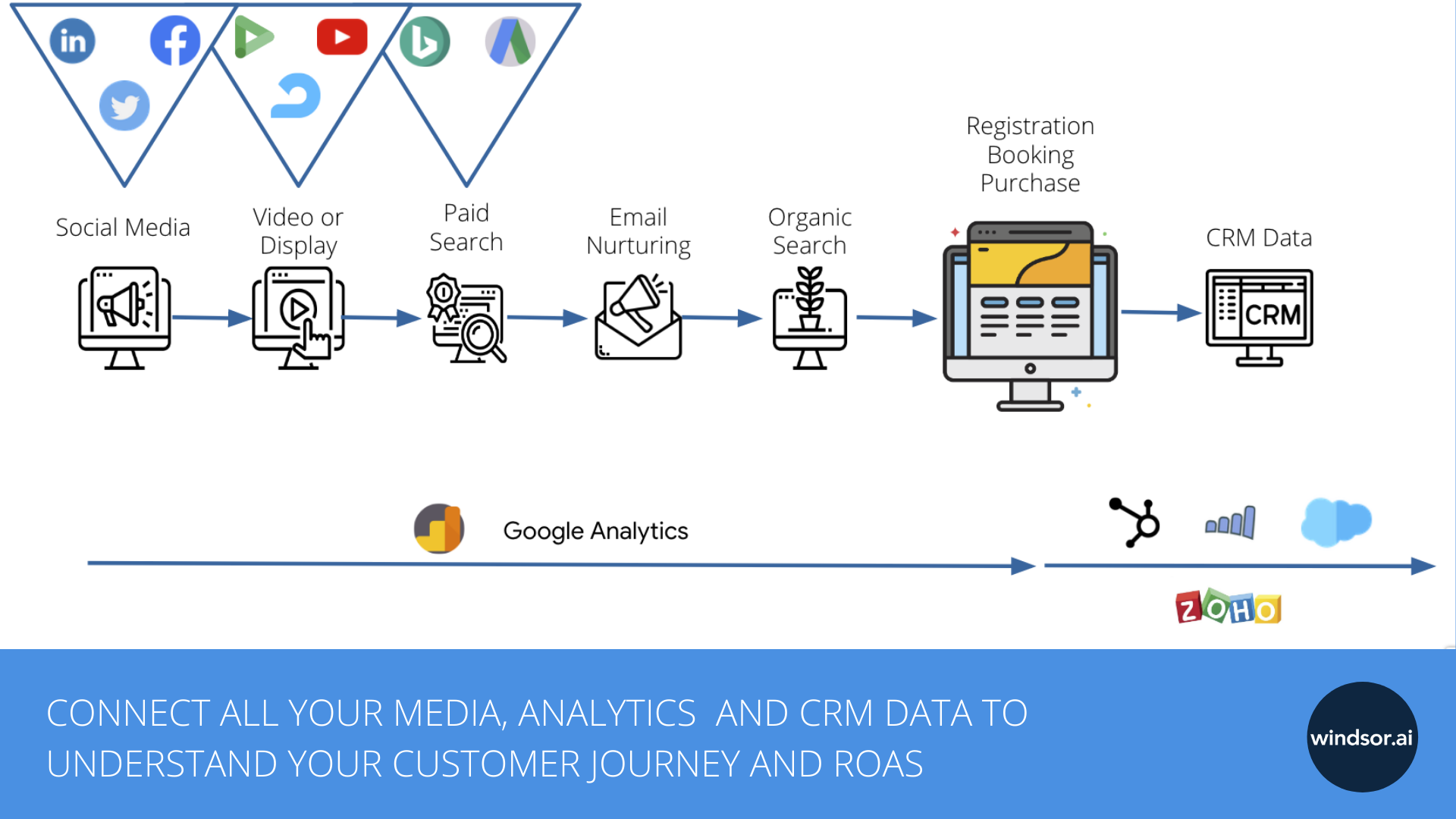 It's important to remember that Winsdsor.ai does not do the actual lead tracking or conversion tracking. Windsor.ai simply pulls in conversion tracking from other sources. The tool's main benefit is the ability to map out the customer journey once you've already set up lead tracking in other tools like Double-Click or Google Ads.
4. Sharpspring
Marketers use SharpSpring to turn conversions into sales and boost ROI on marketing investments. Sharpsrping is commonly used for marketing automation and lead nurturing, but does offer marketing attribution capabilities. The platform goes. beyond just first and last-click attribution to also include linear attribution, time decay attribution, and U-shaped attribution.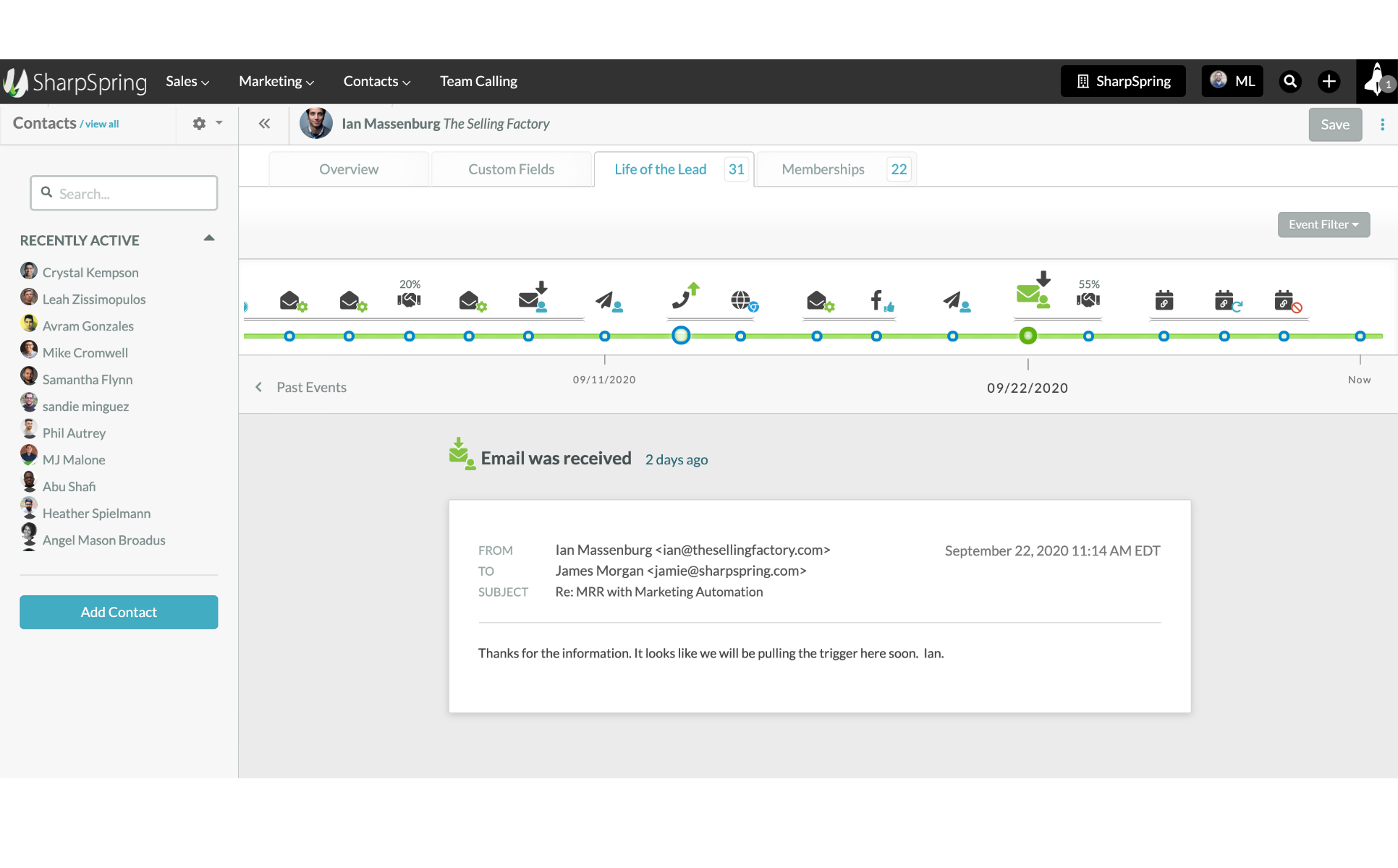 Source: Sharpspring G2 Profile
You can integrate WhatConverts with SharpSpring to pass along phone calls, form submissions and chat leads with marketing attribution data. Within Sharpspring, the WhatConverts marketing data can help you improve marketing automation efforts and lead nurture campaigns. Instead of putting leads into Sharpsinrg manually, WhatConverts allows you to instantly send leads right into your Sharpsring contacts list.
5. Attribution
The appropriately named Attribution platform is a useful tool for tracking your ROI on ad spend. Attribution is focused specifically on tracking marketing attribution for paid advertising.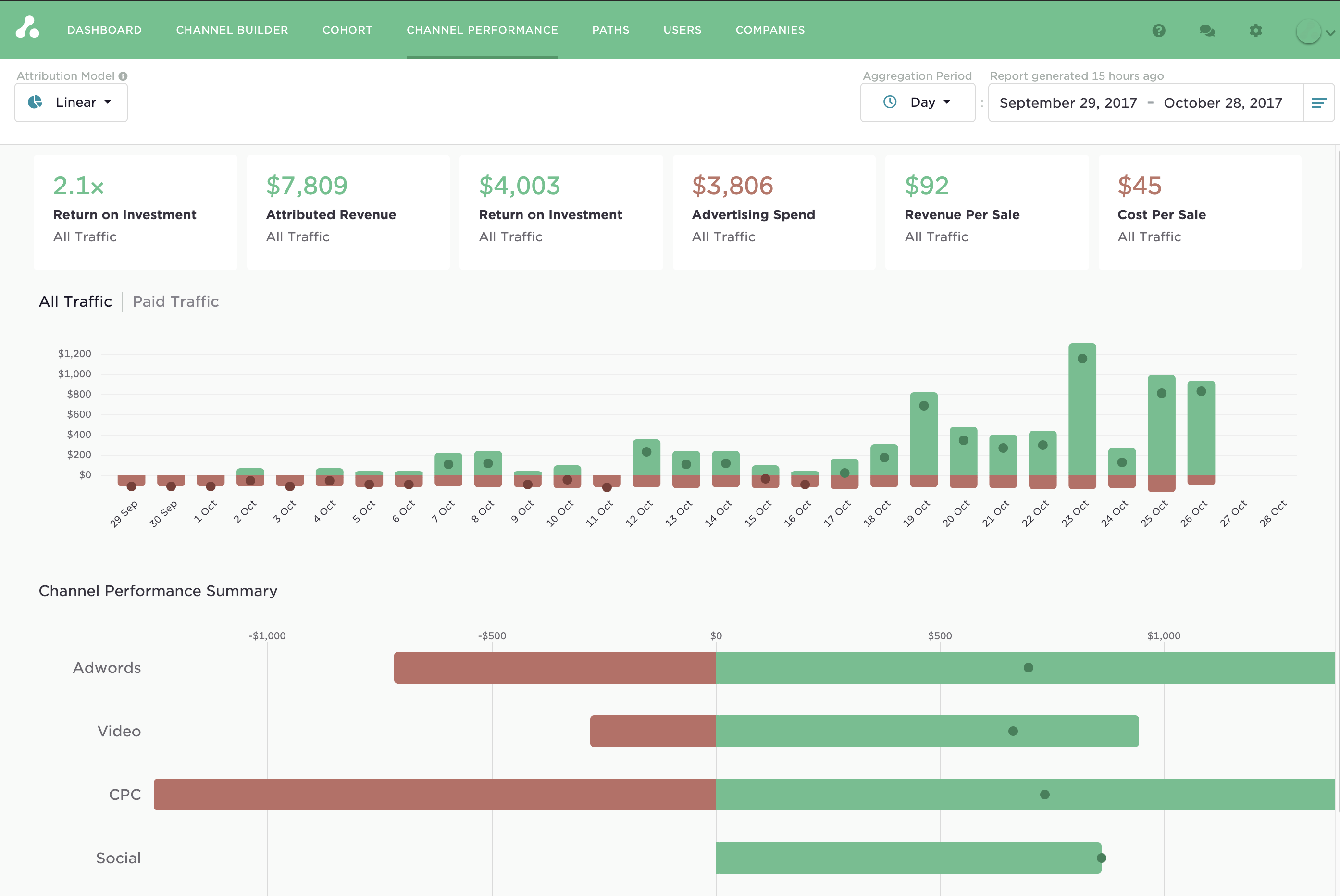 Source: Attribution G2 Profile
Attribution has simple integrations with Google Ads, LinkedIn, Facebook, and other popular social and PPC ad platforms. While it's not designed to track other marketing channels like email marketing and organic search, it can provide a lot of data on how well your ads are delivering leads.
6. LeadsRX
When considering marketing attribution tools, you should always look for products that track leads using first-party data. Leads RX uses a pixel on your website that tracks leads using first-party data. This allows you to capture any traffic that comes to your site and know where the traffic came from.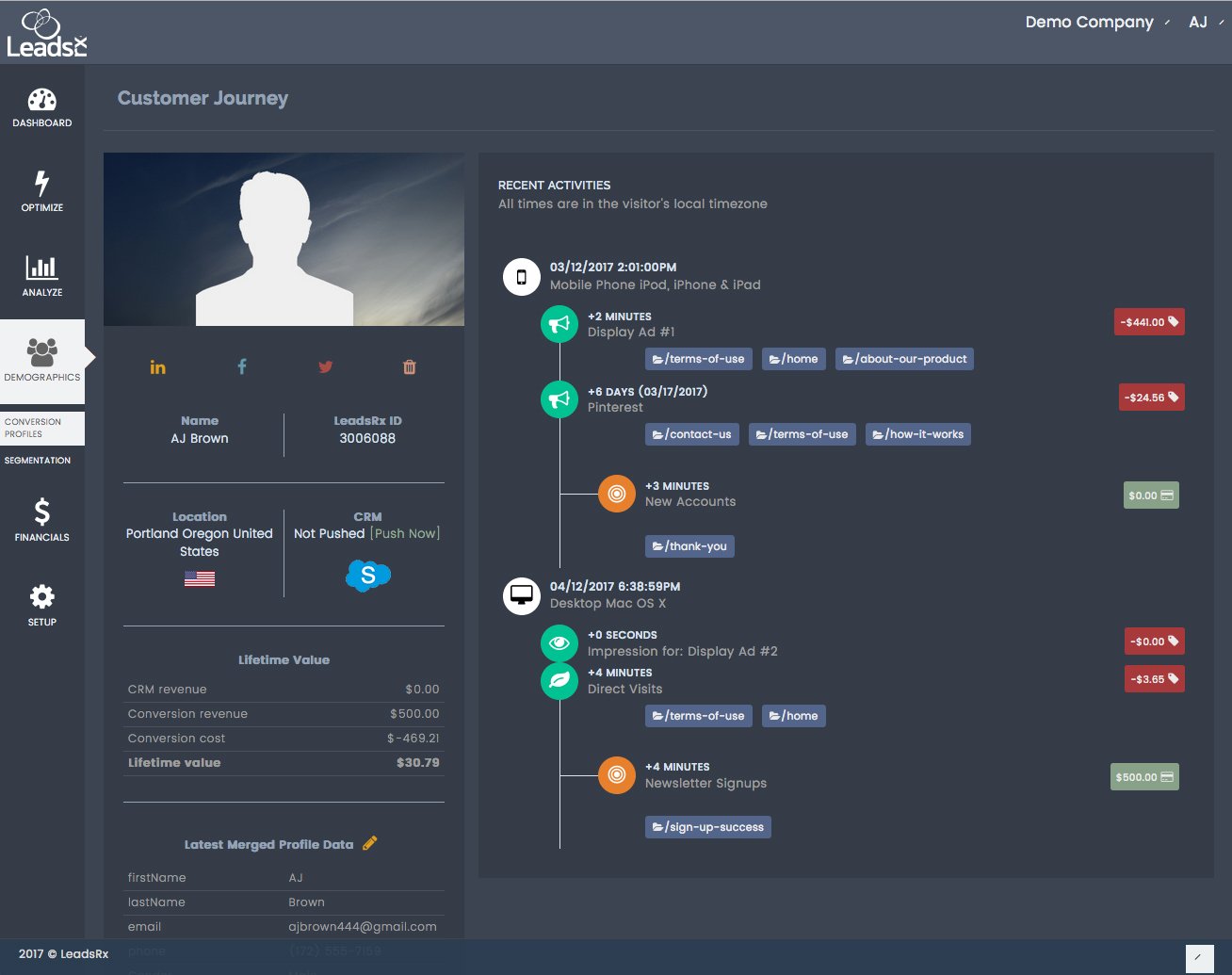 To produce detailed reports on each of the marketing channels and measure marketing effectiveness, however, you should integrate Leads RX with a data visualization tool like Tableau or Google Data Studio.
Marketing Attribution Tools Reveal What Marketing Works
All of the tools listed above work better than spreadsheets and can help you stop wasting spend on ineffective marketing. If you're ready to start using marketing attribution to improve your marketing performance, get in touch with a marketing attribution expert at WhatConverts today
Sign up here for a free 14-day trial. You can also request a 30-minute live demo, where we'll answer your questions and show you the best ways to use our platform.