WhatConverts integrates with Insightly CRM to send incoming lead information and marketing data from WhatConverts directly into your CRM using Zapier.
To make integrating WhatConverts with Insightly CRM as seamless as possible, map your lead fields in WhatConverts so all of your lead data is easily passed with one Zap into Zapier. For more information on mapping your fields see: Mapping Fields
Creating Custom Fields in Insightly
1Log into Insightly CRM. Click the "user icon" at the top right of the Insightly dashboard. Select "System Settings". On the left-hand menu, click "Objects and Fields". Click "Contacts".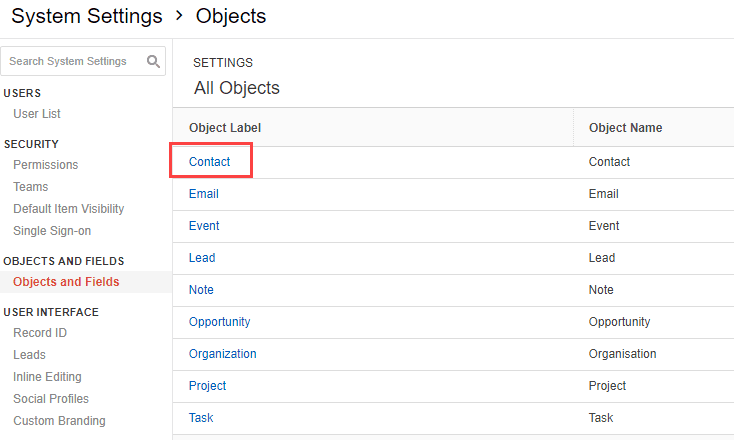 2Click "Object Fields" under Object Management. Click "New Field".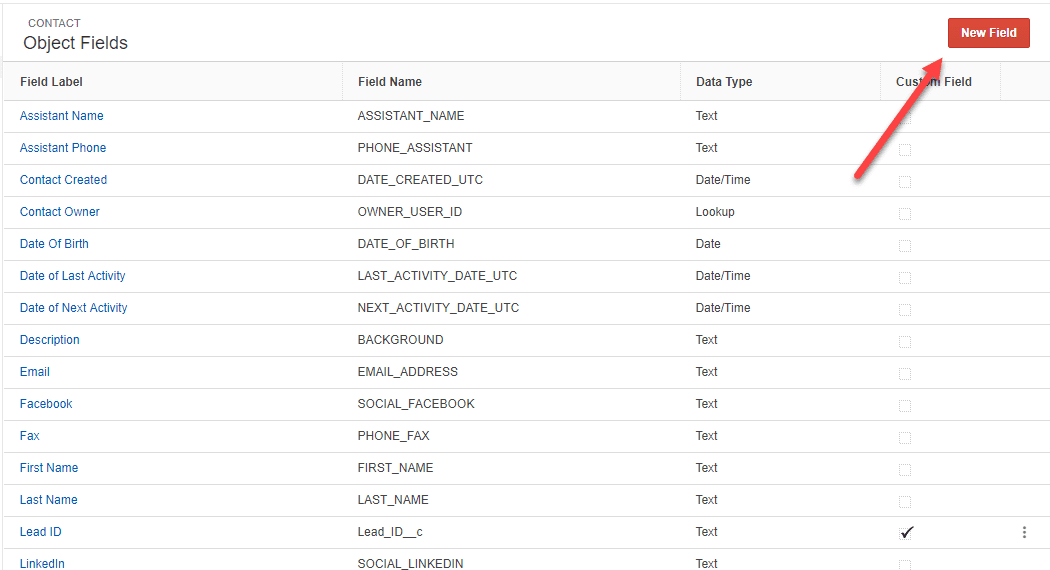 3You need to create two fields. The first, select "Text" for the Field Type, click "Next". The Field Label will be "Lead ID" and the Field Name will be "Lead ID". Click "Save Custom Field".
4Select "Multi-Line Text" for your second custom Field Type. The Field Label and Field Name will be "Marketing Data". Click "Save Custom Field".
Sending Leads to Insightly CRM
1Log into Zapier and click "Make a Zap". Select "WhatConverts" as your Trigger App and "New Lead" as the Trigger. Connect your WhatConverts account and continue to the Customize Lead page.
On the Customize Lead page, select "Yes" only for the Lead Types you would like to send to the CRM. Select your profile from the drop down and click "Continue". Select "Test and Review". Once the test is successful and you are satisfied with the lead, click "Continue".
Note: For Phone calls and/or Chats, make sure to select "Yes" for only one of the Phone Call options to eliminate duplicates from being sent into your CRM.
Phone Call (Completed): Sends the lead to the CRM once the Phone Call has finished
Phone Call (Modified): Sends the lead to the CRM when a phone call is in progress and the lead in WhatConverts is modified.
Phone Call (In Progress): Sends the lead to the CRM when a phone call has begun. This is the option to use if you would like your agents to update the CRM while they are on the phone with the caller.
2Create an Action step. Select "Insightly" as your Action App. Select "Create Contact" as the Action. Click "Continue". Connect your Insightly account; click "Continue". On the Set up Insightly Contact page select the following:
First Name: "Mapped Fields Contact Name"
Phone - Work: "Mapped Fields Phone Number"
Work City: "Caller City"
Work State: "Caller State"
Lead ID: "Lead ID"
Marketing Data: Type in the following then choose the counterpart from the drop down
Source: "Source"
Medium: "Medium"
Campaign: "Campaign"
Content: "Content"
Keyword: "Keyword"
Landing Page: "Landing URL"
Lead Page: "Lead URL"
Lead ID: "Lead ID"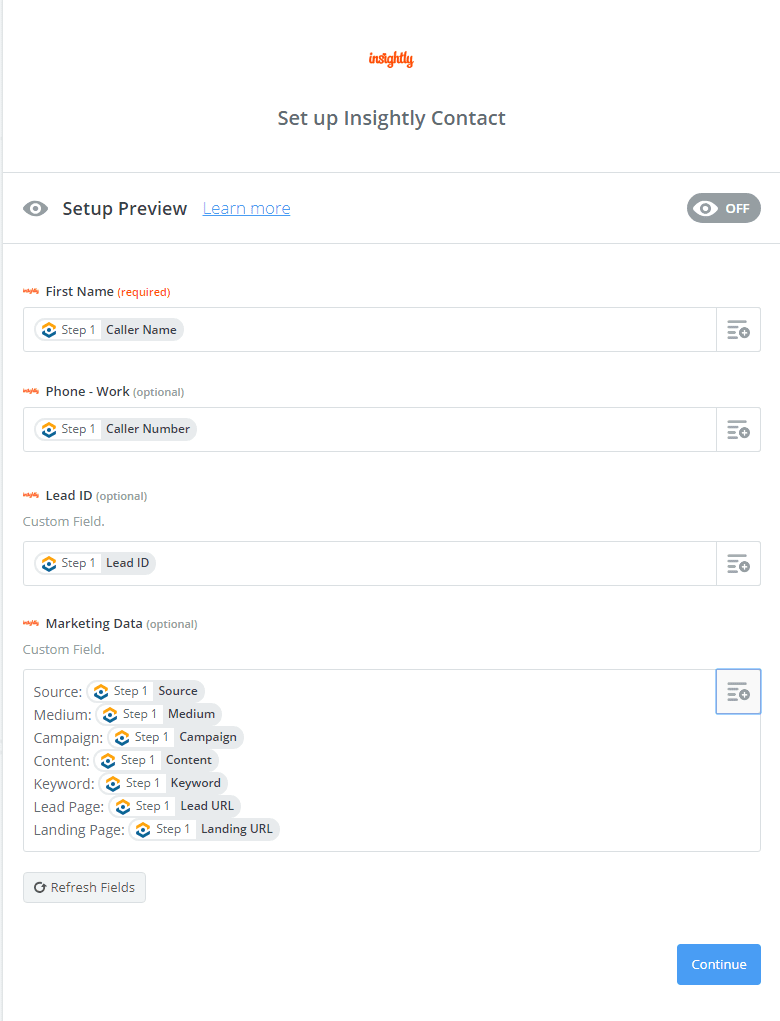 Click "Continue" then "Send Test to Insightly".