WhatConverts integrates with Insightly CRM to send incoming lead information and marketing data from WhatConverts directly into your CRM using Zapier.
Before connecting WhatConverts to Insightly CRM, you first need to create an account in Insightly and create a Zapier account, if you don't already have one setup.
Creating Custom Fields in Insightly
1Log into Insightly CRM. Click the "user icon" at the top right of the Insightly dashboard. Select "System Settings". On the left-hand menu, click "Objects and Fields". Click "Contacts".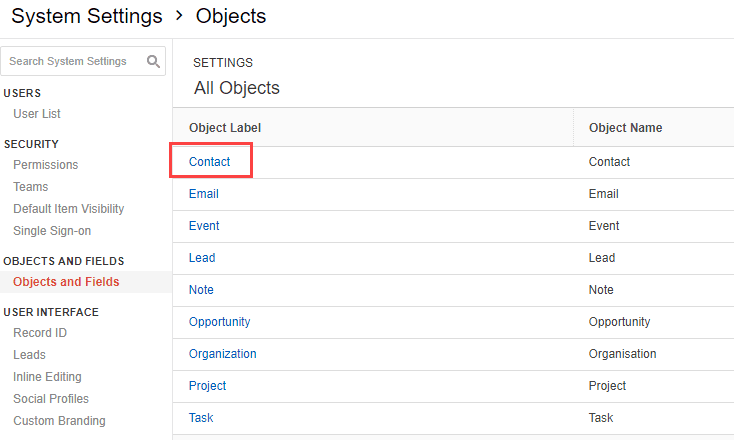 2Click "Object Fields" under Object Management. Click "New Field".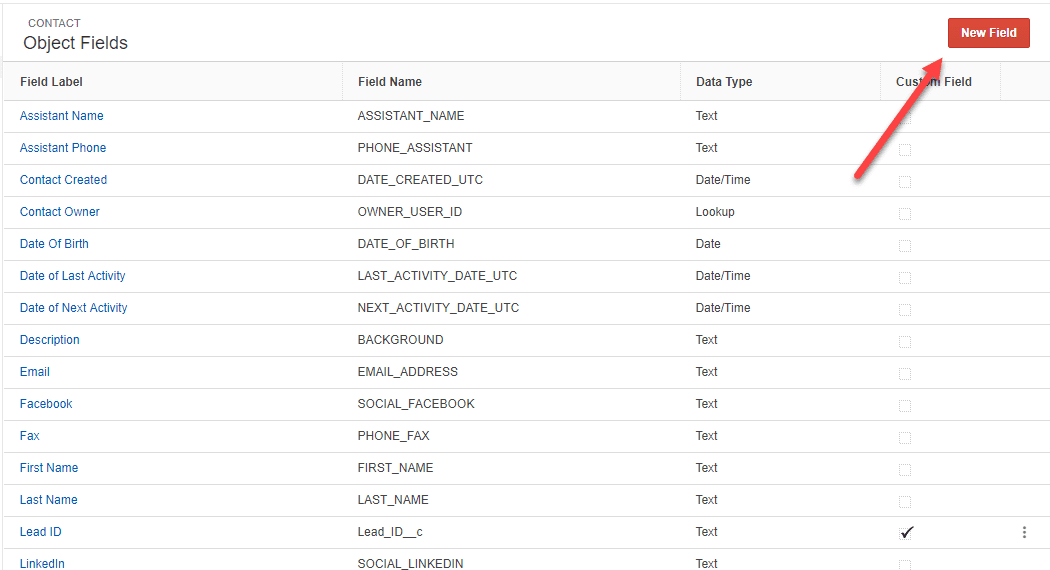 3You need to create two fields. The first, select "Text" for the Field Type, click "Next". The Field Label will be "Lead ID" and the Field Name will be "Lead ID". Click "Save Custom Field".
4Select "Multi-Line Text" for your second custom Field Type. The Field Label and Field Name will be "Marketing Data". Click "Save Custom Field".
Sending Call Leads to Insightly CRM
1Go to Zapier, click "Make a Zap" and select "WhatConverts" as your Trigger App and "New Lead" as the Trigger. Click "Continue".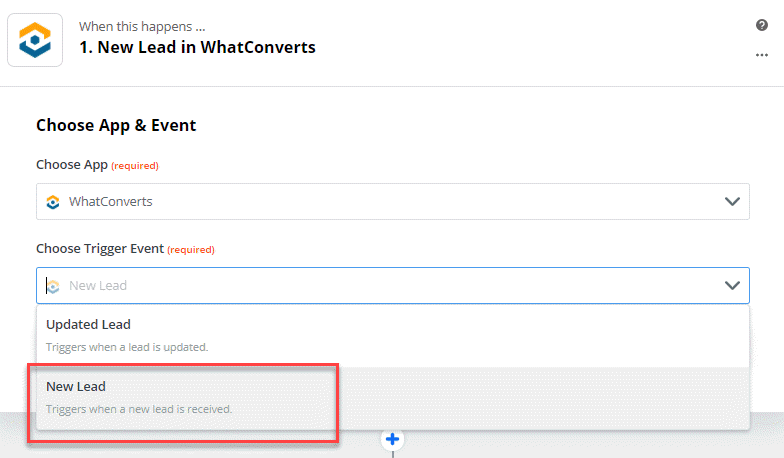 Connect your WhatConverts account to Zapier or select your WhatConverts account, select your WhatConverts profile. Click "Continue".
On the Customize Lead page, select "Yes" for Phone Calls (completed) and leave all other fields as "no". In the final drop-down menu, select the WhatConverts Profile you would like to integrate with OnePageCRM and click "Continue".

Click "Test & Continue" to get a sample lead.
2Click "+" and "Filter" on the left side to add a Filter step.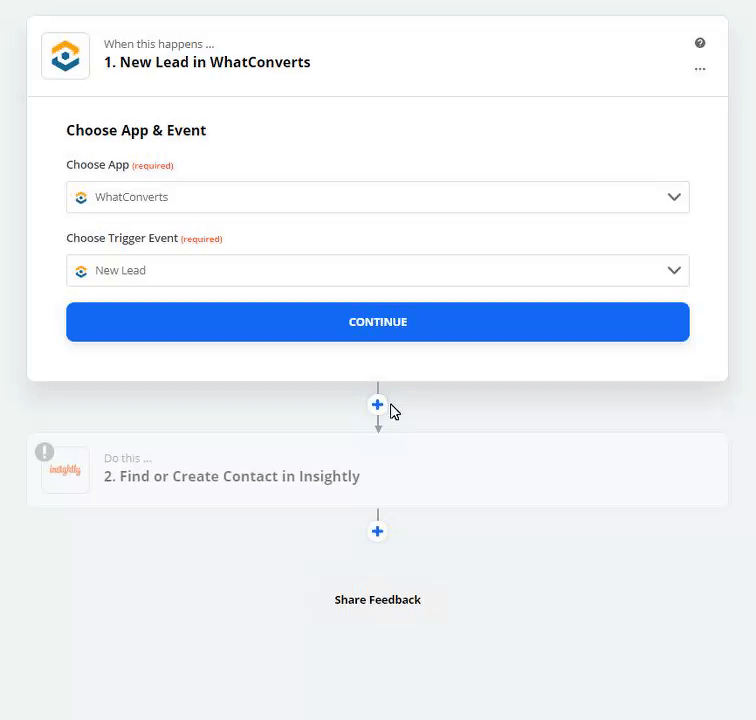 Select "Only continue if…" and click "Save + Continue". Under Only continue if… select "Lead Type", "(Text) Exactly matches" and type in "Phone Call". Click "Test & Continue". Test your step and continue.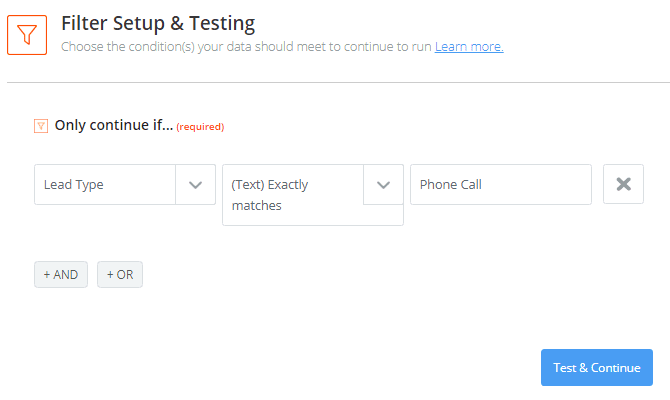 3Create an Action step. Select "Insightly" as your Action App. Select "Create Contact" as the Action. Click "Continue". Connect your Insightly account; click "Continue". On the Set up Insightly Contact page select the following:
First Name: "Caller Name"
Phone – Work: "Caller Number"
Work City: "Caller City"
Work State: "Caller State"
Lead ID: "Lead ID"
Marketing Data: Type in the following then choose the counterpart from the drop down
Source: "Source"
Medium: "Medium"
Campaign: "Campaign"
Content: "Content"
Keyword: "Keyword"
Landing Page: "Landing URL"
Lead Page: "Lead URL"
Lead ID: "Lead ID"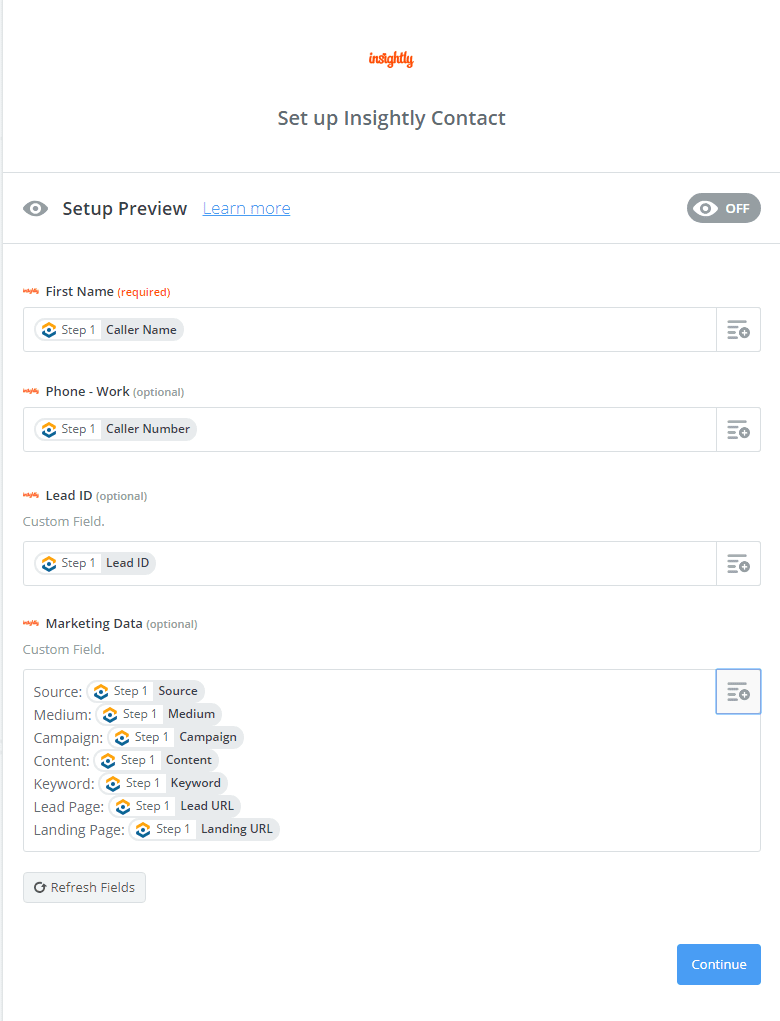 Click "Continue" then "Send Test to Insightly".