HubSpot CRM is a web-based CRM tool. WhatConverts integrates with HubSpot CRM through Zapier to send leads directly into the CRM software.
To make integrating WhatConverts with Hubspot's CRM as seamless as possible, map your lead fields in WhatConverts so all of your lead data is easily passed with one Zap into Zapier. For more information on mapping your fields see: Mapping Fields
1Log into Zapier and click "Make a Zap". Select "WhatConverts" as your Trigger App and "New Lead" as the Trigger. Connect your WhatConverts account and continue to the Customize Lead page.
On the Customize Lead page, select "Yes" only for the Lead Types you would like to send to the CRM. Select your profile from the drop down and click "Continue". Select "Test and Review". Once the test is successful and you are satisfied with the lead, click "Continue".
Note: For Phone calls and/or Chats, make sure to select "Yes" for only one of the Phone Call options to eliminate duplicates from being sent into your CRM.
Phone Call (Completed): Sends the lead to the CRM once the Phone Call has finished
Phone Call (Modified): Sends the lead to the CRM when a phone call is in progress and the lead in WhatConverts is modified.
Phone Call (In Progress): Sends the lead to the CRM when a phone call has begun. This is the option to use if you would like your agents to update the CRM while they are on the phone with the caller.
2Add "HubSpot" as the Action App and "Create Contact" as the Action. Connect your HubSpot account and click "Continue". To set up the template, match the fields with available fields from your WhatConverts leads. See example below: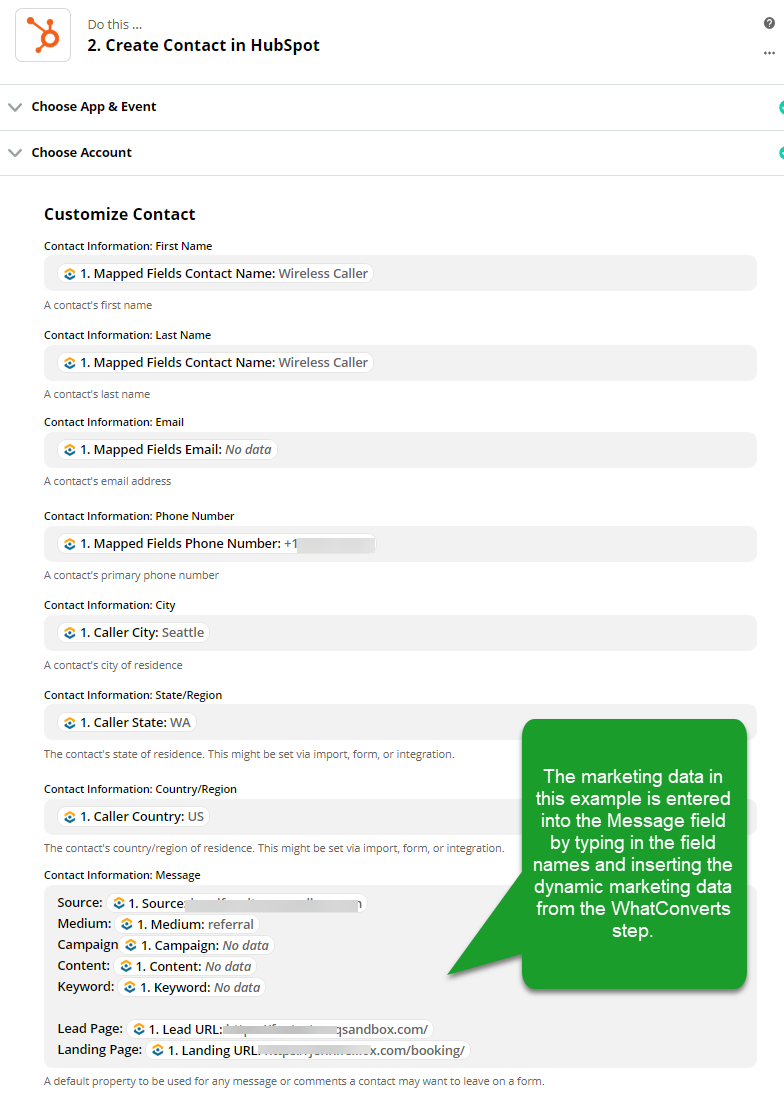 Click "Continue" and "Test & Continue". Make sure to turn your Zap "On".