Before connecting WhatConverts to Zoho CRM, you first need to create an account in Zoho and create a Zapier account, if you don't already have them.
1Go to Zapier and click "Make a Zap". Select "WhatConverts" as your Trigger App and "New Lead" as your Trigger. Connect your WhatConverts account.
On the Customize Lead page, select "Yes" for the leads that you would like to send to Zoho CRM. Select your WhatConverts Profile you are integrating with Zoho CRM from the final drop down menu. Click "Continue".
Note: Make sure to select "Yes" for one of the Phone Call options to eliminate duplicates from being sent into your CRM.
On the Find Data page, click "Test & Review" to review the sample leads or click "Test & Continue" to automatically select a lead and continue through to the next step.
2Click "+" to add an Action Step. Select "Zoho CRM" as the Action App and "Create Lead" as the Action. On the Choose Account page, select your Zoho CRM account or Link your Zoho account to Zapier. Click "Continue".
3On the Customize Lead page, select the Layout from the first drop down and match the Zoho CRM Lead Fields to your WhatConverts Sample Lead.
Company: "Caller Name"
First Name and Last Name: "Caller Name"
Phone: "Caller Number"
City: "Caller City"
State: "Caller State"
Zip: "Caller Zip"
Country: "Caller Country"
Description: Type in the following then chooose the counterpart from the drop down
Source: "Source"
Medium: "Medium"
Campaign: "Campaign"
Content: "Content"
Keyword: "Keyword"
Landing Page: "Landing URL"
Lead Page: "Lead URL"
Duration: "Call Duration"
Call Recording (If enabled): "Play Recording URL"
Call Transcription (If enabled): "Call Transcription"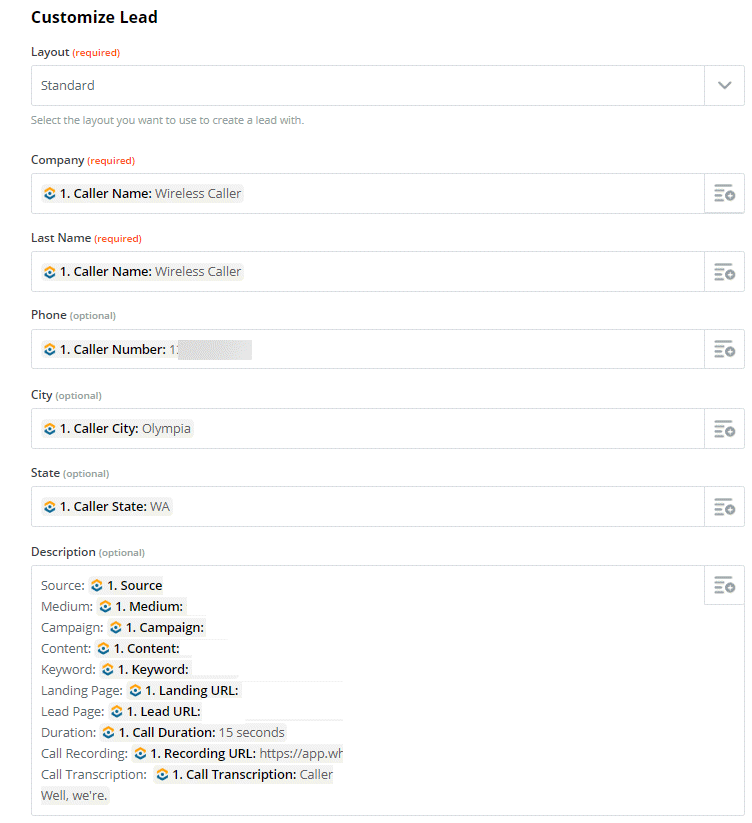 Click "Continue". On the Send Data page, select "Test & Continue". Turn your Zap "On" and give your Zap a name.