Before connecting WhatConverts to Zoho CRM, you first need to create an account in Zoho and create a Zapier account, if you don't already have them. Then, create a new "Zap" by adding a Webhook from Zapier into WhatConverts. You can find information on how to do this in the support article: Creating a trigger in Zapier.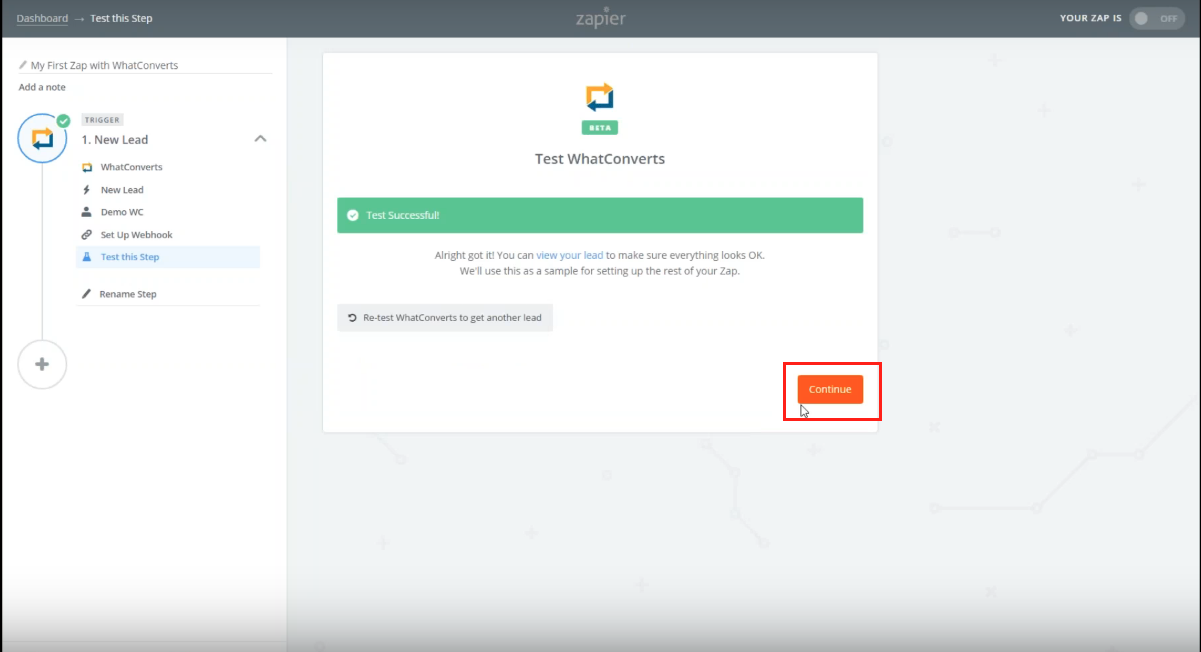 1To connect Zapier and Zoho through an Action Step, select "Continue". This will bring you to a separate screen titled Almost finished here!. Click "Your Zap currently lacks an action step. Add one now!".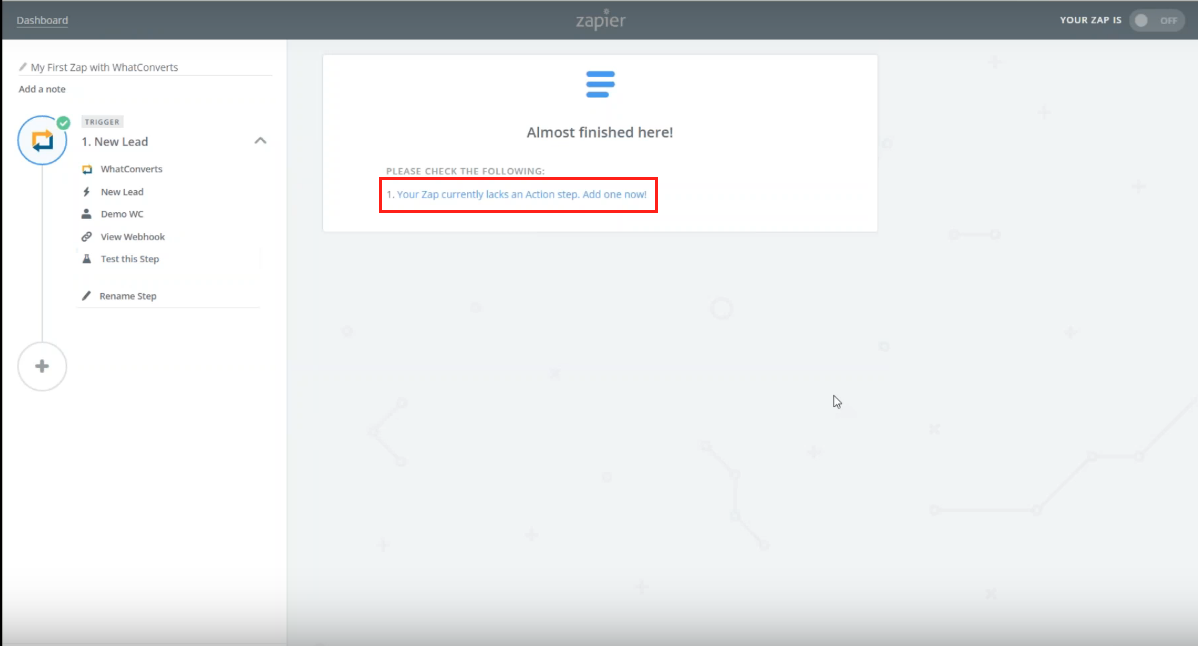 2You will be directed to the Choose an Action App page. In the search box type in "Zoho", and make sure to select the "premium" option.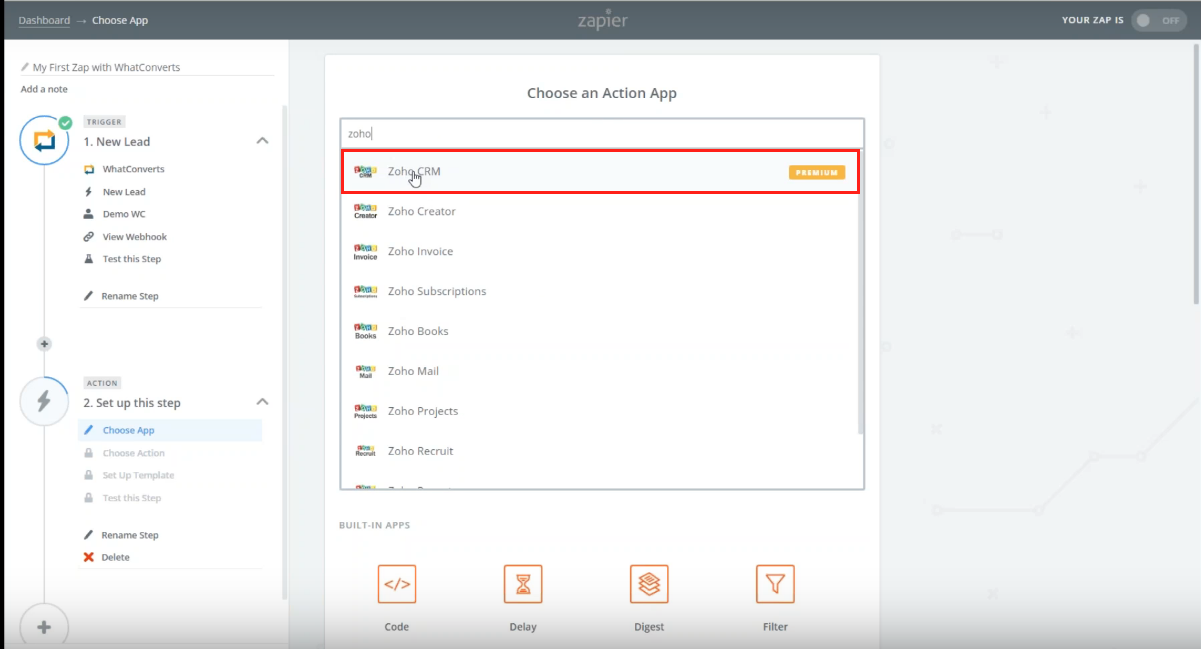 3On the Select Zoho CRM Action page in the menu selection, select the option to "Create Lead". Scroll to the bottom of the page and select "Save + Continue".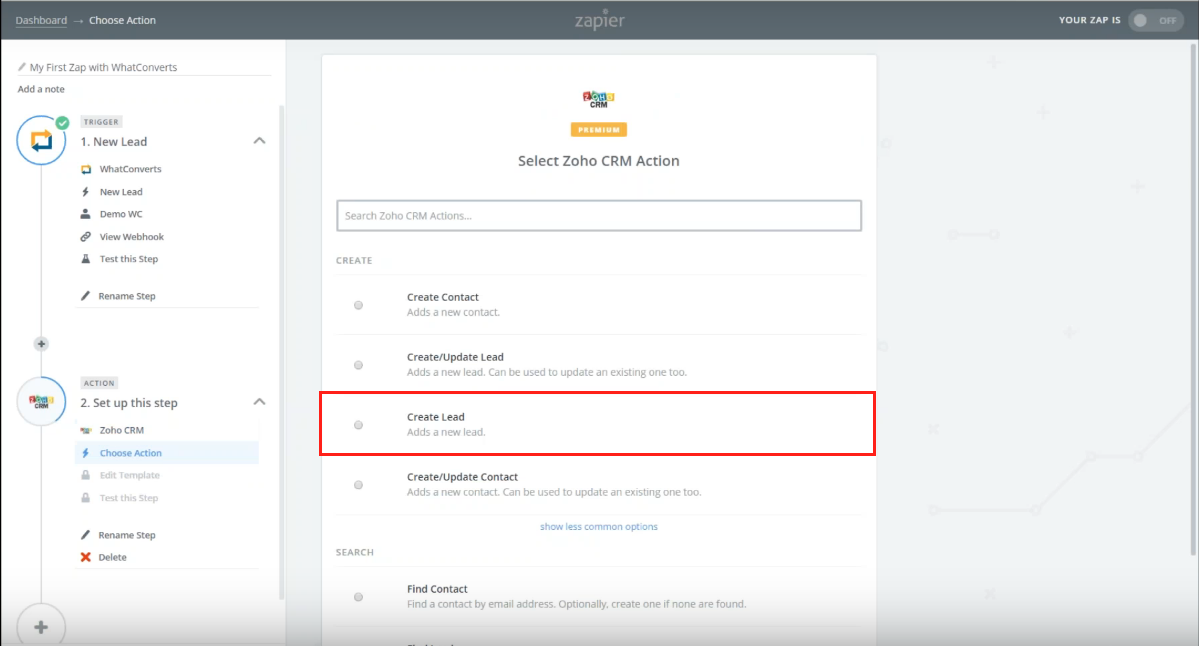 4Link your Zoho account to Zapier. If you have already connected your accounts, your Zoho account will be displayed. If you haven't linked your Zoho account yet, click the "Connect A New Account" button.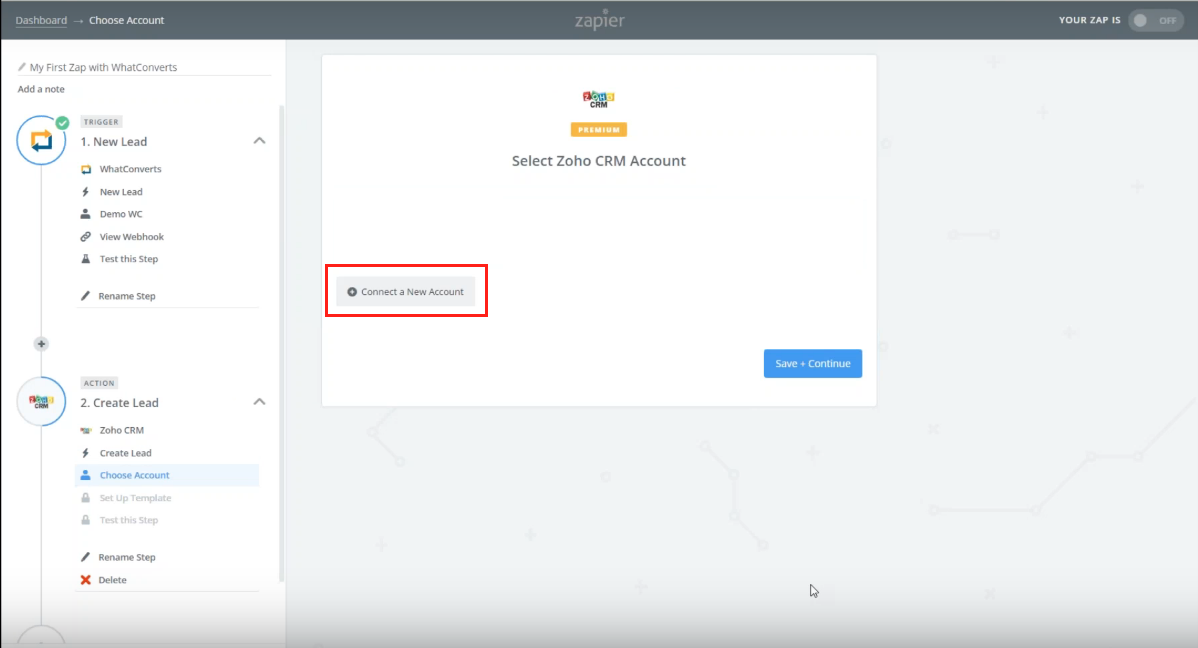 5In the pop-up window Allow Zapier to access your Zoho CRM Account, make sure the Domain is set to zoho.com. Select "This Page" to generate an authentication token. A new window will load with the authentication token. Select and copy the authorization token. Navigate back to the Allow Zapier to access your Zoho CRM Account page, paste the authentication token in to the empty field and click "Yes, Continue".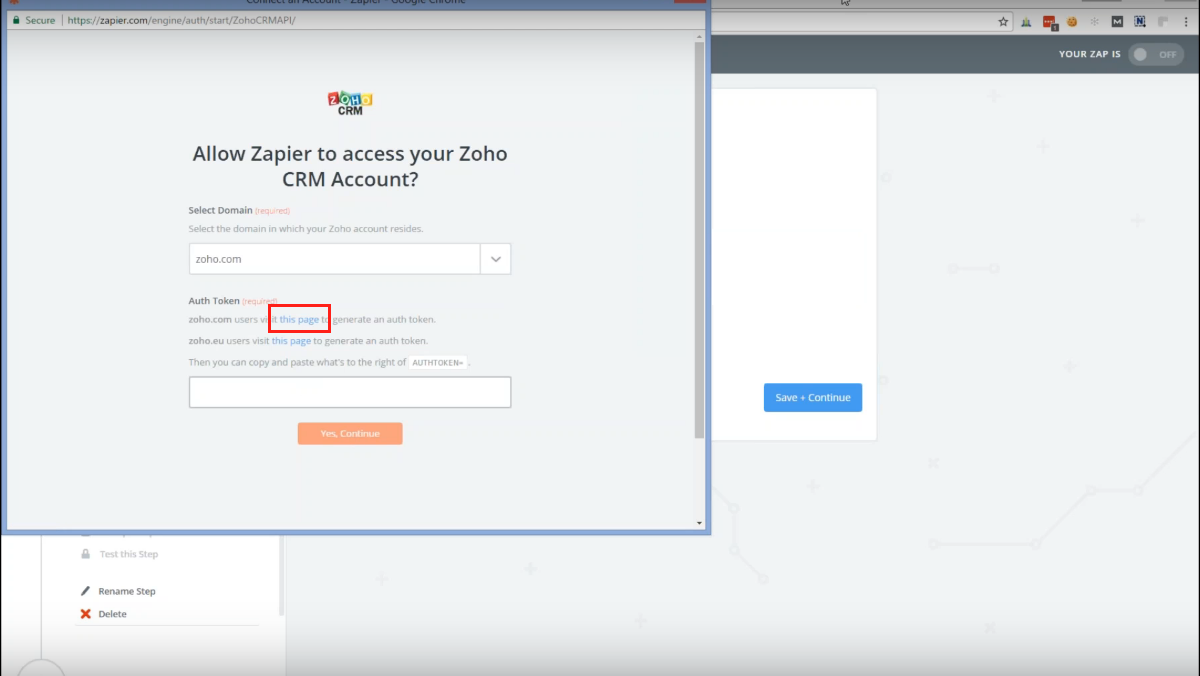 6You will see your account listed. Click "Test" to test the connection. You should receive a green Success! prompt. Click "Save + Continue".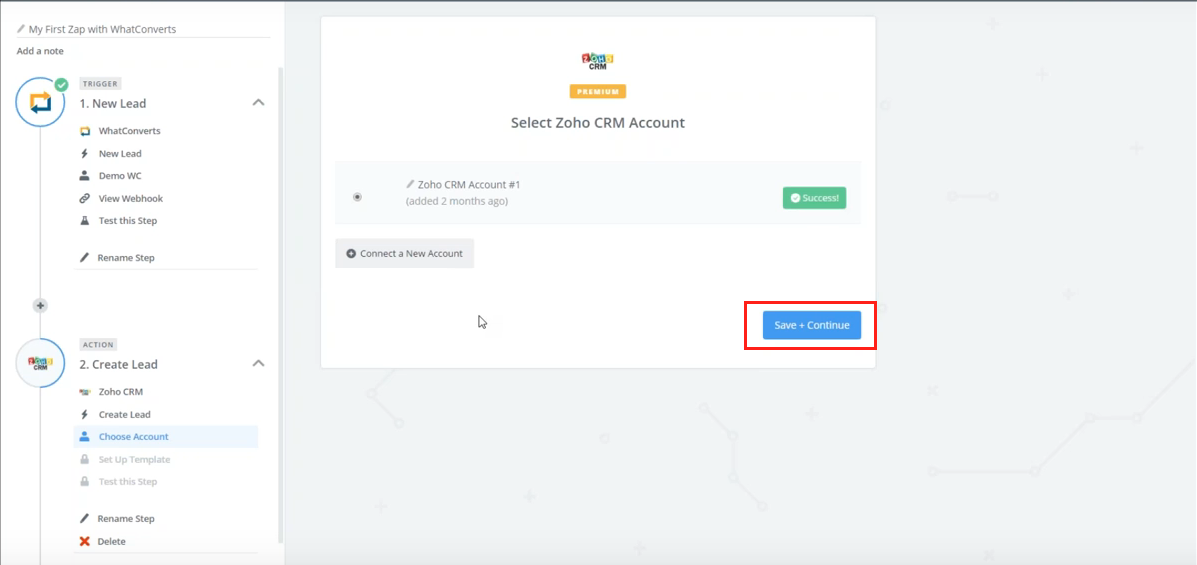 7On the Set Up Template page, you can add "Field Values" from each incoming lead. WhatConverts recommends adding the following fields:
Company – "Caller Name", "Caller Number":

Last Name – "Caller Name", "Lead ID":

Phone – "Caller Number":

Custom Value for Lead Source – "Source", "Medium", "Keyword":

Additionally, add values for:  City, State,  Zip Code, County.
Add values for Description – "Landing URL", "Lead URL".
Click "Continue".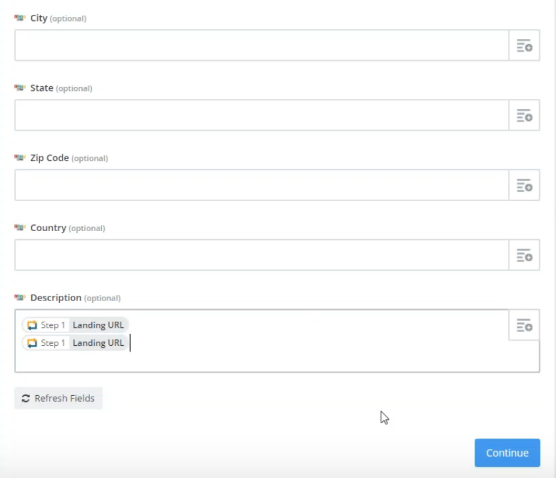 You will be directed to a page titled Test Zoho CRM. Review the information, and if satisfied, click "Create & Continue" on the bottom of the page.  You will then get a test successful prompt. Click the orange "Finish" button.
8Turn on your Zap, then navigate to Zoho to see your lead data under the "Leads" tab.