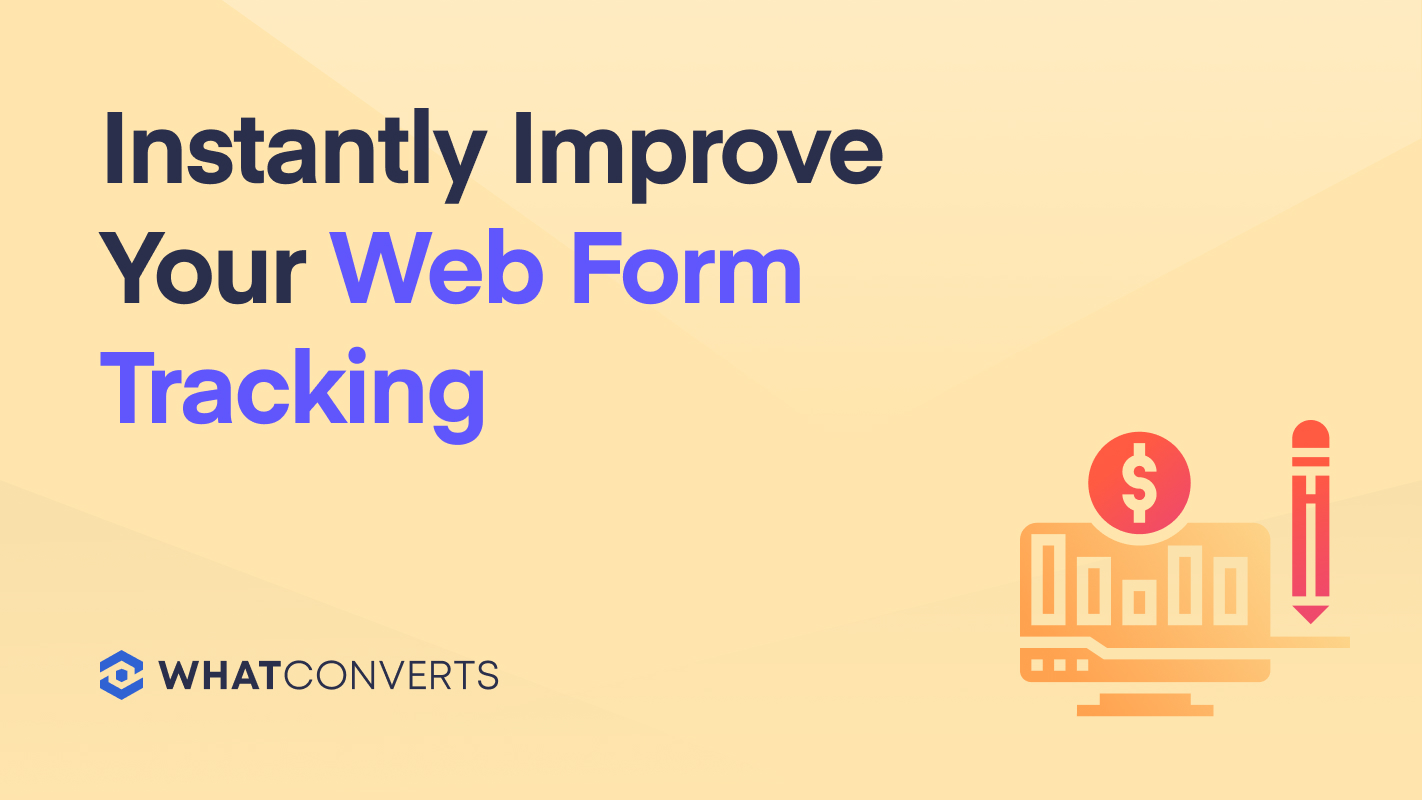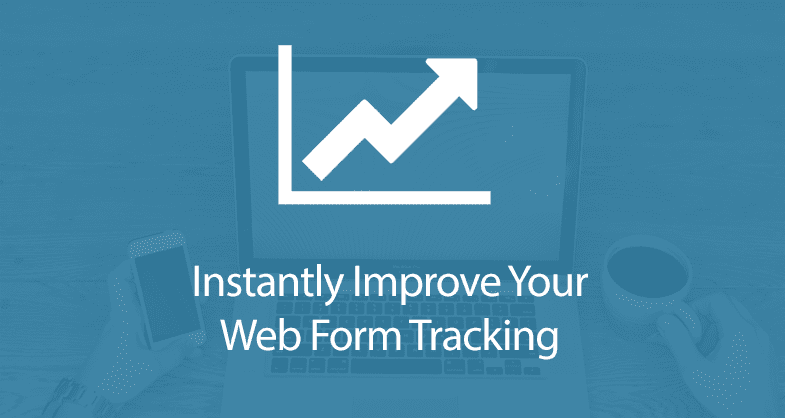 It's easy to receive web form submissions from your website and it's also relatively painless to track each submission as a conversion goal in Google Analytics. However, WhatConverts makes tracking form submissions in Analytics even simpler. Utilizing tracking forms in Analytics enables you to see how many conversions you receive from each traffic/marketing source.
At WhatConverts, we developed an even better solution based on a need to capture ALL marketing contact methods seeing as how more than 90% of leads generated are captured through web forms and phone calls.
What's missing in Google Analytics?
In Analytics, you do not have the ability to tie individual leads into all your other data, which includes tracking the user's contact information back to the original marketing source. When evaluating marketing campaigns, it is pertinent you know where specific leads came from, be it a marketing source or campaign. Ultimately, tracking conversion goals in analytics doesn't tell you if the leads were good or bad. If you want to track a specific lead with full details back to its source, Google Analytics is not the answer.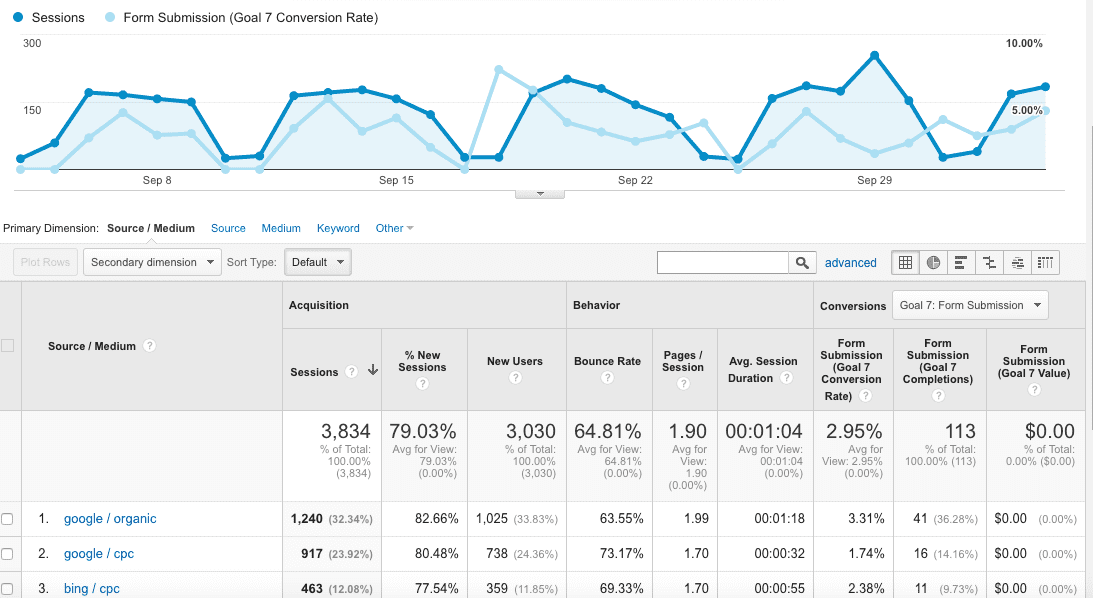 WhatConverts provides this functionality and makes it easier to setup goal conversions by allowing you to see leads with their full details through one click.
Why is this important?
WhatConverts customers are using our solution to make better marketing decisions. Companies are now able to run campaigns with the ability to evaluate leads from each campaign effortlessly, with complete lead history from testing different Google AdWords campaigns or two competing magazine websites. Now, you can track all phone calls, web forms and chats back to the source, campaign and keyword.
WhatConverts allows you to explore campaigns that generate a lot of leads more in-depth, even figuring out that half those leads were solicitations. On the other hand, you can also determine that a campaign that generated only a few leads was worth it because those leads represented substantial value. Previously, these kind of insights were hidden or required expensive marketing software.
Reporting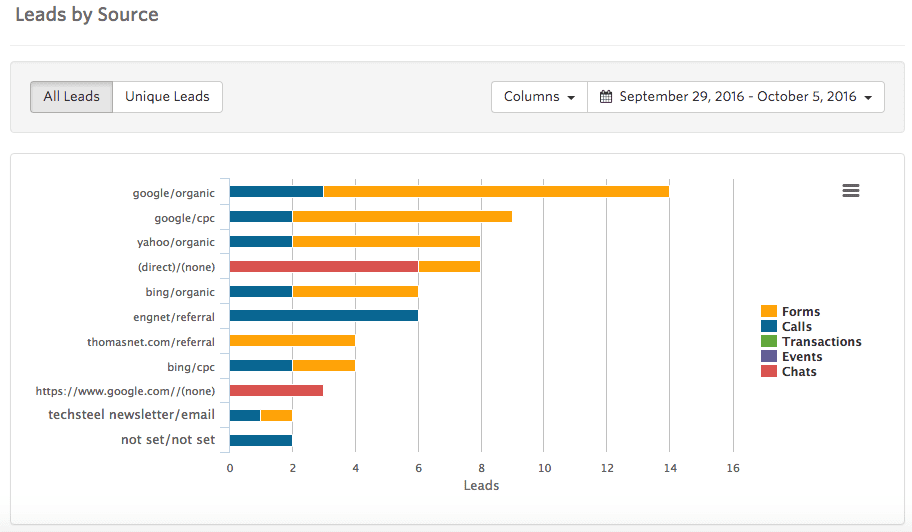 Notice forms and phone calls next to marketing source. Showing both calls and forms together is key to marketing reporting. With one click, you can see a list of leads from each marketing source, which is invaluable when evaluating campaigns.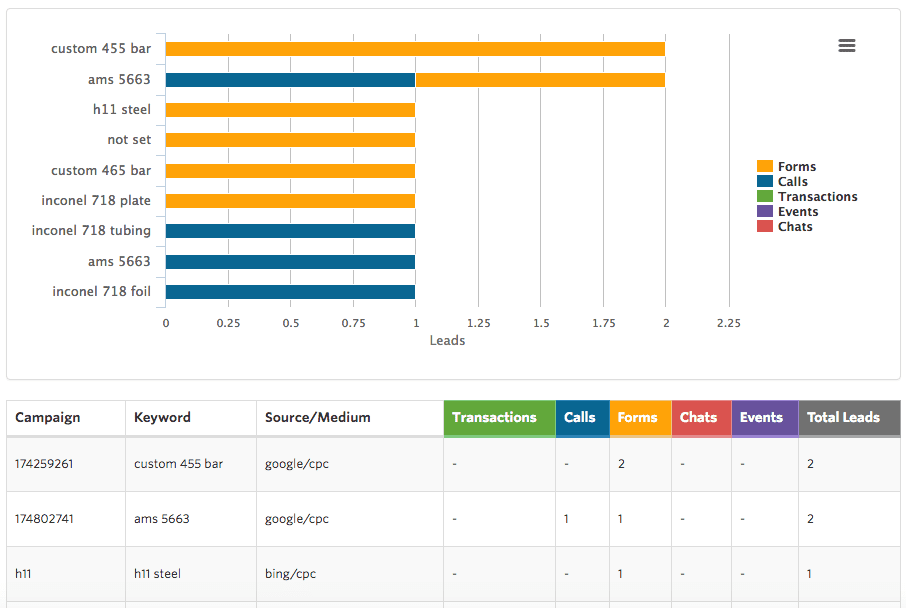 With this report you can see exactly what leads were generated by keyword and campaign. This takes the guess work out of qualifying leads by keyword and campaign.
What web forms can WhatConverts track?
Our system can track any web form that appears on your website.
Can WhatConverts track 3rd party forms?
3rd Party forms can be tracked if you are able to embed the form within your website. From here, we can capture the data and track the marketing source. Here are just a few 3rd party web forms that work seamlessly:
Can WhatConverts track form submissions from landing page builders?
Absolutely! WhatConverts can track form submissions from many landing page builders. All you need to do is simply add your tracking code to your landing pages. In addition, you can add phone numbers to your landing pages to track calls, including form submissions.
Landing Page Websites that work great with WhatConverts:
Unbounce
Leadpages
ClickFunnels
ConvertKit
What types of web forms can't WhatConverts track?
The only implementation that sometimes prevents our ability to track forms is if its added through an iframe. When a form is embedded using an iframe from a different domain it means the form is actually hosted somewhere else. In this case due to security measures by browsers know as same-origin policy, our tracking script is not able to access the content of the iframe.
If you are able to add the tracking script to the page of the iframe source then you can still track form submission. However, the form submissions will always be shown as a referral from the site that is embedding the form via an iframe.
How do you track forms with WhatConverts?
Assuming you have the WhatConverts tracking code installed on your website, all you need to do is login to WhatConverts. Go to the "Tracking" then select "Web Forms" from the drop down menu.  Enter the page on your website where your web form is located and you'll get a list of forms that can be tracked. Simply click "Add" next to the form you want to track. That's it!
For more details on adding a web form take a look at tracking web forms.
Use Cases
Evaluating Google AdWords Campaigns
A client wanted to evaluate the quality of leads generated through targeted keywords vs. more broad industry terms.
The Goal:
Determine if the targeted or broad terms generated the most value, not just number of leads.
They had a feeling that the broad campaign was not delivering as many qualified leads as the targeted campaign.
The Result:
After a month, both campaigns were generating roughly 40 to 50 leads each.
Using WhatConverts to be track form submission quality. They were able to determine:
Only 30% of the broad term campaigns were leads they ended up quoting.
75% of the targeted term campaigns were leads they ended up quoting.
The budget for the broad campaign was higher, due to higher traffic and cost per click.
After seeing that the broad campaign cost more and delivered fewer quality leads, they were able to optimize their Google AdWords spend better to generate additional qualified leads.
Without WhatConverts all they had was number of leads per campaign. Now they could evaluate each lead, which allowed them to make more data-driven decisions.
Evaluating Magazine Campaigns
The first magazine was well established, well known and their move into the digital publication had gone very well. The second magazine site, started as a digital publication, a relatively new kid on the block with impressive analytics.
The Goal:
Determine if these campaigns would generate enough qualified leads to warrant the ad spend.
It had been rumored that advertising with the established magazine, increased solicitations from companies targeting advertisers.
The Result:
After a month, both sites has generated 12 leads each. Which one generated the best, most targeted leads.
Using WhatConverts to be track form submissions. They were able to:
View form submission by source and campaign.
Qualify and quantify the lead individually.
Generate reports by campaign for total leads, quotable leads and quote value.
The results were interesting.
Magazine A - The established magazine did generate solicitation, 6 of the leads were classified as solicitations. 3 of the leads were broad or low probability leads and the remaining 3 leads were what the company considered quotable leads.
Magazine B - 6 of the leads were considered bad but the remaining 6 were quotable.
We went on to test a 3rd magazine to find that only 1 in 10 would be considered marginally quotable. This customer continues to advertise with A and B, as they have been able to track specific leads and now sales to a good ROI. Magazine C has been cancelled
Without WhatConverts all we had was the number of leads generated from each magazine. With WhatConverts we could evaluate each lead, which made evaluating the campaigns much easier.