Easily Track your JotForm Web forms in WhatConverts by using the Source Code Embed method when embedding the form on your website.
Note: forms embedded using iframes is not preferred due to security measures implemented by browsers. You can read more about iframes here.
If you haven't added your WhatConverts tracking script to your website, add your tracking script.
Use the JotForm "Source Code Embed" method.
When embedding the JotForm form within your website, ensure that you have used the Source Code Embed method. Click "Publish". Click the "Embed" option, select "Source Code" from the drop down menu. Click the green "</> Copy" button. Navigate to your website and paste the form code into the HTML page on your website.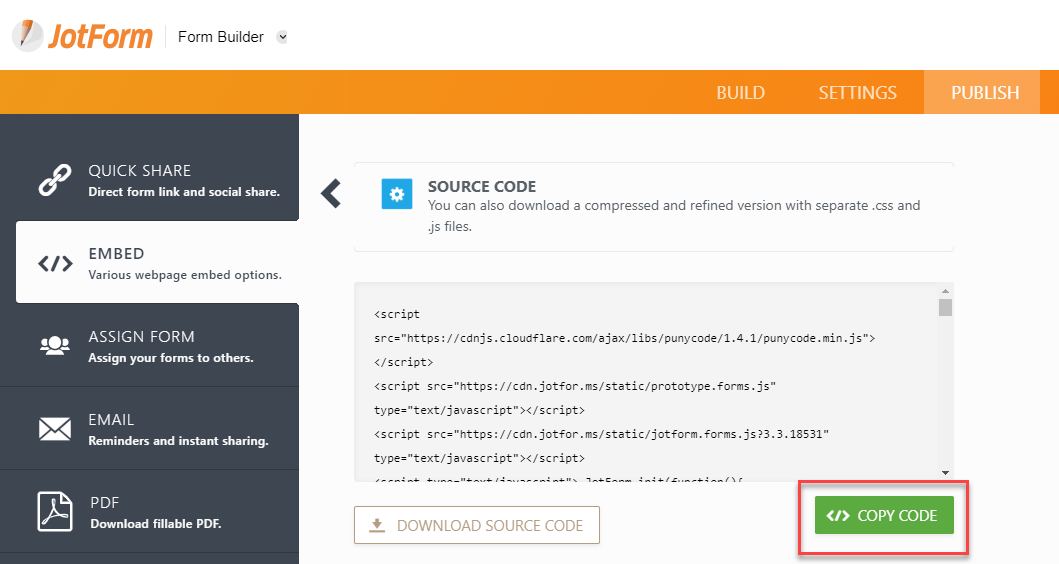 Identify Your Form in WhatConverts
To track your JotForm form, we need to identify the form in WhatConverts. We need a form name, form id, form class or form action to know which form(s) to track. Once we know what form to track our script picks up the information submitted through your form and adds them to your WhatConverts profile.
1

Login to WhatConverts and select your profile. If you have only one profile this will be selected automatically.


2

Select the "Tracking" menu item. Select "Web Forms".



3

Click the green "Add Web Form" Button, and select "Advanced Integration".




4

Name your form.


5

Select Attribute Type "Class" and enter Attribute Value as "

jotform

-form"


6

Click the "Add" button

Test the Form
Test your form by filling in the form on your website and submitting. The No lead found will disappear and you'll see the form submission listed on your dashboard.

Your JotForm form is now live and tracking.