WhatConverts allows you to track Transactions inside of Google Analytics through by sending Transactions directly to your Google Analytics account.
Connect WhatConverts to Google Analytics
1Login to your WhatConverts account.
2Select "Integrations" under your profile, then "Google Analytics".
3Add your Google Analytics Tracking ID. and we will send events based on leads tracked in WhatConverts to your Google Analytics account.To retrieve your Google Analytics UID, sign in to your Google Analytics account. Click on the "Admin" tab at the bottom left and make sure the correct "Account" and "Property" are select. Then click on the "Tracking Info" and select "Tracking Code". You should see your "Tracking ID", copy and paste that value below.
4Choose what Leads to send to Google Analytics under "Lead Types to Track".
Setup Ecommerce Tracking in Google Analytics.
1Log in to Google Analytics and click "Admin" in the bottom left menu.
2Under "All Web Site Data" third column, click "Ecommerce Settings" . Under Enable Ecommerce, click the box to "On". Click "Save"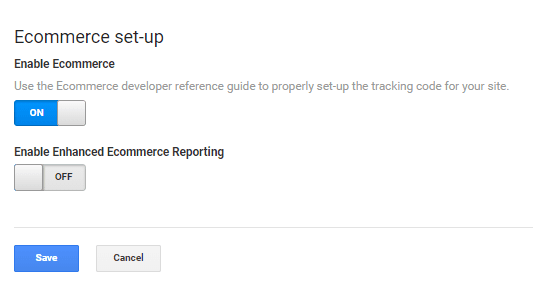 Now, when a transaction comes through to your WhatConverts account, WhatConverts will send that transaction data into your Google Analytics account. You will see these conversions show up in Google Analytics under "Conversions" on the left hand menu and "Ecommerce".
Note: Please allow 24 hours for Transaction data to be passed into Google Analytics.